When you think of Rome, what comes to mind? Food, the Colosseum, and the Vatican? That's pretty accurate, but our local guides know of a few other top sights you definitely don't want to miss. If you're up for exploring the darker side of Rome, find out how to visit the Rome Catacombs.
---
Pro Tip: It's easier to organize your trip when you have all your resources in one place. Create a browser folder and bookmark this post. Also, check out our guide to Rome for more planning resources, our top Rome Catacombs tours for a memorable trip, and how to visit the Rome Catacombs at night.
Visiting the Catacombs of Rome: What We'll Cover
---
History of the Rome Catacombs
Some say the Catacombs came to be underground because of religious persecution, forcing Christians to hide the bodies of their dead from the Romans. Nothing could be further from reality.
Many of Rome's Catacombs were actually built on or around the Appia Antica. This was Rome's principal road in and out of the city. So, if Christians were trying to hide there, it wasn't a very good choice in location. Building their catacombs there would have been the equivalent of trying to hide a building on 5th Avenue in NYC today.
Romans definitely martyred Christians. However, it was less frequent than you'd think and mostly took place in the 3rd century. Rome was a liberal place where people enjoyed religious freedom—as long as they pledged allegiance to the Roman state anyway. People often had to make this pledge in the form of sacrifices to the Roman Gods—something Christians couldn't do.
Most martyrs were victims of circumstance or sporadic bouts of religious persecution. For example, Saint Sebastian rose fast in the military and was promoted to the Praetorian Guard, which directly protected the emperor. Diocletian was emperor at the height of Christian popularity when the "cult" was considered to be a serious threat to the Roman way of life.
Emperor Diocletian discovered that Saint Sebastian was not only concealing his own faith but also converting others to Christianity, especially Praetorians, and his martyrdom followed.
Martyrs were often people who held high office in the Roman government rather than common people. They were usually identified through their refusal to participate in pagan ceremonies or through rumors spread in elite circles.
Another example is the Patron of the Domitilla Catacombs. The granddaughter of Emperor Vespasian, she was exiled. Her husband, Flavio Clemente, was put to death.
Rome Catacombs Hours, Tickets, and Options
The Catacombs of Domitilla
The Domitilla Catacombs are one of Rome's oldest and largest catacombs, holding over 150,000 people and stretching 10.5 miles (17km). It is the only Catacomb with an underground basilica—a massive structure used for worship. The basilica makes a big impression on visitors when they first walk in, which is why it's our preferred catacomb for guided tours and the one we most recommend to travelers.
There are many paleo-Christian frescoes, which are in excellent condition today. Visiting the catacombs is an amazing way to connect with our ancestors from close to 2000 years ago.
Hours:
Open Wednesday to Monday from 9 am to 12 noon and 2 pm to 5 pm (Closed on Tuesdays)
The Catacombs normally close from Dec 15 to Jan 15th for seasonal closure. Check the official website ahead of your visit for up-to-date information.
Tickets:
€10 (Adults)
€7 (6 – 15 and students)
Free (>5)
Address: Via delle Sette Chiese, 282
Not ready to book a tour yet? Find out if a tour of Rome's Catacombs is really worth it.
The Catacombs of San Callisto (Callixtus)
San Callisto is not the oldest of the Rome catacombs, but it is without question the largest. Buried there are roughly half a million (500,000) Christians, including many of Rome's most famous martyrs and 16 early Popes. The catacomb is named after its creator, Deacon St. Callixtus, who was assigned by Pope Zephyrinus, the 15th Pope.
Known for the immense amount of symbolism inside, you can find many early Christian symbols like the monogram of Christ, Alpha and Omega, and the Anchor, among many others, in the Catacombs of San Callixtus.
One of the main attractions here is the Papal Tombs. These are very impressive tombs that once held the remains of some of Rome's earliest Popes, including the 11th Pope St Anicetus. The main reason we do not visit these catacombs is due to the crowds—it is Rome's most popular catacomb and draws in many crowds.
Catacombs Opening Hours:
Open Thursdays to Tuesdays from 9 am to 12 noon and 2 pm to 5 pm (Closed on Wednesdays)
Closed on New Year's Day (1st January), Easter, and Christmas Day (25th December). There are also seasonal closures, so please check the official website for up-to-date information ahead of your visit.
Catacombs Tickets Prices:
€10 (Standard Admission)
€7 (Concession Tickets)
Free (>5)
Address: Via Appia Antica, 110
The Catacombs of Saint Sebastian
The Catacombs of Saint Sebastian are one of Rome's oldest catacombs and home to the remains of St. Sebastian, one of Rome's greatest martyrs. Executed on the orders of Diocletian, they shot Saint Sebastian with as many arrows as a "sea urchin". Miraculously, he survived.
Once he regained his health, he surprised Diocletian with a moving speech about the persecution of Christians. Unfortunately, it fell on deaf ears and Diocletian made sure he did not survive the next run at this life. Thrown into the common sewers, fellow worshippers fished Saint Sebastian out and buried his remains in his namesake catacombs.
Catacombs Opening Hours:
Open Monday to Sunday from 10 am to 5 pm
Seasonal closures: December (annually), 25th December (Christmas Day), and 1st January (New Year's Day).
Catacombs Ticket Prices:
€10 (Adults)
€7 (7 – 16 years old and students)
Free (>6)
Address: Via Appia Antica 136
The Catacombs of Priscilla
The Catacombs of Priscilla, known as the "queen of the catacombs" due to the number of martyrs buried within, are a vast complex of underground burial chambers in use from the 2nd to the 5th century A.D.
The name Priscilla comes from the Roman noblewoman who granted the church the use of her vast land for the purposes of burial. They blocked the entrances at some point to prevent robbery.
Unlike pagans and many others, Christians did not bury their dead with worldly possessions. Thieves did not realize this and would vandalize graves. Re-discovered in the 16th century, these are great catacombs to visit today, but we recommend going to the catacombs surrounding the Appia Antica. In our opinion, the area has a larger history and gives you more options to explore other nearby monuments.
Hours:
Open Tuesday to Sunday from 9 am to 12 noon and 2 pm to 5 pm (Closed on Mondays)
Tickets (reservations required):
€10 (Adults)
€7 (7 – 16 years old and students)
Free (>6)
Address: Via Salaria 430
Rome Catacombs Tour Options
You can definitely visit the catacombs on your own, but why all the hassle? You'll need to take a bus out there and back, and you'll miss out on the nearby attractions like the Old Appian Way and the Capuchin Bone Crypts.
We offer a variety of different catacomb tour options that will make your visit simple, enriching, and enjoyable! Here are a few of our best Rome Catacombs tours to take:
Don't bother with the hassle of figuring out which catacombs to visit on which day and how to get there. Come with us and we'll take care of all that, plus show you some other pretty cool sights along the way.
Your expert guide will share all the history that makes the Capuchin Crypts and Catacombs even more interesting, plus dispel some myths along the way. Don't just see Rome—get to know its story.
See tour itinerary, price, and description
You can see the Catacombs with everyone else during the day or you can join our special-access night tour.
It's a lot more creepy, but this VIP experience gets you into the catacombs without the crowds and your guide will even unlock the gates to lead you into the ancient depths. Cool or what!
See tour itinerary, price, and description
Our combo tours give you the best value by combining two top sites in Rome. On this tour, not only will we show you the Colosseum but we get you special access to the Arena Floor where you can see through the eyes of ancient gladiators.
Our tours get you skip-the-line tickets, transport, and passionate guides, but our combo tours let you see more for less.
See tour itinerary, price, and description
If you want to visit the Catacombs and the Vatican Museums on your trip, you'll get more bang for your buck by combining the two on our combo tour.
With us, you'll get coveted skip-the-line tickets for the Vatican, an expert guide to accompany you through the Museums and the Catacombs, and all the logistics taken care of. It's the easiest and most meaningful way to see two of Rome's major sights.
See tour itinerary, price, and description
If you're looking for a VIP experience of the Rome Catacombs, this private tour is for you! It comes with a door-to-door transport service and an expert guide who can focus on your interests.
With all logistics and tickets taken care of, your private group simply has to sit back and enjoy the scenery and the Rome Catacombs. There's no better way to see them.
See tour itinerary, price, and description
How To Get To the Rome Catacombs
There are a few ways you can get to the Domitilla Catacombs from Rome's city center. By taxi, it will take about 15 minutes. Another option is to take the bus. From Roma Termini station, you'll want to get the 714 bus and take it 12 stops to Navigatori, which should take about 15 or 20 minutes.
Once you're there, you'll walk about 10 minutes down Via delle Sette Chiese and arrive at Domitilla Catacombs. The catacombs of Saint Sebastian and San Callisto are fairly close by.
Getting around Rome by bus can be a little confusing if you don't know the city very well or can't speak Italian. If using public transportation worries you, we recommend going with an expert guide on a group tour. This way, you can take private transportation directly to the Domitilla Catacombs without having to worry about logistics.
11 Things To See at the Rome Catacombs
Domitilla Catacombs
Located about 15 minutes outside Rome are the hidden Catacombs of Domitilla. Early Romans created the Domitilla Catacombs because burial was not allowed inside of Rome, whereas the Paris Catacombs were created because there was no more room to bury anyone in the city.
Not a lover of death and bones? The Catacombs of Domitilla are also home to many incredible frescoes dating back as early as A.D. 360 and you will not find any skeletal remains to this day. An estimated 150,000 bodies are buried in the catacombs.
The Basilica of the Martyrs Nereus and Achilleus
One of the main draws of these catacombs is the underground basilica. It is exactly what it sounds like, a massive basilica under the ground that was used by Christians for worship.
The Basilica was constructed at the end of the 4th century A.D. when Christianity was already legalized. It was not located underground to hide but instead to be closer to the tombs.
Christian Tombs
The tombs or graves are dug out of tufa stone which is a type of volcanic stone. The oldest tombs are the ones closest to the surface since they were the first ones dug. You'll notice the tombs are shorter than you would likely fit into—this is because Romans were short and people have gotten taller over time.
Here are the different types of tombs:
Loculi: These are single-person tombs cut into the walls. Sometimes, multiple people were put in these, but they were originally meant for one person. Smaller ones exist for children.
Arcosolio: This is a tomb for more than one person, often used for families.
Cubicoli: Full rooms reserved for families where generations of people could be buried over time.
Tombs would be covered with marble slabs, many of which are missing as graves have been robbed over time.
Ancient Frescoes of Paleo-Christian Origin
There was a big advantage to the catacombs being underground—for preservation. At one point, many of them were sealed shut to protect the tombs from grave robbers, which meant there was almost no circulation of air or elements. Often graves were decorated with frescoes and many of them are the best-preserved frescoes from antiquity.
The Last Supper
Life of Bakers
Grape Vines
Jesus with Apostles
Noah's Ark
Daniel with Lions
A lot of the frescoes portray the transportation of grain to Ostia, probably representing the profession of those buried there. There's even a fresco dating back to the second century, depicting The Last Supper.
Via Appia Antica
The Appian Way or Via Appia Antica is one of the original seven roads leading into Rome. The road connected Rome to Brindisi, which is a seaside village in the southeast of Italy and a port that connected the city with the middle east.
The original road was built in 312 B.C. by Appius Claudius Caecus who named it after himself. The road was completed and used during the Samnite Wars. It was an impressive road that extended more than 350 miles or (560km).
The road was built in layers, starting with leveled dirt, followed by interlocking stones, mortar, gravel, and finally larger interlocking stones. The road was level, straight and flat. It also had mile markers throughout the entire route, which gave travelers an excellent idea of where they were on their journey.
Ancient Roman catacombs line the Appian Way and it is a great site to explore off the beaten path. When they were still in use, the catacombs lining the Way were common burial sites for both Christians and Pagans.
Capuchin Crypt in Rome
If bones are what you're after, head to the Capuchin Crypts in the historic center of Rome. Dating back to 1645, the Capuchin Crypt is not technically a catacomb. However, it fits hand-in-hand with the spooky atmosphere of the Roman catacombs.
Why head here? Well, this place is the final resting place of around 4,000 monks, buried between 1500 to 1870. Adorned with the bones of these ancient monks, these rooms are more than a bit eerie.
For the most haunting Capuchin Crypts experience, we recommend visiting the area at night on our VIP Rome Catacombs Night Tour with Capuchin Crypts.
The underground crypt is divided into five chapels: Crypt of the Resurrection, Crypt of the Skulls, Crypt of the Pelvises, Crypt of the Leg Bones and Thigh Bones, and the Crypt of the Three Skeletons.
While underground burial sites in Rome typically require a hike to the outskirts of the city, the Capuchin Crypt is easy to add to a day of sightseeing alongside the Pantheon, Colosseum, Vatican, and Spanish Steps.
Park of the Aqueducts
The Parco degli Aquedotti or Park of the Aqueducts is part of the Appian Way Park and Rome's largest green space. It is a very peaceful place that can be a bit hard to get to, but it's definitely worth it.
It's exactly what you think it is—a park with Ancient Roman aqueducts running through it. You can see the Aqua Felix and Aqua Claudia in plain view. The Claudian Aqueduct, or Aqua Claudia as it is referred to, rises as much as 100 feet in the air and stretches 43 miles.
It is one of four great Roman aqueducts and apparently was capable of bringing 50 million gallons of water into Rome every 24 hours! You really can't miss the structure as it is free to visit!
Not ready to book a tour? Find out if a Rome Catacombs tour is worth it.
Where To Eat Nearby
Hostaria Antica Roma: €€€ | Experiential Ancient Roman Food—If you are looking for authentic ancient Roman eats, this is your spot. Yep, dine off a menu of food that the Romans themselves indulged in themselves about two thousand years ago. It's pretty pricey, but a cool experience for all.
Giardino di Giulia e Fratelli: €€ | Typical Roman | Outdoor Seating | Great for Kids—I have ridden bikes out to this little garden restaurant on many of my days off. It's a pretty cool little place with good food and a great garden. An excellent place if you have kids and you want to enjoy a long lunch. They can safely run around in the enclosure while you eat and have some wine!
If you want us to arrange the entertainment in Rome (and beyond!), contact our Trip Planning Team to coordinate an unforgettable Italian experience.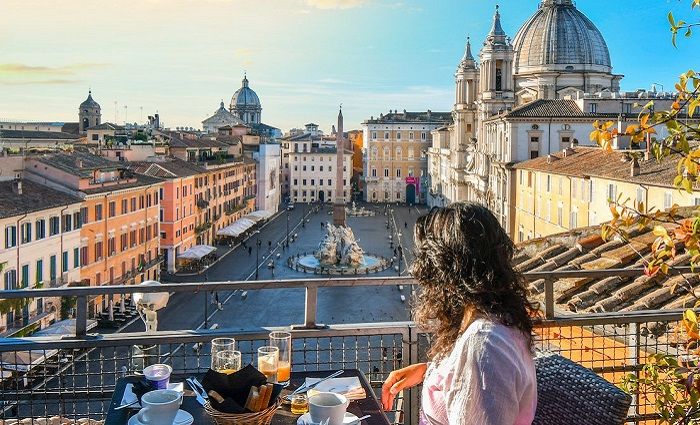 Find the best places to stay
Where To Stay in Rome
Rome has a rich cultural history and many iconic landmarks to explore. Plan where to stay in the magnificent Eternal City in the best neighborhoods.