Looking for the best restaurants or places to eat near the Spanish Steps, Piazza del Popolo, or Via del Corso in Rome?
The good news is, there are tons of delicious restaurants and trattorias nearby – just gotta find them amongst the tourist traps. Look no further. This list is built and curated by locals and life-long students of Roman cuisine and we update it continuously.
---
The 11 Best Restaurants Near the Spanish Steps in 2021
When I first moved to Rome, I didn't like the Spanish Steps area. It felt too fancy and I was worried I was getting ripped off everywhere. After about ten years, I have grown to appreciate the area.
Over time I found some of the more local spots in this area otherwise overrun with tourists. That and I am probably not as broke as when I moved to Rome. When I come to Rome, I prefer to stay between the Spanish Steps and Piazza del Popolo.
Pastificio Guerra
€ | Street Food Pasta | Takeaway
This is probably the best cheap place to eat in Rome. A plate of pasta only costs 4€ for an abundant portion and it is in the ritzy Spanish Steps area. Options you ask? One of two kinds of pasta they decided to make that day.
Pasta comes in a plastic container with a fork, napkin, and plastic cup to take water out of a jug. They sell a glass of table wine for a euro or so extra. If you are in the area and its lunchtime I recommend trying it. Especially if you are on the go. It is an experience.
Address: Via della Croce, 8 | Hours: Daily 1 pm – 9 pm
Ginger (Sapori & Saluti)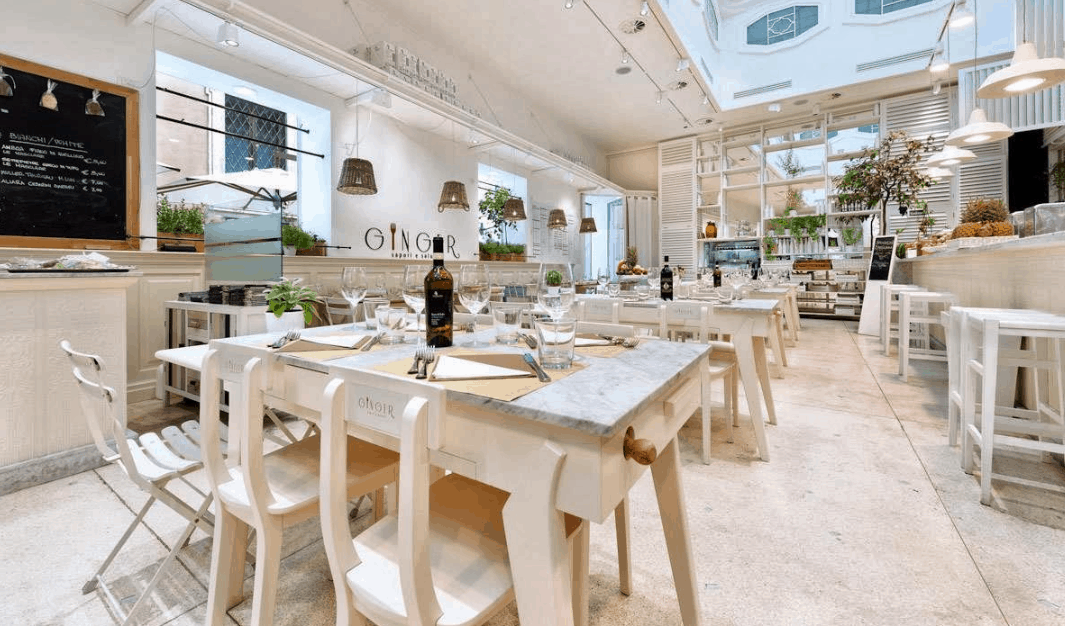 €€ | Casual Contemporary | Outdoor Seating | Kids
Ginger popped up about a decade ago and it's really cool. They serve fresh juices, seasonal pasta dishes, and generally great food. For lack of a better description – the food tastes like the restaurant looks.
Fresh, clean, and innovative. I got a Carbonara di Zucca (Pumpkin Carbonara) which is a fall Italian pasta equivalent to Pumpkin Spiced Latte and literally died it tasted so good. I am alive again so as not to worry.
They have ample outdoor seating and are always full of people. They probably take reservations but every time I have gone there I simply put my name in, grab a juice and wait 15 or so minutes for a table.
Due to the clean dishes, outdoor seating and cool atmosphere Ginger is my favorite lunch restaurants near the Spanish Steps and maybe even in Rome! They have a coffee bar to get an espresso and are open continuously throughout the day which is convenient when you need energy to sightsee!
Address: Via Borgognona 43-46 | Hours: Daily 9:30 am -11pm
Popular Tours from Rome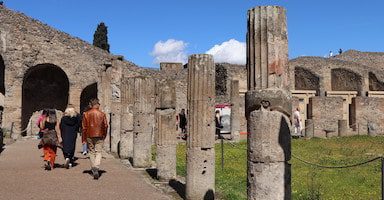 Best Seller
Rome to Pompeii Day Trip with Stunning Sorrento!
This is the best way to see Pompeii and the Amalfi Coast from Rome. You'll take private transportation with our guide down to Pompeii where an archeologist will tour our small group through the ruins. Then we'll head over to Sorrento which is the tip of the Amalfi Coast before returning to Rome. Tickets, transportation, and guides are included in the price.





See Prices & More Info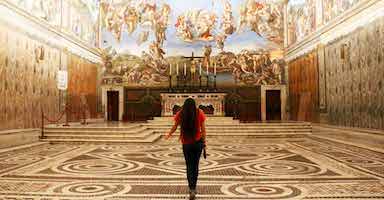 Best Seller
Rome in a Day Tour with Vatican, Sistine Chapel, Colosseum, and More!
Looking to get much of your sightseeing done in one day? This tour enters the Vatican an hour before opening and visits the Colosseum along with other sites like the Pantheon, Spanish Steps, and Trevi Fountain. All admissions and transportation are included as well as a licensed English-speaking guide!





See Prices & More Info
Ciampini Bistrot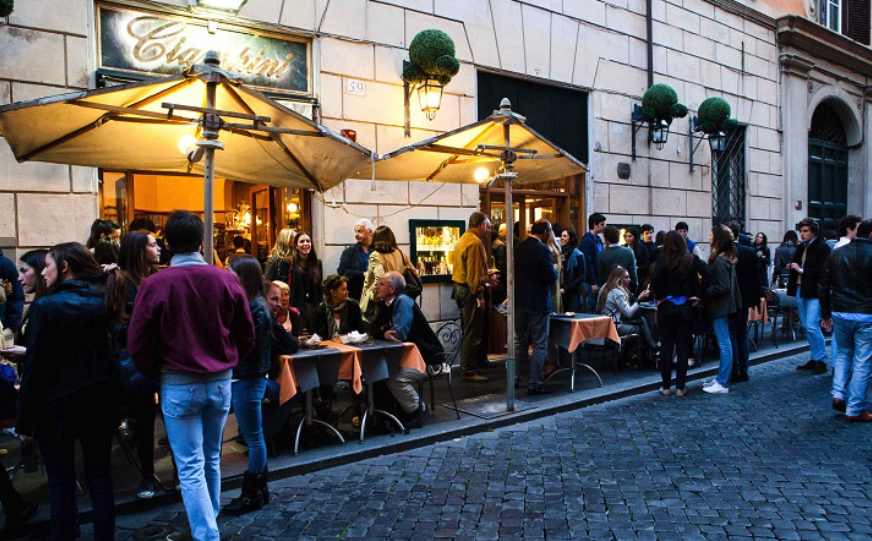 €€ – €€€ | Classy Italian | Outdoor Seating | Kids
Ciampini is a Roman staple frequented by the whos who of Rome. It is not very expensive but not very cheap. It is always filled with Roman nobles and the best-dressed people in town.
The food is great, the restaurant is small and the service is classy. Nothing there is cutting edge. It's great Roman food in an up-scale atmosphere surrounded by up-scale Romans. Ciampini Bistrot is far enough the Spanish Steps on the other side of Via del Corso that it isn't overrun with tourists but close enough that you can be there in a couple of minutes.
This is one of my personal favorite restaurants near the Spanish Steps for a classy meal outside. You'll want to RSVP a table outside for lunch.
Address: Via della Fontanella di Borghese,59
Hours: Daily 9:30 am -11pm | RSVP
Osteria Siciliana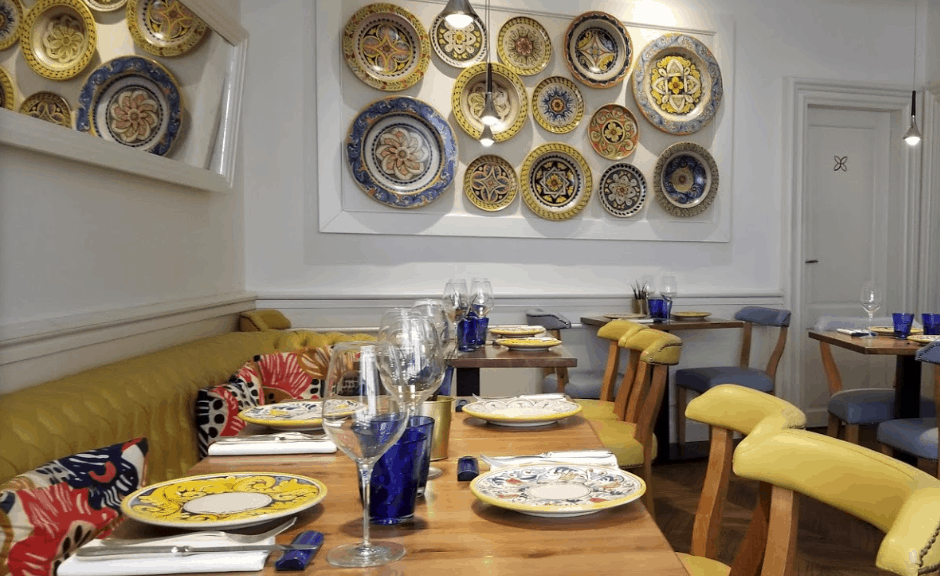 €€€ | Upscale Sicilian
I happened upon this restaurant with my wife around Christmas time and we were drawn in by the ambiance and colorful plates. The restaurant is super modern but the plates are classy and colorful Sicilian fare.
It is a very upscale restaurant with limited tables and a beautiful atmosphere. I honestly would recommend it on looks alone but the food is also amazing. I haven't seen this in any guidebooks yet – appears to be reserved for locals.
Address: Via del Leoncino, 28
Hours: Wed – Mon 12:30 – 3 pm & 7:30 – 11 pm
Casina Valadier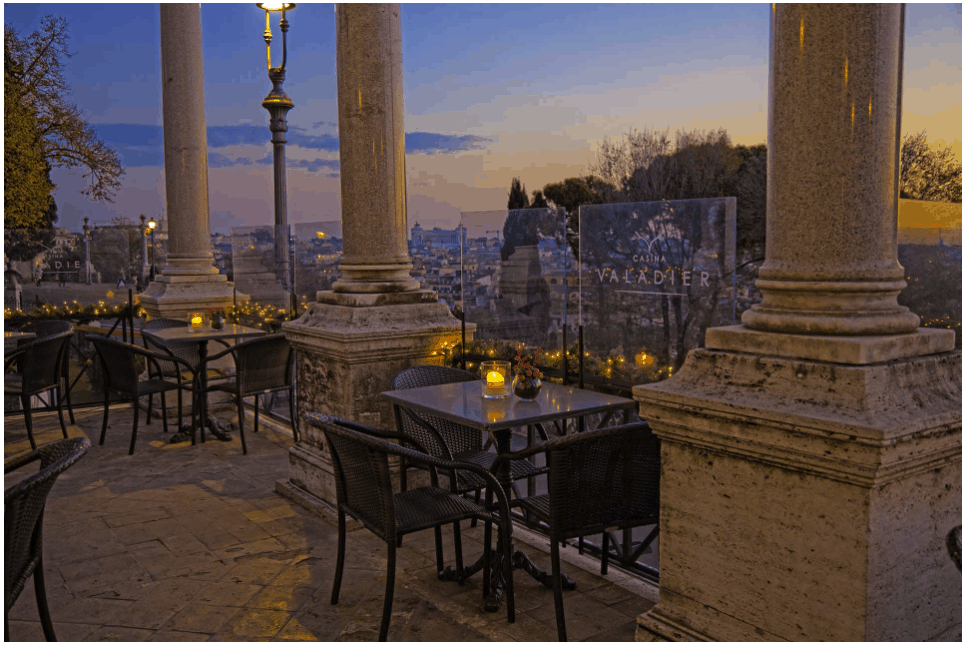 €€€€ | Fine Dining | Terrace Seating
The restaurant, which is more of a palace, is named after Giuseppe Valadier. He was an architect who designed and outlined much of the area between the Spanish Steps and Piazza del Popolo.
This is the poshest area of Rome and Casina Valadier is without a doubt the most extravagant place to dine. Be ready for a wonderful night out and be sure to wear your classiest attire. The food is amazing and so is the view. Casina Valadier is perched up on the edge of Villa Borghese which makes it the best restaurant with a view near the Spanish steps.
Address: Piazza Bucarest
Hours: Tues – Sun 11:30 am – 11 pm
Zuma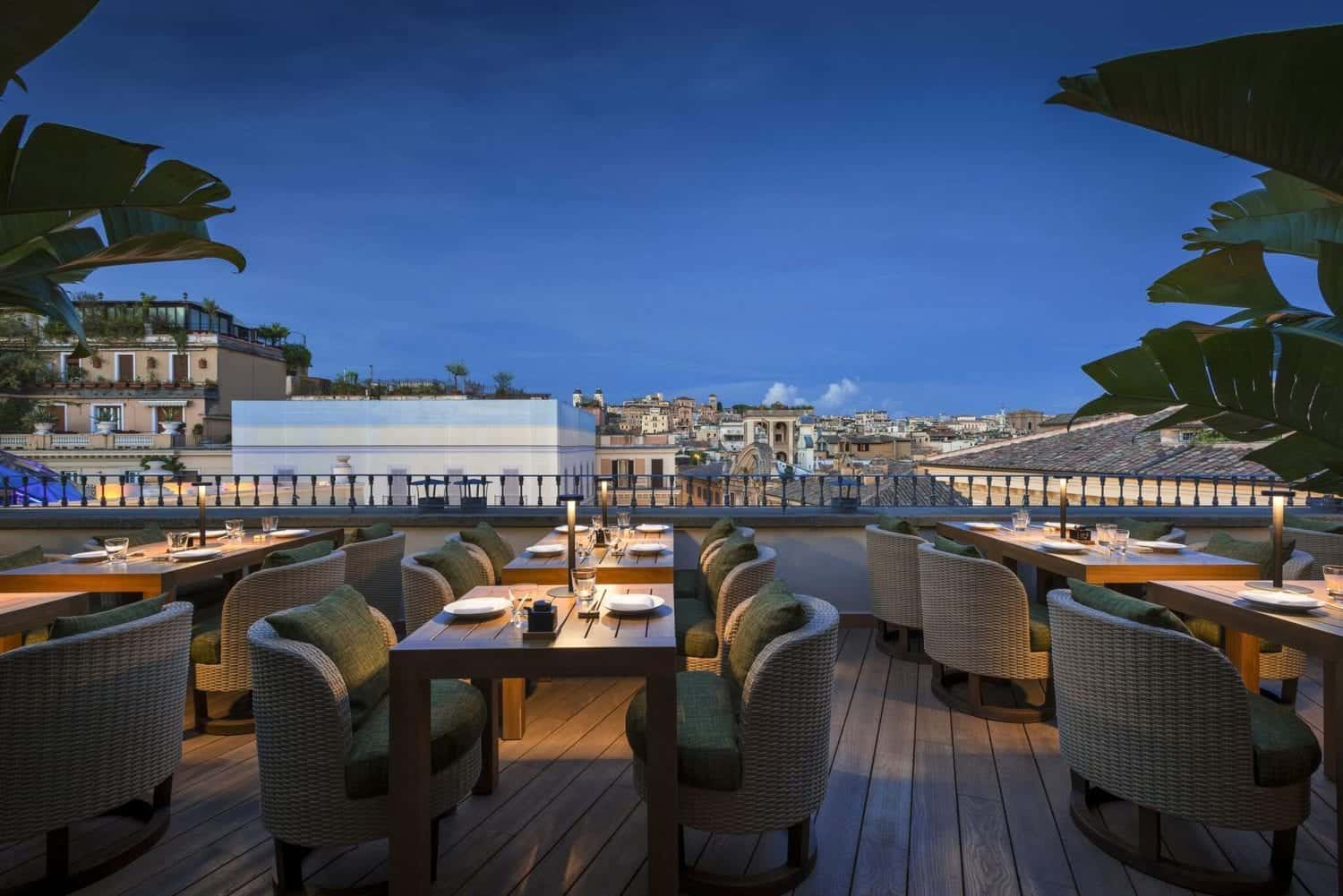 €€€ | Sushi | Rooftop Terrace
Yes, this is a Japenese restaurant – get over it. It is a really cool restaurant with an incredible bar, beautiful interior design, and an incredible rooftop terrace. You don't have to eat sushi in Rome, but it is worth a drink and when you see some of the apps you'll probably end up ordering dinner.
This is a really cool place and you will find yourself surrounded by locals and locals only. Great for a longer stay in Rome when you may get tired of carbs or for someone that comes to the city frequently.
Address: Via della Fontanella di Borghese, 48 | Hours: Noon – 3pm & 8pm – Midnight
Popular Vatican Tours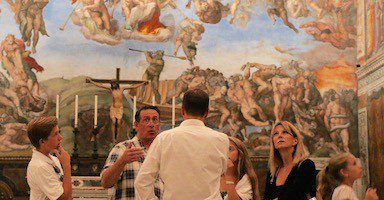 Best Selling Tour
Privileged Entrance Vatican Tour with Sistine Chapel
This our most popular and longest-running Vatican tour to date. It enters the Vatican City & Museums an hour before the public opening and visits the Sistine Chapel as it opens. Admissions are included and our English-speaking guides do a wonderful job bringing the museums to life!





See Prices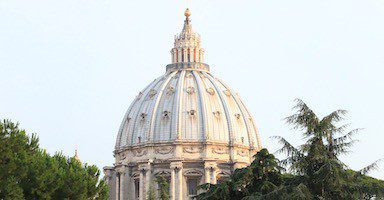 Top Rated Tour
Ultimate St. Peter's Basilica Dome Climb Tour with Papal Tombs
Get the most out of your visit to St. Peter's Basilica by joining a guided tour up to the top of the tallest dome in the world! Our tour includes all admissions including an elevator to the highest possible point and an English-speaking guide.





See Prices
Mercato Monte D'oro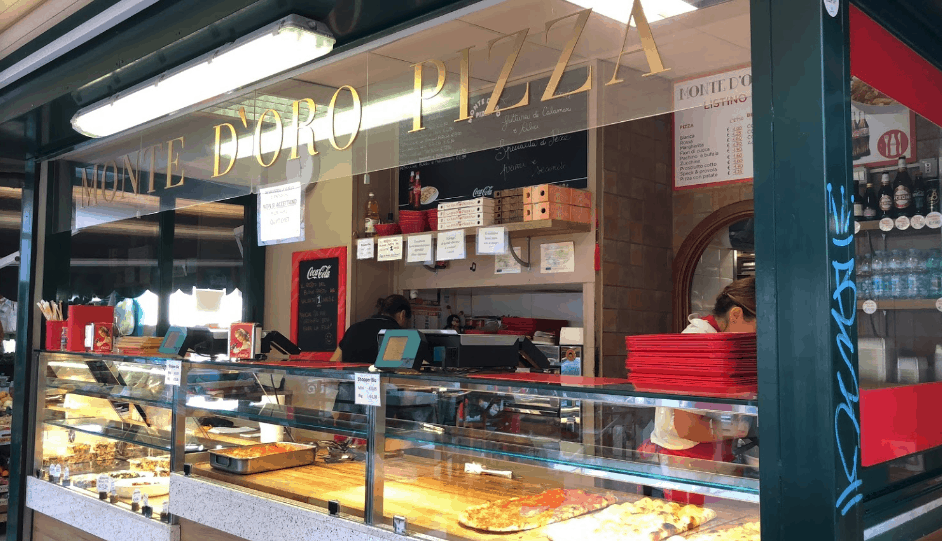 € | Street Food/Market | Kids | Lunch Only
My office is situated a block from this market and I eat lunch here almost daily when I am in Rome. Mercato Monte D'oro is a tiny little lunch market and you'll find a pasta place front and center when you walk in.
Order a pasta dish off the menu which changes daily. Don't be surprised if the ladies at the counter remember your face the next day. They are the greatest.
Address: Largo Monte d'Oro, 95 | Hours: 11 am – 3 pm
Spaghetti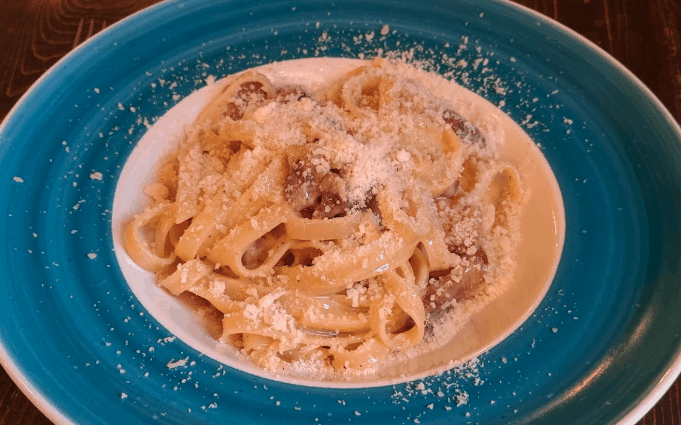 €€ | Casual & Small | Kids
This is directly across the street from Mercato Monte D'oro and the food is good. The owners happen to also be the chefs and waiters. They are both a little crazy and make great food.
The name says it all. You'll eat spaghetti here. They have a rotating menu of classic Italian dishes from all over. Fresh ingredients make them all taste delicious so pick anything and you'll be fine.
Address: Via dell'Arancio, 60
Dal Bolognese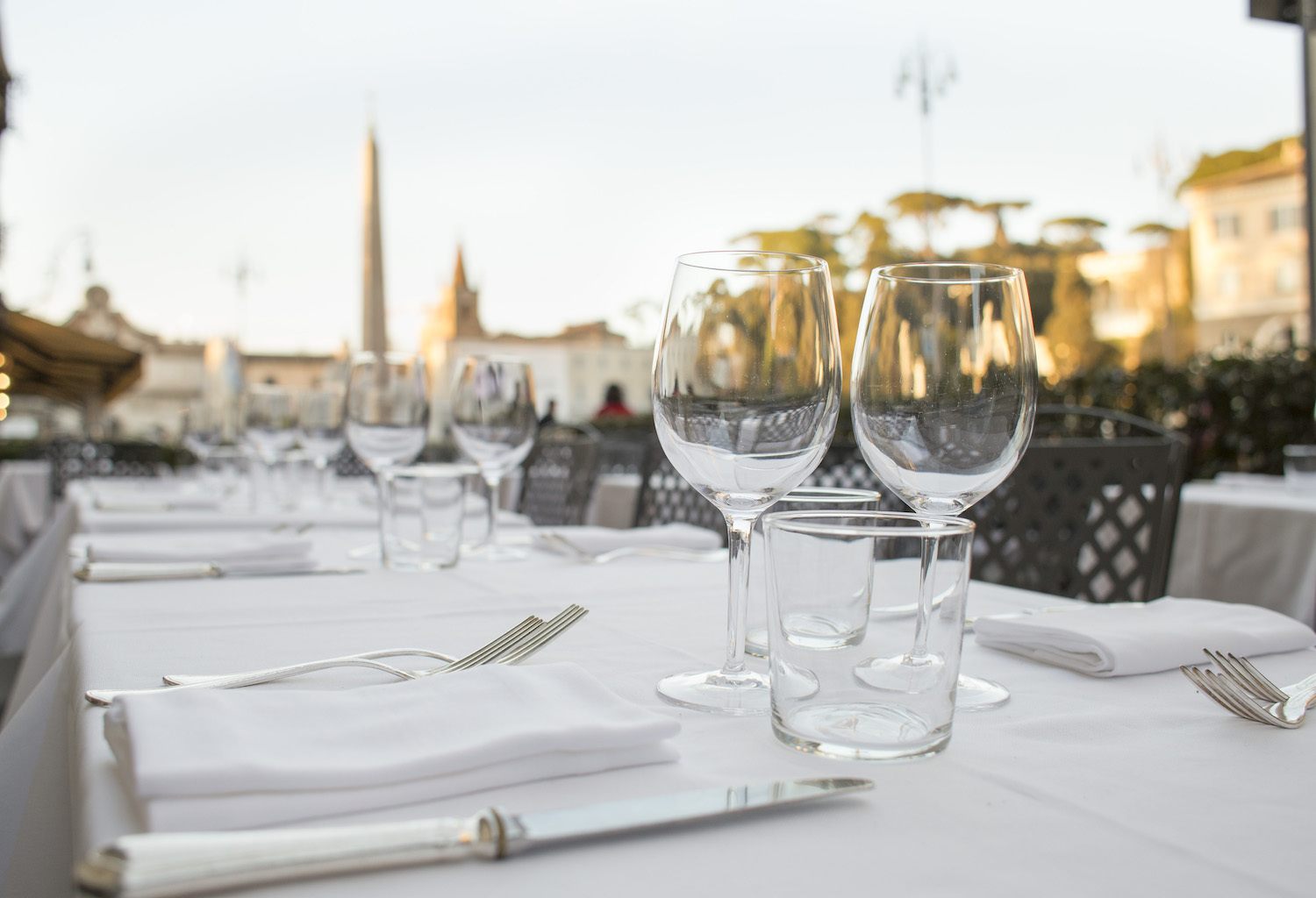 €€€ | Upscale | Outdoor Seating
If you are looking for an impressive restaurant with tons of outdoor seating this place fits the bill. It is a classy and timeless Italian restaurant that focused on high-quality ingredients, great presentation, and one of the best non-rooftop views in Rome.
The food is fancy and the service is more comparable to what you'd expect in your home country. You can easily come here for a classy meal and be surrounded by Roman nobles, the world's elite.
Address: Piazza del Popolo, 1
Hours: Tues – Sun 12:45 – 3 pm & 8:15 – 11 pm
Ristorante Ad Hoc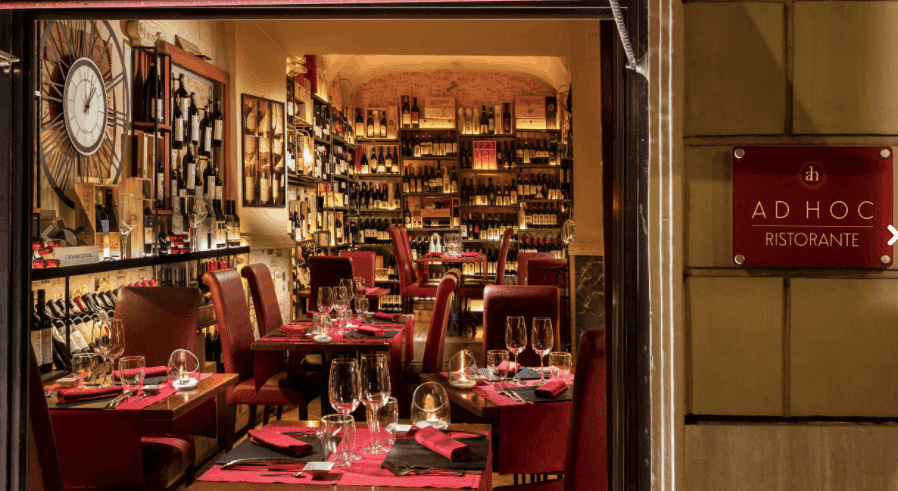 €€€ | Upscale Intimate
Do you love wine and cool restaurants? Ad Hoc is something you can definitely write home about. Enjoy a killer meal and an amazing bottle of wine in a super intimate setting.
The name defines the menu. Often changing with variations. The dishes are artistic, clean, and delicious. You can't say too much or too little about this place. Make a reservation for the cabana room.
Address: Via di Ripetta, 43
Hours: Daily 6:30 – 10:30 pm
Pompi Tiramisù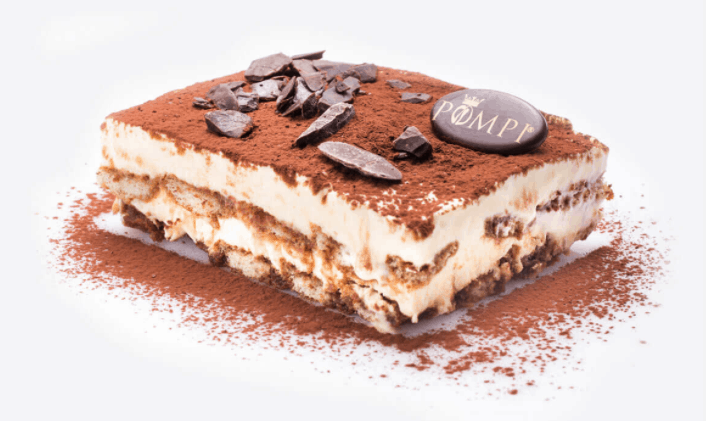 € | Take Away Dessert & Cafe
Pompi has consistently made the best tiramisu in Rome for decades. This little cafe sells their world-famous treats and you should consider skipping dessert at your sit down restaurant, take a passagiata, and try the tiramisù.
Address: Via della Croce, 82 | Hours: Daily 11 am – 9:30 pm
Rome Restaurant Recommendations by Area
Need to Know About Dining in Rome
RSVP? You can and probably will work, but most inexpensive restaurants treat RSVPs loosely due to the number of no-shows. Ask for a glass of wine while you wait.
Service? Don't get up in arms if it takes a while for the waiter to come over or if you can't get their attention. Enjoy your time not being in a rush.
Tipping? A few euros per person is great. If you want to give your 10 to 20% be our guest but not necessary. That said, everyone likes more money.