Planning a trip to Italy and want to add Pompeii as a stop? Good choice – it is one of the largest and best-preserved archeological sites on Earth. You literally walk around a beautifully preserved ancient Roman city. This is why 2.5+ million people visit it annually, but where is Pompeii and how do you visit it? Don't worry, we'll explain everything.
---
What This Article Covers
Hours, Ticket Prices and RSVP
15 Things You Have to See
Tour Options
Where to Eat Nearby
Getting to Pompeii
What is Pompeii?
Pompeii was a booming port city in the Ancient Roman Empire. The fate of all that changed on August 24th, 79 AD when the volcano Mt. Vesuvius erupted and shot a 10-mile high mushroom cloud of ash and pumice into the stratosphere. Those who were not killed by the missiles of pumice coming down or the lava were wiped out by the toxic gases that took over the area, essentially suffocating everyone.
When Vesuvius erupted, the volcanic ash and mud shielded the city's artifacts from destruction and preserved a ton of history. To this day, you can still see some of the bodies, clothes, and even places of business that have been preserved from the eruption. Ironically, this disastrous day for the Romans has created for the modern man an intimate look into what life was like in an Ancient Roman city.
Hours, Pompeii Tickets & RSVP
Most people who visit Pompeii are coming by train from Naples. The good thing is that the train station lets you off right in front of the entrance to the archeological park! From there it is literally a minute walk to the entrance and you can't miss it.
Where to buy tickets for Pompeii? You can buy your tickets directly near the entrance by the gate.
Hours:
9 am – 7 pm
The last entrance is 5.30 pm.
Closed on Mondays
Entrance: There are 3 entrances into the archeological park, but most probably you will be entering from Porta Marina. This is the entrance next to the train station and also the main parking area. This is also the main ticket desk, so you can buy your ticket here and begin your adventure.
Admission Cost:
17.50€ from 9 am-4:30 pm
11.50€ from 4:30 pm-5:30pm
Free under 18 years old
Getting an RSVP:
You can easily purchase tickets directly at the ticket counter, but if you want to plan ahead and book official Pompeii tickets online, you can book at www.ticketone.it
Popular Tours from Rome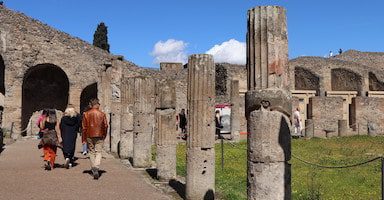 Best Seller
Rome to Pompeii Day Trip with Stunning Sorrento!
This is the best way to see Pompeii and the Amalfi Coast from Rome. You'll take private transportation with our guide down to Pompeii where an archeologist will tour our small group through the ruins. Then we'll head over to Sorrento which is the tip of the Amalfi Coast before returning to Rome. Tickets, transportation, and guides are included in the price.





See Prices & More Info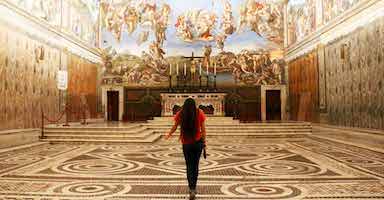 Best Seller
Rome in a Day Tour with Vatican, Sistine Chapel, Colosseum, and More!
Looking to get much of your sightseeing done in one day? This tour enters the Vatican an hour before opening and visits the Colosseum along with other sites like the Pantheon, Spanish Steps, and Trevi Fountain. All admissions and transportation are included as well as a licensed English-speaking guide!





See Prices & More Info
15 Things You Have To See
For a more detailed look at the top 15 things to see, make sure you check out Top 15 things you have to see in Pompeii which goes much more in-depth of each item listed here.
1. The Amphitheater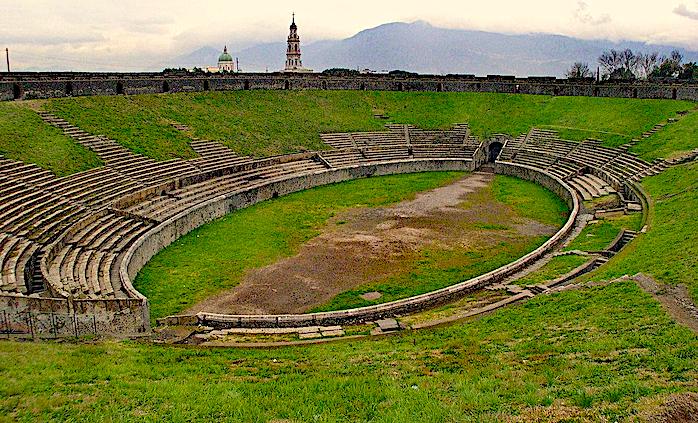 The oldest known building of its kind, the amphitheater of Pompeii held 20,000 people and was host to gladiator games and large spectacles just like the Colosseum in Rome. The stone structure is a great example of the large functioning society in the ancient town. Yes, Pink Floyd had a concert here back in 1972!
2. The Forum of Pompeii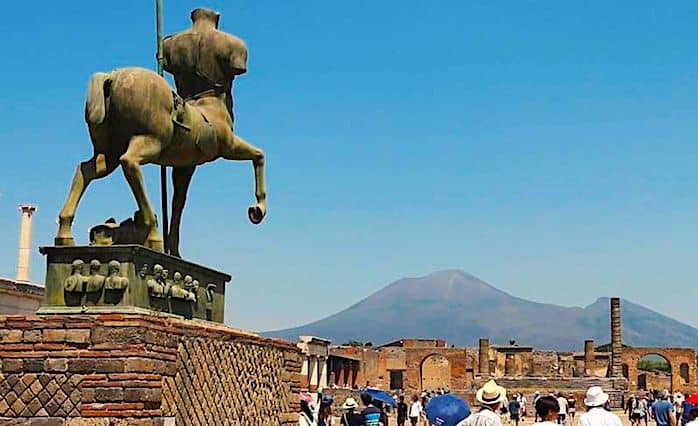 Just like the Roman Forum, the Forum of Pompeii was used as the center of activity and commerce in the town. It is where you will today find the city's major Temples; the Temples of Venus, Apollo, and Jupiter. You will also find the grand Forum Baths there.
3. Pompeii's Forum Baths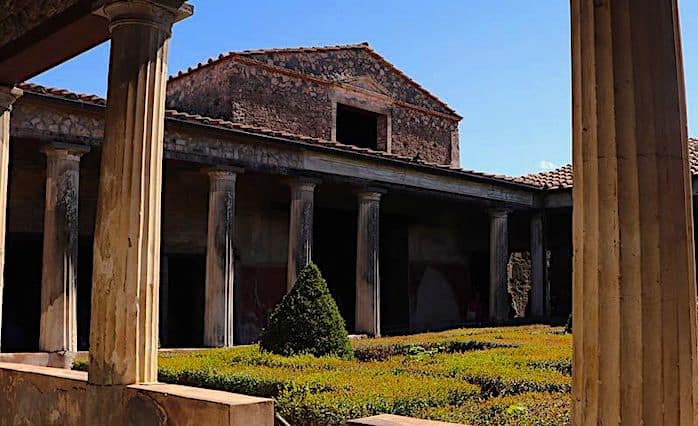 One common misconception is all ancient peoples were dirty and rarely bathed. In many cases this is true, but the ancient Romans were not this way.
Though only the very rich could afford private baths, the public Roman baths in the Forum were for people of all social statuses. The area was divided into men's and women's sections.
It included the three rooms of the ancient Roman Bath, the tepidarium (warm bath), caldarium (hot bath), and frigidarium (cold bath). Classically one would bathe in each room in that order.
4. Pompeii's Brothel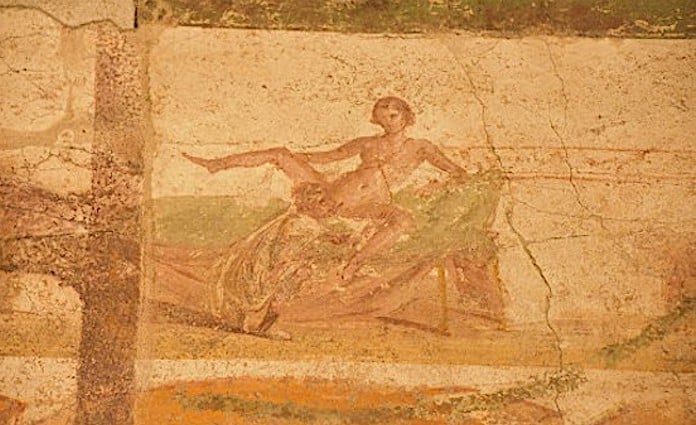 The world's oldest profession had its place in ancient Rome, and the most evident example of this in Pompeii can be found in this building. In Latin, they were called Lupanar and the prostitutes were slaves brought in to cement Pompeii as a city of sin.
Consisting of many small rooms with beds, the building also is covered with fascinating explicit images of the actions taking place at the brothel. We also know the names of many of the women who worked here due to graffiti left behind by happy customers.
5. The Palaestra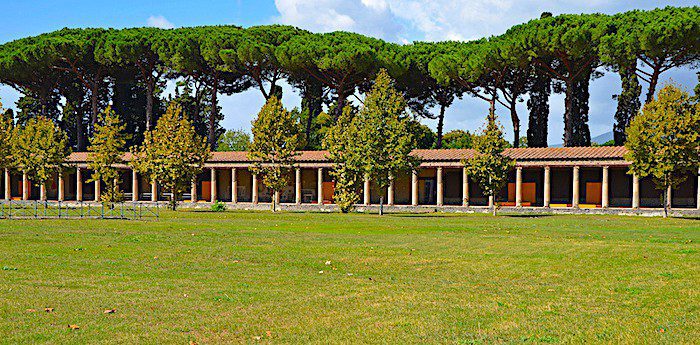 If you're from Philadelphia, you will recognize the word palaestra from The Palestra on the campus of the University of Pennsylvania.
Palaestra is the Latin word for "gym" and was similar to a modern-day gym consisting of areas for training and even a swimming pool.
6. The Large Theater
The Amphitheater was not the only center for entertainment in Pompeii. The large theatre held about 5,000 people and theater performances hosted here were usually Greek tragedies.
7. Gladiator Barracks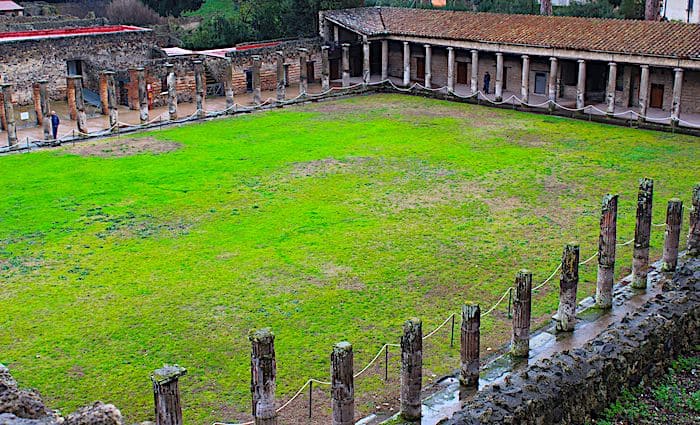 As the name implies, the gladiator barracks are where the gladiators trained for their life and death matches at the Amphitheater.
8. The Preserved Plaster Casts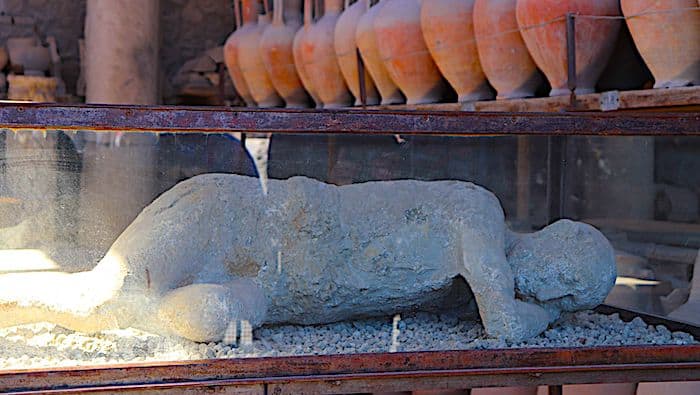 A rotating exhibit around Pompeii, these casts were created during the excavations of the ruins. These are an amazing display of people in the positions they were in when they were preserved in ash on that fateful day including dogs, pregnant women, and children.
After your time in Pompeii and want to experience more of this history, you can feel free to climb the Volcano Mount Vesuvius to see the source of the tragedy or head to Herculaneum to see more very well-preserved antiquities.
9. Villa dei Misteri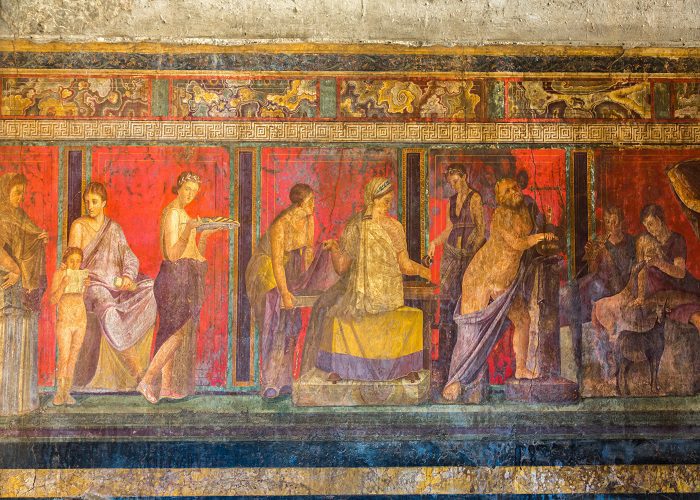 Translated as Villa of Mysteries, it is a bit of a hike from the other sites and is actually outside the ancient walls of Pompeii, The Villa dei Misteri frescoes are definitely worth the walk.
The name comes from a Fresco which is surprisingly still intact and covers three whole walls. It shows the initiation of a young girl into a " Mystery" cult of Bacchus or Dionysus.
10. Temple of Apollo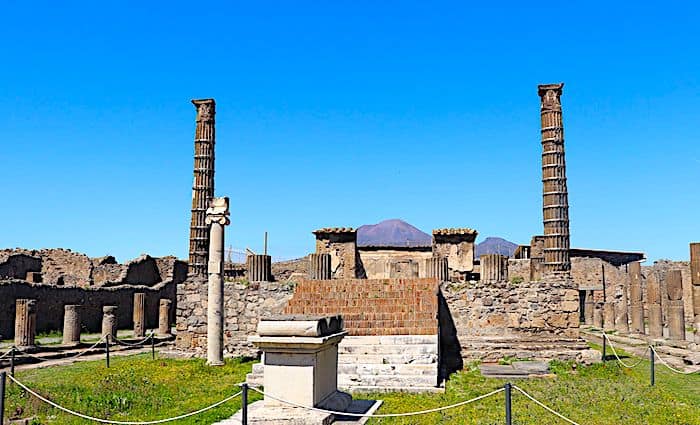 This is one of Pompeii's oldest temples and attests to the God Apollo's strong presence in the Campania region during that time. Excavations indicate that a pre-existing temple was on this site as early as the 6th century BC! Its importance is also indicated by its proximity in the Forum.
11. House of Vettii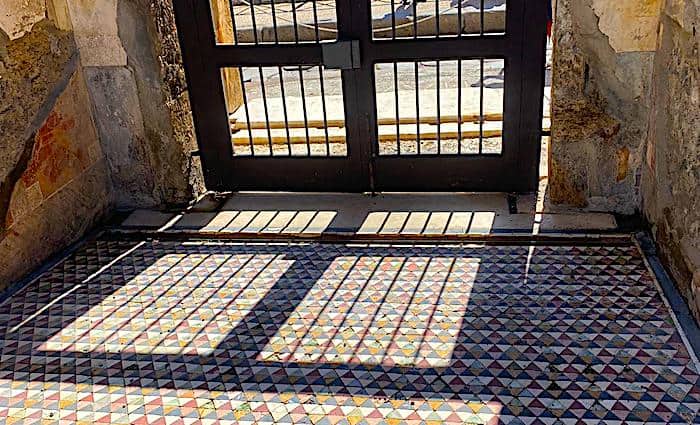 The name comes from 2 brothers ( Aulus Vettius Conviva and Aulus Vettius Restitutus) who were slaves and received their freedom. You can see where the gardens and Lararium were as well as the general plan of the house.
After reopening in 2016 after 12 years of restoration, the frescos you see here are some of the greatest examples of Ancient Roman artwork. There is also a famous fresco of the fertility god Priapus that has become famous over time. When you see it you will understand.
12. House of the tragic poet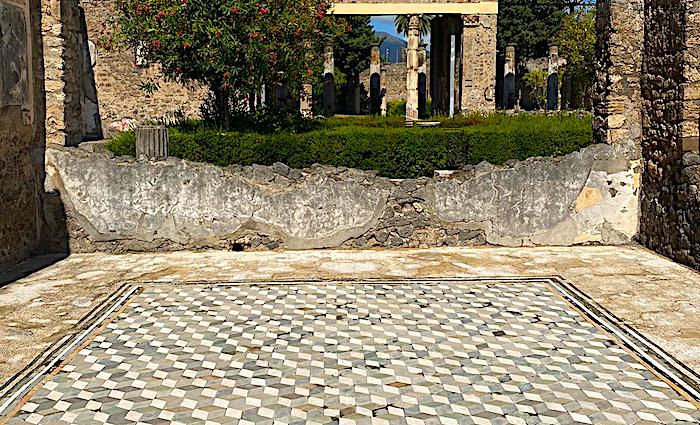 Why is it called the House of the Poet? The name is attributed to a mosaic of a poet and actor preparing for a play
There are many other fine mosaics located here like the famous Cave Canem and Ariadne being abandoned by Theseus.
13. House of the Faun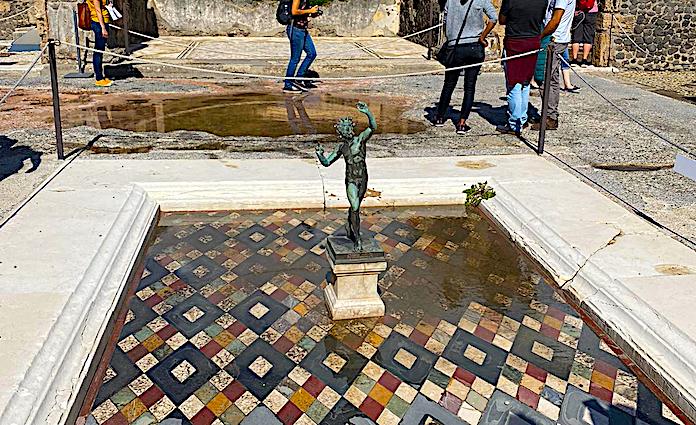 The word "house" is actually a misnomer since it covers an entire city block at 32,000 sq ft ( 3,000 sq m). The owner had so much money he actually had a mosaic built into the street in front of his house with a Latin word " HAVE" which means, greetings!
14. Cave Canem Mosaic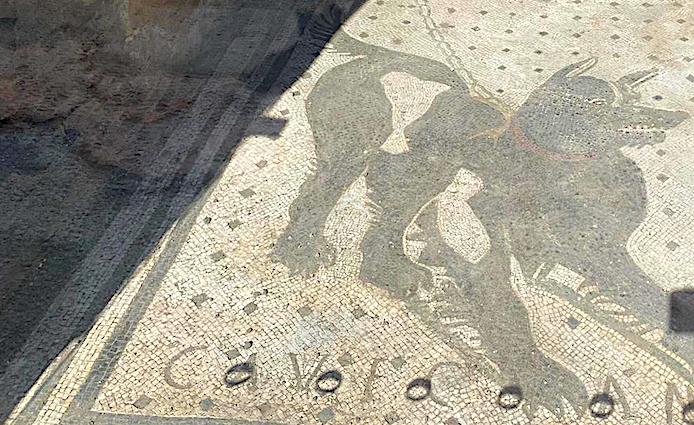 At the entrance to the House of the Tragic Poet ( see above) there is a mosaic of a dog, which was to act as a doormat and with letters below it that say in Latin – Cave Canem- which means- Beware of the dog. This just goes to show you that we haven't changed after 2,000 years.
15. Mt. Vesuvius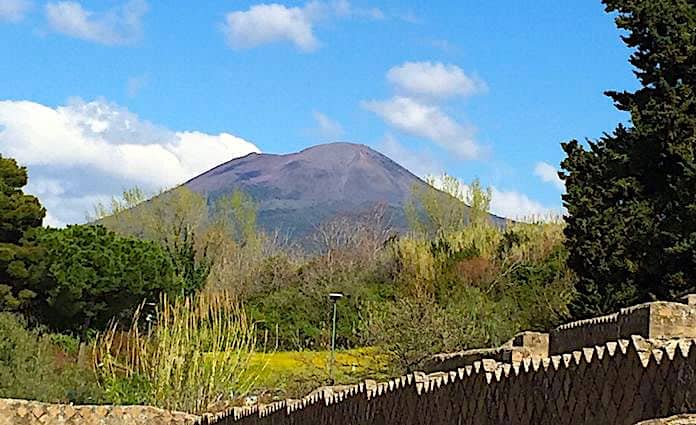 Yes, the most famous, and still active, volcano of all times is not situated in the architectural complex of Pompeii and is not even in the city itself, but I would be remiss not to mention it. While the last eruption was in 1944, don't worry, since the experts say we should have some time before the next big one happens.
Only a short drive away, to make your Pompeii journey complete, you should definitely go and check out the volcano that made Pompeii famous to us today!
Tour Options
We are a tour company, so we always recommend giving tours, not only to keep our lights on but also because we believe it is by far the best way to see a site. You can definitely DIY Pompeii, but you will definitely get much more out of your time with a local, expert guide. Check out some options:
1) Skip the line Pompeii Ruins Tour with Villa of Mysteries
This is a 2-hour small-group tour for people who are already in Pompeii or have decided to sort out their own transportation. Let our local, expert guide show you the main sites and learn all the crazy anecdotes and stories from the Ancient World.
2) Rome to Pompeii Day Trip with Stunning Sorrento
This is a small group tour with roundtrip transportation from Rome. It includes a tour leader with you for the day and after visiting the ruins ( including Villa dei Misteri) with our expert guide, you will then travel on to beautiful Sorrento where you will have some free time for shopping and a meal. A private tour also available.
3) Pompeii and Mt. Vesuvius Day trip: From Amalfi Coast
This is a private tour for those who are staying in the Amalfi Coast area and would like not to think about transportation. We also set up local, expert guides for you in Pompeii and Mt. Vesuvius- trek all the way to the top!
---
Where to eat Nearby
Options are fairly limited as far as eating and refreshments.
Autogrill Cafetteria- Calling it a cafeteria is a stretch, but it is the only option inside of the archeological park to get some refreshments. It is located behind the Temple of Jupiter.
Address- Via del Foro, 20, 80045 Pompei
Bar Sgambati- This is the Bar/ Restaurant/ Pizzeria which is right next to the train station that drops you off at Pompeii. The food and prices I would say are average, but your best bet of getting something to eat in the area before or after your trip to the Archeological site.
Address-- Via Villa dei Misteri, 80045 Pompei
---
How to get to Pompeii
From Rome:
By Train
The high-speed train from Rome to Naples runs every 20 minutes. You can take the train from Roma Termini station to Napoli Centrale in just over an hour. Book on Trenitalia or through Italo. They are two competing train companies. I prefer Italo.
From Napoli Centrale, you can switch to the local train to Pompeii. The local train, called the Circumvesuviana, is located down the corridor in what is technically Napoli Garibaldi Station.
Take the train towards Sorrento and you will arrive at Pompei Scavi – Villa Dei Misteri station after about 20 minutes. The station is only a matter of feet from the entrance into the archaeological area.
If you choose to take the train to Pompeii on your own but are still looking for a guided tour, check out our Skip the Line Pompeii Ruins Tour with Villa of Mysteries.
By Car
For you adventurous souls who rented a car, it is quite easy. Get on the Grande Raccordo Anulare ( GRA) and head onto A1 highway to Naples. Once you get close to Naples you change to the Motorway A3 Napoli-Salerno (exit Pompeii ovest). Or just add to your GPS
From the Amalfi Coast
By Train
The only town with a train station is Sorrento, so if you are not in Sorrento, you need to get there. From Sorrento you jump on the train direction Napoli Centrale and get off at Pompei Scavi – Villa Dei Misteri.
By Car
For you adventurous souls who rented a car, it is quite easy. Get to the Motorway A3 Napoli-Salerno (exit Pompeii ovest). Or just add to your GPS
---