St.Peter's Basilica is the biggest and most ornate church in the world. It is a major bucket list stop for pretty much anyone coming to Rome. Keep reading to learn everything you need to know before visiting this Renaissance wonder of the world
---
Pro Travel Tip: Ever read something helpful only to lose track of the article? Bookmark this article in your browser so you can circle back to it when you're ready to book. Also, check out our Vatican page for more info on this topic. For some related articles to St. Peter's Basilica check out these:
What This Article Covers
This is a very extensive article filled with helpful information. Click the links in the list below to get you where you need to go without leaving this page.
St. Peter's Facts & History
Vatican Tour Options
St.Peter's Facts & History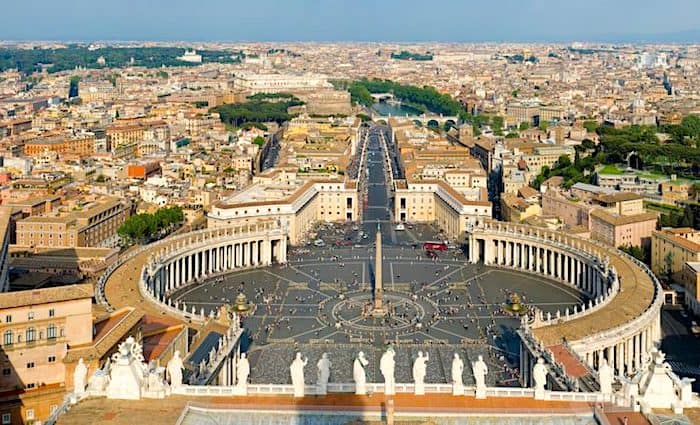 St. Peter
St. Peter found himself in Rome during the reign of Emperor Nero in 64 A.D. after the death of Christ. It was not a very convenient time, considering that the Emperor had just faulted the Christians for a fire that destroyed half the city.
The Christians were looked like a radical cult so it was the best scapegoat for the Emperor with no conscience. He, therefore, initiated the persecution of Christians which, according to dogma martyred both St.Peter, St. Paul, and countless other Christians.
Peter attempted to flee Rome since he knew his days were numbered but Christ appeared to him and asked him to return to the city to meet his fate. As dogma goes, St.Peter was crucified upside down by Emperor Nero and buried in 64 AD. This was all part of Nero's plot to fault Christians for his great fire which was semi-successful.
When Christ first met Peter he said, "You are the rock upon which I will build my Church." His name wasn't even Peter at the time, it was Simon. Jesus changed his name to Peter which means rock.
Constantine's Church
Constantine defeated Maxentius in 312 AD and legalized Christianity. He then took it upon himself to fulfill the literal version of scriptures above and built a church on top of St. Peter's tomb. Constantine's Mom, St. Helen, was a devout Christian and this was likely a big deal for her. It is not every day that your son fulfills the scriptures, right?
The early start of the Vatican being established was with Constantine's St. Peter's Basilica which stood where the current Basilica stands today. After Constantine legalized Christianity in 313 AD with the Edict of Milan he got started quickly on building the church Jesus referred to. For Constantine, Jesus would have been as old as George Washington in relative history to us.
The original Basilica Constantine built lasted from the mid-fourth century AD (the 300s) until 1506. That is a very long time. The current Basilica was built over Constantine's and while it does not exist today in full form, the current basilica still utilizes foundational elements from the original structure. That means the foundation is nearly 1700 years old!
Current Church
Pope Julius II decided it was time for a new Basilica when he appointed Donato Bramante to design the current St. Peter's Basilica. Bramante's designs were later taken over by Raphael (the Raphael) a few years later. That said, the current Basilica involved every famous name in Italian art from Michelangelo to father and son Modernos and Gian Lorenzo Bernini.
It took 120 years to build the St. Peter's Basilica which is pretty impressive considering the magnitude of the structure. There were many works that went on even after that timeline. The last fountain, built by Bernini, was not finished until 1675!
Popular Rome Tours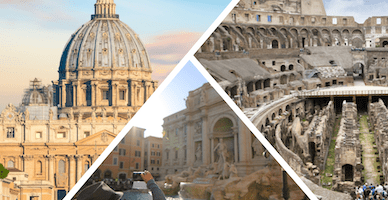 Best Selling Tour
Rome in a Day Tour with Colosseum and Vatican Museums

The best way to get your bearings all in one day. Visit the Sistine Chapel, Colosseum, Trevi Fountain, and more with a licensed and fun English-speaking tour guide. They'll add tons of insights and make the entire experience so much more memorable. Also, you'll get a feel for the city so it's great on one of your first days in the city. All admissions and transport included although there will be a lot of walking.





See Prices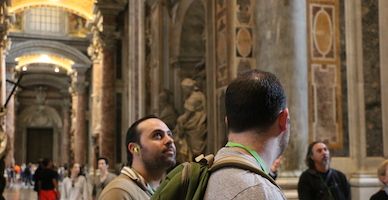 Best Price!
Skip the Line Vatican Tour with Sistine Chapel & St. Peter's Basilica
One of our most popular Vatican tours since it is such an amazing value. Skip the line to get inside with a super-knowledgeable English-speaking guide that will bring the museum to life. Stories of the artists, popes, conspiracy, love, and of course tragedy! Admissions included.





See Prices
Hours, Ticket Prices, and RSVP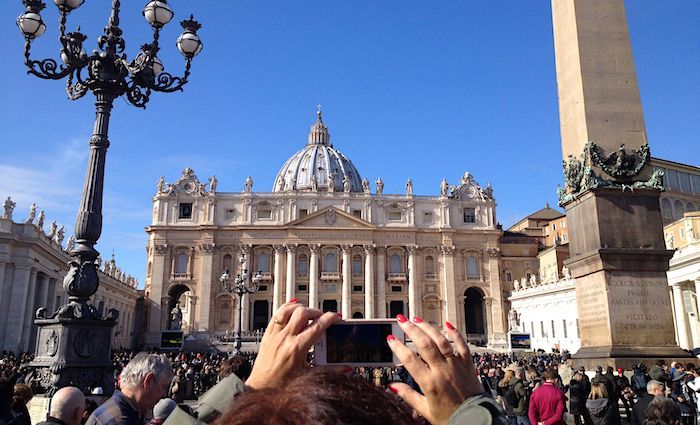 St Peter's Basilica Ticket Prices
Free for all!
Climbing the dome costs 7€ (stairs) or 10€ (elevator). I recommend the elevator. This article explains everything.
The Basilica of St. Peter is free to enter but does not include entrance to the Sistine Chapel.
Hours & Best Time To Visit
From April to September: 7 a.m. – 7 p.m.
From October to March: 7 a.m. – 6:30 p.m.
Closed Wednesday Morning for Papal Audience
St. Peter's Dome Climb Hours
From April to September: 7:30 a.m. – 6 p.m.
From October to March: 7:30 a.m. – 5 p.m.
Closed Wednesday Morning for Papal Audience
Tickets: You can buy them directly at the entrance to the dome.
St. Peter's Dress Code
To gain access you'll have to abide by the Vatican dress code.
Cover your shoulders and avoid shorts and short dresses and skirts. We know that Rome gets hot in the summer, we suggest bringing a light scarf to wrap around yourself when you need to.
Hats, food, and metal tools like knives and scissors are also not allowed. The security check includes metal detectors.
How Long to Budget for your Visit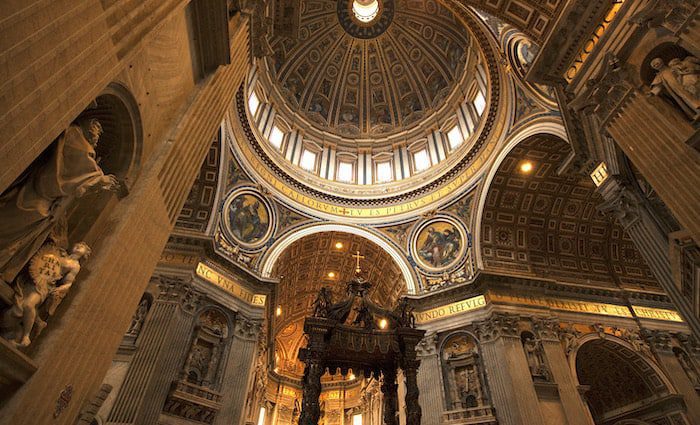 Short Answer: 1-2 hours
Even if you are not a religious person, once you walk inside the basilica, there is a strong chance that your jaw drop just for a second. Yes, it is that amazing inside. Even more so when you understand the dimensions.
The church is built so proportionally that you would never guess the ceiling right above you is 150 ft ( 50m) high! The itinerary is quite easy, since they put a barrier in the middle for crowd control. Therefore your itinerary is a counter-clockwise walk around the entire basilica.
St. Peters Basilica Tour Options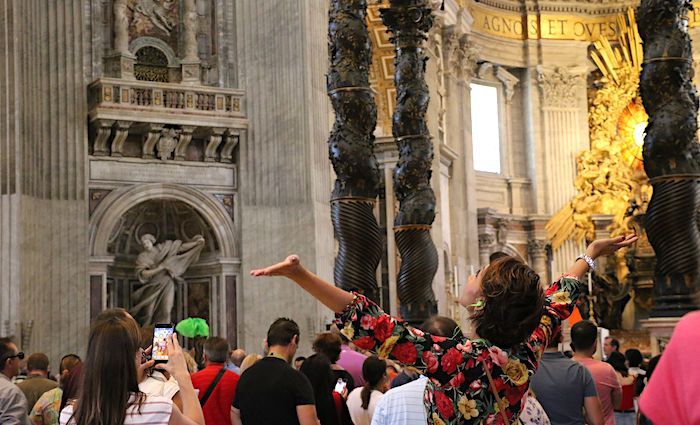 Major Advantage of a Tour: Beyond the explanations and local insight, it provides you special access to many sites like the St. Peter's Basilica. Going alone, you have to exit the Vatican Museums from the same entrance you come in on which means about a mile of additional walking. Going with a guide means direct access from the Sistine Chapel to St. Peter's Basilica!
Ultimate St. Peter's Basilica Dome Climb and Tour with Papal Crypts (1.5 hours)
This tour meets at the Basilica and goes up to the dome first. After, you go into the church for a guided visit, including the Papal Tombs below!
Complete Vatican Combo Tour with Sistine Chapel & Dome Climb (5.5 hours)
This tour is a combination of the tour above to visit the dome and the church. After, you will go with your guide to the museums to visit all the treasures there including the Sistine Chapel.
Detailed Itinerary Vatican Tour (5 hours)
For the art-history buff. This tour visits the majority of the Vatican museums including Pinacoteca, Sistine Chapel, and more. Basically everything but the Egyptian Gallery.
Privileged Entrance Vatican Tour(3.5 hours)
This is our most popular Vatican tour. It covers all the main must-see sights for visitors including the Sistine Chapel and St. Peter's Basilica. It's good for art lovers and lovers of life that want to see a ton but not be too mentally exhausted at the end of your visit. A major benefit of this tour is that we have an 8 am entrance time which an hour prior to general admission which means the museums are less crowded.
Skip the Line Vatican Tour(3 hours)
This is a great low-price Vatican tour that covers most of the main attractions including the Sistine Chapel and St. Peter's Basilica. It features a ton of start times throughout the day which can fit well into your schedule. The price is also hard to beat from a top-quality tour company.
Vatican Highlights Tour (2.5 hours)
If you want to see the main sites and understand them but don't want to get caught up in every detail, this may be perfect for you. We have an 8 am option that beats the crowds along with other start-times. It's a small group and great value.
17 Top Things to See at St. Peter's Basilica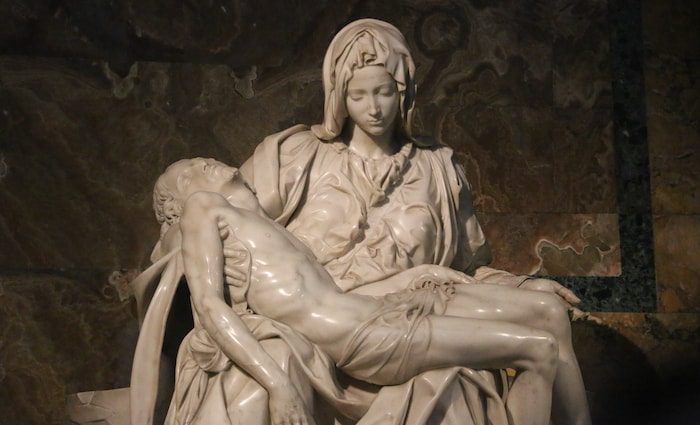 As you can imagine, there is a lot to see in the biggest church of Catholicism. Therefore I recommend you read this blog for a more detailed description of the top things to see. Below is just a summary.
17. La Navicella Mosaic By Giotto
16. The Fountains In St. Peter's Square
15. The Pillars
14. The Ceiling
13. St. Peter's Square
12. The Dome
11. Statue Of St. Peter
10. Tomb Of Innocent XI
9. Holy Mass
8. St. Peter's Throne
7. La Porta Santa ( Holy Door)
6. The Paintings ( Or Mosaics?)
5. The Obelisk
4. Loggia Delle Benedizioni ( Loggia Of The Blessings Or Central Balcony)
3. Pietá
2. Baldacchino
1. High Altar ( Tomb Of St. Peter)
Where to Eat Nearby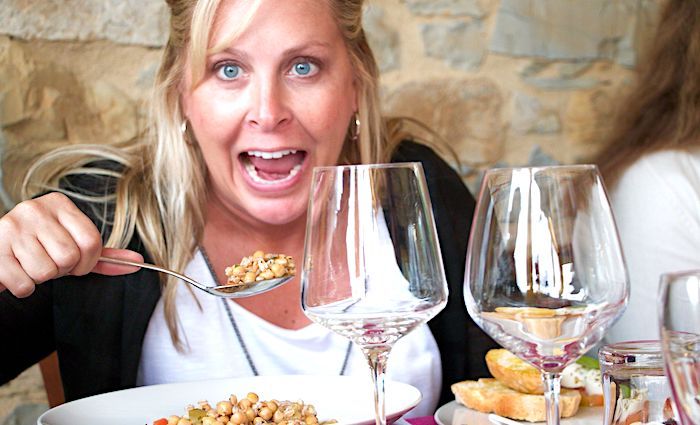 As you can imagine, there is nowhere to eat inside the church itself. However, if you climb the dome you will find a small bar. Also, close by there are some great lunch places. There are some great options below or you can read our more robust list of places to eat near the Vatican.
St. Peter's Dome Bar – Yep, you can get coffee on top of St. Pete's dome. There is a little bar open basically whenever they want to be open. If its open, stop for a coffee and enjoy the view.
Near the Vatican
Hostaria Dino e Toni – Somehow this owner-operated super-Roman and authentic restaurant have yet to get touristy. They make good food with relatively friendly service. They may just order for you. Pizza, pasta, and apps.
Address: Via Leone IV, 60
200 Gradi – Have a big day of sightseeing planned after your Vatican visit? This sandwich shop is perfect. You can get really tasty to-go sandwiches or sit down inside. Super reasonably priced.
Address: Piazza del Risorgimento 3
La Zanzara – More of a cool and trendy with a modern spin on Italian classics. Feels like a french bistro but definitely Italian food. Great for a cocktail and sit-down lunch.
Address: Via Crescenzio, 84
How to Get to the Vatican City
Luckily, St. Peter's Basilica is super easy to reach. Depending on your preferences, you can either take the Metro, a bus, a cab or just walk.
How to Take the Metro to the Vatican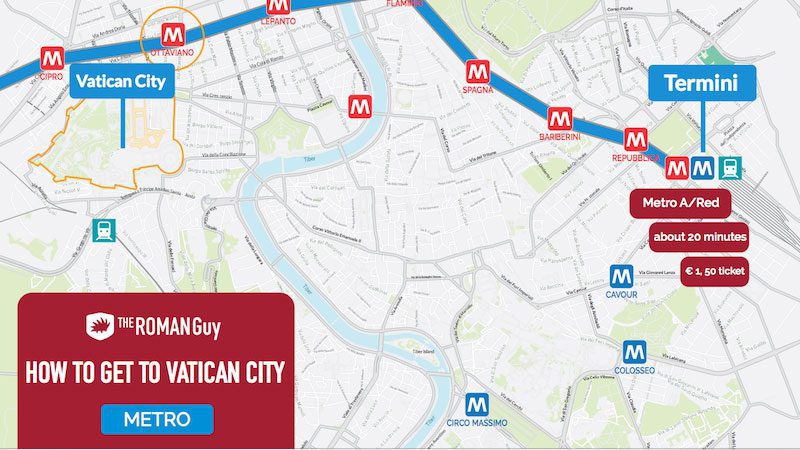 About 20 minutes
Metro directions: The metro stop located near St. Peter's Basilica is Ottaviano. It is located on the A line (orange line).
Therefore, if you jump on near the Spanish Steps (Spagna) or Termini Train Station, make sure you catch the A-line going towards Battistini and get off at Ottaviano.
The entrance to St. Peter's Basilica is a five-minute walk from the stop. Of course, you can also catch the A-line from many other stops, just check the Rome Metro schedule.
You can buy tickets at the metro station or a corner store, but not from the driver.
Pro Tip: Always budget an extra 10 to 20 minutes if you have a scheduled event like a Vatican Tour. This way you don't have to rush and give you time for that quintessential morning espresso.
How to Take the Bus to the Vatican

About 20 minutes
Bus directions: From the Termini train station, head outside and get on bus #64. The bus ride will take about 20 minutes, your stop is the last one on the route: P.za Stazione S. Pietro.
To get to St. Peter's Basilica, it's about a five-minute walk from the bus station.
You can also take the #81 bus from the Colosseum area (the bus stop is located right outside of the metro station – B line).
The 81 bus route ends in Piazza Risorgimento which is a five-minute walk to St. Peter's Basilica.
How to Take a Taxi to the Vatican

Depends from the leaving point
A taxi ride should cost no more than 20 euros if you're staying in the historic center of Rome.
When you get in, tell the driver to take you to St. Peter's Basilica.
The most typical way to get a taxi in Rome is to go to a taxi stand. These are located near every major tourist attraction.
If you aren't located near one, you can always order a coffee and pastry at a café and ask the people working there to call you one.
Walking to the Vatican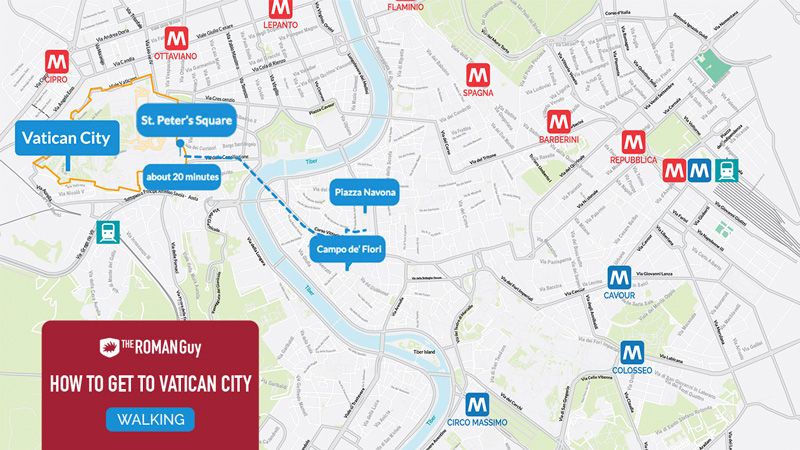 About 20 minutes
Walk to Vatican City: You can walk if you're staying near Piazza Navona or in Campo de' Fiori and the weather's right. Prati is also easily walkable to the Vatican.
If you love exhausting yourself by exercising prior to being on your feet for 3+ hours, you can walk to St. Peter's Basilica from basically anywhere in Rome, but I would recommend taking mass-transit. You'll be on your feet plenty in Rome!
Pro Tip: A neat trick for using your phone map is to set your course when you are in wifi on airplane mode.
GPS will still show your location while on airplane mode. It won't reroute you but it will show you where you are.
It's the most useful tool for travel in terms of getting directions.
Visiting the Vatican with Kids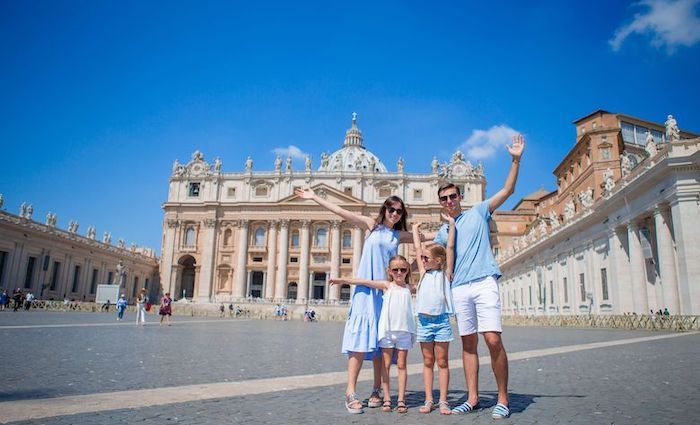 If you're visiting St.Peter's with your kids, it's important to note that strollers are not allowed inside. There is a small storage area at before climbing the steps where you can place the stroller.
As for toilets, there are toilets in the same area before you walk inside the church and also a 2-minute walk once you leave.
For a more private experience truly geared toward a younger audience, consider our Family-Friendly Vatican tour.