Planning to visit the Vatican City and want to know if a guided tour is worth it and right for you? This article will go over the benefits of a guided Vatican tour so you can decide if it is worth it and right for you!
---
What Does it Mean to "See The Vatican"?
The Vatican City is many things, but I have narrowed it down to three things in particular. First, it is the home of Catholicism which is a form of Christianity—the world's most popular religion. Second, it is a country that happens to be the smallest country in the world. Third, it is an attraction visited by over 6 million visitors nearly every year.
To recap, the Vatican is part of the largest religion on Earth, but the smallest country. That said, it is also a super popular destination that you can visit regardless of your religious affiliation! The Vatican City is in the center of Rome which makes it easy to get to and adds to its allure.
What does it mean to see the Vatican? When people say, "I visited the Vatican" it means they purchased a ticket or tour for the Vatican Museums and also visited the St. Peter's Basilica. The Sistine Chapel is inside the Vatican Museums which is one of the main attractions.
Areas of Interest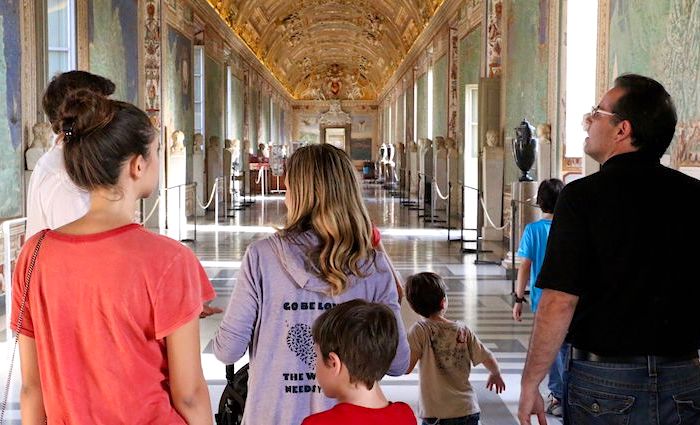 The Vatican Museums are a series of galleries housing some of the world's most famous artwork produced by high-renaissance masters such as Michelangelo, Raphael, and more. It culminates with the Sistine Chapel which is arguably the most famous work of art on Earth completed by Michelangelo and others.
Here are some of the main galleries:
The Pinacoteca
Pio Clementino Gallery
Gallery of the Maps
Candelabra Gallery
Gallery of the Tapestries
Raphael Rooms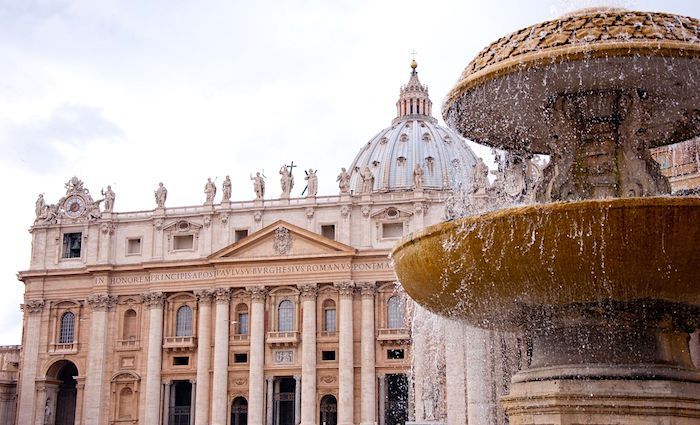 The Basilica of St. Peter was built and added onto by just about every famous artist in the 16th & 17th centuries. Designs and various elements were created by Bramante, Michelangelo, Raphael, Bernini, and many others. Michelangelo famously designed the dome which you can climb to the top of.
You do not have to pay to enter the St. Peter's Basilica, but it normally can be reached from the Vatican Museums.
Is a Vatican Tour Worth It?
Short Answer: Yes, if you have a great guide and small group.
Skip the Lines
We have a special collaboration with the Vatican so all of our tours skip the lines for tickets. We also have expedited security lines to enter which vastly decrease wait times to enter.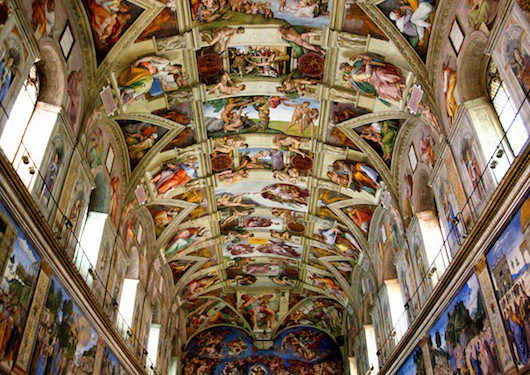 Great Tour Guides
The key to a great tour is a great tour guide. The best guides can make anything that is old, interesting. When you couple a great guide with an incredible monument like the Vatican City you can get one of the most memorable experiences of your life.
You are talking about an attraction that was literally built and decorated by the world's greatest artists. You'll find sculptures that were built by the ancient Romans, frescoes by Michelangelo himself, paintings by Raphael, Guido Reni, Da Vinci, and more. The right tour guide will have endless stories, anecdotes, and history to dispel.
We also work closely with the best tour guides to hone and improve their skills. We have worked with guides on their language skills, history, presence, and even first aid! We're committed to attracting the best and most engaging guides so you get a high-quality tour that you will remember.
Privileged Access
A massive part of having a great experience at the Vatican City is entering before or after the crowds and getting special access. We call this "privileged access" since it is truly a privilege to visit Vatican City the way we do. What are some of the benefits?
8 am Access
Many of our Vatican tours enter the Museums around 8 am when it opens to tour operators who have a special accord with the Vatican Museums. We have this agreement and more! Our Privileged Entrance Vatican Tour with Sistine Chapel (3.5 hrs) enters at 8 am and is our most popular Vatican Tour.
First Entry, 7:30 am
The 7:30 am, which we call First Entry or Gold Access, allows you inside the Vatican Museums just a bit earlier than most other tour operators. It is an added benefit that we have after over a decade of positive relations with the Vatican Museums. You can see our First Entry Vatican Gold Tour (2hrs) or our First Entry Detailed Vatican Tour (3.5hrs). Both are great options!
Vatican Gardens & Castel Gandolfo
We also have amazing tours which visit the Vatican Gardens. The gardens are very difficult to gain access to and are particularly beautiful. Check out our Sistine Chapel, Vatican Gardens, and Pope's Summer Home Day Trip (11 hrs).
Stories
Have you ever heard the story of Michelangelo painting the Sistine Chapel lying on his back? Well, it's not true. He stood straight up and painted the ceiling for years which must have been agonizing.
While there is a ton of history packed into the Vatican, there are also so many stories and anecdotes that you would never hear otherwise. Guides understand that in order for you to stay engaged to a tour, you have to weave in scandals and anecdotes to keep things exciting!
Benefit of Small Groups
I have given hundreds of tours to a variety of group sizes, from a single person to groups of 50, and the experience is vastly different.
The smaller the group, the better it is. Why? Imagine giving a presentation to 50 people vs 15 people and how different the experience would be. With 50 people, you speak to everyone and interact with very few individuals.
On the contrary, a group of 15 ensures more individual interaction with each person, guides make more eye contact, and ideally become familiar with many people in the group. Although both experiences could be positive, the smaller group would be more intimate with more personal connections.
What is the Right Vatican Tour for You?
To decide between our tours you can visit our tour offerings to compare Vatican tours or read our blog, "What is the best Vatican tour and why?"