St. Peter's Basilica is one of the most beautiful churches in the world, and it's definitely worth a visit. It is home to many beautiful and important works of art, including the beautiful La Pietà, Michelangelo's famous marble sculpture. But did you know that you can also climb St. Peter's Dome and enjoy some gorgeous views? Here's how to climb St. Peter's Dome.
---
Pro Tip: Planning your visit to St. Peter's Basilica in Vatican City? Bookmark this post in your browser so you can easily find it when you're in the city. See our guide to St. Peter's Basilica for more planning resources, our popular St. Peter's Basilica tours for a memorable trip, and the top things to see in the basilica.
How To Climb St. Peter's Dome
You definitely want to climb St. Peter's Dome. We have even arranged a special tour dedicated to St. Peter's Basilica and its jaw-dropping dome! Our new Ultimate St. Peter's Basilica Dome Climb is the perfect tour for anyone who wants the full St. Peter's experience. You can also add the Vatican to your experience.
If you want to climb St. Peter's Dome on your own, this article will help you reach your goal! We'll start with a quick step-by-step guide on how to climb the dome, followed by some additional information you'll need. Here's what we'll cover:
St. Peter's Dome Hours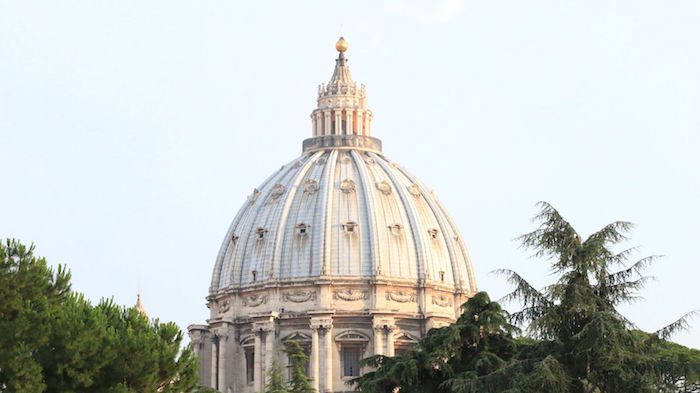 St. Peter's Dome is open to visitors all day, but closing times do change slightly depending on the seasons.
1st April – 30th September: 7:30 am – 5 pm
1st October – 31st March: 7:30 am – 5 pm
How To Get Tickets To Climb St. Peter's Dome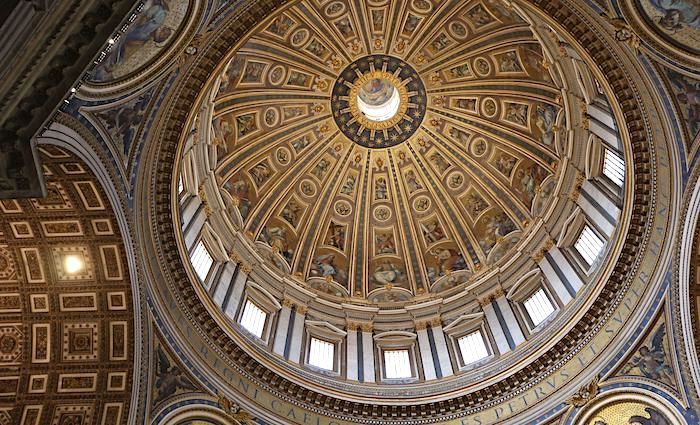 If you're not interested in a guided tour, you can purchase your tickets to the dome at the ticket kiosk. As mentioned above, the entrance is to the right of St. Peter's Basilica. Follow the arrows until you reach the little ticket kiosk. You have two choices with different prices:
On foot for €8: This is the cheaper option, where you climb 551 steps in total to get to the top. If you enjoy some physical activity, go for this option. It is a great walk and it gets exciting as you start nearing the top of the dome and the passages become narrower and narrower. There is also something rewarding about climbing all those stairs, and reaching the top for the ultimate view!
By elevator (plus a few steps) for €10: This is slightly more expensive, as you get to swoop up the majority of the climb in a modern-day capsule! If you are unable to walk a lot of stairs, or just don't feel like the climb, this is the best option. You'll still have to take a few stairs at the end, but it beats 551 of them.
Please note: The ticket office does not take cards, so be sure to bring cash with you. If you go all the way into St. Peter's and don't have cash, you will need to leave to withdraw money and re-enter through security all over again.
Popular Vatican Tours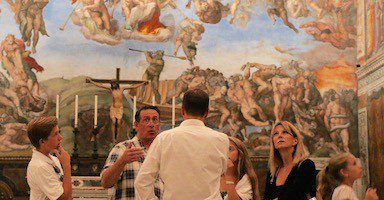 Best Selling Tour
Privileged Entrance Vatican Tour with Sistine Chapel
This our most popular and longest-running Vatican tour to date. It enters the Vatican City & Museums an hour before the public opening and visits the Sistine Chapel as it opens. Admissions are included and our English-speaking guides do a wonderful job bringing the museums to life!





See Prices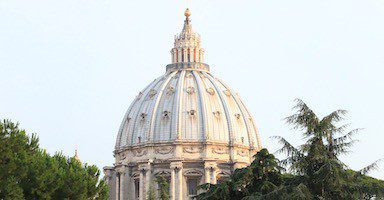 Top Rated Tour
Ultimate St. Peter's Basilica Dome Climb Tour with Papal Tombs
Get the most out of your visit to St. Peter's Basilica by joining a guided tour up to the top of the tallest dome in the world! Our tour includes all admissions including an elevator to the highest possible point and an English-speaking guide.





See Prices
Not ready to book a tour? Check out our best Vatican tours to take and why.
6 Steps To Climbing St. Peter's Dome—Pun Intended!
Step 1: Avoid Wednesdays
Don't plan on climbing the Dome of St. Peter's Basilica on a Wednesday. The Papal Audience takes place on Wednesdays, which could complicate things.
Step 2: Get There Early
Get to St. Peter's Square early. We recommend arriving around 8 am, so you won't have to wait in a long security line or the line to climb the dome.
Step 3: Go Through Security
Enter the Basilica by going through security, which is located in the right-hand side colonnades as you enter the square. You'll see some fencing and metal detectors. Don't worry, you can't miss it.
Step 4: Find the Entrance to the Dome
When you walk up the stairs to go inside the Basilica, walk through the largest archway and look straight ahead. You'll see an area on the right-hand side of the Basilica with some fences. If you arrive at 8 am, there should be no lines. You'll see visible signage that refers to climbing the Dome.
Step 5: Take the Elevator
Pay for the elevator! It only costs about €4 extra, €10 total, to take an elevator most of the way up. You'll bypass a few hundred of the 551 steps, which will make your visit less exhausting.
Step 6: Enjoy the View!
Enjoy the view at the top! After you take the elevator and walk up the steps, you'll find yourself at the top. Take lots of great photos and enjoy your time. There is even a bar to get coffee on top of the Basilica!
St. Peter's Basilica Tour Options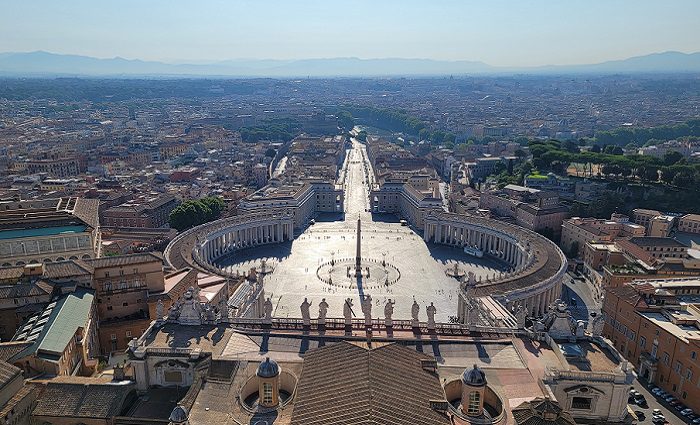 We can't stress enough how worth it climbing St. Peter's Dome is! We take the guesswork out of the dome climb with our St. Peter's Basilica dome climb tours. Check out our tour options below. Also, don't forget to check out our Vatican Museum tours.
In this tour, you'll go from the very top of St. Peter's Basilica then down to the bottom. Meet your guide at the basilica and then head straight up to the dome before the large crowds arrive. After taking in the incredible view, you'll go into the church for a guided visit. Then, descend into the Papal Crypts below.
See tour itinerary, price, and description
This tour begins by climbing up to St. Peter's dome, followed by a tour of the church. Then, your guide will lead you to the Vatican Museums where you'll see all its treasures, including the Sistine Chapel.
See tour itinerary, price, and description
Not ready to book a tour? Find out if a St. Peter's Dome climb is worth it.
How To Get To St. Peter's Dome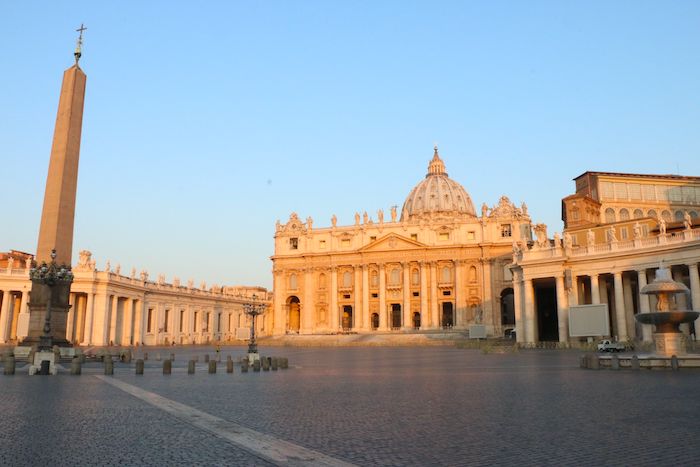 Where is St. Peter's Dome?
The St. Peter's Dome is easy to find. Just head to the famous St. Peter's Basilica and you're there! Once you get to St Peter's and have gone through the security gates, face the church. There are a few entrances you can walk through. To the right, you will see an entrance with a green sign that says "Dome Entrance". From there, follow the arrows to the ticket kiosk.
*If you've just taken a Vatican Tour and ended at St. Peter's Basilica, this is the perfect activity to finish off your Vatican experience. Especially because, if you're on our tour, you'll have skipped the lines and security gates, and can simply head straight to the dome!
Who Built St. Peter's Dome?
Short Answer: Michelangelo built the dome and Donato Bramante designed the Basilica supporting the dome. For more info on the dome and its construction, check out St. Peter's Basilica: Facts and History.
Not ready to book a tour? Find out if a Vatican tour is worth it.