Looking for a great restaurant or place to eat in or near the Pantheon in Rome? Our list of the best restaurants near the Pantheon and in other areas of Rome are updated and refined annually by our team of life-long students of Roman cuisine; locals!
---
The 10 Best Restaurants and Places to Eat Near the Pantheon 2021
The streets and alleys surrounding the Pantheon are some of the coolest and most local-feeling in the center of Rome. Small pedestrian cobble-stone streets like Trastevere but a little nicer and cleaner.
There is one main tourist path that runs from the Trevi Fountain, through to the Pantheon and on to Piazza Navona. If you can get off that path a bit, there are some really cool places to have a meal. Our picks are not in any particular order. They range from sandwich shops to high-end dining. You can also use the below toggle-menu to navigate to our recommendations for other parts of Rome!
10. Ristorante La Campana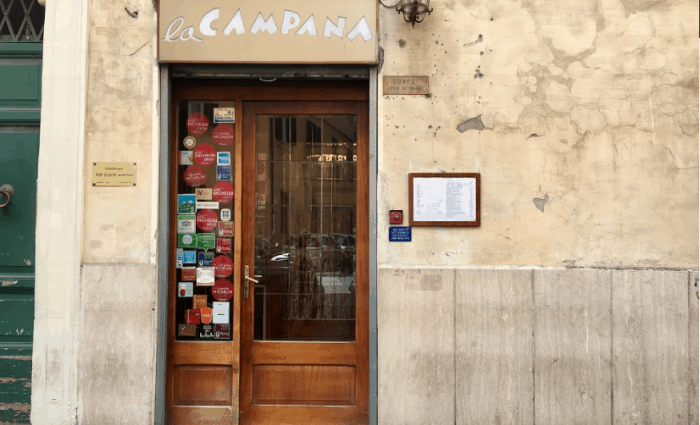 €€ | Casual | Kids
Looking for classic and authentic Italian. Nobody can argue that this is not the most authentic restaurant in Rome considering it is the oldest restaurant in Rome. Clients would span from Caravaggio to Fellini. The restaurant is just down the street from the Medici Palace so you could assume they would have eaten here as well. If we were around, they may have made our 1550/51 list!
Expect extremely traditional Roman cuisine here From oxtail ragu, which is incredible, to black or white truffle pasta. They have some interesting pear dishes on their menu which should be looked at. I recommend you share plates here and run as full of a gambit as you can. With this place being that old, how could it not be one of the best restaurants by the Pantheon?
Address: Vicolo della Campana, 18 | Hours: Tues – Sunday 12:30 – 3 pm & 7:30 – 11pm
9. ParmAroma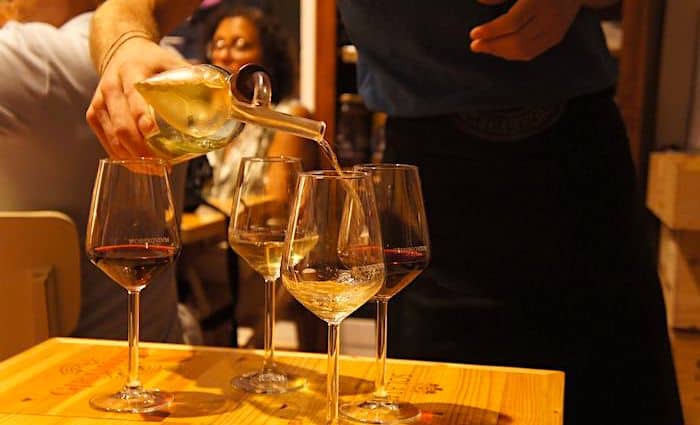 €€ | Adventurous | Kids
This stop doubles as a gourmet shop and restaurant, and is only about two streets north of the Pantheon dome. The food offered here originates from the Italian region Emilia-Romagna.
Many are amazed by the plethora of cheeses, wines, tortellini, and parma hams available for your choosing. Some of its highlights include its cave-like atmosphere and warm and friendly staff.
You won't get the views or ambiance of Piazza Rotunda, but you will get much better and more interesting food. This is for adventurous eaters.
Address: via delPozzo delle Cornacchie 36 | Hours: Mon-Sun 12:30p.m.-12a.m. | Phone: +39 06 6880 6729
---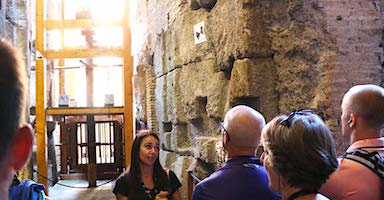 Best Seller
Colosseum Underground Tour with Roman Forum and Palatine Hill
This is our most popular Colosseum tour due to the incredible access to non-public areas like the underground chambers. All admissions are included and it is lead by an English speaking licensed guided and Colosseum expert.





See Prices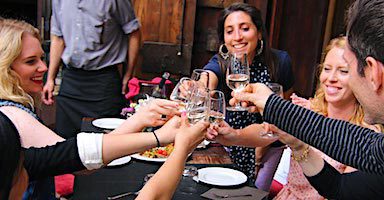 Best Seller
Local Rome Food Tour in Trastevere Neighborhood
Are you looking for the best food tour in Rome? Embark on a Trastevere food tour that offers an excellent introduction to some of the best food in Rome. Led by a local foodie guide, visit some of our favorite restaurants and trattorie in Rome





See Prices
8. Retrobottega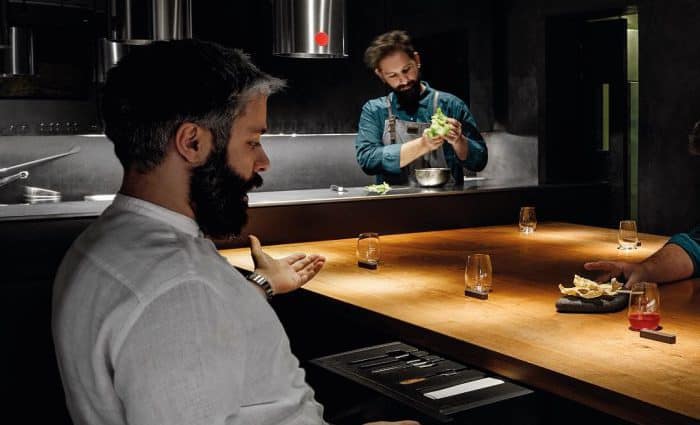 €€ – €€€ | Adventurous
This group of shops and restaurants are owned and operated by a few chefs with Michelin star backgrounds. However, you won't get Michelin star prices here. Definitely more expensive than your average meal but really cool and worth the money.
The ambiance of the restaurant is super modern with an open kitchen and prep. Come here for lunch or dinner with a big appetite and an open mind. Reservations are recommended. I recently ate here and can say with confidence this is by far one of the best restaurants near the Pantheon.
Address: Via della Stelletta, 4 | Hours: Tues – Sunday Noon – 11:30 pm | Phone: +39 06 6813 6310 | RSVP
7. Da Armando al Pantheon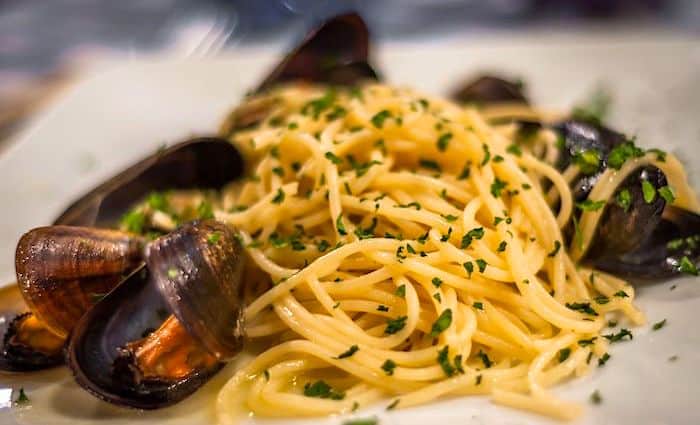 €€ | Casual | Kids
At Da Armando al Pantheon, customers must book a reservation ahead of time because the restaurant is generally pretty full. From their wide range of desserts (incomparable Panna cotta) to their mouthwatering pasta dishes, Da Armando al Pantheon lives up to its high ratings and higher expectations of those who dine there.
Da Armando al Pantheon is not only known for the rich dishes they offer, but also the incomparable service. After eating here you will understand why it's one of the best restaurants near the Pantheon.
Even the head chef will often make an appearance during your meal to see how you're doing and receive feedback. This restaurant is also Gluten-free friendly.
Address: Salita dei Crescenzi 31 | Hours: Mon-Fri 12:30pm-3pm/7-11pm, Sat12:30pm-3pm | Phone:+39 06 6880 3034
6. Pantha Rei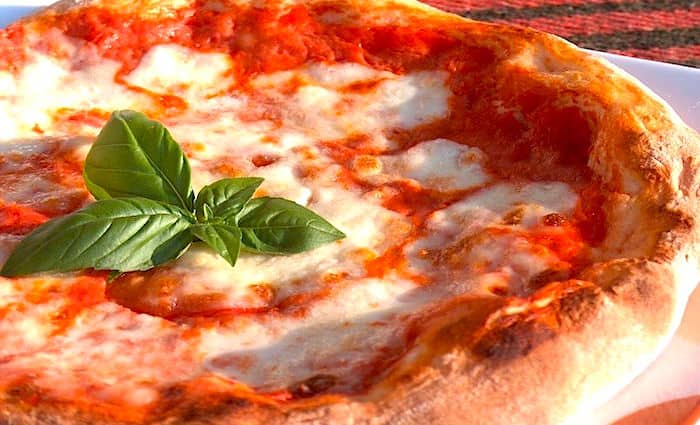 € – €€ | Casual | Outdoor Seating | Kids
People often refer to Pantha Rei as a "hidden gem" as it's very close to the Pantheon but somewhat tucked away in an alley within Piazza della Rotonda. This restaurant is particularly popular because of its amazing gluten-free pizza.
The combination of diverse food, incredible atmosphere, and amazing service makes it a no-brainer decision for those looking for fine dining nearby. Only steps away from the Pantheon, people often compliment its non-touristy feel and reasonably priced wines.
Address:Via Della Minerva | Hours: Mon-Sun 12pm-11pm | Phone: +39 06 89021922
5. Da Gino al Parlamento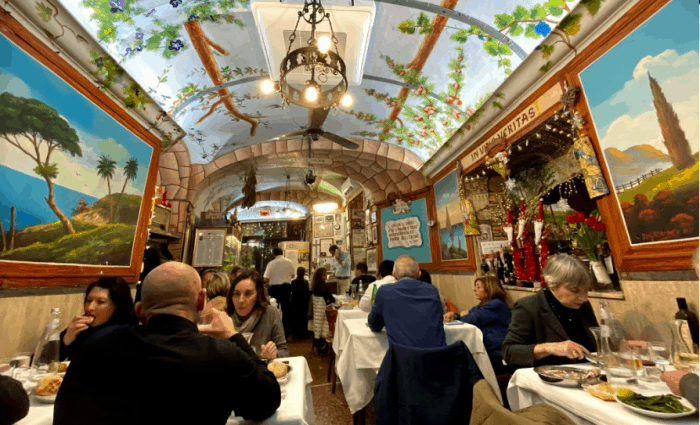 €€ | Casual | Kids
I would describe this as tacky-delicious. The restaurant is decorated as you'd expect an Italian restaurant in your home country to decorate, but it is in Italy.
Where they lack in decor, they make up in food and prices. This little gem right in the center is always crowded and has really good food. It is also packed with Italian professionals that come here for lunch. You probably won't see as many locals at dinner since they probably don't live in the area but know that this place is loved by local business people.
Address:Vicolo Rosini, 4| Hours: Mon-Sat 1 – 3pm & 8 – 11 pm | Phone: +39 06 687 3434
4. Pietro al Pantheon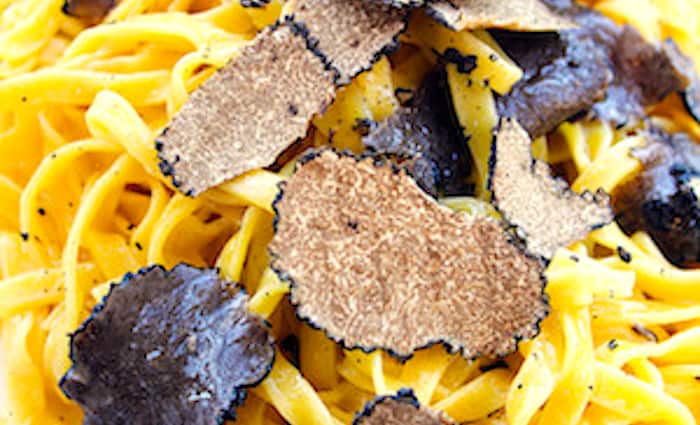 €€- €€€ | Fun | Kids
Pietro Al Pantheon has two words for you: fresh truffles. If you love truffles you must order the black truffle pasta. Maybe even order a few pasta dishes and share.
It's a cool place with good enough food. The interior has a really cool old-school vibe. They do the tacky "serve your dish in the pan" thing that many restaurants who cater to visitors do, but it's fun and the food is really good.
If you're looking to get your veggies in, order the Insalata mista. This dish is a colorful bouquet of yellow peppers, tomatoes, cucumber, zucchini, carrots, arugula, anchovies, and even squash blossoms.
Address:Via dei Pastini, 125 | Hours: Mon-Sun 10am-1am | Phone:+39 06 678 9940 | RSVP
3. Ristorante La Tavernetta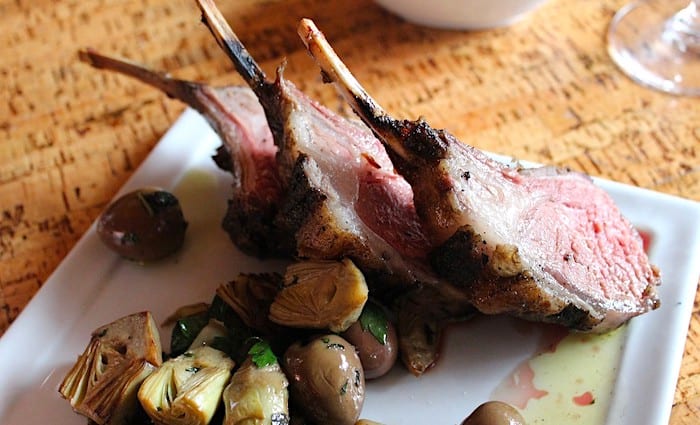 €€-€€€ | Casual | A Few Tables Outside | RSVP
Ristorante La Tavernetta 48 lies tucked away within the heart of Rome but is extremely worth seeking out. Go with their mussels in wine, herbs and chorizo, or the grilled lamb chops. You will understand after you eat here why this is one of the best restaurants near the Pantheon.
Ristorante La Tavernetta 48 is known for its excellent value and great attention to detail. The central air conditioning makes for a comfortable atmosphere, especially in the dreadfully humid summer months. Make a reservation – this is a dining experience you won't want to miss.
Address:Via Degli Spagnoli | Hours: Mon-Sun 12pm-3pm, 7-11pm | Phone: +39 06 6819 2591
2. Sant'Eustachio Il Caffé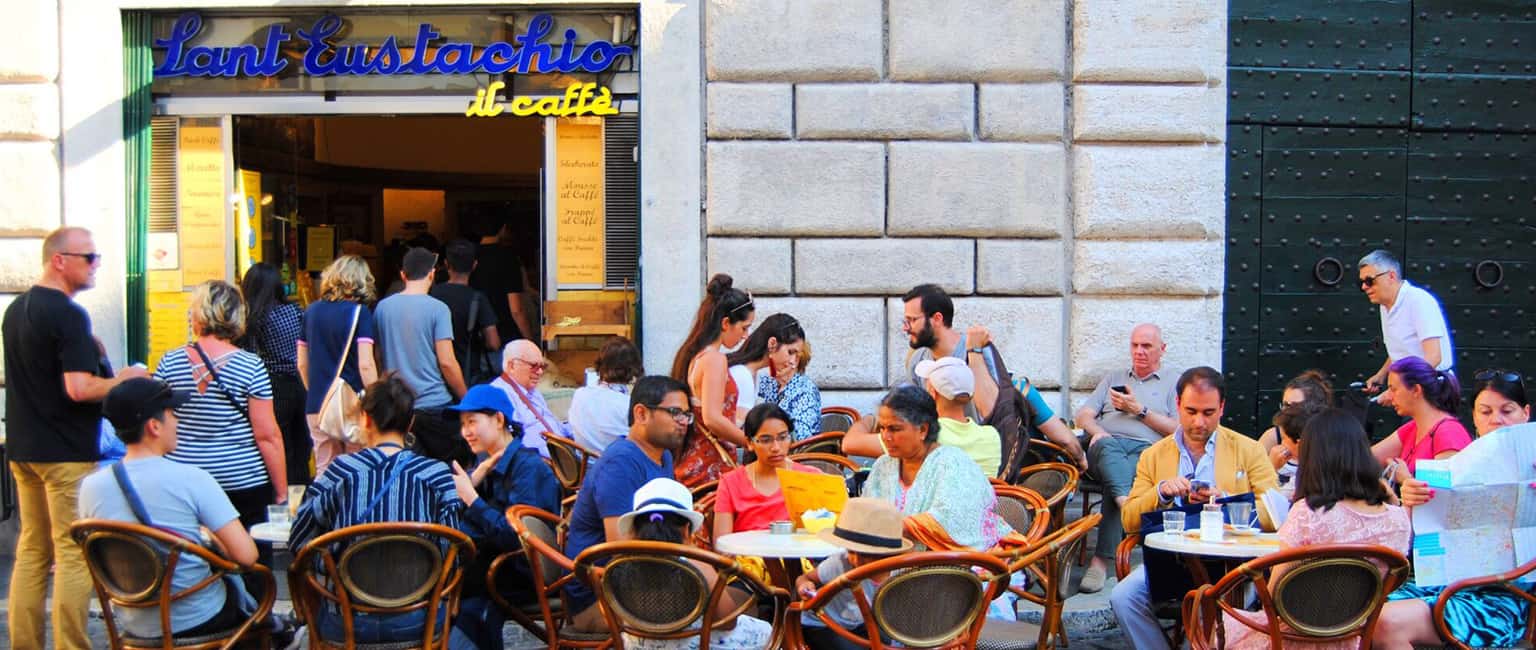 € | Breakfast | Outdoor Seating | Kids
Looking for breakfast or a coffee near the Pantheon? Sant'Eustachio is the place to get it. They are notoriously known for making the best coffee in the city and frankly, I agree. They have a method of adding sugar into the coffee for you with la frusta!
You'll have to look that one up but you still won't understand. If you want to understand, rock up here one morning, grab a table and order a coffee with a cornetto. This is a Rome must.
Address: P. di Sant Eustachio 82 | Hours: Tues – Sunday Noon – 11:30 pm | Phone: +39 06 6813 6310
Popular Vatican Tours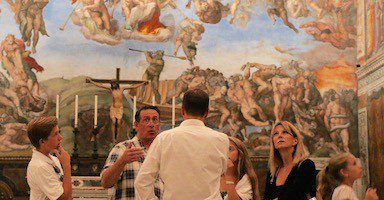 Best Selling Tour
Privileged Entrance Vatican Tour with Sistine Chapel
This our most popular and longest-running Vatican tour to date. It enters the Vatican City & Museums an hour before the public opening and visits the Sistine Chapel as it opens. Admissions are included and our English-speaking guides do a wonderful job bringing the museums to life!





See Prices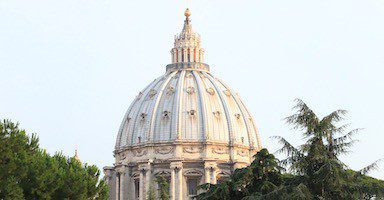 Top Rated Tour
Ultimate St. Peter's Basilica Dome Climb Tour with Papal Tombs
Get the most out of your visit to St. Peter's Basilica by joining a guided tour up to the top of the tallest dome in the world! Our tour includes all admissions including an elevator to the highest possible point and an English-speaking guide.





See Prices
1. Cremeria Monteforte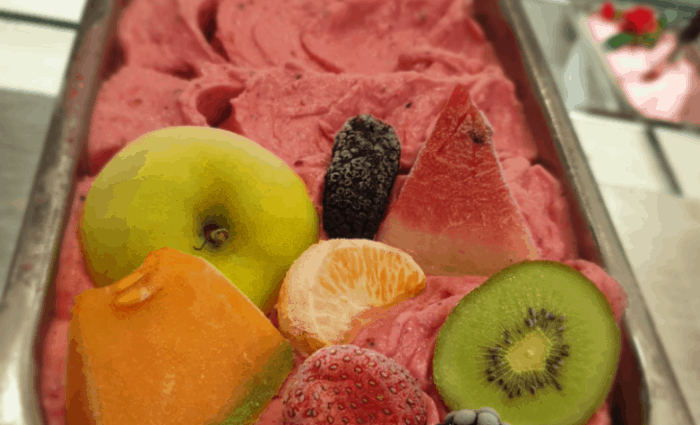 € | Gelato | Family Friendly
If you want to get gelato near the Pantheon you have all the options in the world. There are institutions like Della Palma, Giolitti, and San Crispino next door.
That said, I like the Cremeria Monteforte. I like coconut and they make really good coconut. It is small, there are no massive queues or crowds to get your treat and it is smack dab next to the Pantheon. You decide.
Address: Via della Rotonda, 22 | Hours: 10 am – 11pm (Closed Mondays)
Need to Know About Dining in Rome
RSVP? You can and probably will work, but most inexpensive restaurants treat RSVPs loosely due to the number of no-shows. Ask for a glass of wine while you wait.
Service? Don't get up in arms if it takes a while for the waiter to come over or if you can't get their attention. Enjoy your time not being in a rush.
Tipping? A few euros per person is great. If you want to give your 10 to 20% be our guest but not necessary. That said, everyone likes more money.
Rome Restaurant Recommendations by Area