People travel for a lot of reasons and food is definitely at the top of that list. It would be difficult to choose between seeing the Colosseum while in Rome or eating authentic Roman pizza. I would probably go see the Colosseum, but I would definitely have to consider it. That said, what is authentic Roman pizza and how is it different from Italian or Napoleatano pizza? Food tours are meant to explain these intricacies and this article will explain if they are worth doing while in Rome!
---
Pro Tip: Planning a trip to Rome? We literally have a free online guidebook to Rome and the Vatican as well as many other cities around the world. Bookmark those pages and definitely check out our Rome tours!
What is a Food Tour?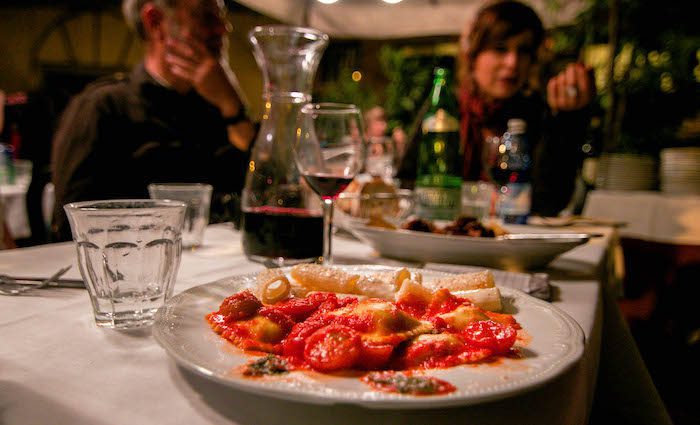 A food tour is a culinary journey through the traditional dishes of a particular city. Rome, being a culinary capital means the options for foods to try are endless.
A great food tour will walk you from shop to shop trying foods and wine and even sometimes beer along the way. The goal is to taste many different flavors of a city over the course of a few hours and to lighten the mood with drinks!
Many food tours will do a few standing "street food" type stops combined with a few traditional sit-down stops. If the food tour does not include sit-down stops at a restaurant or two, than it is not a good food tour.
I have done a food tour in Paris that went from shop to shop buying cold foods which is not a terrible start. That said, we ended up sitting in a basement with no windows eating cold meat for an hour or so which is not a great way to run a food tour.
Food tours are meant to be social, lively, and interactive. You should encouter many different characters from a city including shop owners, waiters & waitresses, along with a charismatic guide. You don't want to eat cold cuts in a basement.
Our Trastevere "Locals" Food Tour in Rome definitely offers enough food to fill up even the hungriest customers! I can't speak for other food tours, but ours offers a robust menu with many different dishes, sometimes seasonal, including cheese, wine, pasta, cured meats, Baccala, and even Gelato!
Should You Do a Food Tour in Rome?
If you want to learn all the ins & outs of Roman and Italian cuisine, then yes you should do a food tour. If the tour is run by a strong brand with attention to detail, like us, then you will really take a culinary journey that will give you inspiration for your next days in Rome.
Food tours are for anyone who really enjoys food and wants to open themselves up to new expereinces through food. They are social events, at leats ours is, so be prepared to laugh, drink, and have fun. If you don't drink, that is ok too so long as you laugh!
Can vegans and vegetarians join? Yes, of course! We work hard to adapt the tour for everyone's dietary needs. When you book, be sure to provide notes on your dietary needs. Not all companies do this, but we definitely do! We commend people for making more sustainable dietary choices and work hard to support the cause!
When Should You Do a Food Tour?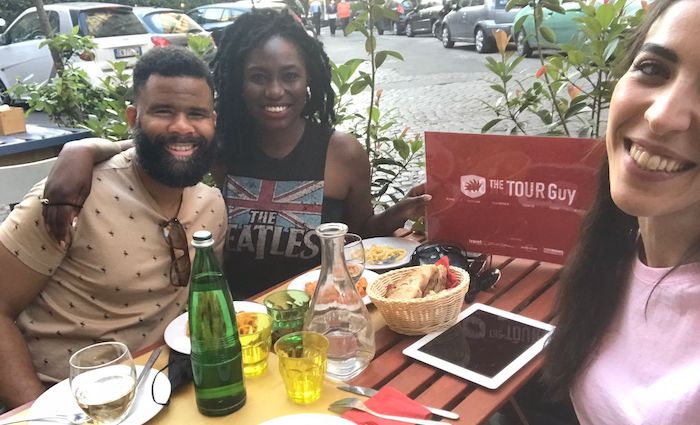 A food tour is best done on your first night in Italy. You may be suffering from some serious jetlag, but the best way to beat jetlag is a night out to help you go to bed at your normal time and restart your clock!
Doing a food tour your first night will help you get your bearings for the city and also provide an important lesson in what and how to eat in Rome. You'll learn rules such as, you shouldn't order a capuccino after lunch. You can order it, but the rules of the city are not to! Why? You'll have to book to find out!
How Much Do They Cost?
Food tours normally run around 80€ to 100€ and provide the equivilent of about 30€ to 45€ worth of food and drinks depending on the cost. A great food tour will offer more high-quality food than most people can eat which ours defintiely does.
That says, you can't look at a food tour as if you are getting the amount of money you spend in food and drinks. Like any other guided tour, you are paying for the tour and this one happens to also replace a meal which not many tours do!
You'll learn a lot about food but also about local culture, some off the beaten path monuments, and definitely culinary history & habits. When I go to a new city I almost always book a food tour because I appreciate understanding a new culture through food.
Definitely check out our Trastevere "Local" Food tour in Rome as well as our other food tours in Italy and all over the world!