People travel for a lot of reasons and food is definitely at the top of that list. It would be difficult to choose between seeing the Colosseum while in Rome or eating authentic Roman pizza. That said, food is often equally important to a culture, if not more so than its monuments. In this article, find out if it's worth it to take a journey on a Rome food tour.
---
Pro Tip: Planning what to do on your trip to Rome? Bookmark this post in your browser so you can easily find it when you're in the city. See our guide to Rome for more planning resources, our top Rome food tours for a memorable trip, and the foods you have to try in Rome.
What Do You Get on a Rome Food Tour?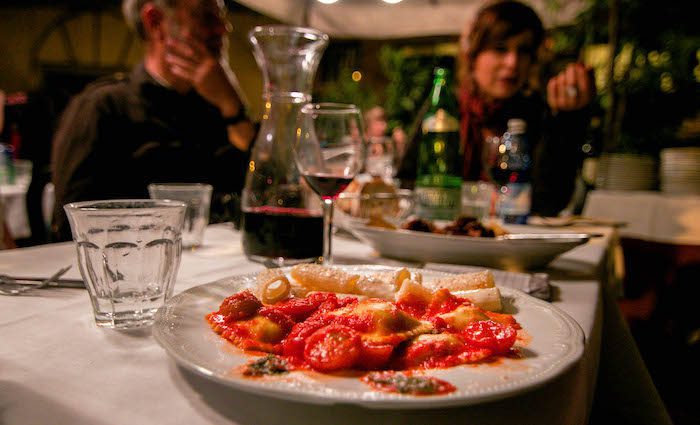 On a Rome food tour, you can expect to go on a culinary journey through the traditional dishes of the Eternal City with a passionate local guide. You'll go on a walking tour through the streets of Rome, passing by some of the city's landmark monuments and lively piazzas as you make your way to the trendy Trastevere neighborhood—foodie heaven!
Obviously, a food tour is all about delicious food and drinks. There'll be no tourist-trap restaurants. You'll eat authentic food in locals' favorite spots. Your guide will share interesting stories of Rome's food history and you'll experience the local culture and nightlife as you mingle with Romans, shop owners, restaurant staff, and your tour group on a fun evening out.
That's what a food tour is all about—getting out into a new city, exploring the local food scene, and enjoying a fun evening with new friends! You can also choose a food tour that offers enough food to fill up even the hungriest of travelers or one that focuses on exploring the city's best classic cocktails.
Our top-rated Trastevere local food tour takes you on a few standing stops to try local street food and includes a traditional sit-down meal. It offers a robust menu with many different dishes including cheese, wine, pasta, cured meats, baccalà, and gelato. You won't leave hungry, that's for sure!
Fancy an evening stroll through Rome trying different cocktails and enjoying local snacks? Our private Rome evening cocktail tour is a fun way to see the city and experience the buzz of local life as you make your way from one eclectic bar to the next.
Not ready to book a tour? Check out our Rome Guide for more info.
Is a Rome Food Tour Worth Doing?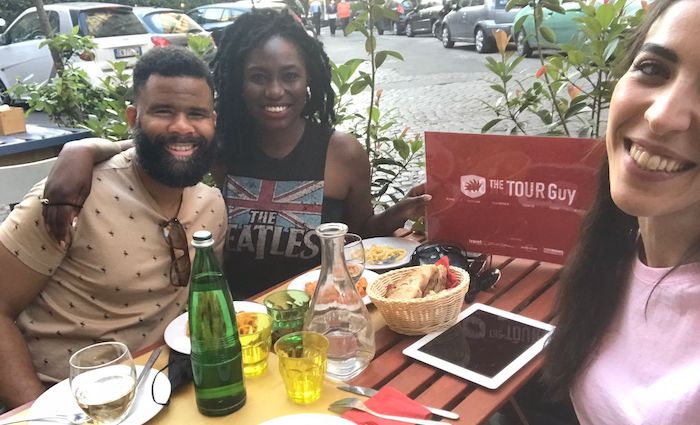 Short answer: A resounding yes, as long as you have a great guide and a small group. Is there a better way to experience your first night in a new city than on a fun food tour?
Taking a local food tour is a fantastic way to spend an evening exploring the city and its local cuisine in authentic restaurants. Here are a few reasons why the right food tour can make your trip that much more memorable.
Great Tour Guides
The key to a great tour is a great tour guide. Our local guides are passionate and knowledgeable. They know all the best places and have an intimate knowledge of the city and its history.
Who better to show you around and share cultural insights than a local foodie guide? They speak the language, they love their city, and they want to share it with you! Don't forget to ask them for restaurant recommendations for the rest of your stay in Rome.
Small Groups
Our tour groups are small because we know from experience that the smaller the group the better the tour is for you. This is especially important on a food tour because you want to be able to interact with your charismatic guide and your fellow travelers.
That's what food tours are all about—enjoying a fun social evening out in Rome with new friends (besides the great food and wine, of course)!
Walking Tour of the City
Did you know our food tours include a short walking tour of the city? You'll get to see some of Rome's must-see landmarks, beautiful piazzas, and hidden gems as you make your way from one food stop to the next. It's a fantastic introduction to the city and you may even find some spots to visit later in your trip!
Authentic Food in the Best Local Spots
Nobody likes a tourist trap. On a local food tour, you'll eat authentic food in the spots locals love. Your guide will take you to try different foods in places you may not have picked on your own but where the food is an exceptional example of Roman cuisine. You'll benefit from their local knowledge and avoid disappointing tourist-trap restaurants.
Stories and History
Want to know why you should only eat gnocchi on Thursdays or why you shouldn't order a cappuccino after lunch? Discover culinary stories and habits like these on a local Rome food tour.
Throughout the tour, you'll learn a lot about food, obviously, but you'll also learn about local culture, see some off-the-beaten-path monuments, and hear about some culinary history and habits.
As you dine on traditional foods and try regional wines, you'll gain historical and cultural context from the stories your guide will share. It adds another layer to your trip and a deeper understanding of Rome, making it that much more memorable.
Dietary Needs Accommodated
No matter your dietary needs, our food tours can accommodate you. Whether you're vegetarian, vegan, alcohol-free, or gluten-free, we work hard to adapt the tour to everyone's dietary needs.
When you book, be sure to provide notes on your dietary needs. Not all companies do this, but we definitely do. We commend people for making more sustainable dietary choices and work hard to support the cause!
---
Not ready to book a tour? Check out our Rome Guide for more info.
Most Popular Rome Food Tours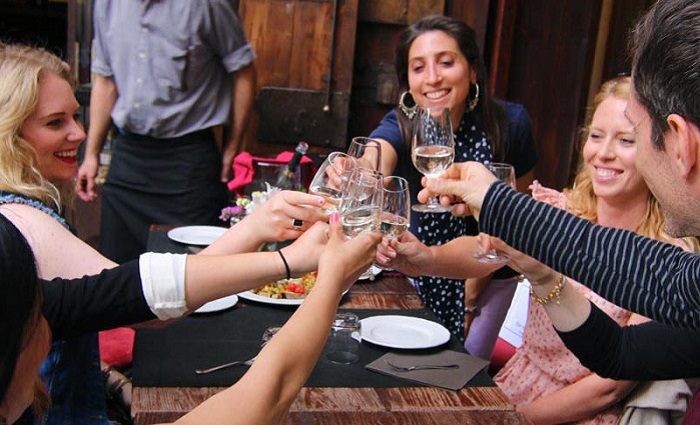 ---
A great food tour will offer more high-quality food than most people can eat, and ours definitely does! A tour is worth so much more than the amount you would spend on food and drinks—it's an experience!
In addition to a delicious meal and drinks, you also get an interesting walking tour with a passionate local guide. If you love food and want to see how the locals live, a food tour in Rome is a must. Here are our most popular Rome food tours.
Eat your way around the trendy Trastevere neighborhood in Rome with a local foodie guide who knows all the best spots and delicious food and drinks to try. You'll explore Rome's streets on a walking tour, see some of the city's top monuments and piazzas along the way, and enjoy the company of new friends!
You'll make a few standing stops to enjoy street food on your way to a traditional sit-down dinner. What's on the menu? Italian cured meats and cheeses, baccalà, freshly-made pasta dishes, Saltimbocca alla Romana, various Italian wines, and an after-dinner limoncello and gelato to cap it all off.
See tour itinerary, price, and description
Enjoy an evening out in Rome on a private cocktail tour that takes you from one eclectic bar to the next. You'll experience the local culture and nightlife in three different neighborhoods, stop for classic Roman drinks and delicious pre-dinner snacks in four of the city's best local bars, and learn about Rome's rich history along the way.
On the walking tour, you'll even pass by some of the city's must-see landmarks like the Pantheon and Piazza Navona. Your guide will leave you in trendy Trastevere, home to some of the best restaurants in Rome, where you can head to dinner and continue your night out in Rome.
See tour itinerary, price, and description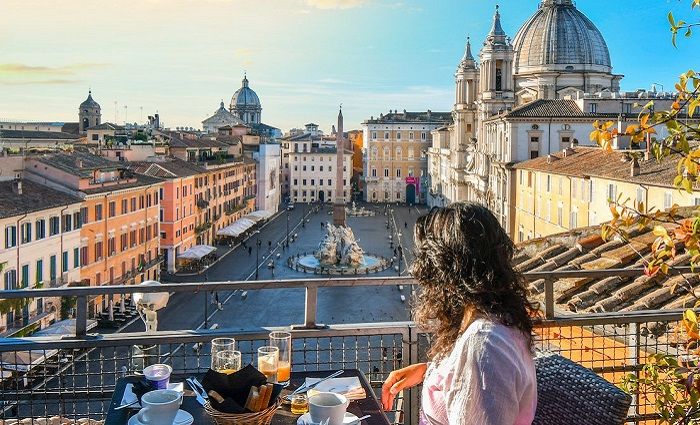 Find the best places to stay
Where To Stay in Rome
Rome has a rich cultural history and many iconic landmarks to explore. Plan where to stay in the magnificent Eternal City in the best neighborhoods.