The Trevi Fountain is one of the most sought-after monuments in Rome next to the Sistine Chapel and the Colosseum. It is arguably the world's most beautiful fountain and should definitely be on your list of things to see in Rome. This post will bring you up to speed on its history and significance!
---
Pro Planning Tip: Consider bookmarking this article into a "Rome" folder in your browser. This way you can circle back to it while planning. Also, check out our Best Rome Tours so you can see the Eternal City right.
Everything You Need to Know Before Visiting the Trevi Fountain
The Trevi Fountain is one of the most incredible sites in all of Rome and one of the best parts is that its free and always open. You can see it in the morning, afternoon, or night! Here is a quick run-down on what makes it so amazing.
Trevi Fountain History, Facts, Etymology & Meaning
History & Facts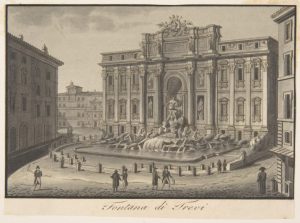 The Trevi Fountain is an outdoor fountain connected to Palazzo Poli. Palazzo Poli is a museum that houses engravings and other important artifacts.
The Trevi Fountain construction was originally commissioned to Gian Lorenzo Bernini in the 17th century. The plans were never acted on and over a hundred years later Nicola Salvi got the job by losing a competition for best drawing. Yes, Salvi lost to a Florentine Alessandro Galli.
Romans were not happy about a Florentine getting the commission and revolted. Eventually, Salvi was handed the job.
'Construction began in 1732 and was completed in 1762 eleven years after Salvi's death. The job was handed to an architect Giuseppe Pannini who worked with multiple sculptors to finish the project.
Etymology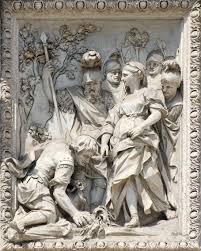 The word "Trevi" refers to the small piazza it sits in and the three roads that meet in that piazza. The number three in Italian is "tre" and road/street is "via". Tre-via or Trevi. Fontana di Trevi or fountain of three roads.
Meaning
The site was the original end of the Aqua Virgo Aqueduct which is one of Rome's oldest aqueducts. Apparently Marcus Agrippa was returning from battle on a hot summer day and his troops were dying of dehydration. They were in search of water but none was to be found!
A young girl ( virgo in latin) appeared and showed them a source from where they could get fresh water. This new water revitalized the army and they returned to Rome. M. Agrippa went back looking for the young girl, but she was gone. He decided to build an aqueduct from the source that fed into Rome.
Like any good late Baroque or Rococó work of art, it tells its own story. The very reliefs depict the story of the young girl leading Agrippa's troops to the virgin spring.
On the other side, you'll see Agrippa returning and approving the plans for the new aqueduct.
In the center of the fountain, you'll find Oceanus, the god of the sea. He rides a shell, like any good god of the sea, which is pulled by two Tritons (think Mer-man from Zoolander).
The different temperaments of the tritons contextualize the moods of the sea. The sea can be calm and peaceful or angry and destructive.
Popular Tours from Rome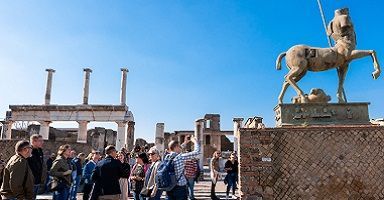 Best Seller
Unforgettable Rome Day Trip to Pompeii and Sorrento
This is the best way to see Pompeii and the Amalfi Coast from Rome. You'll take private transportation with our guide down to Pompeii where an archeologist will tour our small group through the ruins. Then we'll head over to Sorrento which is the tip of the Amalfi Coast before returning to Rome. Tickets, transportation, and guides are included in the price.





See prices and more info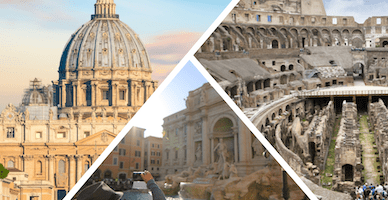 Best Seller
Rome in a Day Tour with Vatican, Sistine Chapel, Colosseum, and More!
Looking to get much of your sightseeing done in one day? This tour enters the Vatican an hour before opening and visits the Colosseum along with other sites like the Pantheon, Spanish Steps, and Trevi Fountain. All admissions and transportation are included as well as a licensed English-speaking guide!





See prices and more info
Opening Hours
Short Answer is that the Trevi Fountain is always open.
If there is some sort of restoration going on the fountain will be drained and cleaned. Otherwise, the fountain flows 24/7.
Where is the Trevi Fountain and How to Get There?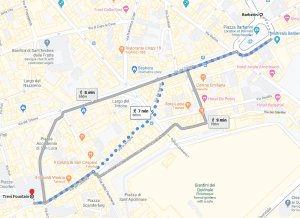 By far the easiest way to get to the Trevi Fountain is to connect to wifi and click on the link below. You can keep your phone on airplane mode and leave wifi. Your GPS dot will still give you an accurate location.
Address: Piazza di Trevi, 00187 Roma RM, Italy
If that is not possible, the fountain is located in the center of Rome and is relatively well connected by mass transit. In general, Rome has winding streets that make things difficult to find but there are plenty of signs to follow.
You can take the subway to the Trevi Fountain and get off at Barberini metro station. From here you can walk down Via Del Tritone for 5 minutes until you see a small piazza featuring Via Della Stamperia. Turn left and follow the sound of rushing water until you see the fountain.
Why is it So Special (Beyond Being Gorgeous)
The Trevi Fountain is built the majority from Travertine. It is complex in nature and embodies the Roman spirit. Not only that, but it defines Baroque artwork with its violent movements and depth of meaning.
Gian Lorenzo Bernini dominates the Baroque movement. You almost cannot find a book on Baroque artwork without a Bernini sculpture on the cover. Then there is the Trevi Fountain.
Nicola Salvi, who was basically a no-name artist, builds this one-hit-wonder fountain that is considered the greatest fountain out of marble on Earth and arguably the most beautiful fountain ever constructed.
The best part is, he only had one other large commission, a church in Viterbo which was destroyed in WWII. Basically, this fountain is his one and only work of art that dominates the large-scale Baroque scene.
Making Wishes at the Trevi Fountain (Three Coins in the Fountain)
In Italian they call it "il lancio della monetina." Basically you throw different numbers of coins in the fountain hoping for varied results.
1 coin grants you a safe return to Rome.
2 coins grant you a safe return to Rome and you'll fall in love.
3 coins grant you a safe return to Rome, fall in love, and get married.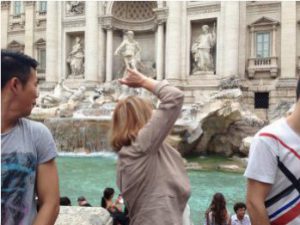 I am very sure that you may have heard a different story but the end result is 3000€ +/- going into this fountain each day. Prior to the euro, this number was undoubtedly less but travelers may find themselves throwing 1€ and 2€ coins in unknowingly.
One throw could earn the fountain 6 € and if you stop by the fountain during high season people are throwing coins in non-stop.
Best Time to Go
By far, the best time to go to the Trevi Fountain is at night or in the early morning or during a pandemic (with proper safety measures.
Four or five in the morning appears to the absolute best time to go in terms of crowds but you may find yourself sitting aside young lovers who have wondered there after a late club night. Rome is generally a safe city, but like anywhere in Europe, pickpockets prey on the drunk after 2 am.
You shouldn't worry about going out for drinks and such but late nights can cost you your wallet.
After dark, the fountain is beautifully decorated with lights and is buzzing with people. It is a must-see for your trip. The area is pretty much overrun with touristy restaurants, gelateria, and bars but gelato with food coloring in it still tastes good in front of the Trevi Fountain even if it isn't the most authentic.
Legend of the Ace of Cups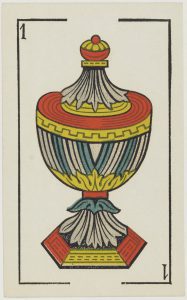 Apparently, when Nicola Salvi was building the fountain, there was a barbershop and a barber within the shop. The barber was not very happy about the construction of the fountain for his business and he gave a lot of trouble to Salvi. Enough trouble to really piss Salvi off.
Salvi was a Baroque artist and Baroque artists love hidden stories and meaning. Creating beautiful works of art is just the first step for guys like Salvi. So, to add to the dimensions of the fountain, he built a vase resembling the Ace of Cups or Asso di Coppe from the card game Scopa.
In Italy, there is an amazing game called "Scopa". One particular card is called the "Asso di Coppe" or the Ace of Cups. You can play 1:1 or in even teams, but the point of the game is to clear all the cards off the table. The cards are normally cleared in a final moment where a player throws the final card down and wins.
When Salvi built the Asso di Coppe he built it so that it blocked the Barbershop from the view of anyone standing in front of the fountain – which drew huge crowds. I imagine when the Barber saw the completed fountain and realized what Salvi did, he felt like someone had just thrown down the Ace of Cups and cleared all the cards off the table.
The barber had been beaten.
Do You Need to Take a Tour of the Trevi Fountain?
Well, no. While it is my favorite of all Rome fountains, you don't 100% have to take a tour of the Trevi Fountain like you would need to take a tour of the Sistine Chapel.
That said, it is a great monument to link together on a broader tour. Much of the challenge is finding the fountain and other nearby monuments in a timely manner.
The Spanish Steps, Trevi Fountain, Pantheon, and Piazza Navona can all be seen and enjoyed in 90 mins to 2 hours. Like any masterpiece, all these monuments can be enjoyed for much longer but for your initial visit we recommend seeing them in a row.
We include these monuments in our Rome in a Day tour which is super popular. It also includes a tour of both the Vatican and Colosseum.
Popular Rome Tours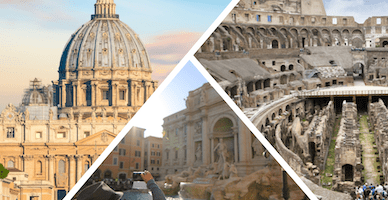 Best-Selling Tour
Rome in a Day Tour with Colosseum and Vatican Museums

Our "in a day" tour is best way to get your bearings all in one day. Visit the Sistine Chapel, Colosseum, Trevi Fountain, and more with a licensed, fun English-speaking tour guide. They'll add tons of insights and make the entire experience so much more memorable. Also, you'll get a feel for the city, so it's a great option on one of your first days in Rome. Bring your walking shoes and water bottle!





See Prices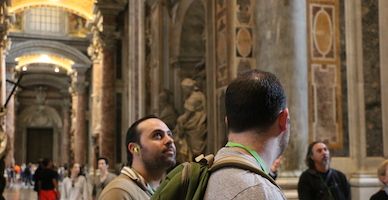 Best Price!
Skip the Line Vatican Tour with Sistine Chapel
One of our most popular Vatican tours since it is such an amazing value. Skip the line to get inside with a super-knowledgeable, English-speaking guide who will bring the museum to life with stories of the artists, popes, conspiracy, love, and even tragedy! This tour has start times throughout the day so you can choose when to visit based on your schedule!





See Prices