At almost 164 feet tall, the Colosseum is even more impressive in person. Beginning in A.D. 72, it took 10 years and 60,000 slaves to construct the largest amphitheater in the world. It's no wonder every traveler to Rome wants to visit it! But with so many types of tickets, tours, and experiences, how do you choose which Colosseum tour is right for you? Read on to find out.
---
Pro Tip: Planning your visit to the Colosseum? Bookmark this post in your browser so you can easily find it when you need it. See our Colosseum guide for more planning resources, our top-rated Colosseum tours for a memorable trip, and what to see at the Colosseum.
Our Colosseum, Roman Forum, and Palatine Hill Tours
We offer many different Colosseum tours with unique experiences and exclusive access. Whether you're looking to experience the Colosseum as a gladiator on the arena floor or an elite Roman spectator looking down on the brutal games, there's something for every visitor of this monumental wonder.
Here are the current tours we offer at the Colosseum, followed by detailed descriptions:
1. Special Access Colosseum Arena Floor Tour Through the Gladiator's Gate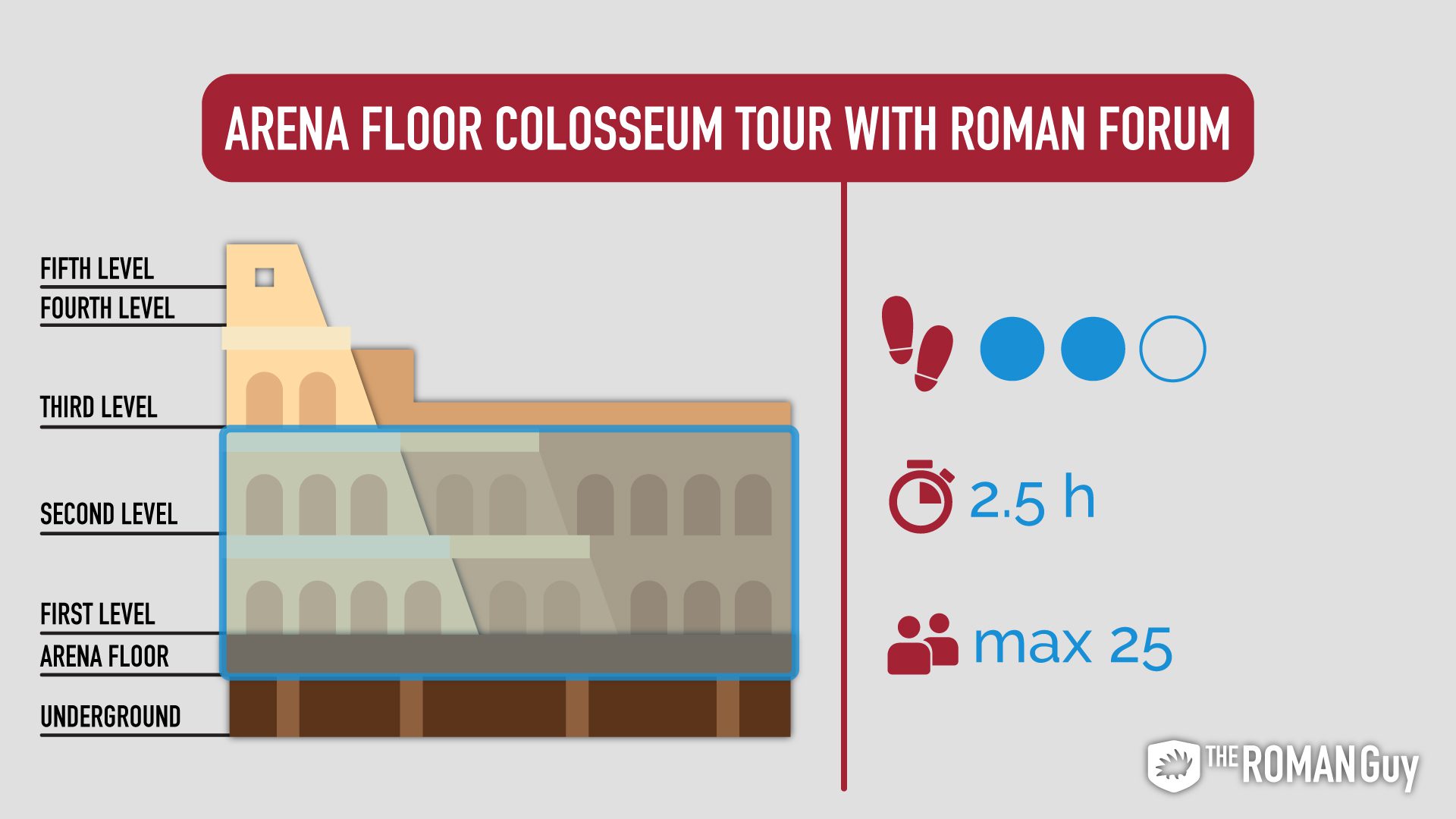 Standing on the Arena Floor, let your eyes wander upwards and imagine 60,000 cheering spectators waiting in anticipation for you—their favorite gladiator—to best the challenger in battle. If this sounds like it belongs on your bucket list, you're in luck.
In the 1990s, a portion of the Arena Floor was reconstructed, making it easier for modern-day visitors to see what the Colosseum looked like in its heyday. This is where Roman gladiators and animals fought—sometimes to the death!
Only a limited number of people with a special Arena Floor reservation are allowed to access this area, so it's worth planning in advance. Otherwise, you'll look down on this area wondering how you could have gained access to this unique perspective of the Colosseum. This tour is ideal for anyone looking to get the most out of their visit to the Colosseum.
Highlights:
3 hours long
Escape the crowds
Walk out onto the reconstructed Arena Floor in the heart of the Colosseum
Includes a skip-the-line guided visit to the Palatine Hill and Roman Forum including:

Julius Caesar's Temple
Senate House
Arch of Titus
Arch of Constantine
Basilica of Antoninus and Faustina
See tour itinerary, price, and description
2. Rome in a Day Tour with Colosseum and Vatican Museums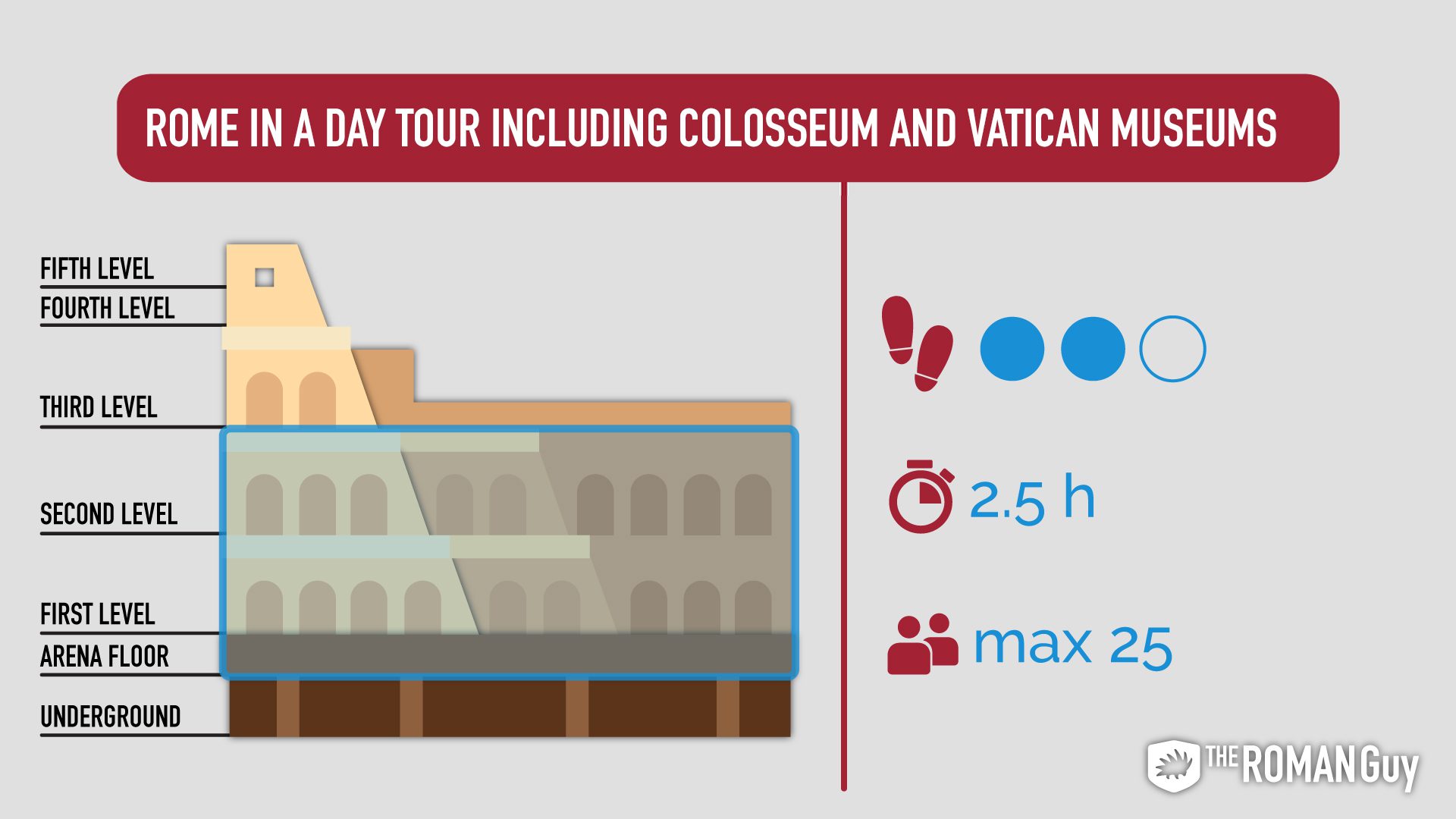 Though we recommend travelers spend several days in Rome to explore the many site in the Eternal City, we understand that sometimes your visit to Rome will only last a day or two. That's why we designed a tour to help you see the best of Rome quickly.
We recommend this top-selling Rome in a Day Tour for anyone who is in Rome for a short time, as it includes skip-the-line Vatican and Colosseum experiences. You'll also see top monuments in Rome such as Trevi Fountain, the Pantheon, Piazza Navona, and the Roman Forum. You'll be amazed at just how much of Rome you can see in a day!
Highlights:
6 hours long
90 minutes at the Vatican and St. Peter's Basilica
1 hour inside the Colosseum
Walking tour of downtown Rome
Trevi Fountain, Piazza Navona, Pantheon, and more
See tour itinerary, price, and description
3. Privileged Entrance Colosseum Tour With Roman Forum and Palatine Hill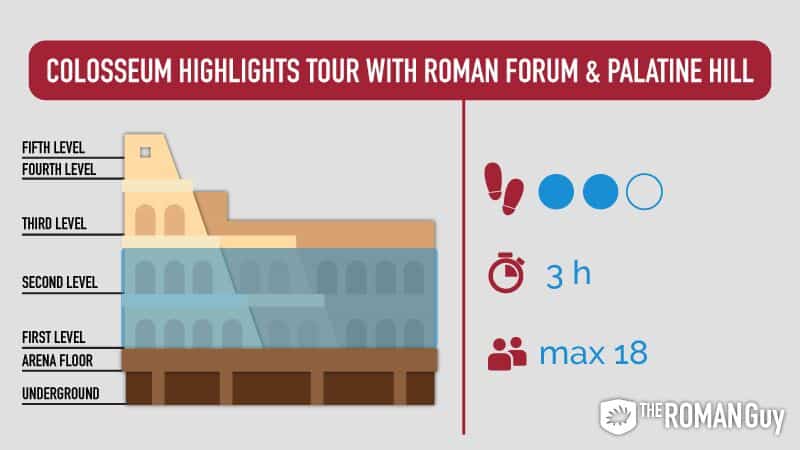 Looking for a Colosseum tour that just explores the outer rings and the second floor in addition to the Roman Forum? This Colosseum tour gets you into the Colosseum quickly and takes you to some awesome viewpoints inside the Colosseum. In addition, you'll explore the Roman Forum where the wealthy Romans lived in ancient days.
Highlights:
3 hours long
Visit the Colosseum's first and second tiers
Visit Palatine Hill and the ancient Roman Forum
See tour itinerary, price, and description
Not ready to book a tour? Check out our Colosseum Guide for more info.
4. Colosseum Underground Tour with Roman Forum and Palatine Hill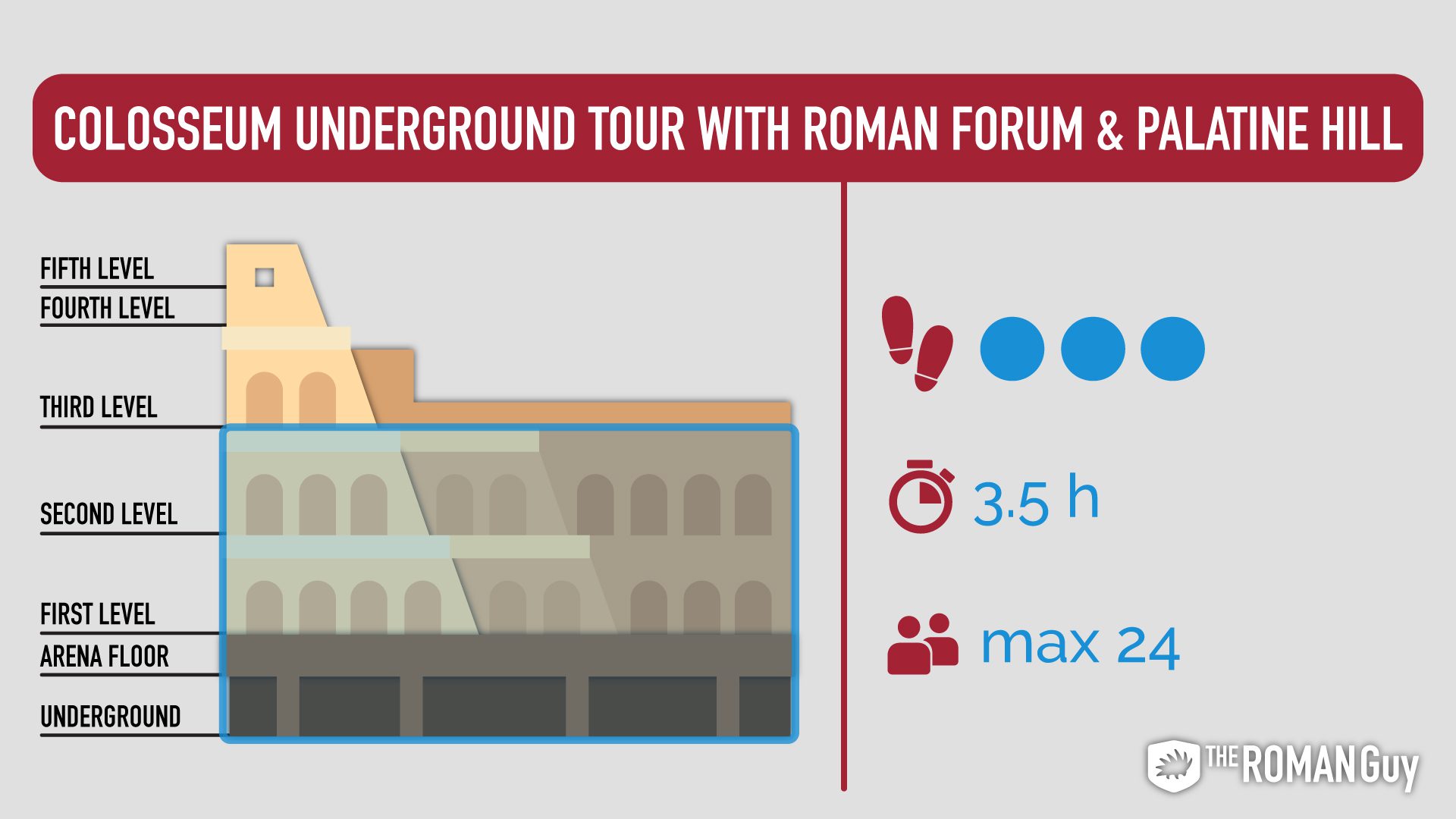 The Underground of the Colosseum is in high demand with limited ticket availability, which means this tour often sells out during the busy season. So, make sure you book well in advance.
Not only do you gain exclusive access to the Underground, but you'll also get the opportunity to walk out on the re-created Arena Floor where the gladiatorial matches took place. You'll gaze upwards and imagine the roar of the spectators who came to watch the most exciting games of their era.
This tour also includes a visit to the amazing Roman Forum which helps visitors imagine what life was really like in ancient Rome. The Colosseum Underground Tour is a behind-the-scenes, full-package kind of tour for people who want to feel like VIPs on vacation.
Highlights:
3.5 hours long
Go underground to the dungeons with an expert guide
Walk onto the reconstructed Arena Floor where the brutal games took place
Visit the Roman Forum and Palatine Hill
See tour itinerary, price, and description
5. VIP Colosseum at Night Tour with Underground and Arena Floor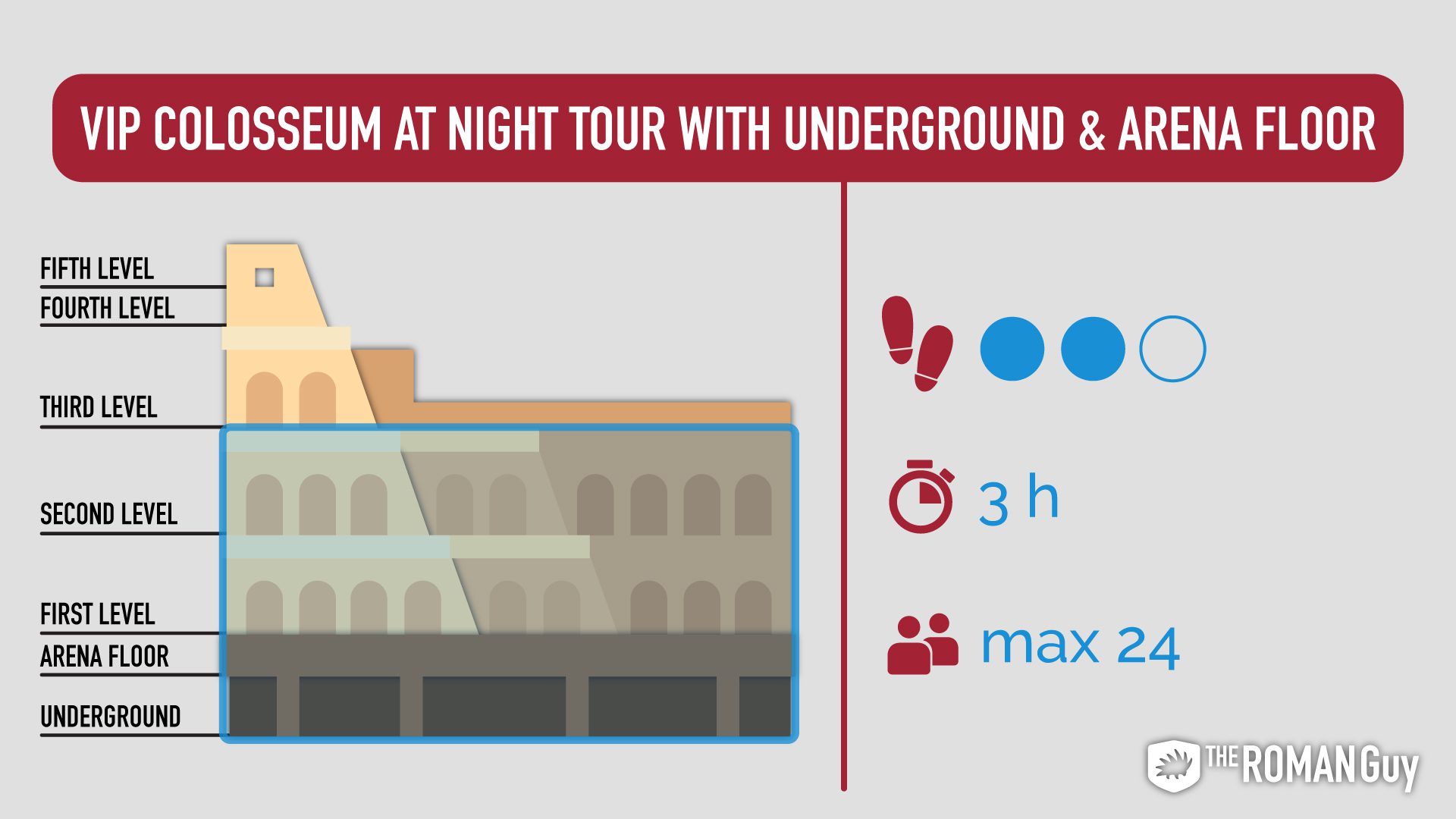 Want an experience even more exclusive than our daytime Underground tour? Well, you're in luck! Our Colosseum Night Tour is one of the most exclusive experiences you can get in Rome. Again, since the Underground is so exclusive, tickets sell out extremely fast, so plan ahead!
Experience the Colosseum Arena Floor and Underground under the moonlight with almost no crowds since most people visit the Colosseum during the day. You'll avoid the crowds and the heat as you explore popular areas of the Colosseum.
And of course, you'll have a chance to see one of Rome's most beautiful photo spots over the scene of ancient Rome as you admire the Roman Forum from above, all lit up at night.
Highlights:
2.5 hours long
Exclusive vibes with almost no one else in the Colosseum
Explore the Colosseum's Underground with an expert, English-speaking guide
Walk onto the Arena Floor
See tour itinerary, price, and description
6. Colosseum Underground Plus Belvedere Top Level Tour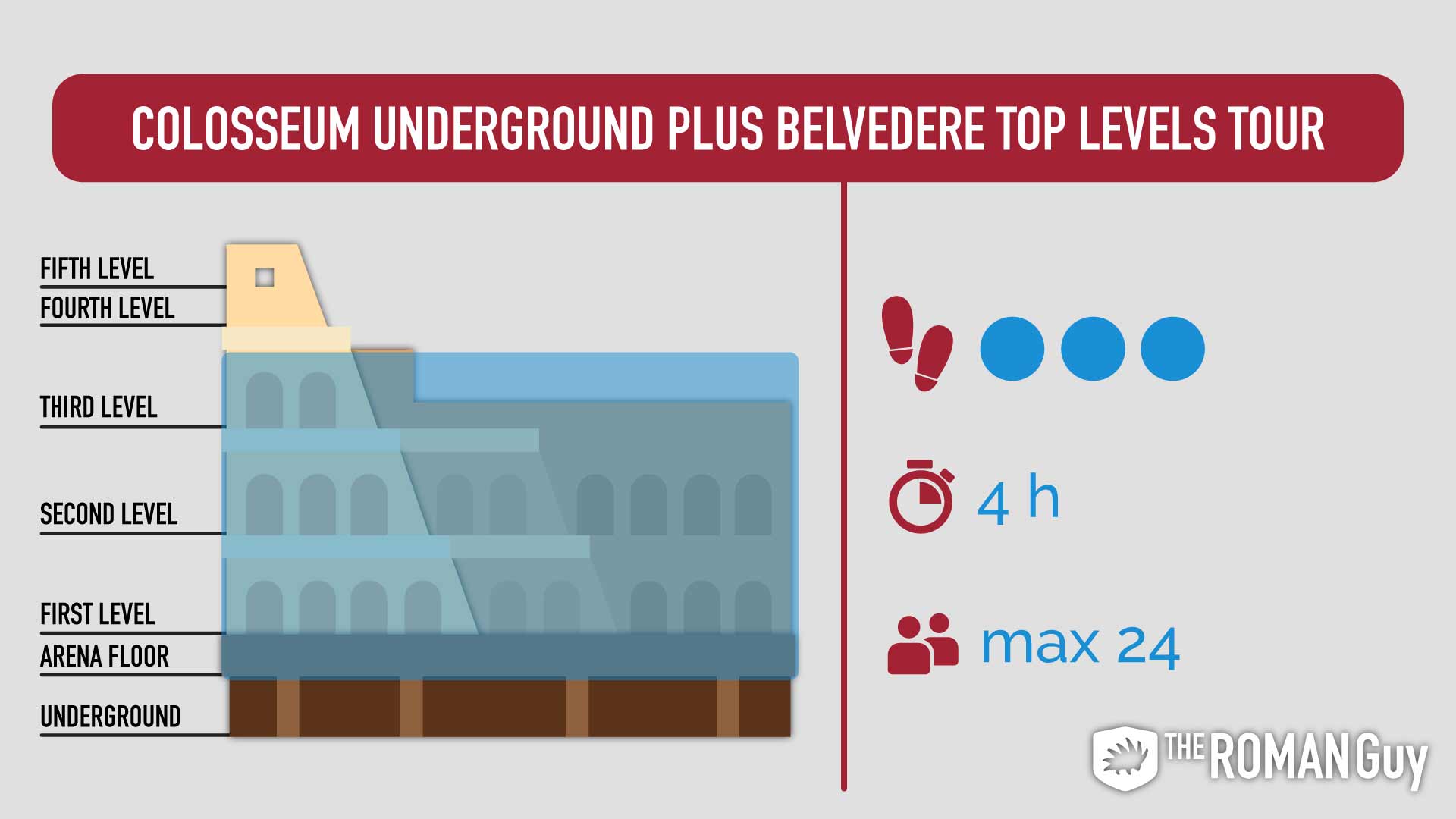 We've added this tour just this year to make sure you can experience all of the levels of the Colosseum, not just the underground.
Now you can visit every level of the Colosseum and see where every class of Romans got to sit when watching the gladiatorial games. Whereas most tours only visit one restricted access Colosseum area, this tour visits three!
Please note: The Colosseum Belvedere Top Levels are under maintenance right now. On this tour, the highest level you will reach is the 3rd tier. We will update this blog once the renovations are complete.
Highlights:
4 hours long.
Go underground and into the Colosseum's dungeons, with an expert English-speaking guide.
Walk out onto the Arena Floor, where the brutal games took place.
Visit the 3rd floor of the Colosseum, which is restricted from public access.
See tour itinerary, price, and description
Colosseum Opening Hours
January 2nd to February 15th: 8:30 am – 4.30 pm, Last entrance 3:30 pm
February 16th to March 15th: 8:30 am – 5 pm, Last entrance 4 pm
March 16th to March 31st: 8:30 – 5:30 pm, Last entrance 4:30 pm
April 1st to August 31st: 8:30 am – 7:15 pm, Last entrance 6:15 pm
September 1st to September 30th: 8:30 am – 7 pm, Last entrance 6 pm
October 1st to October 27th: 8:30 am – 6.30 pm, Last entrance 5:30 pm
October 28th to December 31st: 8:30 am – 4:30 pm, Last entrance 3:30 pm
Colosseum CLOSED: January 1st and December 25th
Ticket office: Closes one hour before closing time
Tips for Visiting the Colosseum
Wear comfortable shoes! Not only will you walk during the tour but the ground outside the Colosseum is made of large and small cobblestones which can be slippery or uneven.
Always keep an eye on your belongings. It's a crowded area with people who may want to take advantage of distracted tourists.
Water is important. Bring a reusable bottle and fill it up with the helpful free fountains around the Colosseum, the Roman Forum, and the rest of the city.
Address: Piazza del Colosseo
How to get to the Colosseum by public transport:

Metro B – Colosseo stop
Bus: Line 75; 81; 673; 175; 204
Tram: Line 3
Not ready to book a tour? Find out why a Colosseum tour is worth it.