Whether you're planning a short or extended trip to Italy, here are the best apps for your trip to Italy to install before you go. There's no need to feel like you're living in ancient Roman times. Traveling around Italy will be super simple with these tools.
---
Pro Tip: Planning your trip to Italy? It's easier to organize your trip when you have all your resources in one place. Bookmark this post along with our Italy Guide for more info and inspiration, plus our top-rated Italy tours.
The Must-Have Apps for Your Trip To Italy
In the age of smartphones, we all have a powerhouse in our pockets. And it's particularly useful when you're traveling. As you prepare for your trip to Italy, there are a few apps to download that'll make life that much easier for you whether you're looking for a place to eat or a way to get home after too many drinks during aperitivo and dinner.
Not ready to book a tour? Check out our Italy Guide for more info and inspiration.
Preparing For Your Trip To Italy
These tools will help you plan and get ready for your trip to Italy. Here are a few of our recommended apps for finding flights, staying in touch with loved ones, and brushing up on the local language.
Get Online with a Local Sim Card
If you're traveling and want to use the apps in this article, some of them require cell service or internet to work. You have a few options when it comes to accessing mobile internet abroad. In a nutshell, you can use roaming or get a local sim card.
Find out how to get a sim card in Italy.
Stay in Touch with WhatsApp
The best way to stay in touch with your family and friends back home for free is with WhatsApp. All you need is mobile or Wi-Fi internet for it to work, making it the best way to make calls in Italy.
Find Cheap Flights with Skyscanner
Skyscanner is exactly what it sounds like. It's an app that scans the internet for flights. Find and compare cheap flights from any location for major savings. The app also retrieves and compares the cheapest hotels and car rentals for your trip if you need them. Skyscanner is used by 60 million people per month!
Learn the Local Language with Duolingo
Lots of people speak English in Italy, so even if you don't know any Italian, you'll get by. However, we highly recommend learning a few greetings and phrases before you go. Not only will you feel better equipped once you land, but you'll also show the locals you care about their culture. Saying, "Buongiorno!" is sure to make Italians smile.
Duolingo covers languages from Spanish to Swahili and is, by far, the most popular language-learning platform. Learn by reading, writing, and speaking. Set goals and get daily emails to stay on track. It's the perfect way to brush up on your basic Italian phrases.
Getting Around Italy
Once you've arrived in Italy, you'll need to be able to locate places and navigate to them. To get around, you'll also need to book taxis and buy train tickets. Here are our top picks for apps to help you find your way around Italy.
Find Your Way with Google Maps
You likely already have Google Maps on your phone and it is indispensable. Not only can you find out where pretty much everything is located, but it will also navigate you there. It will give you directions via public transportation, by car, on foot, and by bike depending on which tab you select.
Another very useful feature of Google Maps is the in-app public transport information and schedules.The Google Maps community also leave very helpful reviews, so you can find great restaurants and places to visit. I'm sure you already know this app is a travel must.
Pro Tip: Google Maps Did you know you can connect to google maps while on Wi-Fi even on airplane mode? Yep! Download your map, search for directions, and leave Wi-Fi on airplane mode. Your GPS will still work. It won't reroute you if you go off the route, but the GPS will still show you where you are on the map.
Schedule or Hail a Taxi with Free Now
If you struggle to book a taxi on Uber or similar apps, try Free Now. It's a reliable alternative and you may even be able to book eScooters and eBikes, depending on where you are.
This is especially good for Rome, but the service also operates in Milan, Turin, Naples, Palermo, Catania, and Cagliari according to their website. For more information, check out our post on Uber in Italy.
Buy Cheap Italy-Based Train Tickets with TrenItalia
Whether you're traveling between cities or need to get from the airport to the city center, Italy's rail system is the best way to travel. TrenItalia is the country's national rail company. On the app, you'll be able to search train schedules and buy your tickets. Easy peasy!
Buy Tickets on Major European Trains With Trainline
Trainline is a fantastic third-party app that will let you search and buy tickets for almost all available train and coach companies in Italy. TrenItalia isn't the only train company in Italy. So, it's a good idea to have the Trainline app to check the easiest way to get where you're going across Italy and Europe. You'll be able to easily buy tickets on the TrenItalia, Eurostar, and Italo lines through the app, plus many more!
Figure Out How To Get There with Rome2Rio
Rome2Rio is a great app to use when you're not sure of the best route or the best mode of transport to get somewhere. All you need is a starting point and a final destination. It'll then show all the possible ways to get from A to B with schedules, prices, and links. It's also a great way to discover which transport companies operate in certain areas.
Popular Rome Tours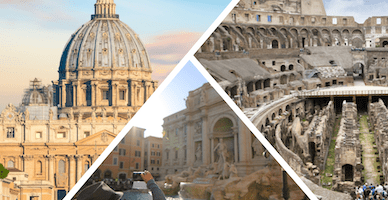 Best-Selling Tour
Rome in a Day Tour with Colosseum and Vatican Museums

Our "in a day" tour is best way to get your bearings all in one day. Visit the Sistine Chapel, Colosseum, Trevi Fountain, and more with a licensed, fun English-speaking tour guide. They'll add tons of insights and make the entire experience so much more memorable. Also, you'll get a feel for the city, so it's a great option on one of your first days in Rome. Bring your walking shoes and water bottle!





See Prices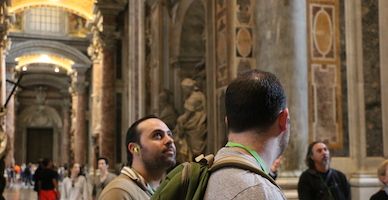 Best Price!
Skip the Line Vatican Tour with Sistine Chapel
One of our most popular Vatican tours since it is such an amazing value. Skip the line to get inside with a super-knowledgeable, English-speaking guide who will bring the museum to life with stories of the artists, popes, conspiracy, love, and even tragedy! This tour has start times throughout the day so you can choose when to visit based on your schedule!





See Prices
Not ready to book a tour? Check out our best Rome tours to take and why.
Finding Food and Drinks in Italy
If you're looking for great places to eat in Italy, all you have to do is check out our various city guides. Our local experts have pooled all their favorite restaurants into our Best Restaurants article series.
Discover the best restaurants in Rome, Venice, Florence, Milan, and the Amalfi Coast. Want to eat close to a particular attraction? No problem, we have dedicated articles on where to eat near many top sites. Explore our Italy City Guides.
Stay Hydrated with WeTap
WeTap helps you locate water fountains, stay hydrated, and save the planet and money at the same time. It's especially useful in Rome, which is home to 2,500 water fountains.
There's no need to buy single-use plastic water bottles in the Eternal City. The water from Rome's original aqueduct fountains is fresh, cold, and free. All you need is a bottle to fill up. WeTap is only available for Apple users, so a good alternative for Android users is the Fountains of Italy app.
Restaurant Reservations Made Easy
In case you didn't get a European SIM or have an international phone plan, you'll need a way to easily book a restaurant reservation. Many restaurants don't have online booking on their websites, so a great alternative is The Fork.
It's a highly rated app that makes it easy to secure your spot at that exclusive, non-touristy spot with a view. I love that they include discounts that are automatically applied for you. Plus it works on Apple and Android phones!
Find Vegan Restaurants with Happy Cow
Finding great vegan and vegetarian options in a new city can be a challenge. Download the Happy Cow and find great restaurants near you or across the city. It's powered by the largest vegan community and has a helpful food map.
Food Delivered to Your Door with Deliveroo
If you're traveling in Italy, we highly recommend going out to eat. Food is a huge part of Italian culture and you won't want to miss out on it. If, for whatever reason, you need to have food delivered, go with Deliveroo.
It's the Grub Hub or Doordash of Italy. I often travel for work and find myself exhausted at the end of the day, so I'll order Deliveroo to my room. It's a really convenient service.
Discovering Awesome Things To Do in Italy
This is what we do best! We love guiding you on tours of Italy's top attractions. We secure exclusive access tickets, hunt down the best activities, and build interesting itineraries with passionate local guides, so you can have meaningful and exciting travel experiences in Italy and beyond.
The Tour Guy's Italy City Guides
Start with our Italy City Guides. Select the Italian city you plan to visit and explore our articles on the top things to do, how to visit specific attractions, and what to see there.
The Tour Guy's Italy Tours
To make your trip even easier, we've developed special itineraries and activities to help you see the very best of Italy. If you're short on time, check out our tours that hit the top sites in a day—it's the best way to see as much as possible in just one day. If you want to see more than one top attraction or megamonument at the best possible price, see our combo tours. Foodies will love our local food tours in various Italian cities!
Learn From Pros with Most Traveled People
This is an interesting app recommended by my good friend and travel journalist Angel Castellanos. Basically, the app ranks the most avid travelers based on the countries they've visited. According to Angel, you can scroll through the map to find UNESCO World Heritage sites, world-famous beaches, and iconic hotel properties. You can even sign up yourself and start tracking your travels!
Find Outdoor Trails with AllTrails
If you love heading off into nature, this app is for you. All Trails has a huge database of trails around the world. It's easy to use and details trails with tons of useful information and the ability to track your own times.
Not ready to book a tour? Check out our Italy Guide for more info and inspiration.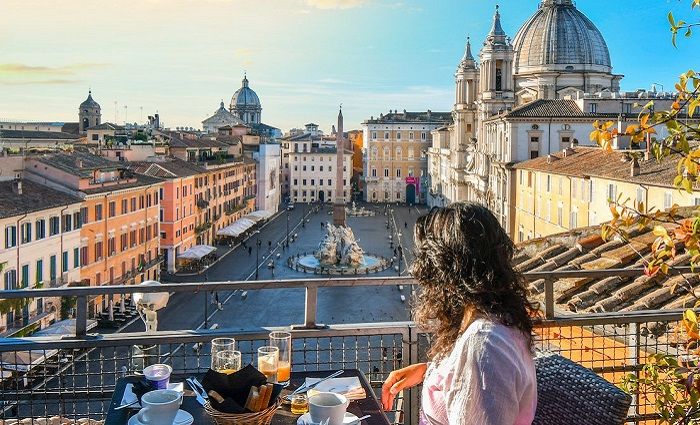 Find the best places to stay
Where To Stay in Rome
Rome has a rich cultural history and many iconic landmarks to explore. Plan where to stay in the magnificent Eternal City in the best neighborhoods.