Let's face it, we're all a little weird about crowds these days and there is a great reason why – we've all been through a pandemic! For many of us, it won't deter of from traveling, but that doesn't mean we want to be shoulder to shoulder with strangers all the time. That said, you're still going to want to visit the Vatican, Colosseum, and other attractions in Rome. Here are the best private tours in Rome and why you should take them.
---
Pro Tip: If you are planning a trip to Rome and plan to purchase some private tours, bookmark this article in your browser so you can circle back to it. Also, take a look at our online guidebook for Rome. It's free and contains everything we know about the Eternal City!
The Absolute BEST Private Tours to Take in Rome
Private tours offer a lot of benefits that make them downright better. You have a more personal experience with the guide and get more input on the narrative. Want to interrupt and ask a question – go ahead because it is your tour to be in control of! The downside is they obviously cost more than a small group tour so we'll be sure to let you know when a small group tour might be a good alternative to save money.
1. Private Vatican Tours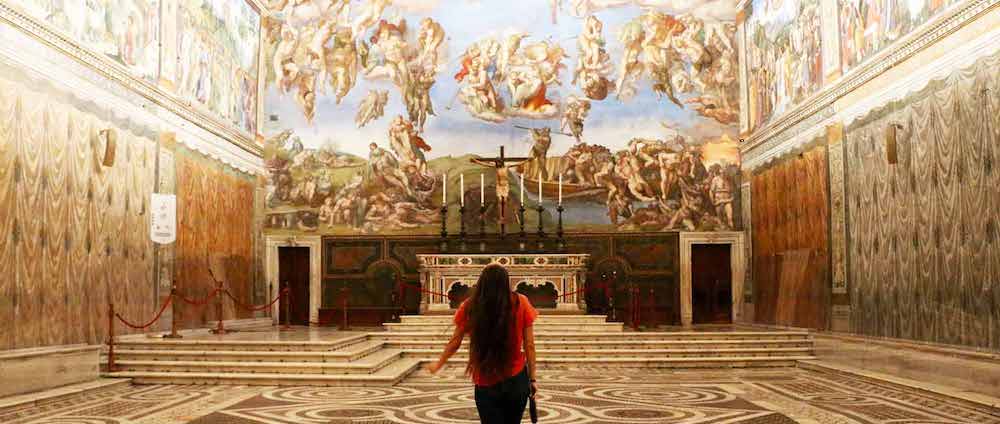 The Vatican is a great place to take a private tour because it is almost always crowded. Beyond that, it is a massive complex with a high concentration of high-art renaissance which makes it a really interesting discussion with the right guide.
We have a laundry list of private Vatican tours that will appeal to every customer from the person who wants to dive into art to the group who wants to see the highlights with some light commentary.
We even offer the most exclusive experience at the Vatican possible, the VIP After-Hours Vatican Private Tour which enters the museum without any other visitors. That's right, the Sistine Chapel is exclusively for your group. If you are interested, we recommend contacting us 6 months in advance minimum. Info @ Theromanguy.com for requests!
We also have a few small groups Vatican tours that offer access before and after opening hours which may appeal to a lower budget but also save you from a majority of the crowds. These Vatican tours generally have the best access at the lowest cost:
2. Private Colosseum Tours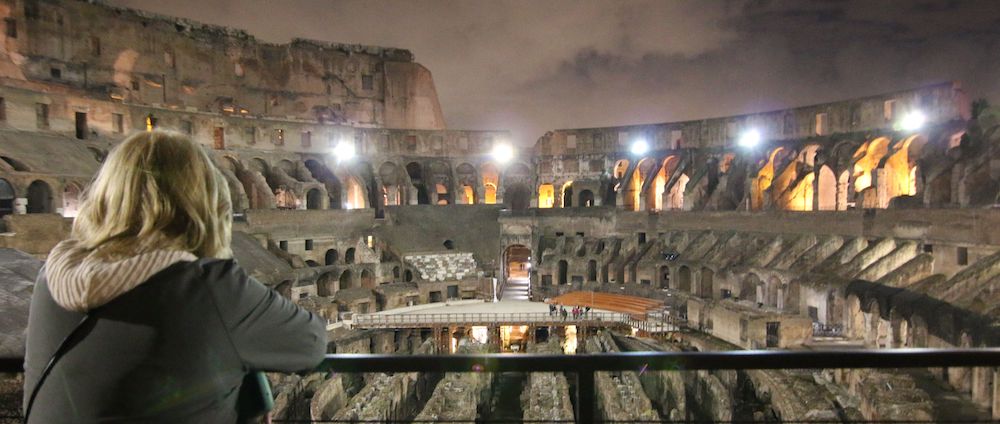 Admittedly, we only have one private Colosseum tour and that is because our small group tours are so great. Most of our small group Colosseum tours visit restricted areas of the Colosseum which means they are in less-crowded areas with more room to spread out.
Our private colosseum tour also has access to the Arena floor which is a restricted area and one of my personal favorite parts of visiting the Colosseum in Rome. We also run a great private tour that combines the Colosseum, Vatican, and parts of the city center which is named Private Rome in a Day Tour. This is a great option for someone who is happy to spend a whole day sightseeing.
If you normally purchase private tours, you could consider our Colosseum Underground tour that includes the Roman Forum & Palatine Hill. This tour is our most exclusive Colosseum tour since it has access to the corridors below the Colosseum where the Gladiators used.
The group is a little larger but due to the exclusivity of this product, we get 99% positive feedback which in this day and age is the best you can get! I also really like our Privileged Entrance Arena Floor tour since it includes some restricted areas and has such a low cost.
3. Private Borghese Gallery Tours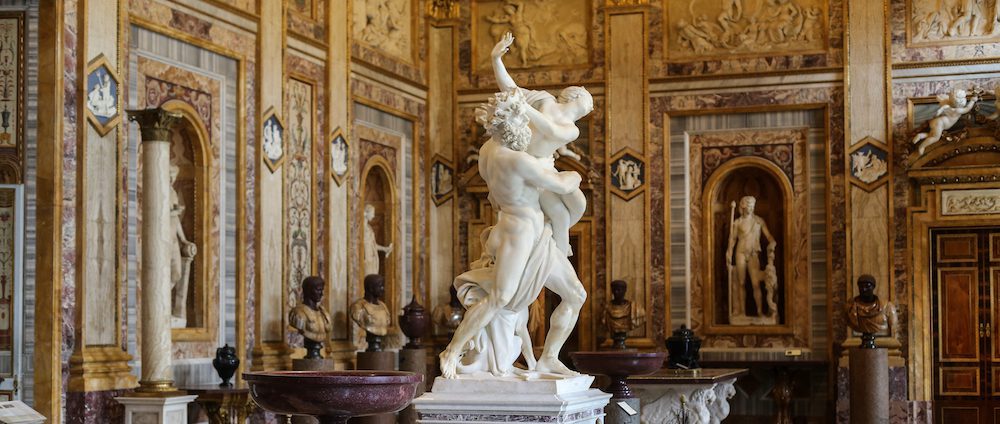 The Borghese Gallery is truly one-of-a-kind museum that should fall high up on anyone's list. It is a must-see for art lovers and if you are not an art afficianado, this gallery will rope you into our circle.
It is one of the greatest Baroque gallery's on Earth headlined by Gian Lorenzo Bernini (sculptor) and Caravaggio (painter). Baroque, if you are unfamiliar, is a style of art that is guided by passion, strong movement, and heavy narrative which makes it easy to love.
A private tour of this gallery is not only a must, but is reasonably priced for what you get. Tours last 2 hours as the museum only allows persons to enter for two hour windows. You can see our Borghese Gallery Private tour which is has amazing reviews. If you are interested in visiting, have a look at these resources:
4. Private Rome to Pompeii Tours
Pompeii is quite a ride from Rome but quite often at the top of most travelers lists when visiting the Eternal City despite the 2.5 hours drive. Why? It is without argument the best-preserved archeological site on our planet. The way it was flash frozen by ash gives us tremendous insights into Roman civilization which makes it a big bucket list item.
That said, is it worth a private tour? We run a private tour option that allows you to be in your own vehicle or you can be on a small group tour that travels to Pompeii in a smaller bus.
Yes, if you have unlimited money then a private tour is likely the best way to go, but the small group tour is of tremendous value and it might be worth having the company of other travelers on your way down. The prices are vastly different, but you can check out all our Pompeii tour options from Rome to see for yourself!
One thing to consider is doing our Rome to Pompeii Day Trip with Mt Vesuvius which is quite the experience. You literally climb up Mt Vesuvius to look into the crater of the mountain with a volcanologist!
5. Private Rome Catacombs Tours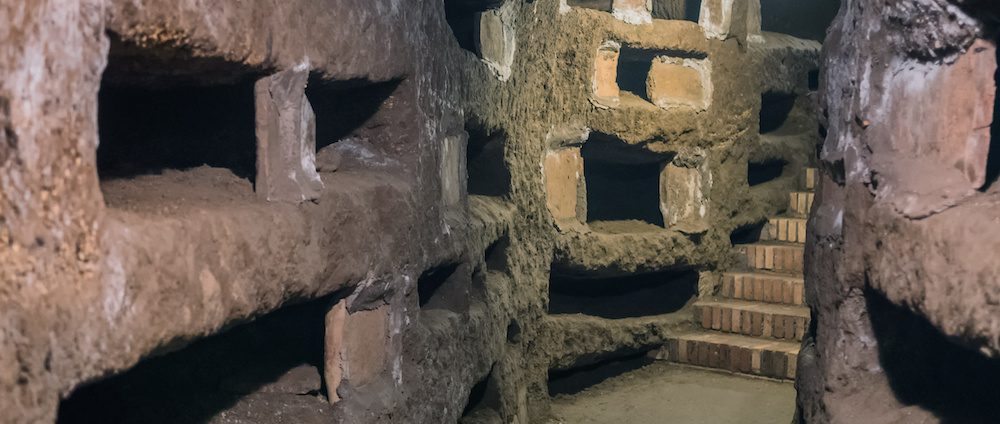 During the Roman Empire, there was a very important rule that you could not leave dead bodies within the city limits for any extended period of time. This made a lot of sense since the "plague" was a very large cause of death and dead bodies spread all types of disease and bacteria.
For this reason, Christians started burial sites underground outside of the Roman walls and today we refer to them as the "Catacombs". Any given catacombs could have been the final burial place for 100s of thousands of bodies. The are extremely interesting and a real treat to visit!
We run private Catacombs tours and small group tours, both of which visit the Catacomb of Domatilla, the Appian Way, and the Bone Crypt of the Capuchin Monks. Yes, we will satisfy all of our cryptic senses and see skeletons – 100s of skeletons.
Both are great options, but the private obviously offers a lot of customization and privacy as always with a larger price. The great part about the small group tour is the low price and smaller group size. You can read more about either tour here: