When planning a trip to Rome, there are many things to look forward to: You'll eat pasta, drink wine, see the Sistine Chapel, and above all else, check out the Colosseum. Many people say, "you don't even need to go inside, the outside is the best part." Are they right? Is it worth it to go inside the Colosseum let alone take a tour?
---
Pro Tip: Planning your visit to the Colosseum? Bookmark this post in your browser so you can easily find it when you need it. See our Colosseum guide for more planning resources, our top-rated Colosseum tours for a memorable trip, and what to see at the Colosseum.
What Does It Mean To "See The Colosseum"?
Before deciding if it's worth it to go inside the Colosseum or take a tour, it is important to understand what you're going to see. Our Colosseum tours can include exclusive access areas within the Colosseum itself as well as tours of other nearby areas of interest like the Palatine Hill and Roman Forum. Here's what you can expect when you see the Colosseum.
Areas of Interest
The Colosseum
The Colosseum is a massive amphitheater that once seated up to 80,000 spectators of brutal and murderous events of all sorts. It's an oval structure surrounded by 240 exterior arches that served as both entranceways and structural support. Since its conception, the building has been the model for professional sports stadiums around the world.
When you purchase a general admission ticket to enter the Colosseum, it includes access to the first and second floors, but not to the arena floor where the gladiators fought.
There are all types of upgraded admissions that visit other areas, which is what we recommend doing. More on that further down. The admission ticket for the Colosseum automatically includes the Palatine Hill and Roman Forum.
The Palatine Hill
Palatine Hill is a massive archaeological site that was once the home of many Roman Emperors. The word "palace" derives from the word "palatine" since this was where the emperor's palaces were. Why did they build their palaces here?
A few reasons, but above all, it was where the modest "hut" of Romulus once was. Romulus founded Rome atop the Palatine Hill and archaeologists are believed to have found the structural remains of his home, which you can see on top of the hill. There is a lot of speculation here, but it makes sense that Romulus would have lived in this area.
The ruins that are visible on the Palatine Hill are vast and expansive. There's plenty to explore, check out our article on the top things to see on the Palatine Hill.
The Roman Forum
The Roman Forum is normally visited last in sequence but is definitely one of the most sought-after archaeological sites on Earth. It's home to grand edifices of deep historical importance. There are two triumphant arches including the Arch of Titus, which gives us an early, but advanced view of specialism in art that was unparalleled until the proto-Renaissance and Renaissance.
There are a number of incredible things to see in the Roman Forum, and these archeological sites definitely make purchasing a ticket to the Colosseum worthwhile. You've come all this way, why not go inside? Now, is a tour of the Colosseum worth it?
Not ready to book a tour? Check out our best Colosseum tours to take and why.
Is a Tour of the Colosseum Worth It?
Short Answer: Yes, if you have a great guide and small group.
We're a tour company, so we're obviously going to say yes. But we became a tour company because we know tours can enhance your experience in many ways beyond learning. Not all tours are created equally, however. Here's what we do to make Colosseum tours worth taking:
Privileged Access Areas
General admission to the Colosseum is pretty basic, and there's so much more you can experience with an upgraded tour. We've secured all types of upgraded admissions with our guided tours that will give you the experience that best suits your interests and plans.
For more in-depth information, see our maps of the privileged access in our best tours. Here is an overview of the special areas you can see in tours:
Colosseum Underground
Easily the most sought-after reservation, the Colosseum Underground ticket allows visitors to visit the Hypogeum below the stage where the wild animals and, at times, gladiators emerged from trap doors! You'll even see replicas of ancient elevators and trap doors. We have a few tours that include this area at various price points:
Colosseum Arena Floor
The word "arena" derives from the Latin word meaning sand. The Colosseum floor was covered with sand, to soak up the blood, and was referred to as the arena.
While the arena today is a reconstruction, it's still very cool. We have very popular and affordable tours that will get you out on the arena floor. Here are the tours that include the Arena of the Colosseum:
Colosseum Top Levels Tours
There are also additional levels you can visit that offer stunning views and have far fewer visitors. General admission gets you access to the first two floors. The top levels tour goes to the third, fourth, and sometimes fifth levels. This tour includes the top levels:
Top Colosseum Tours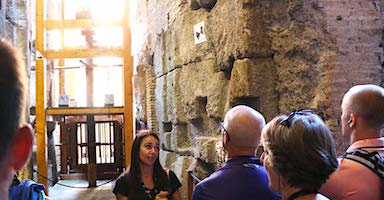 Best Seller
Colosseum Underground Tour with Roman Forum and Palatine Hill
This is our most popular Colosseum tour due to the incredible access to non-public areas like the underground chambers. All admissions are included and it is lead by an English speaking licensed guided and Colosseum expert.





See Prices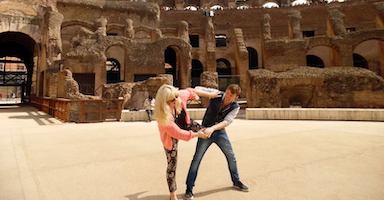 Customer Favorite
Special Access Colosseum Arena Floor Tour Through the Gladiator's Gate
You'll enter the Colosseum through the back door entrance avoiding lines and crowds, which is ideal! You'll step through the gladiator's gate and your English-speaking Colosseum guide will bring the stories to life. Next, on to the Roman Forum. All admissions are included.





See Prices
Not ready to book a tour? Find out why a Colosseum tour is worth it.
Skip-the-Line Access
This is what really sets our tours apart from the rest. We have a special collaboration, so all of our tours skip the lines for tickets. We also have expedited security lines to enter, which means less time waiting to get into this popular attraction that fills up fast.
Great Tour Guides
The key to a great tour is a knowledgeable tour guide. The best guides can illuminate the seemingly uninteresting to show you the interesting side. When you couple a great guide with an incredible monument like the Colosseum, you can have one of the most memorable experiences of your life.
We're talking about an archeological site in the center of one of the most important cities on Earth over the last two thousand years. The Colosseum was in use for hundreds of years and many have passed through it over time. People used to fight, at times to the death, inside this building—making it unreal, to say the least.
Stories
Have you heard all the stories of Christians dying inside the Colosseum? Well, it's likely not true. Did you know the Colosseum is only a nickname? While there is a ton of history packed into the Colosseum tour, there are also many stories, anecdotes, and myth-busting you'll miss out on otherwise.
Guides understand that in order for you to stay engaged on a tour they have to weave in scandals and anecdotes to keep things exciting—and they've got all the details! So, is a Colosseum tour worth it? More than you can imagine!
Most Popular Colosseum Tours
The right Colosseum tour for you will depend on your interests, budget, and your schedule. We offer tours with a range of different options from special access areas to combined tours with other top Rome attractions. Explore our catalog of Colosseum tours or check out our article on the best colosseum tours to take with maps below.
Not ready to book a tour? Check out our best Colosseum tours to take and why.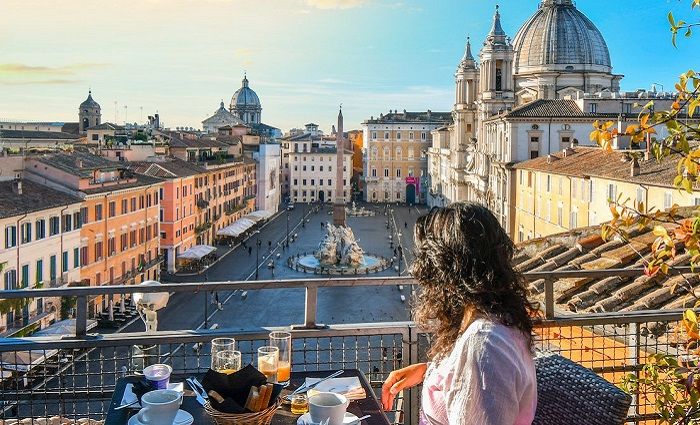 Find the best places to stay
Where To Stay in Rome
Rome has a rich cultural history and many iconic landmarks to explore. Plan where to stay in the magnificent Eternal City in the best neighborhoods.