Pound-for-pound, the Borghese Gallery is one of the greatest collections of Baroque sculptures on Earth. It is also one of the most pleasant museum experiences you may ever have which is for many reasons. Read on to learn more about visiting the Borghese Gallery of Rome.
---
Pro Tip: I like to bookmark helpful posts in a folder so I can circle back prior to or during my trip. Bookmark this post iin your browser and our dedicated page on Rome.
What This Article Covers
Hours, Ticket Prices, and RSVP
15 Things You Have to See
Where to Eat Nearby
Getting to the Gallery
Hours, Ticket Prices, and Getting an RSVP
Hours:
9 am – 7 pm
Entrances every two hours on the hour starting at 9 am.
Last entrance is 5 pm.
Admission Cost: 13€ (at times there will be an exhibition or mostra which increases the ticket price)
Getting an RSVP:
The Borghese Gallery is amazing because they only let 360 visitors in at a time for two-hour time slots. Time slots run from 9 am to 5 pm for two-hour intervals. The last exit is at 7 pm.
Getting a ticket can be easy if there is availability on the Borghese Gallery website and the website works.
You can also call, +39 068413979 and make an rsvp over the phone.
Tours:
Due to the complexities and incredible stories behind these masterpieces, I highly recommend a tour of this museum. It will be one of the most memorable experiences of your trip.
Top Colosseum Tours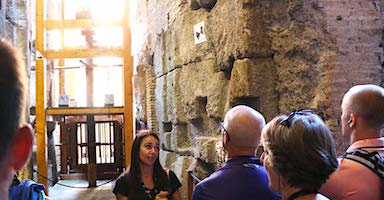 Best Seller
Colosseum Underground Tour with Roman Forum and Palatine Hill
This is our most popular Colosseum tour due to the incredible access to non-public areas like the underground chambers. All admissions are included and it is lead by an English speaking licensed guided and Colosseum expert.





See Prices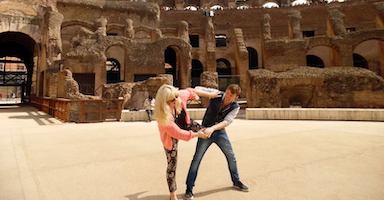 Best Seller
Privileged Entrance Arena Floor Colosseum Tour with Roman Forum
You'll enter the Colosseum through the back door entrance avoiding lines and crowds which is ideal! You'll step through the Gate of Death and your English speaking Colosseum guide will bring the stories to life. Next, on to the Roman Forum. All admissions are included.





See Prices
15 Things You Have To See
This list is not in order of importance but in order of the visit. You don't want to be running around crossing things off a list. When you walk in the front entrance of the Gallery, be sure to enjoy the first room and then turn left and head into the room dedicated to Caravaggio.
This is more of an itinerary list of things you should see. If you are searching for more detailed descriptions, take a look Top 15 Things to Se at the Borghese Gallery with Full Descriptions
1.Entrance Hall
This is a beautiful welcome area of the palace. Keep your eyes peeled for:
Ancient Roman mosaics roped off on the floors. The mosaics were believed to have come from the Baths of Caracalla in Rome.
An amazing rococo style vaulted ceiling depicting different pagan scenes.
Marcus Curtius Leaping into Chasm by Pietro Bernini, father of the great Gian Lorenzo Bernini.
2. Boy with a Basket of Fruit by
Caravaggio (Room VIII)
This 1593 oil on canvas was done by Caravaggio aka Michelangelo Merisi at 22 years old. He was living in Milan at the time where he was from. The work now lives in Room VII of the Borghese Gallery for your viewing pleasure.
3. Young St John the Baptist
(Room VIII)
Right next to Boy with a Basket of Fruit is Caravaggio's "John in the Wilderness". Here you'll find a tired and frail St. John the Baptist. The overwhelming sadness of this painting draws you in and pushes you away.
4. St. Jerome by Caravaggio
(Room VIII)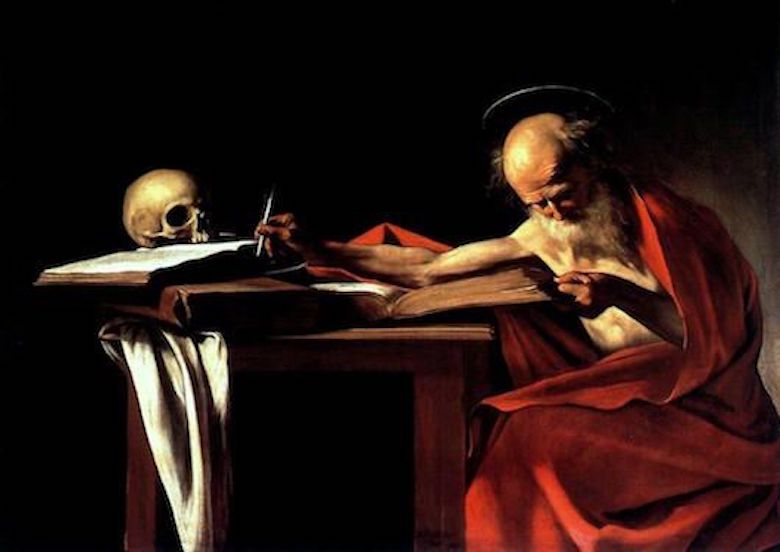 St Jerome by Caravaggio is a wonderful painting that shows one of the most important events in Christian history; the translation of the Bible into Latin from Greek.
5. Palafrenieri by Caravaggio
(Room VIII)
Directly across from St. Jerome you'll see a massive painting known as Palafrenieri also by Caravaggio.Basically you see Jesus, his mother Mary, and Mary's mother Anne. The work was originally created to be a centerpiece in the Basilica of St. Peter in Rome but was seen as too vulgar.
6. David with the Head of Goliath
(Room VIII)
David is a heavily portrayed figure due to his importance in biblical history. This particular version by Caravaggio shows David beheading Goliath as he looks down in triumph. The head of Goliath is a disturbing self-portrait of Caravaggio.
7. Sick Bacchus by Caravaggio
(Room VIII)
Sick Bacchus is another famous painting by Caravaggio found in Scipione Borghese's former estate. It features a very sickly version of Bacchus, Roman god of agriculture, wine, fertility. It displays Caravaggios depleting mental state.
8. Aeneas, Anchises & Ascanius by Bernini
(Room VI)
Completed in 1619, Aeneas, Anchises, and Ascanius is one of the lesser spoken about Bernini sculptures. It is a beautiful portrayal of Aeneas' flight from Rome, as described in the Aeneid after Troy was sacked by the Greeks.
9. The Rape of Proserpina
by Bernini
(Room IV)
This really shows Bernini's engineering marvel. The statue was literally designed for the room, a beautiful Baroque touch to tie in your surroundings, and features a violent twisting scene of Pluto coming to claim his wife Proserpina.
10. Apollo & Daphne by Bernini (Room III)
Bernini started to work on this sculpture in 1622 under the commission of Scipione Borghese and he finally ended its work in 1625. It is considered one of his masterpieces. The statue is an incredible work of art for more reasons simply good old fashioned sculpting which is an understatement. Walk around the sculpture counter-clockwise to see Daphne transform into a tree.
11. David by Bernini (Room II)
Creating a David scene after Michelangelo creates DAVID is very difficult. Michelangelo did David after victory. Relaxed and confident. Bernini decided to do David before the fight in a fully tense state.
12. Pauline Bonaparte by Canova (Room I)
Canova dedicated an entire side of his atelier to this project, where Paolina used to go and pose for the artist. The woman is portrayed as a winning Venus, showing an apple on her hand, a symbol of Venus's victory after Paris's choice.
13. The Deposition (of Christ) by Raphael (Room IX)
Raphael's Deposition is a wood panel paintings commissioned by the Baglioni and completed in 1507. The painting depicts a family feud that ended in a mother losing her son. The story is filled with remorse. Be sure to read our extended descriptions of the top 15 things to see at the Borghese Gallery for the full version.
14. Lady with Unicorn by Raphael (Room (IX)
15. The Archery Contest of Diana and Her Nymphs by Domenichino (Room XIV)
This 1616 painting is a lovely full-featured painting that was stolen from Cardinal Pietro Aldobrandini by Cardinal Scipione Borghese. It is a complex story and warrants the explanation of a local guide!
Where to Eat Near the Borghese Gallery and Villa Borghese
The Borghese Gallery is situated in Villa Borghese which is the northern part of Rome. The north of Rome is known for being the wealthier part of the city with its high-end neighborhoods like Parioli. Villa Borghese, a very beautiful and luxurious feeling park, is very likely to be the reason these neighborhoods formed.
If you are this close, you might as well have a local meal outside the tourist areas and close to the Romans. Here are a few nearby restaurants within walking distance or a short cab ride.
Kilo Restaurant – Via Tirso, 30
Known for their steaks and cuts of meats served in traditional Italian style. Great reviews.
This would be best described as sophisticated casual. A few tables and a cool bar, this restaurant has great salads, appetizers, and even a good burger.
Pretty much amazing everything. Typical Roman cuisine including seafood. Muscles and clams pasta is a must.
Popular Rome Tours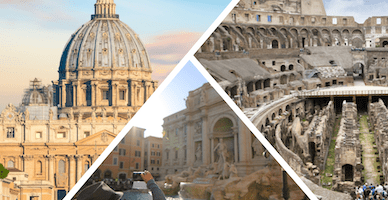 Best Selling Tour
Rome in a Day Tour with Colosseum and Vatican Museums

The best way to get your bearings all in one day. Visit the Sistine Chapel, Colosseum, Trevi Fountain, and more with a licensed and fun English-speaking tour guide. They'll add tons of insights and make the entire experience so much more memorable. Also, you'll get a feel for the city so it's great on one of your first days in the city. All admissions and transport included although there will be a lot of walking.





See Prices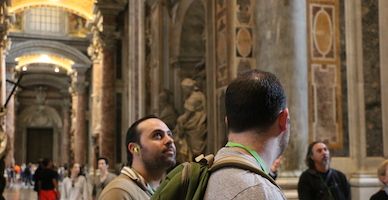 Best Price!
Skip the Line Vatican Tour with Sistine Chapel & St. Peter's Basilica
One of our most popular Vatican tours since it is such an amazing value. Skip the line to get inside with a super-knowledgeable English-speaking guide that will bring the museum to life. Stories of the artists, popes, conspiracy, love, and of course tragedy! Admissions included.





See Prices
Getting to the Borghese Gallery in Rome
Address: Piazzale Scipione Borghese, 5
Use Your Phone:
There was a time where you had to give people directions. Today, we have smartphones that can tell you the fastest path anywhere. You can sync to wifi and search for destinations without your phone data being switched on. When you leave wifi your GPS will still work as long as you don't try another search.
Taxi:
Search for the museum when you are connected to wifi if you're not using your service abroad. Your GPS will work when you leave wifi as long as you hit go.
Super easy. Tell them "Galleria Borghese" or hand them a piece of paper with "Piazzale Scipione Borghese, 5 (Galleria Borghese)" on it. They'll drop you off in a small car park off Via Pinciana and probably point to the museum. At this point, you should see a big black gate for the gallery and probably the all-white facade of the museums.
They may drop you off the front of Villa Borghese. You'll know the difference because you won't see the white facade of the museum and they'll be a big intersection. Taxi drivers rarely speak English in Rome so pay and get out. You'll see signs for the Borghese Gallery. They may say "Galleria Borghese" or "Museo".
Metro:
I will explain below, but you should find the museum on your phone map while you are on wifi. You can leave your phone on airplane mode but GPS still works as long as you hit "go" while you're using wifi. This is a lifesaver.
This can be a little more confusing. You need to make your way to the red line or metro A. Get off at "Spagna" but don't head out to Piazza di Spagna. When you get off the subway stop following the foot traffic and look for signs that say "Via Venetto". You will go through a very very long underground tunnel with moving walkways until you reach Via Veneto.
The rule of thumb is if you are in huge crowds after you go up the big escalators, you are going the wrong way. As soon as you go up the big escalators you'll turn right and right again. Everyone else will turn right and go straight.
Once you get to the exit on the top of Via Veneto, you should exit the city walls, you'll see the straightaway, head into the Borghese Gardens and look for signs to "Galleria Borghese" or "Museo"
Walking:
If you are staying close to the museum or are planning to head to the Borghese Gardens prior to your visit, make sure you pull up the Borghese Gallery on your phone map prior and hit go. This way your gps will still work and you'll find it.