Deciding where to stay in Rome is no easy feat since Rome has 22 districts known as rioni in Italian. Each neighborhood has a distinct personality, price tag, and atmosphere to consider when picking your temporary home. This guide will make deciding easy and also offer hotel options for where to stay in Rome!
---
Pro Tip: Once you decide where to stay in Rome, also consider our guided tours. A city like Rome is best discovered with the help of a local tour guide who uncovers the city's many layers. We have some of the top-rated—if not THE top-rated—tours in Rome. If you like this article, also take a look at our online guidebook for Rome.
Where to Stay in Rome Video Guide
Like to digest your content in video form? We have you covered, but don't forget to scroll down to see our recommended hotels below!
Where to Stay in ROME for 2021! Best Neighborhoods!
Best Neighborhoods to Stay in Rome for 2022
There are literally thousands of hotels in the city of Rome. Prati, one of Rome's neighborhoods near the Vatican, had 724 hotels in 2019! How can you pick? We like to start by narrowing it down to a neighborhood.
While there are 22 rioni (or districts) in Rome, most visitors to the Eternal City stay in fewer than half of these. Deciding where to stay in Rome is easier once you've narrowed your choices down based on what you want to see.
In this article, we'll go over our five favorite neighborhoods that we think are the best places to stay for your next visit to Rome. We will also break them down and rate them based on data from thousands of travelers who have been to Rome. This way you can decide what is most important to you and make your decision easier!
5. Trastevere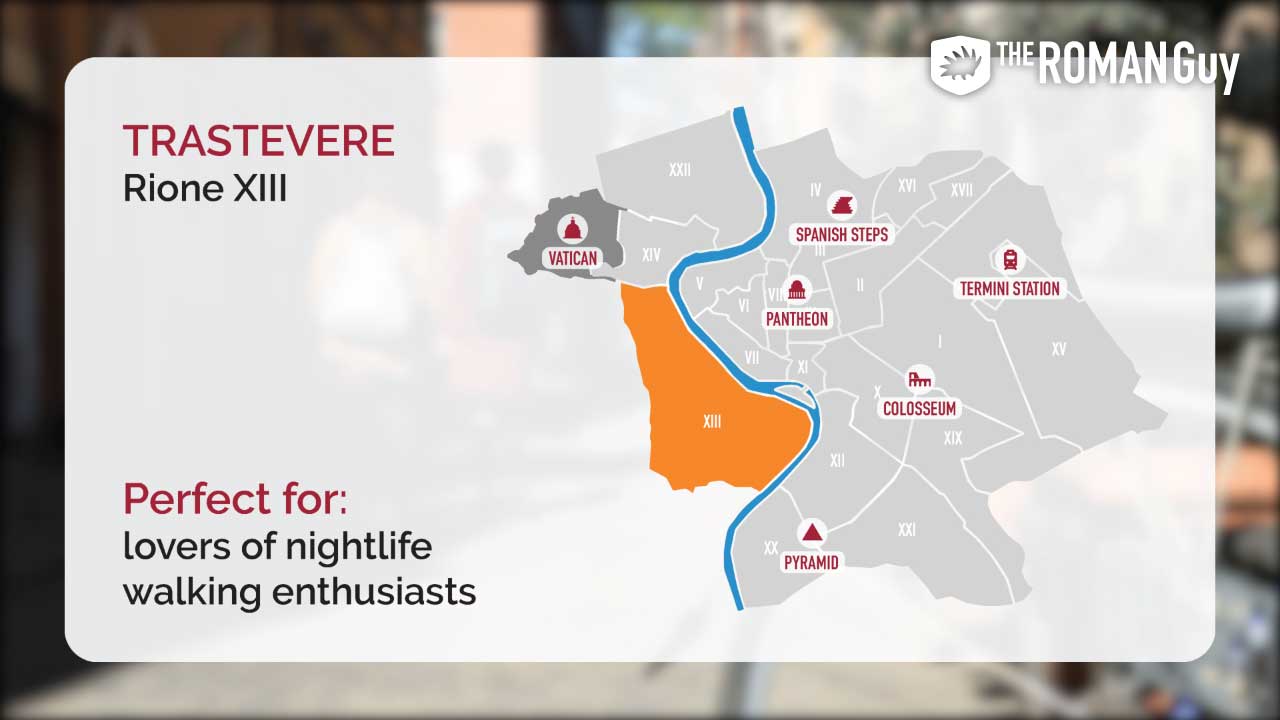 Trastevere, which translates to "beyond the Tiber," is a charming, bohemian neighborhood. It's filled with great spots for food and drink, plus a plethora of independent shops. The atmosphere is hip and social for sure. Trastevere has a buzzing nightlife scene for tourists and locals alike.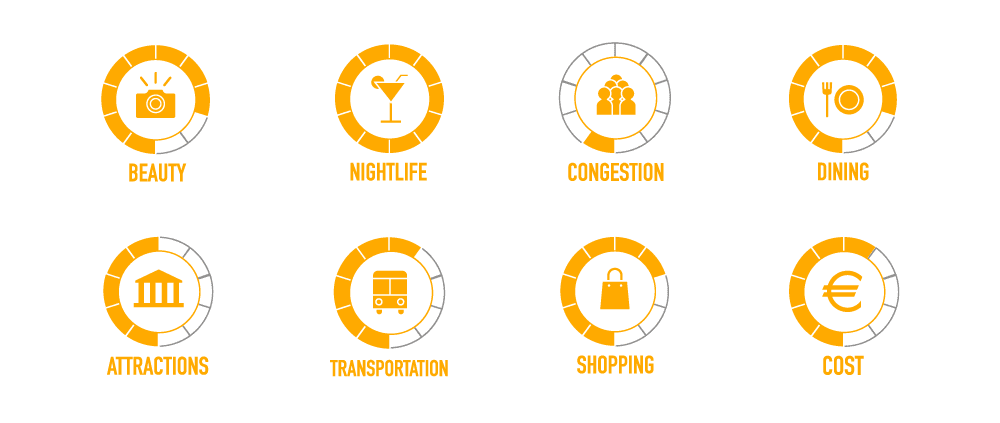 In fact, our best Rome food tour takes place right here, exploring the best food in the neighborhood. Stay here if your idea of a perfect neighborhood is more off-beat than glamorous, and you enjoy a lively and friendly atmosphere with picturesque cobblestone streets.
Best Hotels in Trastevere:
Horti 14 Borgo Trastevere Hotel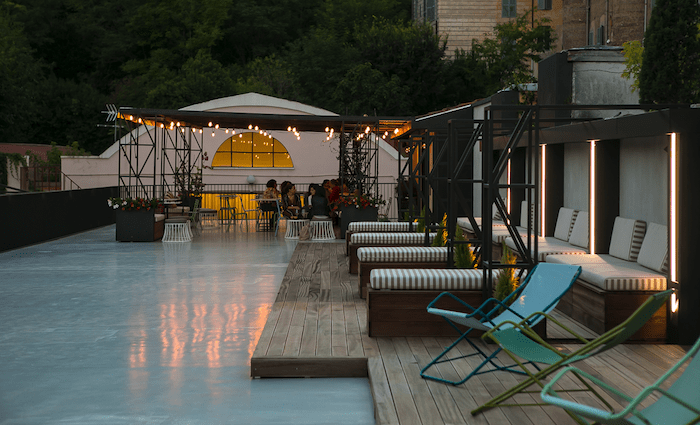 €€€ | Modern Concept Hotel | Rooftop Lounge
The rooms are beautifully designed, obviously clean, and the outdoor spaces are some of the best in this price range. It is tucked into a very local part of Trastevere that is well-connected to the best nightlife in the area.
Relais Le Clarisse a Trastevere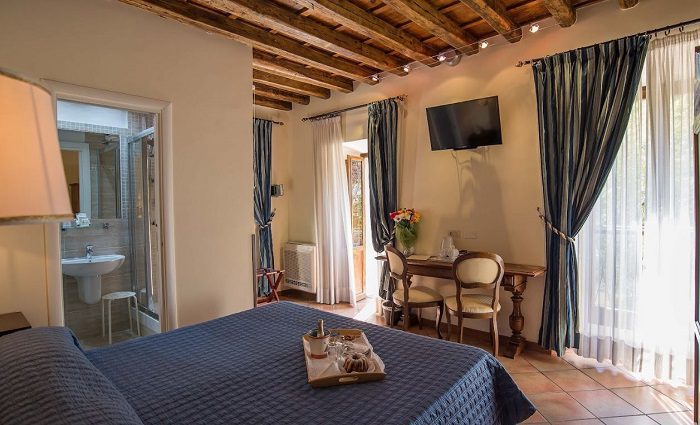 €€ | 3 Star | Charming Boutique | Ideal Breakfast Patio
Space is a premium in Rome, yet this hotel has a perfect little courtyard with olive and lemon trees that make breakfast even sweeter. The rooms are charming and range from rustic to bright and breezy. You're just three minutes from Santa Maria here, nestled in the tiny alleyways.
Donna Camilla Savelli Hotel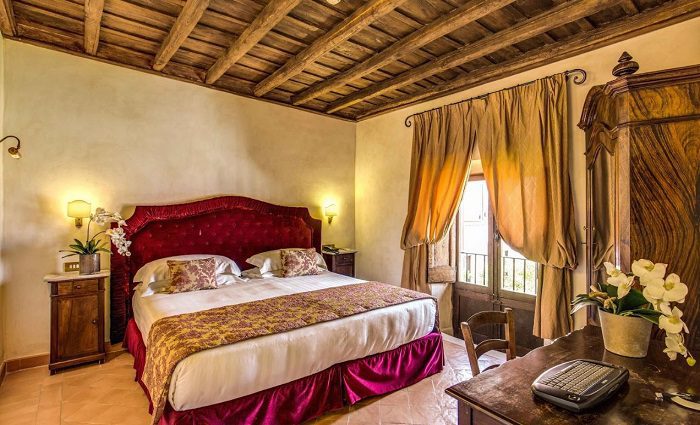 €€+ | 4 Star | Inside a Baroque Monastery | Gardens | Rooftop Views
This magnificent hotel sits within the carefully preserved convent of Donna Camilla Savelli. With an eye towards the Baroque architecture and refined furnishings, you'll feel luxuriously taken care of here. And the views from the rooftop patio are some of the best in the Trastevere area.
Hotel Ripa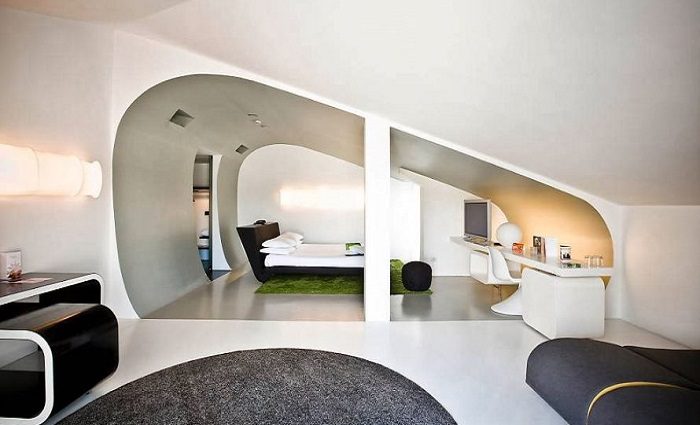 €€ | 4 Star | Quieter Location | Futuristic Décor | Affordable
If you love ultra-modern concepts, then opt to stay outside the busy center of Trastevere in this quiet hotel. Every room is different, but they have a futuristic vibe to them, compared to the old world architecture of Rome. The studio flats are great for families who need a little extra space and a kitchenette. And there are several tram and bus stops right out front to get where you need to go.
Tips for Airbnbs in Trastevere:
There are some hotels in Trastevere but the area is really dominated by apartment rentals. Avoid staying on roads like Vicolo del Cinque, Piazza Trilusa, or Piazza S. M. in Trastevere, unless you are ok with noise until late. These areas are brimming with people year-round and closing your windows does not always work to silence the busy streets.
The best area to stay at, if you want to be near the action but not in the action, is in the area between Viale di Trastevere, Tiber Island, and Porto di Ripa Grande and Via di Porta Portese. Basically, anywhere within 3 or 4 blocks of Via della Lungarina.
4. Prati & Vatican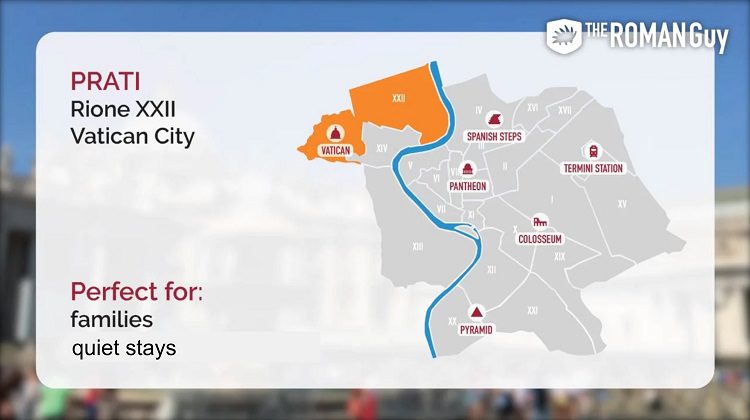 Across from Vatican City lies Prati, a calm, elegant, modern Roman neighborhood. It's perfect for anyone planning a religious trip or for groups of senior travelers who might encounter trouble with old buildings that lack elevators. Prati is one of Rome's best-kept secrets, and we have the best suggestions for where to stay in Rome near the Vatican City.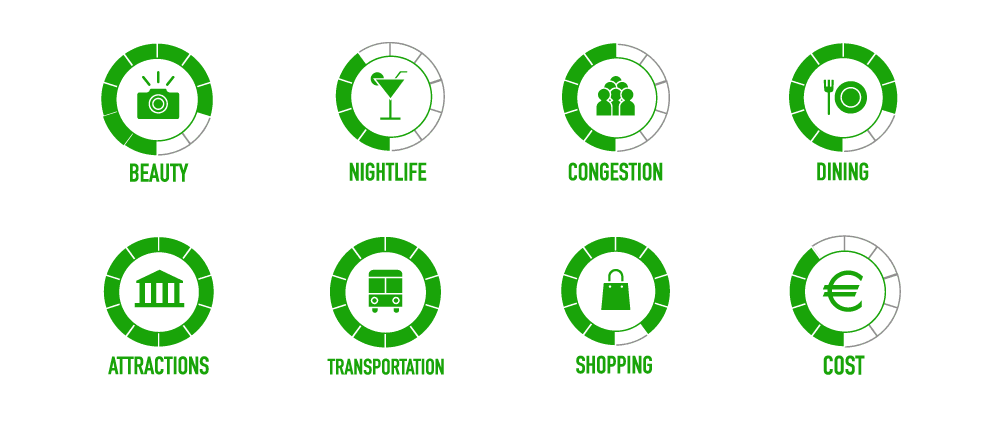 This is also one of the few districts in Rome that's not overrun by tourism. This is surprising because the Vatican and St. Peter's Basilica are located right here, which are some of the most iconic places to visit. The neighborhood also doesn't look like a typical postcard of Rome, but it doesn't lack charm thanks to the modern European vibes and high-end shopping street: Via Cola di Rienzo.
Best Hotels Near Prati:
Rome Cavalieri Waldorf Astoria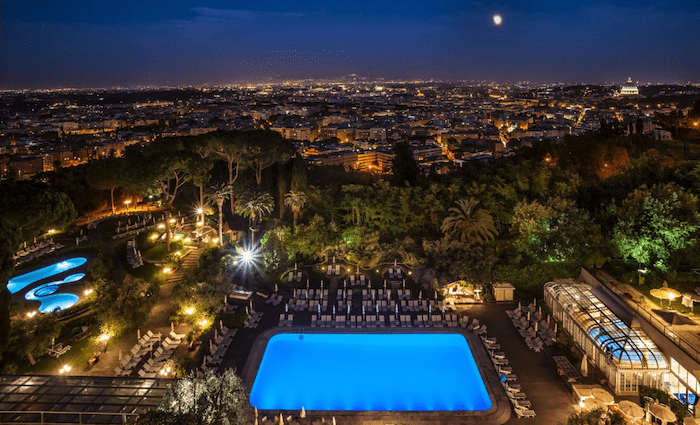 €€€€ | Resort Style | Multiple Pools | Rooftop Dining | Family Friendly
This hotel has the look and feel like no other hotel in Rome. It's as massive like a resort and only a short drive from the city center and the Vatican City. The hotel is home to Rome's only 3 Michelin star restaurant, La Pergola, which has been led by Heinz Beck for quite some time.
Palazzo Cardinal Cesi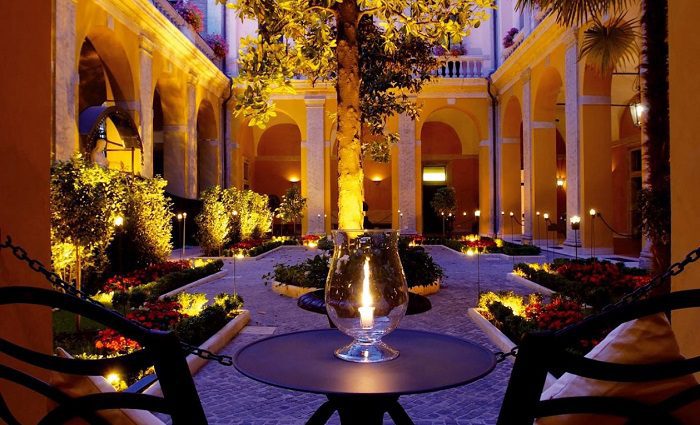 €€+ | 4 Star | Ideal Location | Classic Italian Rooms
This palace, built in 1400, has 29 rooms, a beautiful courtyard, luxe library, and an old refectory where monks used to eat centuries ago. And the location is epic for seeing St. Peter's Basilica just a moment away. The rooms are simple but decorated with cherry wood furniture. It's perfect for an affordable stay in the best location.
Atlante Star Hotel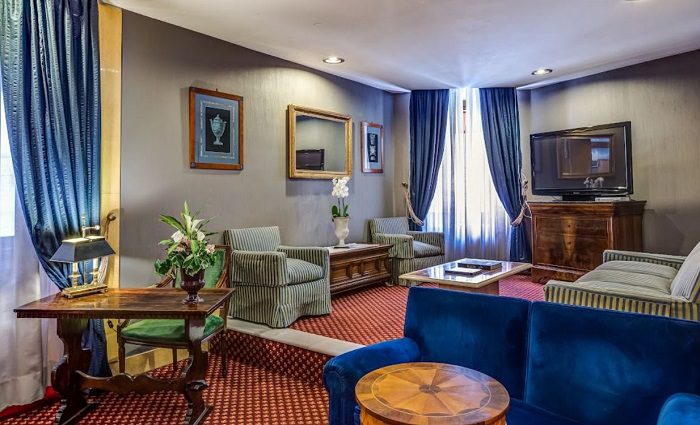 €€+ | 4 Star | Elegant European | Honeymoon Upgrades | Rooftop Views
Located between the Vatican and Castel Sant'Angelo, this luxury hotel is ideal for couples. Book a spacious suite with a jacuzzi and perfect view of St. Peter's for the ultimate Roman experience. Best of all, enjoy the view from the rooftop terrace where sunset views of the Vatican are extra romantic.
Hotel Diplomatic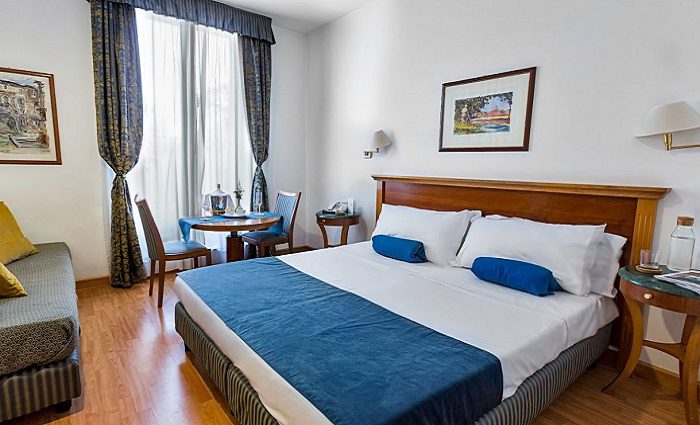 €€ | 3 Star | Umbertino Style | Quieter Area | Affordable
With classic blue and gold décor, this hotel is classically Italian. It's steps away from the Tiber River and a 15-minute walk from the Vatican. Breakfast probably won't wow you, but it's still a good start to the day. All-in-all, it's a solid, affordable choice for a little quieter area that's still close to the action.
Hotel Dei Mellini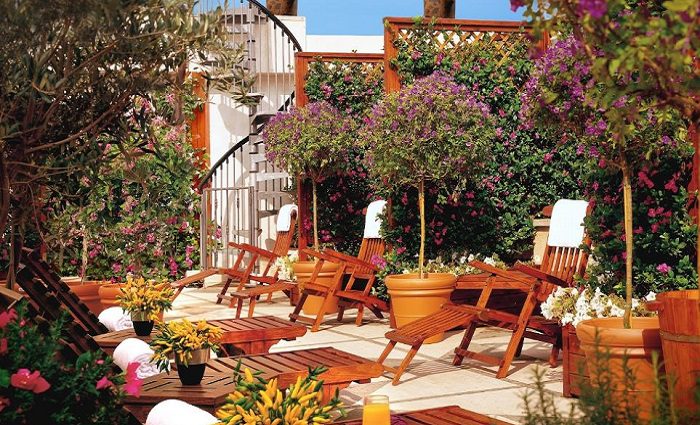 €€+ | 4 Star | Celebrity Fav | Private Art Collection | Pets Stay Free
There are so many reasons to love this 19th-century hotel: the private art collection from local artists, local celebrity sightings, outdoor patio, the location, and that pets can stay free if you're traveling with your furry friend. Or if you have kids, you can ask about babysitting services. It's truly an all-service hotel that aims to please.
Hotel Amalia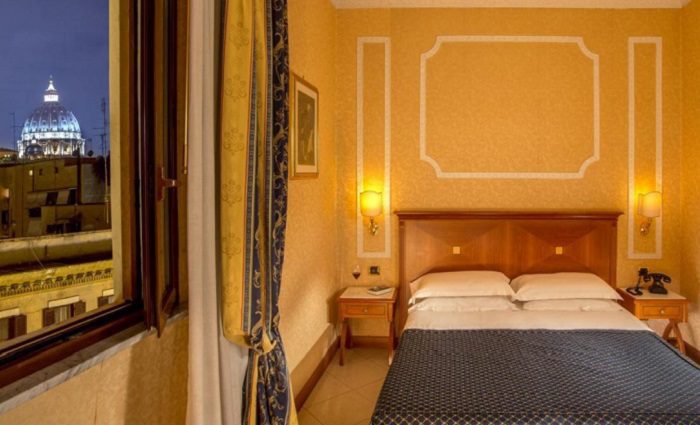 €€+ | 3 Star | Perfect Location | Room Service | Spacious Rooms
The Vatican walls are just 650 feet away from this hotel, yet it's located away from the bustle of the city, but with plenty of shops nearby. After a long day, you'll appreciate the room service, and you can even ask for a room with a bathtub. This hotel is in a late 19th-century building, but it actually has an elevator!
Tips for Airbnbs in Prati Near the Vatican:
With over 700 hotels, the Prati district has a ton of choices. You can get lower prices here and good value but you're not going to be in the classic Roman part of the city. This area was heavily modernized by Benito Mussolini for better or worse.
You will find some great Airbnbs, but watch out for apartments on high floors with no elevators (or lifts). It is more common than you would think, and people often assume all buildings have an elevator. They don't! Welcome to Italy!
---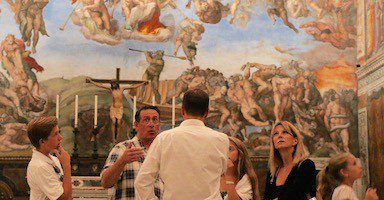 Best Seller
Privileged Entrance Vatican Tour with Sistine Chapel
This our most popular and longest-running Vatican tour to date. It enters the Vatican City & Museums an hour before the public opening and visits the Sistine Chapel as it opens. Admissions are included and our English-speaking guides do a wonderful job bringing the museums to life!





See Prices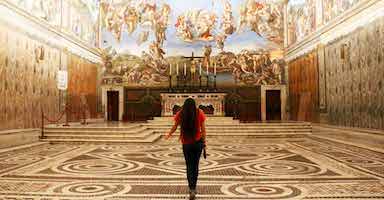 Best Seller
Rome in a Day Tour with Vatican, Sistine Chapel, Colosseum, and More!
Looking to get much of your sightseeing done in one day? This tour enters the Vatican an hour before opening and visits the Colosseum along with other sites like the Pantheon, Spanish Steps, and Trevi Fountain. All admissions and transportation are included as well as a licensed English-speaking guide!





See Prices
3. Piazza Navona & Pantheon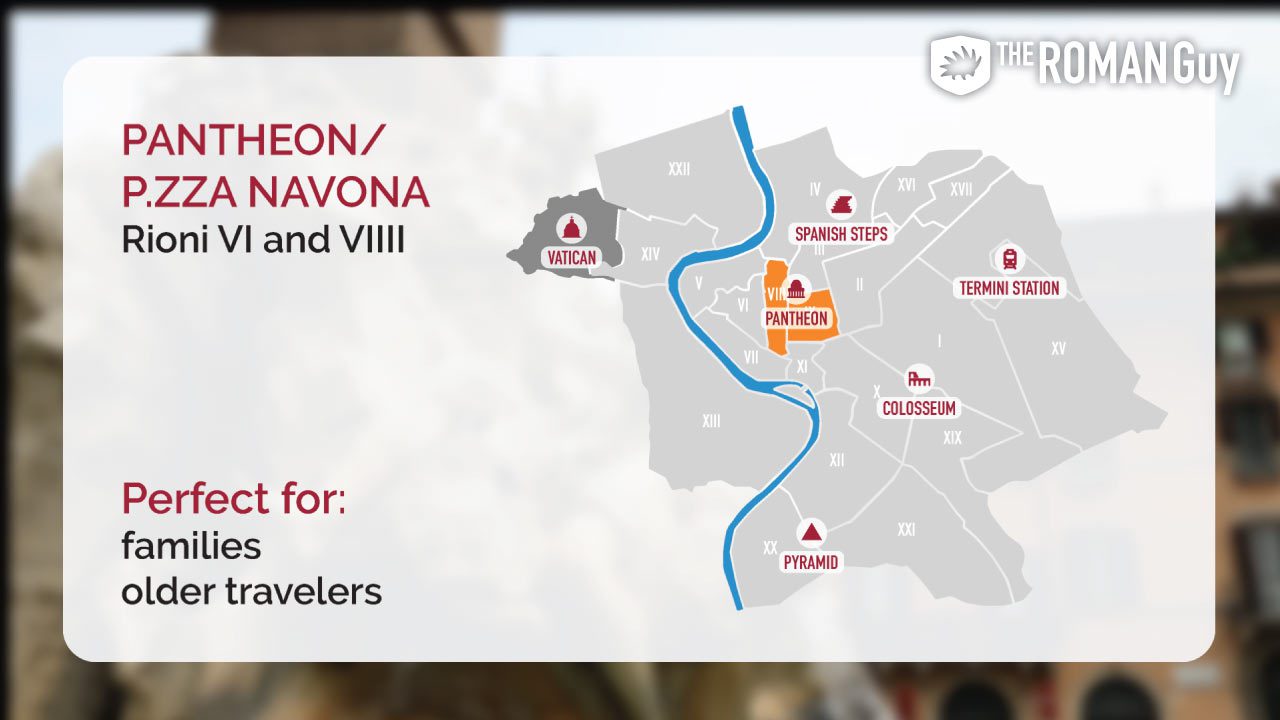 Rome's most enchanting neighborhood is centered around the Baroque-style Piazza Navona. From well-kept Renaissance architecture to impressive fountains, this area is a sensory overload of beauty.
Piazza Navona and the Pantheon could easily be split into two areas, but they share many features like the Spanish Steps—this is the spot for luxury. The rates are among the highest in Rome for posh hotels, chic B&Bs, and upscale private apartments, but it's worth the extra cost if you can.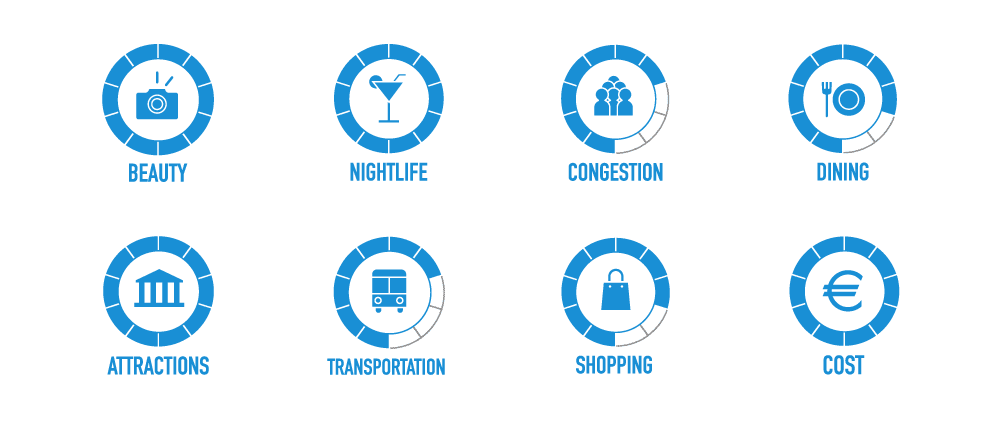 Best Hotels Near Piazza Navona/Pantheon:
Eitch Borromini Palazzo Pamphilj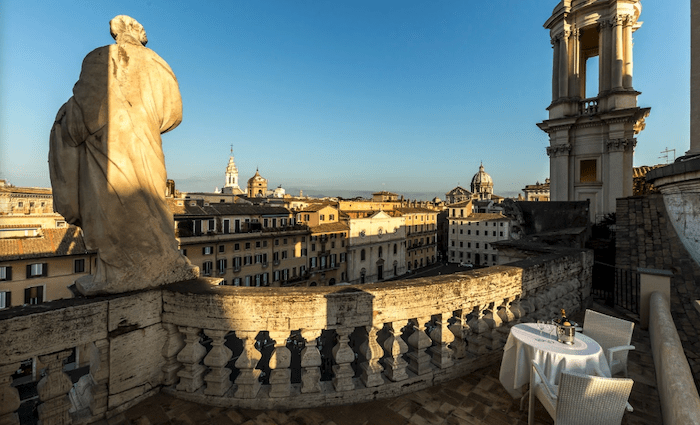 €€€€ | 5 Star | Central Location | Piazza Navona | Rooftop Bar
Looking for a truly magical Roman experience? Look no further since Eitch Borromoni is a hotel literally built into the side of a 17th-century Baroque church that overlooks Piazza Navona. You can enjoy breakfast on the terrace that overlooks the Fountain of the Four Rivers. So picturesque.
Coronari Palace Rome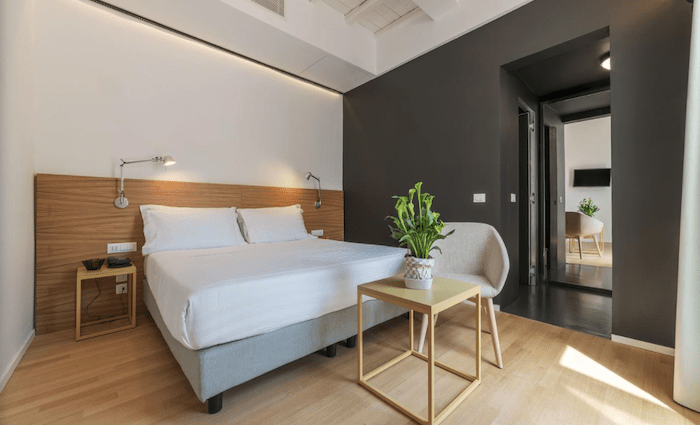 €€ | 2 Star | Near the Pantheon | Minimalist
If I am going to Rome on a non-romantic trip or on a budget, this is going to be the place for me. The rooms are clean, comfortable, and inexpensive. And after a long working day, you can enjoy the evening breeze on the rooftop terrace.
Hotel Indigo Rome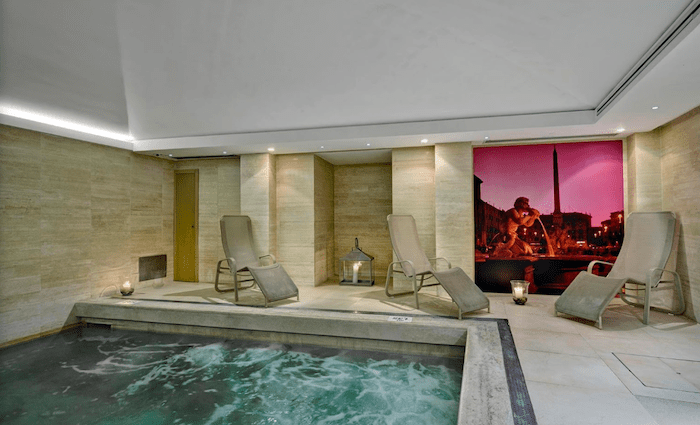 €€€+ | 5 Star | Super Posh | Indoor Pool
Hotel Indigo is a super-luxurious hotel in Rome on my absolute favorite street in the city: Via Giulia. The hotel has a relaxing dimmed-lighting vibe that makes it ultra relaxing. The photo does it no justice whatsoever. You'll definitely want to click through on the booking button below to see better photos. There is even an amazing rooftop restaurant named Sofà which will make your stay more memorable.
Bio Hotel Raphael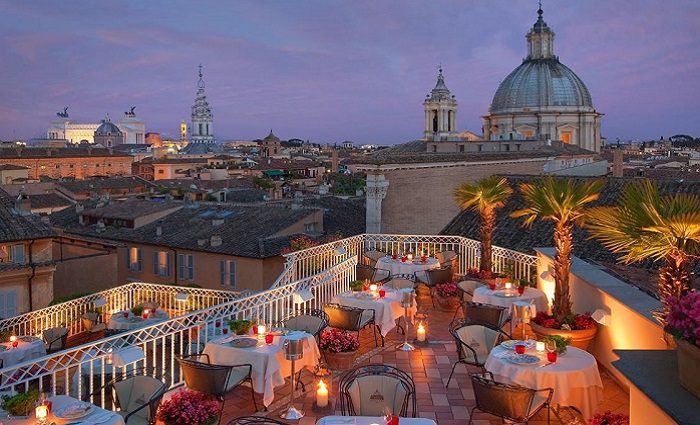 €€€€ | 5 Star | Vegan Restaurant | Stunning Terrace Views
Where to start? This luxe hotel has some of the most romantic rooftop vibes we've seen, so don't skip an evening here. Plus one of their restaurants is organic, vegetarian, and vegan if that appeals to you. I also love their spacious and calming suites, some of which have balconies.
G-Rough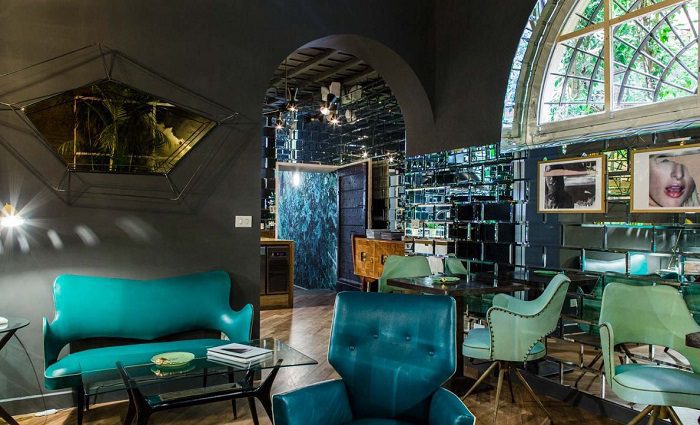 €€€€ | 4 Star | Swanky | Breakfast in Bed | On-Site Cafe/Bar
Rustic Italian meets industrial modern while keeping the original 17th-century building's flair. You won't find many hotels as unique as G-Rough. Enjoy an artistic experience with minimalist rooms, rooftop terrace, and a cool gallery bar with occasional live music.
Hotel Campo de' Fioro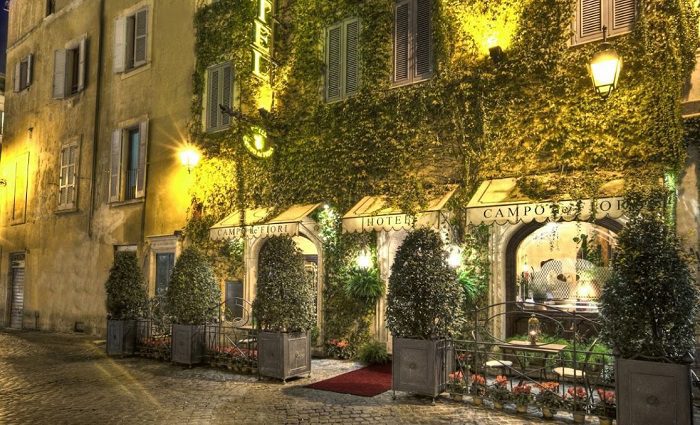 €€€ | 3 Star | Boutique | Rooms & Apartments | Multi-Level Terrace
For families who need extra space, you can book an apartment here that comes with a full kitchen. Or just opt for a regular room that's richly decorated. You're only steps from the busy Campo de' Fior piazza and not far from the Pantheon and Piazza Navona.
Tips for Airbnbs Near Piazza Navona/Pantheon:
This is a great area for an apartment rental. Try to go for a top floor or a place with a terrace. You're right in the thick of things so you'll get amazing views of the hundreds of churches in the center.
2. Monti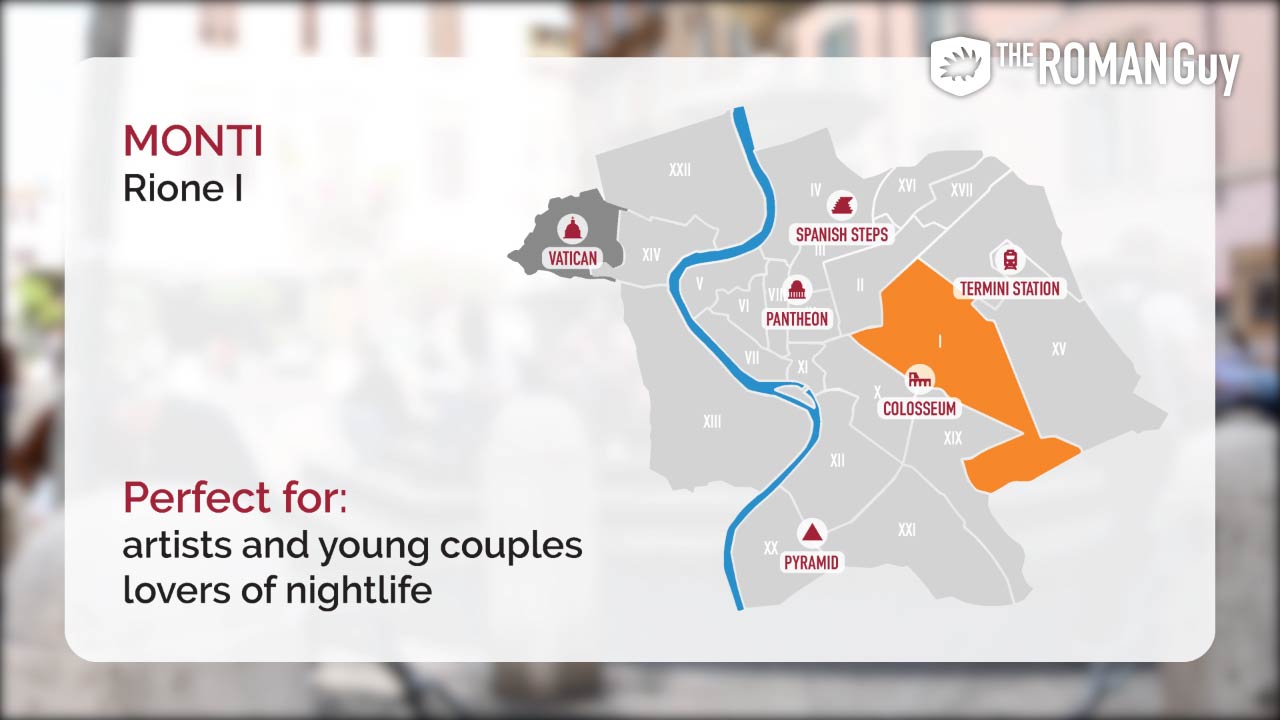 A hipster hotspot, Monti is filled with artists and Romans lucky enough to inherit apartments along the pastel-colored streets. Despite the fact that Monti borders Rome's major tourist attractions like the Colosseum, the neighborhood is a quiet treasure.
The word Monti translates as "mountains" in English. The area was home to four of the seven famous hills that once made up the city of Rome. If your idea of a good time is exploring vintage stores and hitting up funky bars, consider staying in Monti. Here are our picks for where to stay in Rome near the Colosseum in Monti.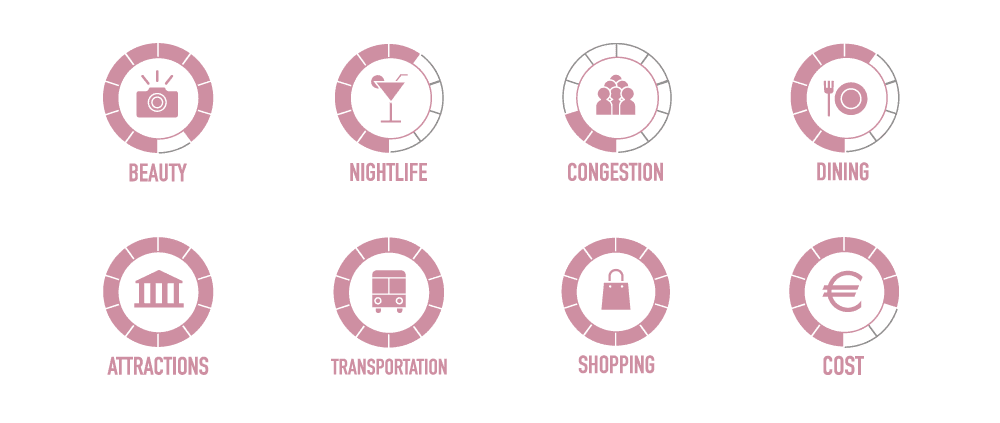 Best Hotels Near Monti:
Monti Palace Hotel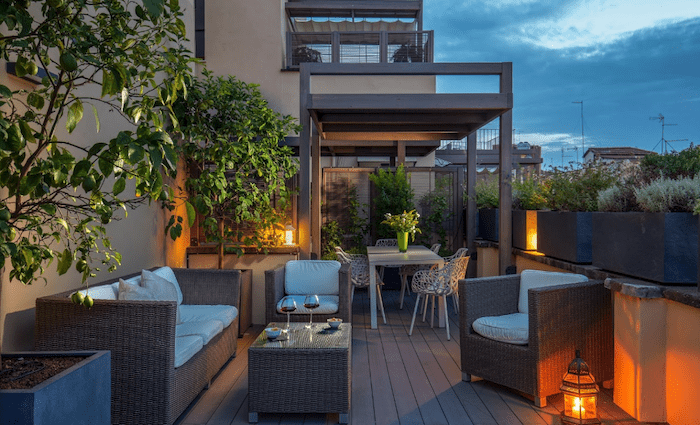 €€ | 4 Star | Monti & Colosseum | Rooftop Bar
Personally, I don't love hotels on main roads but this one is a good value with updated and clean spaces. Other than being located on a main road, the location is good. Monti is a very cool neighborhood in Rome with lots of restaurants, bars, and action. 55 rooms have panoramic views of Rome, and there are larger suites available.
The Glam Hotel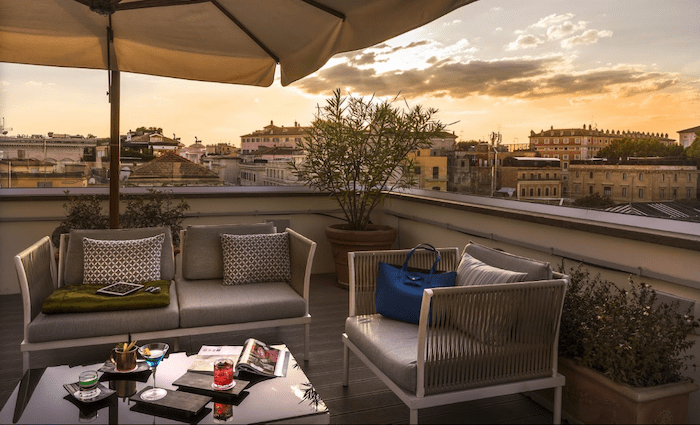 €€+ | 4 Star | Rooftop Terrace | Modern
Hotel Glam is centrally located in the middle of Via Nazionale between Piazza Repubblica and the Foro Imperiali. The rooms are sleek and highly curated with a contemporary design. The modern feel of the rooms is in stark contrast to the bright and sunny terrazza Monti.
Palazzo Manfredi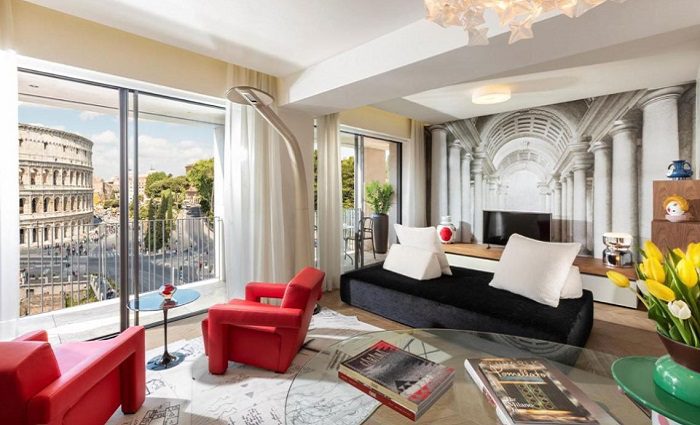 €€€€+ | 5 Star | Next to the Colosseum | Roman Luxury
That view isn't photoshopped. This luxury hotel is literally next to the Colosseum, where most rooms have a one-of-a-kind view of this ancient building. The rooms are tastefully elegant, and the terrace offers stunning views as you dine almost under the shadow of the Colosseum. It's easily a top favorite hotel in Monti.
Hotel Artemide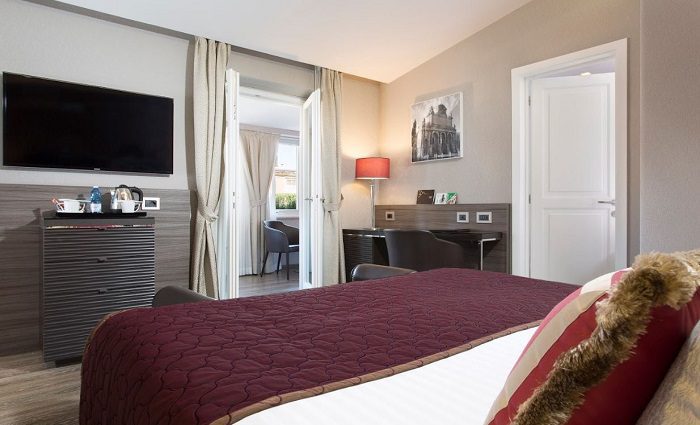 €€€ | 4 Star | Spa & Turkish Bath | Central Location
I like this hotel for the spacious rooms and the super nice spa that also has a Finnish sauna and Turkish bath available. It's a cool find here! This hotel is also ideally located near shops, galleries, and is about 15 minutes from all the key areas in Monti.
The Fifteen Keys Hotel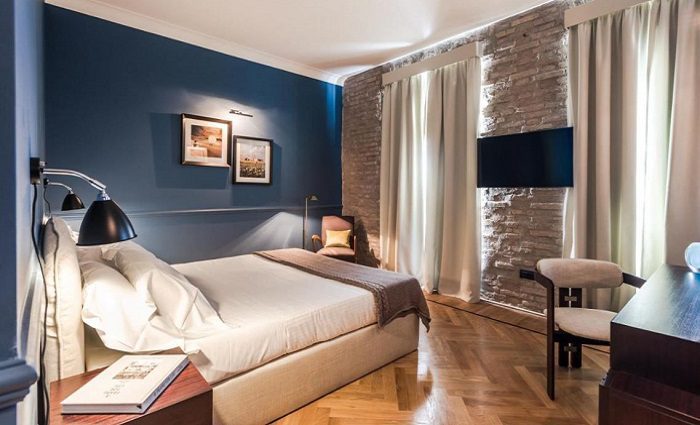 €€€ | 4 Star | Modern Yet Homey | Excellent Service
This little boutique hotel only has 15 rooms, thus the name The Fifteen Keys Hotel. It's just off a main road in Monti, but it's still next to all the vibrant nightlife, shops, metro stops, and sights you want to see here. The rooms are clean and tastefully modern without being too minimal.
Hotel Forum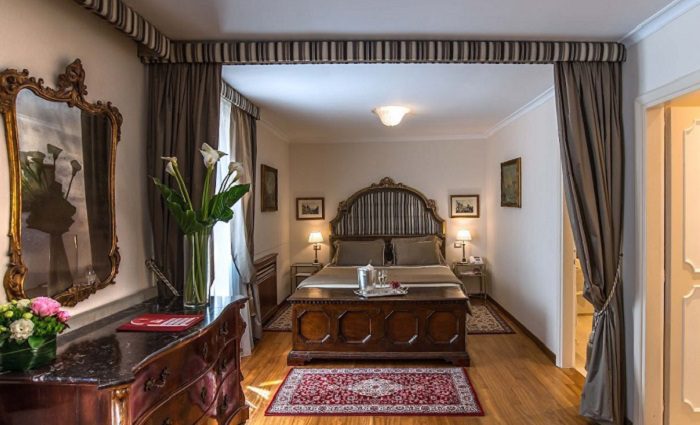 €€€ | 4 Star | Roman Forum Views | Ornate Décor
For the best views of the Roman Forum, I highly recommend the Hotel Forum. It's perfectly located for an afternoon exploring the Roman temple ruins. The hotel is an old 18th-century relic with Persian rugs in the hallways and ornate décor throughout. And of course, the terrace has the best views of the Forum.
iH Hotels Roma dei Borgia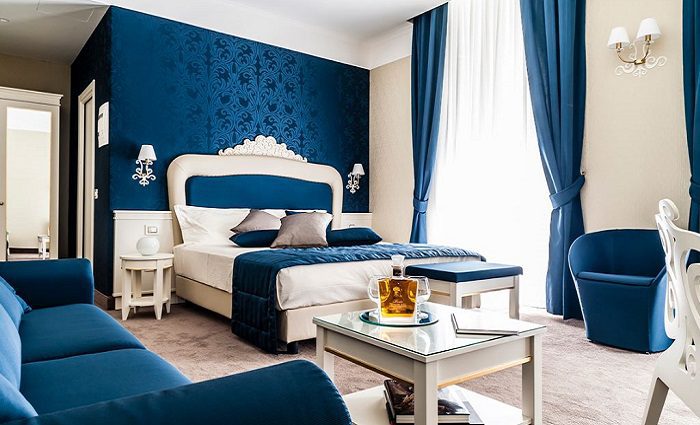 €€ | 4 Star | Luxury Spa | Elegant | Great Price
This is another good hotel if you're looking for an affordable stay with a spa and rooms that are quite elegant. They offer an American breakfast buffet, plus a bar with a happy hour to end your day of touring. The rates are surprisingly low compared to other 4-star hotels, so check it out!
Hotel Raffaello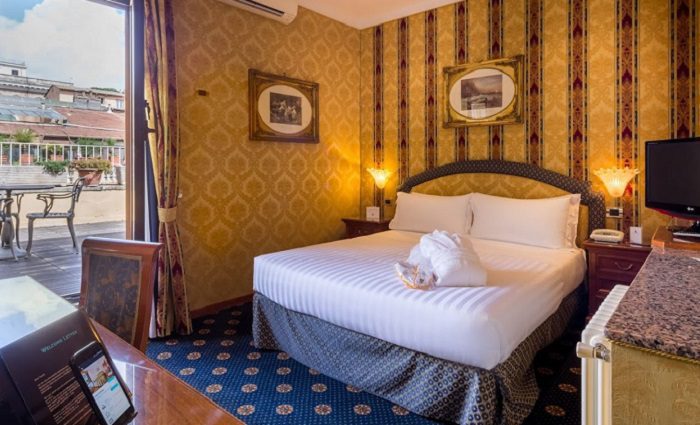 €€ | 3 Star | Quieter Street | Classic Italian Vibes
For another affordable option, check out Hotel Raffaello where you can enjoy classic Italian décor in a quieter location in Monti. The rooms aren't overly spacious, but they're clean, and some have balconies. A continental breakfast buffet is available for a small fee. This hotel is closer to the Papal Basilica of Santa Maria Maggiore but not too far from the Colosseum.
Tips for Airbnbs Near Monti:
Monti is a bustling neighborhood. Try to find an apartment on a back street of Monti. These are referred to as vicolo in Italian, which means "little street."
Piazza della Madonna dei Monti is a great square to get a drink and sit at the fountain. You can buy from the store and sit outside, which is legal, to save money if you are on a budget.
1. Spanish Steps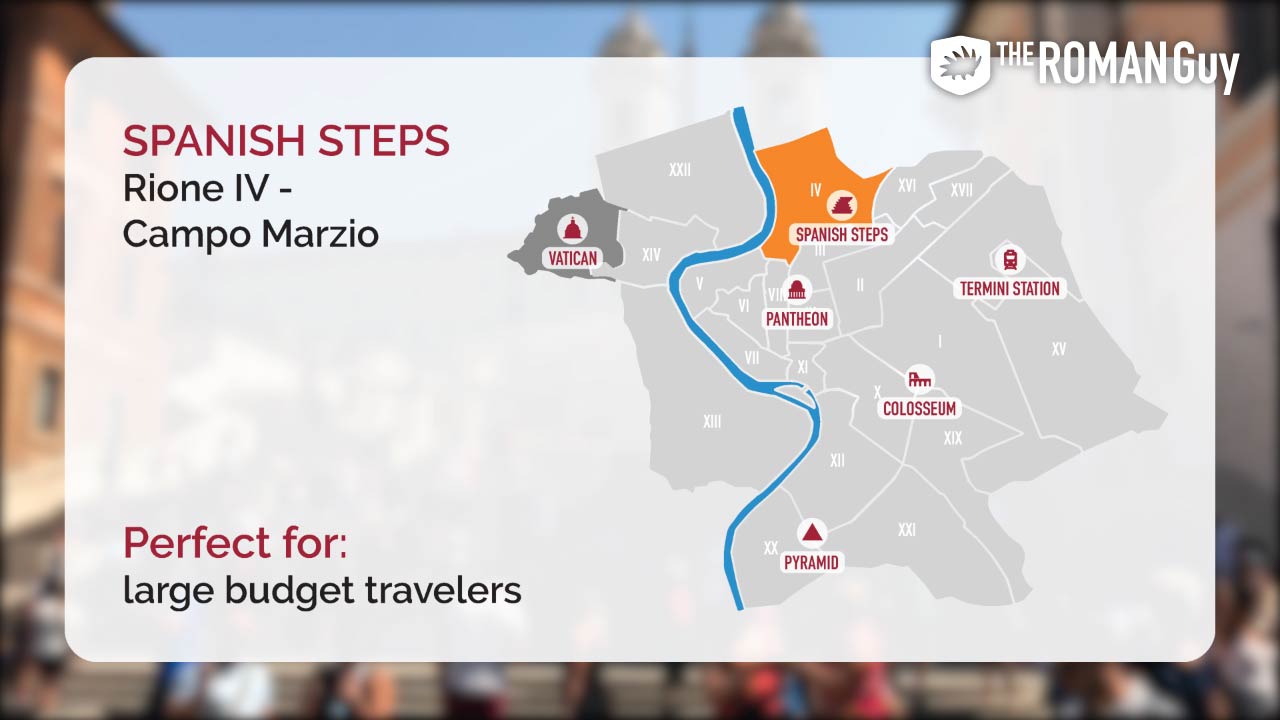 The Spanish Steps and their surrounding neighborhood are widely regarded as the most beautiful part of Rome. Neoclassical buildings in beautiful condition line the streets here. It's home to most of the major attractions that first-time visitors to Rome want to see, so staying here is advantageous.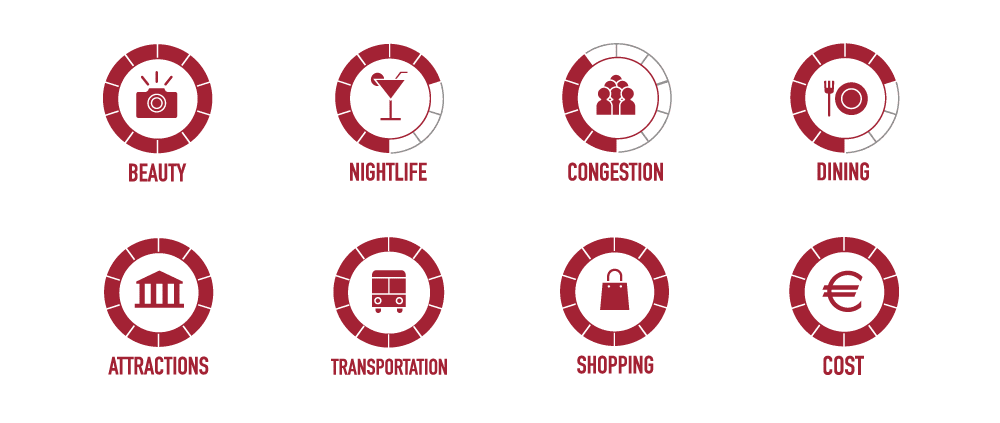 Simply walk out the door and find yourself instantly immersed in the gorgeous and historic heart of the Eternal City. This is the main shopping district in Rome. Via Condotti hosts some of the best haute-couture shopping in Europe, which is ideal for any fashionistas. Some of the most expensive hotels are found here, but we've also included lots of affordable options for where to stay in Rome.
Best Hotels Near Spanish Steps:
Hotel de Russie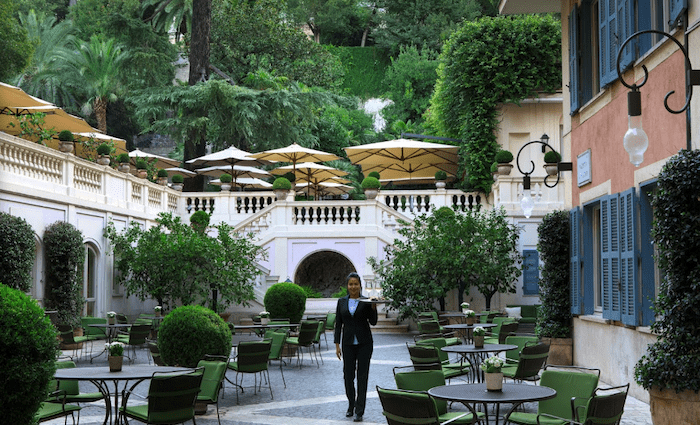 €€€€+ | 5 Star | Timeless Luxury | Piazza del Popolo
Hotel de Russie has been one of the most popular hotels in Rome for VIPs for decades. It has been frequented by Bruce Springsteen, Sting, and other international celebrities too. The hotel is designed in classic Italian style featuring clean lines, pops of bright color, and open sightlines of the city.
Hotel de la Ville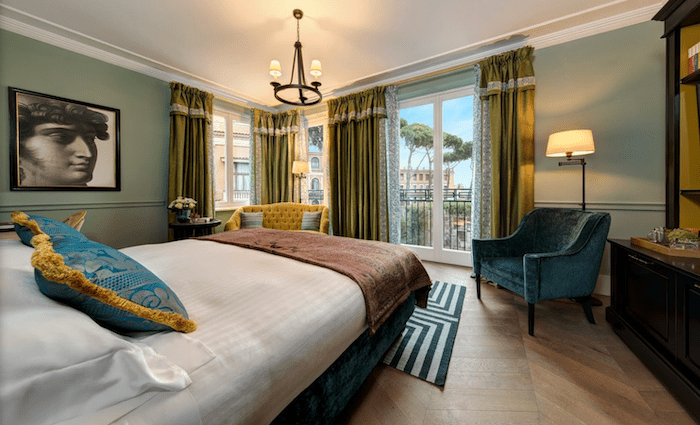 €€€€+ | 5 Star | Timeless Luxury | Piazza del Popolo/Spanish Steps
You may get slightly more space in your room here but less extravagant common spaces than Hotel de Russie. That being said, this hotel is definitely one of the nicest hotels in Rome, which you'll immediately notice if you stay in one of their suites.
Fendi Private Suites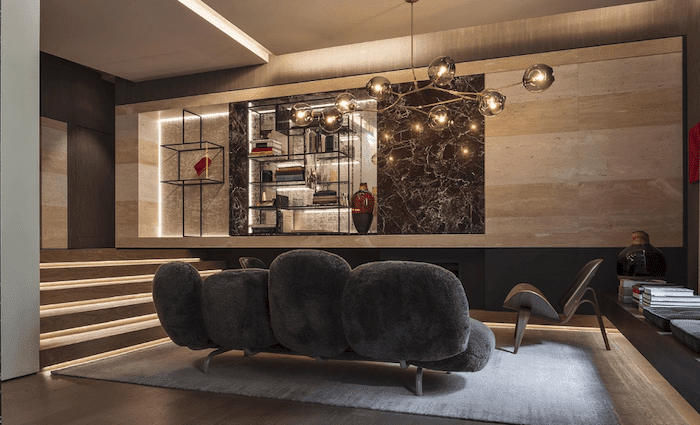 €€€€+ | 5 Star | Designer Luxury | Via Condotti/Spanish Steps
Fendi opened some private suites for guests right above their flagship store in Rome, which is located at the end of Via Condotti. The hotel only has luxe suites, and their least expensive suite will run you over a grand per night during the peak in June. There are only a handful of suites here, so it's uber exclusive.
Roma Hassler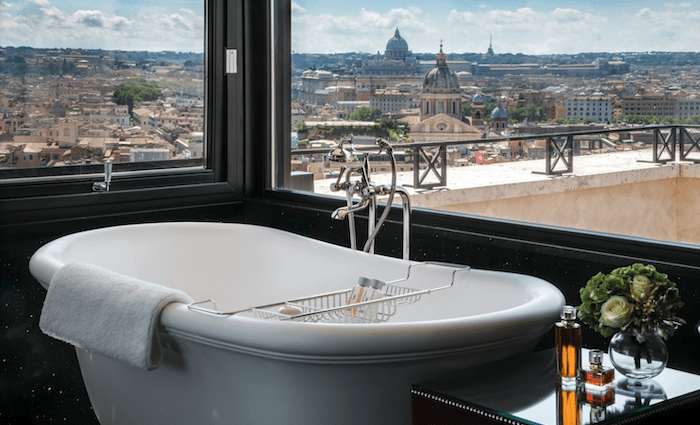 €€€€+ | 5 Star | Iconic Landmark | Top of Spanish Steps
The Hassler was opened in 1947 just after WWII and quickly became the "it" spot for Rome. When you stay here, you can sleep soundly knowing that someone of historical importance most definitely stayed in that very same room. You'll also like that it's located just steps from the Spanish Steps. How convenient!
Margutta 19 Luxury Hotel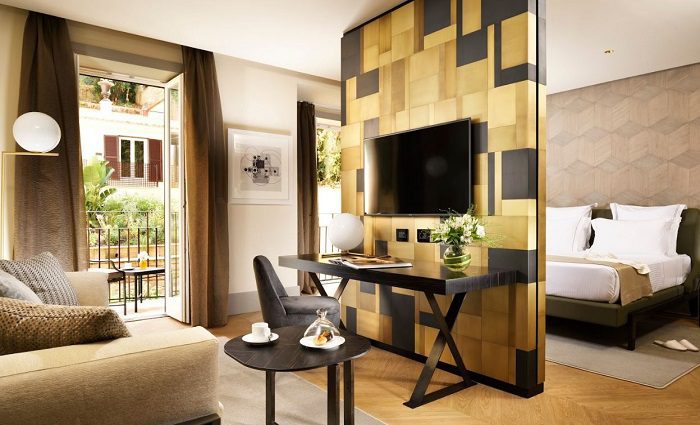 €€€€+ | 5 Star | Luxury Suites | Sophisticated | Breakfast Included
Even the "basic" deluxe suites are posh here, and every room has a king bed. If you can, ask for a room with a balcony to enjoy mornings on the cobblestone Via Margutta street. This is the posh area near the Spanish Steps, and Margutta 19 goes above and beyond to make your stay wonderful.
Grand Hotel Plaza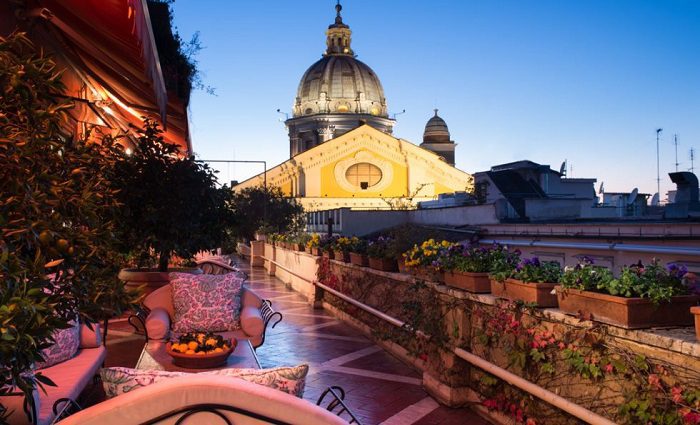 €€€€€ | 5 Star | Famous Location | Panoramic Garden Terrace
One of the best things about this hotel is the panoramic garden terraces on the 5th floor that give you plenty of views of the Eternal City. The Grand Hotel Plaza has been entertaining guests for a century and a half. It's often been used in films, and many weddings use the stunning ballroom. And if you're into designer shopping, it's right next to the shops along Via dei Condotti.
Hotel Art by the Spanish Steps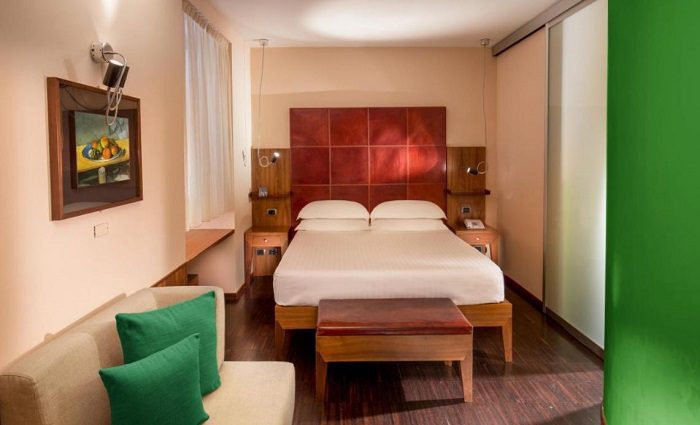 €€+ | 4 Star | Closest to Spanish Steps | Vibrant Colors | Artistic Vibes
This hotel is a fun option with solid walls of bright colors and lots of art throughout. But best of all, it's located literally steps away from the Spanish Steps. And it's a great price even in the peak of summer, so really, it's a perfect option if you want to stay near one of the top Rome attractions.
Hotel dei Borgognoni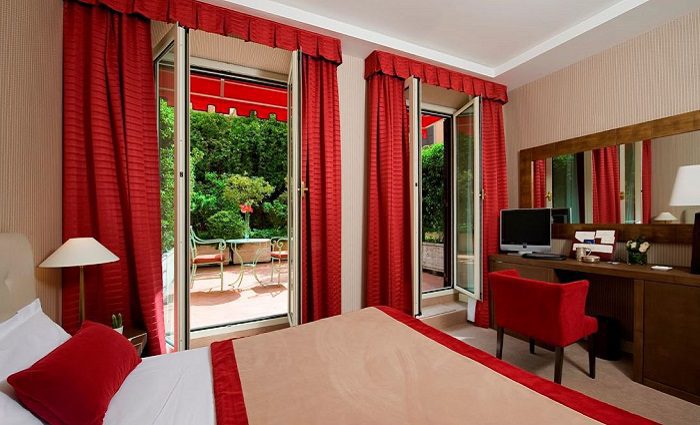 €€+ | 4 Star | Great Concierge | Contemporary | Pet Friendly
This is another great place to stay whether you're here on business or just looking for a great hotel that allows pets. They have a helpful concierge service that can even coordinate a number of relaxing massages if you need extra chill time. I also like that this hotel is on a little quieter street and that some rooms have private balconies.
Babuino 181 Luxury Suites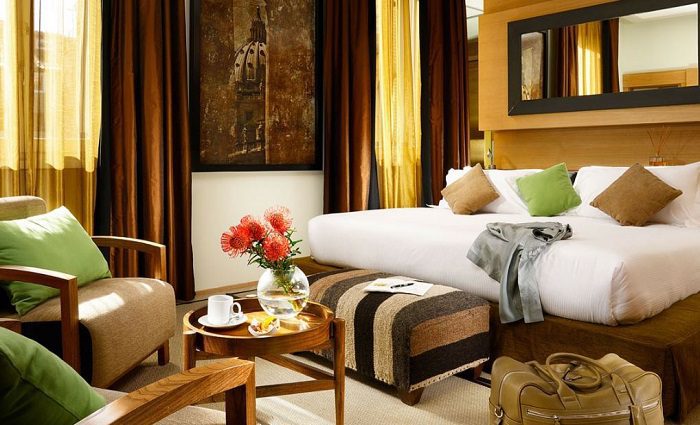 €€€€ | 4 Star | Italian Contemporary | Key Location | Authentic Roman Restaurant
At Babuino 181 (also the address), you're smack in between the Piazza del Popolo and the Spanish Steps. Oh, and you're right on Via del Babuino, which is the best street for finding antiques, jewelry, and art galleries in this neighborhood. Really, it's just an ideal location. Also worth mentioning: the new EMME restaurant that serves truly authentic, gourmet Roman food.
Hotel Valadier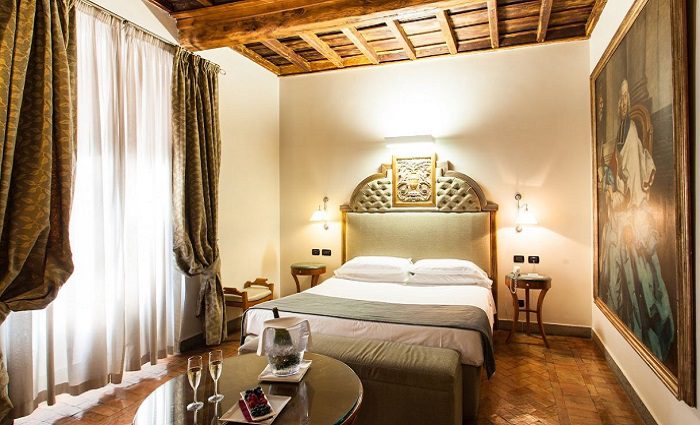 €€ | 4 Star | Close to Piazza del Popolo | Lounge with Piano | Gym and Trainers
Hotel Valadier has a lot to offer, which makes up for the rooms being a little on the smaller side. There's a lounge with a piano that brings the lobby to life in the evening with live music and drinks. Plus there is a gym where you can ask for a personal trainer if you don't want to skip a workout. But really, walking to all the shops, galleries, and nearby attractions will give you plenty of exercise.
La Maison d'Art Spagna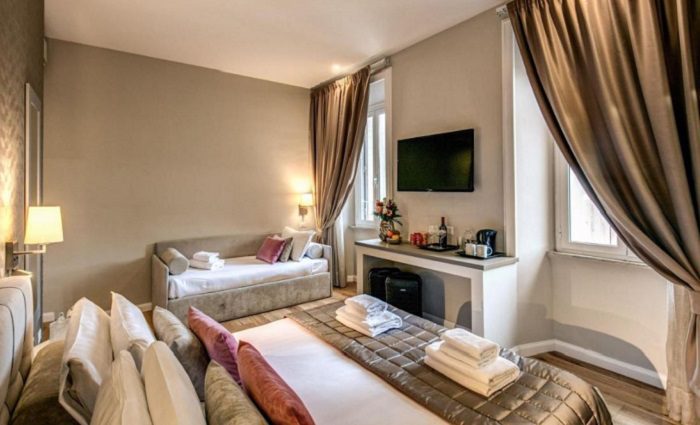 €€ | 3 Star | Affordable | Soft Contemporary | Breakfast in Bed
I love this hotel for its great price and rooms that are clean and contemporary neutrals. The hotel even offers breakfast to be brought to your room so you can enjoy a slow morning after a long day of touring. Trevi Fountain and the Spanish steps are only a few blocks away, which means you're also close to iconic shopping here too.
Hotel Manfredi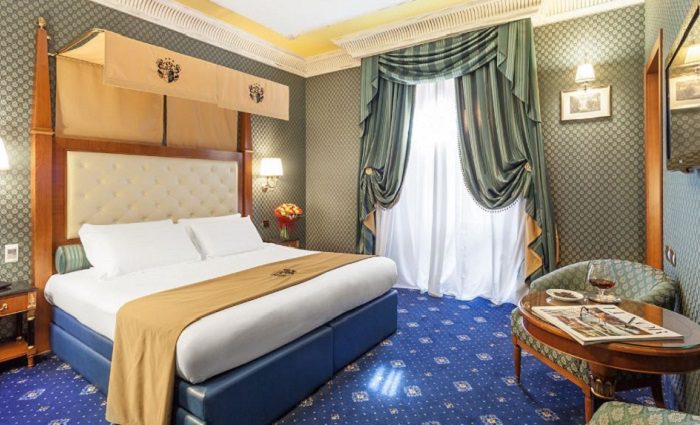 €€+ | 3 Star | Genteel Italian Vibes | Family-Run | Via Margutta
Hotel Manfredi is not one to skip! It's a historic old building with recently renovated rooms, just a block away from the Spanish Steps. And with great rates for the location, you can't go wrong here. The Via Margutta is known for historic elegance, and this hotel fits right in with gorgeous suites set on a cobblestone alley. It's the perfect affordable hotel to round out our list of where to stay in Rome.
Tips for Airbnbs near the Spanish Steps:
Spanish Steps is a beautiful area populated by Rome's wealthiest families. The apartments are amazing and classical with traditional Italian vibes. Try to get a place overlooking a nice piazza to really breathe in the feel of the area. Piazza di Spagna is ideal, but it will come with a price tag.
I'd also recommend choosing a high-level apartment with an elevator. The streets are often crowded and noisy until as late as 2 am and being on at least the 3rd floor or higher can help with the noise.