You may be traveling with the kids, be an exercise enthusiast, or love the idea of cooling off a bit on a hot summer's day! Regardless of the reason, there are a few great hotels in Rome with pools, but which are in good areas? Our list filters out the bad so you don't have to do the guesswork!
---
Best Rome Hotels with Pools
The key to this list and all our lists is "location, location, location." We know Rome better than most so we've narrowed this list down to the best hotels in Rome with pools. Then we'll explain what traveler personas fit best into each hotel!
Our Partnership with Booking.com. If you like our content, please book by clicking on our Booking.com links. The price is the same for you and we get a small commission that helps support our helpful blog content. We've partnered with Booking.com because they have the most options, great prices, and a solid loyalty program.
8. Navona Queen Rooftop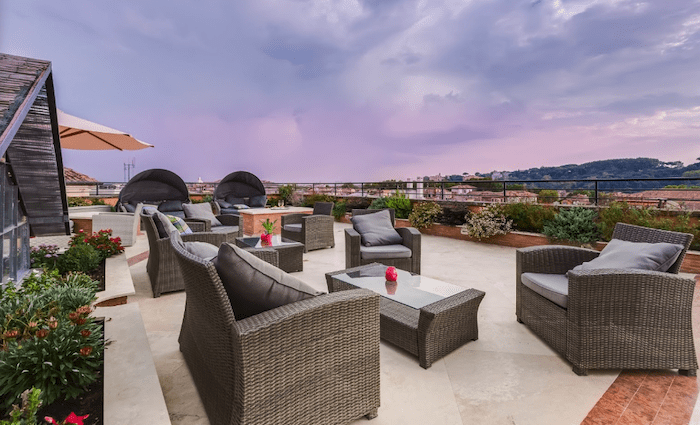 €€€ | 4 Star | Piazza Navona | Rooftop Bar & Lounge
Navona Queen rooftop is a nice little gem. Really great prices and in a location that I love. The rooms are updated and comfortable which makes it an easy choice for the prices.
The rooftop does not have a "pool" but there is a hot tub which is a nice feature during months with cooler evenings in Rome (Sept – May).
7. Hotel Indigo Rome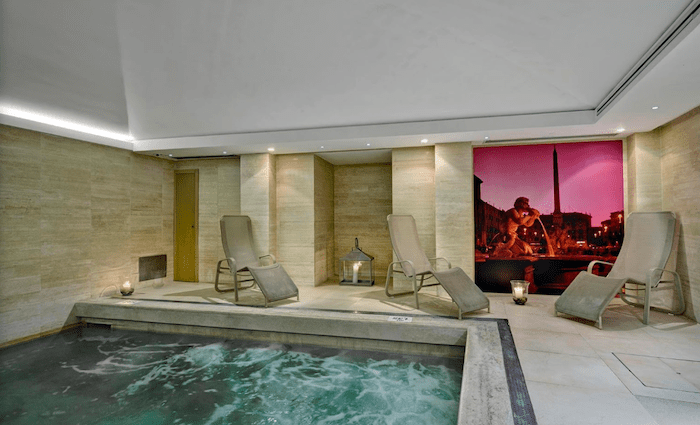 €€€€ | 5 Star | Via Giulia / Campo | Super Posh! | Indoor Pool
Hotel Indigo is a super-luxurious hotel in Rome on my absolute favorite street in the city which is Via Giulia. The hotel has a relaxing "dimmed lighting" type decor that makes it a top hotel in the city. The above photo does it no justice whatsoever – you'll definitely want to click through on the booking button below to see better photos. There is even an amazing rooftop restaurant at Hotel Indigo named I Sofà which makes will make your stay more memorable.
The pool is more like a glorified hot tub. Perfect for couples looking to relax but not especially accommodating for exercise enthusiasts looking to get their laps in or families with kids.
6. Colonna Palace Hotel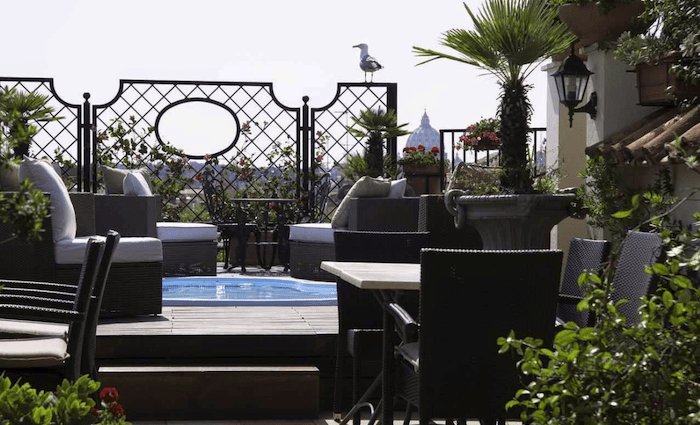 €€ | 4 Star | Pantheon / Via Del Corso | Family Friendly | Rooftop Pool
Colonna Palace is an interesting option. It is a 4 star modest hotel in the center. You won't see modern finishes but you will get a comfortable and clean hotel in the center for a very good price.
If you are traveling with kids this is perfect. Expanding into a larger room won't break your budget and there is a modest pool on the rooftop. You could likely jump clear over this body of water, but you're kids will love and appreciate it which is likely why ownership installed it.
The rooftop is also quite pleasant with great views of St. Peter's Basilica. For me, this hotel has really great value for what you are paying.
Popular Rome Tours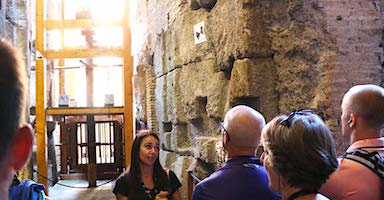 Likely to Sell Out
Colosseum Underground Tour with Roman Forum and Palatine Hill
This is our most popular Colosseum tour due to the incredible access to non-public areas like the underground chambers. All admissions are included and it is lead by an English speaking licensed guided and Colosseum expert.





See Prices
Not ready to book a tour? Check out our best Rome tours to take and why.
5. Aldrovandi Residence City Suites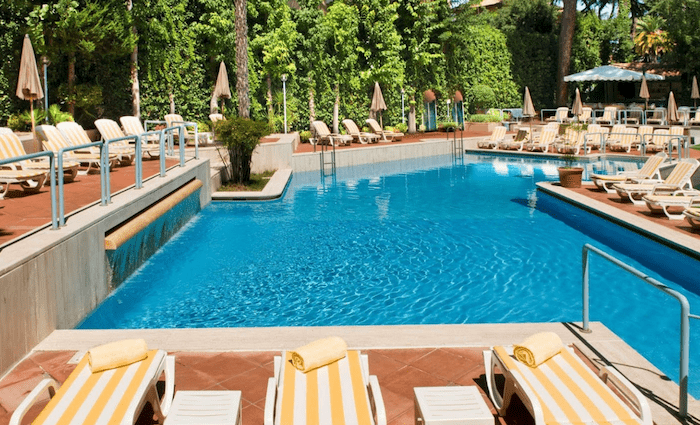 €€ | 4 Star | Villa Borghese | Family Friendly | Resort Style Pool
Aldrovandi Residence City Suites is a good choice for people traveling with kids that want a lot of space for them to run around. The hotel is on the north side of Villa Borghese which means it is not in the historical center or walking distance to major monuments. You'll have to use mass transit or a taxi to get in the center. That said, its in a really nice residential area with lots of notable restuartants.
The pool is massive, but the hotel is pretty dated. It is unlikely that you'll see instagram models taking selfies by the pool waterfall, but kids will love it and so will people who like to get their laps in!
4. Sina Bernini Bristol Hotel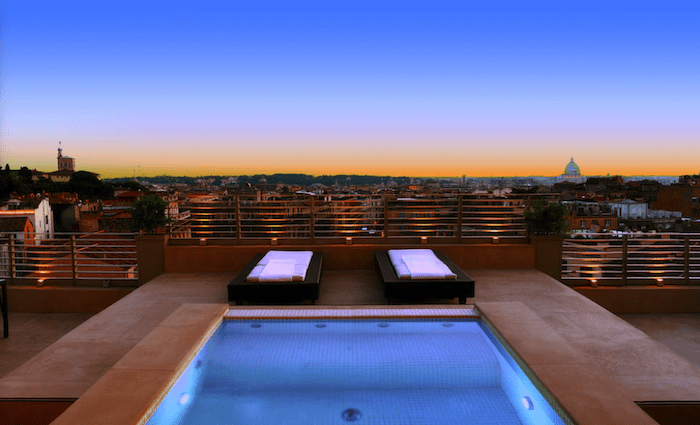 €€€€+ | 5 Star | Central Location | Piazza Barberini | Rooftop Bar & Pool
Sina Bernini Bristol is a classic and beautiful hotel in Rome that attracts VIPs from all over. It has a magical rooftop bar & restaurant which is host to amazing views. It is in Piazza Barberini, which is a heavy vehicle traffic area, but it is just slightly back off the street with its own small driveway.
This allows you to get out of your vehicle in peace and not worry as much Roman vehicle traffic. The rooftop bar is home to an amazing little pool which is nice in the summer especially if you have children.
3. Anantara Palazzo Naiada Rome Hotel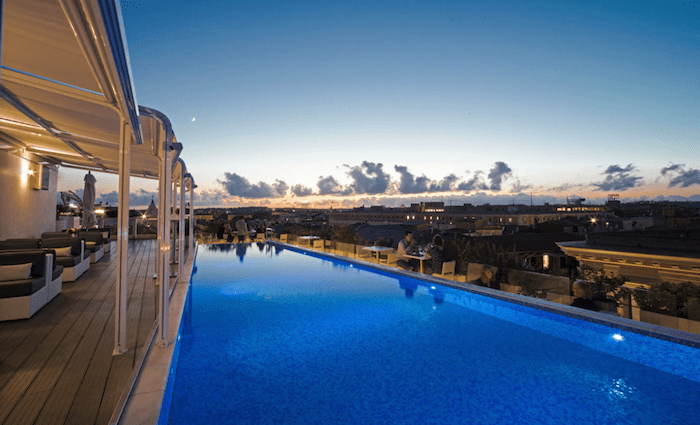 €€€€+ | 5 Star | Family Friendly | Piazza Barberini | Rooftop Bar & Pool
Hotel Anantara has a very interesting history. It was formerly named Hotel Exedra and was likely bought out and renamed. It is an enormous hotel which is grand and luxurious beyond belief.
If you are ok taking a taxi into more central and local parts of the city, it's the ideal hotel. If you want to walk to really "cool" places, then it is not really for you. Admittedly, there are some cool attractions and restaurants near Termini and Piazza Repubblica, but I prefer walking around Piazza Navona at night.
That said, for what you get I would likely consider it if traveling with the wife and kids. The pool is amazing and it is pretty luxurious. I am good at getting a taxi into town or taking a bus up via Nazionale to get around. All-in-all, it's a great hotel and possibly the best pool in Rome as long as you are good with its location.
2. Fauno Urban Resort Roma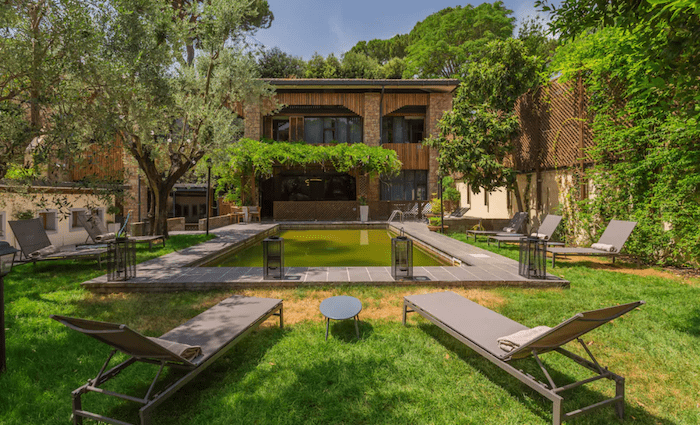 €€ | Local Location | Circus Maximus & Colosseum | Pool
This hotel is super cool. It is basically a 60s villa that has been well-kept and turned into a hotel/relaxation spa.It is very rare that you get a backyard spread like this in Rome which makes it a unique find for families!
Very nice modern spaces and a great backyard to relax. The pool is good for laps and exercise in the morning or relax after a day of touring.
Popular Rome Tours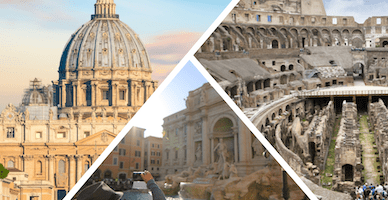 Best-Selling Tour
Rome in a Day Tour with Colosseum and Vatican Museums

Our "in a day" tour is best way to get your bearings all in one day. Visit the Sistine Chapel, Colosseum, Trevi Fountain, and more with a licensed, fun English-speaking tour guide. They'll add tons of insights and make the entire experience so much more memorable. Also, you'll get a feel for the city, so it's a great option on one of your first days in Rome. Bring your walking shoes and water bottle!





See Prices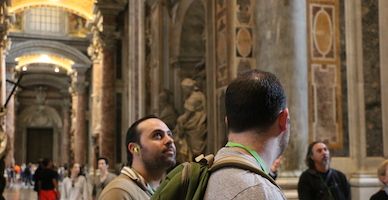 Best Price!
Skip the Line Vatican Tour with Sistine Chapel
One of our most popular Vatican tours since it is such an amazing value. Skip the line to get inside with a super-knowledgeable, English-speaking guide who will bring the museum to life with stories of the artists, popes, conspiracy, love, and even tragedy! This tour has start times throughout the day so you can choose when to visit based on your schedule!





See Prices
Not ready to book a tour? Find out if a Vatican tour is worth it.
1. Rome Cavalieri Waldorf Astoria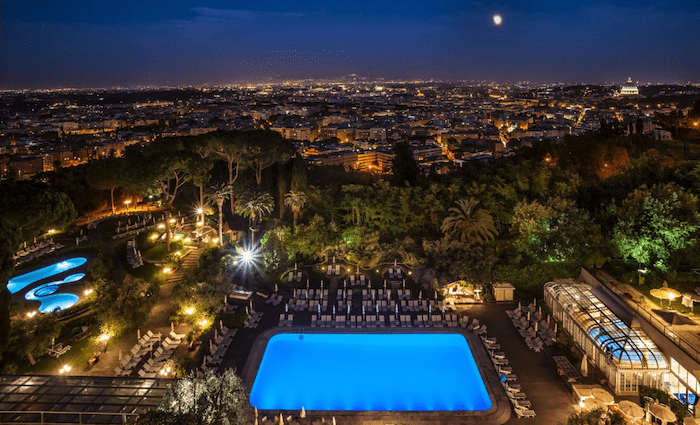 €€€€ | 5 Star | Massive Hotel & Property | Multiple Pools | Rooftop Dining | Family Friendly
Rome Cavalieri Waldorf Astoria is easily the best pool option in Rome. The hotel has the look and feel like no other hotel in Rome. It is massive like a resort but a short drive from the center and the Vatican City.
The hotel is home to Rome's only 3 Michelin star restaurant, La Pergola, which has been led by Heinz Beck for quite some time. The only downside to the Waldorf Astoria is that it's not in the historical center, but it is easy to grab a taxi and the hotel grounds are pretty cool so it balances out!