Looking for a great restaurant or place to eat in Rome's Jewish Ghetto? The good news is, there are tons of delicious restaurants and trattorias nearby, You've just got to find them amongst the tourist traps. Look no further, as our local team in Rome have done their homework and updated this list!
---
Pro Tip: It's easier to organize your trip when you have all your resources in one place. Bookmark this post so you can easily find it when you're in the city. See our guide to Rome for more planning resources, our top Rome tours for a memorable trip, and the top foods to try in Rome.
The 9 Best Restaurants in the Jewish Ghetto
The Jewish Ghetto is an extremely important area of Rome for many reasons but above all for the cuisine. You could argue that religion makes it even more important, but I really like the food, so I am biased.
The cuisine in the Jewish Ghetto was once very different from food in the rest of Rome because the Vatican walled off the area. For religious persecution, they separated the Jewish Ghetto from the rest of the city
The produce brought into the ghetto and the food they produced differed from the rest of the city due to isolation and extreme poverty. Today, the differences are not as pronounced. However, many locals argue that the ghetto has maintained the most traditional cuisine in the center.
If you love food and travel (and we think you do!), check out our local food tours in Rome. They're a great way to explore a new city and eat good authentic food.
Not ready to book a tour? Find out if a Rome food tour is worth it for more info.
Beppe e i Suoi Formaggio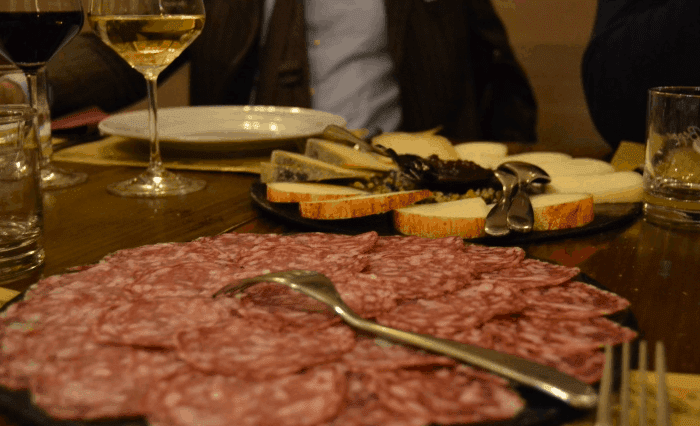 €€ | Cheese Shop and Restaurant | Family Friendly
I found "Beppe and His Cheeses" (a translation) sometime in 2014, and now it's a must for me whenever I'm in the Jewish Ghetto. Their strategy is to purchase and sell cheeses, meats, and other products produced by smaller farms.
The idea is that smaller, more meticulous producers will yield better quality products than the mass producers. That is quite likely true. You can pop into Beppe and purchase cheese to go or have a tasting of cheese, meats, and local products.
They even prepare seasonal dishes, which makes it an excellent choice for lunch or dinner. A cool tip is to order a glass of wine standing up and have a cheese tasting at the bar.
Address: Via di S. Maria del Pianto, 9a/11
Boccione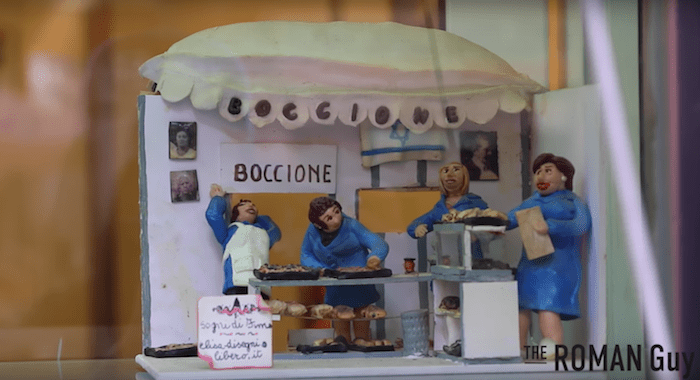 €€ | Jewish Bakery | Family Friendly | Kosher
This small bakery is a cornerstone of the Jewish community in Rome and I mean that both figuratively and literally. They make many delicious treats, which has earned them international praise. They're best known for two things.
The first is sour cherry and ricotta pie, which is really nice since it's less sweet than the pies you may be used to. They focus more on natural ingredients. You have to try it to decide for yourself.
The second item is a dish named Pizza Ebraica, which translates to "Hebrew Pizza." It's not actually pizza—it's more of a cake. I don't personally like it, but that's just me. You should definitely give it a try as it's extremely particular and culturally very important to the area.
Address: Via del Portico d'Ottavia, 1
Top Colosseum Tours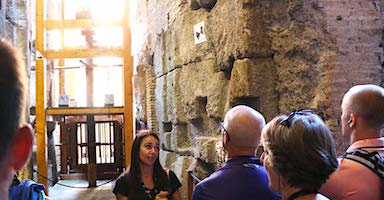 Best Seller
Colosseum Underground Tour with Roman Forum and Palatine Hill
This is our most popular Colosseum tour due to the incredible access to non-public areas like the underground chambers. All admissions are included and it is lead by an English speaking licensed guided and Colosseum expert.





See Prices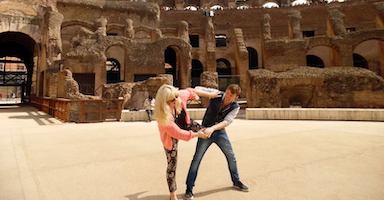 Customer Favorite
Special Access Colosseum Arena Floor Tour Through the Gladiator's Gate
You'll enter the Colosseum through the back door entrance avoiding lines and crowds, which is ideal! You'll step through the gladiator's gate and your English-speaking Colosseum guide will bring the stories to life. Next, on to the Roman Forum. All admissions are included.





See Prices
Not ready to book a tour? Find out why a Colosseum tour is worth it.
Sora Margherita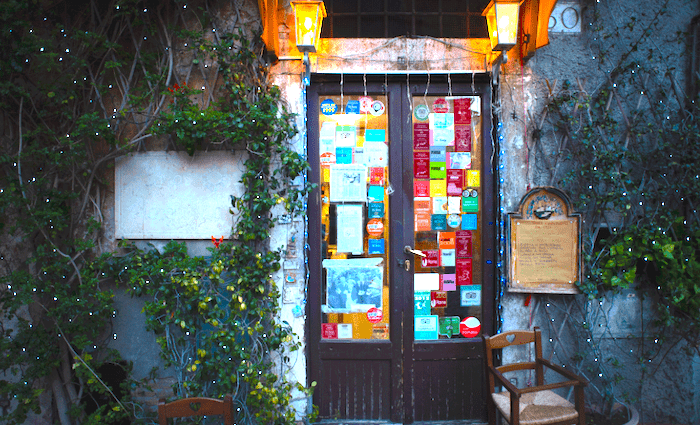 €€ | Family Friendly | Traditional Jewish-Roman Cuisine
Sora Margherita is one of those local spots you simply have to go to—it's been famous for years. Every year I wonder, "Is this place too popular with tourists for its own good?" And every year my answer is basically yes, but I still go because the food is really good and it's reasonably priced.
It isn't simply foreign tourists that go here to eat. Italian tourists from all over wait outside for a table to try the food since it is a great example of authentic Roman cuisine in the historical center. I wouldn't rate any one dish as the "best in Rome" but I do think they have a balanced, high-quality menu.
Address: Piazza della Cinque Scole, 30
Nonna Betta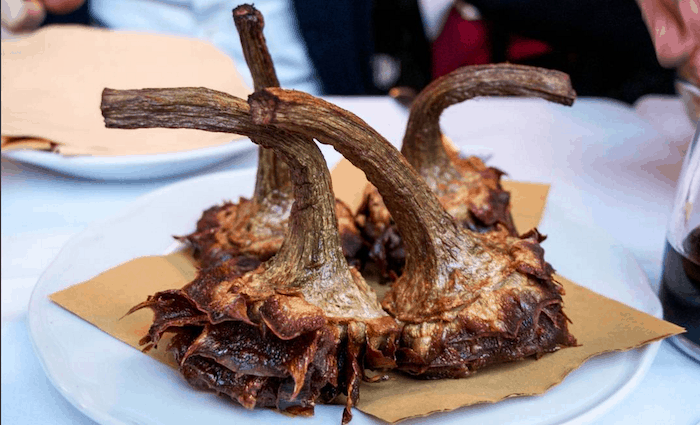 €€ | Family Friendly | Traditional Jewish-Roman Cuisine | Outdoor Seating
Nonna Betta is a great lunch or dinner spot. It's right on the main road, Via del Portico d'Ottavia, in the Jewish Ghetto and has excellent food. They're my choice for the best Jewish artichokes in Rome, which would also mean the best on Earth.
It's a nice enough restaurant and relatively inexpensive, which makes it an easy choice. Definitely put this restaurant on your radar as the ambiance is great.
Address: Via del Portico d'Ottavia, 16
Al Pompiere
€€ | Family Friendly | Traditional Jewish-Roman Cuisine
Traditional Jewish-Roman cuisine and a cool atmosphere make Pompiere a contender for your Jewish Ghetto lunch or dinner. It's a little more low-key than Nonna Betta or Sora Margherita, which may make it a better choice for those who don't want the hustle and bustle.
Address: Via di S. Maria de' Calderari, 38
Piperno
€€€ | Jewish-Roman Cuisine | Outdoor Seating
If you're looking for a more elegant lunch or dinner and possibly outdoor seating, Piperno is great. It's considered high-end but not over-priced. The food is possibly the best quality Jewish cuisine in Rome as higher prices normally signal higher quality ingredients.
You can sit inside or outside and be waited on by professional waiters at this lovely gem in the Jewish Ghetto. It's an old-school formal experience that will likely become a fond memory of Rome!
Address: Via Monte dè Cenci, 9
Popular Tours from Rome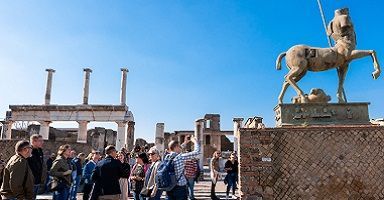 Best Seller
Unforgettable Rome Day Trip to Pompeii and Sorrento
This is the best way to see Pompeii and the Amalfi Coast from Rome. You'll take private transportation with our guide down to Pompeii where an archeologist will tour our small group through the ruins. Then we'll head over to Sorrento which is the tip of the Amalfi Coast before returning to Rome. Tickets, transportation, and guides are included in the price.





See prices and more info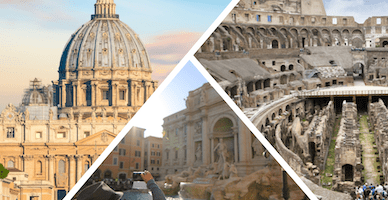 Best Seller
Rome in a Day Tour with Vatican, Sistine Chapel, Colosseum, and More!
Looking to get much of your sightseeing done in one day? This tour enters the Vatican an hour before opening and visits the Colosseum along with other sites like the Pantheon, Spanish Steps, and Trevi Fountain. All admissions and transportation are included as well as a licensed English-speaking guide!





See prices and more info
Not ready to book a tour? Check out our best Rome tours to take and why.
Yotvata
€€ | Kosher Italian | Family Friendly
If you want the most traditional Jewish-Roman experience, then Yotvata is the place to go. They're completely kosher, which makes them a little more traditional than some of the other restaurants listed. They also have a beautiful restaurant design that's on the more elegant side.
Address: Piazza Cenci, 70
Bartaruga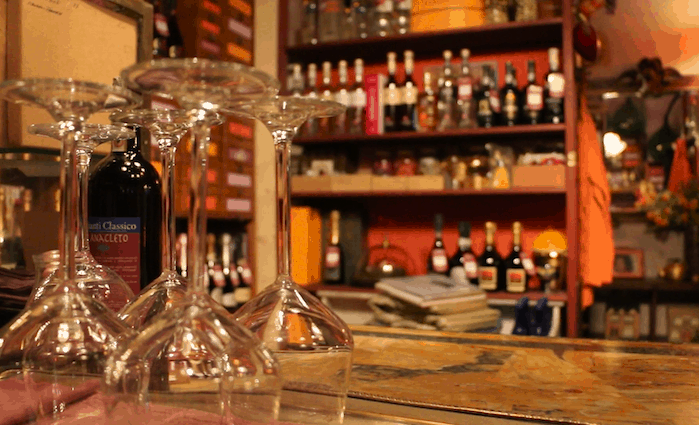 €€ | Wine Bar | Cool Atmosphere
This super-quirky and cool wine bar is in the Jewish Ghetto right near the famous Fontana della Tartarughe in Piazza Mattei. This is also how it got its name, which is a combination of "Bar" and Tartarugha, the Italian word for "turtle."
The atmosphere is perfect for groups of friends or couples. Lots of different couches, chairs, and musical instruments make for an interesting evening!
Address: Via dei Funari, 26
Corona Gelateria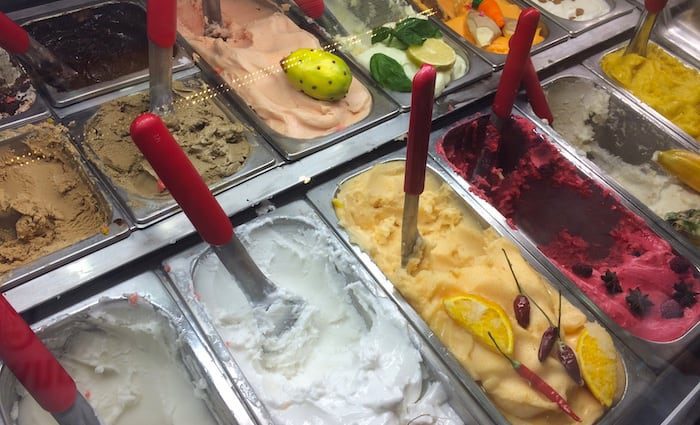 € | Family owned | Delicious
Any Roman (or Italian for that matter) when asked, will tell you that their local gelateria is the best in the city. While I don't have only one favorite, Gelateria Corona is definitely in the top five.
This second-generation, family-owned gelateria has been making sweet gelato for years and, quite frankly, it's delicious. They're located right outside the "walls" of the Jewish ghetto in busy Largo Argentina, but you have to look closely or you could walk right past the entrance.
What I love about this place, besides the taste obviously, are their adventurous flavors. For example, lemon with basil or honey with spicy pepper. Skip dessert in the restaurant and come here for a gelato after dinner.
Address: Largo Arenula, 27
Go on a Local Food Tour in Rome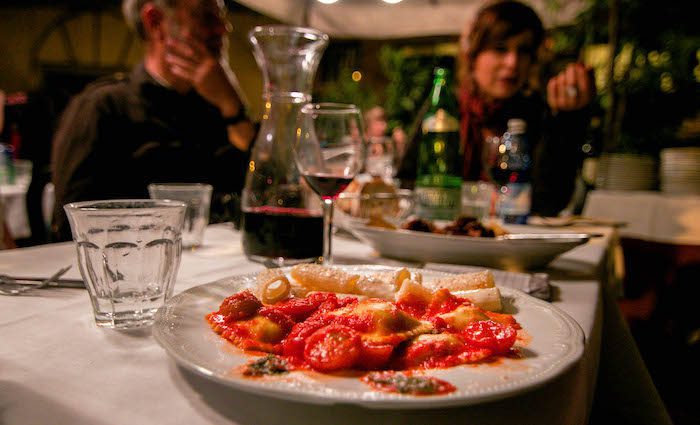 Love food and travel? Then a food tour is for you! It's a fantastic way to spend an evening exploring the city and its local cuisine in authentic restaurants. Who doesn't dream of eating Italian food in Italy, right?
You'll be joined by a passionate local guide who not only knows what to eat and where to get it but also speaks the lingo. An absolute must for foodies, a local food tour is the best way to the heart (and stomach) of local food culture.
Tour the local food scene of Rome's trendy Trastevere or go on an evening cocktail tour passing by the Pantheon, Piazza Navona, and more!
Not ready to book a tour? Find out if a Rome food tour is worth it.