Looking for a great place to eat in Trastevere? Maybe near Piazza Trilusa or Piazza Santa Maria? The area has a rich food culture. In this guide, our local guides have put together a list of the best restaurants in Trastevere where you can enjoy some typical Roman cuisine.
---
Top Places To Eat in Trastevere
Trastevere is a cool area that feels really local and youthful with its cobblestone streets and bright pastel buildings. There are still tons of Italians living in the area but it has become so popularized in the last ten or so years that it's very hard to find an authentic local meal.
Our list helps you filter out the not-so-great places from the so-great. We also have breakfast and gelato picks at the bottom. Enjoy and eat well with our list of the best restaurants in Trastevere. If you want restaurant recommendations in other areas too, use the menu below to explore our other lists.
Le Mani in Pasta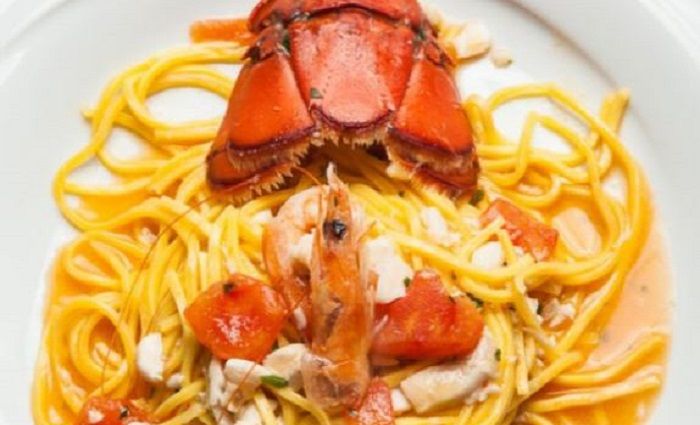 €€€ | Upscale | Local Seafood and Pasta | Friendly Atmosphere
Rightfully translated as "Hands in the Pasta," Le Mani in Pasta is one of the best restaurants to try in Trastevere. Actually, this must be one of the best restaurants in Rome! Each of their mouth-watering dishes is unlike anything else you will try in Rome.
While this ristorante is famous for its fish, they also serve traditional Italian pasta and meat dishes. Le Mani in Pasta has guests wanting to abandon their forks and eat with their hands because of their adventurous meals and tasty desserts. We recommend trying a classic Italian pasta dish, cacio e pepe. If you trust the waiters, you might be in for the best meal of your life!
Address: Via Dei Genovesi 37
---
---
Already in Rome? Book a last-minute food tour or purchase tickets and tours for the hottest attractions!
Planning in advance? See if Rome Tours are worth it.
Casa Manco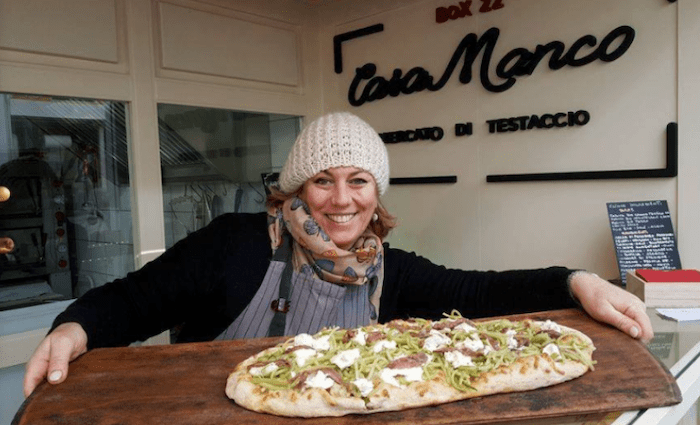 € | Pizza al Taglio | Casual
There are two types of pizza in Rome: pizza tondo and pizza al taglio. Pizza tondo means "round pizza" that you'll normally get in a casual setting where you sit down and order a full dinner including pizza. Pizza al taglio is even more casual than pizza tondo that's what Casa Manco offers.
The pizza al taglio is measured by weight and is often eaten on the road folded up into a sort of sandwich. The former victor of Roman-style pizza, which is still a contender, is La Renella in Trastevere. Unfortunately, the pizzeria, which was most famous for its bread, was sold to new owners and Casa Manco has stolen the crown.
Enjoy all types of pizza at Casa Manco and you can take as much or as little as you like! I often order a few small strips of pizza to taste some different flavors.
Address: Via di S. Cosimato, 4
Mozzichi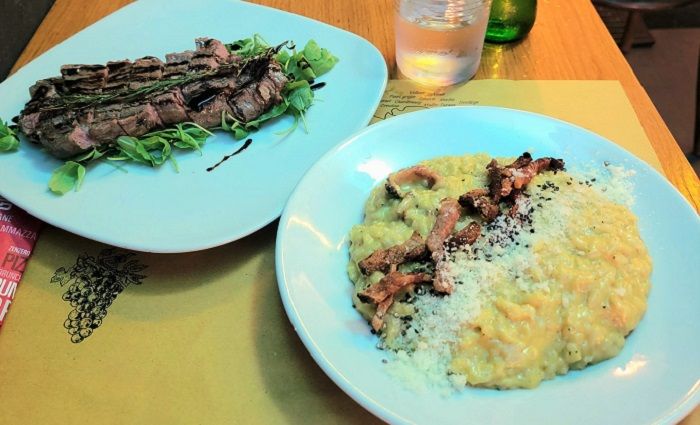 €€ | Authentic Yet Modern | Friendly Staff | Gluten Free Options
There's a new hidden gem restaurant in Trastevere: Mozzichi. You'll find this little restaurant not too far from Piazza Trilusa, and find it you must. With 20 years behind him, Chef Mauro Podessu has established his newest restaurant in the heart of trendy Trastevere.
My rec: try the risotto alla carbonara. Even if you're tired of regular carbonara. It's unbelievable. Or let Chef whip up his favorite recipe for you. And if you still have room, ask about his new fudge brownie dessert. His time spent as a chef in NYC was well worth it when you taste that gooey bite of chocolate decadence. The surprise? You'd never know it was gluten free.
So head on over and tell them The Roman Guy sent you. They'll be thrilled to make sure you have the best breakfast, lunch, or dinner and even show off their authentic, fresh ingredients. (His cornetto are made fresh, never frozen like many pâtisserie secretly do!)
Address: Vicolo del Cinque, 22a |
Miraggio Ristorante Pizzeria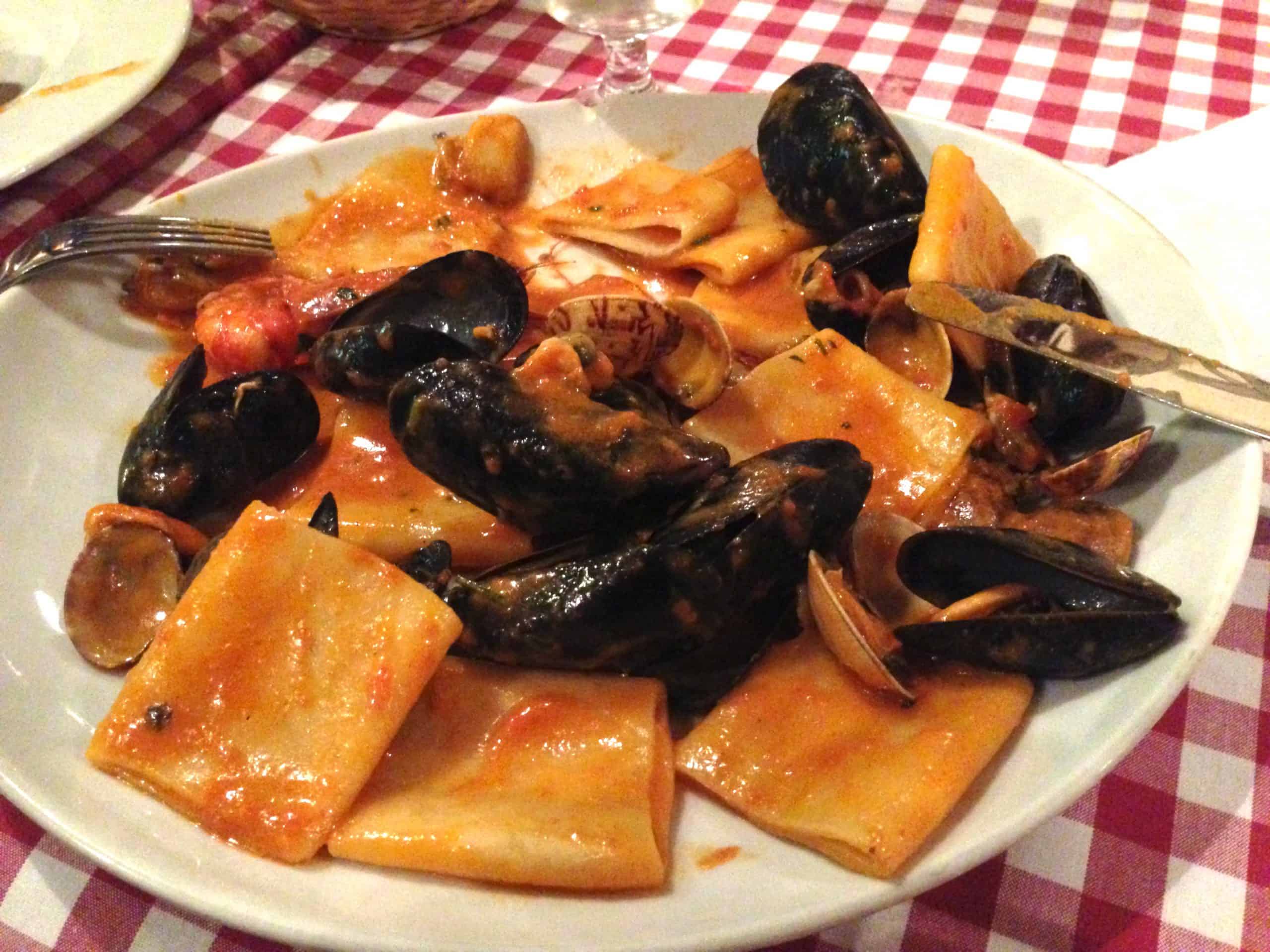 €€ | Casual | Some Outdoor Seating | Kid Friendly
Local alert! This is one of my favorite restaurants in Trastevere. It's just on the outskirts so it's never fully embraced the tourist traffic of other restaurants.
Great food comes at a price and I'm not talking about price tags. Expect service to be what I call "Roman". Don't ask many questions and be ready to order when they are. Don't even think about asking to swap out ingredients, but then that is a no-no in all of Italy. When I go here, I eat the Paccheri allo Scoglio. It's larger than large smooth rigatoni-like pasta with shellfish in a dry red sauce.
Address: Via della Lungara 16
Antico Arco
€€€| Fine Dining | Local Favorite | Some Outdoor Seating
This restaurant sits on the border of Trastevere and Monteverde. The restaurant has earned a Michelin Plate due to its fantastic dishes and presentation. It is unlikely you will see another tourist here as it is a local favorite of Trastevere restaurants for those who truly love to eat.
You'll want to take a taxi there unless you're looking to be really hungry by the time you reach the top of Gianicolo. Walking down is a great option though as you'll pass by Acqua Paola and into Trastevere.
Address: Piazzale Aurelio, 7
Osteria Nannarella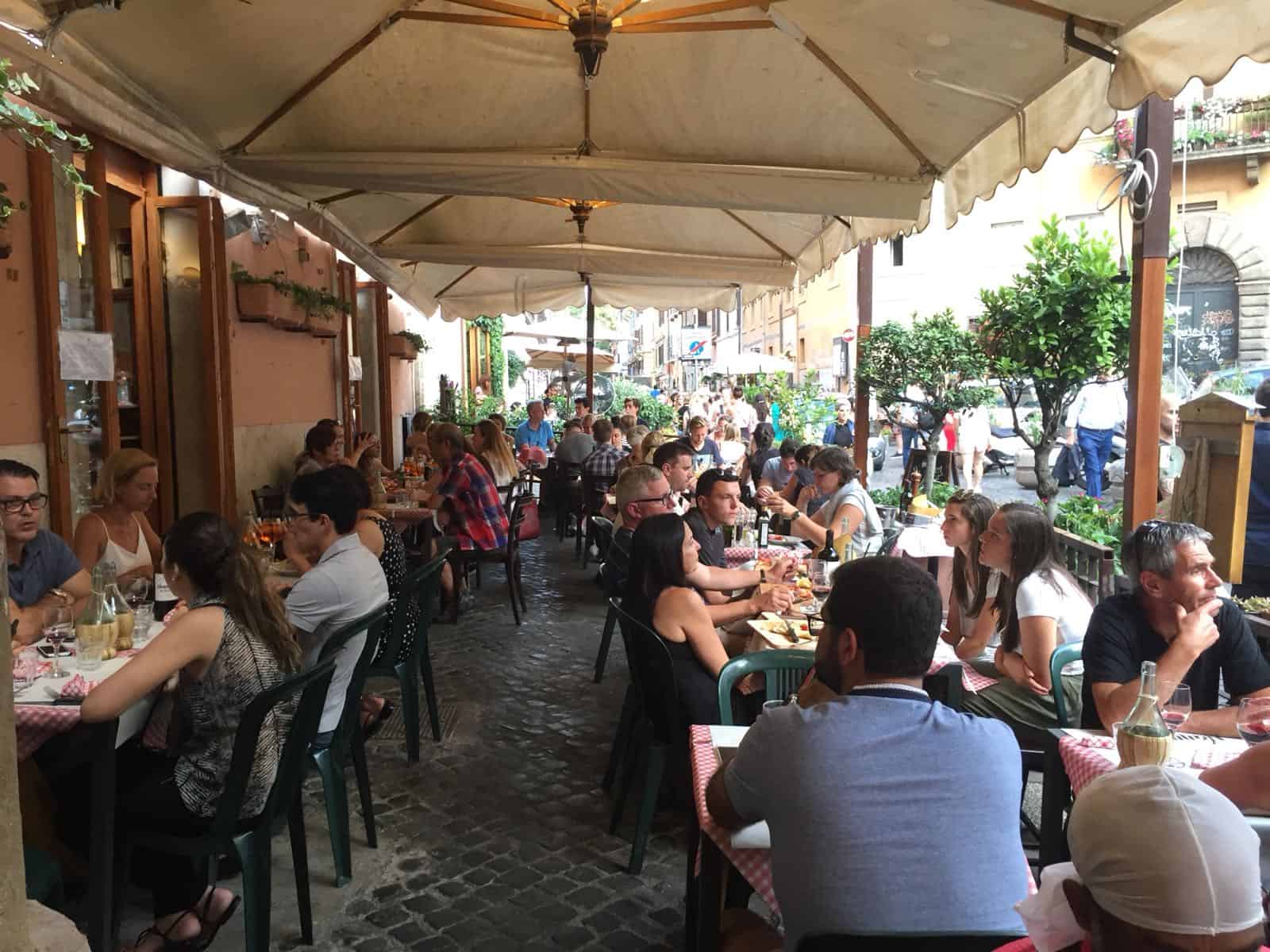 €€ | Casual | Outdoor Seating | Kid Friendly
While Roman osteria used to be much more basic than today, you can expect typical Roman cuisine at low prices in most top-rated osteria in town. Nannarella is a good find in Trastevere, which as beautiful as it is can be hit or miss for good food these days.
It offers super casual dining, good food, and tons of outdoor seating. Stick with the Roman dishes or ask your waiter for definite good advice. This place is in the center, so don't expect many locals to be dining here—but that's Trastevere these days. However, that doesn't always mean the food isn't great—it just means the area has been taken over by tourists.
Address: Piazza di S. Calisto, 7/a
Popular Rome Tours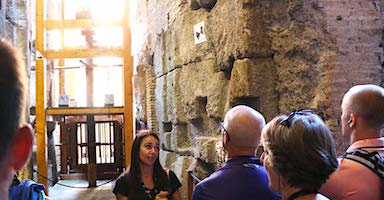 Likely to Sell Out
Colosseum Underground Tour with Roman Forum and Palatine Hill
This is our most popular Colosseum tour due to the incredible access to non-public areas like the underground chambers. All admissions are included and it is lead by an English speaking licensed guided and Colosseum expert.





See Prices
Not ready to book a tour? Check out our best Rome tours to take and why.
Pizzeria Ai Marmi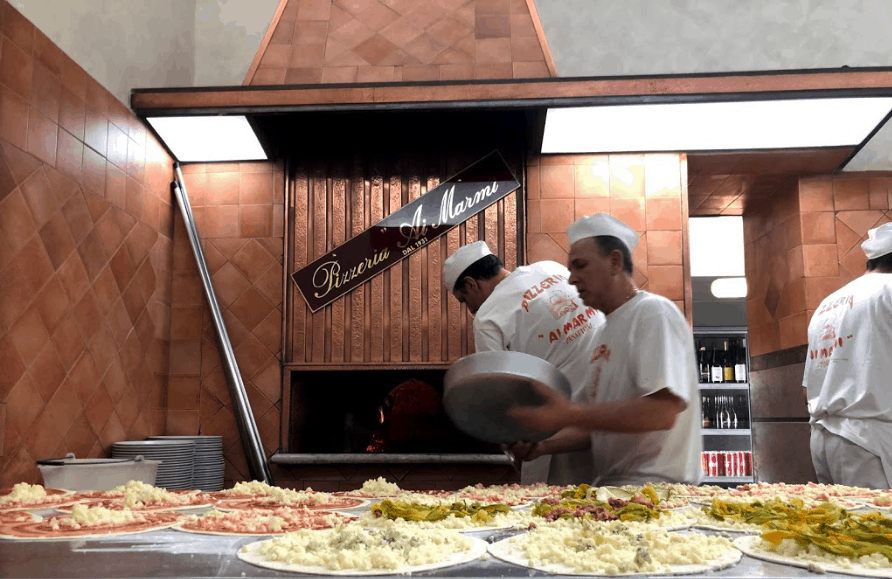 € | Pizza and Beer | Casual |Outdoor Seating | Kid Friendly
There is another more internet-famous pizzeria in Trastevere, but this place is better—they just don't know how to use Facebook. This pizzeria is on a busy road in Trastevere so the view is nice, but not "Roman Holiday" nice. It's the kind of place you go for great pizza, table wine, or ideally Italian beer at a super low price before a soccer (calcio) match.
I remember I showed up here one night when they opened around 6:30 or 7 pm. Nobody was there but they were preparing pizza after pizza to be thrown in the oven like in the photo above. I was thinking, "Why are they making all those pizzas, nobody's here."
Then, all of a sudden, it was packed inside and out in an instant and the pizzas started going into their wood oven. Come for great pizza and great prices. Grab some appetizers too. Try the Fried Zucchini Flowers or something else that you wouldn't normally get at home.
Address: Viale Trastevere 53 – 59
La Tavernaccia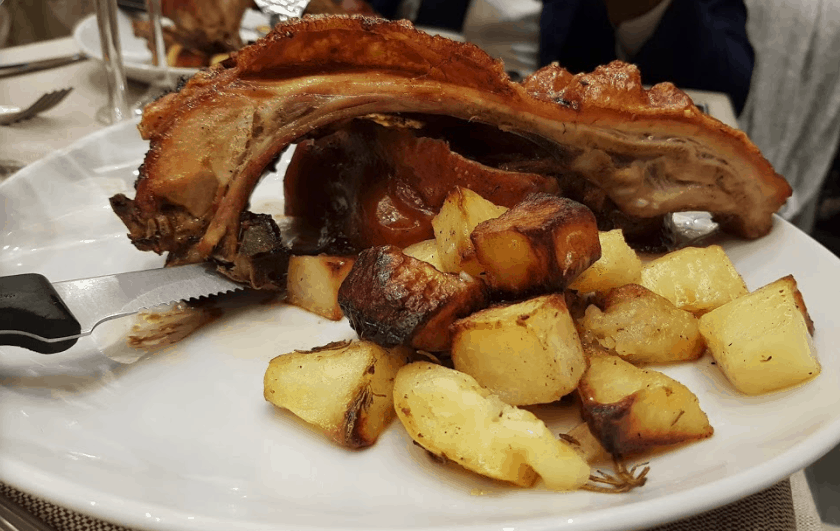 €€€ | Upscale | Authentic Roman Cuisine | Suckling Pork
When people think Italian food, they think pizza, pasta, and everything in red sauce. They're not wrong, but they're missing most of the picture. Italian and Roman food is about gamey meat that we just don't appreciate enough in North America. I'm talking about lamb, rabbit, pork, and wild boar.
If you want to have a great Italian carnivorous adventure, head here and order something that is not beef or chicken. This restaurant is always packed with locals who love authentic Roman cuisine. La Tavernaccia feels like a family-owned spot but has the food quality of a Michelin star ristorante.
The menu changes daily according to the season and chef's choice, but it's never limited in options. The specialty dishes are their suckling pork, oxtail, and lasagna plates. It's a rustic-looking restaurant that can accommodate large groups. This place definitely deserves its spot among the best restaurants in Trastevere.
Address: Via Giovanni da Castel Bolognese, 63
Mòmò Republic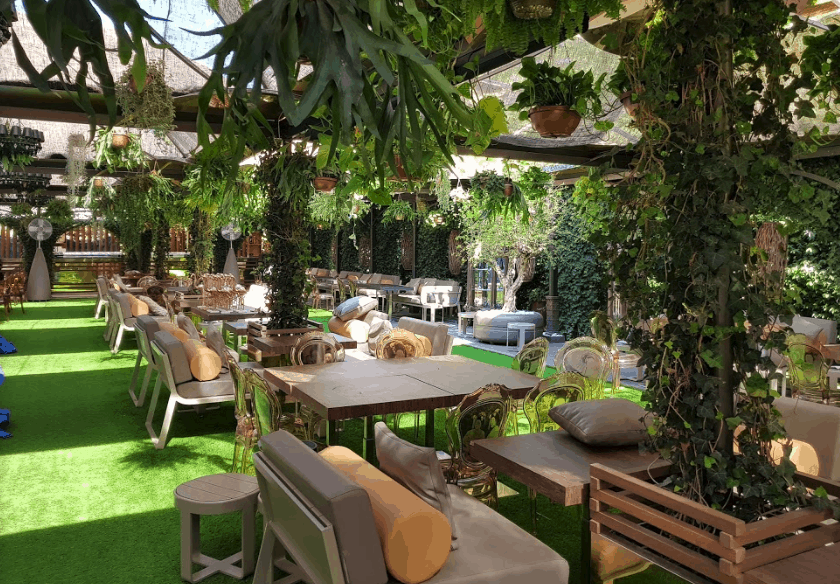 €€€ | Contemporary Local | Trendy | Outdoor Garden Seating
This is not quite in Trastevere but it's close. If you want to impress your dinner guests, this super cool place is the spot. You'll want to take a taxi and bring your checkbook. The building is the former palace of architect Giuseppe Momo who is known for the spiral staircase at the Vatican Museums.
This is probably one of the trendiest restaurants in Trastevere and a great place to eat high-end Italian cuts of meat. They have great food but consider this an experience. You could be sitting near the who's who of Rome.
Address: Piazza Carlo Forlanini 10
Da Enzo al 29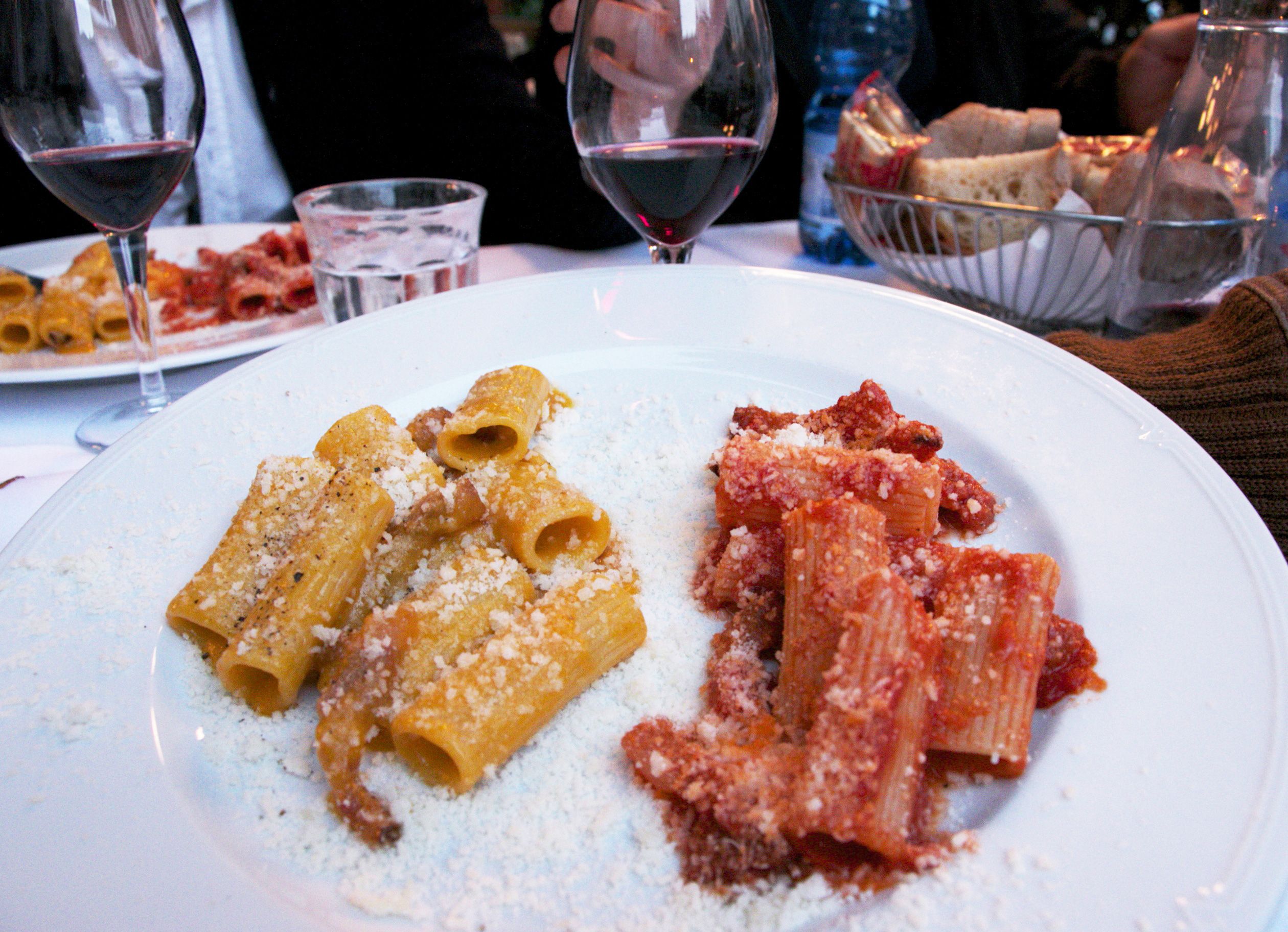 € – €€ | Casual | Authentic Cuisine | Outdoor Seating | Kid Friendly
Looking for a classic in Rome? Da Enzo is definitely an option to try. Quality is everything in Italia and Da Enzo al 29 is a popular restaurant in Trastevere for mastering the art of Italian cuisine.
With pasta shops and pizzerias on every corner, it's important to filter through the ones that are not authentic. Roman cooking here is simple, nutritious, healthy, and always delicious.
Da Enzo al 29 will definitely take anyone visiting Rome to gastronomic heaven with their traditional Italian dishes. Make a reservation a day in advance because the word has definitely spread that it's one of the best restaurants in Trastevere.
Address: Via dei Vascellari, 29
Popular Tours from Rome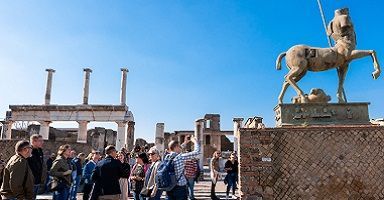 Best Seller
Unforgettable Rome Day Trip to Pompeii and Sorrento
This is the best way to see Pompeii and the Amalfi Coast from Rome. You'll take private transportation with our guide down to Pompeii where an archeologist will tour our small group through the ruins. Then we'll head over to Sorrento which is the tip of the Amalfi Coast before returning to Rome. Tickets, transportation, and guides are included in the price.





See prices and more info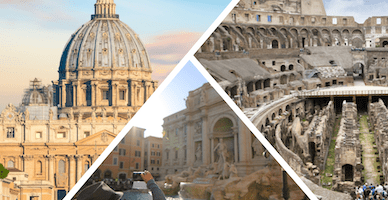 Best Seller
Rome in a Day Tour with Vatican, Sistine Chapel, Colosseum, and More!
Looking to get much of your sightseeing done in one day? This tour enters the Vatican an hour before opening and visits the Colosseum along with other sites like the Pantheon, Spanish Steps, and Trevi Fountain. All admissions and transportation are included as well as a licensed English-speaking guide!





See prices and more info
Not ready to book a tour? Check out our Rome Guide for more info.
Caffè Trastevere
€ | Casual | Outdoor Seating | Kid Friendly | Coffee and Breakfast
It's no institution. They aren't reinventing the wheel. It's just really good coffee and exceptional pastries to make for a great start to the day. It's not the best restaurant in Trastevere but rather a local place to get a cappuccino, macchiato, or espresso with a delicious cornetto in Trastevere.
Remember, sitting down is always more expensive, but they won't charge an arm and a leg here to eat your food seated. You can also grab a quick gelato if you're traveling with your kids and want something tasty.
Address: Viale di Trastevere 50
Fatamorgana Trastevere
€ | Casual | Outdoor Seating | Kid Friendly | Gelato
Now, Fatamorgana would be considered an institution of Gelato. Everyone has their pick of the best and many local Romans and those in the know of Roman cuisine point to Fatamorgana.
Their Trastevere location is not the first one they opened, but it's just as good as all the rest. That makes it possibly the best gelato in Trastevere. Come in and try it out for yourself.
Address: Via Roma Libera, 11
Go on a Local Food Tour in Rome
Love food and travel? Then a food tour is for you! It's a fantastic way to spend an evening exploring the city and its local cuisine in authentic restaurants. Who doesn't dream of eating Italian food in Italy, right?
You'll be joined by a passionate local guide who not only knows what to eat and where to get it but also speaks the lingo. An absolute must for foodies, a local food tour is the best way to the heart (and stomach) of local food culture.
Tour the local food scene of Rome's trendy Trastevere or go on an evening cocktail tour passing by the Pantheon, Piazza Navona, and more!
Not ready to book a tour? Find out if a Rome food tour is worth it.
Tips For Dining in Rome
Reservations: You can make reservations and they'll probably work, but most inexpensive restaurants treat reservations loosely due to the number of no-shows. Ask for a glass of wine while you wait.
Service: Don't get up in arms if it takes a while for the waiter to come over or if you can't get their attention. Enjoy your time on vacation.
Tipping: A few euros per person is great. If you want to give your 10 to 20%, be our guest but it's not necessary. That said, everyone likes more money.