Heading to Rome and want to understand if climbing all those steps to get to the top of St. Peter's Dome is worth it? It's a great question because you'll undoubtedly work up a sweat even if you take the elevator to see the best view in Rome. Luckily, I've done it myself and can paint you a picture of my experience so you can decide for yourself!
---
Pro Tip: If you are planning to visit Rome, bookmark our guidebook page dedicated to the city. It contains local recommendations for restaurants, hotels, cool activities, and tours!
Where is St. Peter's Dome?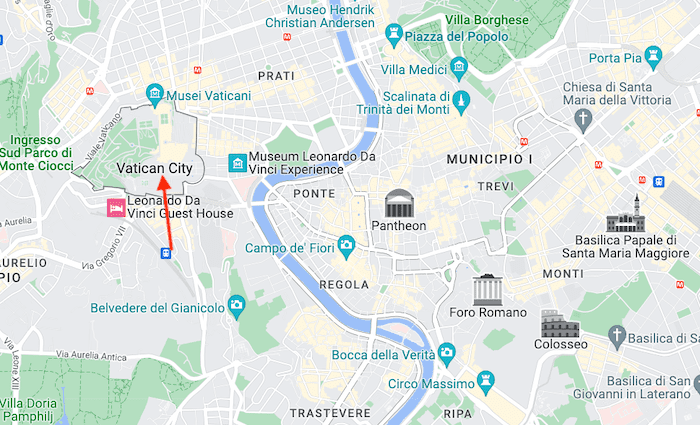 St Peter's Dome sits on top of St. Peter's Basilica, located in the Vatican City. The Vatican Museums are also in the Vatican City, but you do not need to enter the Vatican Museums to seeSt. Peter's Basilica.
That said, any trip to the Vatican City is not complete unless you've visited the Vatican Museums and seen its megamonument: the Sistine Chapel. You can learn more about the areas by visiting our dedicated Vatican Museums page.
You can reach St. Peter's Basilica by taking a taxi and saying "San Pietro" or taking the metro line A to Ottaviano metro stop and walking 10 minutes.
Once you arrive, you'll need to go through security in St. Peter's Square, which will be very obvious to find on the right side of the square.
Beware! The line to pass through security from March through October is long and tedious. If you are doing a Vatican tour, which you should, your guide will ensure you skip the long lines and get right into St. Peter's. They'll also lead you right to the elevator to skip past the first 231 steps.
But if you're doing the dome climb on your own, read our article on how to climb St. Peter's Dome for more specific instructions and how to avoid mistakes.
Is it Worth It to Climb St. Peter's Dome?
Short Answer: OMG, yes. You can take an elevator most of the way up for a couple euro extra. Once you realize that you are standing on a platform and terrace designed by Michelangelo and Bramante, it becomes a no-brainer. Honestly, if this is your first time to the Eternal City, then climbing the dome on your first morning is a brilliant idea to see Rome from the best view.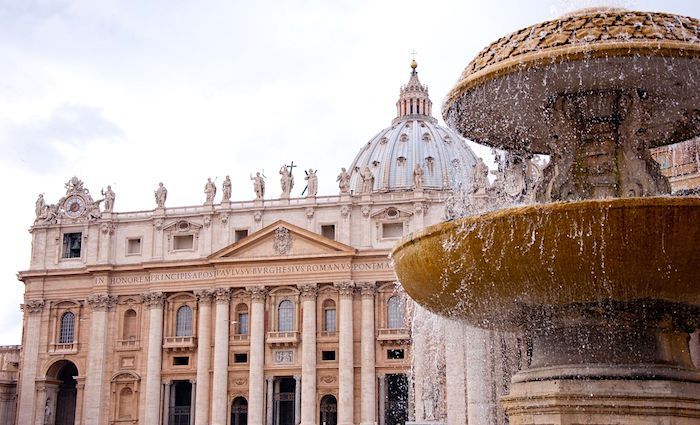 Logistics and Planning
If you show up to the St. Peter's Basilica early, you can go inside on your own and tackle this monument for just about $15. That said, we run a guided tour that climbs St. Peter's Dome and visits the Vatican Museums after skipping the lines. It's one of our most popular Vatican tours.
That means that while you can do this on your own, customers see a ton of value in climbing the dome with a guide. Arriving at the Basilica early is mission critical for a positive experience if you're on your own though. Show up too late and you'll wait in a long line and suffer from excruciating heat in the summer.
Skip the Line at the Vatican
We have a very strong collaboration with the Vatican Museums and Vatican City that allows us to enter the Vatican Museums without waiting in the ticket line. We still have to wait in a security line, but that is part of life now, and our line is reserved for tour operators.
Many companies can buy Vatican tickets and skip the line but our collaboration with the Vatican guarantees large numbers of entry tickets which means when you book a tour with us you can book with confidence.
Small Group Size
Our Vatican tours have a maximum group size of 20 people and many of those tours have even smaller group sizes. Having a smaller group leads to a very positive experience while visiting an attraction and interacting with the guide. Its enough people in a group to keep the per person cost low but also allows you to forge a relationship with the guide.
What Is the Right Vatican Tour for You?
To decide between our tours, take a look at our top St. Peter's Dome tours below and choose what's best for you. Or you can look at all of our Vatican tours as well.
Ultimate St. Peter's Basilica Dome Climb and Tour with Papal Crypts (2 hours)
In this tour, you'll go from the very top of St. Peter's Basilica then down to the bottom. Meet your guide at the basilica and then head straight up to the dome before the large crowds arrive. After taking in the incredible view, you'll go into the church for a guided visit. Then, descend into the Papal Crypts below.
See tour itinerary, price, and description
Complete Vatican Combo Tour with Sistine Chapel and Dome Climb (5.5 hours)
This tour begins by climbing up to St. Peter's dome, followed by a tour of the church. Then, your guide will lead you to the Vatican Museums where you'll see all its treasures, including the Sistine Chapel.
See tour itinerary, price, and description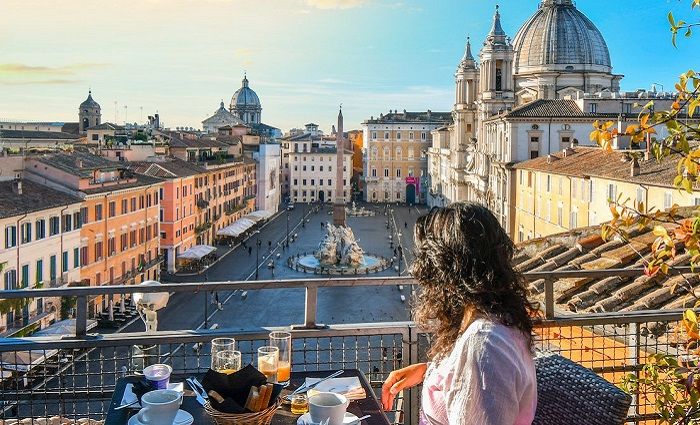 Find the best places to stay
Where To Stay in Rome
Rome has a rich cultural history and many iconic landmarks to explore. Plan where to stay in the magnificent Eternal City in the best neighborhoods.