You're planning to see Rome's famous Spanish Steps—an iconic landmark located in Piazza di Spagna. But did you know there's so much more to do nearby? Before you leave the area, you should check out these top things to see and do near the Spanish Steps in Rome.
---
Pro Tip: Bookmark this article in a "Rome" folder in your browser, so you can circle back to it while planning. One of the best ways to see a city with as much history as Rome is to join a local guide. Check out our best Rome tours so you can see the Eternal City as few others do. Also, see our guide to Rome for more resources to help you plan your trip.
What To See Near the Spanish Steps
Once you've explored the Spanish Steps area, check out our other neighborhood guides in the toggle menu below. There's still much more to see in Rome.
14. The House of Gian Lorenzo Bernini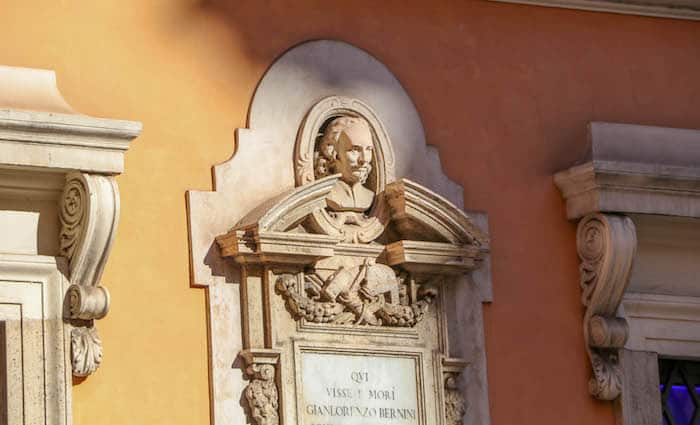 Gian Lorenzo Bernini is arguably Rome's greatest artist (Michelangelo was from Florence) and definitely Rome's greatest sculptor. His home and domicile are just down the street from the Spanish Steps. It's no glorious palace from the outside, but I think seeing the homes of celebrated artists is worthwhile. It allows you to connect with their lives and makes them more real.
The home is easy to identify since it has a plaque on its front. The plaque reads, "Here lived and died Gian Lorenzo Bernini sovereign of the arts to whom popes, princes and people kneeled." It's another testament to how much Bernini was loved.
Address: Via Liberiana 24
13. Column of the Immaculate Conception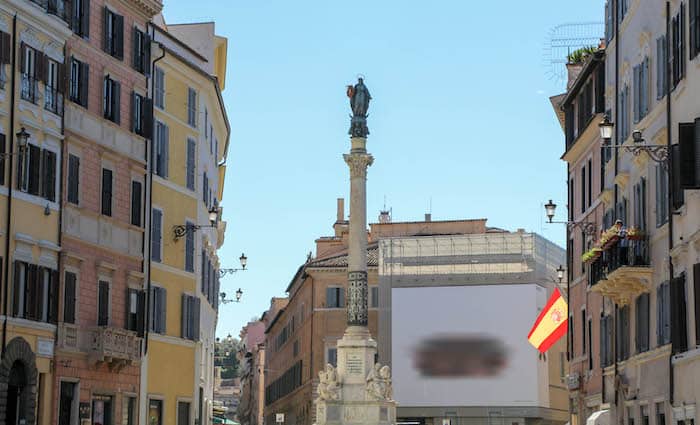 In Italy, the people love the Virgin Mary and this column is a symbol of just that. The column is in Piazza Mignanelli. It feels like it is part of P. Spagna, but is actually its own square.
What better monument to commemorate the virgin mother herself than a massive symbol of victory? Mary stands atop the column and at the base you'll find four important old-testament biblical figures: Moses, the Prophet Isaiah, King David, and Seer Ezekiel.
The Virgin Mary holds a wreath, which plays a part in an annual festival on December 8th for the feast of the Immaculate Conception. The column was raised by firefighters and still has a strong association with them. Each year, Roman firefighters place a flower wreath on top of the column in a ceremony with the pope in attendance, which is obviously a big deal.
Address: Piazza Mignanelli
12. Pompi Tiramisù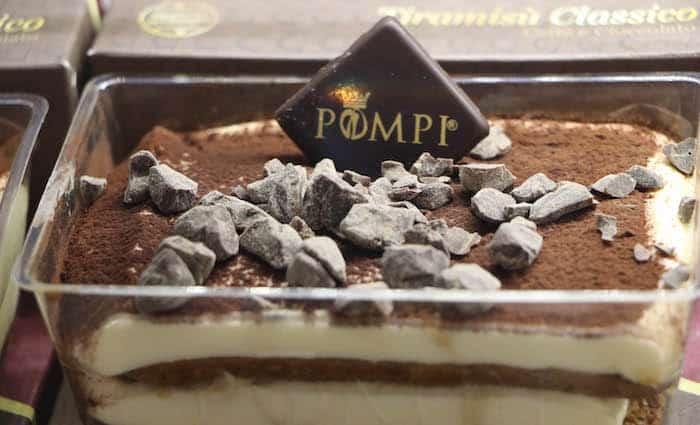 € | Take Away Dessert and Cafe | Best Tiramisù
Pompi is widely recognized as having the best tiramisù in Rome, which very few Romans will contradict. If you are dining near the Spanish Steps, we recommend you skip dessert, take a passaggiata (walk), and try the tiramisù at Pompi since it is the best. Make sure you get there before it closes, so you don't miss out.
Address: Via della Croce, 82
11. Villa Medici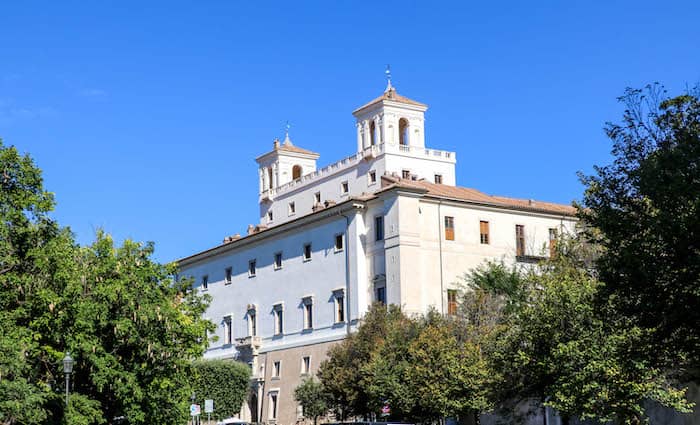 As you walk up Viale della Trinità dei Monti, you'll see a rather awkward-looking building on your right-hand side. It's just a few hundred meters from the Spanish Steps and it looks like it doesn't belong in Rome. That's because it doesn't. This is Villa Medici of the famous dynasty of Florence.
Villa Medici has a facade that would fit in much better in Florence, which is where the Medici were from. However, the rear of the palace looks more like somewhere in France due to the glorious gardens and architecture. This amazing estate is owned by the French State. You can easily visit and take a tour.
Or, you can spend the night at Villa Medici. It's easily the most exclusive B&B in Rome—until the Vatican opens their doors to overnight visitors anyway. This is a super cool experience that connects you directly to the famed Medici dynasty. To make reservations, you'll have to book directly through Villa Medici.
Address: Viale della Trinità dei Monti, 1
10. Pastificio Guerra
€ | Budget Friendly | Quality Pasta
Attractions come in all forms and, sometimes, they are edible. Pastificio Guerra is probably the best meal in Rome you can get for the price since—it's high quality at a low price. A container of pasta costs around €4 for an abundant portion that will surely fill you up. You will find one of two kinds of pasta that they decided to make that day, so options are limited. I have never heard any complaints, though.
You'll get your pasta in a plastic container with a fork, napkin, and plastic cup to pour yourself water from the jug. They sell a glass of table wine for a euro or so extra. If you are in the area and it's lunchtime, I recommend trying it. Especially, if you are on the go. It is quite an experience.
Address: Via della Croce, 8
9. Antico Caffè Greco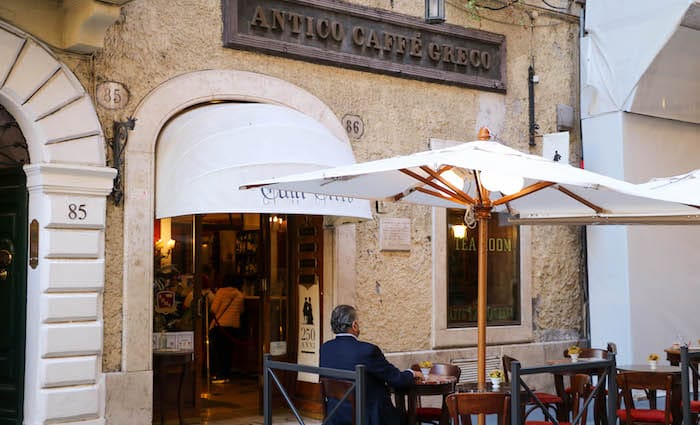 €€€€ | Oldest Bar/Café in Rome | High End
Antico Caffé Greco is the oldest running bar/café in Rome. It has been open since 1760 and is the second oldest bar in Italy after Venice's famed Caffè Florian. There's no way to make an official statement, but it's considered the third oldest coffee bar on Earth, the oldest being Café Le Procope in Paris. All this to say that a visit to Antico Caffé Greco is a pretty special experience while you're in the Eternal City
The bar, named after its Greek-Italian owner, is famous for its list of patrons such as John Keats, Percy Shelly, Lord Byron, and many others. Today, it's a high-end bar that serves high-end food and drinks, living mostly off its legacy and address. That said, I've sat down for an expensive coffee there and you should too.
Address: Via dei Condotti, 86
8. Keats Shelly House (Museum)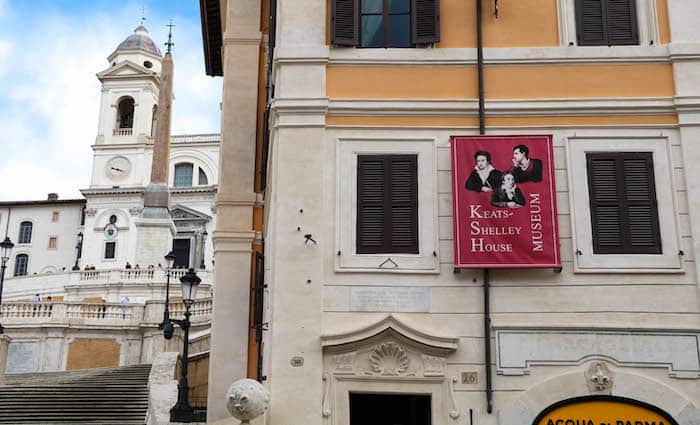 The Keats-Shelly house is a must for literary buffs as it is much more than Keats' final resting place—it's a living museum. This beautifully decorated home contains paintings, manuscripts, literary works, and more. You'll find not only portraits of and works by Keats and Shelley but also their extensive list of friends like Lord Byron, Oscar Wilde, and Elizabeth and Robert Browning.
Keats did not spend his life there, just his final months. A doctor recommended he live out his last days with tuberculosis in a warmer setting, and he picked Rome. He was an accomplished young man who became a household name yet died at age 25. If you're a poetry lover, this is a lovely place to see near the Spanish Steps.
Address: Piazza di Spagna 26
Not ready to book a tour? Check out our Rome Guide for more info.
7. Piazza Del Popolo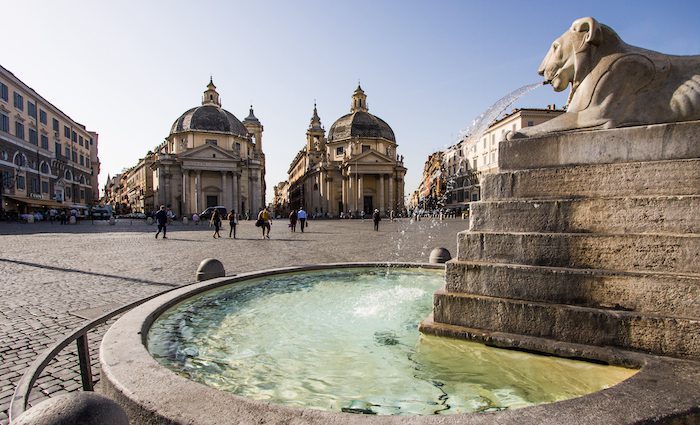 Piazza del Popolo is a must-see square in Rome. It's about a 10-minute walk from Piazza di Spagna and you should plan to spend about an hour in the area. From here, you can hike up the stairs to the next stop on this list, il Pincio, for some great views.
There are a number of interesting things to see in Piazza del Popolo and nearby. You'll see the twin churches, featured in the image above. There's also a statue of a lion on the base of the Flaminio Obelisk, one of the largest of Rome's 13 obelisks (the largest is the Lateran Obelisk in front of St. John Lateran Church).
In Piazza del Popolo, you'll also see the namesake church, Santa Maria del Popolo. While this church was already loved by history nerds, it gained global fame following Dan Brown's "Angels and Demons" novel in which it was featured. You'll also find the hand of Bernini on almost every single part of this church, but most famously the statue of Daniel in the Chigi Chapel.
Address: Piazza del Popolo
6. Il Pincio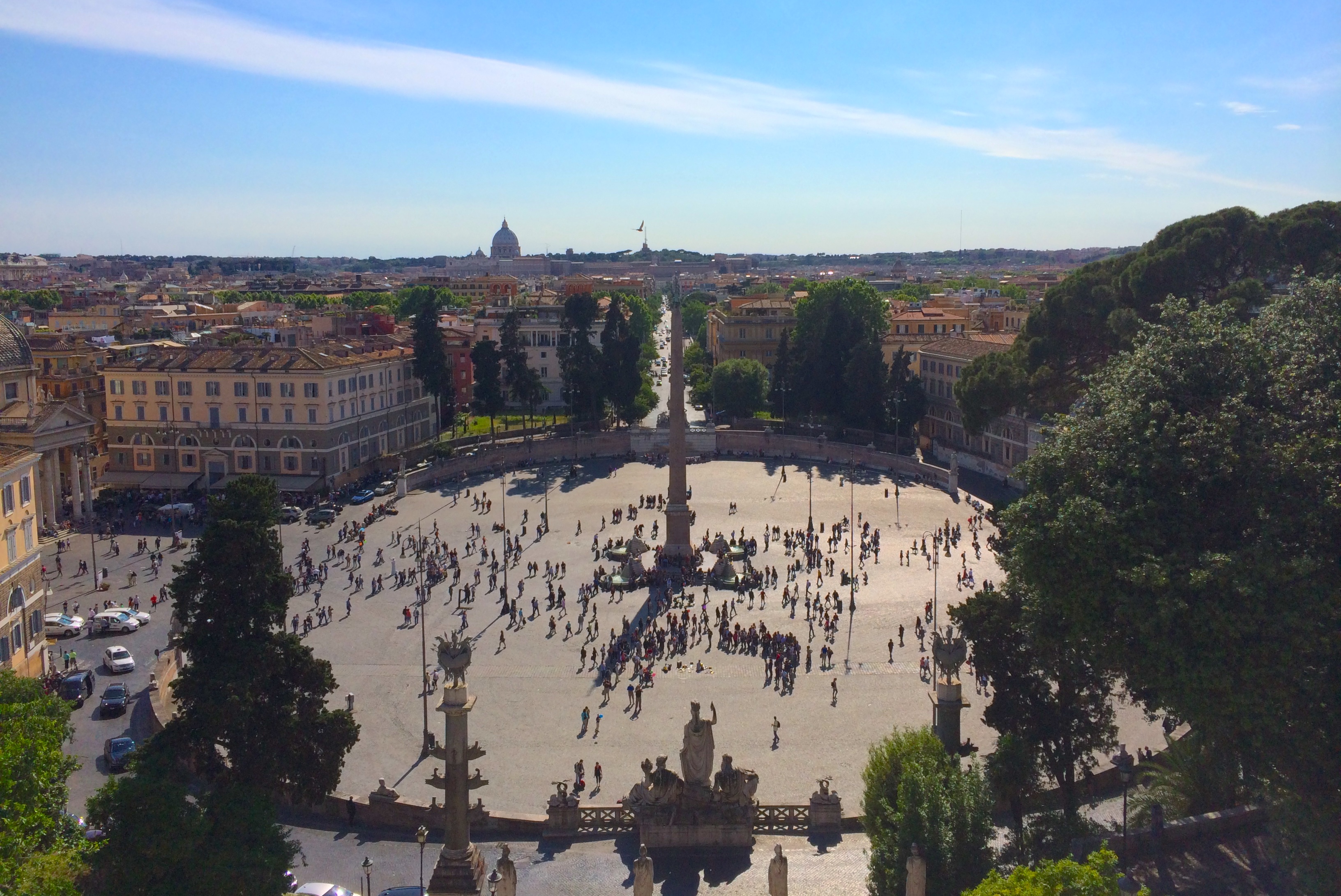 This has long been one of my favorite spots to visit in Rome. I'm a sucker for viewpoints, and they don't get much better than this one. Located above Piazza del Popolo at the edge of Villa Borghese, Il Pincio is named after the hill it was carved from, the Pincian Hill. Technically, it lies outside the ancient boundaries of Rome, so it isn't included in the original seven hills of Rome. For me, though, it will always be number one.
The view from here not only overlooks the city's largest square, Piazza del Popolo, but the whole of Rome. You can see the twin churches below, along with the Flaminian Gate of Rome, and St. Peter's Basilica off in the distance. It's a wonderful place to take what will likely be your favorite photo of the trip.
Address: Salita del Pincio
5. Via Condotti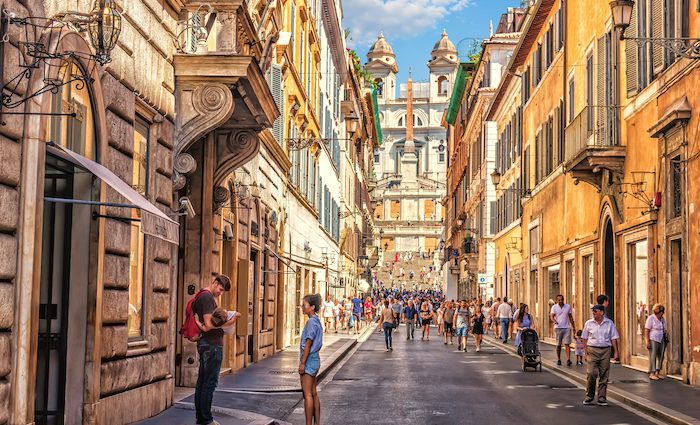 Via Condotti gets its name from the water conduits that carried water to the nearby Baths of Agrippa. Today, you will know it as the richest commercial street in Rome and possibly the world. The street is lined, left and right, with the who's who of Italian designers. If you want to be taken seriously as a fashion house, you will need an address on Via Condotti.
It's a great road to stroll down, whether or not you're shopping. Traffic is restricted so you will only see taxis and delivery vehicles here. The only shop on this street that has little to do with fashion is the Antico Caffè Greco, the oldest bar in Rome.
Address: Via dei Condotti
4. Church of the Santissima Trinità dei Monti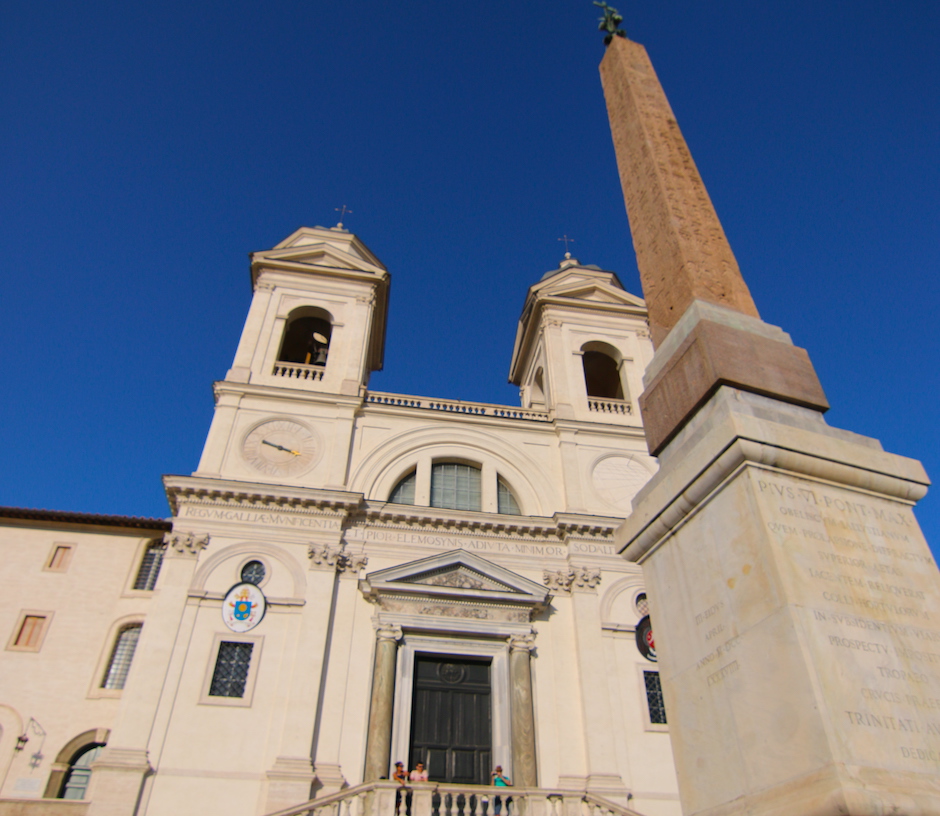 The French church of the Santissima Trinita dei Monti is the crowning jewel of the Spanish Steps. The church and nearby Villa Medici, listed above, actually belong to the French State, which is a cool fact and more common than you would think in Rome.
The church was originally constructed by Louis the XII after invading Naples, but he didn't complete the project. Pope Sixtus V would end up completing the church, which opened its doors in 1585.
The church features two bell towers with windows on all four sides that create a beautiful open effect. The left-hand bell tower has a clock and the right-hand tower features a meridian.
Address: Piazza della Trinità dei Monti, 3
3. Sallustiano Obelisk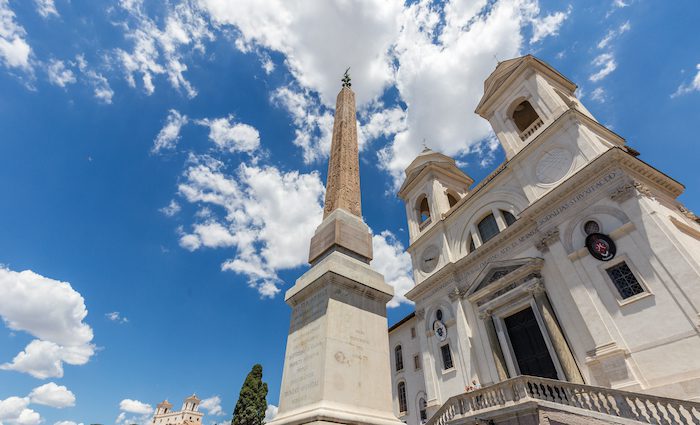 This 45.6-foot obelisk is not the original taken from Egypt but a copy made by Emperor Aurelian in the late third century. He was apparently inspired by the Flaminio obelisk in Piazza del Popolo and ordered a duplicate to be made.
Today, it sits perched high above Rome at top of the Spanish Steps but this was not its original home. The steps came some 1,500 years after the obelisk. It was moved to its current home in the late 18th century from the Horti Sallustiani, an ancient garden whose ruins are close to Termini Station. It is a cool off-the-beaten-path thing to see when you're near the Spanish Steps.
Address: Piazza della Trinità dei Monti
2. La Fontana della Barcaccia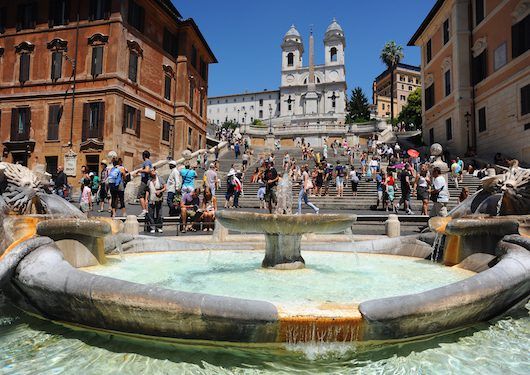 This festive little fountain at the bottom of the Spanish Steps is both beautiful and strange. It's a baroque fountain of a boat built directly at the foot of the steps and adds greatly to the magic of the area. The fountain was designed and constructed by Pietro Bernini with the help of his son Gian Lorenzo Bernini and has an interesting story.
Even today, there are many floods in Rome. Back in the 16th century, however, it was even worse. In 1598, a massive flood caused the Tiber to overflow, causing a boat to be washed from the river into Piazza di Spagna. As the waters receded, the boat remained in the square. When Pietro Bernini received the commission from Pope Urban VIII, he used the boat as inspiration.
Why a fountain? Today, fountains are mostly decorative features in cities. In the 16th century, they were a must-have. How else are you to survive without running water near your house?
The water that powers this fountain comes from the Acqua Vergine aqueduct, which was built in 19 B.C. and runs near the area. It's still going strong 2,000 years later! You can drink the water and many people do, just make sure you drink from the spouts and not the pools of water because birds bathe in it.
Poet John Keats, who took up residence and died steps away from the fountain, said he could hear the water from his deathbed and wrote about it in his last words.
Address: Piazza di Spagna
1. The Spanish Steps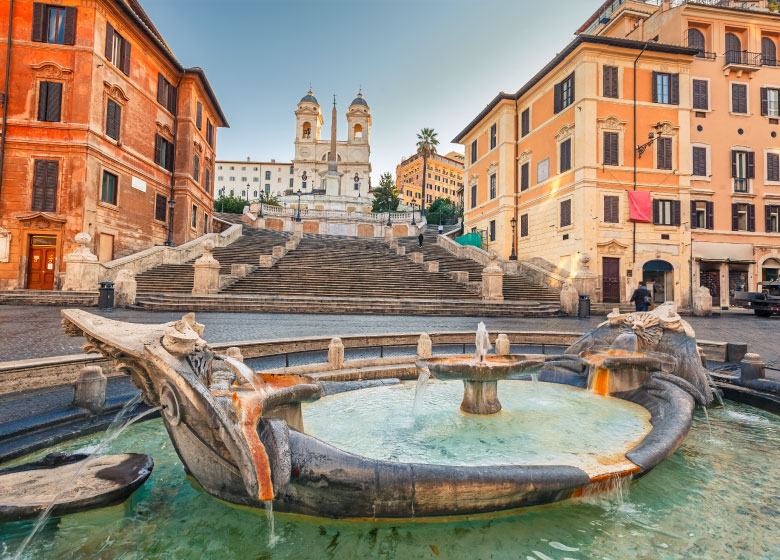 Just like the Colosseum, the Spanish Steps are not actually named the Spanish Steps, which appears to be a theme in Rome. They are originally called La Scalinata di Trinità dei Monti which translates roughly to: The Steps of the Holy Trinity of the Hill. So, why are they so famous?
The Architect and Construction
The steps were built with funds left to the city/area by Étienne Gueffier who was a French diplomat. He left 20,000 scudi, the traded coin of the time, to improve the area and it was put to good use. The goal was to link the church at the top of the stairs, which was also a French church, to Palazzo Manaldeschi below in Piazza di Spagna.
The 135 stairs were designed by Francesco de Sanctis and were completed in 1725 after two years of hard work. The structure was an immediate hit with the local community and made Piazza di Spagna a very attractive place to take up residence. The steps are dedicated to the holy trinity, which is represented by the three tiers: Father, Son, and Holy Spirit.
The Nickname
The steps eventually came to be known as the Spanish Steps, but only really in English. In Italian, they simply refer to them as la Scalinata, which derives from their proper name, La Scalinata di Trinita dei Monti. French and Spanish would follow similarly.
The Spanish Embassy, which is in the Monaldeschi Palace, had been there for hundreds of years prior to the steps being built. Also, the square that eventually housed the steps was named Piazza di Spagna, which most likely got its name before or after the Monaldeschi Palace was purchased by the Spanish Crown. The name "Spanish Steps" was most likely coined by John Keats or Shelley who lived to the right of the steps when facing them.
Can You Sit on the Steps?
The answer is no. As of July 8th 2019, you are no longer allowed to sit, eat, or drink on the Spanish Steps. If anyone is caught eating or drinking on the steps, they will be fined €400. So eat that gelato before you get here!
Italians are pretty proper in many ways and don't camp out on their monuments as other Europeans do, so you won't hear any outrage from Romans. It's part of the bella figura way of acting in a proper fashion, which you have to see first-hand to understand.
Next Stop…
If you're doing a walking tour of Rome, your next stop should be Trevi Fountain since it is so close to the Spanish Steps. We show you how to do a DIY walking tour of Rome in the video below or see the DIY Rome itinerary. Hungry? Check out the best restaurants near the Spanish Steps.
Not ready to book a tour? Check out our Rome Guide for more info.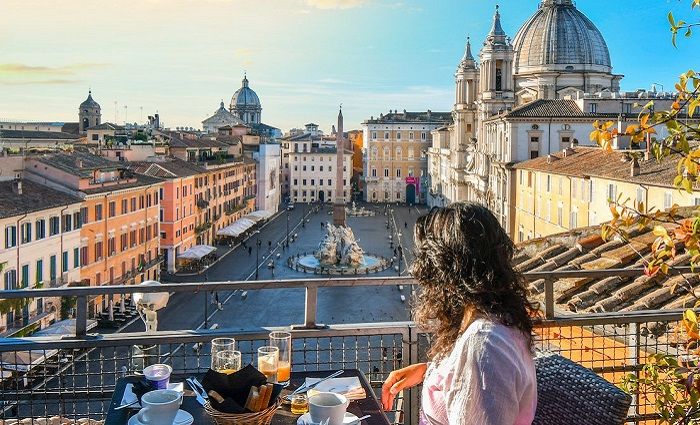 Find the best places to stay
Where To Stay in Rome
Rome has a rich cultural history and many iconic landmarks to explore. Plan where to stay in the magnificent Eternal City in the best neighborhoods.