If you don't have tons of time to spend in Rome, you should still knock out the city's main sites. Here's how to do a quick DIY walking tour of Rome featuring Il Pincio, Piazza del Popolo, the Spanish Steps, Piazza Navona, Trevi Fountain, and Pantheon. So, enjoy Rome with this walking tour itinerary and maps.
---
DIY Walking Tour of Rome Itinerary
This itinerary covers the major spots in Rome that you can see without a guided tour. We'll guide you from location to location, giving you options that will help you have a personalised experience of Rome. Read on to find the routes with bustling streets, great views, or ways to conserve energy.
If you're planning to see the Vatican and Colosseum, we highly recommend our Rome in a Day Tour that not only includes the sites mentioned below but also gets you skip-the-line access to the Vatican and Colosseum.
Start this walking tour at either Piazza Navona or Il Pincio / Piazza del Popolo. I highly recommend taking a taxi to Il Pincio, which is in Villa Borghese over top of Piazza del Popolo. You can walk there or get pretty close by metro, but we recommend getting a taxi up to the top so you can walk downhill for the rest of this journey. Trust us, you'll have plenty of opportunities to exercise in Rome, so conserve your energy wherever you can. Here's your self-guided itinerary: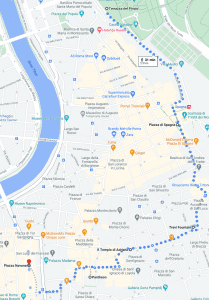 Il Pincio and Piazza del Popolo
The Spanish Steps, Piazza di Spagna, and Via Condotti
The Trevi Fountain
The Pantheon
Piazza Navona
Distance: 1.5 miles (2.5km)
Walking Time: 30 minutes
Total Duration: 90 minutes to 2 hours
1. Il Pincio and Piazza del Popolo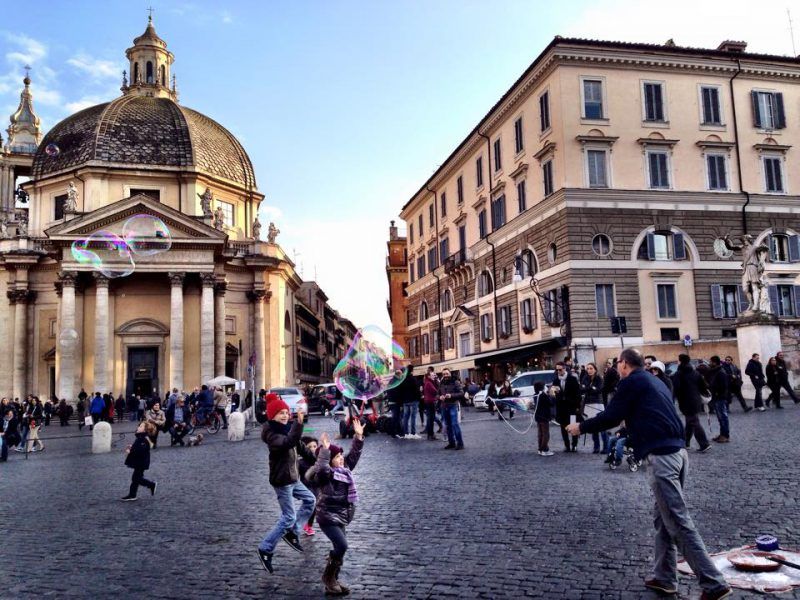 Terrazza del Pincio is one of those places you see all over social media but can't actually find when visiting Rome. Good news, we've got you covered, and it's actually very easy to get to. Go to Piazza del Popolo (Piazza of the People) and look for the big hill. Hidden behind the street leading up the hill is a staircase going up to Il Pincio.
Il Pincio is on the outskirts of Villa Borghese. You can start in Villa Borghese and make your way down to Piazza del Popolo or the opposite. Piazza del Popolo is a 10-minute walk from the Spanish Steps, from there it's 10 minutes to Trevi Fountain, another 10 minutes to the Pantheon, which is 10 minutes from Piazza Navona, and so on. While you're in the area, check out the top things to see near Piazza del Popolo.
2. Spanish Steps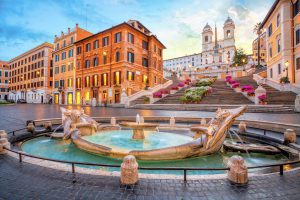 From Pincio to the Spanish Steps, you have two options. The first is to walk down from Il Pincio into Piazza del Popolo. This is the best option if you want to walk through Rome's bustling streets.
Your second option is to walk down viale della Trinità dei Monti. This road is situated above the neighborhood and slowly slopes downward. You get a great view of the area without the crowds. Take a peek into the terraces of the Roman elite and, best of all, you'll arrive at the top of the Spanish Steps.
As you approach the Spanish Steps, you'll notice that you're walking into Rome's posh shopping district lined with high-end designers and brands. You'll come to a large staircase leading up to the Trinita dei Monti church.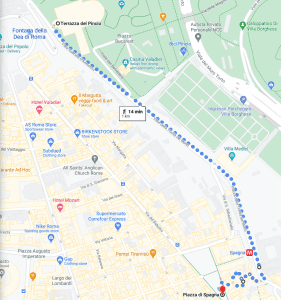 So why are they called the Spanish Steps if we're in Italy? The Spanish Steps aren't actually Spanish at all. They got their name because the Spanish Embassy to the Holy See is located at the base of the steps.
The official name of the steps is actually Scalinata dei Trinita dei Monti. At the base of the steps, you'll find another one of Rome's beautiful fountains, Fontana della Barcaccia, or Fountain of the Longboat.
If you take time to explore the area, you might notice the Keats-Shelley House, located right at the foot of the Steps. This museum commemorates iconic English romantic poets Jonathan Keats and Percy Bysshe Shelley, and houses countless poems, manuscripts, and other works by these authors. Check out the top things to see near the Spanish Steps.
3. Trevi Fountain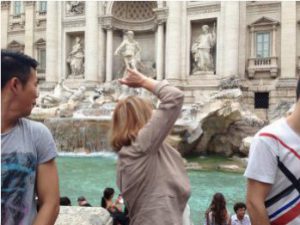 Above, you'll see a map of the route we suggest taking from the Spanish Steps to the Trevi Fountain, which should take about 10 minutes. When you reach Piazza di Trevi, you'll probably notice a large crowd of people taking the classic coin throw picture in front of the fountain.
Built in 1762 and designed by Nicola Salvi, Trevi Fountain or Fontana di Trevi translates to "Three Street Fountain." Quite literally, the fountain is located where three roads meet and what used to be the end point of one of Rome's earliest aqueducts.
The fountain depicts ancient Greek god Oceanus on a chariot being pulled by two horses. One is obedient and one is resistant, symbolizing the changing tides of the ocean.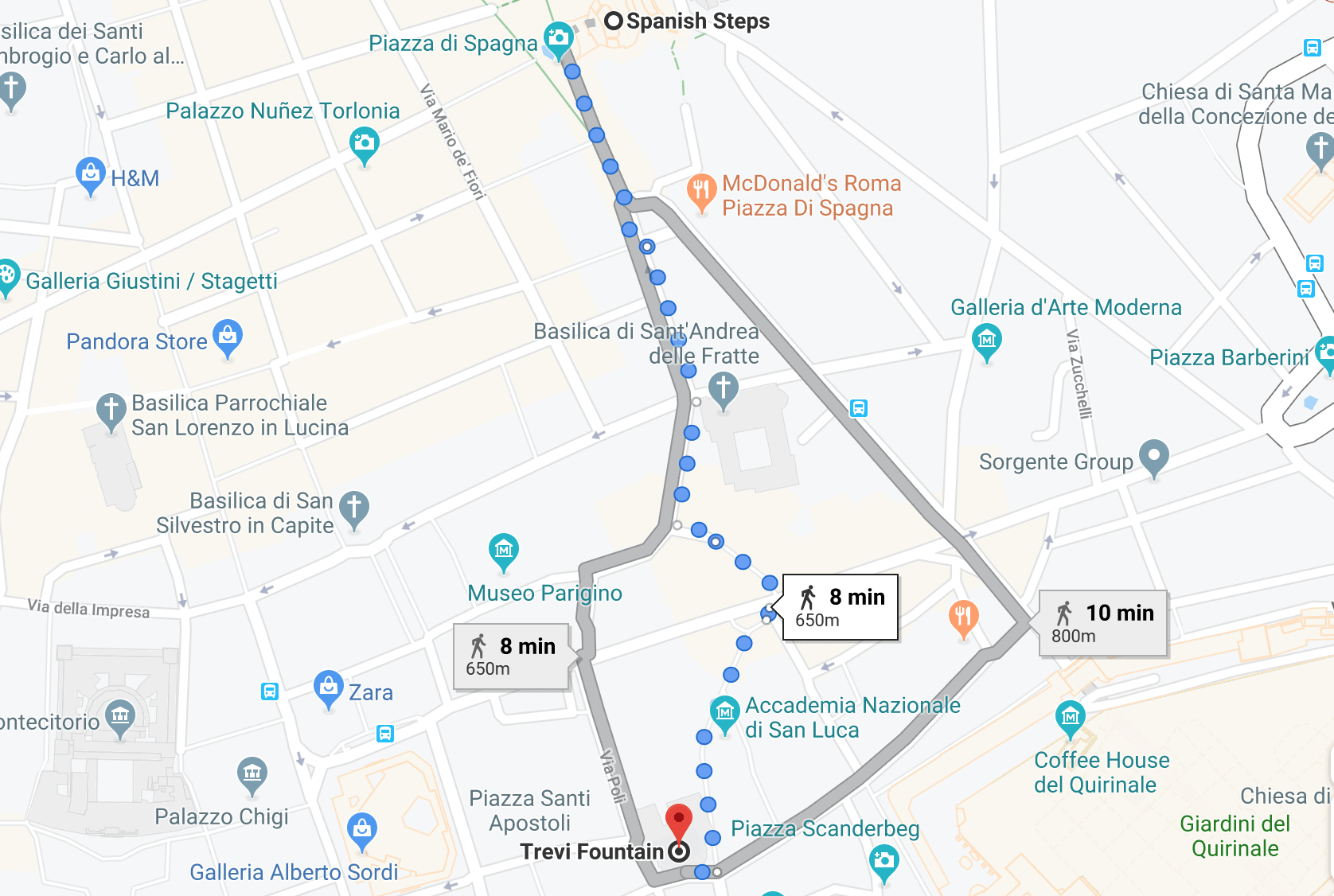 Legend has it that if you throw a coin into the fountain with your right hand over your left shoulder, you will return to Rome again. If you throw two, you'll soon have a new romance in your life. And if you throw three, you're guaranteed to get married. Since you're here, check out the top things to see near Trevi Fountain.
4. Pantheon
You can follow this simple route to reach the Pantheon, which is about a seven-minute walk away.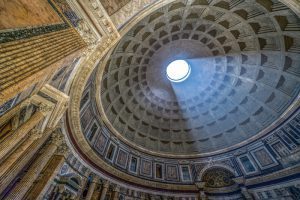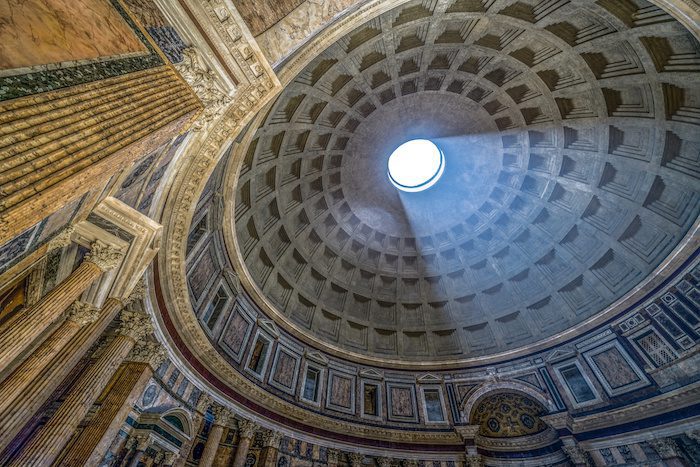 The Pantheon is typically considered Rome's most well-preserved ancient building. This makes sense since the first two structures that stood in the Pantheon's place were destroyed—one by the Great Fire of Rome and the other by lightning. When Emperor Hadrian built the third, he made sure it was extremely structurally sound.
We definitely recommend going inside the Pantheon to explore its beautiful rotunda. If you look up, you'll notice an opening in the ceiling allowing sunlight in called the oculus.
The Pantheon is free to enter, and there is plenty to see inside. After exploring its Greco-Roman architecture from the outside, make sure you see Raphael's tomb when you enter. If you have time, check out the top things to see near the Pantheon.
5. Piazza Navona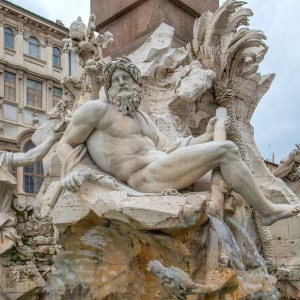 After exploring the Pantheon, walk four minutes away using this route to explore Piazza Navona.
The Piazza Navona is an incredibly beautiful square in the center of Rome lined by delicious eateries and shops. It sits on top of what used to be the Stadium of Domitian, where gladiatorial games and public executions used to take place in ancient Rome.
Built around A.D. 80, the Stadium of Domitian even served as a replacement venue for the Colosseum when it was struck by lightning in A.D. 217. The restaurants and storefronts that line the Piazza Navona today still preserve the shape of the ancient running track and all of the buildings surrounding the piazza were built atop the stadium's seating.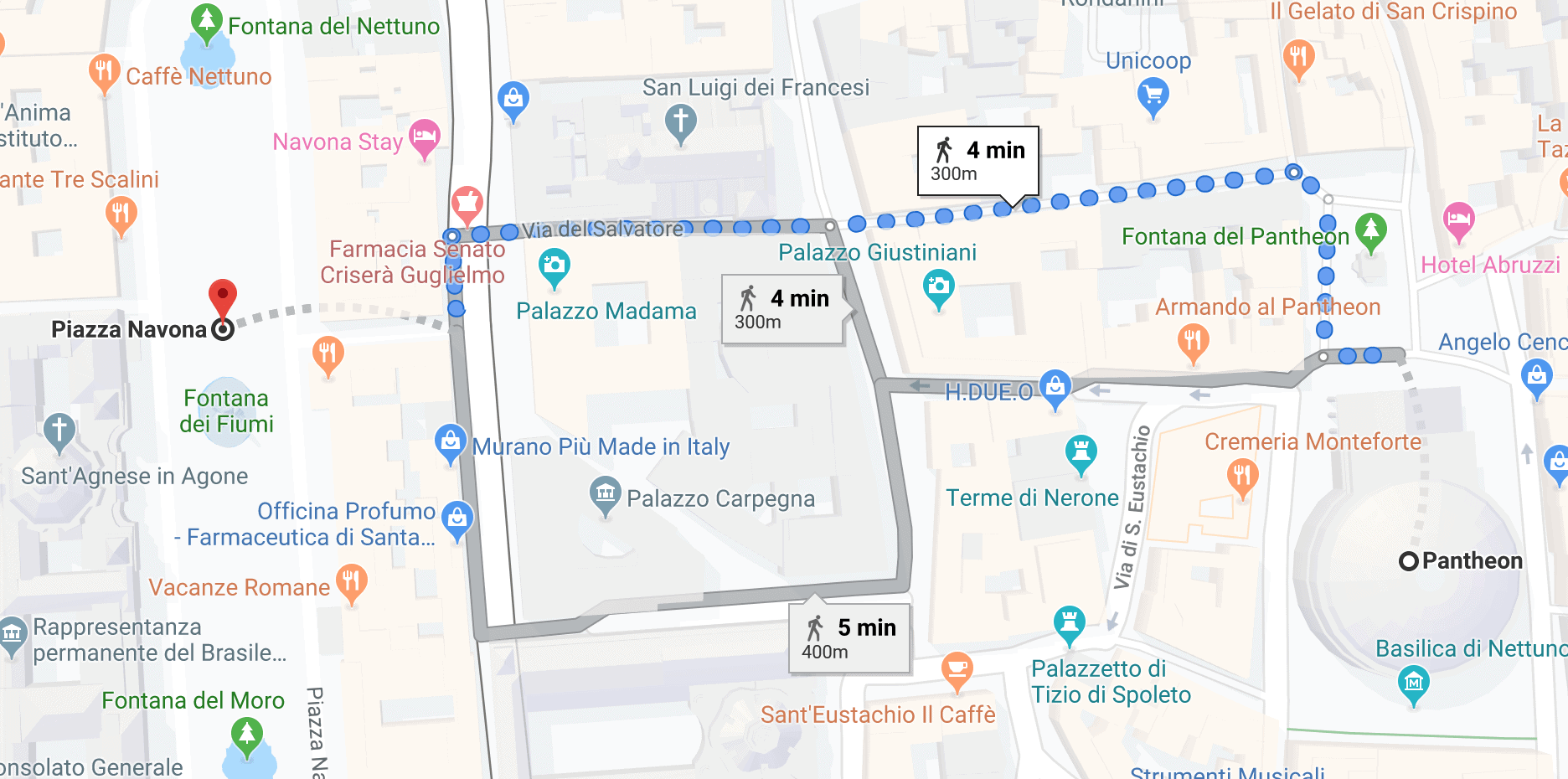 In the center of the Piazza Navona, you'll notice a large obelisk with ancient hieroglyphs inscribed on its stone. Although originally located in Circus Maxentius, the obelisk now stands atop the Fountain of Four Rivers and features inscriptions that mention Emperor Domitian. Discover the top things to see near Piazza Navona.
By now, you'll have worked up quite an appetite.
Finish With A Trastevere Food Tour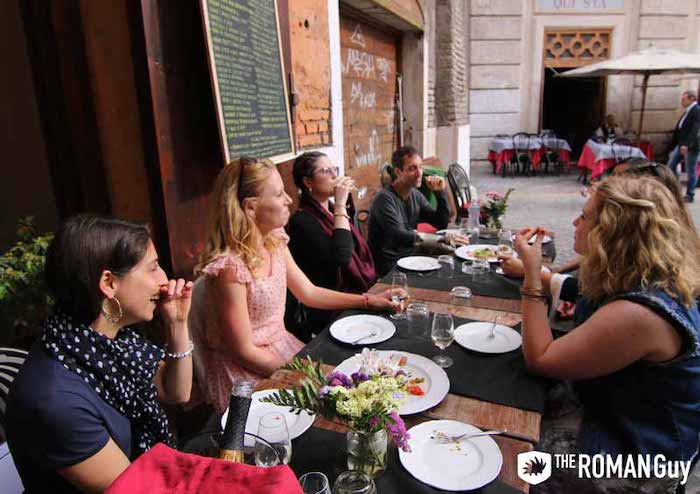 There's really no better way to end your DIY walking tour of Rome than with a great meal! While there are plenty of restaurants and bars lining the piazza, we recommend joining our Trastevere Food Tour.
It meets just a few minutes away from Piazza Navona and features fantastic Rome street food and a traditional sit-down dinner, giving you a culinary experience that offers a more local take on the city's cuisine.
Not ready to book a tour? Check out our guide to all things Rome as you plan your trip.