Heard about the marvels of the Borghese Gallery while planning your trip to Rome? You've happened upon a well-kept secret! It's one of the smallest museums in Rome, yet it has one of the greatest collections of baroque architecture on Earth. Here are the must-see paintings, sculptures, and artworks in the Borghese Gallery.
---
Pro Tip: Bookmarks are the key to organizing a great trip. Bookmark this post in a "Rome" folder in your browser, so you can circle back to it when you're in the gallery. Also, check out our dedicated guide to planning your visit to Rome, which has everything you'll need, and our top-rated Rome tours.
The Borghese Gallery of Rome
During the 15th century, Rome saw the rise of the Borghese family. Thanks to smart political and economic choices, this dynasty was able to establish itself in a very short amount of time. In order to solidify their power and fame, the Borghese built some of the most astonishing landmarks in Rome, which we can still visit today.
The Villa Borghese was originally built to be the private residence of this uber-wealthy dynasty. You would have found mystical animals like peacocks roaming the grounds at one point, making it feel like a place out of a fairytale. Today, you'll find Rome's zoo. The Villa Borghese Gardens is one of the largest and most beautiful parks in Rome today.
The idea to create an art gallery inside the Borghese Villa came from Cardinal Scipione Borghese, a passionate art collector who wanted a place to display and preserve the fine art collection of the family. Visiting the gallery and gardens (the gardens are free to visit) is easily one of the best things you can do while visiting Rome.
Today, the museum is one of the most difficult museums to visit in Europe and only allows 270 visitors to enter in one two-hour time slot. An amazing way to fully experience the gallery's incredible artwork is in a two-hour private tour of the Borghese Gallery, which will quite possibly be the highlight of your trip to Rome.
Let's have a look at what you should see at the Borghese Gallery and what you need to know to have a memorable visit. Here's what we'll cover:
Tickets
Price: €13 + €2 for the reservation fee. Price often increases with exhibitions.
Hours: 9 am – 7 pm, with last access at 5 pm.
As visits usually last two hours, the scheduled tours are generally: 9 -11 am; 11am – 1 pm; 1 – 3 pm; 3 – 5 pm; 5 – 7 pm.
Tours: If you'd like to take a guided tour of the gallery, check out our private Borghese Gallery Tour. It's excellent value for money. The gallery limits visitors, which makes it feel more like a luxurious cocktail hour or reception unlike many other museums in Rome.
How To Get To The Borghese Gallery
The Borghese Gallery is located in the very heart of the Borghese Villa—one of the biggest parks in Rome—and is accessible from several entrances of the villa.
If you're already in the city center, you might find it easier to reach the Borghese Gallery by climbing the stairs in Piazza del Popolo and entering the villa directly. In this case, take a moment to enjoy the view of the city from above, then keep walking in the park until you reach the gallery.
If you prefer more direct access, head instead to Via Pinciana, situated in the north of Rome, and find the gallery directly at the entrance.
Address: Piazzale Scipione Borghese, 5
Not ready to book a tour? Ok, find out if a tour of the Borghese Gallery is worth it.
Top Things To See in the Borghese Gallery
In this list, discover the Borghese Gallery art that makes this museum so special. We have ordered the items not by the importance of the artworks but by the order you should see them in on your visit. Use this list as an itinerary to guide yourself around the gallery. When you walk into the front entrance of the gallery, be sure to enjoy the first room, then turn left and head into the room dedicated to Caravaggio.
15. Entrance Hall and Marcus Curtius Leaping into Chasm
In the beautiful welcome area of the palace, you'll find ancient Roman mosaics roped off on the floors. They are believed to have come from the Baths of Caracalla in Rome.
You'll also see an amazing rococo-style vaulted ceiling, depicting different pagan scenes. If you stand with your back to the door and look up to where the wall meets the ceiling, you'll see a wonderful relief sculpture by Pietro Bernini, father of the great Gian Lorenzo Bernini.
It is much more than a simple relief: This sculpture shows Marcus Curtius famously throwing himself into a chasm. An earthquake in the fourth century B.C. is responsible for creating the chasm. As the story goes, the pagans, who believed nothing happened by chance, searched for a reason why this earthquake would form such a deep chasm right in the center of Rome.
They consulted an augur, who said that the gods required the Romans to fill the chasm with their most precious possession. Marcus Curtius responded that courage was Rome's most valuable possession. He mounted his horse fully decorated and leapt into the chasm, which closed around him saving Rome.
14. Boy with a Basket of Fruit by Caravaggio (Room VIII)
Boy with a Basket of Fruit is an oil on canvas from 1593 by Caravaggio (also known as Michelangelo Merisi) at just 22 years old in Milan. The work now lives in Room VII of the Borghese Gallery for your viewing pleasure.
Caravaggio utilized an art form known as chiaroscuro, which simply means "light-dark". He used shadows to accentuate the details of his subject. This art form started around the time of Raphael's Transfiguration in 1520 but did not become popular until the baroque period with Caravaggio and Rembrandt championing chiaroscuro.
This is an early Caravaggio painting but among the first where you can sort of see sickness in him. Caravaggio lost both his parents at an early age and abused many substances. A large number of his subjects were prostitutes or the homeless, which you can see by the amount of dirt on their bodies. However, this painting is an exception.
Perdue famously studied the fruit in this painting and made various remarks about the stunning accuracy of Caravaggio's paintbrush. He didn't miss a detail. You could compare this level of accuracy in a subject holding a bowl or basket of fruit to scoring a three-pointer in basketball from all the way across the court or landing a hail mary in American football.
Why? Because all the curves and color combinations make it extremely difficult to paint. One wrong brush stroke and the picture is no longer believable.
Popular Rome Tours
Best-Selling Tour
Rome in a Day Tour with Colosseum and Vatican Museums

Our "in a day" tour is best way to get your bearings all in one day. Visit the Sistine Chapel, Colosseum, Trevi Fountain, and more with a licensed, fun English-speaking tour guide. They'll add tons of insights and make the entire experience so much more memorable. Also, you'll get a feel for the city, so it's a great option on one of your first days in Rome. Bring your walking shoes and water bottle!
See Prices
Best Price!
Skip the Line Vatican Tour with Sistine Chapel
One of our most popular Vatican tours since it is such an amazing value. Skip the line to get inside with a super-knowledgeable, English-speaking guide who will bring the museum to life with stories of the artists, popes, conspiracy, love, and even tragedy! This tour has start times throughout the day so you can choose when to visit based on your schedule!
See Prices
13. Young St. John the Baptist (Room VIII)
Right next to Boy with a Basket of Fruit is Caravaggio's John in the Wilderness, depicting a tired and frail St. John the Baptist. The overwhelming sadness of this painting both draws you in and pushes you away.
An art critic off the street would say that John is grief-stricken thinking of the imminent sacrifice of Jesus Christ. However, anyone who knows the work of Caravaggio would probably say that he hired a poor boy off the street to sit for the painting, who became bored, and Caravaggio painted it.
According to history, Scipione Borghese and his uncle Pope Paul V stole this painting, along with Sick Bacchus and Boy with a Basket of Fruit. They belonged to Giuseppe Cesari, who allegedly had been wrongfully imprisoned—an opportune moment for the Borghese duo to confiscate the art.
Be sure to notice the general dirtiness of the boy, especially across his chest and shoulders. Accustomed to the streets, Caravaggio often found models in the lowest of places to save money.
12. St. Jerome by Caravaggio (Room VIII)
St. Jerome is a wonderful painting that shows one of the most important events in Christian history: the translation of the Bible from Greek to Latin.
Many take for granted how difficult it was to spread knowledge for a very long time. Today, we have Google to do everything for us, as scary as that is. But if you were a Christian living in Rome in the fourth century and didn't speak Greek, you really weren't much of a Christian until St. Jerome.
His Latin translation allowed the people of Rome who only spoke Latin to read and adopt the bible.
11. Palafrenieri by Caravaggio (Room VIII)
Directly across from St. Jerome, you'll see a massive painting known as Palafrenieri. Basically, you see Jesus, his mother Mary, and Mary's mother Anne. Originally created as a centerpiece for St. Peter's Basilica in Rome, the commission was dropped because it was considered too vulgar. After the painting was moved around a bit, Cardinal Scipione Borghese stepped in and picked it up at a bargain-basement price.
Mary is pictured with a low-cut dress, which is not befitting of the virgin mother of God. Jesus also has red hair, which has evil significance in paintings and was poorly received. Finally, Anne, mother of Mary, has a rather troubled look on her face. Her skin is leather-like and anger shows in her eyes as Mary and Jesus step on the snake to thwart out evil.
10. David with the Head of Goliath (Room VIII)
The figure David is often the subject of works of art due to his importance in biblical history. This particular version by Caravaggio shows David beheading Goliath as he looks down in triumph.
Caravaggio painted his own likeness in the face of Goliath, which was the seed of many theories about the meaning behind this work. Many of Caravaggio's paintings are extremely sexual in nature and this one is no exception. Notice the placement of the boy's sword in his crotch.
Some believe the boy is the likeness of "Cecco" who was a studio assistant and possibly a lover of Caravaggio. Others believe that David is also a self-portrait of Caravaggio, and so the painting displays a younger and older version of Caravaggio.
However, the most popular explanation by tour guides is that the painting was a gift for Pope Paul V. Caravaggio killed a man in a bar fight a few years early and fled Rome. He had been on the run for some time with a death sentence on his head. He may have painted it as a gift to Paul V when he was granted a pardon.
Unfortunately, he never returned to Rome. Caravaggio, plagued with illness due to his lifestyle, died on his return in 1610. This was one of his last paintings.
9. Sick Bacchus by Caravaggio (Room VIII)
Sick Bacchus is another famous painting by Caravaggio found in Scipione Borghese's former estate. You may be wondering, "How many paintings did he paint?" He has over 300 known works in existence. He could paint one in two to three weeks—extremely fast even for a great artist.
Not a self-portrait, Sick Bacchus could be a portrait of Caravaggio's inner-self. Widely known to be the Roman god of agriculture, wine, and fertility, this immediately makes Bacchus one of the world's most beloved gods!
The oil on canvas shows a very sick and depleted Bacchus. Caravaggio struggled with substance abuse—drinking in particular. The image clearly portrays this, leaving very little to be missed. This is the last painting by the baroque master in room VIII before moving on to sculptures by Bernini.
8. Aeneas, Anchises, and Ascanius by Bernini (Room VI)
Completed in 1619, Aeneas, Anchises, and Ascanius is one of Bernini's lesser-mentioned sculptures. It beautifully portrays Aeneas' flight from Rome, as described in the Aeneid after Troy was sacked by the Greeks.
Aeneas leaves with his father, Anchises, on his shoulder and son Ascanius in tow. They would leave Troy and land in Italy where later their lineage, Romulus, would come to found the city and people of Rome. His father carries a pot with the ashes of their ancestors and two Roman household gods.
As you can see, the people of Rome were obsessed with and defined by their Roman lineage in the 17th century. Who wouldn't be?
The sculpture is an incredible sign of Bernini's future talent. From the engineering feat of carrying so much weight with such little support to the details in the body. Be sure to take a look at the difference in the skin of the father, son, and child. The older father's skin hangs and sags. The son is in his prime with tight skin. And the toddler son still has baby fat. This is a very difficult thing to realize when working with stone—all the while trying to make sure the entire thing doesn't topple over on you.
Top Colosseum Tours
Best Seller
Colosseum Underground Tour with Roman Forum and Palatine Hill
This is our most popular Colosseum tour due to the incredible access to non-public areas like the underground chambers. All admissions are included and it is lead by an English speaking licensed guided and Colosseum expert.
See Prices
Customer Favorite
Special Access Colosseum Arena Floor Tour Through the Gladiator's Gate
You'll enter the Colosseum through the back door entrance avoiding lines and crowds, which is ideal! You'll step through the gladiator's gate and your English-speaking Colosseum guide will bring the stories to life. Next, on to the Roman Forum. All admissions are included.
See Prices
7. The Rape of Proserpina by Bernini (Room IV)
This really shows Bernini's engineering marvel. Designed for Borghese's largest entertaining room and the attention of his guests, the statue features a violent twisting scene of Pluto coming to claim his wife Proserpina.
It was completed around 1622, a few years after the last statue. Today, Bernini's most famed statue in the gallery is Apollo and Daphne, and for good reason. But in the 17th century, this was undoubtedly the prize of Borghese's collection.
The story is that Pluto, the god of the dead and underworld, came to abduct Proserpina, goddess of agriculture and daughter of Jupiter, the god of gods, while she was picking flowers one afternoon.
Out of sadness, Proserpina stopped making the world bloom and all things died. Jupiter intervened and made a deal with Pluto. Proserpina would spend half the year with Pluto and half the year above ground. In this incredible story, we see how early people struggled with the idea of the seasons and how to explain them. A story of gods makes it easier to digest.
The statue behind it is phenomenal and was met with rave reviews upon its completion. An incredibly violent twisting action shows Pluto in all his strength taking Proserpina from the world.
Make sure you look for three things. First, Pluto's fingers gripping into Proserpina's thighs (above). You get the feeling and texture of our legs and how they differ from Pluto's hand. His fingers grip into what we recognize as the thigh of a woman. It is all obviously an illusion by the master, Bernini, because they are literally cut from the same stone.
Also, look for the sweat dripping from Pluto's back. No, it's not a watermark or stain—it is Bernini giving life to stone. Finally, look for light shining through the cloak of Proserpina. Bernini sanded it down so thin it is almost transparent. Incredible!
6. Apollo and Daphne by Bernini (Room III)
Bernini started working on this sculpture in 1622 under the commission of Scipione Borghese and he finally ended his work in 1625. Due to the combination of the details and motion with its fragility, this statue is considered one of his masterpieces and, with little argument, the masterpiece of the gallery.
The statue is not only an incredible work of art because of its master sculpting but for the detailed story it tells as you walk around it—something you have to see for yourself.
Legend has it that Apollo encountered Daphne and Eros (or Cupid) when he was walking through the woods. He began to mock Cupid (I imagine for his size), and eventually, cupid became frustrated and retaliated.
Modern society only describes Cupid's good side: shooting golden arrows and helping people fall in love. Well, he also had lead arrows in his repertoire, and I bet you can guess what they did. He shot Apollo with a golden arrow and Daphne with a lead one. Apollo saw Daphne and immediately fell in love. Daphne saw Apollo and the lead arrow had the opposite effect.
Apollo raced after Daphne through the forest madly in love. Daphne pleaded with her father, Penues the River God, to free her from Apollo.
If you start from Apollo's back right food and walk around the statue counter-clockwise, you'll see Daphne's metamorphosis into a Laurel tree. The statue group was designed to be placed in the center of the room and be viewed in motion.
Apollo, in turn, used his power of eternal youth and this is the reason that Laurel trees are evergreen!
5. David by Bernini (Room II)
The story of David is among the most portrayed stories in art. Why? This is where it all began for religion. It is also a great story of victory over insurmountable odds.
Creating a David scene after Michelangelo creates the David is very difficult. Michelangelo did David after victory—relaxed and confident. Bernini decided to do David before the fight.
Bernini creates a smaller version of David because he was small. He shows him in full strain, pulling back his sling-shot-like device to unleash hell, or maybe heaven, on Goliath. Make sure you take a look at David's brow: The look on his face screams, "I hope I don't miss."
4. Pauline Bonaparte by Canova (Room I)
We can definitely consider Canova to be the marble master of the 19th century in Italy. Camillo Borghese entrusted this sculpture to Canova in 1803 to celebrate his marriage with Paolina Bonaparte, sister of Napoleon Bonaparte.
Canova dedicated an entire side of his atelier to this project, where Paolina used to go and pose for the artist. He portrays the woman as a winning Venus with an apple in her hand—a symbol of Venus's victory after Paris's choice.
Many say that Antonio Canova, the artist, was a very handsome man and that Paolina may have fallen for him. The apple in her hand may have also represented the temptation she had for Canova. Paolina, in a relaxed pose, is covered only by a light blanket. The bed is incredibly realistic. Again, this is a site you must see in person.
As with Canova's other sculptures, even this one is made with white shiny marble that still preserves its initial splendor and colors.
3. The Deposition by Raphael (Room IX)
The Deposition (of Christ) was completed in 1507 on wooden panels by Raphael for Atlanta Baglione after the death of her son. The painting shows figures, one of which is the likeliness of Grifonetto Baglione, carrying Jesus away to his tomb.
Grifonetto conspired with others to create a coup to overthrow current heads of households and followed through with it on July 3rd, 1500. They were unable to cross enough names off the list and fled. When they returned to town, Grifonetto attempted to gain refuge in his family house but his mother, stricken with shame, denied him.
He encountered Gian Paolo Baglione in town, who was a survivor and current head of household, and conflict ensued. Atlanta had a last-minute change of heart and ran to protect him, but it was too late. He had been killed.
Some years later, she commissioned Raphael to create The Deposition in his name. But the painting actually depicts something different. The biblical scene of the Deposition is when Jesus is removed from the cross. This is not what is in the painting as Mt. Calvary is far in the background.
Raphael must have taken some creative liberties here, but the art speaks volumes of his skill. Creating a believable scene like this is very difficult. How do you show a lifeless figure with limp limbs?
2. Lady with Unicorn by Raphael (Room (IX)
Painted in 1506, the Borghese family acquired this work only in 1760. They didn't know it was a Raffaello painting at the time, because this work was only attributed to the artist in the 19th century when its restoration took place.
Nobody really knows who the mysterious lady could be and even today, her identity remains unknown. This woman is looking directly at the observer, holding a unicorn in her hands, which is a sign of virginity.
Her pose, as much as the background, is a clear reference to Leonardo da Vinci's Lady with the Ermine. Apparently, after several studies, it has been possible to establish the fact that Raffaello chose to portray a unicorn in her arms during a revision. The artist had originally portrayed a dog instead.
Popular Tours from Rome
Best Seller
Unforgettable Rome Day Trip to Pompeii and Sorrento
This is the best way to see Pompeii and the Amalfi Coast from Rome. You'll take private transportation with our guide down to Pompeii where an archeologist will tour our small group through the ruins. Then we'll head over to Sorrento which is the tip of the Amalfi Coast before returning to Rome. Tickets, transportation, and guides are included in the price.
See prices and more info
Best Seller
Rome in a Day Tour with Vatican, Sistine Chapel, Colosseum, and More!
Looking to get much of your sightseeing done in one day? This tour enters the Vatican an hour before opening and visits the Colosseum along with other sites like the Pantheon, Spanish Steps, and Trevi Fountain. All admissions and transportation are included as well as a licensed English-speaking guide!
See prices and more info
1. Diana and Her Nymphs by Domenichino (Room XIV)
Unless you've studied art, this painting may not have come up on your radar before. I love it! It is a great last piece of art for this visit.
Diana is the goddess of the hunt and is constantly escorted by a band of nymphs. She also represents lust and fertility. The story at play here is of Diana and Acteon. Acteon happens to stumble upon Diana while bathing and catches her off guard. Diana splashes him with water out of frustration and he turns into a deer or stag.
Not so bad, except then his own dogs are released on him and kill him. You can see the scene unfold from the right, where the man peaks through the trees, to the dogs being released, and the stag being carried away after the successful hunt.
Both cardinals, Pietro Aldobrandini refused to sell the painting to Scipione Borghese and ended up in jail like many others. The painting displays how you cannot mess with Diana. Maybe Scipione Borghese was the male version of her.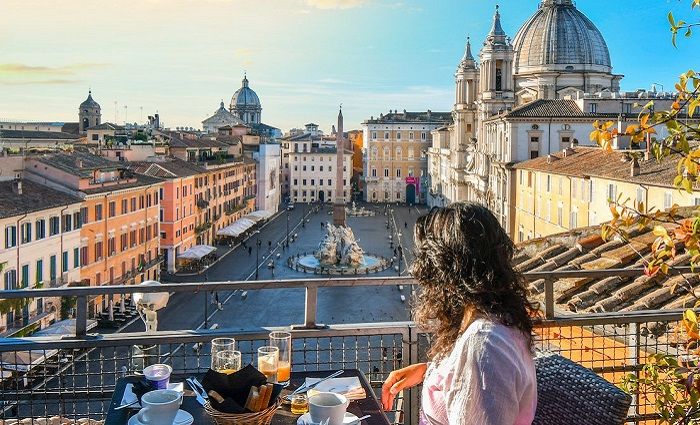 Find the best places to stay
Where To Stay in Rome
Rome has a rich cultural history and many iconic landmarks to explore. Plan where to stay in the magnificent Eternal City in the best neighborhoods.