You already know that a trip to Rome is not complete without a visit to the famous country within the city, Vatican City. But, there are so many different tour options, how do you choose?
It all depends on your travel interests and schedule. All of our Vatican tours include skipping the line for tickets, local English-speaking guides, a tour of the Vatican Museums, and a visit to the Sistine Chapel.
In this guide, you'll discover our best Vatican tours and be able to discover which one's right for you.
---
Pro Tip: Create a browser folder and bookmark this post in your browser along with our article on the best Colosseum tours. Using bookmarks makes organizing a trip much easier.
Here is a link-bank of all our tours and we have more in-depth descriptions below.
Express Vatican Tours
Tours under 2 hours
Classic Vatican Tours
Tours between 2.5 – 3.5 hours
Full Experience Vatican Tours
Tours over 4 hours
Vatican Tickets
Skip the line tickets for self-guided Vatican visit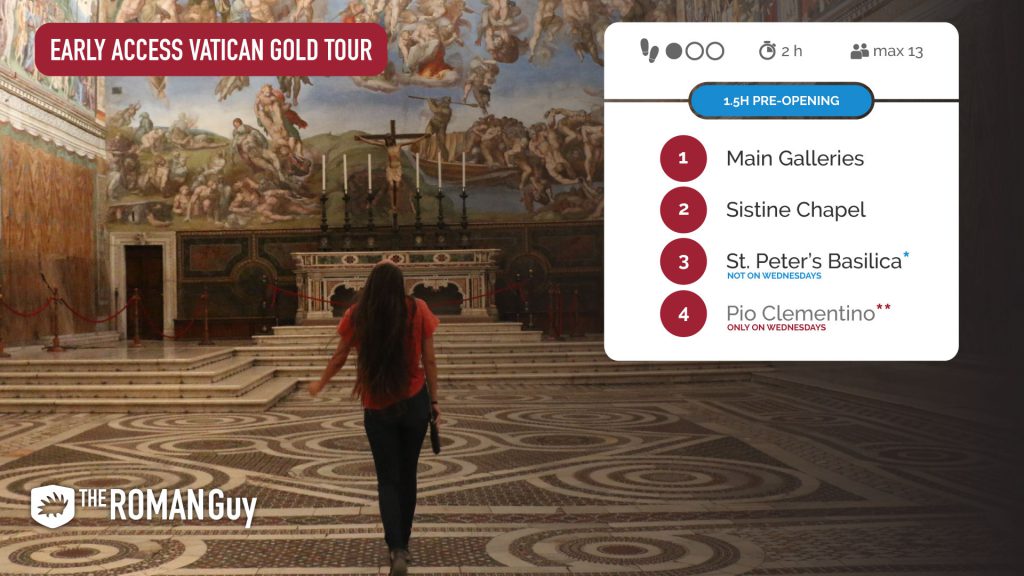 Our Super Early Vatican Gold tour offers a unique and exclusive experience in the Vatican Museums, Sistine Chapel, and St. Peter's Basilica. Enter an entire hour and a half before the general public at 7:30 am and witness the Sistine Chapel in complete serenity with no crowds.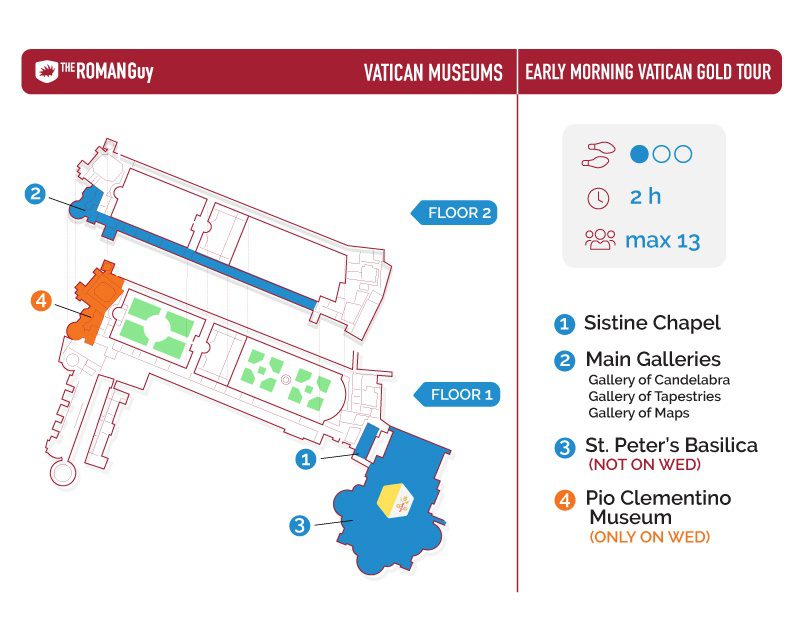 ---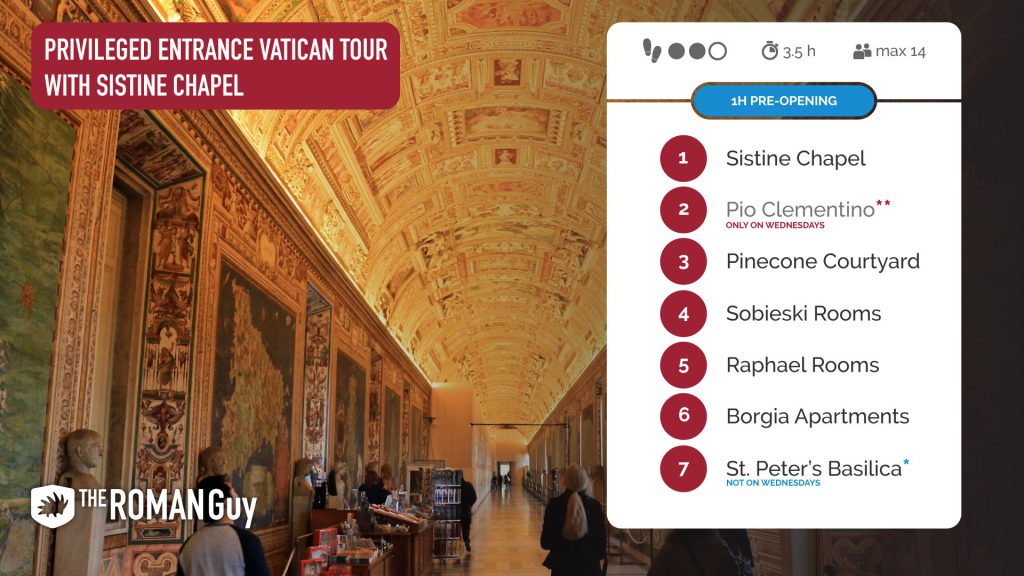 Want to see the beauty of Michelangelo's masterpiece that is the Sistine Chapel but don't want to be crammed in like a can of sardines? Boy, do I have the best Vatican tour for you! Start your day off bright and early with our 3.5-hour Privileged Entrance Vatican Tour with Sistine Chapel which enters the Vatican a full hour before the general public and heads straight for the Sistine Chapel. By starting the tour here, you'll get to marvel at Michelangelo's masterpiece with limited crowds. Is there a better way to start your day?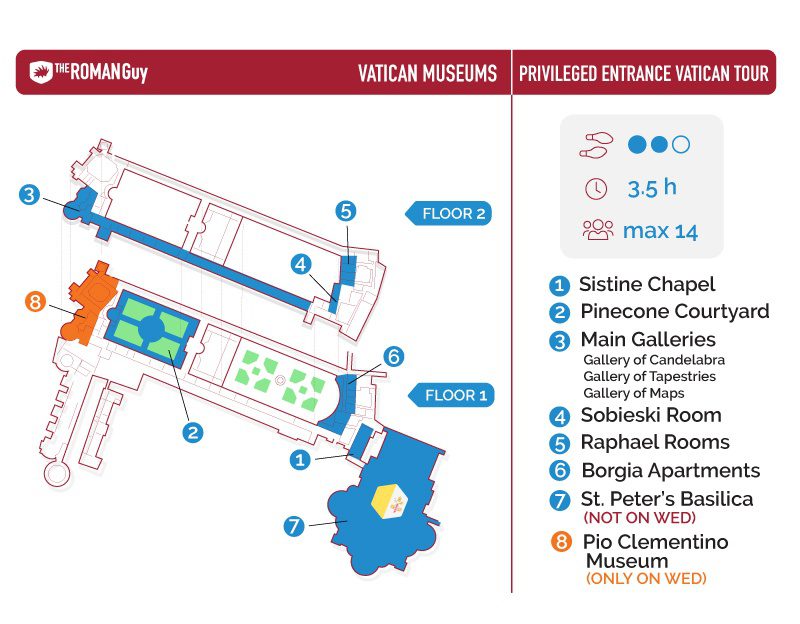 ---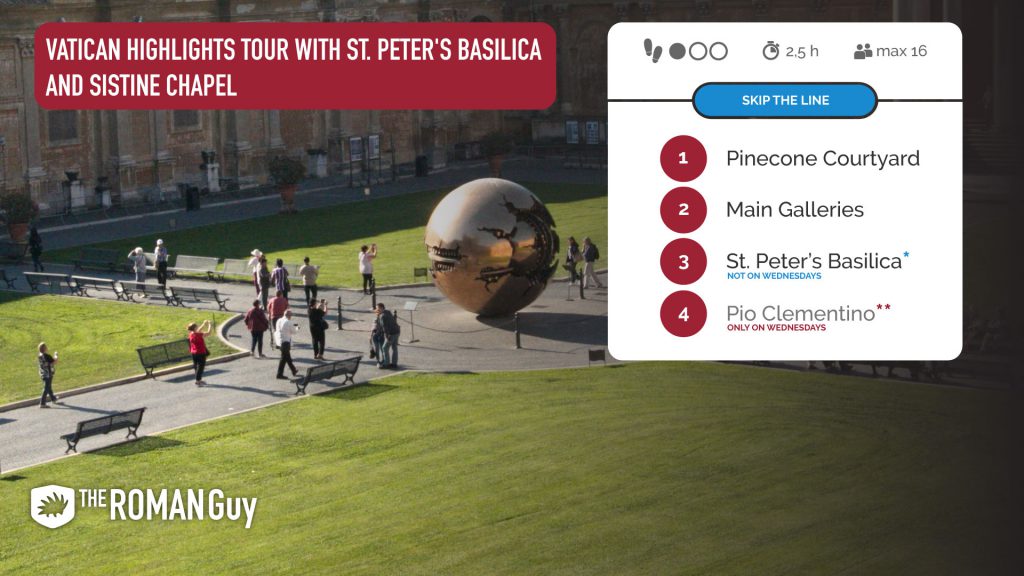 Rome is full of must-see sites, and the Vatican should definitely be at the top of your list. If you are looking to see all that Rome has to offer in a short amount of time, then this Vatican Highlights Tour is the one for you. You'll see the main highlights of the Vatican Museum's best galleries, Michelangelo's masterpieces in the must-see Sistine Chapel, and tour St. Peter's Basilica all with an expert guide in just two and a half hours, leaving you with plenty of time to climb St. Peter's Dome.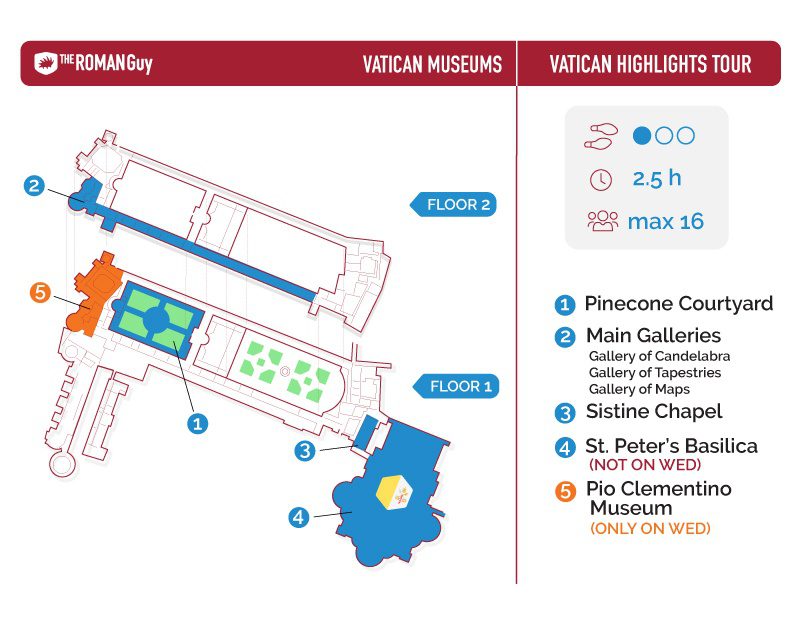 ---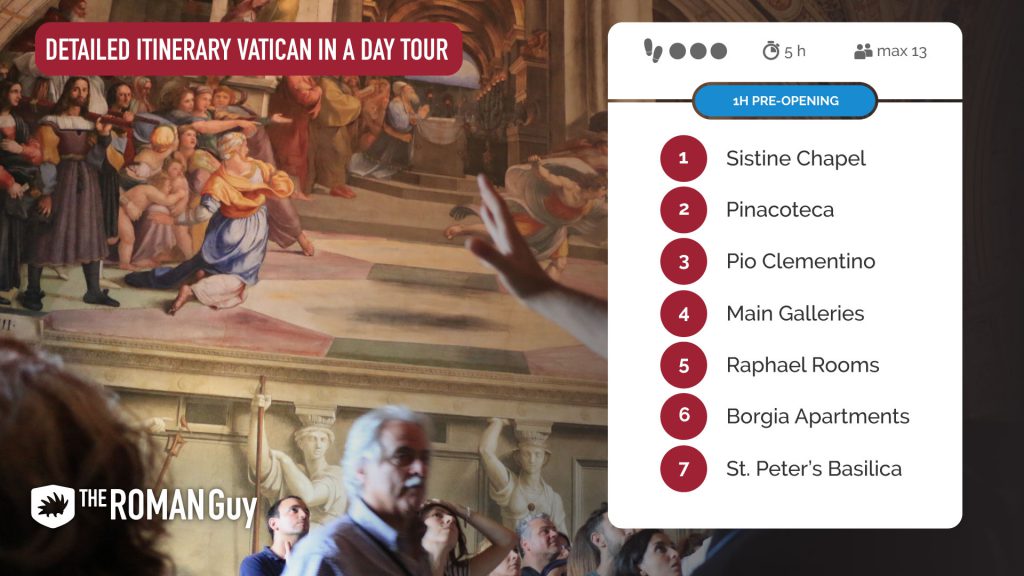 Are you an art and history lover looking to immerse yourself in the beauty of the Vatican Museum's art collection? Our five-hour Detailed Itinerary Vatican in a Day Tour with Privileged Entrance is perfect for you! This tour dives deep into the magnificent artworks housed in the Vatican Museums, Michelangelo's Sistine Chapel and St. Peter's Basilica. You'll even get the bonus of a visit to the Pinacoteca, Carriage Pavilion and Bramante Courtyard. The five hours will fly by as you soak up all the beauty and history of the priceless works of art on display.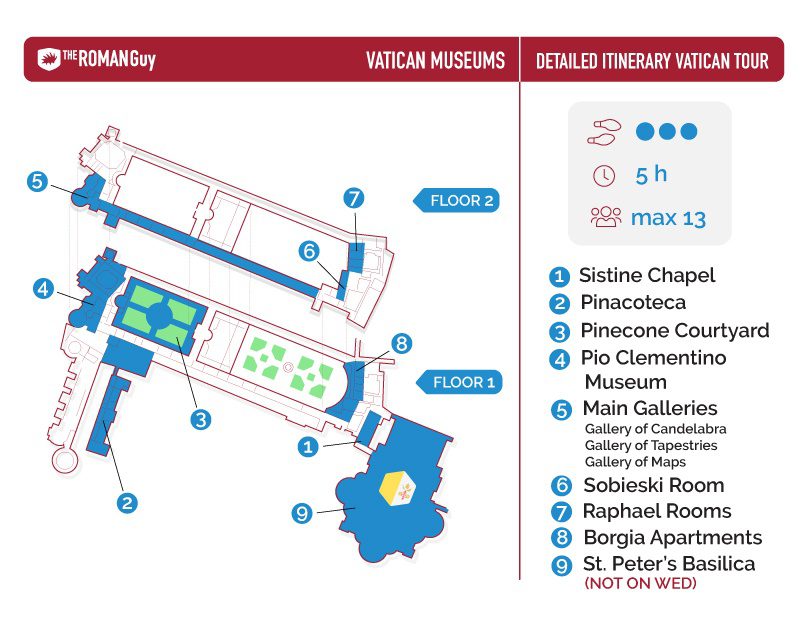 ---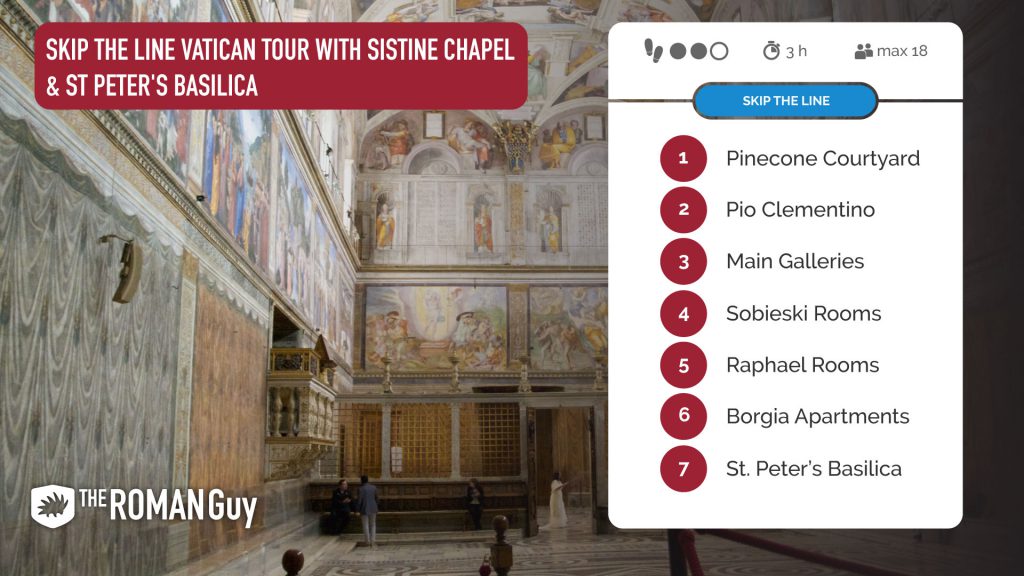 If you don't have time for an early morning tour or would prefer to visit in the afternoon, then our Skip the Line Vatican Tour with Sistine Chapel and St. Peter's Basilica is the tour for you. With multiple start times throughout the day and skip the line tickets, you'll find a time that's just right for you.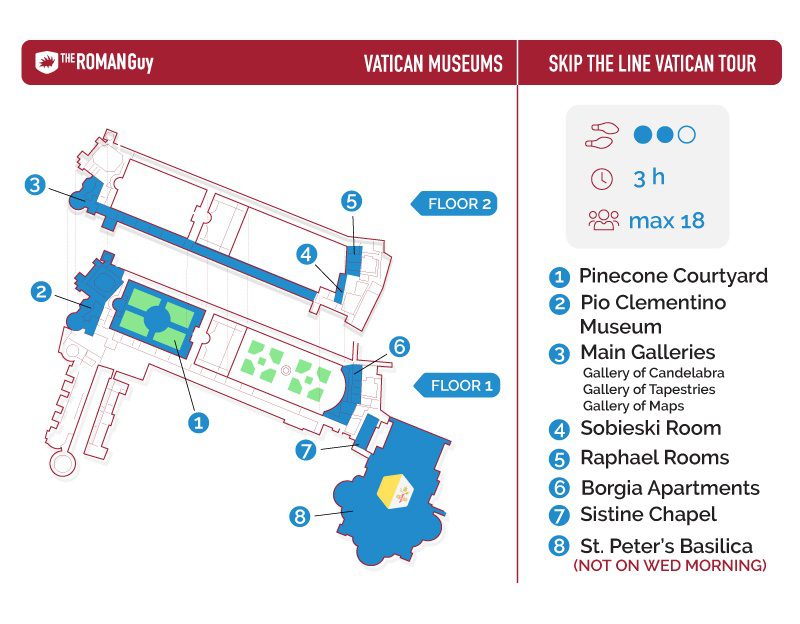 ---
Our Rome in a Day tour is one of our most popular tours to date. You get a comprehensive tour of the Vatican museums by an English speaking guide. You'll also get a full Colosseum tour including the Roman Forum. The Pantheon, Piazza Navona, Trevi Fountain, and Spanish steps are also on the itinerary.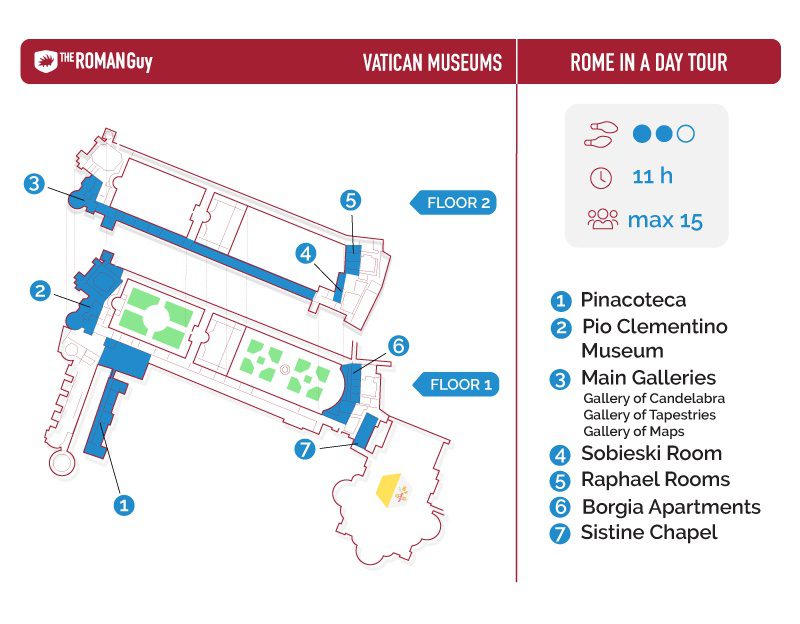 It is a great way to get the main highlights of Rome before discovering it even better on your own. While we provide transportation at times this tour makes for a long day with lots of walking. Be ready for a big dinner on your own after with plenty of hydration – does vino help with hydration?
---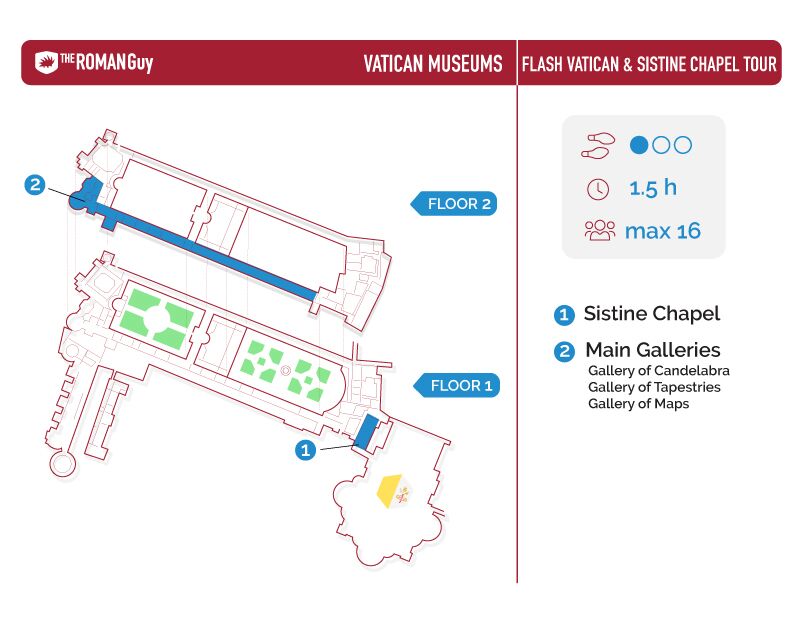 If you're one who doesn't long to spend hours and hours inside of an art museum and wants to simply cross the Vatican off your bucket list, this is a perfect tour for you. Only 1.5 hours long, this Flash Vatican Tour allows you to skip the line at the Vatican, see the main galleries and Sistine Chapel, then go about your day. This is ideal for families with young kids, people with reduced mobility and budget-friendly travelers.
---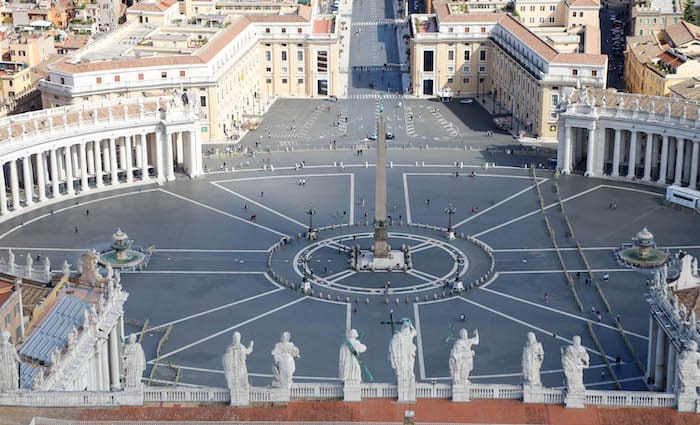 Looking for the best views in Rome? We don't blame you. Our Ultimate St. Peter's Basilica Dome Climb visits St. Peter's Dome right as it opens, before there are any lines. After you climb to the incredible lookout, your guide will escort you into St. Peter's Basilica for a guided tour.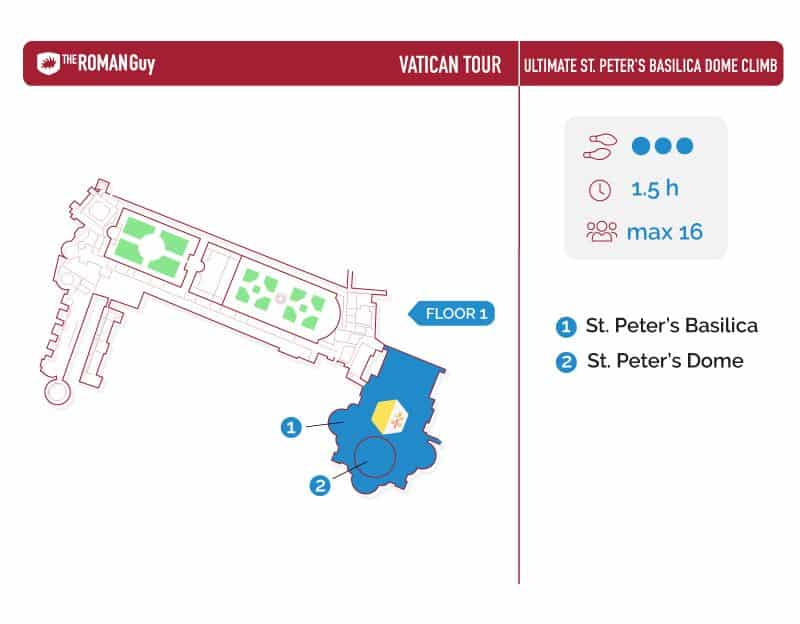 ---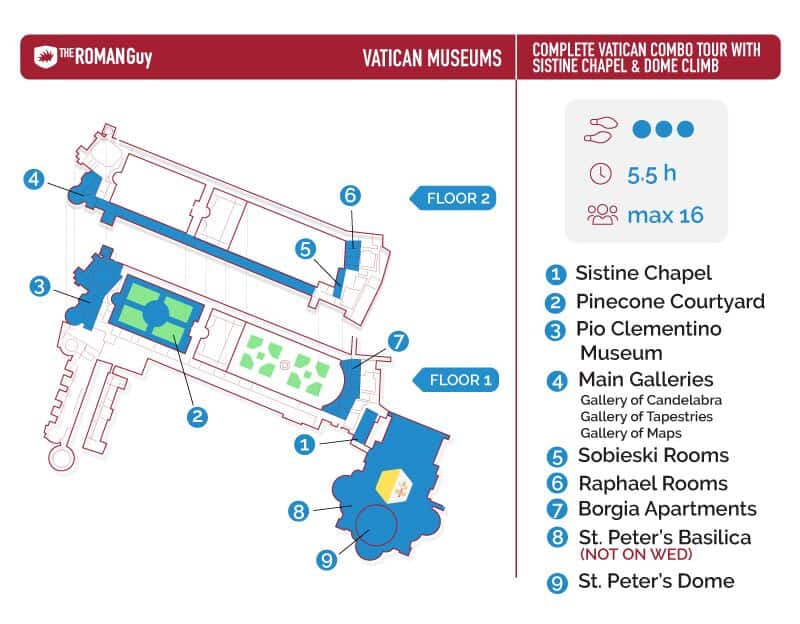 Looking to climb St. Peter's Dome and get a guided tour of the Vatican. This experience is for you. Our Complete Vatican Combo Tour with Sistine Chapel & Dome Climb first allows access up to Rome's most scenic viewpoint atop St. Peter's Basilica, then continues into a skip the line Vatican tour.
---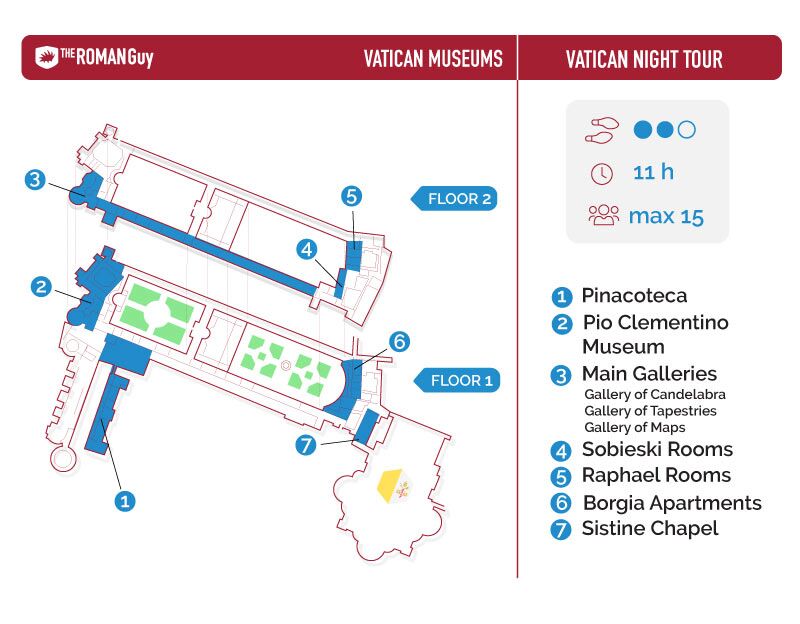 On this guided Vatican visit, enter the Vatican Museums after closing time and experience the museums with very few crowds. This Vatican Night Tour only runs on Fridays during certain times of the year, making it a very exclusive experience.
---
Are you visiting Rome on a Saturday during the spring or summer months? Why not make a whole day of it with our Vatican Museums, Gardens & Castel Gandolfo Day Trip?
With this experience, you will take a guided tour of the Vatican Museums, Sistine Chapel, Vatican Gardens, and a day trip by train to the Pope's Summer Residence. A return train ticket and delicious lunch fit for a pope are included!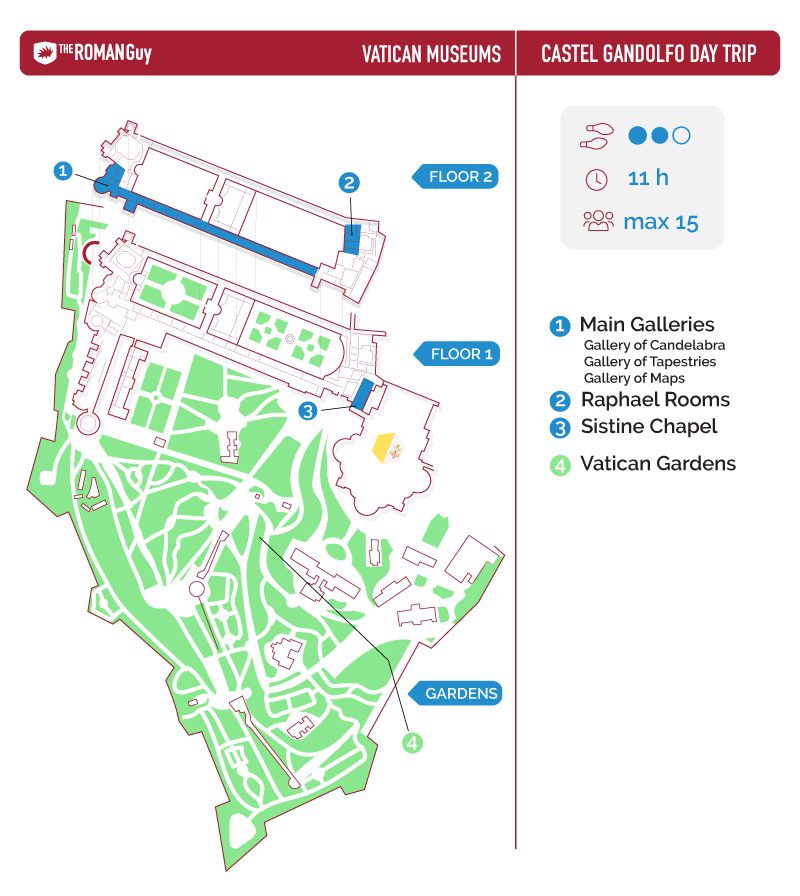 ---
I Want More Italy!