Did you know that approximately 19,000 people visit the Vatican every day? It can get hectic inside these museums, but there are some ways to get around the crowds. We'll explain everything you need to know to visit Vatican City from how to get tickets to when to go, the best Vatican tours to take, and more.
---
Pro Tip: Planning can be tough, but it's easier to organize your trip when you have all your resources in one place. Create a browser folder and bookmark this post along with our dedicated guide to planning your visit to the Vatican, where you'll find everything you need. Also, check out our article on the best Vatican tours.
Visiting the Vatican City: What We'll Cover
Vatican City is the seat of the Roman Catholic Church and the smallest independent country in the world. No matter your religious affiliation, it welcomes all who want to visit—around 19,000 people per day! It is home to some of the greatest works of art in the world.
Visiting the Vatican is an unforgettable experience not only for lovers of art but also of history, culture, and architecture. In this guide, you'll find information on how to visit Vatican City, the Sistine Chapel, St. Peter's Basilica, and more. Here's what we'll cover:
Facts and History of Vatican City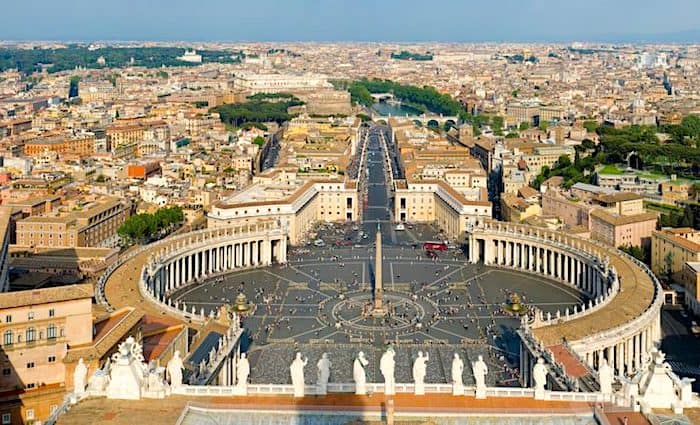 Constantine's Vatican
The early establishment of the Vatican began with Constantine's St. Peter's Basilica, which stood where the current Basilica stands today. Jesus gave Simon the name Peter when he first met him and said, "You're the stone upon which I will build my church." After Constantine legalized Christianity in A.D. 313 with the Edict of Milan, he quickly began building that church. For Constantine, Jesus would have been as old as George Washington is in relative history to us.
The Vatican's Name
I have read many versions of how the Vatican got its name. The most likely is that the Etruscan society living in this area referred to it as Vatica prior to Roman settlement. It was a marshy area called Ager Vaticanus. There are a lot of other theories which may well be correct. It is an old word with many possible roots.
The Leonine City
In A.D. 846, Pope Leo IV commissioned a 39-foot wall to be constructed around the old St. Peter's Basilica and other areas used by the clergy as a protective measure. The Saracens attacked Rome and caused significant damage to St. Peter's Basilica, which motivated the pope to build out defenses. The area, which was larger than the current Vatican City, was proclaimed the Leonine City and stayed that way for some time.
Sottopassaggio
In 1277, there was a half-mile-long underground passageway and wall that connected the papal residence adjacent to St. Peter's Basilica to the Castel Sant'Angelo. This was a major fortification for the pope in case of attack.
Vatican Museums
The Vatican Museums have residents. You won't see the pope walking around as you visit, but he's there. The collection of art is a mix of ancient and Renaissance or Baroque. There is even a modern religious art section.
St. Peter's Basilica and Tomb
The Basilica of St. Peter is basically the largest and most beautiful gravestone ever built. According to Vatican dogma, it was built on the grave of St. Peter, which you can visit with special Scavi tickets. The Basilica, built during the 16th and 17th centuries, was completed in 1615 with contributions by almost every great Italian artist.
Sovereignty
In 1870, Italy was unified under the leadership of Italian-American Giuseppe Garibaldi. The government of the newly-defined Italy allowed the pope to keep a small area under sovereignty. Pope Pius IX would not agree to the terms until 1929, when the Lateran Treaty was signed under Benito Mussolini, which granted the Vatican sovereignty. This sovereignty extends beyond the Vatican City to other churches, including the Basilica of St. John Lateran in Rome.
Not ready to book a tour? Find out if a Vatican tour is worth it.
Vatican Opening Hours and Tickets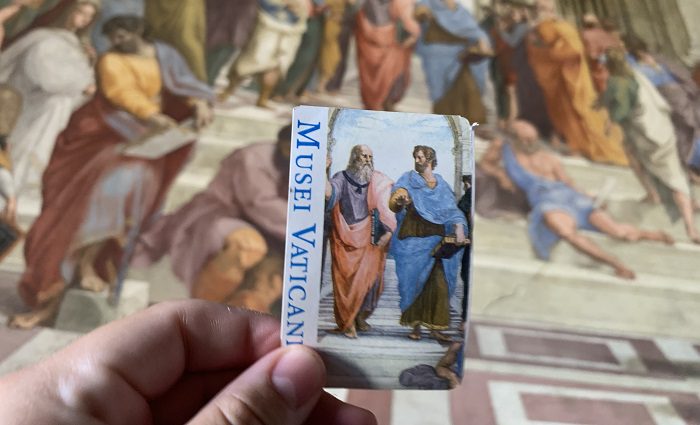 Vatican Museum Ticket Prices:
Adult (18+): €17
Children (ages 6 – 18): €8
Students (ages 19 – 26): €8
Members of the clergy: €8
Be prepared to show proof of eligibility at the door. Without that, they'll either make you pay more or disallow entrance without a refund. Tickets include access to the Vatican Museums and Sistine Chapel. If you are looking for solo-visit Vatican tickets, you can check our website for all types of entrance times to suit your preferences.
The Vatican Museum Hours:
Monday to Saturday: 9 am to 6 pm (last entry at 4 pm).
Extended Opening Hours: April 14th to 30th, Friday and Saturday, open until 10:30 pm (last entry 8:30 pm); May 5th to October 28th, Fridays open until 10:30 pm (last entry 8:30 pm), Saturdays open until 8 pm(last entry 6 pm).
Closed: Sundays except for the last Sunday of every month, Jan 1st and 6th, Feb 11th, Apr 10th, May 1st, June 29th, Aug 15th and 16th, Nov 1st, Dec 8th, 25th, 26th, and 31st.
Free the last Sunday of every month: 9 am – 2 pm (last entry 12:30 pm). Not recommended if you don't like crowds.
Most tour companies can enter at 8 am, an hour before it opens.
The Tour Guy/The Roman Guy can enter as early as 7:30 am, before most tour companies.
St. Peter's Basilica Ticket Prices:
Free for all.
Climbing the dome costs €8 if you take the stairs or €10 if you take the elevator. I recommend the elevator. Find out more about climbing St. Peter's Dome.
The Basilica of St. Peter is free to enter but does not include entry to the Sistine Chapel.
St. Peter's Basilica Hours:
From April to September: 7 am – 7 pm
From October to March: 7 am – 6:30 pm
Closed Wednesday mornings for the papal audience
St. Peter's Dome Climb Hours:
From April to September: 7:30 am – 5 pm
From October to March: 7:30 am – 5 pm
Closed Wednesday mornings for the papal audience
Tours:
We sell top-rated Vatican tours enjoyed by thousands of customers. The Vatican Museums is a bucket-list place you absolutely should visit at least once with a tour guide.
Vatican Dress Code:
To gain access, you'll have to abide by the Vatican dress code. Cover your shoulders and avoid shorts and short dresses and skirts. We know that Rome gets hot in the summer, we suggest bringing a light scarf to wrap around yourself when you need to. Hats, food, and metal tools like knives and scissors are also not allowed.
How Long To Spend at Vatican City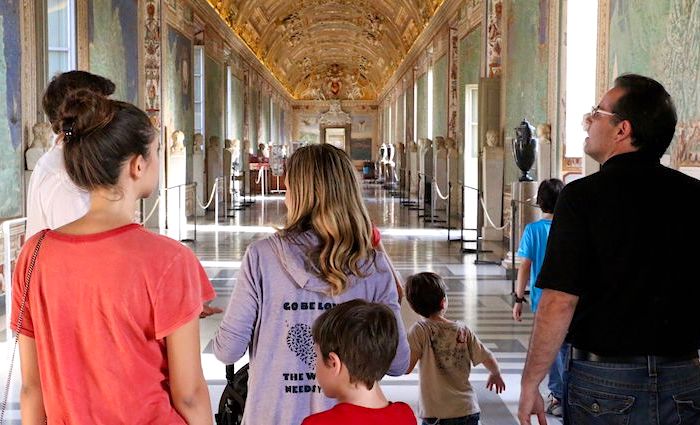 Short Answer: 3 to 5 hours
This is a great question! The Vatican is an immense complex of artwork. You could spend a few hours inside and see a lot of art or you could spend 3 – 5 hours and really learn the history. It depends on your level of interest.
Most people visiting the Vatican for the first time, without an art-history background, will follow the signs for the Capella Sistina or Sistine Chapel until they get there, snap their photo, and leave. Our goal is to help you have a more enriching experience. Here is a proposed Itinerary:
Spiral Staircase
Pinecone Courtyard
Pio Clementino Gallery
Gallery of Candelabra, Tapestries, and Maps
Raphael Rooms
Sistine Chapel
St. Peter's Basilica
If you're an art aficionado, also visit the Pinacoteca. Further on in this article, you'll see a more comprehensive list of Vatican must-see artwork. If you're going to go it alone, be well prepared. Check out our top things to see at the Vatican.
Not ready to book a tour? Find out if a Vatican tour is worth it.
How To Get To Vatican City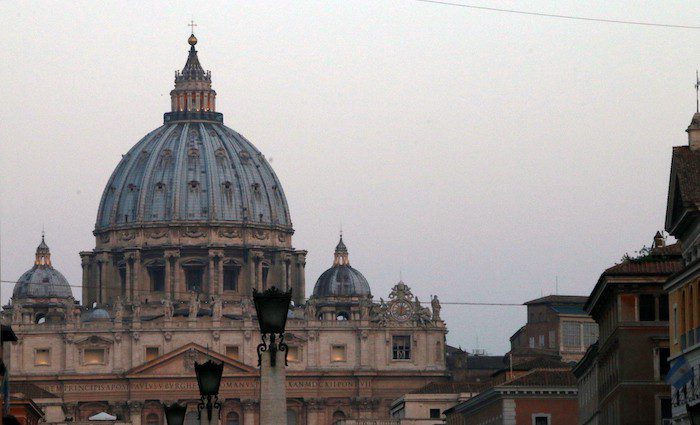 Luckily, getting to Vatican City is really easy. Depending on your preferences, you can take the metro, a bus, catch a cab, or just walk.
Metro (about 20 minutes):
There are two metro stops located near the Vatican Museums entrance: Ottaviano and Cipro. These stops are located on the A-line (orange line). So, if you jump on near the Spanish Steps (Spagna) or Termini train station, make sure you catch the A-line going towards Battistini and get off at either Ottaviano or Cipro.
The entrance to the Vatican Museums is a 5-minute walk from either of these stops. Of course, you can also catch the A-line from many other stops, just check the Rome Metro schedule. You can buy tickets at the metro station or a corner store, but not from the driver.
Pro Tip: Always budget an extra 10 to 20 minutes if you have a scheduled event like a Vatican Tour. This way you don't have to rush and it'll give you time for that quintessential morning espresso.
Bus (about 20 minutes):
From the Termini train station, head outside and get on bus number 64. The bus ride will take about 20 minutes and your stop is the last one on the route: P.za Stazione S. Pietro. Getting to the Vatican Museums' entrance is about a 15-minute walk from the bus station.
You can also take the number 81 bus from the Colosseum area (the bus stop is located right outside of the metro station—B-line). The 81 bus route ends in Piazza Risorgimento, which is a five-minute walk to the Vatican Museums' entrance.
Taxi (depends on the departure point):
A taxi ride should cost no more than €20 if you're staying in the historic center of Rome. When you get in the taxi, tell the driver to take you to the Vatican Museums' entrance, otherwise, they'll probably take you to St. Peter's Basilica.
The most typical way to get a taxi in Rome is to go to a taxi stand. These are located near every major tourist attraction. If you aren't located near one, you can always order a coffee and pastry at a café and ask the people working there to call you one.
Walking (about 20 minutes):
You can easily walk to the Vatican Museums if you're staying near Piazza Navona or in Campo de' Fiori. Prati is also within walking distance. Technically, you can walk to the Vatican from basically anywhere in Rome, depending on your level of fitness.
It's important to take into consideration that you'll be on your feet for 3 hours or more as you visit the Vatican. I would recommend taking public transport because you'll be on your feet plenty in Rome.
Pro Tip: A neat trick for using your map app on your phone is to set your course while you're on wifi on airplane mode. GPS will still show your location while you're on airplane mode—it won't reroute you if you go off the route but it will show you where you are.
Popular Vatican Tours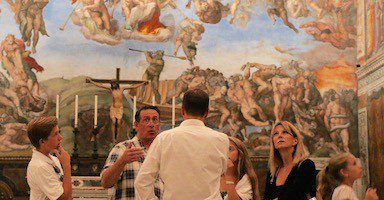 Best Selling Tour
Privileged Entrance Vatican Tour with Sistine Chapel
This our most popular and longest-running Vatican tour to date. It enters the Vatican Museums an hour before the general public and visits the Sistine Chapel before heading to St. Peter's Basilica. Our English-speaking guides will amaze you with how they bring the museums to life!





See Prices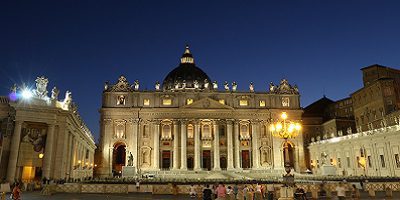 Exclusive Value
Vatican Night Tour with Sistine Chapel
You've heard about the crowds at the Vatican, but did you know that the museums are almost empty in the evening? This night tour of the Vatican is perfect for those who prefer to explore Rome later at night. You'll have 2 hours of a guided tour to key areas in the Vatican, plus the Sistine Chapel. And you're welcome to stay on your own until the museums close at 10 pm!





See Prices
Not ready to book a tour? Find out if a Vatican tour is worth it.
What To See at Vatican City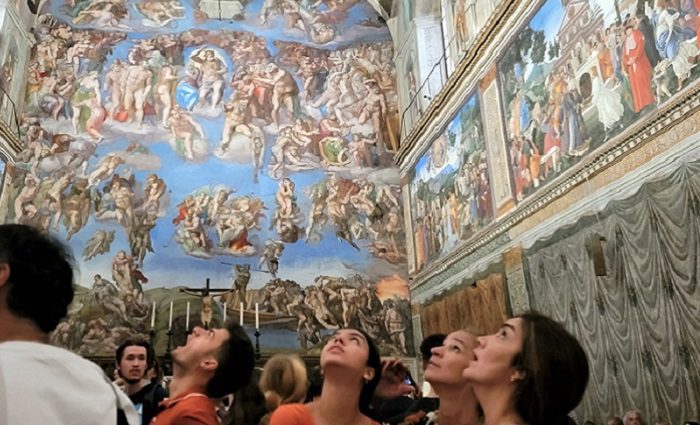 This is a list of the top things to see at the Vatican—an excerpt from our much more elaborate mega-guide on the top things to see at the Vatican Museums written by a Vatican guide. Check it out for more in-depth descriptions, history, and images.
1. Spiral Staircase
The staircase was built by the famous architect Giuseppe Momo in 1932. It was commissioned by Pope Pius XI and was to be created for the new entrance to the Vatican Museums.
2. The Terrace with a view of the Basilica and Vatican Gardens
3. The Pinacoteca (For art lovers)
Pinacoteca means "painting gallery" in Italian and, considering that all the popes have historically been the main patron of the arts for centuries, they don't disappoint. Be sure to see:
Transfiguration (Raphael)
The Annunciation (Raphael)
Crowning of the Virgin (Raphael)
St. Jerome (Da Vinci)
St Matthew (Guido Reni)
Deposition (Caravaggio)
The Crucifixion of Saint Peter (Guido Reni)
Martyrdom of St. Erasmus (Nicolas Poussin)
Astronomical Observations (Donato Creti)
Adam and Eve in the Garden of Eden (Wenzel Peter)
4. The Pinecone Courtyard
The pinecone courtyard is a massive courtyard that connects the main galleries leading to the Sistine Chapel with the Pio Clementino and Braccio Nuovo Galleries. Reports have been written of jousting tournaments and bullfights taking place under the Borgia Pope AlexanderVI in the 15th century and supposedly Pope Leo X housed his pet elephant, Hanno, here in the 16th century. Be sure to see:
Colossal Statue of Augustus
Sphere within a Sphere
The Pinecone
5. The Pio Clementino Gallery
The collection of classical statues you will see in these galleries was started at the beginning of the 16th century by Pope Julius II. The gallery is named, however, for popes from a much later date: Clement XIV(1769-1774) and Pius VI (1775-1799), who created the current galleries you'll walk through. Much of the artwork here was taken by Napoleon and returned to the Museum after his defeat. Be sure to see:
Apoxyomenos
Apollo Belvedere
Laocoön Group
The Belvedere Torso
The Bath of Nero
Statue of Hercules in Bronze
Sarcophagus of Saint Helena
6. The Candelabra Gallery
As the name suggests, this gallery owes its name to the enormous marble candlesticks that you'll find in each section as you walk down the hallway. The gallery was completely renovated during the pontificate of Pope Leo XIII Pecci (1878-1903), which is what you see today. It was meant to be built so that each piece is like a furnishing for the house. Be sure to see:
Artemis of Ephesus
Lapus Lazuli Mosaic
The Persian Warrior
7. The Gallery of Tapestries
As you walk through the gallery, you will see tapestries on the right-hand side dedicated to stories of the life of the Barberini Pope Urban VIII (17th century). On the left-hand side, are stories from the Bible whose original drawings were executed by the school of Raphael, then woven in Flanders.
8. The Gallery of the Maps
By far one of the most over-the-top galleries as far as decor goes, this room is literally a gigantic mural with frescoes on both sides of maps depicting Italy. Pope Gregory XIII, also known as the calendar pope, commissioned this room to be painted so he could accurately study the lands in which he lived and the surrounding areas.
The Grotesques
The Ceiling
Map of Sicily
Map of Lazio
Vatican Radio Station (Out of the window to your right)
9. Raphael Rooms
The four rooms known as the Raphael rooms were painted by Raphael and his students between 1508 and 1524. They were commissioned first by Pope Julius II (1503 to 1513), supposedly because he refused to live in the Borgia apartments on the floor below due to his hatred for the man. These rooms were also used by his successors, specifically Leo X the Medici Pope (1512-1521). Be sure to see:
Room of Constantine
Vision of the Cross
Battle of Constantine against Maxentius
The Victory of Christianity over Paganism (Ceiling)
Room of Heliodorus
Liberation of St.Peter
Encounter of Leo the Great with Attila
Room of the Segnatura
The School of Athens
Room of the Fire in the Borgo
Fire in the Borgo
10. The Sistine Chapel
This chapel needs no introduction. Originally named Capella Magna (Great Chapel), it was restored by Pope Sixtus IV (pontiff from 1471 to 1484) in 1480. Sixtus IV had famous early Renaissance artists, who lived a generation before Michelangelo and Raphael, paint the fake draperies, the life of Moses and Christ (side walls), and the Pope (above the windows) Sixtus' nephew. Julius II had Michelangelo paint the ceiling in 1508. Be sure to see:
The Ceiling
The Central Panels
The Side Panels
The Stories of Moses
The Stories of Jesus
The Last Judgment
11. St. Peter's Basilica
For me personally, there is no church that compares in beauty. It is the ultimate expression of space, beauty, and monumental grandeur. It also happens to have an amazing history to it as well. When you're there, be sure to see:
La Pieta
La Baldacchino
St. Peter's Square
Vatican Tour Options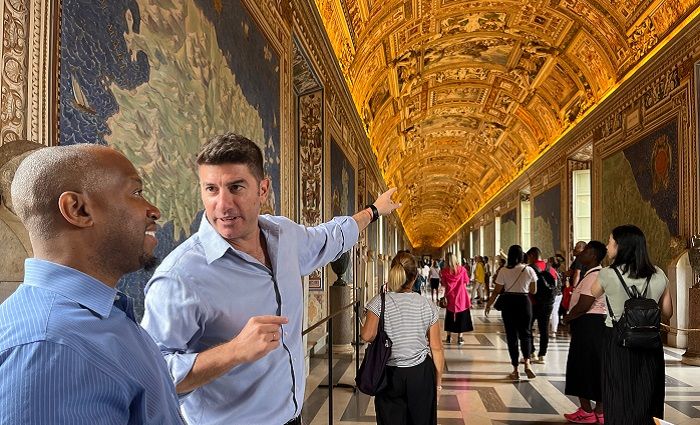 Not sure if a Vatican tour is worth it? Beyond the explanations and local insight, a major advantage of a tour is that it provides you special access to many sites like St. Peter's Basilica.
Without a tour guide, you will have to exit the Vatican Museums from the entrance where you came in, which means about a mile of additional walking. Many of our tours provide direct access from the Sistine Chapel to St. Peter's Basilica. Here are our best Vatican tours:
This tour is for the art-history buff, visiting the majority of the Vatican Museums including the Pinacoteca, Sistine Chapel, and more. You'll even have time in the Cabinet of Masks which is an area reserved specifically for guided tours. Your guide will share plenty of stories and information to engage and inspire even novice art lovers.
See tour itinerary, price, and description
This is our most popular Vatican tour. It covers all the must-see sights for visitors including the Sistine Chapel and St. Peter's Basilica. It's good for art lovers and anyone that wants to see a ton but doesn't want to be too mentally exhausted by the end of the visit. A major benefit of this tour is that we have an 8 am entrance time, which is an hour prior to general admission and gets you in when it's less crowded.
See tour itinerary, price, and description
This is a great low-price Vatican tour that covers most of the main attractions including the Sistine Chapel and St. Peter's Basilica. It features a large selection of start times throughout the day, so you can fit your visit into the rest of your plans. The price is also hard to beat from a top-quality tour company.
See tour itinerary, price, and description
If you want to see the main sites and understand them but don't want to get caught up in every detail, this is for you. We have an 8 am option that beats the crowds, along with other start times. It's a small group tour and great value that's also our fastest way to see the best of the Vatican Museums.
See tour itinerary, price, and description
Not ready to book a tour? Check out our best Vatican tours to take and why.
Visiting the Vatican With Kids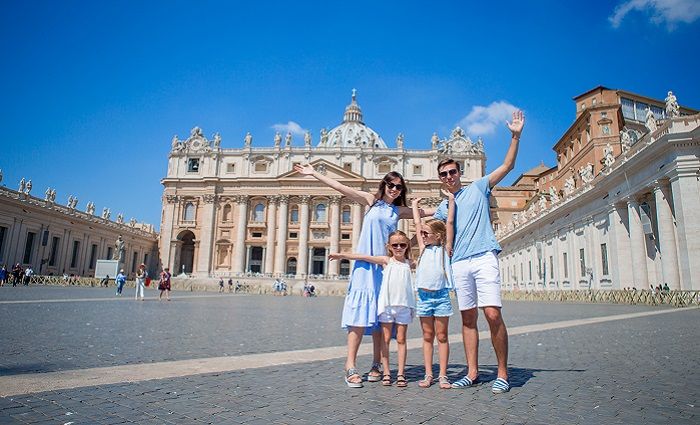 If you want to visit the Vatican Museums with your kids, you're in luck. The museums are happy to welcome families with children and strollers in tow.
As you explore the collections, there are also plenty of restrooms with changing tables and places to sit and rest. There's even a private room for mothers to nurse in complete privacy. For a more private experience truly geared toward a younger audience, consider our family-friendly Vatican tour.
Popular Rome Tours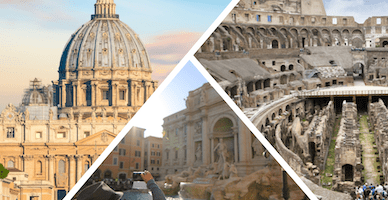 Best-Selling Tour
Rome in a Day Tour with Colosseum and Vatican Museums

Our "in a day" tour is best way to get your bearings all in one day. Visit the Sistine Chapel, Colosseum, Trevi Fountain, and more with a licensed, fun English-speaking tour guide. They'll add tons of insights and make the entire experience so much more memorable. Also, you'll get a feel for the city, so it's a great option on one of your first days in Rome. Bring your walking shoes and water bottle!





See Prices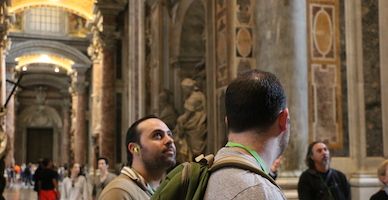 Best Price!
Skip the Line Vatican Tour with Sistine Chapel
One of our most popular Vatican tours since it is such an amazing value. Skip the line to get inside with a super-knowledgeable, English-speaking guide who will bring the museum to life with stories of the artists, popes, conspiracy, love, and even tragedy! This tour has start times throughout the day so you can choose when to visit based on your schedule!





See Prices
Not ready to book a tour? Check out our best Rome tours to take and why.
Places To Eat Inside and Nearby
Like all great Italian museums, you can get coffee and food inside the Vatican Museums. Here are a few recommendations for getting a bite to eat and some refreshments inside and nearby the Vatican.
Inside the Vatican
Caffetteria Centrale: €€ | Coffee Shop—With sub-par reviews that you would expect in a cafeteria-style eatery, this coffee shop and light eatery will get the job done if you want to spend more than 4 or 5 hours inside the Vatican Museums. To find it, look for signs near the Pinacoteca.
Bar: €€ | Quick Snacks—There is a small bar for coffee and pastries located near the Sistine Chapel. Look for the signs as you get close.
St. Peter's Dome Bar: €€ | Coffee Shop—Yep, you can get coffee on top of St. Peter's Dome. There is a little bar open basically whenever they want to be open. But if it's open, stop for a coffee and enjoy the view.
Near the Vatican
Hostaria Dino e Toni: € | Roman Restaurant—Somehow this owner-operated and authentic Roman restaurant has yet to get touristy. They make good food with relatively friendly service, and they may just order for you. Come here for pizza, pasta, and apps.
200 Gradi: €€ | Sandwich Shop—Have a big day of sightseeing planned after your Vatican visit? This sandwich shop is perfect. You can get really tasty to-go sandwiches or sit down inside. Super reasonably priced.
La Zanzara: €€ | Bistro—A bit more cool and trendy with a modern spin on Italian classics, this place feels like a French bistro but the food is definitely Italian. It's great for a cocktail and sit-down lunch.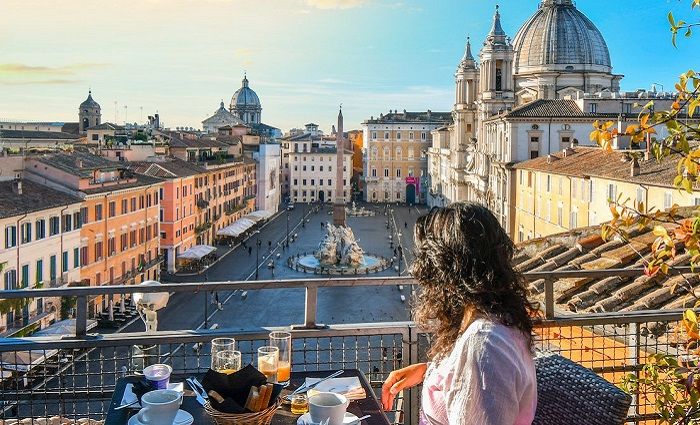 Find the best places to stay
Where To Stay in Rome
Rome has a rich cultural history and many iconic landmarks to explore. Plan where to stay in the magnificent Eternal City in the best neighborhoods.