If you're heading to Rome, it's almost mandatory to stop at the Vatican and see the Sistine Chapel. But you'll need to plan way in advance and set aside at least a couple of hours, since you can't just see the Sistine Chapel on its own. Keep reading to find out everything you need to know about how to visit the Sistine Chapel.
---
Pro Tip: Planning your visit to the Vatican in Rome? Bookmark this post in your browser so you can easily find it when you're in the city. See our comprehensive guide to Vatican City for more planning resources and our top Vatican tours for a memorable trip.
Visiting the Sistine Chapel: What We'll Cover
For those who haven't been fortunate enough to spend a little time under the Sistine Chapel yet, it's more than worth the little time, effort, and money it takes to visit. This tiny chapel holds some of the most incredibly vivid and detailed art ever to come out of the Renaissance. It's no wonder why millions of tourists stand in awe under Michelangelo's ceiling every year.
You can be one of them too! We've put together this helpful guide to help you plan your visit to the Sistine Chapel, especially if it's your first time. It's essential to plan ahead so you don't miss out on tickets to the Sistine Chapel during your vacation. Here's what you need to know about the tickets, hours, tours, and more.
Sistine Chapel: Hours, Info, and Tickets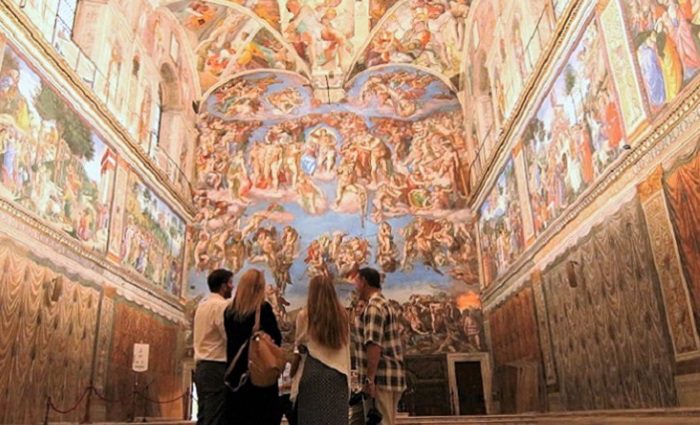 The Sistine Chapel is part of the Vatican Museums within Vatican City. That means you'll need to purchase tickets to the Vatican Museums in order to see the Sistine Chapel. The hours for the Sistine Chapel will also be the same as the museums.
Sistine Chapel Hours:
Monday – Thursday: 9:00 am – 6:00 pm
Friday and Saturday: 9:00 am – 10:30 pm
Sunday: 10:30 am – 2:00 pm (only the last Sunday of the month)
Sistine Chapel Closed:
The Sistine Chapel and Vatican Museums are closed on the following dates each year: January 1 and 6, February 11, March 19, April 18, June 29, August 15, November 1, and December 8.
They're also closed on the first three Sundays of every month.
Sistine Chapel Tickets:
Ticket prices vary based on the type of access you want at the Vatican. From the Sistine Chapel website, you can opt for a basic entry ticket with an audio guide, tickets with a guided tour, or an early morning guided tour.
Adults: €26.40 – €99
Children between 6-17: €17.40 – €94
Children under 6: FREE
Limited mobility visitors: 74% off the ticket price plus their carer
Since we're a tour company, we sell Vatican tickets with skip-the-line access that lets you bypass the super long lines! It's the best way to get into the Vatican quickly if you don't have a lot of time to spend here. Otherwise, a guided tour is your best bet to get the most out of your trip.
Things to Know:
It's highly recommended to avoid visiting the Sistine Chapel on the fourth Sunday of each month since that is the free day to visit the museums. It makes for an overly crowded experience that won't leave the best impression. It's also best to avoid coming on Holy Week and weekends during June and July.
Since the Sistine Chapel is a place of worship, there is no speaking allowed inside. Additionally, men and women are required to cover their knees and shoulders. Be sure to wear modest clothing or bring a shawl to cover these areas, otherwise, you might be refused entry to the Sistine Chapel.
The Sistine Chapel is located towards the end of the Vatican Museums, so it's not possible to see it first when you enter the Vatican. Technically, there are 9 miles of museums, but you won't have to wander through it all to get there!
How Much Time to Budget
Short answer: 20+ minutes
Long answer: a couple of hours since you'll start your journey at the Vatican Museums and explore several rooms before reaching the chapel.
The Sistine Chapel is a place you don't necessarily want to rush. Once you enter this sacred space, it's worth spending at least 20 minutes or more just taking in each detail in the frescoes that completely surround you. The images of the apostles on the walls are so well done that you might even think they are actually standing within an alcove of columns!
For those who have a strong Christian background, you'll enjoy identifying the stories of the Old Testament on the ceiling. You can look for each prophet and sibyl and decipher the many famous people in the Last Judgement fresco. (Think: St. Bartholomew and St. Catherine) Michelangelo spared no detail in creating both the Sistine Chapel and the Last Judgement, and a tour guide will share the funny details of certain images he incorporated here.
There are benches along the edges of the chapel that you can sit on (when it's not too crowded!) and reflect upon the artistry and sacredness of depictions here. You'll probably be on your feet a lot, so taking a short break under Michelangelo's masterpiece is a good idea.
Since you have to enter the Vatican Museums to get to the chapel, you'll still need to plan on a couple of hours or so. There's a lot to see along the way to the Sistine Chapel, from the Pio Clementino Museum to the Gallery of Maps.
How To Get To the Sistine Chapel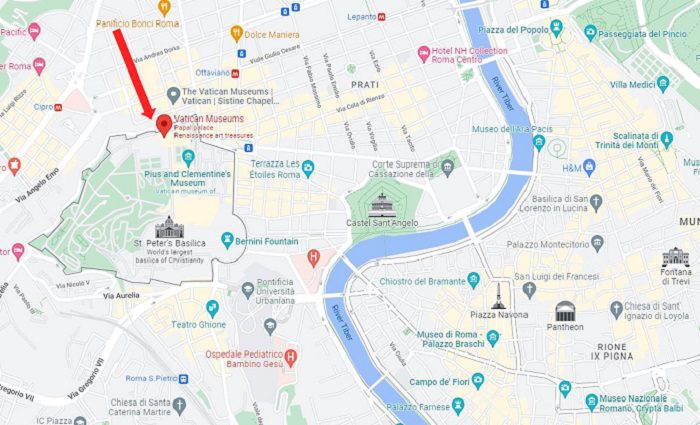 It's occasionally mistaken that the Sistine Chapel is located in St. Peter's Basilica. In fact, the chapel's exterior is visible from St. Peter's Square, but the only public entrance is through the Vatican Museums. And you can't skip from the entrance straight to the chapel due to how the museums are laid out. But really, why would you want to when there is so much to explore here?
So to get to the Sistine Chapel, you'll need to go to the Vatican Museums entrance located at Viale Vaticano, 103. This is about a 15-minute walk from St. Peter's Square and on the northern edge of Vatican City near the Prati district.
Metro
The closest metro stop to the Sistine Chapel is Ottaviano. You'll need the red line to get here, also called Metro Line A. This line runs every few minutes from Rome Termini and past the Spanish Steps before stopping near the Vatican. If you're staying near a metro station on the blue line, simply ride it to Rome Termini and switch to the red line that's heading towards the Vatican.
When you exit the metro station, you'll be on the corner of Via Ottaviano and Viale Giulio Cesare. Walk along Viale Giulio Cesare towards the McDonalds about a block away. Turn left on Via Leone IV, walk for a block, then cross onto Viale Vaticano. The museum entrance will be on your left where the long wall seems to end. It's about a 7-minute walk.
Bus
The buses in Rome run often and are quite affordable. There are two bus stops at the Vatican entrance, depending on which direction you're coming from. Both are called Viale Vaticano/Musei Vaticani. The only line that goes here is 49, so be sure to choose the right bus line from where you are staying. You can check the signs at each bus stop to see which line includes a stop at Viale Vaticano/Musei Vaticani.
Taxi
The odds are good that you likely won't rent a car in Rome since the streets are narrow, rules are guidelines, and GPS isn't perfectly accurate. In that case, you might prefer to take a taxi if public transportation isn't your thing. Tell your taxi driver "Vatican Museums" and they'll know exactly where to take you. If you're in central Rome, the cost for a metered taxi ride should be under €15 for sure.
E-Bike
If you're athletically inclined, you can also rent one of the many e-bikes available within the city. Simply download the app for Helbiz or Lime, locate the nearest bike or scooter, then take off on your merry way to Viale Vaticano, 103. If you're staying near Trevi Fountain, it's probably a 15-minute ride to get to the Vatican. Always be mindful of cars and uneven terrain when you ride a bike in Rome since you're not allowed to ride on the sidewalk!
On Foot
Rome is a large city and the Vatican is located a little further than many of Rome's main sites. If you're staying near the Colosseum, Trevi Fountain, or Rome Termini, it's a 40-minute walk or more to get to the Vatican. In that case, using a taxi or the metro is probably best to save your energy for walking at the Vatican. But if you're located in Trastevere, near Spanish Steps, or in the Prati district, you can walk there in under 30 minutes.
What to See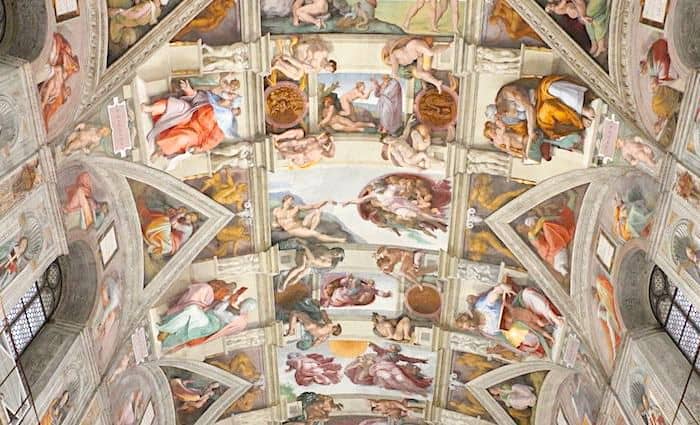 The Sistine Chapel is filled entirely with frescoes—almost literally from floor to ceiling. There are over 300 people included in scenes from biblical history and beliefs. What you might not know is that Michelangelo wasn't the only painter here. Luca Signorelli, Cosimo Rosselli, and many others also contributed their expertise.
Here are a few key things you should look for as you stare in awe at these incredible paintings. You can read about these paintings and more in detail here.
Creation of Man (ceiling)
The Last Judgement (wall at the entrance)
Handing the Keys to Peter (lateral wall)
The Fall and Expulsion from Garden of Eden (ceiling)
Legacy of Moses (lateral wall)
The Flood (ceiling)
The Last Supper (lateral wall)
Baptism of Christ (lateral wall)
Banishment from the Garden of Eden (ceiling)
Guided Sistine Chapel Tours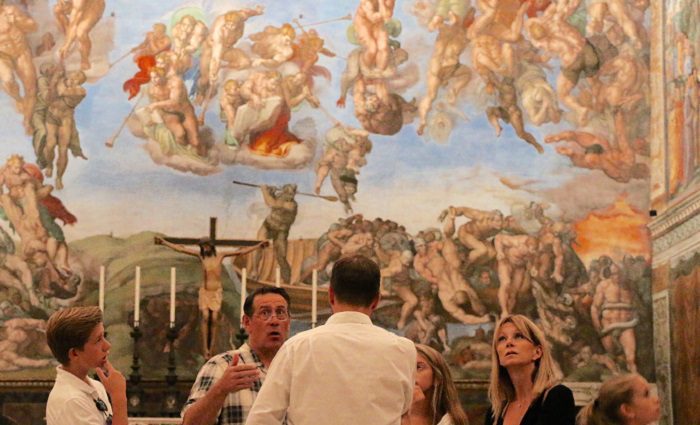 Planning how to visit the Sistine Chapel must include decisions about how early you want to get here to avoid crowds, especially in the busy summer months. The best time of year to come to the Vatican (or Rome in general) is later in September or October, or in the spring. You'll have a richer experience without so many tourists and the heat in buildings without air conditioning.
We have several popular tour options that include exclusive access, early entry, or even after-hours entry. Choose the best one that works for your schedule!
This tour is for the art-history buff, visiting the majority of the Vatican Museums including the Pinacoteca, Sistine Chapel, and more. You'll even have time in the Cabinet of Masks which is an area reserved specifically for guided tours. Your guide will share plenty of stories and information to engage and inspire even novice art lovers.
See tour itinerary, price, and description
This is our most popular Vatican tour. It covers all the must-see sights for visitors including the Sistine Chapel and St. Peter's Basilica. It's good for art lovers and anyone who wants to see a ton but doesn't want to be too mentally exhausted by the end of the visit. A major benefit of this tour is that we have an 8 am entrance time, which is an hour prior to general admission and gets you in when it's less crowded.
See tour itinerary, price, and description
If you want more available entry times throughout the day, then opt for this tour. It's a great low-price Vatican tour that covers most of the main attractions including the Sistine Chapel and St. Peter's Basilica. With multiple start times, you can fit your visit into the rest of your plans in Rome. The price is also hard to beat from a top-quality tour company.
See tour itinerary, price, and description
If crowds aren't your thing, and you're also an early bird, then opt for this first entry tour to the Vatican. The public is allowed to enter at 9 am, and most tours enter at 8:30 am. On this early morning Vatican tour, you'll enter the museums with your guide and small group at 7:30 am!
That means you'll see the top galleries, Raphael Rooms, and the Sistine Chapel at their quietest! Enjoy time in the Sistine Chapel where your guide can quietly describe what you're seeing. They're not allowed to speak when the general public arrives, so this is truly an exclusive opportunity. Then top it all off with a breakfast in the beautiful Pinecone Courtyard.
See tour itinerary, price, and description
If you want to see the main galleries in the Vatican and understand them but don't want to get caught up in every detail, this is for you. We have an 8 am option that beats the crowds, along with other start times. It's a small group tour and great value that's also our fastest way to see the best of the Vatican Museums.
See tour itinerary, price, and description
To avoid the crowds, you need to plan an early or late trip to the Vatican. This after-hours guided tour lets you experience the Vatican's best museums without the heat and crowds. After enjoying the quiet of the Sistine Chapel, you're free to explore the rest of the Vatican on your own before it closes. This tour is only available on weekends, so plan in advance to secure your reservation.
See tour itinerary, price, and description
Facts and History About the Sistine Chapel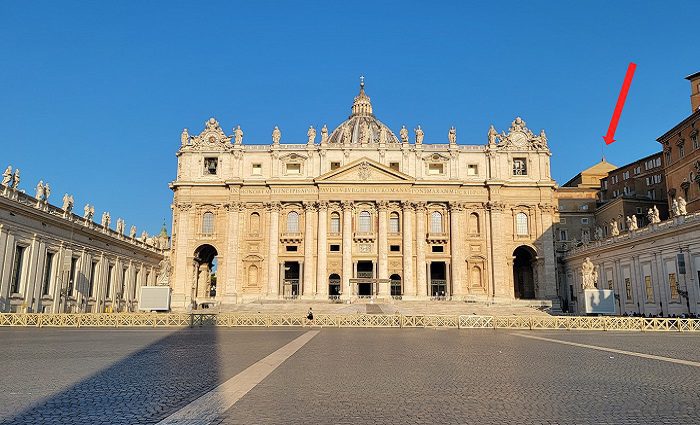 A few lines of facts and history can't do justice about the history of the Sistine Chapel and it's main creator, so browse this article written by a licensed Vatican guide to learn more. But here are just a few interesting things to know about the world's most famous chapel.
Construction of the Sistine Chapel occurred from 1473-1481.
You can see the roof of the bland exterior of the chapel when you stand in St. Peter's Square. The boring brick walls are a stark contrast to the paintings inside!
The interior walls of the church were painted before Michelango's ceiling by many artists such as Pietro Perugino, Sandro Botticelli, Biagio D'Antonio, Cosimo Rosselli, Luca Signorelli, Domenico Ghirlandaio, and more.
Michelangelo learned under the tutelage of Domenico Ghirlandaio.
Pope Julius II commissioned Michelangelo to paint the Sistine ceiling in 1508, even though Michelangelo wasn't a painter so much as a sculpture.
These frescoes were his first attempt at painting in that medium.
He had to build scaffolding 60 feet high to reach the ceiling which was subject to whatever seasonal temperatures there were.
It took 4 years to complete the ceiling that was controversial over the use of so many naked figures in a sacred chapel.
Michelangelo was asked to return at the age of 61 and complete another painting, which became the Last Judgement, and is the other masterpiece to enjoy in the chapel.
Where To Eat Nearby
The Vatican Museums have a few self-service eateries and several snack bar options as you wander the 9 miles of museums. The main restaurant that is similar to a cafeteria is at the top of the escalators near the entrance. Don't expect amazing food here, but it's enough to refuel when you're hungry. Otherwise, there are a few great options we recommend not far from the Vatican.
Bonci Pizzarium | €€ | Great option for pizza, fresh bread, and suppli (rice balls), though there's limited seating
Hostaria Dino E Toni | €+ | Traditional trattoria we love that's casual and offers a variety of dishes from pasta to beef
La Pergola | €€€€ | Famous Italian restaurant a little further from the Vatican that's worth eating at if you want to splurge