Looking for a great restaurant or place to eat in or near Piazza Navona in Rome? Our list of the best restaurants near Piazza Navona and in other areas of Rome are updated and refined annually by our team of lifelong students of Roman cuisine—locals!
---
Top Places To Eat in or Near Piazza Navona
Will you get ripped off by sitting down in Piazza Navona? If ripped off means pay more than not in Piazza Navona, then yes you will get ripped off. Can you eat bad microwaved food? Yes, that can happen but there are some decent restaurants in Piazza Navona and nearby or some amazing ones on top of it! Check out Bernini & Terrazza Borromini below. Without further wait, here are the best restaurants and places to eat near Piazza Navona.
Terrazza Borromini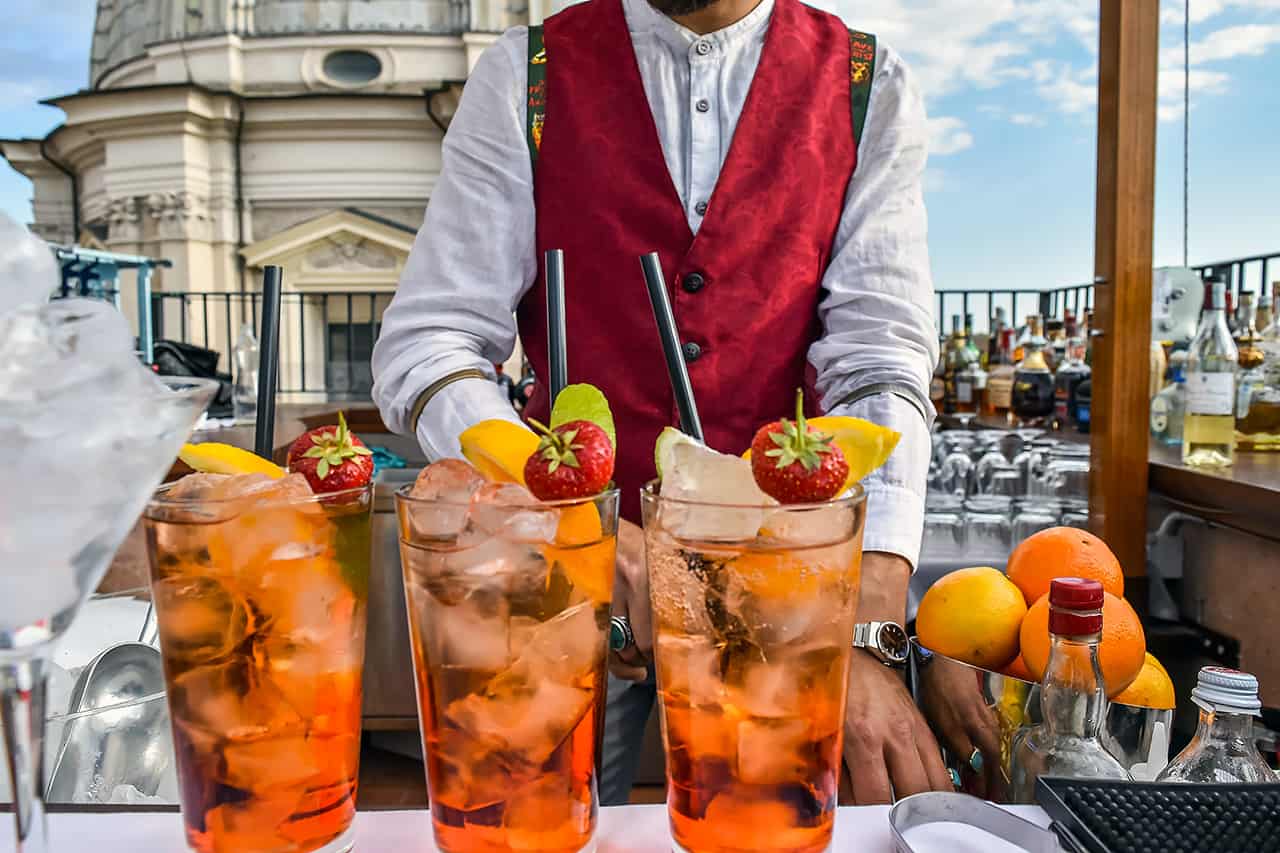 €€€€ | Upscale Dining | Outdoor Rooftop Seating Piazza Navona
If you don't want to sit in Piazza Navona, why not sit ON Piazza Navona? Terrazza Borromini translates to Borromini's Terrace. And it is just that.
An amazing terrace overlooking Piazza Navona that feels practically tucked into the Church of Saint Agatha in Agony. If you twirl your pasta incorrectly the sauce could splatter and stain the church its that close.
The food is good and you'll get incredible service. The bill will reflect the experience. I would eat here on a special trip. Great place for a proposal or anniversary trip. If you're in Rome on business it would be the place to take clients.
Address: Piazza Navona, 44 | Hours: Daily Noon – Midnight
Retrobottega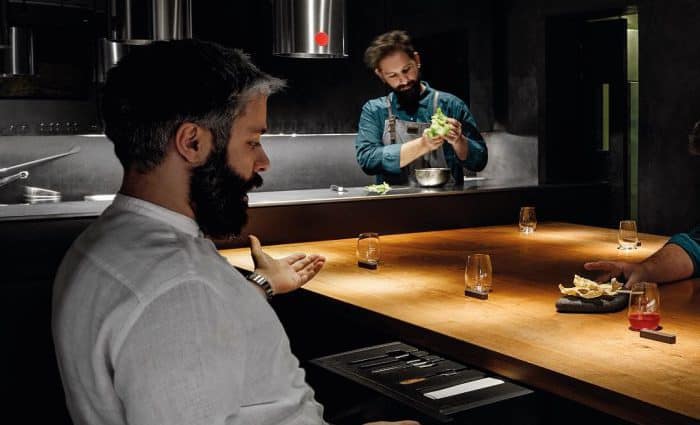 €€ – €€€ | Adventurous
This group of shops and restaurants are owned and operated by a few chefs with Michelin star backgrounds. However, you won't get Michelin star prices here. Definitely more expensive than your average meal but really cool and worth the money.
The ambiance of the restaurant is super modern with an open kitchen and prep which makes it the most creative place to eat on my list of the best restaurants near Piazza Navona. Come here for lunch or dinner with a big appetite and an open mind. Reservations are recommended.
Address: Via della Stelletta, 4
Hours: Tues – Sunday Noon – 11:30 pm
La Pace Del Palato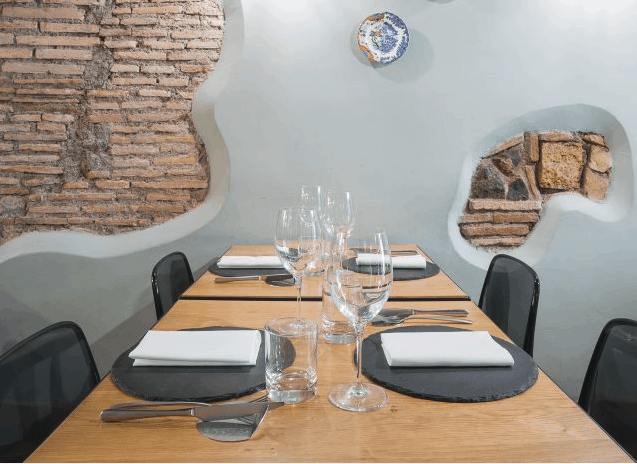 €€ – €€€ | Eclectic Italian | Some Outdoor Tables
This hidden gem is the place to go for a nice, sit-down meal that's worth every penny. Situated on a quiet street, head to this non-touristy restaurant near Piazza Navona to escape the crowds for a relaxing meal. The owner, Mr. Renato, is outstanding to all his customers and sometimes even offers his customers things to try for free.
From antipasto to primi to secondi to dessert (if you aren't in a food coma yet), every item on the menu is of the highest quality. Popular items to order include the highly-reviewed black truffle fettuccine or the meatballs. And although the wine list is small, the options available are well-curated so you can't go wrong.
Address: Via del Teatro Pace, 42 | Phone: 06 6813 5463 | Hours: 12:30 am – 11:30 pm
Popular Tours from Rome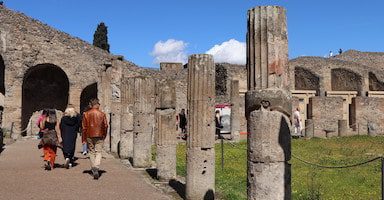 Best Seller
Rome to Pompeii Day Trip with Stunning Sorrento!
This is the best way to see Pompeii and the Amalfi Coast from Rome. You'll take private transportation with our guide down to Pompeii where an archeologist will tour our small group through the ruins. Then we'll head over to Sorrento which is the tip of the Amalfi Coast before returning to Rome. Tickets, transportation, and guides are included in the price.





See prices and more info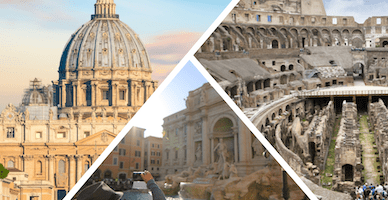 Best Seller
Rome in a Day Tour with Vatican, Sistine Chapel, Colosseum, and More!
Looking to get much of your sightseeing done in one day? This tour enters the Vatican an hour before opening and visits the Colosseum along with other sites like the Pantheon, Spanish Steps, and Trevi Fountain. All admissions and transportation are included as well as a licensed English-speaking guide!





See prices and more info
Not ready to book a tour? Check out our best Rome tours to take and why.
Bernini Ristorante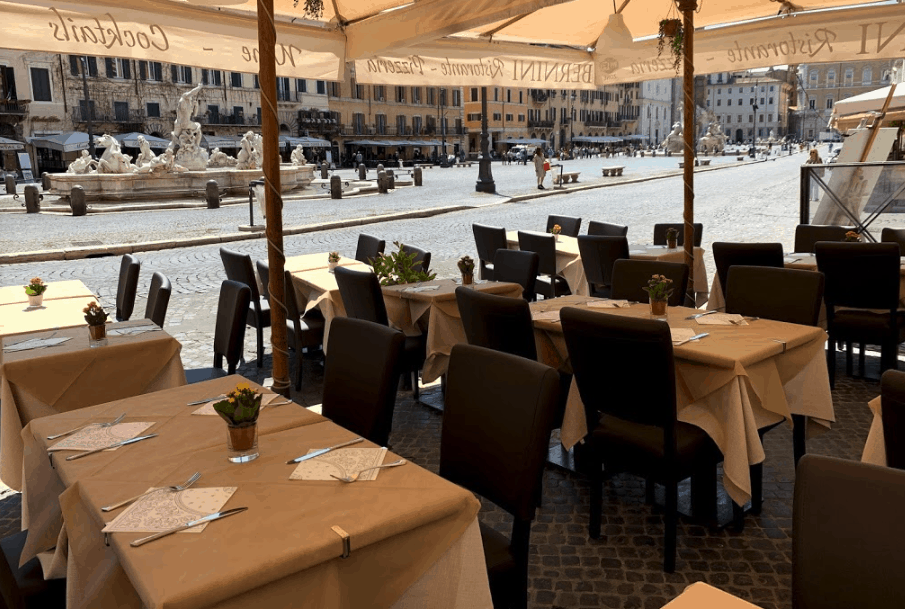 €€-€€€ | Classic Roman-Italian | Outdoor Seating | Kids | In Piazza Navona
To be clear, sitting down in Piazza Navona is a super touristy thing to do. That is only because a majority of the restaurants in the Piazza are pretty terrible and the prices reflect the rent if not more. Bernini is not cheap but they aren't trying to rip anyone off – food is high quality. They have really nice seafood dishes.
I would have lunch at Bernini with my wife or if I had family in town. The food is pretty good, the prices are reasonable considering its high-rent location and it's in PIAZZA NAVONA! Call and make a reservation for outdoor seating. You can have a nice lunch or dinner here or even a coffee in the morning sitting down. Don't be a hater.
Address: Piazza Navona, 44 | Hours: 11a.m.-11p.m.
I Pizzicaroli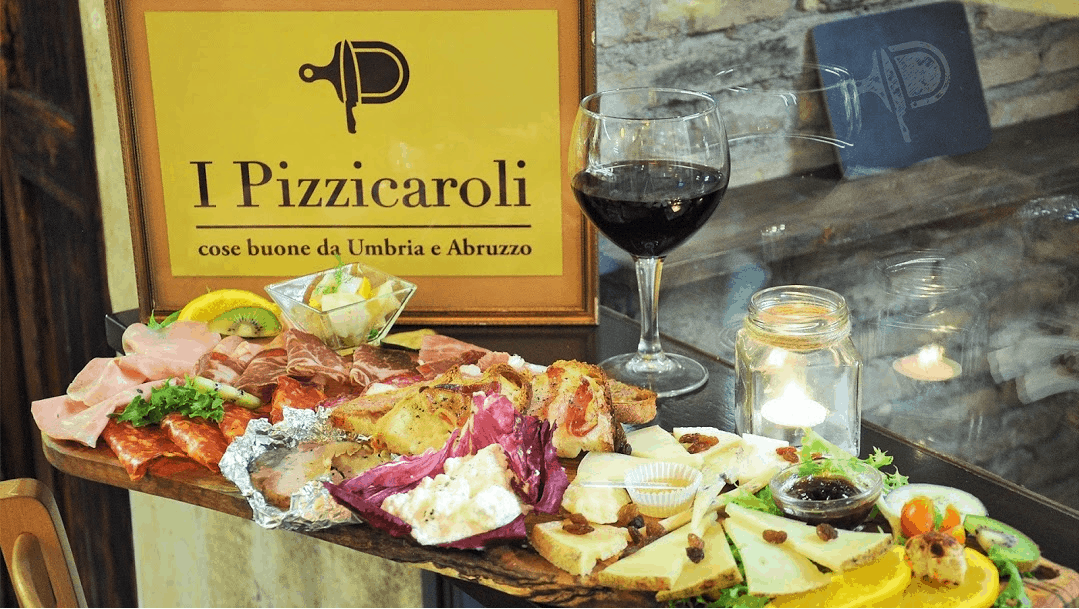 €€ | Sandwich, Meats, and Cheese | Some Outdoor Tables
The sign says simply enough, "good things from Umbria & Abruzzo" and that is the theme of this casual place to eat. I Pizzicaroli is owned by two brothers hoping to bring the flavors from the Umbria region to Rome, this is the perfect place to enjoy aperitivo or eclectic bite to eat. The variety in foods and how different it is from most Roman restaurants makes it my favorite place to eat near Piazza Navona when I want a change of pace from your normal pizza and pasta.
Perfect for sharing, the classic platter includes all kinds of cheeses (try the caciofiore), meats, fresh fruits, bruschetta, porcini mushrooms, olive oil, honey, and bread. The price for this delicious spread? Only 11 euros a person! So, if you're looking for a cheap restaurant near Piazza Navona, this is an excellent option. Plus, this place serves a wide selection of beer and wine to pair with your snacks.
Address: Via della Fossa, 9 | Hours: 11a.m.-11p.m.
Ristorante Santa Lucia
€€€ | Classy Roman-Italian | Lots of Outdoor Seating
If you are looking for a place to sit down and have a quiet lunch on a nice afternoon, this is the spot. Good food and incredible ambiance. The patio is slightly elevated from the street which keeps you away from the cars. It's not meant for kids, but Italians love children and well-behaved kids would have some space to play here.
The cool ambiance and spaciousness makes Santa Lucia my favorite restaurant with outdoor seating near Piazza Navona.
Address: Largo Febo 12
Hours: Daily Noon – 3 pm & 7 – 11 pm
Saltimbocca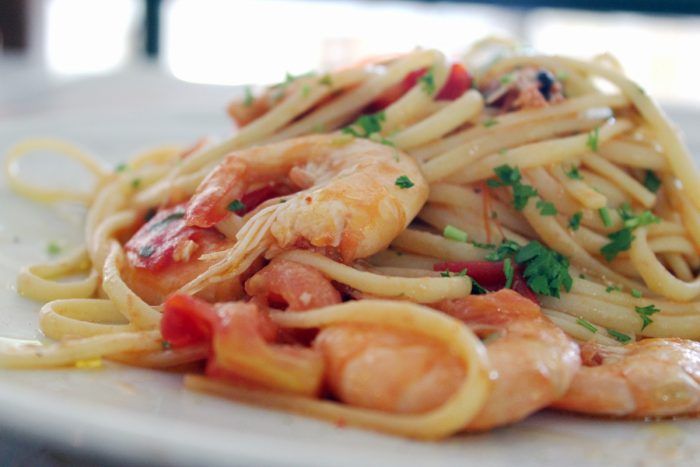 €€ | Casual | Outdoor Seating
Saltimbocca is named after a popular dish in Italy (veal topped with prosciutto and sage.) Although it doesn't look like much from the street, Saltimbocca is highly recommended by locals and is a great spot to mingle with non-tourists.
Try the carbonara, amatriciana, or the cacio e pepe, which are all classic Roman pasta dishes. The owners at Saltimbocca are very friendly and will leave you with a free glass of limoncello to help you digest your meal.

Address: Via di Tor Mullins, 5 
Hours: 11a.m.-1a.m. | 06 683 2266
Que te Pongo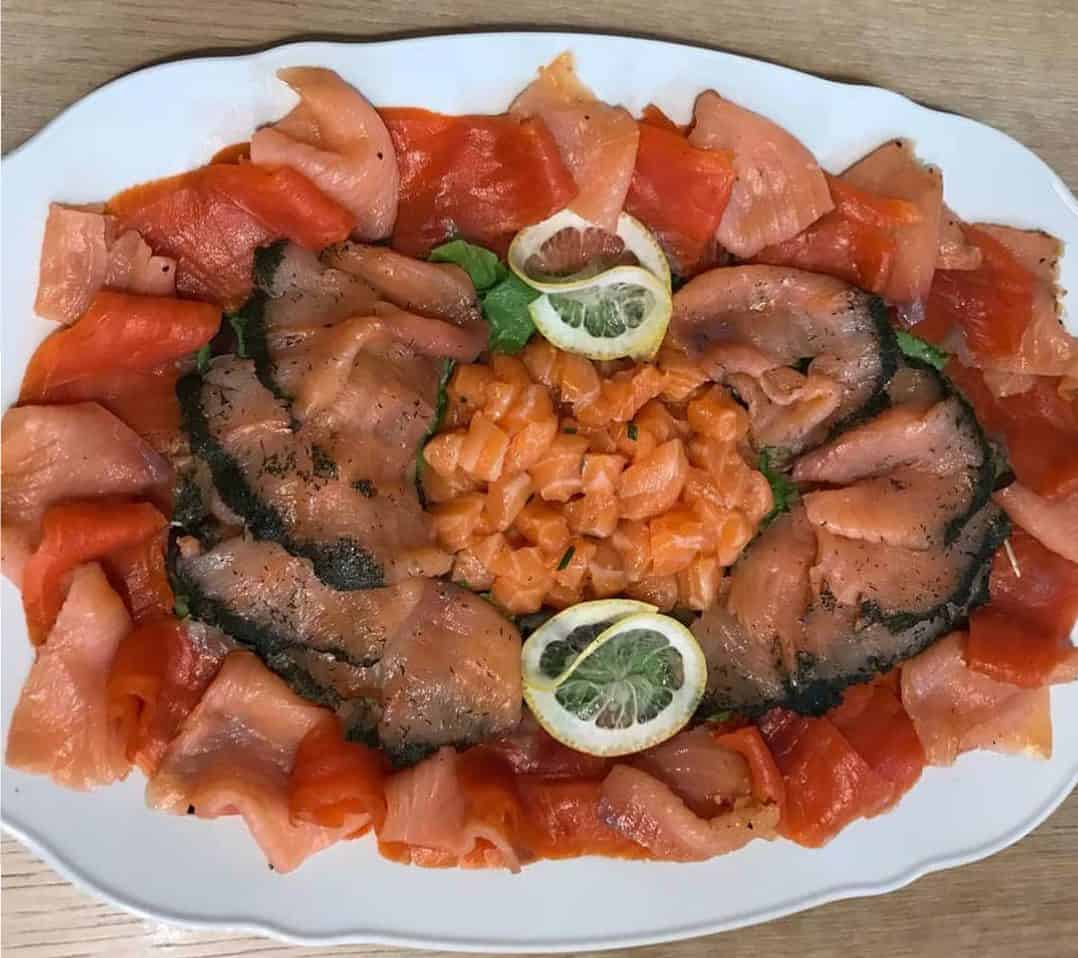 €€ | Salad and Sandwiches (Salmon)
This little caffe near Piazza Navona is the perfect spot for the fish lover in your group. Specializing in all things salmon, these chefs are excellent at what they do.
In addition, if you're looking for a quick lunch or a tasty sandwich accompanied by a refreshing glass of wine, this is an ideal Piazza Navona restaurant.
Address: Via della Dogana Vecchia, 13 | Hours: 9a.m.-8p.m.
Top Colosseum Tours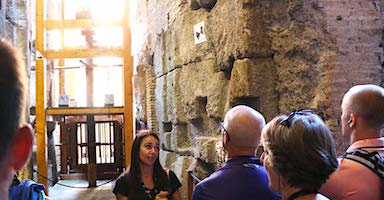 Best Seller
Colosseum Underground Tour with Roman Forum and Palatine Hill
This is our most popular Colosseum tour due to the incredible access to non-public areas like the underground chambers. All admissions are included and it is lead by an English speaking licensed guided and Colosseum expert.





See Prices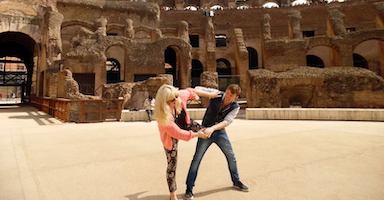 Customer Favorite
Special Access Colosseum Arena Floor Tour Through the Gladiator's Gate
You'll enter the Colosseum through the back door entrance avoiding lines and crowds, which is ideal! You'll step through the gladiator's gate and your English-speaking Colosseum guide will bring the stories to life. Next, on to the Roman Forum. All admissions are included.





See Prices
Not ready to book a tour? Find out why a Colosseum tour is worth it.
Frigidarium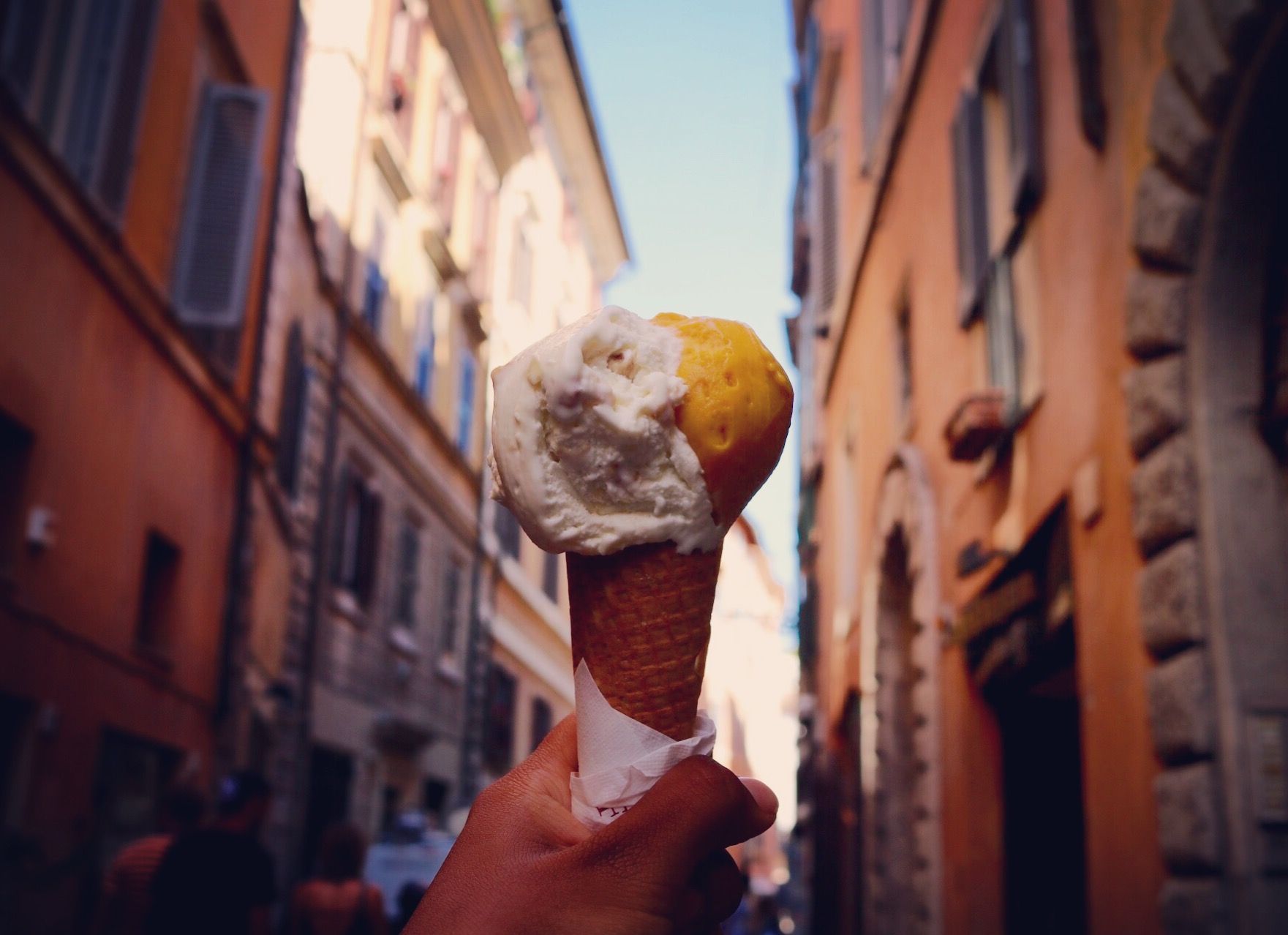 € | Gelato
After exploring Piazza Navona, the best way to cool down and escape the summer sun is to enjoy a heaping scoop of gelato at the best joint in town, Frigidarium.
This famous gelateria gets a lot of hype with tourists and locals alike, and for good reason. You get a generous amount of gelato at a price that can't be beat. There is always a line around the corner, but it's worth the wait. Try getting your gelato topped with dark chocolate glaze for a tasty treat.
Address: Via della Dogana Vecchia, 13 | Hours: 10a.m.-2a.m. | 06 683 2266
Chiostro del Bramante (Cafe)
€ | Breakfast/Lunch/Aperitivo | Outdoor Seating | Kids
Looking for breakfast or a coffee near the Piazza Navona? They make coffee and snacks up to Italian standards in an incredible setting. Head up to the second floor of Chiostro del Bramante and sit down for a coffee, cocktail or fresh-squeezed orange juice.
This little gem literally defines off-the-beaten-path yet it sits right in the middle of everything. Take your travel companions here and they'll recognize you did your homework!
Address: Arco della Pace 5 | Hours: Daily 10 am – 8/9 pm