Planning to visit Trastevere in Rome but unsure what to see? The area is far more than simply a bohemian district of the city. It's full of incredible sights and famous attractions. In this article, discover the top things to see and do in Trastevere, Rome.
---
Pro Tip: Planning a trip to Rome? Bookmark this article so you can easily circle back to it when you're in Trastevere. Also, check out our Rome Guide for lots of resources and inspiration to help you plan your trip and our top-rated Rome tours for an unforgettable journey through the Eternal City's rich history and art.
Best Things To See and Do in Trastevere, Rome
The Trastevere neighborhood in Rome is a great local area with important churches to visit, trendy restaurants, and artwork to discover if you know where to go. In this article, find out the best things to do in Trastevere.
When you're done exploring Trastevere, don't stop there! Head to another area like the nearby Jewish Ghetto or Campo. Explore the toggle menu below for more top things to do in different Rome neighborhoods.
11. Ponte Sisto
Ponte Sisto is one of Rome's most popular pedestrian bridges. Connecting Campo de' Fiori and Trastevere, this beautiful bridge is a sight to behold both day and night. Both areas are buzzing with traffic around the clock and the Ponte Sisto connects them.
Pope Sixtus IV, one of Rome's most famous popes and builders, commissioned the bridge. He gave his name to both the bridge and the Sistine Chapel. Completed in 1484, architect Baccio Pontelli built Ponte Sisto.
While Baccio's name is not mentioned as often as Borromini's or Bernini's, he played a big part in Pope Sixtus' urban renewal projects around Rome. He's responsible for the facade of a few of Rome's most famous churches, including S.M. del Popolo and S. Pietro in Vincolo.
Ponte Sisto, like most bridges, is supported by arches, four in this case. An interesting and rather cool feature of this bridge is its central oculus, which allows water to flow freely as water levels rise.
The oculus reduces the surface area and pressure on the bridge—both functional and beautiful. You'll get an amazing view of St. Peter's Basilica day and night from the Ponte Sisto.
Address: Piazza Trilussa
---
Already in Rome? Book a last-minute food tour or purchase tickets and tours for the hottest attractions!
Planning in advance? See if Rome Tours are worth it.
10. Piazza Trilussa
The piazza was named for the poet and drunk, Carlo Alberto Salustri. Salustri is more commonly known in Rome by his pen name, Trilussa, which is an anagram of his last name. Mostly forgotten by the Roman youth of today, Trilussa was beloved by locals because he wrote all his poems and sonnets in the local Rome dialect, Romano.
His poetry's popularity was due to more than just being written in the local dialect. Trilussa (Salustri) was born into poverty and his father died when he was three years old, which didn't help his already desperate situation. He wrote anti-establishment and governmental poetry that placed housekeepers and store clerks in the spotlight.
He spent most of his waking hours on his own in a bar or tavern drinking and writing— he was a sort of Italian Ernest Hemmingway. The statue of him in Piazza Trilussa shows him half-standing over a wall with a drunk look on his face. It could be argued that the popularity of Trastevere started with Trilussa. A popular figure of the time, he would draw locals across the river to the bohemian area to live an artistic life.
Address: Piazza Trilussa
Best Seller
Colosseum Underground Tour with Roman Forum and Palatine Hill
This is our most popular Colosseum tour due to the incredible access to non-public areas like the underground chambers. All admissions are included and it is lead by an English speaking licensed guided and Colosseum expert.
See Prices
Best Seller
Local Rome Food Tour in Trastevere Neighborhood
Are you looking for the best food tour in Rome? Embark on a Trastevere food tour that offers an excellent introduction to some of the best food in Rome. Led by a local foodie guide, visit some of our favorite restaurants and trattorie in Rome
See Prices
Not ready to book a tour? Check out our best Rome tours to take and why.
9. Villa Sciarra
I wouldn't put this at the absolute top of my list, but if you're looking to get away from tourists and do something local, then sitting down on a bench at Villa Sciarra is pretty relaxing. Also, it's a cool break for kids while visiting Trastevere, which is known for its small vehicles and mottos buzzing around.
Address: Vilal della Mura Gianicolensi, 11
8. Basilica of Santa Maria in Trastevere
Welcome to one of Trastevere's most beloved and ornate churches. Santa Maria in Trastevere is one of the oldest churches in Rome, dating back to A.D. 340 or so. What you see today doesn't reflect the fourth-century church. Only some of the columns, walls, and floorplan are from that period.
Santa Maria in Trastevere even has origins of worship prior to A.D. 340. Pope Saint Callixtus formed a sort of home church here around A.D. 220, which serves as proof that the Romans didn't always persecute and martyr Christians. Emperor Alexander Severus, a pagan, allowed Christians to worship there openly.
There were a few restorations in the first millennia after Christ, but the building didn't begin to take its modern form until the 12th century A.D. The church is famous for many reasons and has three features that set it apart from most churches in Rome.
Likely taken from the Baths of Caracalla, the columns lining the central nave are the first of these features and give this church an incredibly unique feel. The columns feel almost out of place when combined with the utter opulence of the church's second feature, the golden coffered ceiling. Together, these two features give the space a super-rich Robin Hood-like feel.
The third feature is the 12th-century mosaics on the apse behind the main altar. At first glance, you might think it is a fresco but no—it's a massive mosaic adorned with gold. These features create what could arguably be Rome's most unique church and certainly the treasure of Trastevere. Don't miss this one.
Address: Piazza di Santa Maria
7. Piazza San Cosimato Playground for Kids
Piazza San Cosimato is a great square with bars and restaurants. There's a central market during the day, which is no longer what it once was. However, you can still find a few good stands that sell unique meats, fish, and cheeses. At the center, there's a small children's playground. It's a simple local park but it'll give your kids the opportunity to have some fun and mingle with locals.
Address: Piazza San Cosimato
6. La Chiesa di San Pietro in Montorio
From the front, the Church of Saint Peter in Montorio is one of the least attractive churches. I have a far nicer-looking church down the street from my house outside Philadelphia. However, the inside is a treasure trove of artwork that will be difficult to see outside of Rome, let alone free of charge. It is unbelievable what you will find behind the doors of this church.
Tempietto
The biggest attraction is the tempietto, which is a structure in the interior cloister of the church. It is on the very site where St. Peter was crucified. Catholic or otherwise, there are many historical facts supporting Peter's presence and martyrdom in Rome.
Regardless, it's a really impressive courtyard to stand in—designed by none other than Donato Bramante himself. Not the Bramante from Florence's Duomo but the guy who designed the impressive St. Peter's Basilica. While Michelangelo built the basilica, the design came from Bramante.
Vasari, Michelangelo, Bernini, Raphael, and Guido Reni
Not impressed? Ok, have you heard of Giorgio Vasari? Vasari has two frescoes in this church, both are ceilings located in the fourth and fifth chapels. They are pretty impressive.
Michelangelo does not have any physical work in the church but he did supply some drawings and figures that are easily recognizable for Sebastiano del Piombo's Flagellation and Transfiguration in the first chapel on the right. Gianlorenzo Bernini designed the entire second chapel on the left known as the Raimondi Chapel.
There are about a dozen other famous works that any student of art would jump at and there used to be more. The church was the former home of Raphael'sTransfiguration and Guido Reni's Crucifixion of St. Peter before they were moved to the Vatican and placed in the Pinacoteca. Currently, the Transfiguration is the highlight of that gallery.
Address: Piazza di S. Pietro in Montorio 2
Popular Rome Tours
Best Seller
Colosseum Underground Tour with Roman Forum and Palatine Hill
This is our most popular Colosseum tour due to the incredible access to non-public areas like the underground chambers. All admissions are included and it is lead by an English speaking licensed guided and Colosseum expert.
See Prices
Best Seller
Local Rome Food Tour in Trastevere Neighborhood
Are you looking for the best food tour in Rome? Embark on a Trastevere food tour that offers an excellent introduction to some of the best food in Rome. Led by a local foodie guide, visit some of our favorite restaurants and trattorie in Rome
See Prices
Not ready to book a tour? Check out our best Rome tours to take and why.
5. Belvedere del Gianicolo
The word belvedere (Bell–vey–dare–ā) literally translates to "beautiful view" and that's exactly what you'll get. There are many amazing natural viewpoints in Rome, but Gianicolo Hill beats them all.
Located on the west side of Rome's center, Gianicolo Hill is a favorite for all Romans. Take a loved one up there for a viewpoint date or go with friends for lively conversation. There's normally a stand that sells basic sandwiches and slightly overpriced beer—enjoy the view over a drink and bite to eat.
If you're heading up the hill, do what the locals do: take a taxi up at night and walk back down into the center. It's a really cool thing to do when visiting the city.
Address: Piazzale Giuseppe Garibaldi
4. Get a Drink or Aperitivo
Trastevere is very well-known for its nightlife. You can have a drink at cheap bars with local college students or a glass of wine at one of the many wine bars. Aperitivo is pretty cool as you can load up on a significant amount of food while drinking for no additional cost.
I have replaced many meals with aperitivos at Freni e Frizione. There, they have a huge amount of food whereas many others simply offer some olives and crackers. Here are a few of our favorite places to get drinks or enjoy aperitivos:
Freni e Frizione: €€ | Outdoor Seating—Cool cocktail bar with a buzzing vibe.
VinAllegro: €€ | Outdoor Seating—Best for wine-loving romantics in a lively setting.
Pimm's Good: €€ | Outdoor Seating—A lovely ivy-clad bar for cocktail lovers with a great atmosphere.
3. The Basilica of Santa Cecilia
Located on the quiet side of Trastevere, the Basilica of Santa Cecilia is a small and unassuming church from the outside but filled with wonders on the inside.
The Courtyard
The first thing you'll notice is the beautiful quiet courtyard. It has a central fountain lined by rose bushes and other foliage. Last updated in the 18th century, you'll see the humble facade by Ferdinando Fuga.
Once inside, you'll enter the central nave. It's quite large but, compared to other churches you may have visited in Rome, it's surprisingly under-decorated. What will draw you in is the ciborium over the altar, designed and built by Arnolfo di Cambio. He's an artist you've probably never heard of, but after taking in all the delicate details, you may find yourself doing some research.
Santa Cecilia by Stefano Moderno
The centerpiece of the church and the main attraction is Stefano Maderno's Saint Cecilia statue. Saint Cecilia was a Christian martyred for her beliefs in the third century, likely by the same emperor (Alexander Severus) who allowed Christians to worship at S. M. in Trastevere.
Many of the Christian martyrs were of the noble class or held high-ranking positions in ancient Rome. They were often martyred simply because they would not pledge allegiance to Rome, which normally took the form of public sacrifice (not human) to the Roman gods. This was not allowed in Christianity—see the golden calf.
The Crypt
While Moderno's statue is the most famous of all the works of art in the church, the real treat is getting access to the crypt. It may be open while you're there or you may have to ask whoever is watching over the church if you can go down.
Either way, once down there, you'll feel as if you've joined a high-stakes illegal card game in the basement of a secret mansion owned by the Illuminati. Not in the texas-chainsaw-massacre-type way—more like from the novel "Angels and Demons."
Address: Piazza di Santa Cecilia, 22
2. Tiber Island
Legend has it that Tiber Island was formed over the corpse of Rome's last and most tyrannical king from antiquity, Tarquinius Superbus. After he was overthrown, he was taken to the Tiber, chained up, weighed down, and thrown into the river. Slowly, sediment built up around his body, forming Tiber Island.
This is just a legend but it's a great one! The legend derives from the fact that the island is not formed from a rock but from sand deposited in the river. It's now home to multiple structures including the famous Tiber Island Hospital and a gelateria.
In antiquity, it was home to the temple of Aesculapius, the Greek god of healing. There were many other temples on the island that can no longer be seen including that of Tiberinus, the Tiber river god.
The island is connected by two bridges: Ponte Fabricio and Ponte Cestius, the two oldest functioning bridges in Rome. Both bridges are in use today and have been around for about 2,100 years.
Address: Tiber Island
Popular Vatican Tours
Best Seller
Privileged Entrance Vatican Tour with Sistine Chapel
This our most popular and longest-running Vatican tour to date. You'll enter the Vatican Museums an hour before the public opening and see the breathtaking Sistine Chapel. Admissions are included and our English-speaking guides do a wonderful job bringing the museums to life!
See Prices
Customer Favorite
Rome in a Day Tour with Vatican, Sistine Chapel, Colosseum, and More!
Looking to get much of your sightseeing done in one day? This tour enters the Vatican an hour before opening and visits the Colosseum along with other sites like the Pantheon, Piazza Navona, and Trevi Fountain. All admissions and transportation are included as well as a licensed, English-speaking guide!
See Prices
Not ready to book a tour? Check out our best Vatican tours to take and why.
1. Ponte Fabricio
Ponte Fabricio is one of the Eternal City's great treasures. It's the oldest functioning bridge in Rome and possibly western Europe. The Tarr Steps bridge in Somerset, England, outdates it by about 1,000 years but it's an extremely primitive bridge. Ponte Fabricio, on the other hand, is a beautifully designed bridge from 62 B.C.
It was constructed by Lucius Fabricius, a Roman Commissioner of Roads. As it is the last functioning Roman bridge, it's more famous than its sister bridge, Ponte Cestius. Ponte Cestius was rebuilt multiple times and, in 1886, was almost completely rebuilt when the Tiber river embankment was installed to better control floods.
Linking you to Tiber Island and then the Jewish Ghetto, passing over Ponte Fabricio is not only pleasant but also a journey through history. Walk across Ponte Fabricio and you'll walk in the footsteps of just about every famous Roman persona from Julius Caesar to Bernini and the great Popes.
Address: Ponte Fabricio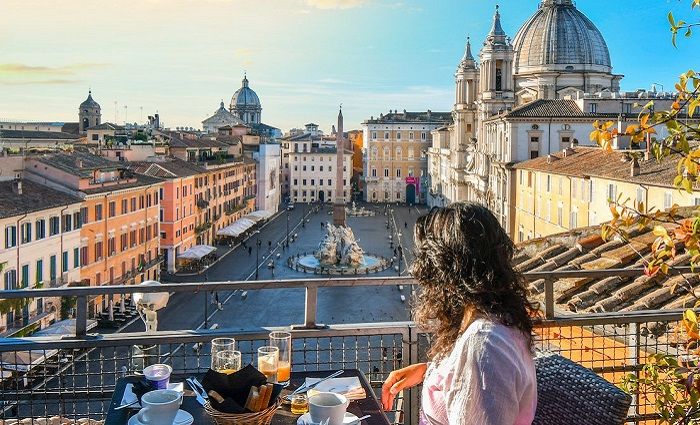 Find the best places to stay
Where To Stay in Rome
Rome has a rich cultural history and many iconic landmarks to explore. Plan where to stay in the magnificent Eternal City in the best neighborhoods.