St. Peter's Basilica is one of the most beautiful churches in the world, and it's definitely worth a visit. Besides the fact that it contains the beautiful La Pietà, Michelangelo's famous marble sculpture, the entire church is home to a plethora of beautiful art. While you're visiting the Basilica, did you know that you can also climb St. Peter's Dome too?
---
Want to Climb St. Peter's Dome?
You definitely should! We have even arranged a special tour dedicated to St. Peter's Basilica and it's jaw-dropping dome. Our new Ultimate St. Peter's Basilica Dome Climb is the perfect tour for those who want the full St. Peter's experience. Want to get a guided tour of the Vatican as well? Check out our Complete Vatican Combo Tour with Sistine Chapel & Dome Climb.
Where is St. Peter's Dome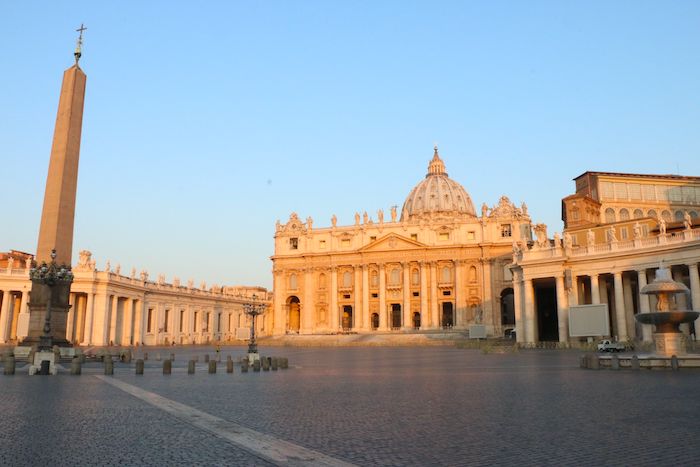 The St. Peter's Dome is easy to find. Just head to the famous St. Peter'sBasilica and you're there! Once you get to St Peter's and have gone through the security gates, face the church. You will see there are a few entrances you can walkthrough. To the right, you will see an entrance with a green sign that says "Dome Entrance". From there, follow the arrows to the ticket kiosk.
*If you've just taken a Vatican Tour and ended at St. Peter's Basilica, this is the perfect activity to finish off your Vatican experience. Especially because, if you're on our tour, you'd of skipped the lines and security gates, and can simply head straight to the dome!
St. Peter's Dome Hours
St. Peter's Dome is open to visitors all day, but closing times do change slightly depending on the seasons.
1st April – 30th September: 7 a.m. – 7 p.m.
1st October – 31st March: 7 a.m. – 6 p.m.
How to get Tickets
If you're not interested in a guided tour, you can purchase your tickets to the dome at the ticket kiosk. As mentioned above, the entrance is to the right of St. Peter's Basilica, and following the arrows, you will reach the little ticket kiosk.
You have two choices with different prices:
On Foot for €6: This is the cheaper option, where you climb 551 steps in total, to the top. If you enjoy some physical activity, go for this option. It is a great walk and gets exciting as you start nearing the top of the dome and the passages get narrower and narrower. There is also something rewarding about climbing all those stairs, and reaching the top for the ultimate view!
With Elevator + A Few Steps for €8: This is slightly more expensive, as you get to swoop up the majority of the climb in a modern-day capsule! If you are unable to walk a lot of stairs, or just don't feel like the climb, opt for this option! You still walk a few stairs for the last part of the journey!
Please note: The ticket office does not take cards, so be sure to bring cash with you! If you go all the way into St. Peters and don't have cash, you will need to leave St Peter's to draw money, and re-enter through security all over again.
---
I Want More Italy!