Do treasure, stolen relics, and glittering beauty sound intriguing to you? Then you won't want to miss Venice's iconic landmark! The Golden Basilica has a long history and a lot to discover within its walls. To make sure you get the full experience from your visit, we've prepared this guide. Keep reading for all the history, interesting facts, and tips on how to visit St. Mark's Basilica in Venice.
---
Pro Tip: Planning what to do on your trip to Venice? Bookmark this post in your browser so you can easily find it when you're in the city. See our guide to Venice for more planning resources, our top St. Mark's Basilica tours for a memorable trip, and how to see Venice in a day.
How To Visit St. Mark's Basilica
St. Mark's Basilica used to be the magnificent symbol of La Serenissima, the Venetian Republic. Originally built as the private chapel of the Doge, it became the center of Catholic life in Europe in A.D. 828 with the arrival of St. Mark's relics, which were stolen by the Venetians.
There's a great deal of history and even treasure to discover on the inside of the basilica, so you definitely shouldn't miss out on seeing it with your own eyes. Here's what we'll cover in this guide on how to visit St. Mark's Basilica:
St. Mark's Basilica Opening Hours and Tickets
As with any place of worship, you'll be asked to cover your knees and shoulders to enter the basilica. We recommend going prepared with appropriate clothing or you may be asked to buy a plastic wrap.
You won't be allowed to enter with large baggage, but you can use the free lockers located in Ateneo San Basso (Piazzetta dei Leoncini) if need be. Here are the opening hours and ticket prices for the basilica.
Hours:
Open Monday to Saturday, 9:30 am to 5:15 pm, (last entry at 4:45 pm); Sundays and public holidays, 2 pm – 5:15 pm. Opening hours are subject to seasonal changes, so it's best to check the official website before your visit.
Tickets:
Tickets for St. Mark's Basilica cost €3 (€5 including the Pala d'Oro) and are free for children under 6 years old. Entry to St. Mark's Museum costs €7 and is free for children under 6 years old.
What To See in St. Mark's Basilica
Shaped like a Greek cross, St. Mark's Basilica has three aisles and five domes. As you enter, you'll walk under the "Arc of the Apocalypse," the "Dome of Pentecost," and then the "Dome of Ascension" until you reach the incredibly decorated presbytery.
Here's what else you should keep an eye out for inside St. Mark's Basilica. For a more comprehensive list check out the top things to see in and near the basilica.
Treasury of St. Mark's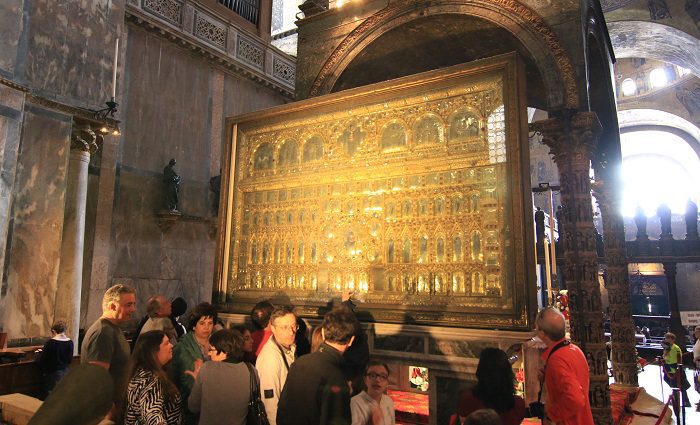 The Treasury of St. Mark's is a collection of precious objects and masterpieces that have been in the basilica throughout the centuries. You'll see ancient vases, amphorae, and enameled glasses covered in precious stones displayed throughout the perimeter.
Don't miss the Pala d'Oro. This outstanding golden high altar placed at the center of the church was created by famous Greek goldsmiths in 978 to be exposed during the most important ceremonies. It was later restored and enriched with images of Jesus during the Apostolic period.
St. Peter's Basilica Mosaics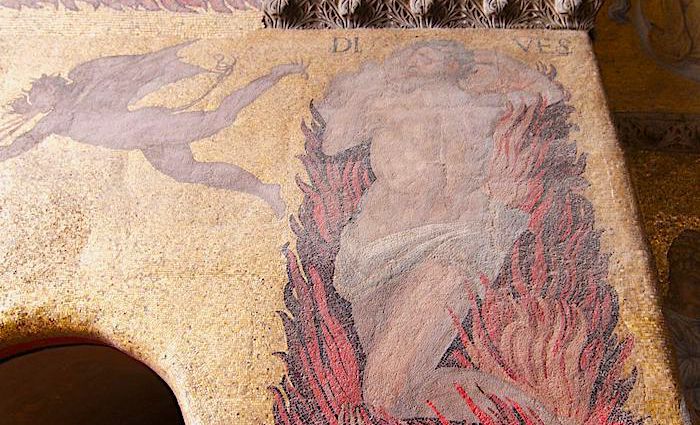 There are over 8,000 square meters of mosaics covering the interior of the basilica, including the five domes. You could spend hours just looking at the ceilings.
The artwork depicts Bible stories, myths and local legends, as well as episodes from the lives of the Virgin Mary, Jesus, and most of, St. Mark.
The contrast between the bright ceilings and darker marble floors actually represents the contrast between life in heaven and life on earth. It's quite a sight to behold!
St. Peter's Basilica Terrace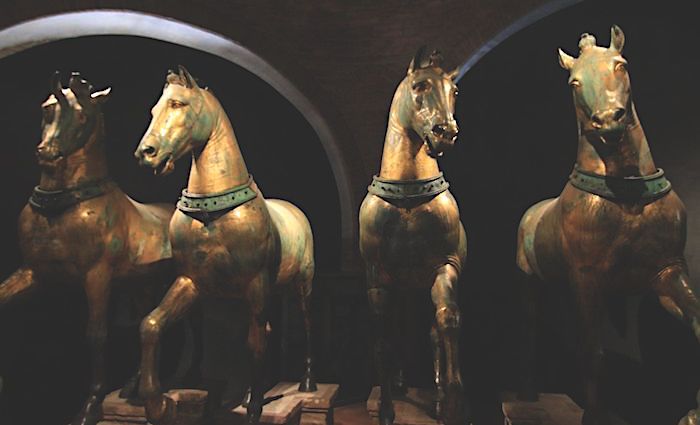 The terrace overlooking St. Mark's Square is also worth a visit. On your way up, you'll see a display of rare tapestries and precious textiles, and the original horses of St. Mark's Basilica.
The ones you see in the facade are replicas to preserve the real masterpiece! Look out over the city of Venice, and maybe even catch a glimpse of some Venice hidden gems from above.
St. Mark's Basilica Tour Options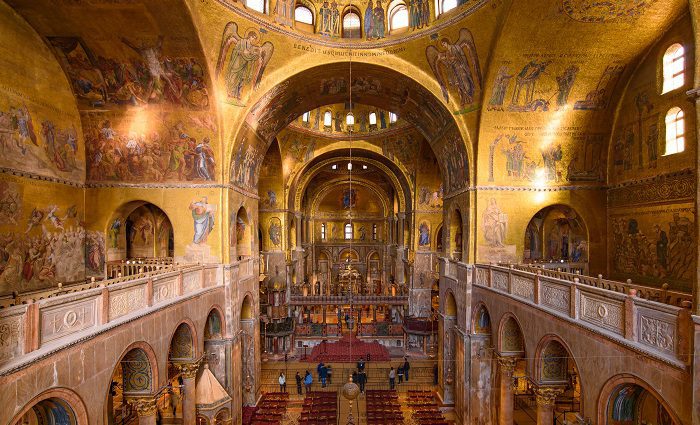 On our St. Mark's Basilica tours, you'll get to skip the lines to see Venice's jaw-dropping landmark and explore the Church of Gold's 45,000 square feet of gilded mosaics constructed over eight centuries.
The interior of St. Mark's Basilica is unlike anything you've ever seen and your local guide will share the basilica's long and interesting history with you.
See both of Venice's top St. Mark's Square attractions in this 3.5-hour tour with skip-the-line tickets and a gondola ride. You'll start at the impressive basilica where you'll see the tomb of St. Mark!
Next, explore a little of Venice's darker history at the Doge's Palace. You'll see the original dungeon cells, the famous Bridge of Sighs, and all the exquisite art, of course. Cap it all off with a 30-minute gondola ride on the canals to see Venice from the water. This is a great way to experience the highlights of Venice in a short amount of time.
See tour itinerary, price, and description
If you're looking to see as much of the Floating City as you can in a day, the Venice day tour is for you. You'll get to see both St. Mark's Basilica and the Doge's Palace with skip-the-line tickets and a guide who knows all about these fascinating attractions and their rich history and art.
You'll then head out on a gondola ride because you can't really come all the way to Venice and not see the city from its famous canals! After lunch, rejoin your group to explore the islands of Murano and Burano. This is a great way to see a bit more of Venice than most do in a day.
See tour itinerary, price, and description
You can visit St. Mark's Basilica in our 6-hour Venice In A Day tour along with the Doge's Palace, Rialto Bridge, and hidden areas of Venice. If you're in Venice for a short time, this is a great way to see the city's top sights and experience the history and culture in a day with a local guide.
See tour itinerary, price, and description
Not ready to book a tour? Check out our best Venice tours to take and why.
History of St. Mark's Basilica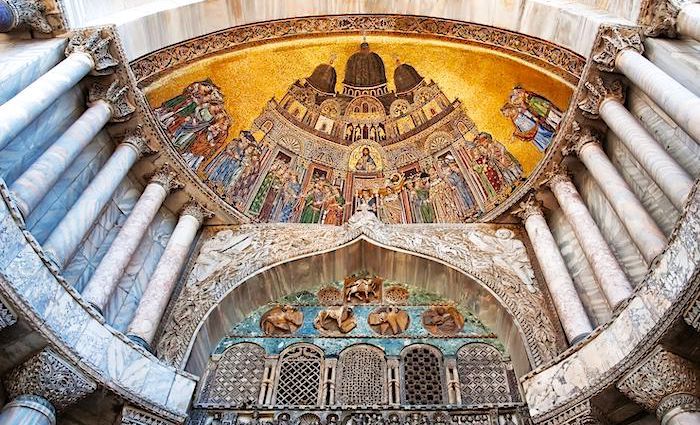 Did you know St. Mark's Basilica wasn't built to preserve the holy remains of the saint? In fact, it was the private chapel of the Doge during the Venice Republic. Originally called the Basilica d'Oro (Golden Basilica) for its thousands of square meters of golden mosaic tiles, it has a long and interesting history.
In AD 828, the Doge Giustiniano Partecipazio expanded the chapel linking it to the existing church when St. Mark's body arrived in Venice from Alexandria, replacing the city's protector St. Theodore. From that moment on, St. Mark's crest, a winged lion, became the official symbol of the Venice Republic.
After years of work, the basilica was completed in 1071 and finally consecrated in 1094. In 1145, a deadly fire destroyed a huge part of the upper decorations inside the basilica.
To prevent this from happening again, it was then covered by the marble you see today. In 1159, precious mosaic decorations were added to the walls and ceilings of St. Mark's Basilica, replacing the old frescoes.
The names of the architects and artists who contributed are unknown. However, the predominant style is Greek-Byzantine with strong German and Arabic influences. The church served as the Doge's chapel until 1807 when Napoleon turned it into a public basilica.
Where To Eat Near St. Mark's Basilica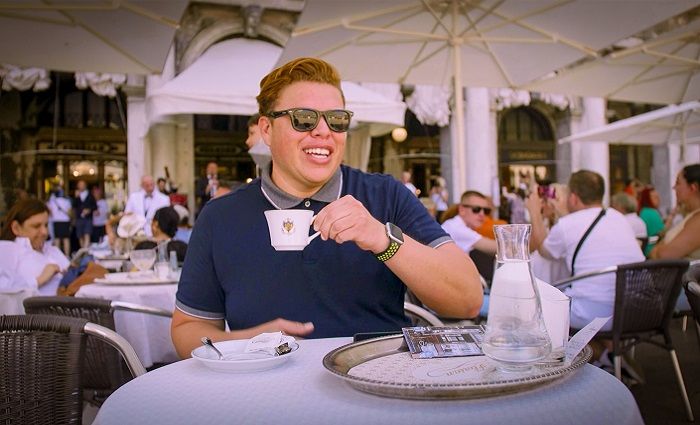 St Mark's Square and nearby are busy areas in Venice that see plenty of tourists. To help you find the best places to eat authentic meals, we've asked our local guides for their favorite spots. Here are a few suggestions from our full article on the best places to eat near St. Mark's Basilica.
Cantina Canaletto: €€ | Outdoor Seating–A streetside restaurant a 4 minutes walk from Saint Mark's square, is in fact located in the neighborhood of Castello. This place is a true gem, offering simple but highly qualitative dishes from all of the 20 regions in Italy, for a reasonable price.
Antico Martini: €€ | Long History–This historic restaurant has been welcoming guests from all over the world since 1720. Specialties in this restaurant include the black truffle pasta and the celery and coriander fish soup.
La Caravella: €€€ | Lovely Garden Setting–Just a 5-minute walk from St. Mark's Square, you'll find all the Italian classics but refined to the next level here.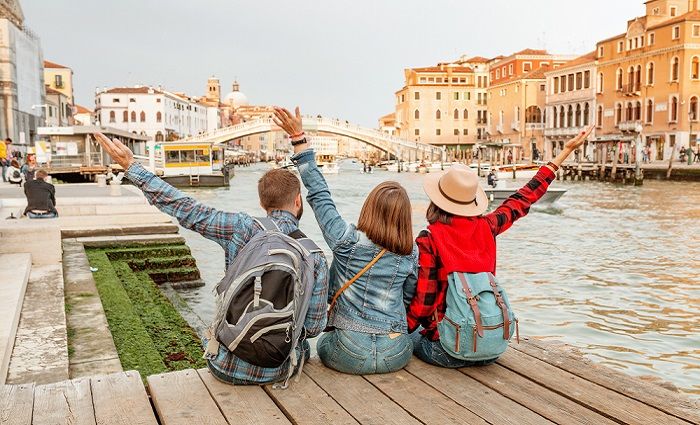 Find the best places to stay
Where To Stay in Venice
Despite the size of this little island, there are endless hotel options to choose from. We've picked the best neighborhoods and hotels to stay in whether you prefer Italian luxury or quiet serenity—or both!