Did you know that approximately 19,000 people visit the Vatican every day?
It can get pretty hectic but there are some ways around the crowds. All you have to do is plan ahead or hire a local expert.
In this post, we'll explain how to hack the Vatican including what guided tours can make it easier and how to climb the St. Peter's Basilica for Rome's best views.
---
How to Get to the Vatican City
Luckily, Vatican City is super easy to reach. Depending on your preferences, you can either take the Metro, a bus, a cab or just walk.
How to Take the Metro to the Vatican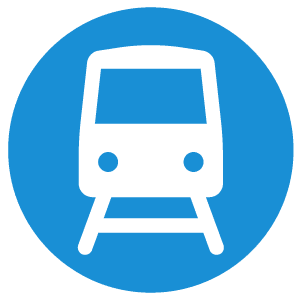 About 20 minutes
Metro directions: There are two metro stops located near the Vatican Museums entrance: Ottaviano and Cipro. These stops are located on the A line (orange line).
Therefore, if you jump on near the Spanish Steps (Spagna) or Termini Train Station, make sure you catch the A line going towards Battistini and get off at either Ottaviano or Cipro.
The entrance to the Vatican Museums is a five-minute walk away from either of those stops. Of course, you can also catch the A line from many other stops, just check the Rome Metro schedule.
You can buy tickets at the metro station or a corner store, but not from the driver.
Pro Tip: Always budget an extra 10 to 20 minutes if you have a scheduled event like a Vatican Tour.  This way you don't have to rush and give you time for that quintessential morning espresso.  
'
How to Take the Bus to the Vatican


About 20 minutes
Bus directions: From the Termini train station, head outside and get on bus #64. The bus ride will take about 20 minutes, your stop is the last one on the route: P.za Stazione S. Pietro.
To get to the Vatican Museums entrance, it's about a fifteen-minute walk from the bus station.
You can also take the #81 bus from the Colosseum area (the bus stop is located right outside of the metro station – B line).
The 81 bus route ends in Piazza Risorgimento which is a five-minute walk to the Vatican Museums entrance.
How to Take a Taxi to the Vatican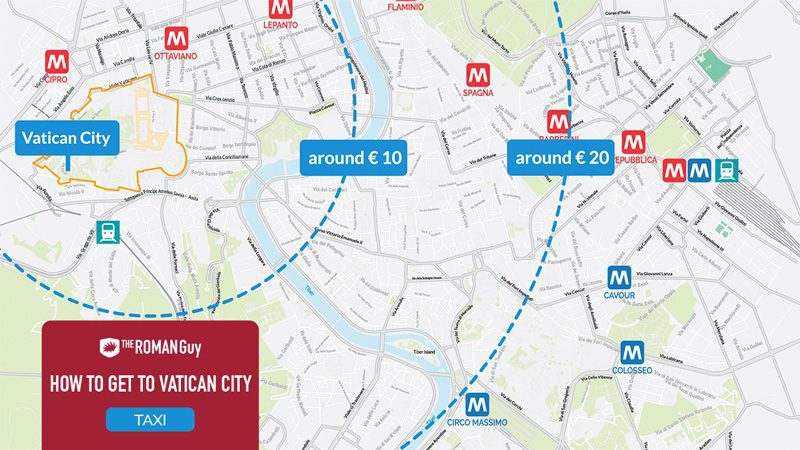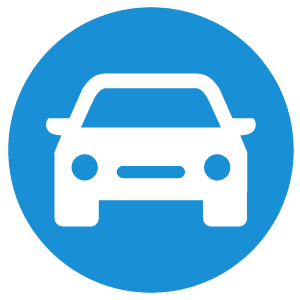 Depends from the leaving point
 A taxi ride should cost no more than 20 euros if you're staying in the historic center of Rome.
When you get in, tell the driver to take you to the Vatican Museums entrance, otherwise, they'll take you to St. Peter's Basilica.
The most typical way to get a taxi in Rome is to go to a taxi stand. These are located near every major tourist attraction.
If you aren't located near one, you can always order a coffee and pastry at a café and ask the people working there to call you one.
Walking to the Vatican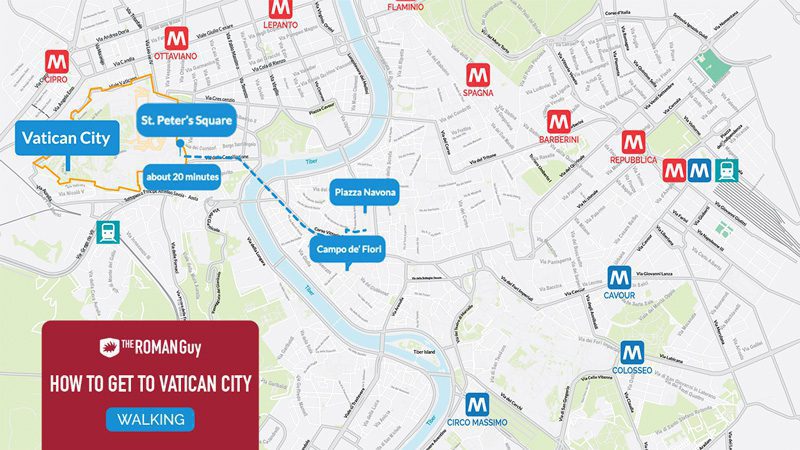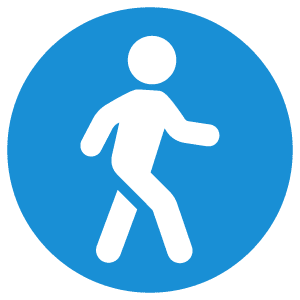 About 20 minutes
Walk to Vatican City: You can walk if you're staying near Piazza Navona or in Campo de' Fiori and the weather's right. Prati is also easily walkable to the Vatican.
If you're love exhausting yourself by exercising prior to being on your feet for 3+ hours, you can walk to the Vatican from basically anywhere in Rome, but I would recommend taking mass-transit.  You'll be on your feet plenty in Rome!
Pro Tip: A neat trick for using your phone map is to set your course when you are in wifi on airplane mode.
GPS will still show your location while on airplane mode.  It won't reroute you but it will show you where you are.
It's the most useful tool for travel in terms of getting directions.
The Best Time to Visit the Vatican Museums
The Vatican Museums don't wait for anyone. The lines start forming early, so plan on getting there as soon as possible in the morning when visiting the Vatican.
Get in line by 7:30 a.m. – 7:45 a.m. to make sure you're one of the first members of the general public to get in when the museums open at 9 a.m.
Regardless of which tickets you buy in advance, use the website and navigate to the appropriate option.
There are several options for buying tickets depending on whether you are coming as a family, as a group of adults, by yourself, as a disabled person or even as a pilgrim!
The website is a bit confusing, so if you'd rather skip this step, did I mention we run Vatican tours? ( ;
What Does a Vatican Museums Ticket Include?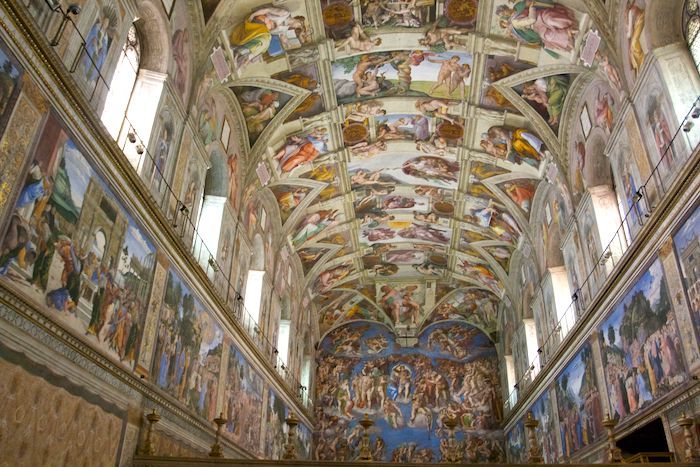 The Vatican Museums are actually made up of several museums and your ticket gets you into all of them. In addition, the Sistine Chapel is inside the Vatican Museums, so your ticket includes entrance.
Again, getting there early is key. The ticket gets you into the Vatican Museums on the day you use it, there is no re-entry. Once you are inside, you may stay as long as you like.
Want to skip the line at the Vatican without having a guided tour? Click here for skip the line Vatican tickets.
Vatican Museum Hours
Monday – Saturday: 9a.m. – 6p.m.
The Vatican Museums are closed on Sundays, except for the last Sunday of the month. On this day, the ticket office closes at 12:30 p.m. Also, it's free on this day.
Regardless of when you arrive, you may spend as much time as possible inside.
Vatican Museum Ticket Cost
How much is a ticket to the Vatican?
Adults: 17€ (There is no senior rate, just the adult ticket cost.) Keep in mind, this is not for the skip the line option.
Discount Vatican Museum Tickets
Important! If you pre-purchase a discounted ticket, be prepared to show proof of eligibility for the discount.
Children (ages 6 – 18): 8€.
Students (ages 19 – 26): 8€
Members of the clergy: 8€
Free Vatican Museums Entrance
If you're unsure about whether or not the museum is free for you, check out the Vatican Museums website for specific info.
Children under 6: No reservation is needed.
Museum directors
Some journalists and academics
People with disabilities and their companions.
Visiting the Vatican with Kids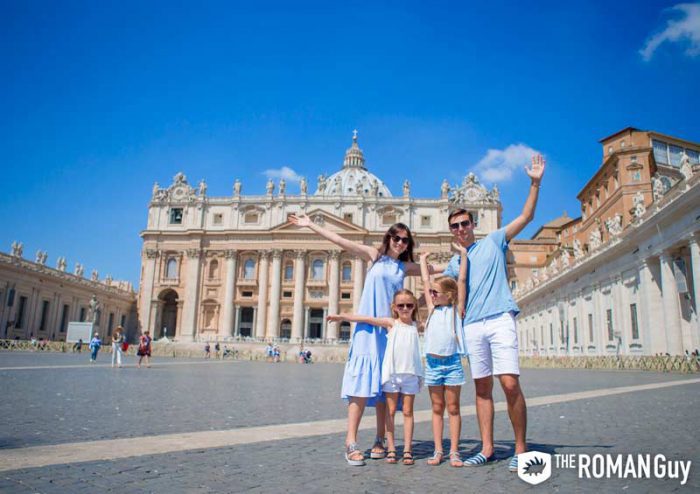 If you're visiting the Vatican Museums with your kids, you're in luck. The museums are happy to welcome families with children and strollers in tow.
In addition, as you explore the collections, there are plenty of restrooms with changing tables and places to sit and take a rest. There's even a private room for mothers to nurse in complete privacy.
For a quick visit to the Vatican that allows you to see the museums and Sistine Chapel before the kids start fussing, we recommend our Flash Vatican & Sistine Chapel Tour. For a more private experience truly geared toward a younger audience, consider our Family-Friendly Vatican tour.
Vatican Dress Code
Remember to abide by the Vatican dress code. Cover your shoulders and avoid shorts and short dresses and skirts. We know that Rome gets hot in the summer, we suggest bringing a light scarf to wrap around yourself when you need to. Hats, food and metal tools like knives and scissors are also not allowed.
Visiting St. Peter's Basilica
Visiting St. Peter's Basilica is free, but there are other barriers to getting inside. If you guessed long lines, you'd be correct. Unless you go in the early morning, you'll find yourself waiting in a long line.
We recommend visiting St. Peter's Basilica and climbing St. Peter's Dome on a guided tour for the most efficient experience.
St. Peter's Basilica Hours
The basilica is closed on Wednesday mornings due to the Papal Audience. If you're interested in attending one, read on.
From April to September: 7a.m. – 7p.m.
From October to March: 7a.m. – 6p.m.
How to Visit Vatican City
There are three ways to visit the Vatican:
1. 
Totally Unprepared!
This is the person who shows up to the door at the Vatican Museums who didn't take into account the lines because some someone in a bar told them it would work out fine. However, there's nothing cool about getting stuck in line for hours. Don't choose this option.
2. 
Prepared Solo Visit
If you plan on visiting the Vatican Museums and St. Peter's Basilica on your own without a good, book ahead! Skip ahead to our section about how to buy tickets in advance. This is a perfectly acceptable way to visit Vatican City, but be prepared, it takes a bit of leg work.
Take all the guesswork out of visiting one of the largest art collections on earth. Sure, this sounds biased since we are The Roman Guy, but we got into this industry for a reason. Tours are fun, and let's face it, there's a ton to see in the Vatican Museums.
---
I Want More Italy!