Rome is, in my mind, the world's greatest city. It has food, culture, history, great weather, and is well-connected to the rest of the world. No wonder the Romans called it Caput Mundi. It's hard to say what the city's most alluring quality is. In this article, however, I'll make a great argument for Rome's food scene. Get ready for the top foods, drinks, and other things to try in Rome.
---
Top Foods, Dishes, and Wine To Try in Rome
Heading to Rome? Get ready to dive in and devour your way through this city. It's the complete eating package from pizza to pasta, seafood, meats, and desserts. They call it, La Cucina Romana.
Considering how dear Rome is to my heart, I have put together this list of the best foods and other awesome things to try in descending order. It's mostly my own preference but I've taken input from some friends in the Eternal city.
Warning! Almost nothing below will taste anything like back home—even if you have a "real Italian restaurant" around the corner from you. So, if you don't like a dish at home you should definitely still try it in Italy.
14. Pollo con Pepperoni
Chicken | Secondi
Chicken is a dish you will rarely see on the menu in Rome mostly due to the lack of flavor in the meat. Italians like to eat food that tastes good (yes, that was a stab at chicken). Pollo con Pepperoni is the exception. It tastes great, mostly due to the type of meat they use.
There's no chicken breast here. They go with the more gamey-tasting meat like the wings and legs. They slow cook it with peppers (Pepperoni is not a meat in this case) and what feels like a lot of olive oil. It forms this slightly soupy dish that is really very good.
Where to get Pollo con Pepperoni: Trattoria Da Augusto (Trastevere)
13. Filetti di Baccalà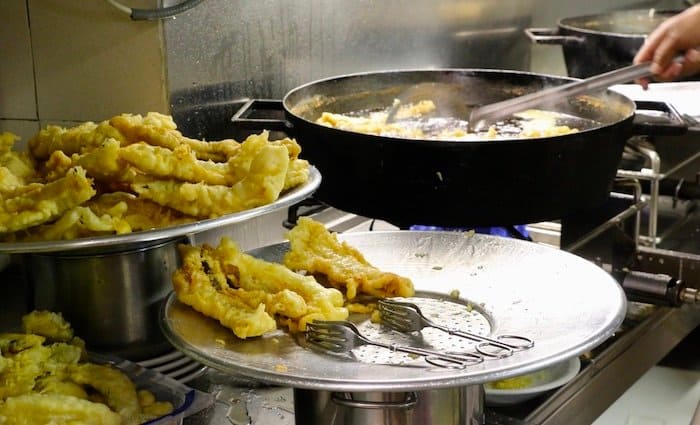 Fish | Fried | Antipasto
Filetti di Baccalà is basically the Italian version of fish and chips. That means it's less greasy and tastes good (sorry, England). The batter is a little lighter and the portions are a little smaller.
They also don't serve this with "chips" but there's normally a vegetable accompaniment. Italians eat it as an appetizer with pizza, commonly before or after watching a football match.
Where to get Filetto di Baccalà: Roman Guy food tour
12. La Coda alla Vaccinara
Ox | Secondo
Very similar to what you'll see in la Trippa below, la Coda is literally the tail of the cow. You've probably eaten it before without knowing it. The fact is, it's beef and it's really good beef.
You wouldn't cook it on the grill, but it goes really well in a stew. That's what Romans do. La Coda is a stew-like dish made with hearty vegetables in a red sugo (sauce) and is delicious. If I see it on a menu, I'll order it.
Where to get the best Coda alla Vaccinara: Trattoria Da Teo
11. Trippa alla Romana
Cow Stomach | Secondo | Adventurous
Like any culture, Italy was once extremely poor. When people are poor they need to make choices like, "Do we save some T-bone steaks for ourselves or sell them all and eat the cow's third stomach?" In Rome, they chose the latter.
I've not done this myself, but I imagine when you're butchering a cow and setting aside the high-quality cuts for sale, you don't look at the stomach overwhelmed with joy. That said, they made it taste very good. When you eat Trippa alla Romana it looks like you're eating a pasta dish and it is prepared quite similarly.
The cow's stomach is sliced into strips that look like thick pasta and served in a sauce made of guanciale (pork cheek), onion, garlic, mint, carrots, celery, and a few other ingredients. A normal Italian soffritto that turns into a ragù but instead of adding ground beef and pork you add cow's stomach, which somehow serves as the meat and the pasta. It's pretty good and packed with protein. In the States, body builders drink protein shakes after working out. In Italy, they eat Trippa alla Romana.
Where to get the best Trippa alla Romana: Osteria Qui Se Magna (Pigneto)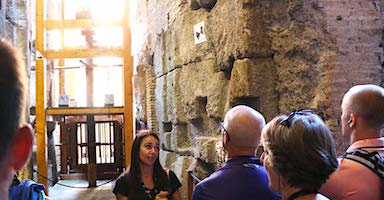 Best Seller
Colosseum Underground Tour with Roman Forum and Palatine Hill
This is our most popular Colosseum tour due to the incredible access to non-public areas like the underground chambers. All admissions are included and it is lead by an English speaking licensed guided and Colosseum expert.





See Prices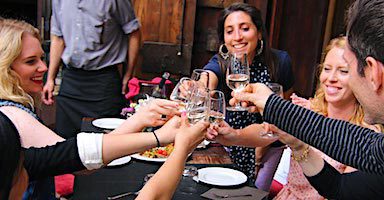 Best Seller
Local Rome Food Tour in Trastevere Neighborhood
Are you looking for the best food tour in Rome? Embark on a Trastevere food tour that offers an excellent introduction to some of the best food in Rome. Led by a local foodie guide, visit some of our favorite restaurants and trattorie in Rome





See Prices
Not ready to book a tour? Check out our Rome Guide for more info.
10. La Gricia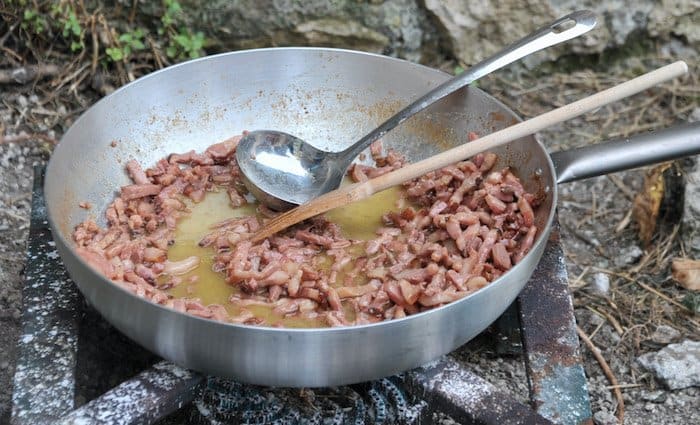 Pasta | Pork | Primo
La Gricia is a very Roman pasta dish that's sort of a combination between caccio e pepe and la carbonara. This will get repetitive, but it's a basic dish cooked with fresh ingredients that bring out the natural flavors. The ingredients are pork cheek (gaunciale), percorino cheese (pecorino romano), salt, and rigatoni.
You basically sauté the pork cheek until the fat melts and it gets crispy. Then, you add some of the water from the pasta (after it's cooked) and a ton of pecorino. Add salt to taste. It's a dish whose flavor is completely dictated by the quality of the ingredients.
Where to get the best La Gricia: Taverna Cestia (Ostiense) | Flavio al Velavevodetto (Testaccio)
9. Saltimbocca alla Romana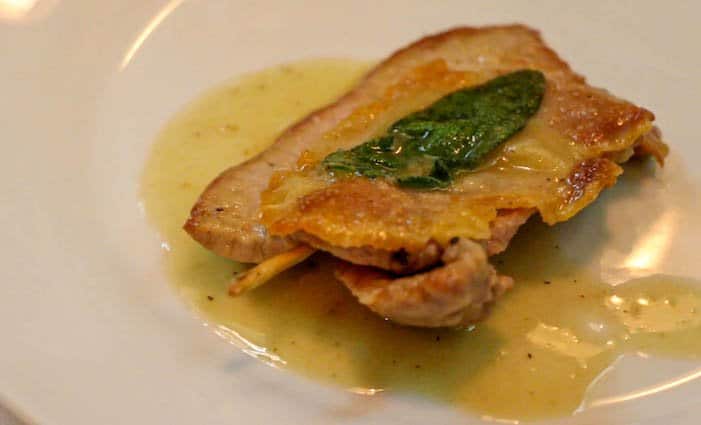 Veal and Prosciutto | Secondo
This dish was invented sometime in the 19th century. As always, it's simple with high-quality ingredients—a calf veal filet with a slice of sweet prosciutto crudo attached to it with a tooth pic. It is sautéed in butter with white wine, and lightly salted with a bit of salvia to add flavor. There's little variation in this purist dish in Rome.
Many visitors to Italy will order a pasta dish as their meal but the right way to do things is to order antipasto (appetizer), primi (pasta), secondo (meat), and so on. Saltimbocca is a light secondo that you can finish on your own or split. Sharing in Italy is perfectly normal and expected.
The name saltimbocca means "jumps in your mouth," which describes its incredible flavor. The photo above admittedly does not jump off the page, but it is one of those things that you won't understand until you try. Get it at Salitmbocca Ristorante, which has some of the best reviews in the historical center of Rome.
Where to get the best Veal Saltimbocca: Saltimbocca Ristorante (Piazza Navona)
8. Il Trapizzino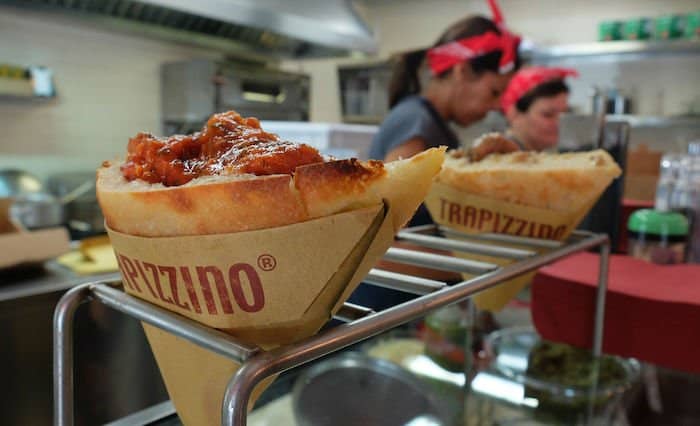 Sandwich | Street Food | Lunch or Late Night
Il Trapizzino is sort of a phenomenon. It didn't exist for most of my life in Rome and then it was everywhere—and for good reason. The place makes delicious food. Il Trapizzino are like small warm sandwiches with ridiculously good things on the inside. The bread is cut into a corner, sliced open, and stuffed.
They started in Rome and there is one on the Lower East Side in NYC (same owners) if you want to cheat. You can go to their many stores in Rome or order it to your hotel on Deliveroo (grub hub of Italy—super clutch).
Where to get the best Trapizzino: There are five or so locations in Rome
7. Cacio e Pepe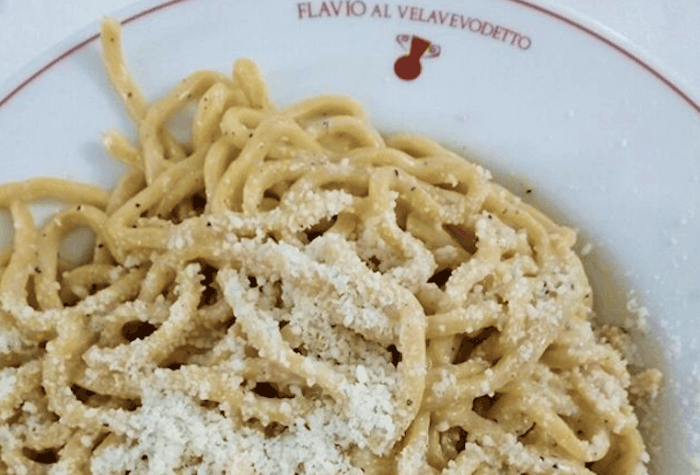 Pasta | Vegetarian | Primo
Like many Roman recipes, Cacio e Pepe (cheese and pepper) is simple with high-quality ingredients. There's not much more than pasta, black pepper, and pecorino cheese. Please don't follow an English recipe for this as they butcher these amazing dishes. This is a must-try dish for lunch at a cheap trattoria.
Where to get the best Cacio e Pepe: Flavio al Velavevodetto (Testaccio) | Trattoria da Danilo (near Termini)
6. Supplì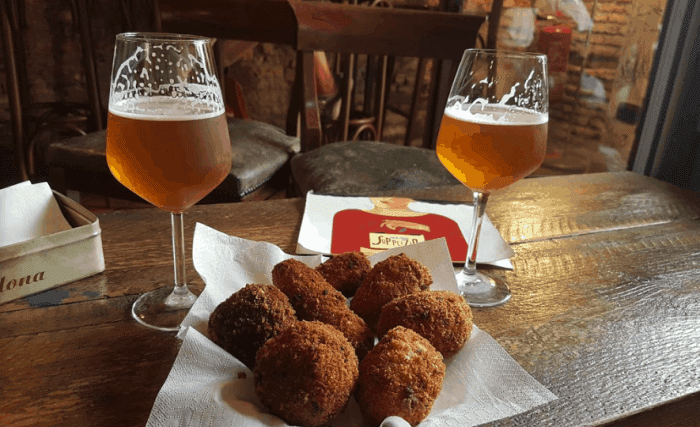 Street Food | Rice Ball | Antipasto
These showed up on the map, at least in writing, around 1847 at a restaurant in Rome named Trattoria della Lepre. The restaurant is no longer active, but I couldn't imagine this dish was at fault.
You'll see these on the menu of most authentic pizza places and definitely at any takeaway pizza place where you can get piazza al taglio. You'll definitely do a lot of walking in Rome, and these little treats will come in handy when it's 4 pm and you're starving but restaurants don't open until 8 pm. Pop in, grab one for €1, and eat it walking.
Basically, it's rice mixed with a light meat sauce and pecorino cheese with a small ball of mozzarella cheese at the center. It's fried in an egg and bread-based shell, which is crunchy and delicious. Amazing!
Where to get the best Suppli: Supplizio (Campo) | Pizzarium or Panificio Bonci (both by Gabriele Bonci near Vatican) | Emma Pizzeria con Cucina (near Campo)
Top Colosseum Tours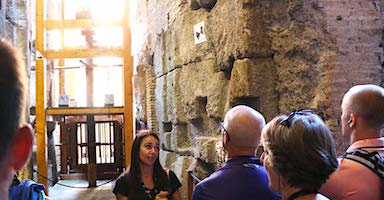 Best Seller
Colosseum Underground Tour with Roman Forum and Palatine Hill
This is our most popular Colosseum tour due to the incredible access to non-public areas like the underground chambers. All admissions are included and it is lead by an English speaking licensed guided and Colosseum expert.





See Prices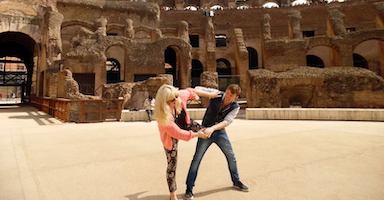 Customer Favorite
Special Access Colosseum Arena Floor Tour Through the Gladiator's Gate
You'll enter the Colosseum through the back door entrance avoiding lines and crowds, which is ideal! You'll step through the gladiator's gate and your English-speaking Colosseum guide will bring the stories to life. Next, on to the Roman Forum. All admissions are included.





See Prices
Not ready to book a tour? Check out our Rome Guide for more info.
5. Abbacchio a Scottadito
Lamb | Secondo
If you've been traumatized by third stomachs and cow's tails, have no fear. This is good old-fashioned lamb and it's delicious! The name of this dish means "lamb to burnt fingers," because you have to take this off the grill and start eating it immediately.
Again, a super simple dish made with high-quality ingredients and the perfect-temperature grill. Add rosemary, lemon, EVOO (put this on everything you cook), salt, and pepper. If you head to Trattoria da Cesare al Casaletto and you feel like you're at the wrong place, you're in the right place.
Where to eat the best Abbacchio a Scottadito: Ambasciata d'Abruzzo (Parioli) | Trattoria da Cesare al Casaletto

4. Gnocchi con Sugo di Carne – Only on Thursdays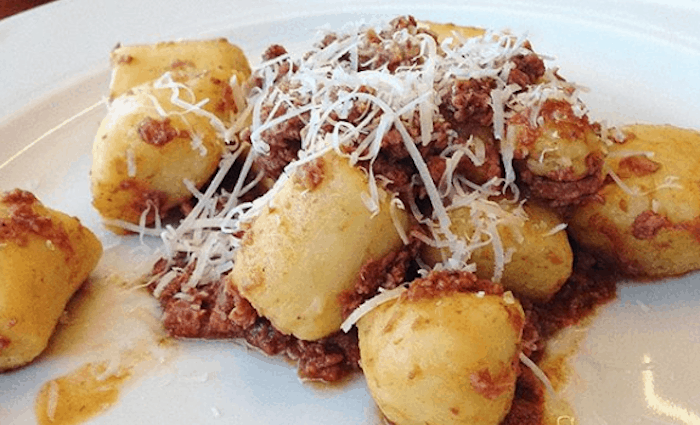 Potato Pasta | Lunch or Dinner | Meat Sauce | Only Thursdays
One of the most wonderful and beautiful things about Rome, and Italy as a whole, is the tradition. Imagine there were rules for everything you ate and drank but they were wonderful rules that everyone loved and adored—rules based on tradition and culture. That's how Rome works and gnocchi are no different. They are only served on Thursdays at traditional trattoria in Rome. Why?
Gnocchi are prepared from potato and other heavy ingredients. A big plate of gnocchi with sugo di carne (tomato meat sauce) is more than filling. Thursdays can be an exciting day for this reason. You can probably get a plate of gnocchi at a tavola calda or pizza place that serves daily dishes for €5 or so on a paper plate or in a to-go container. Boy, are they delicious too. Wait, why only on Thursdays?
In Rome, people ate fish on Fridays because meat was prohibited on Fridays as penance on the day of Christ's death. Not just during lent but all year round. Fish is delicious, but it's often light and quickly digested. Romans figured they'd eat gnocchi on Thursdays to fill up in preparation for Friday's lighter meal. Then, they'd eat la Trippa on Saturdays to balance the scales since it's also a heavier meal. Regardless, if you want to be traditional in a good way, order Gnocchi con Sugo di Carne while in Rome on a Thursday.
Where to get the best Gnocchi: Osteria di Monteverde | Trattoria da Cesare al Casaletto
3. Carciofi alla Giudia e Alla Romana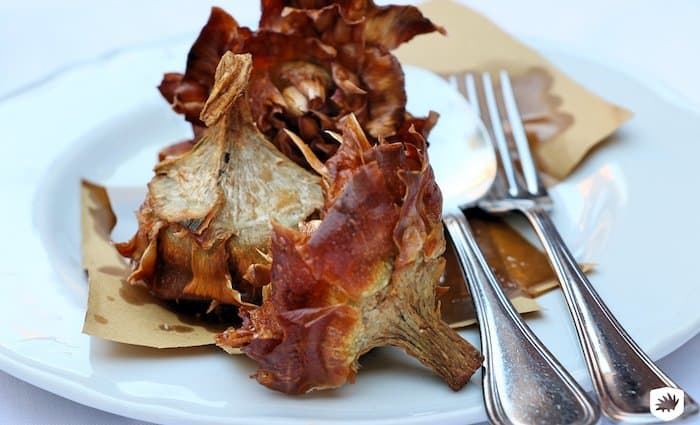 Artichoke | Antipasto | Vegetarian
Carcioffi alla Giudia translates to Jewish artichokes. Artichokes thrive in Rome's climate, so they're very popular in the city in two main recipes. Alla Giudia (Jewish style pictured above) and alla Romana (Roman style). Don't worry, you're allowed to prefer either one without fear of reprisal. However, the Jewish ones are almost always chosen as the victor.
Jewish artichokes are seasoned with salt and pepper and then fried twice in olive oil. Yes, twice—which is how they get their super crocante (crispy) texture. They're also fried in olive oil, which is a high-quality oil. Different oils have different boiling points, so they really aren't Jewish artichokes unless they are fried in olive oil twice.
Roman-style artichokes are a world apart. The only thing they share are the artichokes. The preparation and cooking time is more intensive and the outcome is different. These artichokes are most often served cold after being cooked for up to 30 minutes. They're seasoned with lemon, mint, garlic, olive oil, and black pepper.
This may sound a bit eccentric, and possibly politically incorrect, but I would stick to religion on this one. If the restaurant is run by Catholics, I would order Roman-style artichokes. If it is Jewish-run, I would order the Jewish-style artichokes without question. Each does their own style best. The best place to get a Jewish-style artichoke is in the Jewish Ghetto.
Where to get the best Jewish Artichoke: Piperno | Sora Margherita | Al Pompiere | Yotvata (kosher)
2. La Carbonara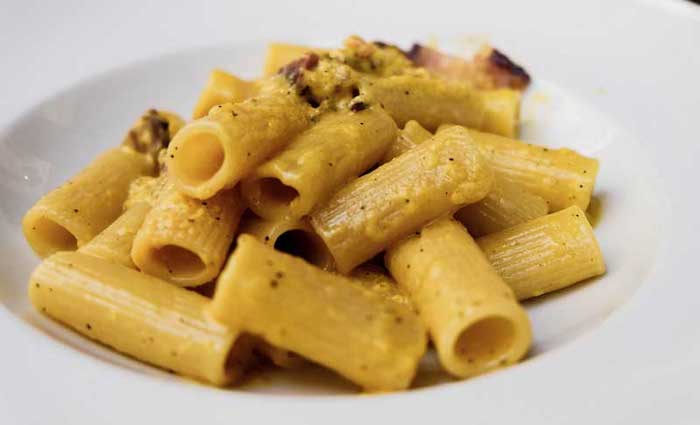 Pasta | Pork Based | Egg | Primo
La Carbonara is arguable the most authentic dish in Rome. There are many legends about the origin and its name, but my favorite is the link to the word "carbona" which roughly means coal. There were miners with very little money who would toss together what were at the time the cheapest ingredients to make pasta: pancetta (now guanciale), eggs, pecorino romana, black pepper, and spaghetti.
Almost every recipe calls for this to be made with spaghetti, but it's also prepared with bucatini, rigatoni (above), and maniche corte (small rigatoni). It is a wonderfully simple dish to make that I could explain but it would be very hard to make it correctly without the proper training and know-how. Your best bet is to live in Rome for ten years to learn this dish or travel frequently to Rome to eat it.
Where to get the best Carbonara: Roscioli Salumeria con Cucina (near Campo) | Trecca – Cucina di Mercato (Ostiense) | Roman Guy food tour
1. L'Amatriciana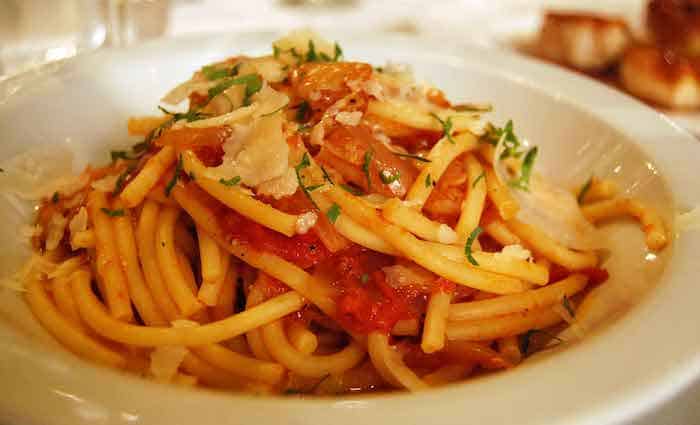 Pasta | Pork Based | Slightly Spicy | Primo
Like any good rivalry, Rome is split between l'amatriciana and la carbonara. Both plates are delicious and it would be impossible to decide which one is actually better. I can't take sides, but I do tend to make l'amatriciana more often—so, it's my number one favorite dish in Rome.
As with many of the best Italian dishes, simple ingredients make this Roman favorite. It's often made at home with la passata, which is a quick tomato sauce base but you couldn't do that in a restaurant without Italians noticing. In reality, you should use cherry tomatoes (pomodori ciliegini), fresh chilli peppers (peperoncino), pork cheek (gaunciale), and most importantly pecorino cheese (pecorino romano).
For the pasta, you should use a spaghetti or bucatini (spaghetti in the form of a straw). This is yet another rivalry between amatriciana purists—spaghetti or bucatini pasta? Bucatini is arguably the original recipe, which I prefer as well. In Rome, however, they could serve this dish with spaghetti or even maniche corte, which are about half as long as rigatoni and more commonly used in Rome. This is 100% a must-eat dish.
Where to get the best Amatriciana: Trecca – Cucina di Mercato (Ostiense) | Trattoria Vecchia Roma (near Termini) | The Roman Guy Food Tour
Typical Roman Wines
When in Rome, why not drink Roman wines! To be clear, wine is not produced in the city itself, but in the region that surrounds the city. If you jump in a car or train and leave the city, within 30 minutes you are surrounded by farmland and vineyards. So, we thought it made sense to speak briefly about some wines you might find.
Vino Della Casa: In pretty much any restaurant in Rome, you can ask for vino della casa (house wine) and you'll usually be served from a caraf that comes in half-liter (mezzo) or full liter (litro) sizes. All you have to do is say whether you want red or white. This wine will be quite simple and very often delicious—the perfect wine to drink with food. If you want to go with something a bit more structured, carry on reading.
Frascati: This is a white wine that comes from the Castelli Romani, which is a cluster of towns east of Rome. Over the last few years, they have definitely stepped up their game making some very good wines. I would definitely go for a Frascati Superiore, which is fruity and complex wine with a mineral taste.
Cesanese del Piglio: Produced southeast of Rome, this is a full-bodied and flavorful red wine. You'll taste red, juicy fruit and a slight floral note in the nose. When you go into a restaurant and ask for this wine, the owners will be impressed that you know wine from this region.
Go on a Local Food Tour in Rome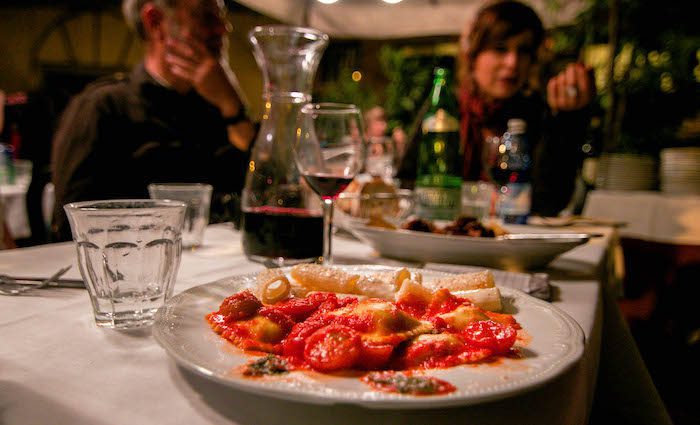 Love food and travel? Then a food tour is for you! It's a fantastic way to spend an evening exploring the city and its local cuisine in authentic restaurants. Who doesn't dream of eating Italian food in Italy, right?
You'll be joined by a passionate local guide who not only knows what to eat and where to get it but also speaks the lingo. An absolute must for foodies, a local food tour is the best way to the heart (and stomach) of local food culture.
Tour the local food scene of Rome's trendy Trastevere or go on an evening cocktail tour passing by the Pantheon, Piazza Navona, and more!
Not ready to book a tour? Find out if a Rome food tour is worth it.