If you are visiting Rome it is really tempting to try and see and do EVERYTHING which makes planning difficult. It starts with visiting the Colosseum & Vatican but from there you may want to take a day trip to Florence. From there, maybe you'll try to schedule tea with the Queen or jump on a Virgin Galatica Flight? Where do you draw the line? So, is a day trip to Pompeii worth it while in Rome?
---
Pro Tip: Planning a trip to Rome or Pompeii? Bookmark our dedicated pages to each destination in your browser so you can circle back to them while traveling. They serve as an online guidebook and are free; boom!
Is Pompeii & Amalfi Coast Worth Visiting?
Pompeii is widely considered by archeologists, historians, and guides to be the greatest archeological site discovered to date. It was "flash frozen" by volcanic ash which preserved it in an instant. It's discovery almost 1500 years later taught us limitless details about Ancient Roman society.
Lord Byron originally created what is known as the first "guidebook" commonly referred to as the "Grand Tour of Europe" and Naples, nearby to Pompeii, was the terminus of this tour in Italy. Much of this reason was nearby Pompeii attracted Europe's greatest socialites.
So should you visit Pompeii during your lifetime? If you have the means, it should be at the top of your list. Should you do it while in Rome? Maybe. In this article, we'll cover where they are, how to get there, and who should visit them on a trip to Rome.
Where are Pompeii and the Amalfi Coast?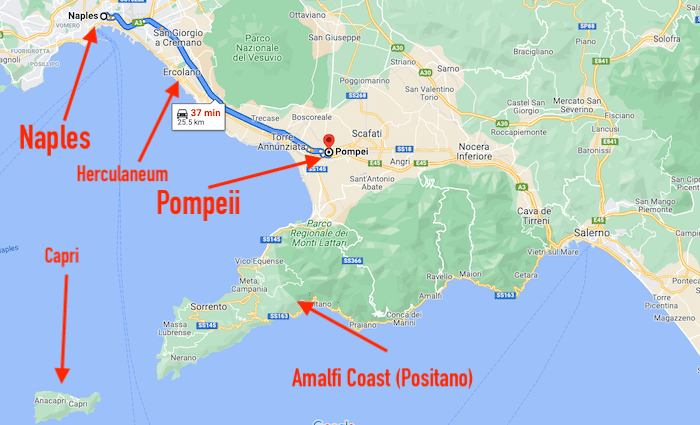 Pompeii is located in the south of Italy in the region of "Campania". It's just under 40 minutes from Naples which sits just north of Pompeii. To the south, you have the famous "Amalfi Coast" which is about a 1-hour drive over winding cliff-side roads! It can be tough on the stomach, but arguably the most beautiful coastline on Earth.
If you are in Naples or on the Amalfi Coast, Pompeii is a must-visit attraction that no one should miss. We run Pompeii tours which you should heavily consider before visiting this massive archeological site. On my first visit, I noticed nothing was labeled well and walked around wondering what I was looking at!
Guides bring this city to life with over 120 minutes of history and anecdotes. People from Naples are notoriously comical and raw which makes a tour of this debaucherous town even better!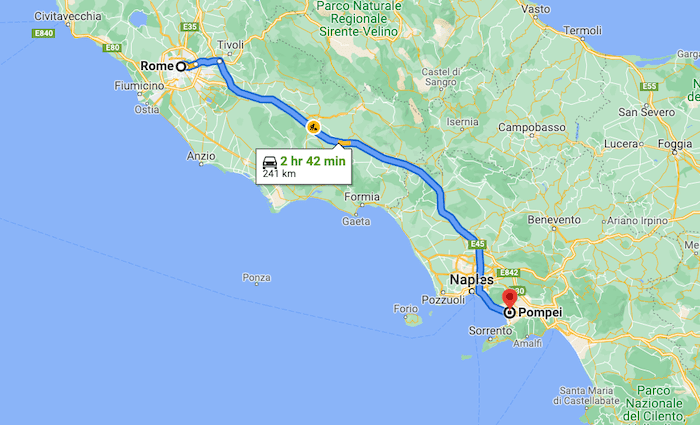 Pompeii is about a 2-hour and 30 to 45-minute drive from Rome mostly depending on traffic. This makes it a long, but very possible day trip from Rome. Our day trip to Pompeii from Rome is one of our best-selling tours gloablly and something you should consider.
That brings me to the Amalfi Coast and if you should visit it while visiting Rome. It's very remote and the winding roads which make it beautiful become less enjoyable after hours in a car. For this reason, we don't recommend it as a day trip and instead recommend you pass a few nights there.
That said, Sorrento, which is technically not part of the Amalfi Coast, has extremely similar characteristics and is much less remote. For this reason, our Pompeii Day Trip From Rome includes Sorrento instead of the Amalfi Coast.
Popular Tours from Rome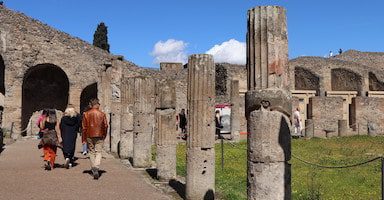 Best Seller
Rome to Pompeii Day Trip with Stunning Sorrento!
This is the best way to see Pompeii and the Amalfi Coast from Rome. You'll take private transportation with our guide down to Pompeii where an archeologist will tour our small group through the ruins. Then we'll head over to Sorrento which is the tip of the Amalfi Coast before returning to Rome. Tickets, transportation, and guides are included in the price.





See Prices & More Info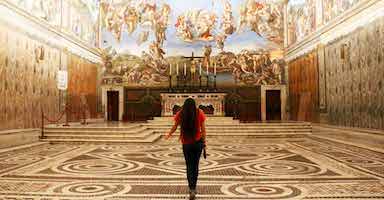 Best Seller
Rome in a Day Tour with Vatican, Sistine Chapel, Colosseum, and More!
Looking to get much of your sightseeing done in one day? This tour enters the Vatican an hour before opening and visits the Colosseum along with other sites like the Pantheon, Spanish Steps, and Trevi Fountain. All admissions and transportation are included as well as a licensed English-speaking guide!





See Prices & More Info
Who Should Visit Pompeii & the Amalfi Coast?
Now you know where Pompeii & the Amalfi Coast are and why they are so important. This means you need to decide if you are going to see them. Regardless of their importance, if you are in Rome for one day you should not go and see them. So who should?
If you have three full days in Rome not including arrival and departure, you should heavily consider a day trip to Pompeii. Day 1 & 2 should be dedicated to the Colosseum, Vatican, and likely a Food Tour. Day 3 could be reserved for a day trip to Pompeii.
I will mention this a few times, but if you are planning to go to the Amalfi Coast you should spend at least one full day there enjoying the sites. If you do that, check out our article on Where to Stay on the Amalfi Coast as well as the Top Things to Do.
Should you visit Pompeii? Yes, if you have 3 or more full days in Rome or are planning to spend a few nights along the Amalfi Coast.
Ways to Visit Pompeii & The Amalfi Coast
Italy has great road systems as well as public transport so reaching these destinations is relatively easy on your own or with a tour group like ours. Here are some ways you can visit:
Train
Car
Tour Group
Train
The Train to Naples from Rome is incredibly easy and takes an hour. From there, there is a train to Pompeii which, with minimal travel skills, you can book online and find once in Napoli Centrale train station. Switching might be confusing to someone who has never traveled internationally, but I wouldn't say it is difficult by any means.
You can reserve our "Skip the Line Pompeii Tour" tour that does not include any transportation but does include tickets and a small group tour.
Car
Renting a car and driving your way down is definitely an option, but I don't recommend it for a day trip from Rome. If you are driving all the way to the Amalfi Coast to stay for few days, this is a great option. Why?
Going to the rental office and getting the car will take some time which is a detour and will make your day longer. Consider about 90 minutes total with pickup and drop-off. If you are driving back to Rome after visiting the areas, I would recommend joining our day trip.
If you are going to the Amalfi Coast after staying for a few days, this is a strong option if you are a confident driver. The Amalfi Coast has winding roads that can be intimidatingly small. Often, the road is only large enough for one car and buses zip down the street.
I rarely have seen any accidents, but it does take a lot of nerves. That said, I personally do it all the time and honestly enjoy it. Again, if you take this option we recommend timing it around our Pompeii tour that starts in Pompeii. It's an inexpensive but great option.
Tour Group
A tour group is really the best option if you want to accomplish everything in one day and get back to Rome. If you go on your own, your expenses will be relatively the same, but you will have to do a lot of navigating. We only build tours that solve challenges for travelers and this is one of our best-selling tours which means it is very useful.
Again, visiting Sorrento is a lovely alternative to Positano or the Amalfi Coast which is why we feature it on our Pompeii day trip. Most people joining the tour didn't even realize that Sorrento was not part of the Amalfi Coast considering how famous and beautiful it is!
We have many tours of the area including things to do along the Amalfi Coast so take a look at our tours of Pompeii & the Amalfi Coast.
What to See in Pompeii and the Amalfi Coast
Once you decide if you have enough time in Rome or Italy to make a stop in Pompeii, you'll need to understand what there is to see.
Check out our dedicated article on what to see in Pompeii & the Amalfi Coast: