Once in Rome, you might want to boost your trip a little bit by adding a visit to the Amalfi Coast. This Italian pearl is definitely worth a visit and it isn't even that far from the Eternal City. Then, let's see which options you have to reach Amalfi and what to see once you are there!
---
Transportation Options
There a few different ways to get to the Amalfi coast. Whether you prefer public transportation or driving on your own, read on to see which option is best for you!
From Rome to Naples to the Amalfi Coast by train
If you're planning to visit the Amalfi Coast, one of the options you can choose is to take a train from Rome to Naples. In the main Roman train station (Stazione di Roma Termini) you might find more than one train per hour that will lead you to Naples in one hour and thirty minutes.
The main train companies that provide this service are Trenitalia and Italo train. Train tickets range from 17 euros to 70 euros (one way), but they are cheaper if you book in advance! Once in Naples, you can reach the Amalfi Coast and, more specifically, Sorrento by opting for a local train (Circumvesuviana) paying only 3 or 4 euros. You can catch this train right at the Naples Centrale station.
From Rome to Salerno to the Amalfi Coast by boat
Leaving by train from Roma Termini train station you can jump on a train to Salerno. The company providing this service is Trenitalia and the trip lasts two hours. Prices can change and they might start from 30 euros up to 70 euros, it depends always on the time of your booking.
Once in Salerno, reaching the Amalfi Coast is simple. From Piazza Concordia in Salerno, you can find boats that will take you to Amalfi in 35 minutes at 8 euros only. Usually, there is one departure every hour but the timetable might change, so choose your time before going there!
From Rome to Salerno to the Amalfi Coast by bus
From Salerno, you can also opt for the bus and not the boat to reach the Amalfi Coast. Departing from Rome, you can always find a train at Roma Termini train station that will lead you to Salerno and catch the bus from there. More precisely, in Salerno, the bus stop to Amalfi is located in Via Vinciprova and the trip lasts 1 hour and 15 minutes. There are several buses departing throughout the day either from Salerno and from Amalfi and tickets cost 10 euros and it lasts 24 hours.
From Rome to the Amalfi Coast by car
One of the options could be renting a car from Rome and drive directly to the Amalfi Coast. In Rome, there are several places where you might be able to rent a car like, for example, at the Roma Termini train station. Car prices can change and they usually depend on how in advance you book the car.
In a little bit more than three hours, you will reach the coast. That could be a plan if you are afraid to miss trains and want to feel free to leave at any time. Just one thing to keep in mind, Amalfi Coast roads are pretty small so, opt for a smaller car instead of a big one!
From Rome to Pompei to the Amalfi Coast with a tour
If you're planning to add some real sparkle to your Italian itinerary, you might want to consider our tour that will lead you to Pompeii first and then to the Amalfi Coast.
The meeting point in Rome is in Piazzale Ostiense, right outside from the metro stop and under the Pyramid located in the square. You will reach Pompeii and then Sorrento with a small bus, drown by a private driver take will take you back to Rome in the evening too.
Once in Sorrento, you will have some free time to explore the city while in Pompeii you will enjoy the company of a professional archeologist that will walk you through history.
Tours of Capri & Pompeii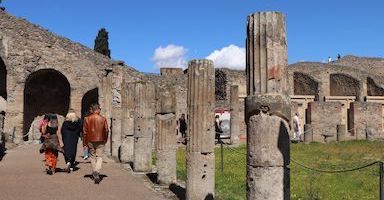 Best Selling Tour
Join us on an adventure from Rome to Pompeii and stunning Sorrento with comfortable, round-trip transportation. Skip the line access with an expert guide and make the most of your time in Italy and leave all the details to us. All you have to do is enjoy yourself!





See Prices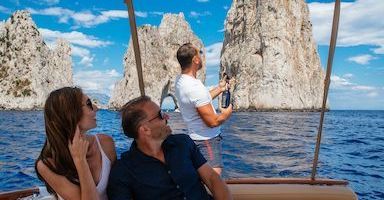 Amazing Experience
A full-day private boat tour to Capri from Amalfi, including the Island of Capri, is the best way to experience this world-famous coastline. Arrange a personalized boat tour along the Amalfi Coast and create unforgettable memories of Italy.





See Prices
Activities
So you figured out how you are going to get to Italy's gorgeous coast. But what to do once you're there? Below we have a few food and activity suggestions!
Where to eat in the Amalfi Coast
Of course, it's important to plan where to eat while organizing a trip to Italy. Once in Amalfi, you might consider a fundamental fact: the city is close to the sea so, eating some fresh fish seems mandatory! A restaurant that you could try is called "Da Ciccio Cielo Mare e Terra". Here fish is always fresh and dishes are a mix of tradition and more gourmet ideas, absolutely a combination that should make you add this place to your list.
The Taverna degli Apostoli, located in Piazza del Duomo in Amalfi, is another place you can't miss if you want to try fresh fish and typical Italian cuisine. New tasty recipes are always on the menu so, take a look at it!
What to visit in the Amalfi Coast
Once in Amalfi, you can't miss the wonderful beach but, the city has actually much more to offer. The ancient Duomo is something worth a visit but, be careful! According to a legend, you shouldn't hold the hand of your loved one while climbing the stairs or you'll never get married.
Once having reached the Duomo, you might want to continue your visit by taking a look at the close Chiostro del Paradiso, a landmark connected with the Duomo and built during the 13th century. What you might enjoy there are its charming architecture and style, the astonishing frescos inside the chapels and amazing flora.
The Amalfi Coast is this beautiful Italian place that still preserves its beauty and contact with nature. If you are planning a trip to Italy, taking a day to visit the Amalfi Coast is well worth it. Check out all our Amalfi Coast tours to see the best of Italy!