The major attractions in Rome like the Vatican and Colosseum hardly need an introduction. But what about the rest of the Eternal City? The best part of being in Rome is walking down a street, turning a corner, and finding another hidden gem. Experience the city like a local and get away from the hunger games experience found at Rome's most popular tourist attractions. Here are some of the best things to do in Rome off the beaten path.
---
Pro Tip: Planning what to do on your trip to Rome? Bookmark this post in your browser so you can easily find it when you're in the city. See our comprehensive guide to Rome for more planning resources, our top Rome tours for a memorable trip, and what to do in Rome at night.
Great Things To Do in Rome Off the Beaten Path
If you've been to Rome before or just want to experience the city off the beaten path, this is for you. We highly recommend seeing all the top sights if you haven't already. Here are a few great ways to see Rome in a day. There's plenty more to see and do in the Eternal City beyond its main attractions, as incredible as they are. Here are a few awesome off-the-beaten-path things to do in Rome.
1. The Appian Way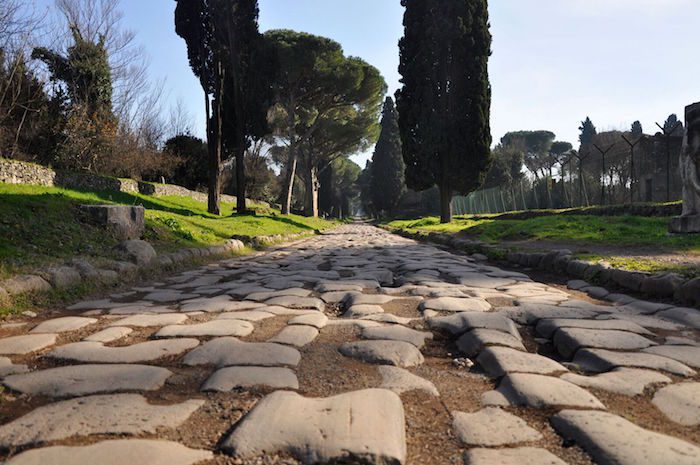 Ever hear the expression all roads lead to Rome? Well, that expression started with the Appian Way, or Via Appia Antica, which is the oldest road in Rome. Built in 312 B.C., it was created to give the Roman Republic army an easier method of transportation.
Vast green spaces with towering trees and ancient Roman ruins line both sides of these cobblestone paths. Nature and fresh air make you feel like you are hours outside of Rome when, in reality, you're just outside the center.
If you'd rather let someone else handle the transportation, check out our Rome Catacombs tour. This exclusive tour of Rome includes a stop at the Appian Way and much more.
How To Get To the Appian Way:
Your first option is to take the nearest metro to Piramide (B-line). From there, take the 118 bus and get off at Catacombs of San Callisto (ask the driver if you're not sure). You're on the Appian Way! Head in the direction of Appia Antica Café for refreshments. Then, keep going in the same direction for the best scenery.
Your second option is to take the nearest metro to Colli Albani (A-line). From Largo Colli Albani (in front of the metro station), take the 660 bus and get off at Cecilia Metella. You're next to Appia Antica Café! As you get off the bus, the direction you want to head in is to your left.
Address: Appian Way | Catacombs of San Callisto | Appia Antica Café
2. Singita Miracle Beach in Fregene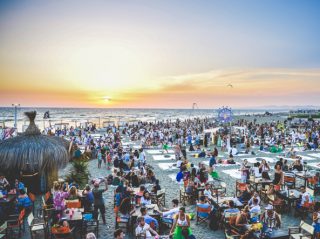 This is one of my favorite beach destinations in the world. You can sit on the beach and lay out, but I prefer to show up around 6 or 7 pm for an early evening cocktail and watch the sunset.
Where else can you people-watch while drinking Franciacorta on the Mediterranean and eat Italian food after visiting the Sistine Chapel? They have an evening aperitivo here with tons of food and great drinks.
Singita is normally open from April until late October. You can call or email to reserve a table, bed, or blanket and make sure they are open. They are really nice people.
How To Get To Singita Miracle Beach:
The only issue is you'll need a car or motorbike (renting a motorbike is definitely a fun thing to do in Rome). If you rent a motorbike, make sure you get a 125 cc since you'll have to drive on the highway. The lack of trains to this destination makes it a bit of a luxury to get here but it's a great off-the-beaten-path thing to do in Rome.
Address: Via Silvi Marina, 223/a
Popular Rome Tours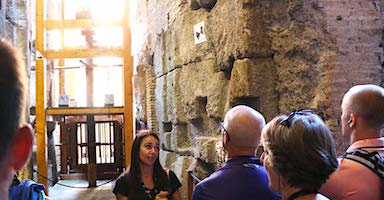 Likely to Sell Out
Colosseum Underground Tour with Roman Forum and Palatine Hill
This is our most popular Colosseum tour due to the incredible access to non-public areas like the underground chambers. All admissions are included and it is lead by an English speaking licensed guided and Colosseum expert.





See Prices
Not ready to book a tour? Check out our Rome Guide for more info.
3. Buy Expensive Clothes Near the Spanish Steps
Ok, this doesn't exactly feel super off-the-beaten-path, but it can be. The best stores are near the Spanish Steps and Via Condotti. Although everyone walks up and down the streets, you'd be surprised how many people avoid actually going into the shops.
You can't get a good deal on sunglasses or a purse if you compare it to Marshalls, but you can get a good deal on these items if you compare how much they cost in NYC or LA. Expect a Louis Vuitton bag or nice pair of designer shades to cost about two-thirds of what you'll pay stateside—even factoring in exchange rates.
Via del Babuino is by far my favorite road for great Italian designers that you may not see in NYC. Take your wife or convince your husband to go into a bunch of these shops and try on some fancy dresses and suits. This is one of my favorite things to do on a sunny day in November or December when you can dress nicely and not drip with sweat.
Address: Via Condotti | Via del Babuino
4. Visit the Horti Sallustiani (Gardens of Sallust)
The Gardens of Sallust are a really cool and centrally-located ancient garden that was once owned by Julius Caesar himself! This is a great way to visit something 99.99% of tourists don't see.
Enjoy walking through a former property of the great general himself. They are located near Termini station and don't post regular hours. We recommend you call ahead to see when they are open.
Address: Piazza Sallustio 21
5. Stop by the Protestant Cemetery
Tucked back behind a quiet street in Testaccio lies Rome's non-Catholic cemetery. It's the resting place of poets Percy Shelley and John Keats, among other famous artists and politicians who couldn't be buried on then-Roman soil because of their religion.
In the summer, the shade will be more than welcome. In the other months, you'll have a unique and historically rich attraction practically to yourself.
Address: Via Caio Cestio, 6
6. Go Out for a Rooftop Aperitivo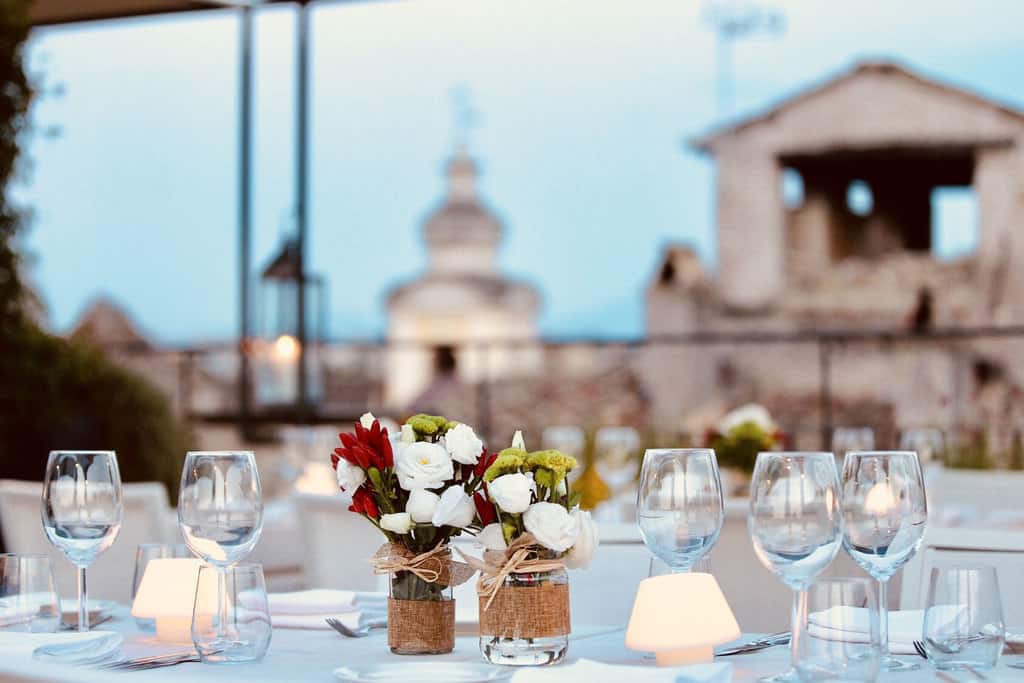 If you're an American in Rome, the practice most comparable to aperitivo is happy hour, but you didn't hear that from us. If you go out for aperitivo, order a cocktail and gain access to a buffet of snacks. This takes place after work but before dinner, and it's an awesome way to get into the flow of daily life in Rome.
The traditional Italian cocktails like Bellini, Negroni, or an Aperol Spritz are great, but the craft has improved in Rome over the last 20 years. Ask what types of craft cocktails they have or go with a nice Prosecco, which is always cheap and palatable.
Snacks will vary from couscous and veggies to sweets. If you want to see how locals partake in aperitivo, consider going to Terrazza Parrazio in the Trastevere neighborhood.
The name changes from year to year but it's always in the same place and has an incredible view. This modern restaurant is popular among trendy locals for having the best aperitivo in Rome. They also normally have live music. For other options, see our guide to the best rooftop restaurants in Rome, updated annually.
Address: Terrazza Parrazio
7. Per Grazia Ricevuta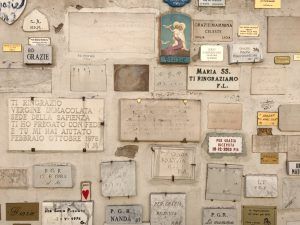 A quintessential hidden gem in Rome, this shrine to the Madonna, or Virgin Mary, is on the main street in popular Trastevere. The shrine, which is a wall of inscriptions, gives thanks to the Madonna for the blessings people have received.
Whether or not you're Christian (or religious at all), faith and religion play a huge part in daily life in Italy's capital city. If you're lucky enough to be there when nonni (grandparents) walk by, you'll most likely see them make the sign of the cross.
How To Get To Per Grazia Ricevuta:
Take tram 3 or 8, or the H bus.
Address: Via di Portonaccio, 568
8. Visit the Centrale Montemartini Museum
A 19th-century power station turned art museum, this place holds one of the best collections of Greek and Roman statues. It's a hip museum where the statues are mixed in among the black metal of the old machinery.
It's off the radar of tourists (and most locals), so you'll have plenty of space to enjoy the exhibitions. The museum is a 5-minute walk from Dopiozeroo, which makes for a perfect night of museum fun and happy hour after.
Address: Via Ostiense, 106 | Admission Cost: €7.50 | Hours: Tues – Sun, 9 am – 7 pm (closed on Mondays)
Popular Vatican Tours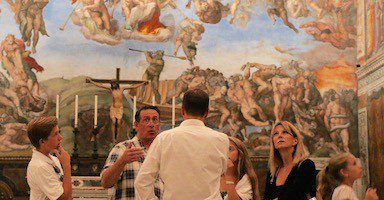 Best Selling Tour
Privileged Entrance Vatican Tour with Sistine Chapel
This our most popular and longest-running Vatican tour to date. It enters the Vatican City & Museums an hour before the public opening and visits the Sistine Chapel as it opens. Admissions are included and our English-speaking guides do a wonderful job bringing the museums to life!





See Prices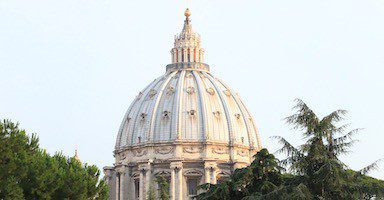 Top Rated Tour
Ultimate St. Peter's Basilica Dome Climb Tour with Papal Tombs
Get the most out of your visit to St. Peter's Basilica by joining a guided tour up to the top of the tallest dome in the world! Our tour includes all admissions including an elevator to the highest possible point and an English-speaking guide.





See Prices
Not ready to book a tour? Check out our Rome Guide for more info.
9. See the Illusion at Palazzo Spada
In Rome's historic center near Campo de' Fiori, nestled between small winding streets, is this beautiful art gallery. Cardinal Spada purchased the building in 1632 and then hired baroque architect Francesco Borromini to restore it. However, the tricky architect had something up his sleeve.
When Borromini was restoring the gallery, he added an illusion in the internal courtyard. Standing in the courtyard, the corridor seems to stretch endlessly and the statue at the end seems life-size, if not bigger. It is actually only 28 feet long (35 meters), and the statue is a mere 23 inches in size. So moved by the forced perspective, Spada wrote a short poem regarding his interpretation.
How To Get To Palazzo Spada:
The entrance to the gallery is not in front of the palazzo but rather on the side on Vicolo del Polverone, 15b (there are signs).
Address: Palazzo Spada | Admission Cost: €5 for adults over 25, €2.50 if under | Hours: Wed – Mon, 8:30 am – 7:30 pm (closed on Tuesdays)
10. Spas in Rome
Let's be honest, a spa day in Rome is an outstanding way to overcome jet lag after a long plane ride. In addition to the hustle of sightseeing in Rome, making time for relaxation is also important. From taking a dip in some Turkish baths to getting a massage, enjoying Rome's spas is a great way to connect to the history of this ancient city.
Ancient Romans were fans of public baths, and the setup wasn't that different than a modern spa. There was a caldarium (hot bath), a tepidarium (warm bath), and a frigidarium (cold bath). Some places even had steam baths. Just call your spa services "anthropological research".
11. See the Catacombs of Rome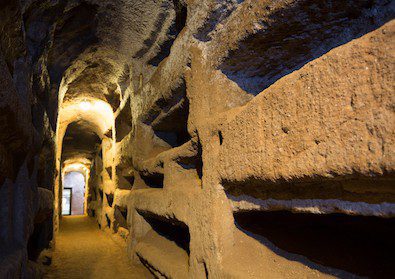 Popularized by Indiana Jones, the catacombs are not only an excellent way to experience the darker side of Rome, but they are also off the beaten path in Rome. Most people who visit the Eternal City skip the Catacombs of Rome, but you're not like everyone else!
For an easy and enjoyable experience, Book a tour of this underground burial site with a passionate, English-speaking guide and enjoy private luxury transportation, a walk on the ancient Appian Way, and a visit to the Capuchin Crypts.
Not ready to book a tour? Check out the best Rome tours to take and why.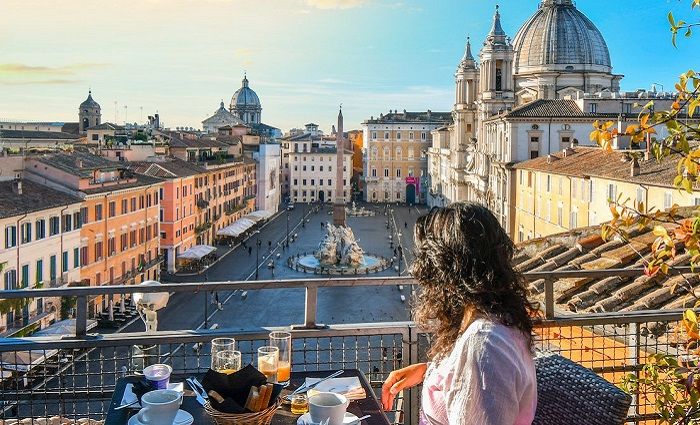 Find the best places to stay
Where To Stay in Rome
Rome has a rich cultural history and many iconic landmarks to explore. Plan where to stay in the magnificent Eternal City in the best neighborhoods.