As the sun sets on the Eternal City, something magical happens. The streetlights awaken and illuminate Rome's ancient ruins. Bars and restaurants prepare for the evening crowds and people of all ages venture outdoors to shake off the day's work and socialize. It is amazing as the streets, bars & restaurants fill up with travelers and locals alike!
---
Pro Tip: If you like this post, create a "Rome" folder in your browser and bookmark it.  You'll thank me when your travel partner looks at you and asks, "What should we do tonight?" This post recommends things to do on your own as well as tours in Rome you can do with us.  You should mix in a little of both.
Is it safe to walk around Rome at Night?
Before we get into our list of things to do in Rome at night, let's answer this important question. Yes, walking around Rome at night is completely safe.
All of the areas we will mention in this blog are filled with livelihood and character, even after the sun goes down. We do, however,  recommend keeping a close eye on your belongings to avoid pickpockets.
Take a Colosseum Night Tour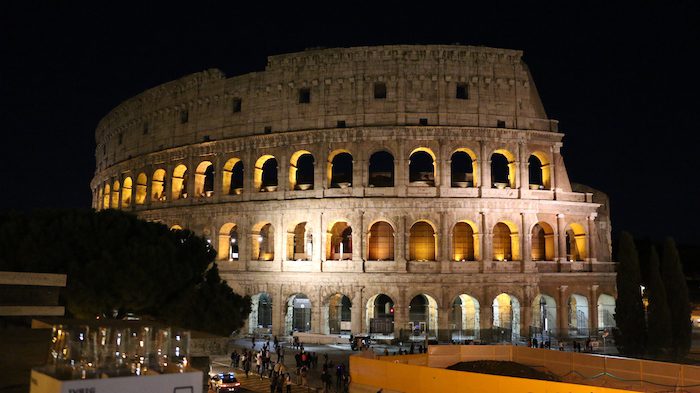 Rome's most iconic monument, the Colosseum, is an absolute must-see. The almost 2000-year-old amphitheater fascinates over 6.5 million visitors a year with its bloody history.
If you don't feel like sharing your experience with millions of other people, take a Colosseum night tour or check out our other Colosseum tours.
The VIP Colosseum at Night Tour is not just a way to explore the monument without the crowds (or the heat!), it also includes access to restricted areas, making it one of the city's best night activities.
You'll get to explore the Colosseum Underground and Arena Floor, two of the Colosseum's most sought-after exclusive access areas.
Rome Evening Food Tour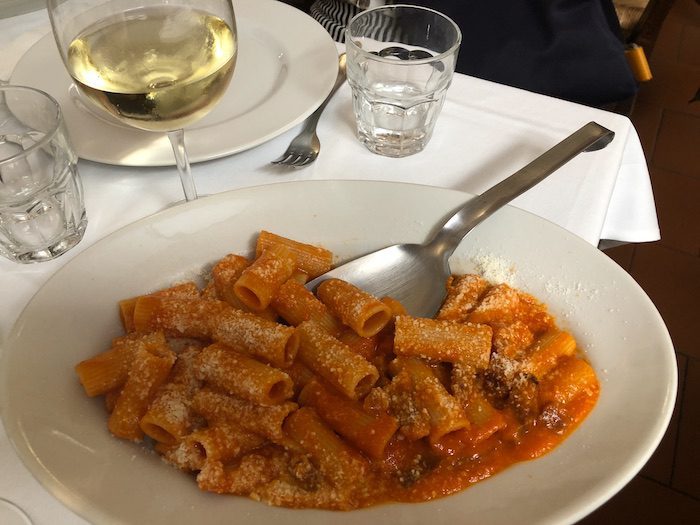 Simply, one of the main reasons people visit Rome is for the food. And why waste any of your meals at a tourist trap restaurant with low-quality cuisine?
On our Local Rome Food Tour in Trastevere, you can accompany a local guide to taste Rome's authentic flavors.
On this tour, you'll experience the best food in Rome through a variety of street food vendors, a sit-down traditional Italian dinner, and of course, a gelato stop.
Top Colosseum Tours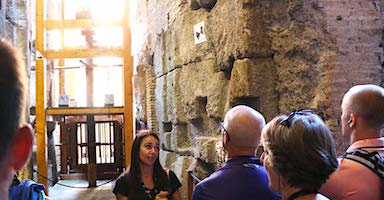 Best Seller
Colosseum Underground Tour with Roman Forum and Palatine Hill
This is our most popular Colosseum tour due to the incredible access to non-public areas like the underground chambers. All admissions are included and it is lead by an English speaking licensed guided and Colosseum expert.





See Prices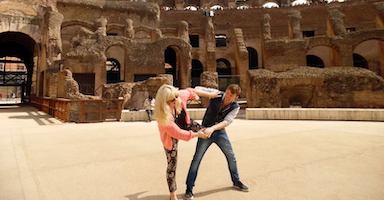 Best Seller
Privileged Entrance Arena Floor Colosseum Tour with Roman Forum
You'll enter the Colosseum through the back door entrance avoiding lines and crowds which is ideal! You'll step through the Gate of Death and your English speaking Colosseum guide will bring the stories to life. Next, on to the Roman Forum. All admissions are included.





See Prices
Walk Around Rome at Night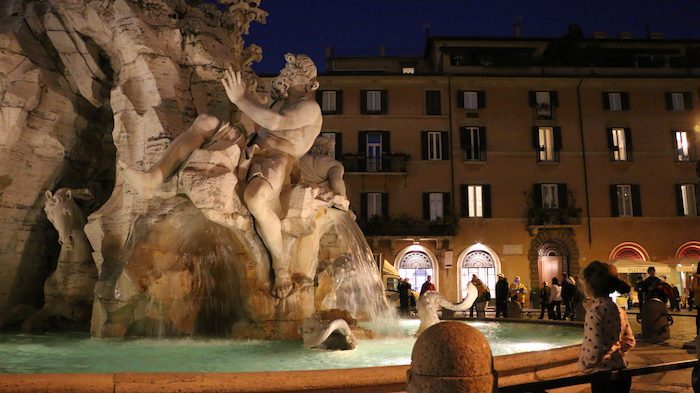 Rome's monuments are impressive during the day, but at night they take on an entirely new persona.
Make the Trevi Fountain your first place to visit and you'll see what we mean.
Walking through the city at night, when it's cooler outside, is often a more pleasant experience than covering the same ground during the hot day.
Stick to the historical center for a nighttime walk packed with the best sightseeing and people-watching.
Visit the Vatican at Night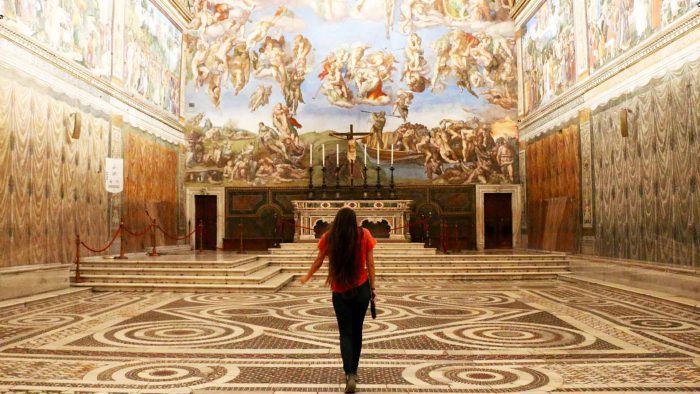 Are you looking for cool things to do in Rome? Most people make a point of visiting the Vatican.
However, the heat and crowds in summer are sometimes overwhelming. Why not tour the treasure trove of art and antiquities at night instead?
Especially if you aren't a morning owl, our evening Vatican tour is the best way to experience the best collections in the Vatican Museums with fewer distractions.
Rooftop Bars
As the city of seven hills, the city of Rome boasts a number of scenic spots with spectacular views. So, as dusk approaches, get yourself to a rooftop bar or other swanky places to get a drink with a view.
For the best view of St. Peter's and the Vatican, head to Les Etoiles Rooftop Garden, at the Hotel Atlante Star.
The elegant setting, decorated with flowers and twinkly fairy lights, makes it a popular spot for couples looking for romance.
Plus, the prices here are reasonable, which attracts both tourists and locals alike.
We much prefer to lounge here on a balmy summer evening, but should you visit in cooler months because blankets are provided to keep out the chill.
Outdoor Cinema
With the arrival of long, warm and most importantly dry summer nights, open-air cinemas pop up across Rome. From summer blockbusters to cult classics and Italian titles you pretend you've already seen, there's something for everyone.
L'Isola del Cinema Film Festival on Tiber Island begins in June and continues through September. Focusing on independent films across a range of genres, the films include both English and Italian language screenings.
Across the river, the free Festival Trastevere Rione del Cinema sets up camp in Piazza San Cosimato all of June and July.
There's also the Casa del Cinema in the Villa Borghese. Entrance is free but places are limited, so don't be late. As with all our suggestions, double-check the showings and info before you go.
Popular Rome Tours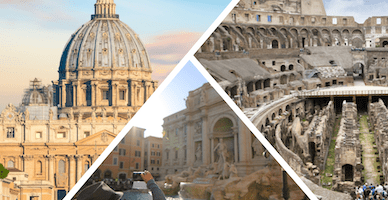 Best Selling Tour
Rome in a Day Tour with Colosseum and Vatican Museums

The best way to get your bearings all in one day. Visit the Sistine Chapel, Colosseum, Trevi Fountain, and more with a licensed and fun English-speaking tour guide. They'll add tons of insights and make the entire experience so much more memorable. Also, you'll get a feel for the city so it's great on one of your first days in the city. All admissions and transport included although there will be a lot of walking.





See Prices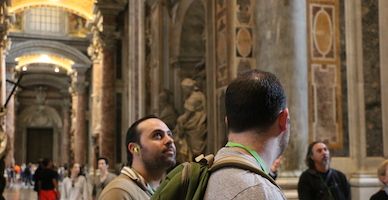 Best Price!
Skip the Line Vatican Tour with Sistine Chapel & St. Peter's Basilica
One of our most popular Vatican tours since it is such an amazing value. Skip the line to get inside with a super-knowledgeable English-speaking guide that will bring the museum to life. Stories of the artists, popes, conspiracy, love, and of course tragedy! Admissions included.





See Prices
Hit Up a Speakeasy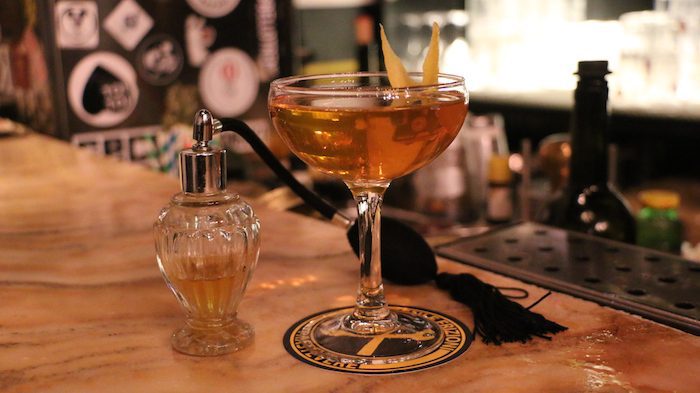 Speakeasies are hidden behind the most ordinary-looking doors in Rome.
The most famous of these joints, The Jerry Thomas Project, started the underground bar trend when it opened in 2010.
Both reservations and a password are required, but make it through the door and you'll be transported to the roaring twenties.
Make yourself comfortable on a Chesterfield leather sofa while the bartender prepares your favorite tipple.
I Want More Italy!