The Rome Catacombs have become quite a popular destination for travelers visiting Rome. Though a little eerie, these underground burial chambers provide an excellent opportunity to venture outside the city walls and see ancient roads, walls, and more. You can see them during the day, but have you considered venturing down into these tombs at night?!?
---
Rome Catacombs Night Tour
Seeing the Rome Catacombs at night can be a much different experience than exploring these sites during the day. If you're into dark tourism, seeing the Rome Catacombs at night is truly an experience not to be missed.
To access the catacombs at night, you have to reserve a guided tour. To make sure you experience this after-hours visit with a storytelling and engaging guide, we recommend checking out our VIP Rome Catacombs Night Tour with Capuchin Crypts.
What are the Rome Catacombs?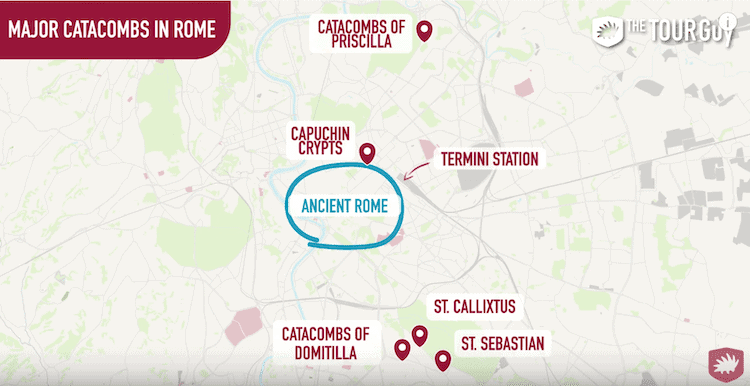 Rome is filled with catacombs, all hidden spaces used and built by ancient Romans. But, what were they for?
The first Christians during the Roman Empire were not accepted and often persecuted. These people chose to keep following their religion and built the Catacombs as a safe haven. Here, they felt free to pray and bury their dead without having to fear the Roman Empire.
Many of the Catacombs were decorated with frescoes and holy symbols able to connect people with God. In many Catacombs, these frescos are still preserved and their colors and beauty still attract people from all over the world.
Top Colosseum Tours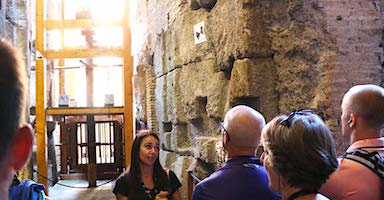 Best Seller
Colosseum Underground Tour with Roman Forum and Palatine Hill
This is our most popular Colosseum tour due to the incredible access to non-public areas like the underground chambers. All admissions are included and it is lead by an English speaking licensed guided and Colosseum expert.





See Prices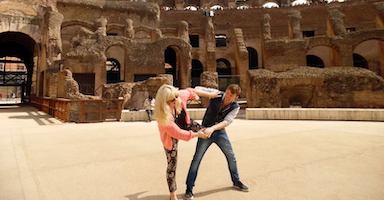 Best Seller
Privileged Entrance Arena Floor Colosseum Tour with Roman Forum
You'll enter the Colosseum through the back door entrance avoiding lines and crowds which is ideal! You'll step through the Gate of Death and your English speaking Colosseum guide will bring the stories to life. Next, on to the Roman Forum. All admissions are included.





See Prices
Why visit the Rome Catacombs After Hours?
With our guided tour, it's possible to experience both the Priscilla catacombs and the Capuchin Crypts at night with few crowds. Check it out here.
Capuchin Crypts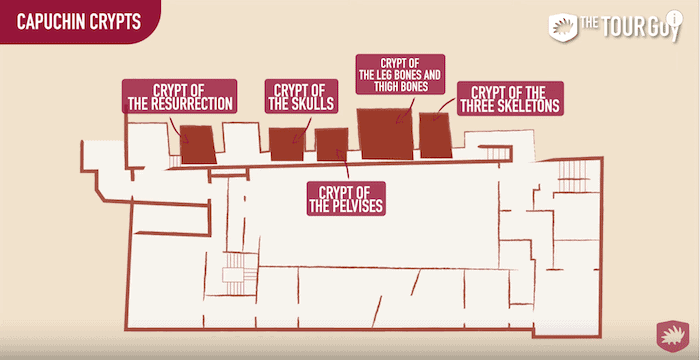 On this tour, the first stop will be the Capucin Crypts, located right under Piazza Barberini. Underneath the Church of Santa Maria della Concezione Cappuccini, you will find 5 chapels: Crypt of the Resurrection, Crypt of the Skulls, Crypt of the Pelvises, Crypt of the Leg Bones and Thigh Bones and Crypt of the Three Skeletons. Filled with bones of Capuchin friars, this eerie stop will set you up to continue your dark exploration of Rome at night.
Priscilla Catacombs
From the Crypts, we will provide transportation to the Priscilla Catacombs. Here you will jump into a new dimension. The guide will lead the way and show you this place also known as the biggest catacomb in Rome.
Located in northern Rome, on via Salaria more precisely, this site is open every day from 9 am to 12 pm and from 14 to 17 pm in the afternoon. According to historians, this area is one of the largest areas used by ancient Romans both as a burial place and religious site. It's still a mystery whether or not the body of noblewoman Priscilla is buried there.
More Rome Catacombs
Wanna visit the Rome Catacombs during the day? Here are some other great ancient burial sites you can visit.
San Callisto Catacombs
Among the many catacombs, you might want to visit the San Callisto catacombs located in via Appia Antica and open every day until 5 pm. Erected during the 3rd century, the San Callisto catacombs are among the largest burial and religious places in Rome.
Domitilla Catacombs
Another important site is the Domitilla Catacombs. Erected during the 1st century, these catacombs are the largest burial site ever found in Rome. They are open every day from 9 am to 12 am and from 2 pm until 5 pm. You can visit the Domitilla Catacombs during the day with one of our expert guides on our Rome Catacombs Tour with Capuchin Crypts.