Off the tourist trail, but still in walking distance to Rome's most popular attractions, Monti is a quiet treasure in Rome. You'll find quiet cobblestone streets with local artists working in tiny boutiques with other buildings delicately covered in deep-green ivy. Here are the best places to eat in Monti. 
---
In Rome's ancient past, Monti was the Suburra, or the low-class slum.  Then, in the 1930's, it emerged as a haven for artists. Now, it is the perfect balance between old and new Rome. There are still older Romans who enforce tradition in their quartiere (neighborhood). Conversely, there are the hipsters and artists who give the neighborhood the charming balance with the copious vintage shops, incomparable people watching, and yes, creative dining options. From cozy trattorias to quick pick-me-ups, here are the best places to eat in Monti
---
1. La Taverna dei Fori Imperiali
With a traditional and warm interior paired with an authentic Roman menu, La Taverna dei Fori Imperiali is the perfect place to dine with friends or family. Four generations run this establishment, and you feel that family comfort from the start.
For starters you have a local favorite: porchetta romana con bruschetta. A highly recommended first course is ravioli di burrata. Next, impress the locals with a typical Roman tripe as your second.
Ready to satisfy your sweet tooth?  Get in the Roman spirit with their creamy tiramisu or panna cotta. It is important to taste the traditions of Rome, and this is certainly a place to have that experience.
Address: Via della Madonna dei Monti 9 | Hours: Wed-Sun 12:30-3p.m., 7:30a.m.-10:30p.m. | Website | Price: €€-€€€ | Tel: +39 066798643
---
2. La Casetta
La Casetta means cottage in English, which is appropriate given the design of this hidden gem. Standing alone near the main street in Monti, the exterior is completely covered in welcoming ivy. Plus, with floor-to-ceiling windows that open to the lively street out front, you have the perfect view to accompany your meal.
Choose from a light panino like tomato, mozzarella, basil and local olive oil. Or, try the selection of pasta or meat dishes. Just a lighter snack? You won't be disappointed with their desserts and energizing coffee—the cheesecake is to die for.
In addition to the quality food and charming decor, you'll be delighted to know that you can have almond or rice milk in your coffee. Soy milk isn't hard to find in Rome, but almond or rice is quite the jackpot.
Address: Via della Madonna dei Monti 62 | Hours: Mon-Thur 8a.m.-8p.m., Fri-Sat 8a.m.-10p.m., Sun 8:30a.m.-9p.m.  | Website | Price: €€ | Tel: +39 064827756
---
3. Alle Carrette
Where do the locals go for a pizza in Monti? Alle Carrette! A typical Roman pizzeria means four things – no flare, dough left overnight to rise and then rolled paper thin, a wood burning oven, and basic toppings. And understand when I say that no flare doesn't equate to boring. It seems that the food and natural comfort of the place doesn't need any help from frivolous décor.
To order like a hearty Roman, try the Capriciosa- prosciutto, mushrooms, artichoke hearts, olives and a hardboiled egg. As a vegetarian, I prefer the classic Margherita.  Or, when I am feeling indulgent, I order the Bufala with buffalo mozzarella and pachino tomatoes.
However, a Roman pizzeria is incomplete without fritti (fried) starters. The classics like supplì (rice balls stuffed with mozzarella and tomato sauce), bacala (cod), and fiori di zucca (zucchini flowers stuffed with mozzarella and anchovies) come highly recommended.
Address: Via della Madonna dei Monti 95 | Hours: Thurs-Tues 11:30a.m.-4p.m., 7p.m.-12a.m., Wed 7p.m.-12a.m. | Website | Price: €-€€ | Tel: +39 066792770
---
4. Er Baretto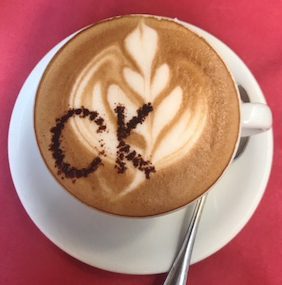 Er Baretto translates to little bar. The outdoor seating is perfectly placed on one of the most charming streets in Monti. Strings of ivy connect one side of the street to the other and those infamous flower trucks I mentioned set up shop close to your table. While there are tables inside, I recommend waiting.
A bar in Italy means a place to have a breakfast (or midday) pastry and coffee. While you can do that here, they also have a full menu. However, their claim to fame is their artistic coffee, in particular, cappuccinos. The barman uses foam as his canvas to create drinkable art. Each cup of coffee is presented differently, so go with a group of friends and get a variety of designs.
To accompany your coffee, order a sweet treat. Torta della nonna is my favorite. It is a pie with a shortbread-like crust, filled with thick Italian custard, and topped with a generous portion of pine nuts and powdered sugar.
If you're in a rush, order and drink your coffee at the bar inside. That is the Italian custom, so you'll fit right in.
Address: Via del Boschetto 132 | Hours: Mon-Fri 7a.m.-11p.m., Sat-Sun 9:30a.m.-11p.m. | Website | Price: €-€€ | Tel: +39 064820444.
---
5. Il Gelatone
An Italian restaurant guide is never complete without a gelateria. After all, do as the Romans do. And Romans love gelato. A go-to gelato in Monti is Il Gelatone for a few reasons. It is just a minute walk from the main square in Monti, Piazza della Madonna dei Monti.  Enjoy your gelato on the steps of the fountain. This gelateria also features a variety of traditional and soy-based flavors. Vegan gelato does exist is many gelaterias, but in the form of sorbet.  This is one of the few places in Rome that serve soy-based gelato. Plus, they don't skimp on the creaminess or flavor.
For vegan flavors, enjoy coconut, strawberry, chocolate, hazelnut, and more! You can even order a gluten free cone. The 25+ traditional flavors range from pistacchio to cheesecake.
Address: Via dei Serpenti 130 | Hours: Sun-Thur 10a.m.-12a.m., Fri-Sat 10a.m.-1a.m. | Website | Price: € | Tel: +39 064820187
---
I Want More!
Did you enjoy that pizza or beautiful coffee?  Share your foodie adventures with us on Facebook, Twitter, Instagram and YouTube!
Up next: Check out Monti's vintage shopping and explore the best piazzas in Rome for a long lunch.