Off the tourist trail, but still in walking distance to Rome's most popular attractions, Monti is a quiet treasure in Rome. You'll find quiet cobblestone streets with local artists working in tiny boutiques with other buildings delicately covered in deep-green ivy. Here are the best restaurants in Monti Rome. 
---
1. La Taverna dei Fori Imperiali
With a traditional and warm interior paired with an authentic Roman menu, La Taverna dei Fori Imperiali is the perfect place to dine with friends or family. Four generations run this establishment, and you feel that family comfort from the start. For a starter dish, try the porchetta romana con bruschetta.
After that, try the highly-recommended first-course ravioli di burrata. Next, impress the locals with typical Roman tripe as your second course. Ready to satisfy your sweet tooth? Get in the Roman spirit with their creamy tiramisu or panna cotta. It's important to taste the traditions of Rome, and this is certainly the right place to have that experience.
Address: Via della Madonna dei Monti 9 | Hours: Wed-Sun 12:30-3p.m., 7:30a.m.-10:30p.m. | Website | Price: €€-€€€ | Tel: +39 066798643
2. La Casetta
La Casetta means cottage in English, which is appropriate given the design of this Monti Rome restaurant. Standing alone near the main street in the district, the exterior is completely covered in welcoming ivy. Plus, with floor-to-ceiling windows that open to the lively street out front, you'll the perfect view to accompany your delicious meal.
Choose from a light panino like tomato, mozzarella, basil and local olive oil. Or, try the selection of pasta or meat dishes. Just a lighter snack? You won't be disappointed with their desserts and energizing coffee—the cheesecake is to die for.
In addition to the quality food and charming decor, you'll be delighted to know that you can have almond or rice milk in your coffee. Soy milk isn't hard to find in Rome, but almond or rice is much more difficult to find.
Address: Via della Madonna dei Monti 62 | Hours: Mon-Thur 8a.m.-8p.m., Fri-Sat 8a.m.-10p.m., Sun 8:30a.m.-9p.m.  | Website | Price: €€ | Tel: +39 064827756
3. Il Tettarello
Another one of the best restaurants in Monti, Il Tettarello caters for pizza lovers and meat enthusiasts alike. This traditional "Hostaria" (a typical Italian eatery) serves some of the best pizza and pasta in Monti Rome. Paper-thin, crunchy and cooked in a wood-burning oven as the tradition prescribes,  choose toppings such as mushrooms, sausage, fried zucchini flowers, and lots of gooey mozzarella cheese.
Il Tettarello also offers a satisfying collection of traditional desserts, all homemade, such as decadent Tiramisu and ricotta cake! Definitely take a trip here to feel like you're sitting at a real Roman grandma's kitchen table.
Address:Via Dei Capocci 4/5, 00184 Roma, Italia | Hours: Mon-Sat 6p.m. – 11:30p.m., Sun 12:30a.m. – 3:00pm, 6p.m. – 11:30p.m. | Website | Price: €€-€€€ | Tel: +39 06 474 2130
4. Er Baretto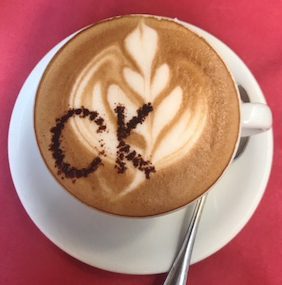 Er Baretto translates as "little bar" in English. The outdoor seating is perfectly placed on one of the most charming streets in Monti. Strings of ivy connect one side of the street to the other and flower trucks set up shop near the outside tables.
For the most charming experience possible, wait for a table outside. However, if you're in a rush, order and drink your coffee at the bar inside. This the Italian custom, so you'll fit right in.
A bar in Italy is not the same thing as a bar in America or England. If you say you're headed to a bar in Rome, it refers to a place that serves breakfast (or midday) pasticcini and caffè (pastries and coffee).
If you're in the area and find yourself craving the best breakfast in Monti Rome, head here. This bar also serves a full menu. However, their claim to fame is their artistic coffee. In particular, their cappuccinos with intricate foam designs. Each cup of coffee is presented with a different design – go with a group of friends and see a variety of them.
To accompany your coffee, order a sweet treat. The Torta della nonna is a local favorite, and a good option to choose. Consisting of a pie with a shortbread-like crust, the pie is filled with thick Italian custard, and topped with a generous portion of pine nuts and powdered sugar.
Address: Via del Boschetto 132 | Hours: Mon-Fri 7a.m.-11p.m., Sat-Sun 9:30a.m.-11p.m. | Website | Price: €-€€ | Tel: +39 064820444
5. Ai Tre Scalini
Established in 1895, this little winery in the heart of Monti will conquer your heart with its movie-like, intimate atmosphere and unbeatable selection of over 300 artisanal drinks between wine and beer. Like all the best traditional eateries in Rome, you'll find the specialty of the day written on a blackboard, all made with fresh and locally sourced ingredients.
For a great gastronomic experience, head there for happy hour and order a glass of red wine accompanied by a selection of their delectable finger food and snacks, such as Gorgonzola cheese with honey and walnuts, truffle sausages, ricotta di bufala with truffle honey and freshly cut prosciutto!
Address: Via Panisperna, 251, 00184 | Hours: Every day 12:00pm – 1:00am. | Website | Price: €€-€€€ | Tel: 06 4890 7495
5. Il Gelatone
An Italian restaurant guide is never complete without a gelateria. After all, do as the Romans do. And Romans love gelato. A go-to gelato in Monti is Il Gelatone for a few reasons. It is just a minute walk from the main square in Monti, Piazza della Madonna dei Monti.
Enjoy your gelato on the steps of the fountain. This gelateria also features a variety of traditional and soy-based flavors. Plus, vegans in rome can rejoice that this place exists. Vegan gelato does exist is many gelaterias, but in the form of sorbet.  This is one of the few places in Rome that serve soy-based gelato. Plus, they don't skimp on the creaminess or flavor.
For vegan flavors, enjoy coconut, strawberry, chocolate, hazelnut, and more! You can even order a gluten-free cone. The 25+ traditional flavors range from pistachio to cheesecake.
Address: Via dei Serpenti 130 | Hours: Sun-Thur 10a.m.-12a.m., Fri-Sat 10a.m.-1a.m. | Website | Price: € | Tel: +39 064820187
---
I Want More Italy!