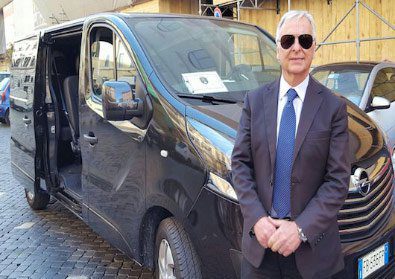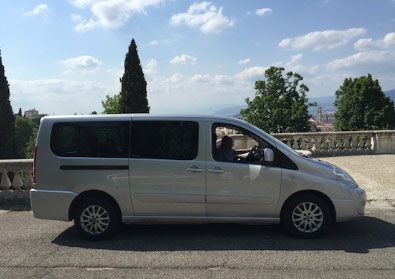 Previous
Next
Don't hassle with trains, Italian taxis or bus schedules in Italy, The Roman Guy offers private transfers in luxury climate-controlled vehicles. While a taxi cost less, private transfers offer door-to-door service across Italy in comfort and style. Private transfers are not just for luxury travelers - they are simply a practical solution. Making reservations is quick and easy.
Types of Transfer Available in Italy
Private Transfers To and From Your Tour
Our early morning Vatican tours are best-sellers, but sometimes waking up early on vacation is much easier when you know transportation is already taken of. Consider adding a transfer at the same time you book a tour. Our professional drivers pick you up at your accommodation in a climate-controlled vehicle, and deliver you to your tour's meeting point with plenty of time to spare.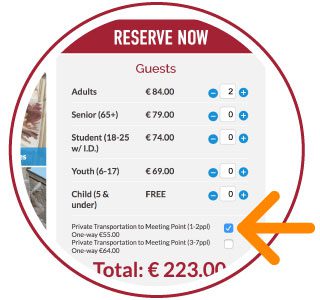 Transfer to Meeting Point Prices Examples
Transfer to Vatican Tours Meeting Point
1-2 ppl €55
3-7 ppl €64
Transfer to Colosseum Tours Meeting Point
1-2 ppl €55
3-7 ppl €64
Transfer to Food Tours in Rome Meeting Point
1-2 ppl €55
3-7 ppl €64
How To Book:
When Booking A Tour: When reserving your tour, check the appropriate box highlighted in the above circular image to include a transfer to your tour's meeting point.
After Booking a Tour: If you've already booked your tour and wish to add a transfers,
Private Transfers to and from airports/ports in Italy
Whether you've had a long flight to Rome, or you've reached the end of your Italian vacation in Venice, the last thing you want to do is figure out how to get from to and from the airport. Our private transportation services in Italy include drivers who are happy to help you with luggage and get you to your destination as quickly as possible.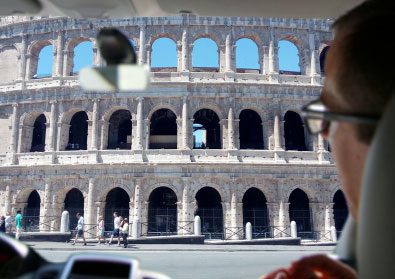 Airport & Port Transfers Prices Examples
To & From Fiumicino Airport FCO - Rome center
1-2 ppl €75
3-7 ppl €100
To & From Civitavecchia Port - Rome center
1-2 ppl €200
3-7 ppl €236
Custom Private Transfers Across Italy
Don't find the transfer you're looking for? In addition to the airport and tour transfers listed above, we provide custom transfers in Italy. Contact us to arrange the personalized transfer you need. We provide you with a quote, but there is no obligation to book.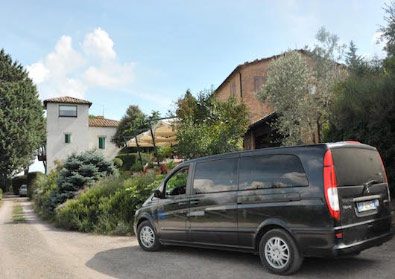 Airport & Port Transfers Prices Examples
Rome to Florence with a stop in a selected winery
1-7 ppl €900
From Rome to Positano with stops in Pompeii & Vesuvius
1-7 ppl €1089