Any big city can seem overwhelming on a first visit – this is especially true of Rome, where there's so much history, culture and food to soak up. Don't worry though, we've got you covered – here's a rundown of everything you can expect on your first trip to the Eternal City with some Rome travel tips to help you make the most of it.
---
Getting from the Airport
There are two airports in Rome, Ciampino and Fiumicino, and they're both roughly the same distance from the center. To reach the center from Fiumicino, there is the option of both the train and a bus, but from Ciampino, the easiest option by far is the bus. Both go to Termini station, the main station in Rome – from there, it's easy to get the metro, bus or taxi to wherever you want to go.
The bus tends to be around  €6-7, depending on the airport and the coach company. The train is about €15 for the fast train or €8 for the regular one.
Transportation
Public transport is not Rome's strong point and can get confusing. If possible, try to get a hotel or apartment in the historic center so you can see everything on foot – or else, find one by a metro stop. There are three metro lines, A, B & C, which run frequently. Buses are harder to figure out, but can take you to most places – it's worth downloading an app such as Citymapper to make it easier.
You can buy tickets for the metro at any station, cash only, including cheaper tickets for 24 or 48 hours. For the buses, however, you need to buy a ticket before you get on the bus, usually from a tobacconist/café. They must be validated when you get on, and all public transport tickets are €1.50.
Taxis are everywhere, but expensive. Uber only offers its Uber Black luxury option, which can get expensive. MyTaxi is a good substitute, or if you want to schedule your transportation in advance, book a private transfer.
Language
The official language of Rome is, obviously, Italian, but if your language skills are a bit rusty, don't worry too much as most people that you'll interact with on a day-to-day basis in restaurants, hotels and tourist attractions will speak English. If you get stuck, here are a couple of handy expressions to help you out:
Do you speak English?
Parla inglese?
Can you speak more slowly?
Può parlare più lentamente?
How much does this cost?
Quanto costa?
Do you take credit cards?
È possibile pagare con bancomat?
Where is the bathroom?
Dov'è il bagno?
Tipping in Italy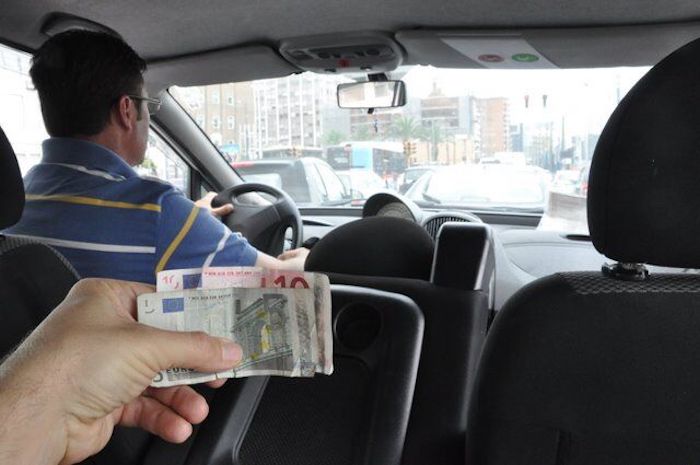 The currency in Italy is the Euro. An important thing to remember about Italy is that cash is still king, it's still necessary to carry a reasonable amount of cash around with you at all times to avoid getting stuck. In general, most restaurants will allow you to pay on card, as will large shops and tourist attractions, but for drinks, coffees, transport tickets and small items cards often aren't accepted.
Tipping isn't particularly expected in Italy, but ten percent left in cash for the waiter is always appreciated.
What to Pack
Winter
What to pack depends entirely on, as you might expect, the time of year you're visiting and the activities you have planned. In general, winter months (November to February) are relatively chilly, between 30 and 60 degrees. Expect to bring a heavy coat, scarf and even gloves if you're planning on spending a lot of time outside walking around the city.
Summer
Summer months (May to September) are extremely hot, often upwards of 80 degrees. Although Italians generally won't be seen wearing short shorts and minidresses in the city, no matter how hot it gets, it's understandable that tourists do – the summer heat in Rome can get very oppressive!
The best things to pack in order to keep cool AND fit in with the locals are loose, cotton clothes – remember also that St. Peter's Basilica in the Vatican and many other large churches expect shoulders and knees to be covered at all times, even in the baking August heat.
In order to avoid both of these extremes, autumn and spring are the best seasons to visit Rome. There are fewer tourists and much more pleasant temperatures, usually in the mid to late 60s. Remember to pack a jacket for the evenings though – the temperatures still drop right down at night.
Always remember to pack a rain jacket or umbrella – even in the height of summer there can be heavy rain storms, so it's best to be prepared!
Food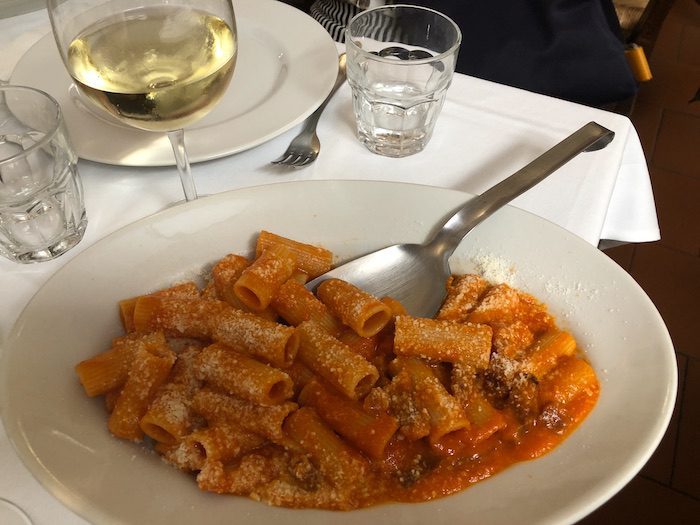 Where to start with Italian food? It's often one of the top reasons why tourists come to Italy, and for good reason. Every region serves amazing, fresh, handmade delicacies.
A traditional Italian meal will go like this: antipasto (starter), primo (pasta) secondo (meat and vegetables), dolci (dessert), followed by coffee and liquors. Do Italians eat like this every day? Fortunately for those of us that live here, no! But these are typically the headings that you'll see on a menu, so it's best to have an idea of what they mean.
While Italians are well-known for their relaxed attitude to most things, food is not one of them and they have some very rigid rules about when and how food should be eaten. For that reason, it's important to go with an open mind. Don't expect the 'Italian' food that you're used to in America. For example, you won't find spaghetti and meatballs. Both spaghetti and meatballs exist, but they're not eaten together. Spaghetti is a primo, while meatballs are a secondo and eaten with 'contorni', sides such as roasted potatoes and vegetables. What you can expect are Roman pastas such as Amatriciana (crispy bacon in a spicy tomato sauce), carbonara (made with just cheese and egg, no cream) and cacio e pepe.
Other foods to try in Rome that are local to the area include: saltimbocca, veal wrapped in parma ham and sage; carciofi alla romana (fried artichoke) e alla giudia (cooked artichoke); coda alla vaccinara, oxtail with tomato sauce, herbs, pine nuts, raisins, and bitter cocoa; and suppli, fried rice balls stuffed with mozzarella, a classic Roman street food.
Where to Find Local Restaurants in Rome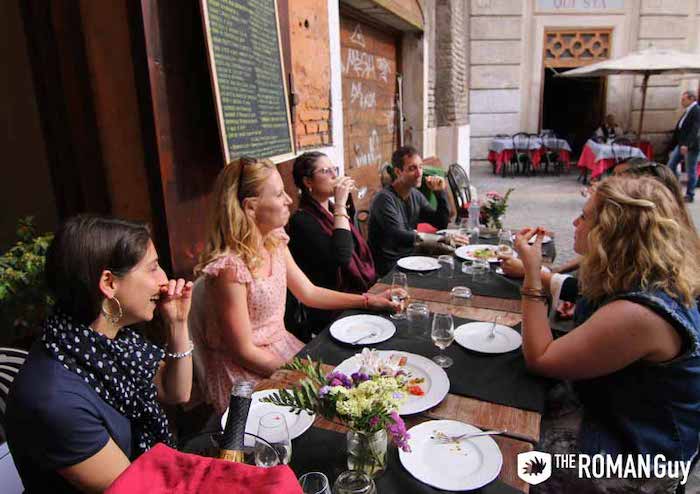 Rome is a very touristy city, but it doesn't mean that there aren't good places to eat in the city center. In general, avoid restaurants within sight of a tourist attraction, with pictures of the food on the menu or people standing outside trying to hustle you in. Look for smaller places, where the majority of customers are speaking Italian and there are fewer things on the menu. We also recommend having a local show you around their favorite spots.
Even in the most authentic restaurants, don't expect particularly friendly service. Some of the best food is often flung at you without so much as a 'hello', but it's guaranteed to be worth it. Areas a little more off the beaten track are guaranteed to find you a more authentic experience. For example, the area of Testaccio is well-known for being a classic Roman foodie area, packed with local restaurants.
Coffee in Italy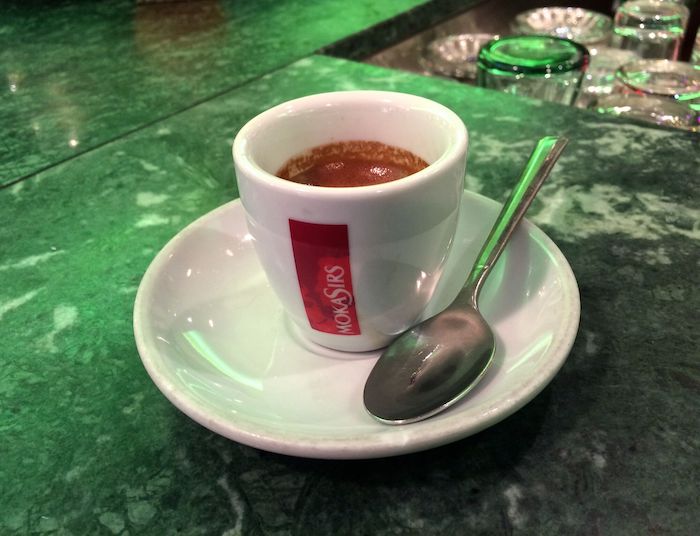 Italians take their coffee culture very seriously, and there are almost as many rules about coffee as there are for food. For example, if you ask for a coffee – 'un café' – you will get an espresso, which is usually drunk standing up in a bar. Italians do drink cappuccino, but only in the mornings with a pastry. Ordering a cappuccino after 11 is frowned upon, and straight after a meal is downright forbidden.
Standing up prices will tend to be around €1 for a coffee and €1.20 for a cappuccino – if you want to sit down and enjoy it, be prepared to pay a little more. This is the same for everyone, not just because you're a tourist – but usually the table cost should be roughly double the 'bar' cost, and if you find it to be any more than that, head somewhere else.
Culture and Tips
Meal Times
One of the biggest differences is that Italians tend to eat much later than Americans. In fact, many of the best restaurants won't open until at least 7.30 p.m. In order to avoid eating in an empty restaurant and to really make the most of your evenings in Rome, try and fit in with them and eat a bit later – around 8 p.m. is a good time to sit down.
Italians also eat much more slowly, and take more pleasure in their food. For example, you won't see people wandering around eating food or drinking coffee on the go. Rome does have a big street food culture, but Italians will tend to sit down, either outside or inside the restaurant, even for a quick sandwich. Meal times are an elaborate affair, especially on Sundays where lunch can last upwards of three hours.
Rome Water Fountains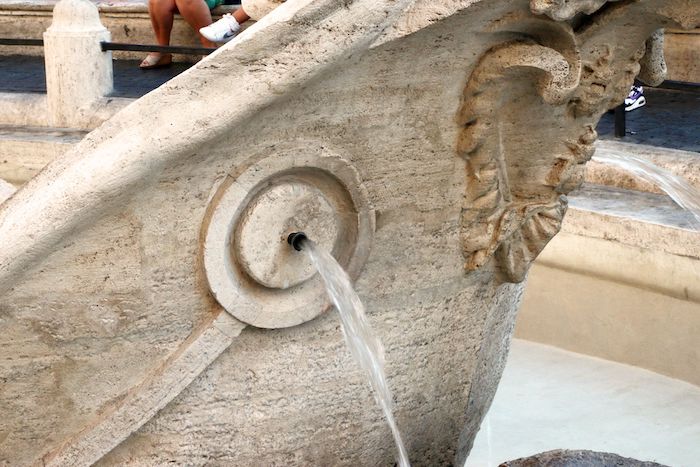 One of the best things to know about Rome is that there's no need to buy plastic bottles of water when you get thirsty – there's tons of fountains dotted around the city, and Romans are very proud of them. Bring a refillable water bottle, and fill it up whenever you see one. There's an app to help you find them, called I Nasoni di Roma – if you're going in the summer heat, you'll find this tip invaluable!
Hey, we sell tours too!
Planning a trip to Rome? We can definitely help you out with that. We offer some of the best Rome tours around with expert guides who want nothing more than to show you around.
Best Rome Tours: Guide to Rome's Experiences with Videos + Map
---
I Want More Italy!