Traveling to Rome for the first time? Nobody wants to pick a hotel in the wrong part of town or sit down at a bad restaurant. The good news is you're reading this article, so you won't have these problems! This guide will cover some of the Rome basics and links to a ton of great resources to make planning your trip to Rome easy and fun.
---
Pro Tip: Bookmark this post and other helpful articles, like where to stay in Rome in a trip folder on your browser so you can quickly find them when you need them. Rome is an expansive city worthy of a tour or two, explore our top-rated Rome tours and experiences. Also, check out our other resources on planning your trip to Rome.
How To Plan Your Trip To Rome: A Complete Guide
In this guide, you'll find everything you need to know to plan a memorable vacation in the Eternal City, with plenty of additional resources to explore. From the logistics of where to stay and how to get around the city to the finer details of how to get your coffee, basic Italian phrases, and top things to do, we'll help you prepare for your dream trip in Rome.
Rome Airports and Public Transport
Rome Airports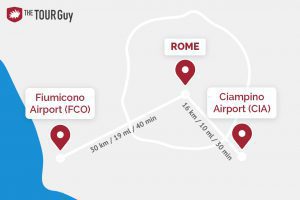 There are two main airports in Rome, Ciampino and Fiumicino, and they are both roughly the same distance from the city center.
Fiumicino (FCO)
In short, to get from Fiumicino Airport (FCO) to Rome's city center, the train is the most popular means of transport, taxi is the most convenient, and the bus is the least popular.
By far, the most popular way to get from Fiumicino airport to the city center is by train. For €15, you can get the Fiumicino Express from FCO to Termini station (main station).
A taxi is the most convenient way to get to the center. There are regulated rates from the airport to the city center that fall between €45 – €50, depending on a few difficult-to-explain criteria, such as what type of license the taxi has. If you're staying outside the historic center of Rome, you may also have to pay more or less. You can normally pay with a credit card in taxis but always ask.
Ciampino (CIA)
The bus is the most popular way to get from Ciampino Airport (CIA) to the city center. Buses tend to cost around €6 – €7, depending on the airport and the coach company. They run based on arrivals. Terravision has been around for a long time and is pretty cheap. 
Taxi, again, is the most convenient. They cost between €35 – €45 depending on the same factors mentioned above, which are difficult to understand.
Rome Transportation Options
Rome has plenty of transportation options. How you decide to get around Rome on any given day on your trip will depend on your preferences, what you have planned to do, and where you're going. We'll go over all of them:
Walking in Rome
Rome is an extremely walkable city. If you're in reasonably good shape and the weather isn't overly hot, you can walk Rome's historical center very well. However, the streets can sometimes be confusing. If you aren't using a mobile map app, it could get tough.
The Colosseum is a 35-minute walk from the Piazza del Popolo and around a 60-minute walk from the Vatican Museums Entrance. However, it's important to pick your battles. For example, you may not want to walk to the Vatican from the Colosseum, considering that you'll be on your feet for at least three hours when visiting the Vatican Museums with a guided tour. Some of our top-rated Vatican tours last up to 5 hours to give visitors an enriched experience of the museums. In this case, it might be better to take the subway or even a taxi to conserve energy.
That said, be prepared to walk when you're in Rome. If you aren't already doing so, walk at least an hour each day to get your legs ready for your trip!
Rome Bus System
We have a great video on what you need to know to use the buses in Rome. It's a little dated but fun to watch, and you'll see exactly where to get bus tickets, how to ask for one, and how to conquer Rome's bus system. There are three fundamentals that you need to know when using the buses:
Buy a ticket before you get on and validate it when you're on the bus.
The bus signs are pretty confusing unless you know the city really well. So, download an app.
The buses go literally everywhere. They're a good option but get hot and crowded in the summer—just something to keep in mind.
Walking around Rome can get really tiring. Hopping on a bus for a kilometer or two can make all the difference. Save your energy for the highlights of your trip.
Rome Metro (Subway) System
The Roma metro system has two lines: the red A-line and the blue B-line. As a visitor, you'll find yourself on the A-line the most. It goes from Termini past the Trevi Fountain, Spanish Steps, Piazza del Popolo, and most importantly, the Vatican.
The B-line will get you from Termini Station to the Colosseum and Circus Maximus. These are the most popular stops for visitors using the metro to get to Rome's top attractions.
You can't get to Trastevere by metro, but you can get close to Testaccio by getting off at Piramide. Both Trastevere and Testaccio are known for their lively nightlife and great food. Your hotel and most Airbnbs will have a metro map that you can keep handy.
Getting a Taxi in Rome
I use public transportation for short, direct rides to get from place to place. For example, going from the Vatican to the Spanish Steps or from Termini Station to the Colosseum. For anything complicated, I normally pony up and take a taxi. They're relatively cheap if they don't rip you off—which they will try to do.
A good workaround is to search for your destination in your phone's map app, get directions from your current location, and hit go. Then, show that map to the taxi driver when they ask where you want to go. This way, they know you're tracking. Otherwise, there's really nothing you can do. Just don't pre-negotiate the rate. There's a meter in the vehicle that determines the cost.
Renting a Scooter in Rome
If I'm in Rome for more than a couple of days, I'll rent a scooter. It's a good option if you have scooter experience. If you don't, I wouldn't recommend it. It can be dangerous getting around an unknown city when you don't even know how to drive the thing, let alone negotiate traffic and figure out where to go.
Where To Stay in Rome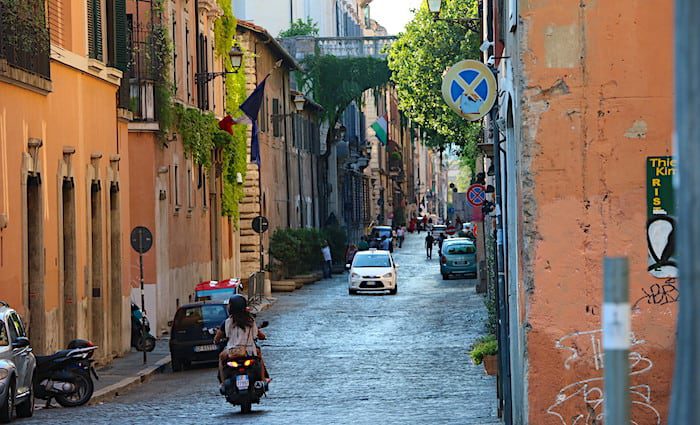 Rome is a large metropolitan city, but the area most visitors are interested in is the historical center or Centro Storico because it's pretty condensed. You can walk from the Colosseum to the Vatican, almost on opposite sides of the historical center or "center" for short, in an hour.
The center is the place to be in Rome, and each neighborhood is really great. I prefer the northern sections like Piazza Navona and Spanish Steps. To me, they are classical Roman/Italian and super nice. Here are the best areas to consider with links to in-depth neighborhood guides:
Spanish Steps
Pantheon/Piazza Navona
Again, I really like anything near the Spanish Steps, as I like being in the thick of it. It will come with a price tag, but savvy travelers find deals. Check out our in-depth guide on where to stay in Rome, covering the city's best neighborhoods.
Top Things To Do in Rome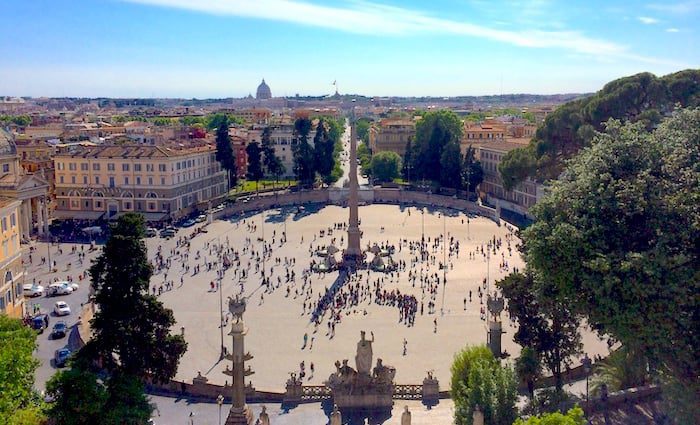 From visiting the Sistine Chapel to an underground apothecary run by priests, there are unlimited things to do in Rome. One of the best ways to see a city with this kind of history is to join local guides on fun tours with exclusive access and endless stories to tell. There are so many things to see and ways to see them. Check out all our Rome tours that include the top monuments and museums, plus incredible day trips.
This is a list of the top things to do while you're in the Eternal City. Be sure to follow the links for more in-depth information on visiting each one of these monuments and museums.
Top Museums
Rome has over 60 incredible museums containing some of the world's most important works of art. It may be difficult to decide which of them you'll see. Check out our guide on the seven best museums to visit in Rome for details. Here's a quick list:
The Capitoline Museum
Palazzo Barberini
Palazzo Altemps
Palazzo Massimo alle Terme
MAXXI Museum
Top Monuments
Rome is filled with historical monuments and attractions. Some of them you have likely heard. Others may be new to you. Here is a list of what you should see on your Rome trip. Check out this guide for the stories behind these top monuments and attractions in Rome.
The Basilica of St. Peter
The Palatine Hill
Belevedere of Gianicolo Hill
The Tiber Island
The Mouth of Truth
Trajan's Column
Il Pincio and Piazza del Popolo
Must-See Gardens and Parks
If you love beautiful manicured gardens and green spaces, this is for you. There are a number of must-see gardens and parks in Rome. The Villa Borghese and Vatican Gardens are the more well-known among them, but you may also want to visit some of these:
Villa Doria Pamphili
Villa Borghese
Park of the Acquedotti
Giardino degli Aranci
Vatican Gardens
Villa Ada Savoia
Villa Sciarra
Absolutely Free Things To Do
You may be surprised by the cool free things you can do in Rome. Some of the city's most well-known sites are completely free to explore. Check out this list:
The Basilica of St. Peter
The Palatine Hill
Food Culture in Rome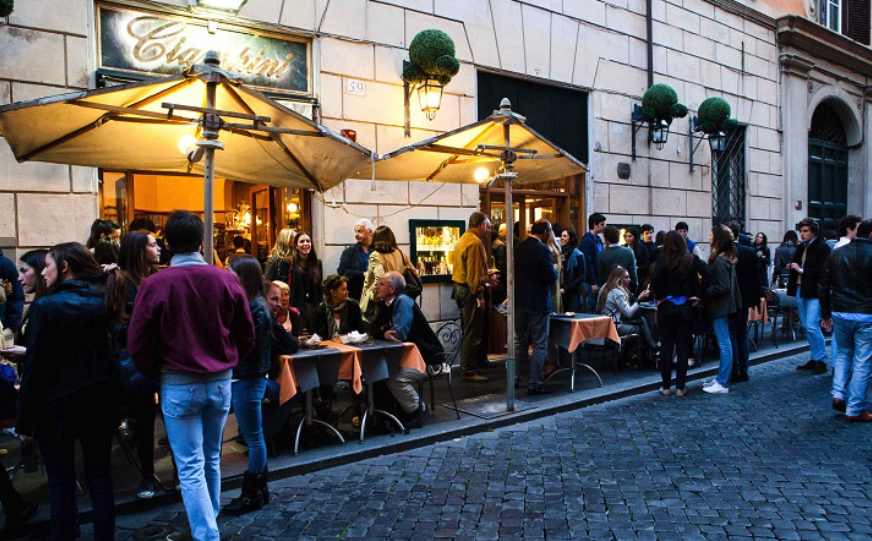 Where to start with Italian food? It's often one of the top reasons why tourists come to Italy, and for good reason. Every region serves amazing, fresh, handmade delicacies.
A traditional Italian meal will go like this: antipasto (starter), primo (pasta), secondo (meat and vegetables), dolci (dessert), followed by coffee and liquors. Do Italians eat like this every day?
Fortunately for those of us who live here, no! But these are typically the headings that you'll see on a menu, so it's best to have an idea of what they mean. There's a lot to cover in this section, here's a breakdown: 
How To Find Local Restaurants in Rome
Rome is a very touristy city, but that doesn't mean that there aren't good places to eat in the city center. Check out our Rome restaurant master list that we regularly update. From there, you can navigate and see our restaurant recommendations near every major Roman attraction.
In general, avoid restaurants within sight of a tourist attraction, particularly if they have pictures of the food on the menu or people standing outside trying to hustle you in. Even in the most authentic restaurants, don't expect particularly friendly service.
Some of the best food is often flung at you without so much as a "hello," but it's guaranteed to be worth it. Areas a little more off the beaten track are where you're more likely to have an authentic experience. For example, the area of Testaccio is well-known for being a classic Roman foodie area, packed with local restaurants.
A really great way to experience a wide variety of Roman cuisine in good restaurants is to join a food tour. They're a trendy and fun way to get to know the local food scene. Check out our top-rated Trastevere food tour in Rome.
Types of Restaurants
In Italy, there are stereotypical classifications for almost anything, including restaurants. When you're in Rome, you'll notice restaurants don't just have a name, like "Tony's," but also a classification, such as "Trattoria."  Each one means something specific, and it lets you know what kind of food and experience to expect. Unfortunately, very few visitors to Italy know the difference between an osteria and a trattoria. We'll solve that for you right here.
Bar
Imagine waking up at 6:30 am, rolling over to your significant other, and saying, "Want to head to the bar?" This is what happens almost every morning to millions of Italians.
No, they are not alcoholics. You can get alcohol at an Italian Bar, but you normally don't. It's where you get breakfast. You'll see the "Bar" sign all over Italy, and when you walk in, you'll find espresso drinks, cornetto, and panini. You can also get freshly squeezed orange juice or vegetable juice. I highly recommend it!
Enoteca
Unlike the bar, you definitely shouldn't wake up at 7 a.m. asking you're significant other to go to the enoteca. This is where you go for an alcoholic drink like a glass of wine or a beer.
A good enoteca will serve tons of wine by the glass in many different price ranges. They'll often also serve cured meat plates for a snack or even warm meals at times. I definitely recommend stopping by one of these on your travels in Italy and Rome.
Tavola Calda
One of my favorite types of places to eat lunch is a tavola calda. They are normally unassuming and serve many different types of dishes, from cooked vegetables to lasagna and pasta dishes. The dishes normally change from day to day based on what is in season and other factors.
For example, gnocchi in Rome is only served on Thursdays. If you see it on the menu seven days a week, you may be in a tourist trap. Authentic Roman restaurants only serve this dish on giovedí. You have been warned.
Paninoteca
These are pretty cool little sandwich shops. Dotted all over Rome, they range in quality. Don't refer to your sandwich as a "panini" unless you get more than one. The "i" makes it plural. Italian's order a panino.
Check out 200 Gradi by the Vatican. It's an awesome place. Campo dei Fiori also has an awesome drive-up stand open for lunch that serves porchetta.
Osteria
Osterie are pretty cool if you can find one. They are basically super cheap and simple places to eat. A true osteria would have communal-style tables and serve very cheap meals. Back in the day, when Italy was extremely impoverished, they'd even allow you to bring your own food and just drink there.  Imagine that today?
You can find restaurants with the title "Osteria" in Italy, but you shouldn't bring your own food or normally expect to eat with strangers. There is a place in Florence, Da Mario, which says it is a trattoria, but it feels more like what a traditional osteria would have been like.
Expect a warm and cheap meal if you happen to go inside an osteria in Rome, and even more so in the Italian countryside. The menu will either be non-existent or small. In the countryside or in small towns, they can be really cool. The waiter may rock up to your table and say, "Today, we are serving pasta with clams. Would you like fettucini or spaghetti with that?" Enjoy!
Trattoria
The trattoria of Rome sits somewhere between osteria and ristorante. Almost all Italian restaurants are family-run, but trattories are quintessentially family-run. They are normally inexpensive but have a larger menu than an osteria.
Expect traditional regional cuisine at a trattoria. If you go to two different ones, you may find the exact same things on the menu. This is because they offer their family's version of that regional dish.
Ristorante
This is basically the Italian equivalent of a more formal restaurant. They'll have a menu with all the Italian courses, and you'll be expected to eat each course. You should definitely find a top-rated ristorante in Rome and budget 3 hours for your meal. Really indulge in the food, wine, and desserts.
Pasticceria
This is an Italian bakery serving all types of delightful local treats. They are probably the best places to go for breakfast as they'll make their cornettos fresh and supply them to all the bars.
You should be able to get a coffee here, too, but that isn't a given. If you're staying in an Airbnb or apartment rental, find a pasticceria close by and pick up a bunch of cornetti for your group. You'll be everyone's favorite person!
Rosticceria
You won't find this is in Rome, but it's worth mentioning. A rosticceria is a place you can go to find pre-cooked meals like roasted meats and high-quality products. If you do find one and you're renting an apartment, consider doing take-out one night from a rosticceria.
Taverna or Rifugio
You'll find restaurants in Rome with taverna in their names, but this is more a colorful play on words. Taverne are secluded restaurants in the Italian mountains where you could get a hearty meal, something to drink, and possibly a warm bed to sleep in.
Today, you can still find a few dotted in the landscape, but you're more likely to find an agriturismo, which is more of a B&B. A taverna in Rome is most likely going to decorate its interior in a rustic countryside style and have hearty meals on its menu. It's kind of like going to a seafood restaurant that's decorated in a nautical theme but nowhere near an ocean.
Rome Meal Times
One of the biggest cultural differences is that Romans tend to eat much later than basically everyone except the Spanish. In fact, many of the best restaurants won't open until at least 7:30 p.m.
Lunch: 12:30 pm – 2:30 pm
Dinner: 7:30 pm – 11 pm
To avoid eating in an empty restaurant and to really make the most of your evenings in Rome, try and fit in with them and eat a bit later. Around 8 pm is a good time to sit down.
Coffee Culture in Rome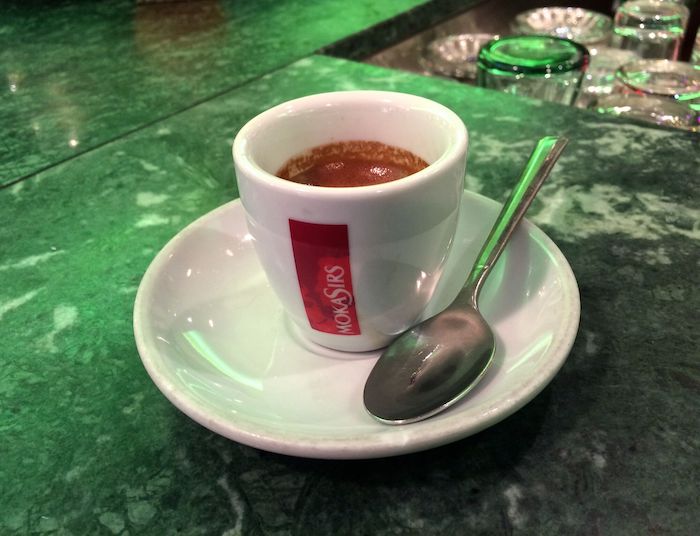 Italians take their coffee culture very seriously, and there are almost as many rules about coffee as there are for food. Here's what you need to know to get your coffee fix in Rome:
Espresso "un Café": A very small shot of coffee. Unless you've been to Italy, it's never been this small.
Café Doppio: Double shot of espresso.
Café Macchiato: Basically a mini cappuccino. Imagine an espresso and foamed milk all in a tiny espresso cup. Normally, men order these in the morning.
Cappuccino: This is espresso and foamed milk in a small cup. It's larger than a macchiato, but nowhere near that tall cappuccino you are used to. You won't find a larger size.
Café Americano: Espresso with hot water. The name is from WWII, when American troops would ask Italians to put hot water in the espresso.
Latte: A cup of milk—don't order this if you want caffeine.
Café Latte: Warm, non-foamy milk with espresso.
The Coffee Rules (Yes, there are rules)
No cappuccino or milk-based espresso after 11 a.m. You can do it, obviously, but it's not really the culture.
No cappuccino or milk-based espresso with meals. Don't do this.
It is cheap when you stand up at the bar (€1 – €2), expensive when you sit down. Same for everyone, not just tourists.
Rome Water Fountains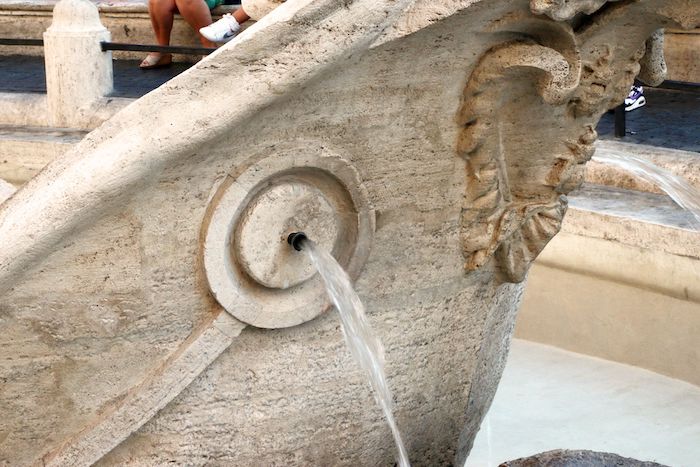 One of the best things to know about Rome is that there's no need to buy plastic bottles of water when you get thirsty—there are tons of fountains dotted around the city, and Romans are very proud of them.
Bring a refillable water bottle, and fill it up whenever you see one. There's also an app to help you find them called I Nasoni di Roma. If you're going in the heat of summer, you'll find this tip invaluable!
People are always surprised that you can drink from these fountains, which is crazy if you think about it. Their original purpose was to provide running water to each neighborhood since most houses didn't have running water. Today, we forget that fact and are astonished by this basic concept due to our many creature comforts.
Credit Cards, Tipping, and Communicating in Rome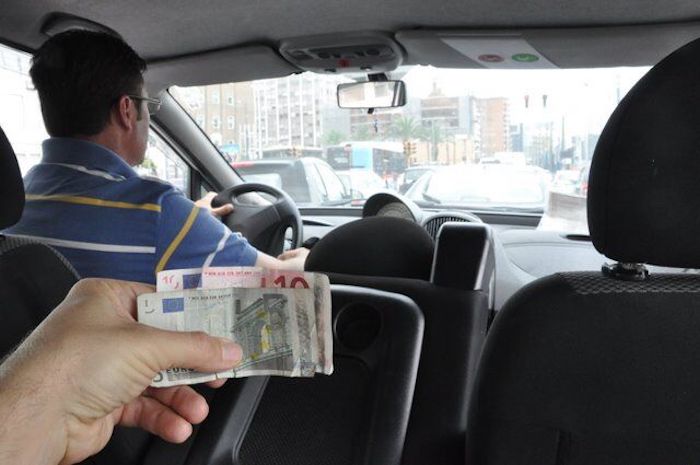 Cash or Credit?
The currency in Italy is the euro. An important thing to remember about Italy is that cash is still king. It's necessary to carry a reasonable amount of cash around with you at all times to avoid getting stuck.
In general, most restaurants will allow you to pay on a card, as will large shops and tourist attractions. But for drinks, coffee, transport tickets, and small items, cards often aren't accepted. There may even be a €10 minimum on card payments.
Rule of Thumb: If it's less than €10, pay cash. It's more than €10, and you can probably pay credit as long as there isn't a "Solo Cash" sign on the door.
The Good News: The Italian word for credit card is carta di credito. Any Italian shop owner will understand when you ask, "Credit Card?" They'll also know to respond, "Cash" if they don't accept credit cards. So, there's no need to stress.
Tipping
Tipping isn't really expected in Italy. I've tried to convince visitors that you just need to leave some extra change, a euro per person, regardless of check size, but it normally falls on deaf ears. To simplify things, I have created different levels of tipping to help people understand:
Don Corleone: Leave 20%, and when you go back, the restaurant staff will celebrate your return as if you were the Godfather. You may get some sneers from other restaurant goers who can't get your waiter's attention.
Super Nice: Leave 10%. It's less than you are used to but far more than anyone in Italy would expect.
Roman: Leave a euro or two extra per person. The wait staff will be very happy.
Nothing at All: Leave nothing and nobody will say anything. Your food will not be poisoned upon returning.
Communicating in English or Italian
One of my favorite things to watch is travelers trying to string together Italian words into sentences from a guidebook. I have been that traveler in many countries. The worst part, though, is when you actually make sense, and the person responds, much to your bewilderment.
Let's not romanticize the key phrases part of a guidebook here and keep it simple. The phrases below will make you look like a pro because you'll get simple responses such as si (yes) or a finger pointing to the bathrooms. Remember that c's have a hard "ch" sound, unlike Spanish.
How much does this cost?
Quanto costa?
Check, please.
Il conto per favore.
Do you take credit cards?
Posso pagare con la carte?
Where is the bathroom?
Dov'è il bagno? Or simply, "bagno?"
Water?
Acqua?
Table for two, please.
Tavolo per due, per favore.
Can you order for me?
Fai te?
The last recommendation is by far my favorite. If your waiter is Roman, they will accept the challenge and bring some tasty food. A key phrase is certo (pronounced cherto), which means "of course". Romans use this all the time, so you may hear it instead of si.
When To Travel To Rome and What To Pack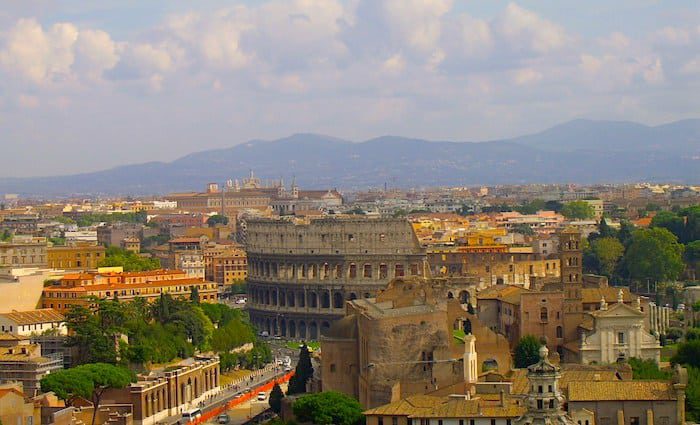 When To Travel
Part of the reason why people love Rome is the weather. It's pretty much always nice, and bad weather is when it is too hot. That's a good problem to have.
Temperature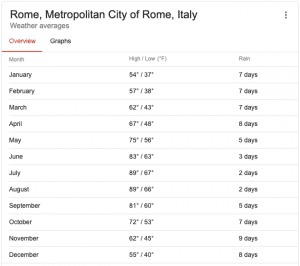 The average monthly temperature in Rome ranges from a low of 37 degrees Fahrenheit (F) to a high of 89 F.  It snows once every 10 to 50 years, and people don't know what to do when that happens—it's the greatest.
To decide when you want to travel to Rome, you can use this equation to get a rough idea.
How much am I willing to spend / Am I ok with cooler weather = Daily budget
Cheapest Months:
November
December (1st – 20th)
Jan (7th – 31st)
February
March (1st – 20th)
Mid-Range Months:
March (21st – 31st)
April (excluding 5 days on either side of Easter)
May
October (although it can be higher in price early in the month)
August
Full-Price Months:
Christmas to New Year
Easter (5 days on either side)
June
July
September
What To Pack
Check out the infographic below on what to pack. While it's very useful, the ideal amount to pack is one change of clothes and a mostly empty suitcase. Shopping in Italy is great, so the more space you can leave in your suitcase, the better.
You don't need to pack an umbrella. As soon as it rains, hundreds of people will appear out of nowhere selling umbrellas. It's magical. Also, you can't wear heels in Rome. Let me clarify, you can wear flats and pack heels in your purse for when you are inside bars and restaurants. The cobblestones make wearing heels nearly impossible.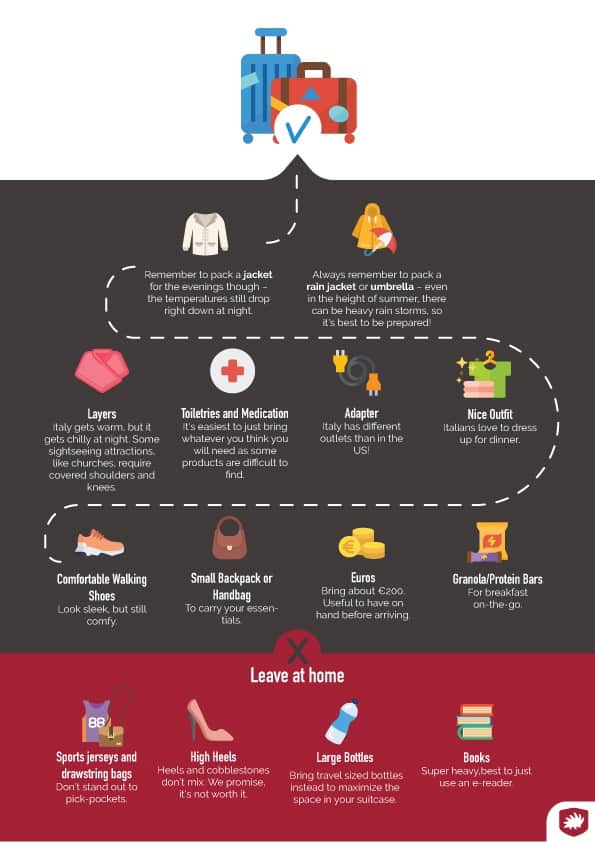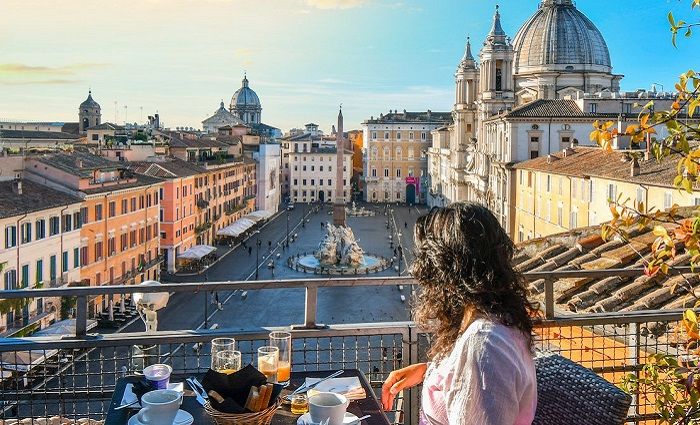 Find the best places to stay
Where To Stay in Rome
Rome has a rich cultural history and many iconic landmarks to explore. Plan where to stay in the magnificent Eternal City in the best neighborhoods.