The Colosseum is not only one of the Ancient wonders of the world but is synonymous with Rome today. This massive amphitheater has been fascinating us for the last two thousand years. But how much do you really know about the Colosseum and how about some cool Colosseum facts?
---
Brandon's Pro Tip: Planning can be tough. You read a bunch, forget it, then read more. I like to bookmark helpful posts in a folder so I can circle back prior to or during my trip.
19 Astounding Facts About the Colosseum
While there were many amphitheaters built throughout the Roman empire, none of them were as big or as important as the Colosseum in the city of Rome itself. But how much do you really know about this structure? Keep reading as you will learn some Colosseum facts that not everyone knows about.
19. The Colosseum is Not the Real Name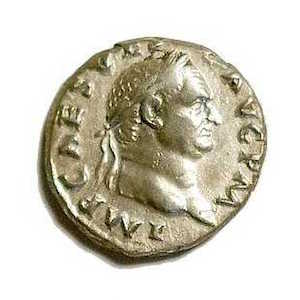 Some Colosseum facts are hard to believe but true. If you were alive 2,000 years ago and asked someone in Rome where is the Colosseum, they would stare at you blankly. The name Colosseum was attached to this building much later in history.
The actual name is Flavian Amphitheater and is named after the Emperor, Vespasianus Flavius, who built it. Even though he died before it was finished, his son took over to complete the gigantic stadium, so the name stayed Flavius or Flavian.
18. It Only Took 8 Years to Build
One of the most common Colosseum facts is how long to build it. When I ask people who are finally standing in front of the building how many years they think it took to build, they usually guess between 50-100 years. The fact that it was built in 8 years gives you more of an idea of how powerful the Romans were.
To be precise, Titus inaugurated the stadium after 8 years, but some more construction was needed before it was finalized. His brother Domitian finished the building ( after he killed his brother Titus) and it took him another 2 years. So I guess we could say it took a total of really 10 years. I would say that's a pretty cool fact about the Colosseum, don't you think?
---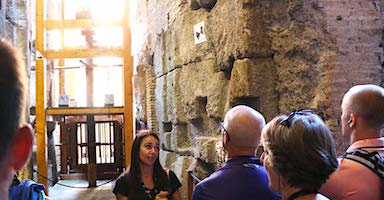 Best Seller
Colosseum Underground Tour with Roman Forum and Palatine Hill
This is our most popular Colosseum tour due to the incredible access to non-public areas like the underground chambers. All admissions are included and it is lead by an English speaking licensed guided and Colosseum expert.





See Prices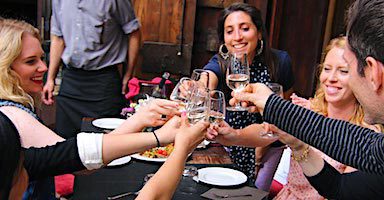 Best Seller
Local Rome Food Tour in Trastevere Neighborhood
Are you looking for the best food tour in Rome? Embark on a Trastevere food tour that offers an excellent introduction to some of the best food in Rome. Led by a local foodie guide, visit some of our favorite restaurants and trattorie in Rome





See Prices
17. It Was Built From the Spoils of War
General Titus besieged and conquered Jerusalem in 70 A.D. He returned with gold and silver supposedly amounting to 110,000 pounds ( 50,000kg) of gold and silver. Emperor Vespasian spent that entire amount on games and mostly on building the Flavian Amphitheater.
Not only were gold and silver taken from Jerusalem, but also many slaves. A general consensus was that the Jewish settlement already in Rome paid for the freedom of many of the slaves when they arrived to Rome, but I think it is safe to say that many would have been used in building the Colosseum as well.
16. The Romans Used Gigantic Cranes to Build the Stadium
We tend to think of people who roamed the earth before us to be simpletons. But remember that we are speaking about Ancient Rome! A really cool fact about the Colosseum is that the stones that were used to build the Colosseum weighed between 20- 50 tons so with humans alone it would have been impossible!
They created these cranes by tying two massive tree trunks together at the top and splitting them open at the bottom. They would then connect them to a gigantic wheel up to 25ft ( 8m) in diameter. Then with a hook, they would strap one end to the object being lifted and the other to the top of the trees. A sort of pendulum was then created, allowing them to lift up massive weights. Genius! Keep reading for more Colosseum Facts!
15. Only Some of the Fighters Were Named "Gladiators"
One of the most unknown Colosseum facts is the origin of the word, Gladiator. The word Gladiator means literally a person carrying a " Gladius" or small sword. As these contests progressed over the centuries, more innovative weapons were created to make it more of a spectacle.
For example, you had a Retiarus whose weapons were a net and trident. He would throw the net over you and once you were tangled, he would strike you down with his trident. Or how about a Hastarius who only had a shield and spears to strike down his opponent.
14. 85,000 People Could Fit Inside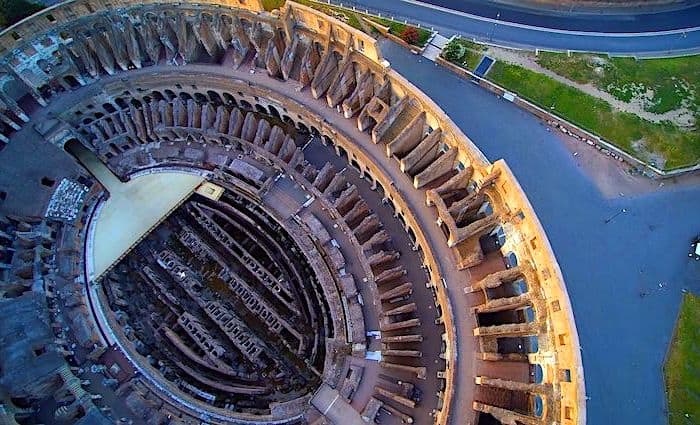 That's right, as big as our stadiums today. Archeologists put the figure at between 50,000- 60,000 people, but according to official records ( Roman Regional Catalogues), by the end of the 4th century a whopping 85,000 people could fit in!
Even if the number is more on the low end of 50,000 people, that is still an amazing feat and super cool fact about the colosseum, considering we are talking about 2,000 years ago. It is only when you stand on the Arena floor inside the Colosseum that you truly understand how big it was.
13. It is built over a manmade lake
The emperor Nero built a massive palace for himself called the Domus Aurea or golden house. As part of his palace, he built a gigantic manmade lake surrounded by colonnades. After Nero committed suicide and Vespasian took over he decided to drain the lake and build a huge amphitheater on top. Genius!
As you can imagine, it's not that easy to drain a lake of those dimensions, so Vespasian's engineers built a series of canals and transformed them into gigantic sewers which allowed the water to not only drain away but also have a steady flow of water below the Colosseum for sewage ( 60,000 people remember). Genius!
12. The Colosseum Was in Color
Yup, you read correctly. While this might come as a surprise to you, most buildings and temples were painted back in the day. Travertine, the limestone used to make the Colosseum, is a porous stone. They used a technique called " Scialbatura which basically means you apply a thin layer of mortar and marble dust to prevent the the stone from deteriorating.
Basically, this would give the original white a light pink or beige color. As for the rest of the building, they painted the archways and all the statues to bring the entire complex much more to life!
11. There were 80 entrances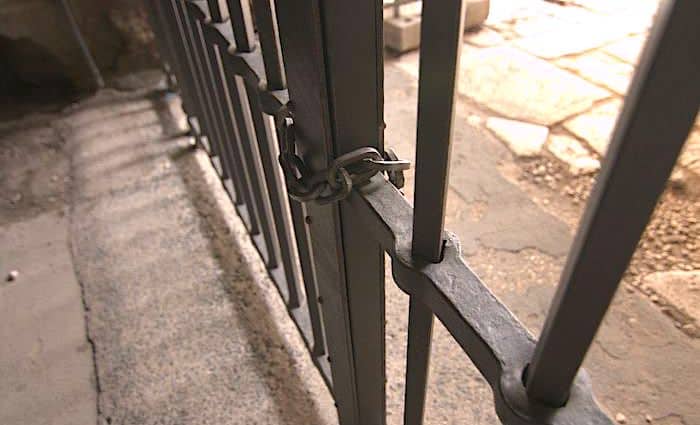 Whenever you go to a stadium today, you usually have multiple entrances on different sides of the building. Back in Ancient Roman times it was no different. The only real difference was that there were 80 entrances to the Colosseum and each one was numbered above the archway.
Our of the 80, 76 were used for regular people to attend and 4 of them were blocked off for special purposes or special people.
10. No Concrete in the Main Structure
As hard as it might sound to believe, the outer structure of the Colosseum wasn't put together with concrete and cement. Instead massive blocks of stone up to 20 tons each were placed on top of each other and then iron pins stapled the rock together.
This is why when you look at the Colosseum today, it looks like a piece of Swiss cheese, since those holes are where the iron was mined out of it in the Middle Ages.
9. There were Mock Sea Battles Inside
This particular event was only possible, before the actual underground area was built, so pretty much before Domitian finished it. They would seal up the holes and flood the entire lower area of the stadium, allowing mock naval battles to take place inside.
8. The Colosseum Had a Dome
Nothing speaks of luxury and power more than the ability to not only build the biggest stadium in the world, but also put a dome on top of it! In Latin the word was Velarium and essentially was a huge awning put on top.
You have to imagine a huge sail from a sailboat. This awning could be opened when it was hot or closed when they needed some fresh air. Approximately 100 sailors from the imperial fleet would control the awning.
7. The Colosseum Had Elevators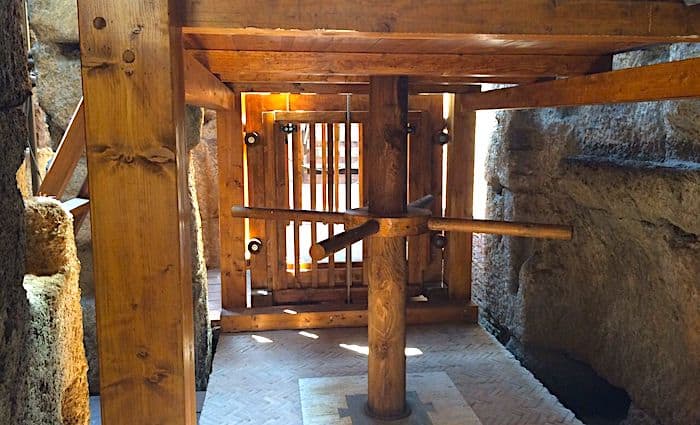 When I speak about elevators, I don't mean elevators for the spectators to get to their seats. All they had were very steep stairs. The actual evevators were under the arena floor and used to transport animals and gladiators up to the main fighting area in the arena.
If you saw the movie Gladiator ( if not, please stop what you are doing right now and go watch it), you noticed that in battle scenes it would seem as if lions appeared out of nowhere. This was possible due to these elevators underground.
6. Not that Many Christians Were Martyred Inside
One of the main legends is that the Colosseum was a bloody ground for all Christian martyrs. To better understand this point, there are a few things we have to take into account. Most of the stories about the Colosseum that we have come down to us from Christian writers- History is written by the winners.
While there were without a doubt many Christians who died in the Colosseum, it was not a uniquely Christian thing. The Romans didn't discriminate when it came to killing people in the Colosseum. So while Christians did die inside, so did everyone else!
5. Not Only Gladiator Fights Took Place Inside
Many people think that there were gladiator fights all day long at the Colosseum, but that wasn't the case. The day of events was always broken down into three separate parts.
The morning would have been dedicated to the Venationes or hunting spectacles. This is when they would bring exotic animals into the arena and stage elaborate hunting scenes. After that there would be executions at midday in all various degrees of grotesqueness. Finally and only in the early afternoon were the gladiator events as we know it taking place. As you can imagine, they were the main event.
4. There Were Women Gladiators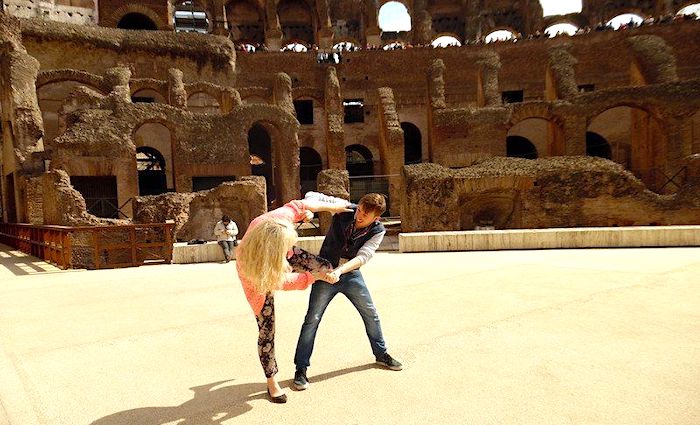 While women gladiators were not always the main event, they were quite popular in gladiator contests especially as we moved into the later part of the empire. Interestingly they were referred to as ludia, which means women performing in the games. They were never referred to with the Latin word " Femina" or lady, which leads us to believe that the women participating were probably from the lower classes.
3. The Last Games
One of the saddest Colosseum facts for lovers of the arena happened on Jan 1st 404 AD when the last recorded game inside the Colosseum. Saint Telemachus apparently tried to stop a fight in the Colosseum midway through and was stoned to death. At the time, Rome was ruled by Christians.
Emperor Honorius did nothing to stop the martyrdom, which happened in 391 AD, but it is written that the event inspired and changed him and eventually he brought an end to the fighting.
2. The Colosseum Was Used as a Quarry
The quake of 1349 was probably good news for many who were building in Rome. Materials that were out of reach were now on the ground and accessible. They were used for art, buildings, and much of what you see in Rome.
This continued for over 400 years until Pope Benedict XIV decreed in 1749 that the Colosseum was a sacred site of Christian martyrdom and was no longer allowed to be vandalized. There are many arguments that Christians never died in the Colosseum but regardless, Pope Benedict XIV saved the Colosseum.
---
Popular Tours from Rome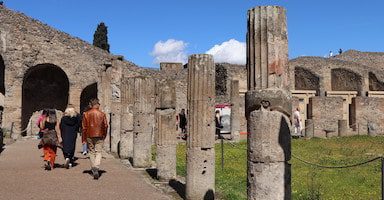 Best Seller
Rome to Pompeii Day Trip with Stunning Sorrento!
This is the best way to see Pompeii and the Amalfi Coast from Rome. You'll take private transportation with our guide down to Pompeii where an archeologist will tour our small group through the ruins. Then we'll head over to Sorrento which is the tip of the Amalfi Coast before returning to Rome. Tickets, transportation, and guides are included in the price.





See prices and more info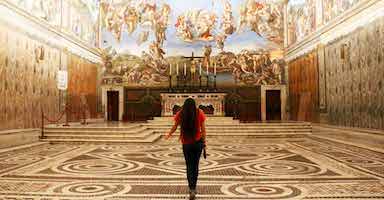 Best Seller
Rome in a Day Tour with Vatican, Sistine Chapel, Colosseum, and More!
Looking to get much of your sightseeing done in one day? This tour enters the Vatican an hour before opening and visits the Colosseum along with other sites like the Pantheon, Spanish Steps, and Trevi Fountain. All admissions and transportation are included as well as a licensed English-speaking guide!





See prices and more info
1. The Pope and Todd's Shoes as Main Restorers
Soon after the decree of 1749, popes began commissioning projects to restore the Colosseum. There were heavy foliage and plant life growing inside the Colosseum which would have tremendous negative effects on the building over time. These were removed and in 1807 a project began to reinforce the outer ring of the Colosseum which can be seen today.
Triangular brick support now reinforces the Colosseum and can be seen today. There were also excavations that took place throughout the 19th century. After over a thousand years of abusing the structure due to poor economic conditions, it was finally time to preserve it. By the 1930s, the Colosseum looked very similar to what you see today other than some cool things like a replica of a trap door and elevator being built into the stage.
Two major cleaning projects happened in our era. From 1993 to 2000 and another in 2013 which was sponsored by Tod's shoe company, an ultra-popular Italian designer.