The Colosseum is one of Europe's most mystical monuments for many reasons but above all its use. It is difficult to believe today that people would fight to their death in front of 60k+ spectators but it happened. This article is about the many different types of Gladiators that fought in the Colosseum.
---
The Origins of Roman Gladiators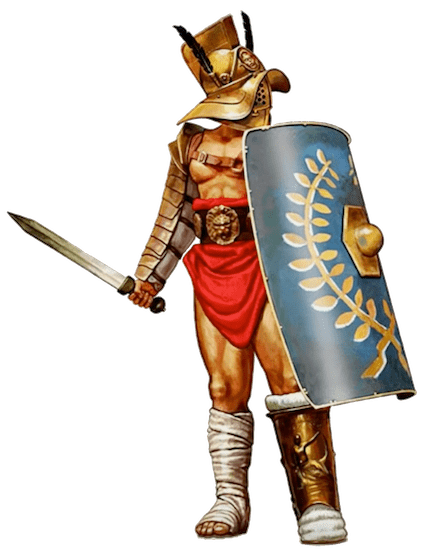 The Beginning
The first gladiators fought to the death at the funeral of a distinguished aristocrat Junius Brutus Pera in 264 B.C.. His relatives arranged the event to honor his death and provide a blood sacrifice for the gods. The Roman aristocracy thought this bloodthirsty battle gave the funeral a rather lovely sense of occasion, and the idea quickly caught on.
By 174 B.C., it was relatively commonplace to have matches across the city, and the idea was boosted further by Julius Caesar, who engaged hundreds of gladiators to fight in memory of his deceased father and daughter.
Popularity for the sport increased, and by the end of the first century B.C., government officials started holding public games. By the time the Colosseum opened in 80 A.D., gladiator fights had evolved from ad-hoc battles to a serious business.
Becoming a Gladiator
I will endure being burned, bound, whipped, and killed with a sword.
This was the oath that aspiring Gladiators swore on the day of recruitment and left no doubt as to what could happen to them. Gladiators were usually slaves, criminals, or prisoners of war—the Romans knew that the best way to orchestrate a fight to the death was to use men who have nothing to lose. Occasionally, the gladiators were able to fight for their freedom and some volunteered to fight including women!
For all aspiring gladiators, there would be a 2-year internship and then they could fight for 5 years after that. They would usually fight twice a year, so similar to modern-day boxers. According to the archeologist Max Francia, " The gladiators with the record number of combats in a lifetime were a Celtic and an African, with about a hundred fights each".
---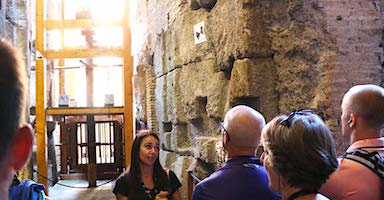 Best Seller
Colosseum Underground Tour with Roman Forum and Palatine Hill
This is our most popular Colosseum tour due to the incredible access to non-public areas like the underground chambers. All admissions are included and it is lead by an English speaking licensed guided and Colosseum expert.





See Prices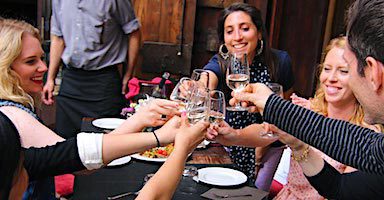 Best Seller
Local Rome Food Tour in Trastevere Neighborhood
Are you looking for the best food tour in Rome? Embark on a Trastevere food tour that offers an excellent introduction to some of the best food in Rome. Led by a local foodie guide, visit some of our favorite restaurants and trattorie in Rome





See Prices
Types of Gladiators that Fought in the Colosseum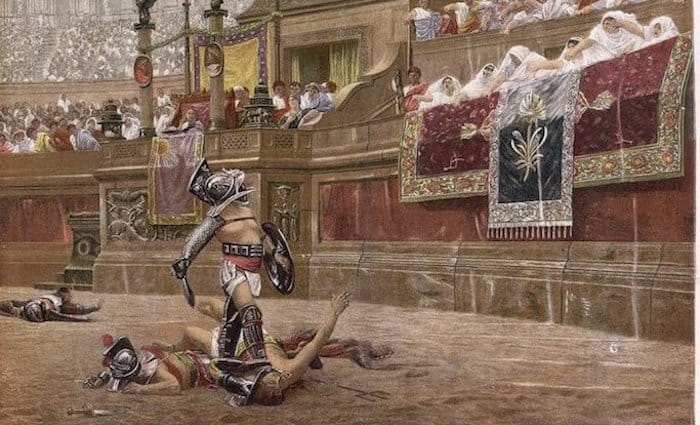 The Romans expected 'fair play' in the gladiatorial combats, so the pairing of adversaries was important. The organizers would pair the Gladiators according to the weapons each fighter favored. Some of the most famous Colosseum gladiators didn't even use a sword and instead wielded a spear and net!
Gladiators were divided into classes depending on the weapons that they used. There were approximately 30 different types of gladiators who specialized in using specific weapons, armor and shields. The gladiator weapons were then linked with the armor that they were given. This included the shields, some of which were used as weapons against their opponents. Let's take a look at some different types of Gladiators.
Retiarius: The Trident-Wielding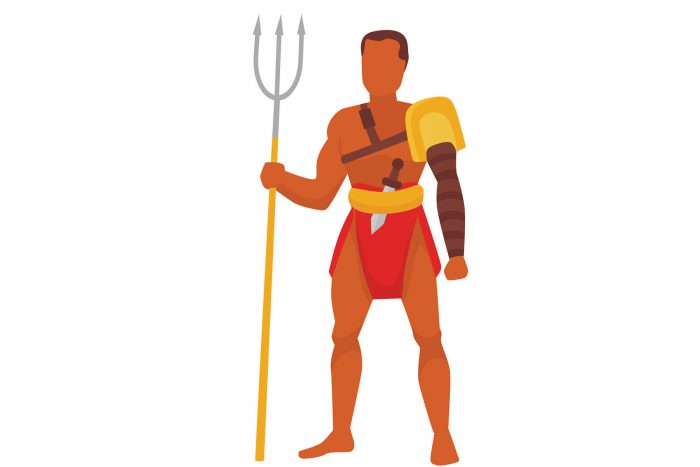 One of the most famous types of Gladiators was the Retiarius, which means "net man" or "net fighter" in Latin., and resembled a fisherman. These were some of the most famous Colosseum Gladiators.
These agile Roman gladiators defended themselves with a trident, a small dagger, and a weighted net to ensnare their bulkier opponents. Almost naked, retiarii wore only a loincloth, an arm guard (manica), a shoulder guard and went without a helmet.
Retiarii experienced a lower rank in society and had worse living conditions. One reason for this lower social standing is the retiarius's associations with femininity and homosexuality.
Essedarius: Warriors on Chariots
The Celtic people tended to fight with chariots as described directly by Julius Caesar during his invasion of Britain. There were always 2 people in the chariot.
One of them was driving the chariot while the other would be hurling spears at the enemy. Once he ran out of spears, he would jump down from the chariot and fight on foot. They would also run along the chariot pole and stand on the yoke of the horses.
Eques: Gladiators On Horseback
Carrying a spear, a sword, and a round, calvary shield, Equites gladiators took their name from the aristocratic equestrian class of the same name. Equites mean "horseman" in Latin – these entertainers mimicked mounted Roman knights in the ring.
First, an eques gladiator entered the ring on his horse and battled with a lance. Eventually, after someone fell off their horse, the battle continued on foot with swords in close combat. If nobody fell off, the fight eventually continued on foot anyway. Athletic and agile, these matches added fanfare to a lineup of gladiatorial contests.
Dimachaeri: Ambidextrous Gladiators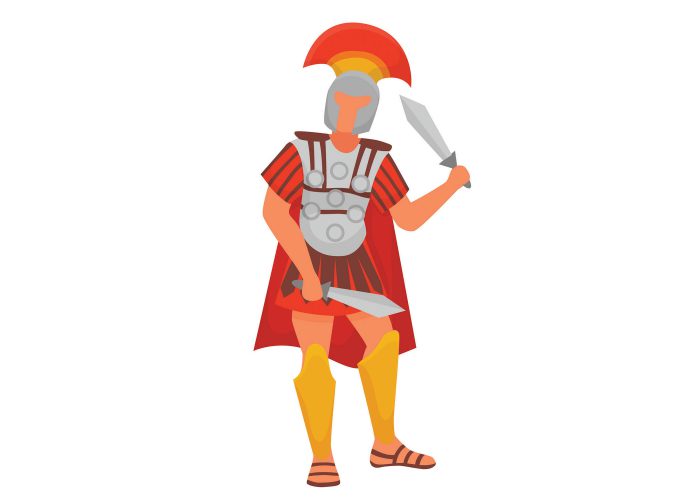 Fighting with two swords at once in close combat, Dimachaeri gladiators inflicted a barrage of slicing strikes on their opponents. While a match with a Dimacherarus required a high level of skill, Romans thought this type of fighting to be insidious and sneaky and therefore they were one of the least famous Colosseum gladiators.
Waiting for the opportunity to attack, a Dimachaerus gladiator struck his opponent's body again and again. As a fast and unencumbered gladiator, a Dimacherarus gladiator fought more heavily armored opponents.
Samnite: A Dying Breed
This was one of the earliest types of gladiators. In the earliest period of the Roman games, whoever was staging the show would use vanquished enemies of Rome. When Samnium ( South-Central Italy) became an integral part of the Roman Empire, the Samnite-type gladiator disappeared.
They wore a helmet with a visor grating, a crest, and a high plume. The sword they carried was a Samnite sword which resembled the gladius, a short sword used by Roman soldiers. They would also carry a full-length shield that they tapered off at the bottom and flared on the top.
Murmillo: The Fish
By far one of the most famous types of gladiators, this heavily armored fighter derives his name from Murma, meaning fish in Ancient Greek. You could easily identify him due to his large helmet made of bronze or copper with a visor grating. and wide neck guard. It is based on the Greek Boeotian helmet.
He used a gladius (double-edged sword) which was about 30 inches ( 80cm) in length. His shield was massive to protect himself which would usually cover over half his body. He usually fought against the types Thraex or Retiarius.
Hoplomachus: The Greek Fighter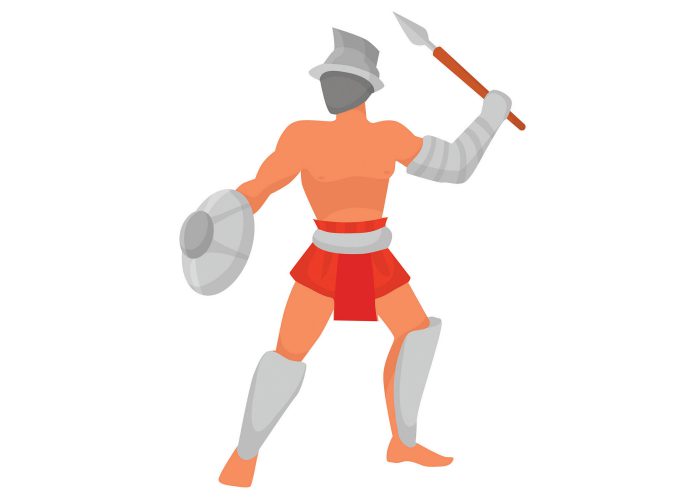 Derived from the Greek for "heavily armed", Hoplomachi gladiators originated from Hellenic warriors called hoplites.
Paired against Murmillones gladiators who represented Roman soldiers, these fights reenacted the Roman Greek wars for entertainment.
Fighting with the short, leaf-shaped sword, a Hoplomachus gladiator fought like a Greek hoplite. Besides the sword, they also used a lance for thrusting and wore a visored helmet with a massive crest ridge.
Secutor Gladiator: The Chaser
The Secutor's name is based on his fighting technique; "Secutor" means "the chaser" in English. Paired against the nimble retiarius, a Secutor gladiator chased his opponent with a sword. Protected by heavy armor, the most easily recognizable feature of a Secutor's appearance is his smooth, round helmet.
Shaped to prevent getting ensnared in a net, the helmet featured two small holes for the eyes. Carrying around the armor led to exhaustion during a match. Not to mention, the Secutor's helmet shape hampered his ability to breathe deeply. And so, facing off against an unencumbered, but unprotected retiarius was a popular event.
Crupellarius: The Middle Age Knight
Definitely one of the strangest types of Gladiators. The best way to describe this type of gladiator is to imagine a knight during the middle ages. He would have been covered practically from head to foot with strips of iron to protect him from pretty much any weapon.
Originating in Gaul ( Modern France and Switzerland), according to the famous historian Tacitus the Crupellarius, " was too clumsy for offensive purposes but impregnable in defense.
Gallus Gladiators: From Gaul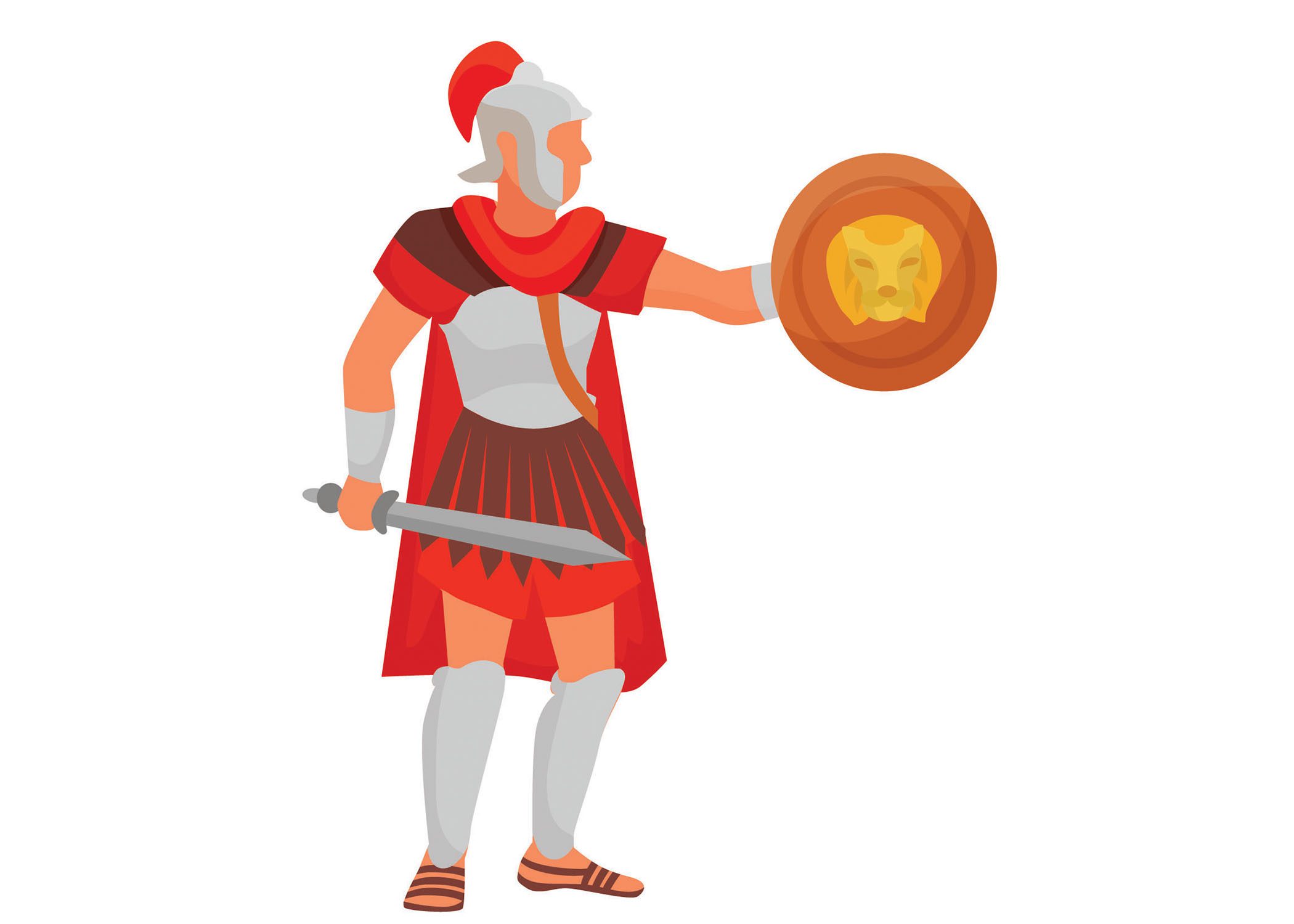 Originally, gallus gladiators were prisoners of war from the Gaul tribes in Central and Western Europe. Relying on strength and armor to win a contest, a gallus gladiator wasn't agile like the Retiarii.
Clothed and armed to resemble barbarians, gladiatorial fights with gallus acted out the Roman Empire's victories over various rival groups. Eventually, however, Gauls became part of the Roman Empire. At this point, gallus gladiators became Murmillones, because it was no longer politically correct to depict them as enemies.
Provocator Gladiator: The Challenger
Armed with a short, straight sword, provocatores most resembled Roman Legionaries. Protected by a rectangular breastplate and a helmet with a feather on either side, these highly-skilled fighters only fought each other.
Fighting to settle feuds between rival gladiatorial schools, winning also meant an increased social standing and wealth. Unlike other contests, provocatores chose their own fights.
Thraex: Spartacus & The Thracians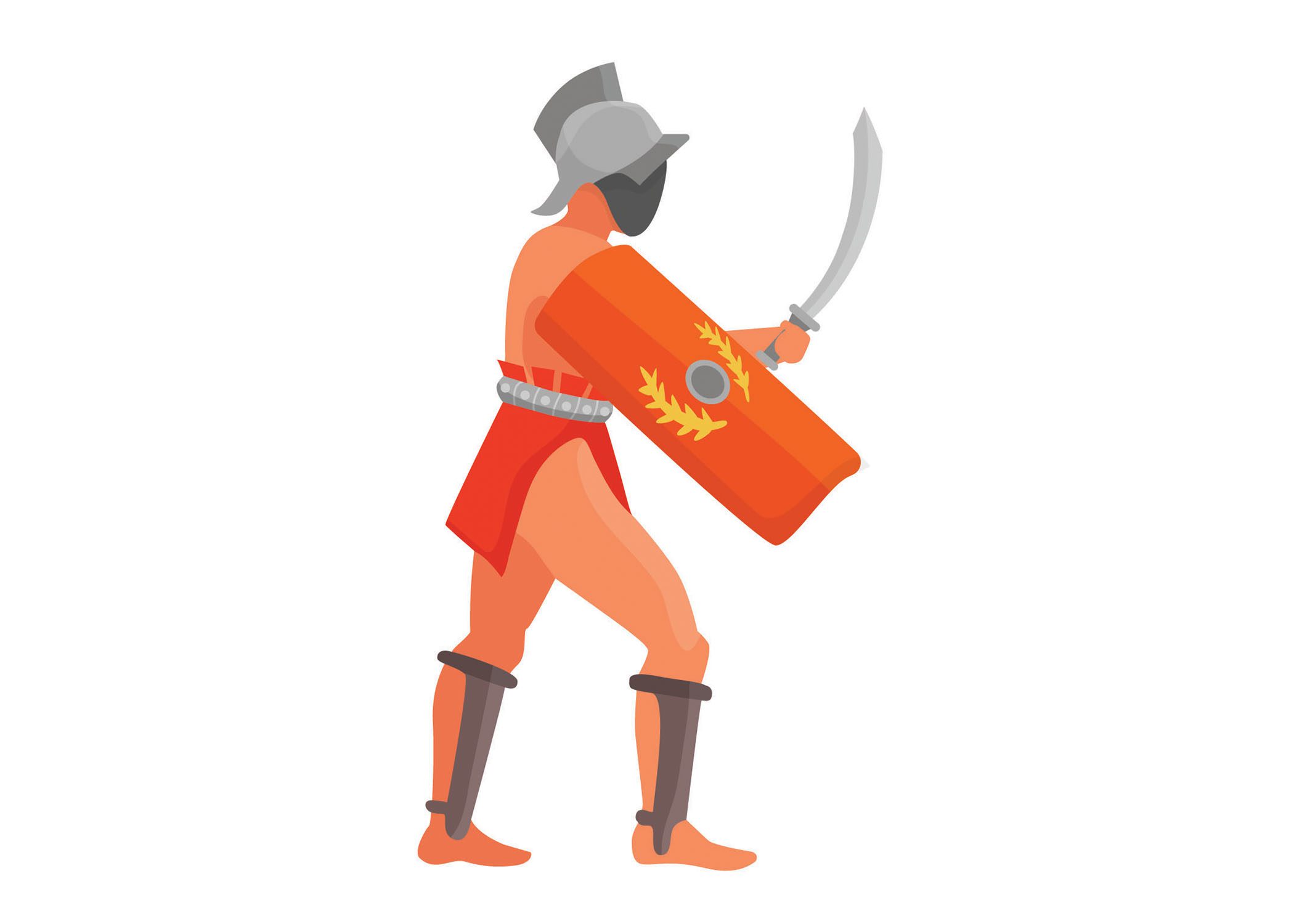 If you had to name famous Colosseum gladiators, who would it be? You probably thought of Spartacus, the prisoner of war from the Thracian tribe who led an uprising against his captors. Gathering an army of 70,000 rebels, Spartacus went to battle against his enslavers and won.
Recognizable by a helmet with a griffin's head crest, women lusted after Thraex gladiators. Fighting with a short sica sword, a round shield, and sometimes a spear, Thraex were tall, lean, and strong.
---
Popular Tours from Rome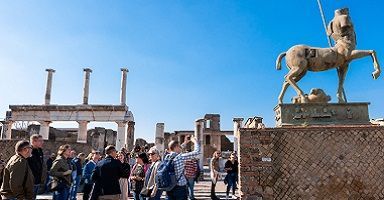 Best Seller
Unforgettable Rome Day Trip to Pompeii and Sorrento
This is the best way to see Pompeii and the Amalfi Coast from Rome. You'll take private transportation with our guide down to Pompeii where an archeologist will tour our small group through the ruins. Then we'll head over to Sorrento which is the tip of the Amalfi Coast before returning to Rome. Tickets, transportation, and guides are included in the price.





See prices and more info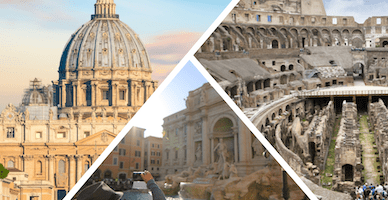 Best Seller
Rome in a Day Tour with Vatican, Sistine Chapel, Colosseum, and More!
Looking to get much of your sightseeing done in one day? This tour enters the Vatican an hour before opening and visits the Colosseum along with other sites like the Pantheon, Spanish Steps, and Trevi Fountain. All admissions and transportation are included as well as a licensed English-speaking guide!





See prices and more info