The Romans are famous for their love of entertainment—the bloodier the better, in their opinion. You probably already know that the Colosseum was used as an arena for gladiator fights, but that was actually just one of its many uses. The Romans also managed to turn the Colosseum into a temporary lake in order to host massive mock ship battles – but how on earth did they pull off Colosseum naval battles and why?
---
How did the Colosseum naval battle tradition start?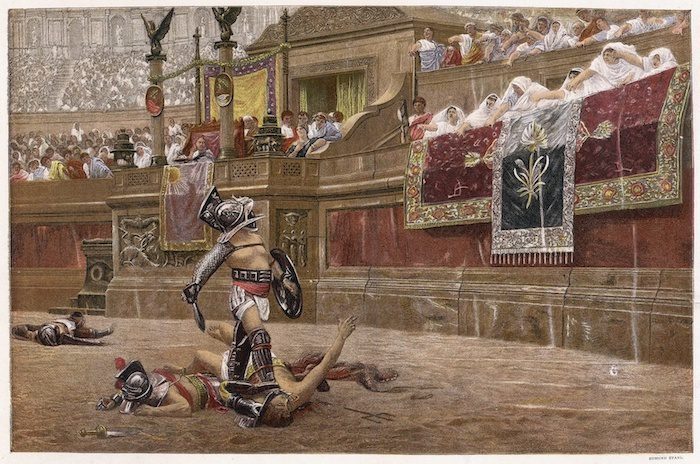 Staged ship battles were called naumachia and begun in 46 BC, when Rome threw a massive party for Julius Caesar, who had just made his triumphant return after defeating his rival, Pompey the Great. The very first naumachia was part of this celebration, in honor of his military efforts against Gaul and Egypt in 46 BC.
Caesar ordered that a basin be excavated in the proximity of the river Tiber, creating a fake lake around 1,800 feet long and 1,200 feet wide and surrounded by marble seating for the wealthy spectators. Up to 3,000 men fought and the sea battle featured 12 Roman galleys—a truly impressive event, attended by people from all over Italy.
When the Colosseum was finished, the Romans asked themselves: what better way to celebrate the building's capability than to flood the Colosseum and hold a massive naval battle? And so it was that the first one there was held during the arena's opening ceremony.
Emperor Titus ordered the new Colosseum to be flooded, then used special flat-bottomed ships during the battle to accommodate for the shallow water. The event replicated the battle between Athens and Syracuse and there was even an artificial island made in the middle of the arena, where the sailors landed to fight.
Did the Colosseum naval battles use real ships?
While it was quite the achievement to be able to fill such a large area up with water to host a naval battle, historians believe that actual maneuvers or even floating is unlikely. The space was just too small to engage in lifelike warfare, so props may have been used to represent a large portion of the ships.
Another naval battle at the Colosseum was documented in AD 89, orchestrated by Emperor Domitian, and this is the last recorded naumachia in history. There aren't many naumachiae documented at all, largely because staging one was extremely expensive. It was very difficult to find an appropriately large site to do the event justice, and it also required a crew of skilled craftsmen and engineers to create the theatre, the seating, and the ships.
Who fought in the Colosseum naval battles?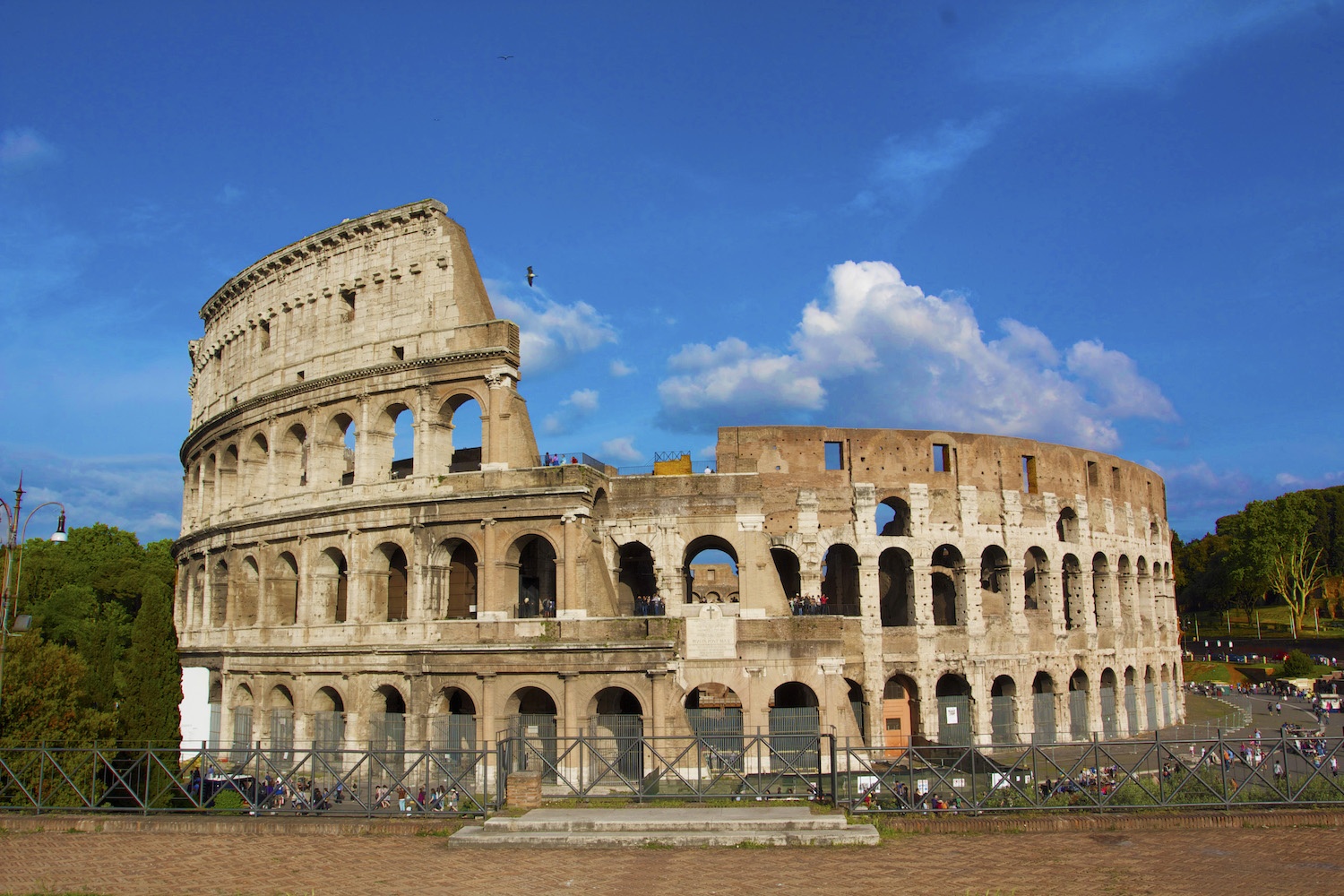 In traditional Roman style, it was prisoners or those condemned to death that provided the cannon fodder for the spectacle. Those who fought were called Naiunachiarii, and usually fought to the death, unless saved by the clemency of the emperor. Around 4,000 rowers usually participated too.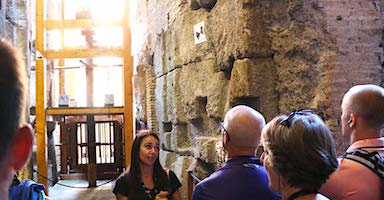 Best Seller
Colosseum Underground Tour with Roman Forum and Palatine Hill
This is our most popular Colosseum tour due to the incredible access to non-public areas like the underground chambers. All admissions are included and it is lead by an English speaking licensed guided and Colosseum expert.





See Prices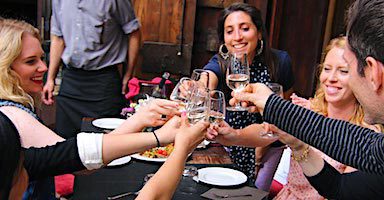 Best Seller
Local Rome Food Tour in Trastevere Neighborhood
Are you looking for the best food tour in Rome? Embark on a Trastevere food tour that offers an excellent introduction to some of the best food in Rome. Led by a local foodie guide, visit some of our favorite restaurants and trattorie in Rome





See Prices
How did the Romans flood the Colosseum?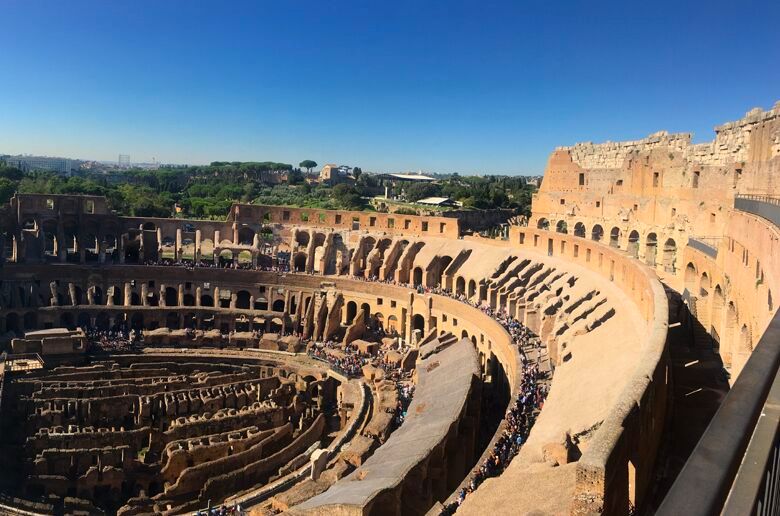 Flooding such a huge space in a short time would be a difficult task for us even now, using modern equipment, which may leave you wondering: how did they flood the Colosseum? It had to be done quickly in order to avoid losing the audience's attention—after all, they had come to see grizzly entertainment, not watch a huge bowl fill up with water.
Historians are divided about how they could have managed it, and whether they even did take place at the Colosseum at all, even though there are writings from the time to back it up. The Roman writer Cassius Dio wrote that "Titus suddenly filled this same theatre with water and brought in horses and bulls and some other domesticated animals that had been taught to behave in the liquid element just as on land. He also brought in people on ships, who engaged in a sea-fight there, impersonating the Corcyreans and Corinthians."
We know that during the Colosseum's first year, it would have been technically possible to flood it with enough water for ships to sail. However, after the construction of the hypogeum—the vast network of tunnels and storage rooms under the floor, built during the reign of Domitian—holding water battles at the Colosseum would no longer have been possible. For that reason, it's very difficult to obtain evidence as to how the flooding would have worked.
Fortunately, Verona has a similar amphitheater, allowing us to make an educated guess as to how it would have worked at the Colosseum. Underneath the Veronese arena there is a basin connected to two axial conduits; one would have been connected to an aqueduct in order to fill the basin, and the other designed to drain water out again into the Adige River.
How did the Colosseum naval battles end?
Arena-based naumachiae became more popular than those in lakes or other specially built basins, largely because they were less costly and could, therefore, afford to be staged more frequently. However, they were also less grandiose, and the Roman audiences quickly lost interest; gladiator fights and other similar bloodsports garnered more attention. On top of that, it is likely that the empire's increasing weakness and financial troubles in the third century meant that holding grand naumachia was simply no longer an option.
Hey, we sell tours too!
While we're happy to share free information with you, we'd also love to give you the best Rome tours at a reasonable cost. Check out our best Colosseum tours before your trip to make sure you select the one that works best for you.
Top Colosseum Tours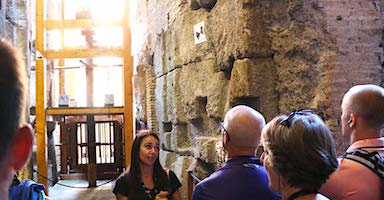 Best Seller
Colosseum Underground Tour with Roman Forum and Palatine Hill
This is our most popular Colosseum tour due to the incredible access to non-public areas like the underground chambers. All admissions are included and it is lead by an English speaking licensed guided and Colosseum expert.





See Prices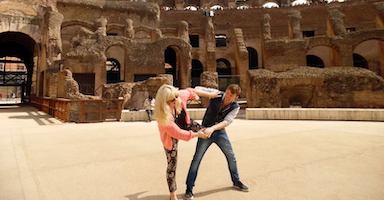 Best Seller
Privileged Entrance Arena Floor Colosseum Tour with Roman Forum
You'll enter the Colosseum through the back door entrance avoiding lines and crowds which is ideal! You'll step through the Gate of Death and your English speaking Colosseum guide will bring the stories to life. Next, on to the Roman Forum. All admissions are included.





See Prices
---
I Want More Italy!