The major sites of Rome like the Vatican and Colosseum hardly need an introduction. But what about the rest of la Città Eterna? My favorite part of living in Rome is walking down the street, turning a corner, and BAM! I'm hit with something that takes me to another place and time. There are hidden gems all over Rome that allow you to experience the city like a local, taking you away from the hunger games experience found in many of the more popular sites. Join me as I share my top 8 off the beaten path things to do in Rome, and experience the city differently!
---
1.
The Appian Way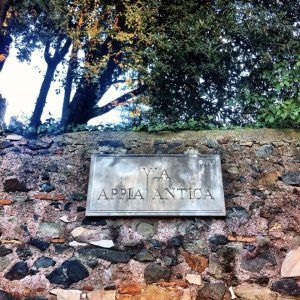 Ever hear the expression all roads lead to Rome? The Appian Way, or Via Appia Antica, is the oldest road in Rome that started that expression. Built in 312 B.C., it was created to give the Roman Republic army an easier method of transportation.
Vast green spaces with towering trees and ancient Roman ruins lining both sides of the cobblestone paths. The nature and clean air make you feel like you are hours outside of Rome when in reality you're just outside the center.
One of these 2 ways will land you calmly on the road:
OR
---
2. 
Gelateria La Romana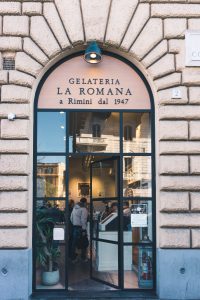 Rome is not shy of gelaterias, but knowing the good from the tasteless can save your vacation. This gelateria stole my heart my first week in Rome and, three years later, I have yet to find one better. The story behind it makes it all the better as well – a father wanted to make ice cream for his children so he started "La Romana". Their special touch: order a cone and they'll fill it with the free-flowing chocolate. YUM!
There are 3 locations in Rome so you're never that far from a yummy treat:
---
3. 
Protestant Cemetery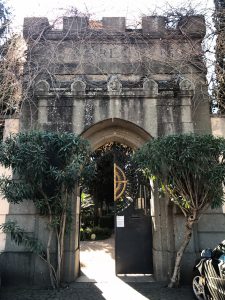 Tucked back behind a quiet street in Testaccio lies Rome's non-Catholic cemetery.
It's the resting place of poets Shelley and Keats, among other famous artists and politicians who couldn't be buried on then Roman soil because of their religion. In the summer the shade will be more than welcome, and in the other months, you'll have a unique and historically rich attraction practically to yourself.
Address: Main entrance for visitors: Via Caio Cestio, 6 in the Testaccio district of Rome | Price: Free, but donations are welcome | Hours: Monday-Saturday 9.00 – 17.00 (last entrance at 16:30), Sunday 9.00 – 13.00  | Website
---
4.
Doppiozeroo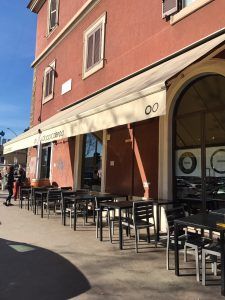 This is one of my favorite bar/restaurants for aperitivo. It is tucked away in Ostiense, a local neighborhood full of great eats and funky street art. When you order a cocktail you get an all-access pass to their aperitivo buffet full of pizza, veggies, and even dessert. You get to see how Romans do happy hour outside of a tourist hub, but still in central Rome.
If you want an earlier start, go for a larger-than-normal spremuta, fresh squeezed orange juice, and fresh pastries.
Address: Via Ostiense, 68 | Price: $$-$$$ | Hours: Open Daily from 7.00 – 14.00, Aperitivo 18.30 – 21.00  | Website
---
5.
Per Grazia Ricevuta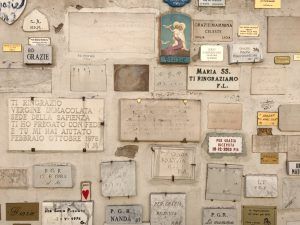 A quintessential hidden gem in Rome, this shrine to the Madonna, or Virgin Mary, is on the main street in popular Trastevere. The shrine, which is a wall of inscriptions, gives thanks to Madonna for the blessings people have received.
Religious or not, this is something you can appreciate as an observation of the Italian culture. Faith and religion is such a big part of their daily lives and they proudly publicize their devotion. If you are lucky enough to be there when nonni, grandparents, walk by, you'll most likely see them make the sign of the cross.
Address: On Viale Trastevere, between Viale Emilio Morisini and Viale Glorioso  | Getting there: Take Tram 3 or 8, or the H bus here, and you can't miss it.
---
6.
Centrale Montemartini Museum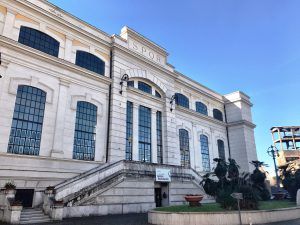 A 19th-century power station turned art museum, this place holds one of the best collections of Greek and Roman statues. It's a hip museum where the statues are mixed in among the black metal of the old machinery. It's off the radar of tourists, and most locals, so you'll come out with untold stories to tell.
Address: Via Ostiense 106  | Price: Tickets are €7.50 | Hours: Tuesday-Sunday 9.00 – 19.00
** The museum is a 5-minute walk from Dopiozeroo (above). A perfect night of museum fun and happy hour after!
---
7.
Nuovo Mondo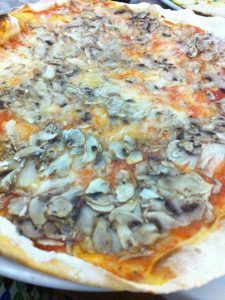 A typical Roman restaurant means no glitz or glamour, and that's what you'll get here. The waiters run around like headless chickens and the lights are brighter than what we may be used to back home for dinner, but what they lack in decor, they make up for in flavor and character – it's consistently packed full of hungry Italians for a reason.
You're coming to Italy, so eating is important. But, eating the right food in the right places is what will set the experience apart. Expect the Roman thin crust. Try anything with bufala or the capricciosa.
Address: Via Amerigo Vespucci  | Price: $ | Hours: Open Daily from 19.00 – 12.30am
---
8.
Palazzo Spada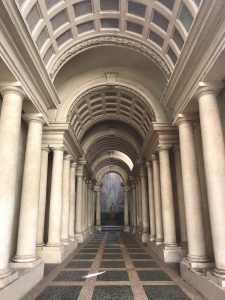 In Rome's historic center near Campo de' Fiori, nestled between small winding streets, is this beautiful art gallery. Cardinal Spada purchased the building in 1632 and then hired Baroque architect Francesco Borromini to restore it. But, the tricky architect had something up his sleeve. When Borromini was restoring the gallery, he added an illusion in the internal courtyard. Standing in the courtyard, the corridor seems to stretch endlessly, and the statue at the end seems life-size, if not bigger. But, it is only 28 ft long (35m), and the statue a mere 23 inches high. So moved by the forced perspective, Spada wrote a short poem regarding his interpretation:
In the same way that illusions may cause small shapes to appear great, worldly matters held to be great may prove to be illusory and insignificant." 
Address: The entrance to the gallery is not in front of the palazzo but rather on the side on Vicolo del Polverone, 15b (there are signs) | Price: Tickets are €5 for adults over 25, €2.50 if under | Hours: Tuesday-Sunday 8:30 – 19:30
---
Discover More
We hope that we've inspired you to add some of these hidden gems to your itinerary when you're next in Rome. If you go and visit any of them, please share your experience with us by tagging us in your posts! Share your photos with us on Facebook, Twitter, Pinterest and Instagram with #TheRomanGuy and @theromanguy for a chance to be featured!
What to find out more things to do in Rome? Check out these useful blog posts:
Looking for more help when planning your Italy vacation? Our team of Italy travel experts are always ready to help you in our Trip Planning Department! Email them with your basic ideas and they will plan your whole trip for you!