The major attractions in Rome like the Vatican and Colosseum hardly need an introduction. But what about the rest of the Eternal City? The best part of being in Rome is walking down a street, turning a corner, and finding another hidden gem. Experience the city like a local and get away from the hunger games experience found at Rome's most popular tourist attractions. Here are some of the best places in Rome off the beaten path.
---
1. The Appian Way
Ever hear the expression all roads lead to Rome? The Appian Way, or Via Appia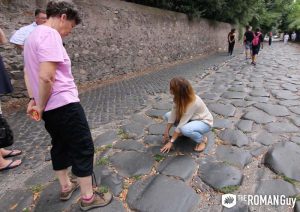 Antica, is the oldest road in Rome that started that expression. Built in 312 B.C., it was created to give the Roman Republic army an easier method of transportation.
Vast green spaces with towering trees and ancient Roman ruins line both sides of the cobblestone paths. The nature and clean air make you feel like you are hours outside of Rome when in reality you're just outside the center.
If you'd rather let someone else handle transportation, check out our Rome Catacombs Tour. This exclusive tour of Rome off the beaten path includes the Appian Way.
How to Get to the Appian Way:
Take the nearest Metro to Piramide (B line)
From there, take the 118 Bus
Get off at Catacombs of San Callisto (ask the driver if you're not sure)
You're on the Appian Way!
Head in the direction of Appia Antica Café for refreshments. Then, keep going in the same direction for the best scenery.
OR
Take the nearest Metro to Colli Albani (A line)
From Largo Colli Albani (in front of the metro station) take the 660 Bus
Get off at Cecilia Metella
You're next to Appia Antica Café!
As you get off the bus, the direction you want to head in is to your left
2. See the Catacombs of Rome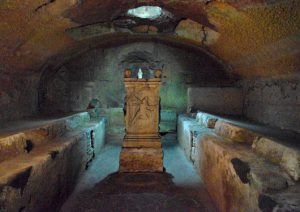 Popularized by Indiana Jones, the catacombs are not only an excellent way to experience the darker side of Rome, but they also constitute Rome off the beaten path.
Most people who visit the Eternal City skip the Catacombs of Rome, but you're not like everyone else!
Book a tour of this underground burial site with a passionate, English-speaking guide and also enjoy private luxury transportation, a walk on the ancient Appian Way and a visit to the Capuchin Crypts.
3. Go Vintage Shopping in Rome
With a city as historical as Rome, it's no surprise that the shopping is also tinged with days gone by. Jam-packed with vintage and second-hand shops, going vintage shopping in Rome is to enjoy the thrill of the chase.
Most of us like to commit to a little (or a big) shopping spree during our travels. If you're headed to Rome, hit up some vintage shops and snatch up a souvenir that's much more original than the typical touristy junk for sale around the major attractions in Rome.
4. Protestant Cemetery
Tucked back behind a quiet street in Testaccio lies Rome's non-Catholic cemetery. It's the resting place of poets Shelley and Keats, among other famous artists and politicians who couldn't be buried on then Roman soil because of their religion.
In the summer the shade will be more than welcome, and in the other months, you'll have a unique and historically rich attraction practically to yourself.
Address: Via Caio Cestio, 6, 00153 Roma | Price: Free, but donations are welcome | Hours: Mon-Sat 9a.m.-5p.m. (last entrance at 4:30p.m.), Sunday 9a.m.-1p.m.  | Website
5. Go Out for Aperitivo
If you're an American in Rome, the practice most comparable to aperitivo is happy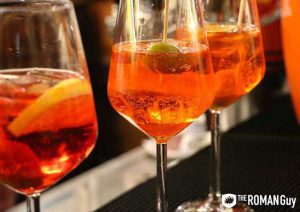 hour, but you didn't hear that from us. Italians don't like their beloved ritual linked to an American custom.
If you go out for aperitivo, order a cocktail and gain access to a buffet of snacks.
This takes place after work but before dinner, and it's an awesome way to get into the flow of daily life in Rome. How about knowing what to order for aperitivo though?
Think traditional Italian cocktails like Bellini, Negroni or an Aperol Spritz. Snacks will vary from cous cous and veggies to sweets. If you want to see how locals partake in aperitivo, consider going to Doppiozeroo in the Ostiense neighborhood. This modern restaurant is popular among trendy locals for having the best aperitivo in Rome.
6. Per Grazia Ricevuta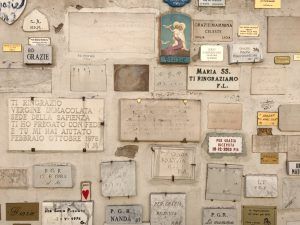 A quintessential hidden gem in Rome, this shrine to the Madonna, or Virgin Mary, is on the main street in popular Trastevere. The shrine, which is a wall of inscriptions, gives thanks to Madonna for the blessings people have received.
Whether or not you're Christian (or religious at all), faith and religion plays a huge part of daily life in Italy's capital City. If you're lucky enough to be there when nonni, grandparents, walk by, you'll most likely see them make the sign of the cross.
Address: Viale Trastevere, between Viale Emilio Morisini and Viale Glorioso  | Getting there: Take Tram 3 or 8, or the H bus
7. Centrale Montemartini Museum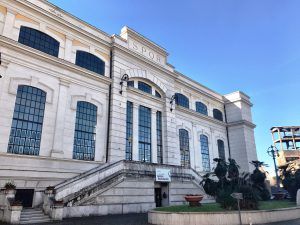 A 19th-century power station turned art museum, this place holds one of the best collections of Greek and Roman statues.
It's a hip museum where the statues are mixed in among the black metal of the old machinery. It's off the radar of tourists (and most locals!), so you'll have plenty of space to enjoy the exhibitions.
Address: Via Ostiense 106  | Price: Tickets are €7.50 | Hours: Tuesday-Sunday 9a.m.-7p.m.
** The museum is a 5-minute walk from Dopiozeroo (above). A perfect night of museum fun and happy hour after!
8. Palazzo Spada
In Rome's historic center near Campo de' Fiori, nestled between small winding streets, is this beautiful art gallery. Cardinal Spada purchased the building in 1632 and then hired Baroque architect Francesco Borromini to restore it. But, the tricky architect had something up his sleeve.
When Borromini was restoring the gallery, he added an illusion in the internal courtyard. Standing in the courtyard, the corridor seems to stretch endlessly, and the statue at the end seems life-size, if not bigger. But, it is only 28 ft long (35m), and the statue a mere 23 inches high. So moved by the forced perspective, Spada wrote a short poem regarding his interpretation:
Address: The entrance to the gallery is not in front of the palazzo but rather on the side on Vicolo del Polverone, 15b (there are signs) | Price: Tickets are €5 for adults over 25, €2.50 if under | Hours: Tuesday-Sunday 8:30a.m.-7:30p.m.
9. Spas in Rome
Let's be honest, a spa day is an outstanding way to overcome jet lag after a long plane ride. In addition to the hustle of sightseeing in Rome, making time for relaxation is also important.
From taking a dip in some Turkish Baths to getting a massage, partaking in Rome's spas is a way to connect to the history of this ancient city.
Ancient Romans were fans of public baths, and the setup wasn't that different than a modern spa! There was a caldarium (hot bath), a tepidarium (warm bath) and a frigidarium (cold bath). Some places even had steam baths. Just call your spa services "anthropological research".
---
I Want More Italy!