Venice is an iconic destination in Italy that sees millions of visitors every year. Visiting the Floating City can get expensive quickly, from transport to museum admission costs and dining in popular areas. But you don't need to have a big budget to enjoy the city. In this guide, we share practical pointers for getting the most out of Venice on a budget.
---
Pro Tip: Planning a trip to Venice? Bookmark this post in your browser so you can come back to it when you're traveling. See our guide to Venice for more resources to help you plan your trip. Also, check out our article on how to see Venice in a day.
How To Visit Venice on a Budget
When you arrive in Venice, you'll quickly realize that it's very easy to spend money in this city. From visiting museums to getting around and eating out, Venice can get pretty expensive. Here, all goods have to be brought in by boat every day and the number of visitors has exploded in recent years, all contributing to local costs.
However, enjoying Venice on a tight budget is still possible—it just requires a bit of planning ahead. Here's what we'll cover to help you get the most out of your trip to Venice:
Our Partnership with Booking.com. If you like our content, please book by clicking on our Booking.com links. The price is the same for you and we get a small commission that helps support our helpful blog content. We've partnered with Booking.com because they have the most options, great prices, and a solid loyalty program.
How To Get To Venice
If you're coming to Venice from other Italian cities, the cheapest solution is to travel by bus or train. The train is faster and may even be cheaper if book tickets early.
If you choose to arrive by plane, be sure to check both of the city's airports when booking your tickets. You may find cheaper flights for the smaller and more distant Treviso airport (Canova Airport in Treviso – TSF).
How to get from Canova Airport in Treviso (TSF) to Mestre and Venice
Mestre is the mainland area that connects to Venice by rail and road. As you will read below, we recommend staying in Mestre because it's much more affordable than staying in the lagoon area. There are two ways you can get to Mestre and/or Venice:
Bus and Train:
The cheapest way is to take the Urban Bus Line from the Airport to the train station of Treviso for €1.30. Then, continue by train to Mestre or Venice for a price of €3.55.
Bus Shuttle Service:
The fastest solution is to take the non-stop bus shuttle service. It also has amenities including onboard Wi-Fi and baggage storage in the trunk of the bus. The price is €12 one-way to the train station of Mestre (mainland) or Venice (Piazzale Roma). There is no round-trip ticket available.
Where To Stay in Venice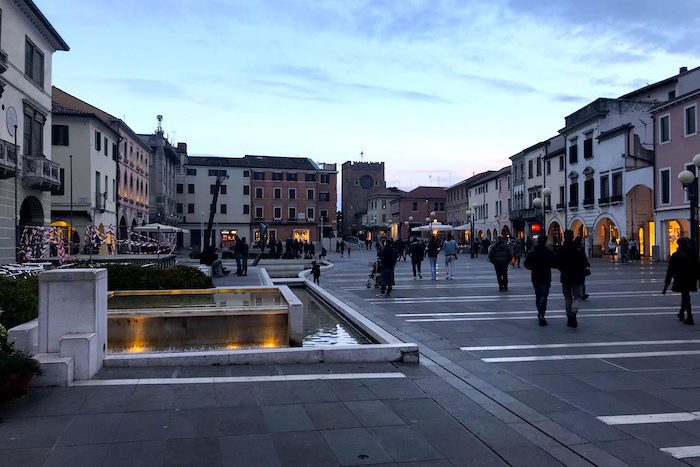 Finding the right hotel or apartment rental without spending too much can be tricky, especially if you want to stay in the lagoon. Try to avoid the lagoon if you want to save your budget for activities, Venice tours, or eating out.
Instead, choose comfortable and economical accommodation in Mestre, situated in the terraferma or mainland area just across the lagoon from Venice. Many accommodation options have been recently established near Mestre's train station to offer travelers an alternative to the expensive lagoon.
Getting Around Venice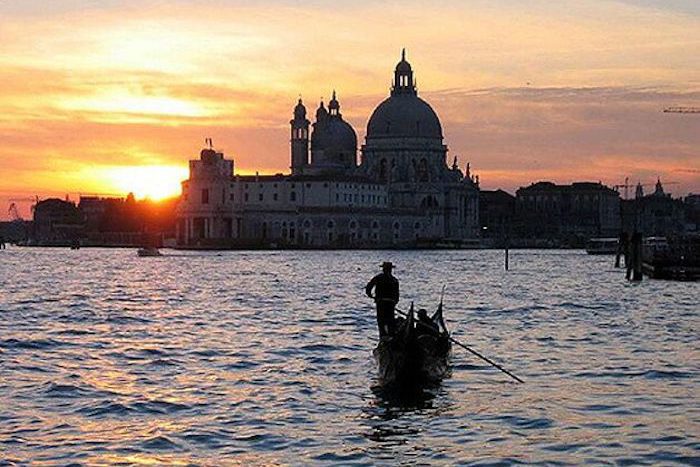 In the morning, take the inexpensive train or bus from Mestre across to Venice and continue on foot—the best way to explore this city. Venice is a fairly small city and very walkable.
Try to avoid the Vaporetto public water taxi, which can be relatively expensive. You can take advantage of it for long distances only or for visiting the islands in the lagoon.
In addition, avoid the busy water taxi lines on Canal Grande too. Unless, of course, it's really important to you to ride a boat on this famous canal without spending the €80 for a gondola ride. We have a guide on how to use public transport in Venice if you need it.
Popular Venice Tours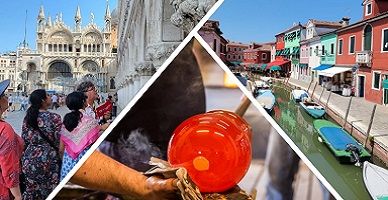 Best-Selling Tour
Ultimate Venice in a Day with Murano and Burano
The ultimate tour of Venice. You'll get skip-the-line access to the most important buildings in Venice, plus a gondola ride, and private transportation to the islands of Murano and Burano. It's a full day of touring that will make for the best memories in Venice ever.





See Prices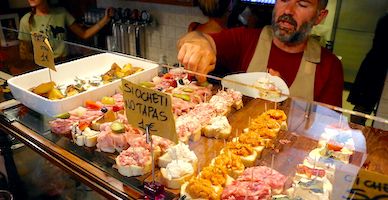 Authentic Experience
Venice Local Evening Food Tour in Cannaregio
People who say Venice is too touristy have not done enough research. Cannaregio is an amazing break from the crowds and our food tour is the most authentic way to experience it. Taste Cicchetti and other Venetian specialties with tons of wine! You'll leave with a full stomach! Plenty of Food and wine included!





See Prices
Not ready to book a tour? Check out our Venice Guide for more info.
Things To Do in Venice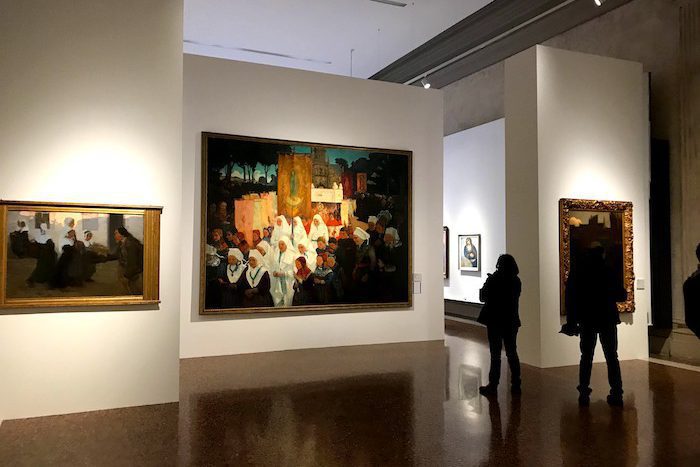 While accommodation and restaurants can be expensive, there are a number of sights and monuments in Venice that are completely free to visit as well as some other cool activities.
Free Museums and Activities
Visit Saint Mark's Basilica, Basilica di Santa Maria della Salute, and the many other magnificent churches free of charge. There are many admission-free art and photo galleries spread all over the city. To save money on the major museums like Palazzo Rezzonico, Ca D'oro, and Ca' Pesaro Gallery, buy a combined ticket.
To get even closer to the heavens, climb the rooftop terrace of Fondaco dei Tedeschi, a department store near the famous Rialto Bridge, and enjoy the sweeping views of the Canal Grande and Rialto Bridge, the oldest one of all Grand Canal bridges, without having to pay or queue for the bell tower of Saint Mark's Basilica.
Explore the inexpensive neighborhood of Cannaregio, situated in the very north of the city. Chill out and reflect on the shores of the Rio della Misericordia and La Sensa. In the many restaurants and cafes nearby, dine well for very little money compared to other areas. While you're there, admire the oldest Jewish ghetto in the world. In fact, the English word "ghetto" is derived from it.
Free Evening Activities in Venice
In the evening, when most tourists leave the city and the pace begins to slow down, head to the sea. Relax on one of the many shores and enjoy the magic of this city in the golden hour. See how this city has literally been shaped by the sea. Then, walk the endless waterside promenades of Zattere and Riva degli Schiavoni.
When treated gently, Venice may reward you with some of the finest moments you've had in a long time, all for free. For more ways to spend your time, check out the hidden gems of Venice—many are free of charge.
What To Avoid in Venice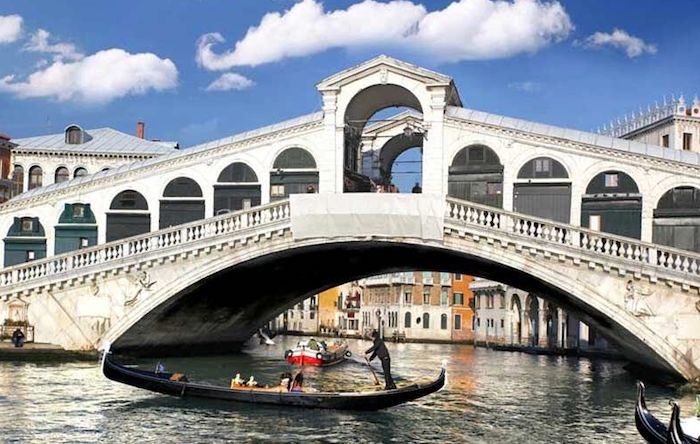 Tourists often spend too much because they get drinks and food in the Rialto and San Marco districts. Prices skyrocket in these areas and will burn a hole in your pocket.
Avoid staying in a hotel on the lagoon, if you can. Rather, choose a place on the mainland. Public transport is available until late at night, so this should not stop you.
Popular Venice Tours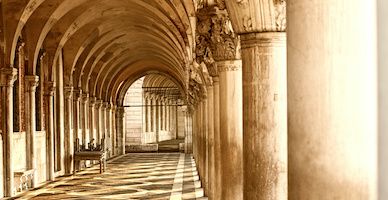 Best Selling Tour
Doge's Palace "Prisons & Tyranny" Tour in Venice
Hear how the Dukes of Venice ruled the "republic" using fear tactics, imprisonment, and torture. Now, the palace stands as a reminder of how the law was carried out in Venice. Skip the line with a passionate English speaking guide and go behind the scenes to see the best parts of this incredible Gothic palace. Admissions included.





See Prices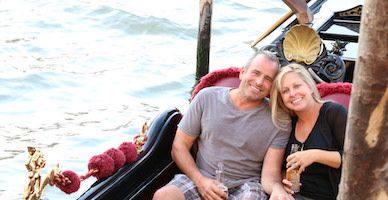 Most Popular Tour
Venice Highlights Tour with Gondola Ride
People who say Venice is too touristy have not done enough research. Cannaregio is an amazing break from the crowds and our food tour is the most authentic way to experience it. Taste Cicchetti and other Venetian specialties with tons of wine! You'll leave with a full stomach!





See Prices
Not ready to book a tour? Check out our Venice Guide for more info.
Where To Eat in Venice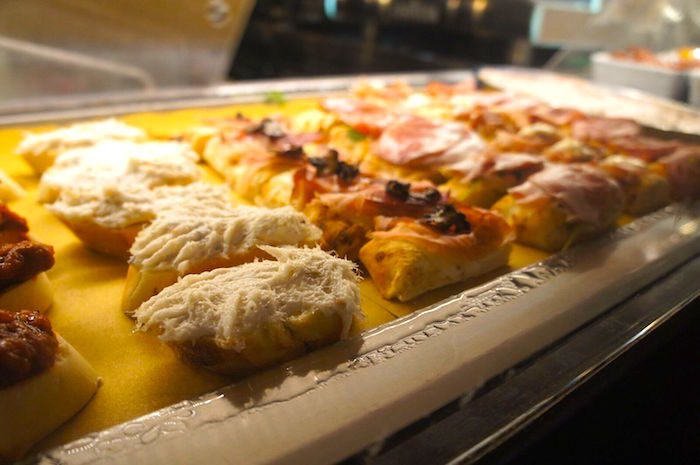 At the southern end of the city is the neighborhood of Dorsoduro, which means "hard ridge". It derives from its less marshy land, compared to the other areas of Venice. Today, Dorsoduro represents a great balance between touristy Venice and its authentic side.
Enjoy significantly lower prices in bars, cafes and restaurants in this area. Have the iconic Spritz drink alongside locals in one of the many bars of Campo Santa Margherita, the very heart of the Dorsoduro neighborhood.
This area is one of the best places to relax after a long walk through the city. Have tasty cicchetti (small sandwiches), which you can buy in the many Bacaro shops spread all around the area. For less than €1, enjoy those tasty delicacies and refill your energy. Check out where to eat the best cicchetti at every price point.
You can find plenty of museums in this neighborhood too. To visit the famous sights in the city center, cross the Accademia Bridge and explore the picture-perfect San Marco square, Rialto Bridge, and Doge's Palace. If you've been saving for a great meal on your trip, check out the best restaurants in Venice in different price ranges.