Whether it's your first time to the Floating City or you're a seasoned visitor, there's always something special to discover. Ready to go off the beaten path? Here are the coolest hidden gems in Venice you shouldn't miss.
---
Pro Tip: If you plan on visiting these sites, bookmark this post in your browser for easy access later on. Also, check out our post on how to see Venice in a Day and ideal Venice tours you'll love. Still planning your trip? We have a dedicated guide to Venice full of resources.
Hidden Gems To Explore in Venice
The hidden gems in Venice are as mysterious as the narrowing canals themselves. Amidst the main attractions of the city, secret treasures await the more adventurous traveler. In this article, we share must-see spots for those who dare to explore beyond the beaten path.
1. Ponte de Chiodo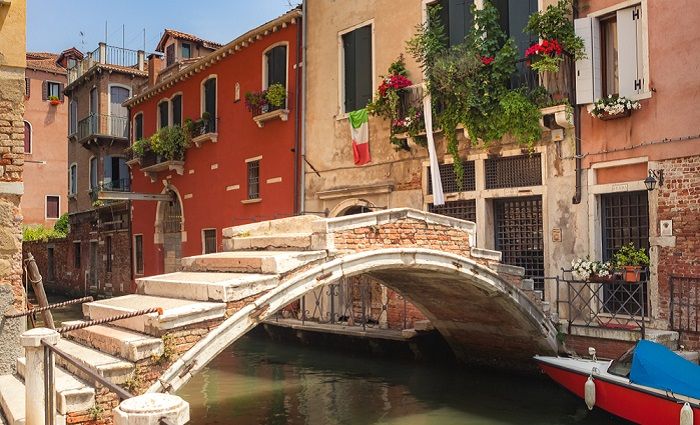 There are 400 bridges in Venice, and while they are all beautiful, most won't give you an adrenaline rush as you cross over them. However, Ponte de Chiodo is the exception as one of two bridges with no parapets or guard rails.
There were once many bridges of this style in Venice, but today there is just Ponte de Chiodo in the local Cannaregio neighborhood and one more on the nearby Torcello island. As you make your way to the bridge, enjoy the charming backstreets lined with vintage goods and bars favored by locals.
How to get to: Ponte de Chiodo
2. Cannaregio (Fondamenta Misericordia)
Cannaregio is one of my favorite areas in Venice. It has a cool feel with relaxing bars that inspire positive conversation and have great seafood. However, you won't find this vibe on every street and canal of Cannaregio. For instance, the area surrounding the train station is crowded and overrun with tourist-menu restaurants.
There are places I enjoy throughout Venice but my ideal canal to spend my evenings on is la Fondamenta Misericordia. There are tons of cool bars where you can chat with locals and great places to eat. You can get typical Jewish food in the Ghetto and interact with the people there.
The feel is completely different than what you would get if you were near St. Mark's Square. You go from narrow streets with heavy traffic to wide canals and a slower pace. We run a great food tour in Cannaregio that helps you explore all the local places. It's a great choice for your first night in Venice.
How to get to: Cannaregio
Not ready to book a tour? Check out our Venice Guide for more info.
3. Isola di San Michele
In the Venetian Lagoon there are several different islands, which might surprise you since most people stick to the familiar city of Venice. Few tourists branch out to the next-most-popular Murano and Burano islands.
But we can't leave out San Michele either. San Michele has served as Venice's cimitero (cemetery), since the early 19th century. It is completely nonresidential and holds only churches and long, elegant rows of marble tombs. Yes, I admit that may sound grim. But, it's actually a very peaceful place and even a welcome escape from the crowds of the main island.
Nowadays, only the rich or famous Venetians are buried here due to the high prices. While San Michele island is a wonderful hidden gem in Venice, it is not a tourist attraction. Instead, it is more of a sacred place where locals come to pay their respects. As such, you'll need to know that the dress code is the same as a church.
You can easily get to San Michele by vaporetto (water bus) line 4.1 or 4.2. Vaporetto tickets are €7.50 one-way, or €20 for a day pass. Look out for the Cimitero stop.
How to get to: Isola di San Michele | Cemetery Hours: April – Sept, 7:30 am – 6 pm daily; Oct – March, 7:30 am – 4:30 pm daily | Vaporetto Information
Unforgettable Venice Tours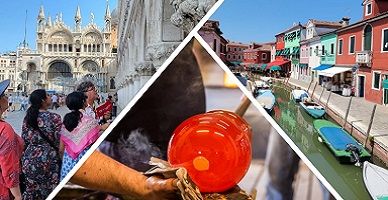 Best-Selling Tour
Ultimate Venice in a Day with Murano and Burano
The ultimate tour of Venice. You'll get skip-the-line access to the most important buildings in Venice, plus a gondola ride, and private transportation to the islands of Murano and Burano. It's a full day of touring that will make for the best memories in Venice ever.





See Prices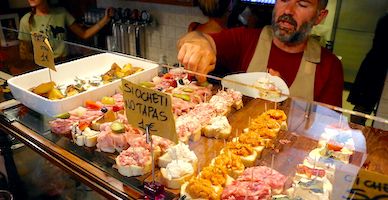 Authentic Experience
Venice Locals Evening Food Tour in Cannaregio
People who say Venice is too touristy have not done enough research. Cannaregio is an amazing break from the crowds, and our food tour is the most authentic way to experience it. Taste cicchetti and other Venetian specialties including wine. You'll leave with a full stomach and a love for Venetian food!





See Prices
Not ready to book a tour? Check out our best Venice tours to take and why.
4. Libreria Acqua Alta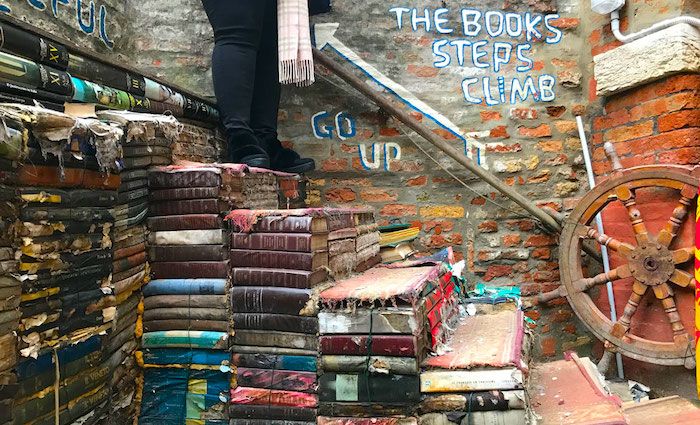 This chaotic yet charming bookshop is a dream come true for bargain hunters. The welcoming owner stacks new and used books in antique gondolas, bathtubs, canoes, and barrels, which makes for an unbelievably unique Venice experience.
Even though you could spend all day sifting through and collecting literary treasures, be sure to take a break and play with the friendly cat who roams the shop. After you've found priceless souvenirs and gifts, head to the garden and marvel at the staircase made from old, vibrant books. An Instagram dream come true? Absolutely.
How to get to: Libreria Acqua Alta | Hours: 9 am – 7:30 pm daily
5. Scuola Grande di San Marco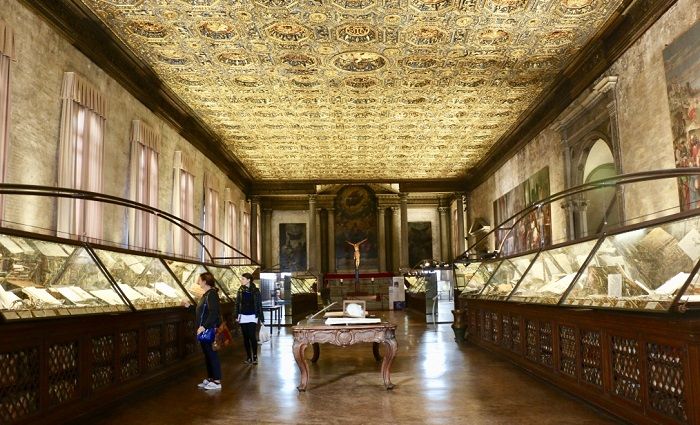 What's better than a hidden gem in Venice? A free hidden gem hiding in plain sight! The Scuola Grande di San Marco has a long history dating back to 1261, and today it is a city hospital with a hidden gem upstairs.
Upon entering the building, walk up the steps on the right. Here you will find the Museum of the History of Medicine that you can visit completely free of charge. Ancient books line the walls and the expansive room is full of interesting artifacts, equipment, and literary materials about the origins of medicine. However, my favorite part of the museum is the ceiling—look up in awe!
How to get to: Scuola Grande di San Marco | Hours: Tues – Sun, 9:30 am – 1 pm, then 2 – 5 pm
Not ready to book a tour? Check out our Venice Guide for more info.
6. Isola della Certosa
Another Venetian island often overlooked by visitors is Certosa. If you like serenity in the form of nature, water sports, and a break from the crowds, this is a destination to put on your list.
There is a park, which is more like an open grass area. It is perfect for outdoor activities and for breathing in that fresh air we so crave. Plus, you can even enjoy panoramic views of Venice across the water.
In addition, you'll often find people wading in the water of the lagoon searching for vongole or clams. Satisfy your appetite and soul at the relaxing restaurant Il Certosino. To arrive on the island, take Vaporetto line 4.1 or 4.2.
How to get to: Certosa Island | Vaporetto Info
7. San Francesco della Vigna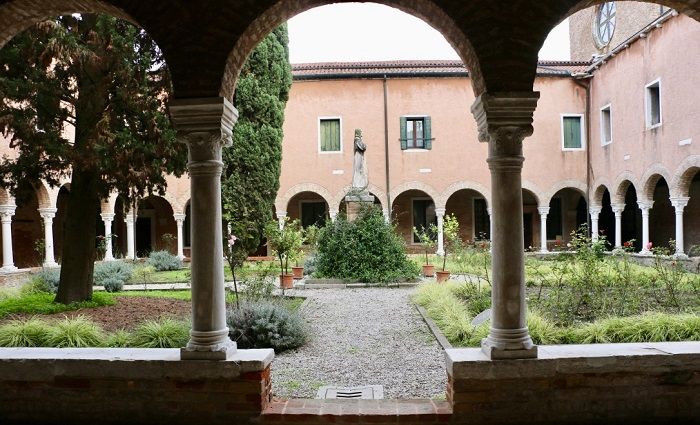 Due to its location on the edge of the city, this church is often empty even during high season. Since it also functions as a monastery, silence is strictly enforced.
However, the quiet solitude makes it a great place to simply appreciate the detailed frescos and the spacious Renaissance interior. Don't miss the two back courtyards lined with orange trees and accompanied by the music of chirping birds.
How to get to: San Franceso della Vigna | Hours: 8 am – 12:30 pm, then 3 – 7 pm
8. San Giorgio Maggiore Bell Tower (Campanile)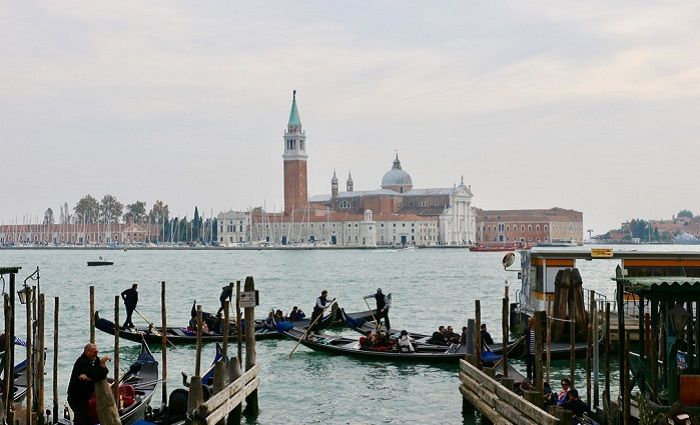 Time to hop back on the vaporetto and head to the Island of San Giorgio Maggiore. This Venetian island affords possibly the finest 360° views of Venice from the top of the bell tower. To get there, make your way to the front left side of the church's interior.
There is a glass-walled elevator that takes you to what seems like the clouds. Here, you will find unspeakably beautiful views of Piazza San Marco, Doge's Palace, and the rest of our beloved Venice.
The church and bell tower are hardly a secret to visitors as both are constantly photographed from across the lagoon at St. Mark's Square. However, I implore you to go one step further and take the short vaporetto ride to see the island—most never do.
How to get to: Campanile di San Giorgio Maggiore | Hours: April – Oct 9 am – 7 pm daily; Nov – March 8:30 am – 6 pm daily | Price: church is free, campanile is €5
9. A La Vecia Papussa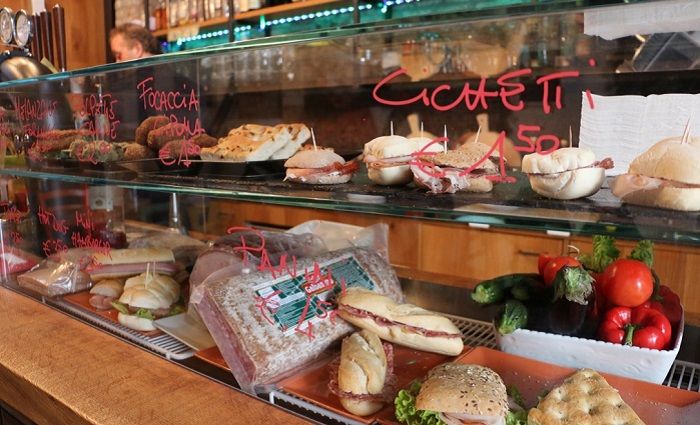 Remember our first hidden gem bridge—Ponte de Chiodo? Well, this secret bar is one of those local favorites I mentioned that can be found nearby. In fact, it is so secret that only the word "Bar" is written above the door.
Groups of friends and couples sit along the canal with a cheap spritz and cheaper wine enjoying Venetian cicchetti. What in the world are cicchetti, you ask? They are Venice's answer to tapas and aperitivo (I'm talking €1-2) plates to accompany your delicious house wine or spritz.
While there are indoor tables here, I recommend taking your food outside and joining the locals. This is a quieter side of Venice that is overflowing with charm so enjoy the scenes of teenagers cruising along the canals on their boats, local butchers crossing their personal bridges, and young Venetians displaying la dolce vita.
How to get to: A La Vecia Paupussa | Hours: 10 am – 12 am daily
10. Secret Gardens of Venice
People visiting Venice typically go for the unique architecture, world-renowned canals, and exquisite food. But did you know about the hidden gardens placed throughout the city? If you didn't, you're not alone.
These splendid reprieves are so exclusive that not even locals have direct access to them. But our Hidden Venice Tour allows you to explore parts of the city that very few will ever witness.
Hidden in a labyrinth of small canals, you and your guide gain special access to a private garden tucked away from the streets. It's an adventure like none other.
How to get to: Venice's secret gardens
Not ready to book a tour? Check out our Venice Guide for more info.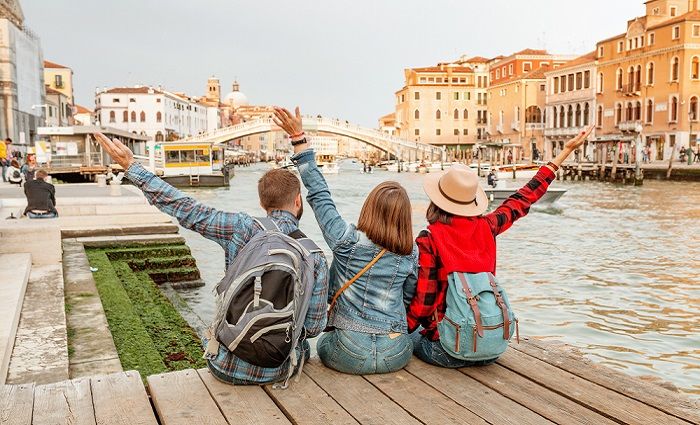 Find the best places to stay
Where To Stay in Venice
Despite the size of this little island, there are endless hotel options to choose from. We've picked the best neighborhoods and hotels to stay in whether you prefer Italian luxury or quiet serenity—or both!