Are you in Venice and looking for a great place to eat? Venice is as flooded with tourists as it's flooded with water which means authentic food can be hard to find. ur local Venetian guides have built this list of the best restaurants in Venice.
---
Travel Tip: Bookmarking content in your browser is a great way to form your own online guide book. Consider bookmarking our online guide to Venice. Also, our Venice Food Tour in Cannaregio District for a guaranteed good time if you are looking for great food.
1. Trattoria Al Gatto Nero
This old inn on Burano island is perfect if you're looking to taste a real home-cooked Venetian meal. With fresh seafood and pasta, you can't go wrong. Start with the Tris di Crost Acei alla Griglia (a mix of grilled comb shells, razor clams and scallops).
For the Primi Piatti, we highly recommend the risotto alla Buranella (typical of Burano island, made with Carnaroli or Vialone Nano rice and Ghiozzi fish). Make sure you leave room for dessert and choose from the Torta di Giorno or try the typical biscuits dipped in sweet wine. The restaurant's owner, Ruggero Bovo says:
I love my country, its traditions, its old flavors and I love the fish of the Venetian lagoon and the Adriatic Coast, the raw material which has fed my island for generations and which I still have the fortune of getting fresh every day."
Address: Via Giudecca, 88, 30142 Burano | Opening hours: Tue-Sun 12:30 pm.-3p.m. & 7:30 p.m.-8:30 p.m. | Phone: +39 041 730120
2. Ristorante Quadri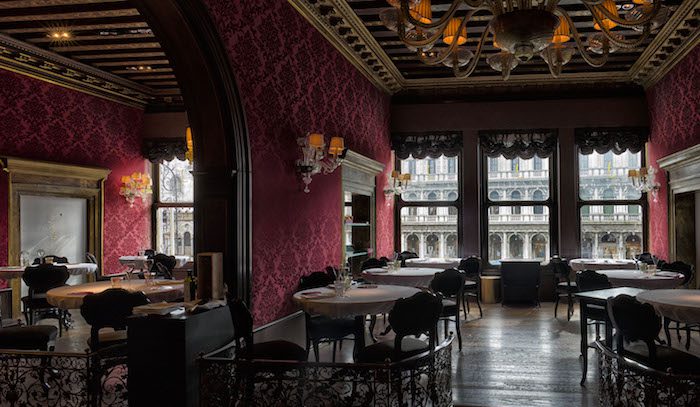 Located in the heart of St. Mark's Square, Ristorante Quadri serves traditional Italian and Venetian dishes with a contemporary twist.
Using only fresh fish from the Rialto Market and local, seasonal vegetables to produce the most exquisite food, this restaurant has earned its Michelin Star.
A sneak peek at their dishes reveals Spaghettoni with Skate Fish Milk and Mantis Shrimp, Tuna Belly with Bottarga Cream and Camone Tomato "Panzanella" and Black Cuttlefish Risotto Coconut, Curry and Peach. Gluten-free options are available.
Address: Piazza San Marco, 121 | Opening hours: Tue – Sun 12:00-15:00 & 19:00-22:3
3. Paradiso Perduto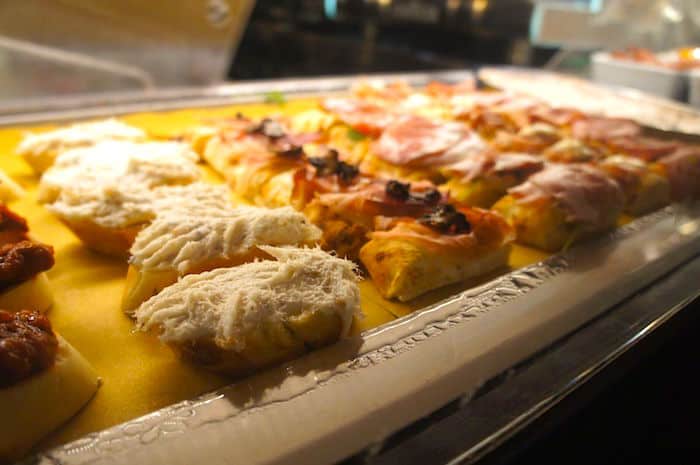 This lively osteria, not far from the Jewish Ghetto, is the perfect place for a vibrant and authentic Venetian meal.
With live music to keep you entertained, enjoy seafood dishes and vegetable platters, hearty pasta dishes or some cicchetti (finger foods) at the counter.
You can't go wrong with Frittura di Pesce (fried fish) or Il Baccalà Mantecato (creamed dried cod served on slices of crusty bread). Make sure you book in advance, as it can get very busy in the evening.
Address: Fondamenta Misericordia, 2540 | Opening hours: Thu – Sun 11a.m.-1a.m.
4. Osteria La Zucca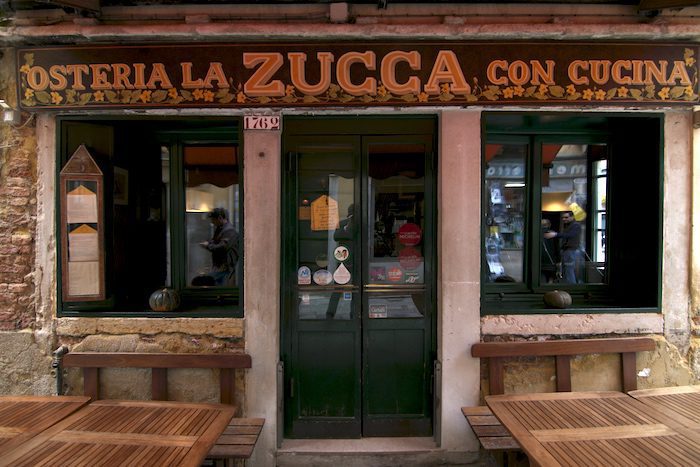 La Zucca, located close to the San Giacomo square, is a small and charming restaurant that offers a variety of dishes, including tasty veggie-friendly options.
As one of the best restaurants in Venice, La Zucca prides itself on using only fresh and natural ingredients to create the most sensational dishes, in the spirit of authentic Italian cuisine.
As opposed to most Venetian restaurants, they do not serve seafood, so stop by here for a change of pace. Try the Asparagus Flan with Parmesan Fondue or the Zucchini and Almonds Lasagna for the perfect refuel before a busy afternoon of sightseeing.
Address: | Santa Croce 1762 | Opening hours: Mon – Sat 12:30a.m.-2:30p.m. & 7p.m.-10:30p.m. | Phone: +39 041 720581
5. Ostaria Boccadora
At Boccadora, enjoy traditional Venetian fish specialties, fresh pasta dishes and numerous vegetarian options. If you're dining as a group, we recommend sharing a few antipasti from the restaurant's extensive menu, before moving on to your main course.
Choose from a selection of pasta fish dishes such as Tagliolini con Sardoni (Taglioni with Fresh Sardines) or Gnocchetti alla Gransevola (Gnocchetti with Spider Crab), and if you're avoiding carbs, there are a number of fish dishes available as second plates.
Also, dessert is non-negotiable at Boccadora. We suggest the Panna Cotta con Fragola or the Tiramisu.
Address: | Campo Widman, 5405/a | Opening hours: 12:30a.m.-2:30p.m. & 7:30p.m. -11:30p.m.
6. Venice Evening Food Tour in Cannaregio District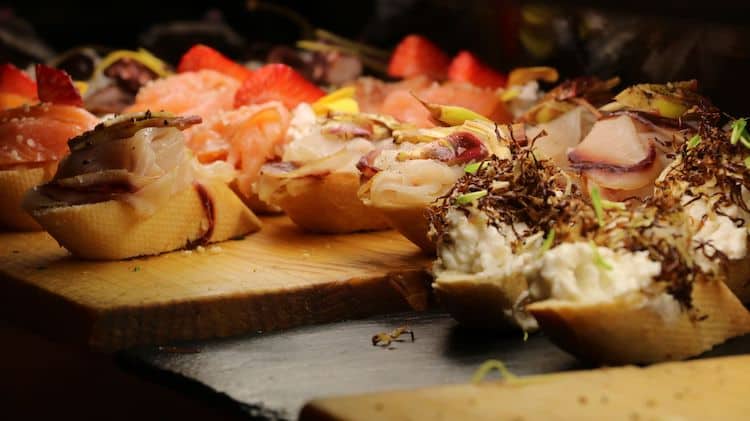 If you have limited time in Venice, a Venice Evening Food tour in Cannaregio District is a great way to discover some of the best food and drink Venice has to offer.
It explores a less-touristy district of Venice known as Cannaregio. The restaurants and Bacari are frequented up by adventurous travelers and locals making it the perfect destination for a great evening.
Address: | Venice City Center | Opening hours: 11a.m. Start Time | Phone: +39 342 876 1859
---
I Want More Italy!
Check out our YouTube video and step-by-step guide about how to do Venice in a Day. If you'd rather let us guide you, check out our Venice tours.