Heading to Rome but looking for some free or cheap things to do between tours and museum visits? This guide will detail some really cool cheap or free things to do in Rome to keep your travel costs down!
---
Pro Tip: Planning what to do on your trip to Rome? Bookmark this post in your browser so you can easily find it when you're in the city. See our guide to Rome for more planning resources, our top-rated Rome tours for a memorable trip, and how to see Rome in a day.
Absolutely Free Things To Do in Rome
Experiencing the best of Rome can be hard on the wallet, but it doesn't have to be. With these tips, you'll be able to enjoy some of the Eternal City's great spots for free or cheaply. Here are seven great free things to do in Rome. Looking for more inspiration? Explore the menu below for more ways to spend your time.
7. Visit View Points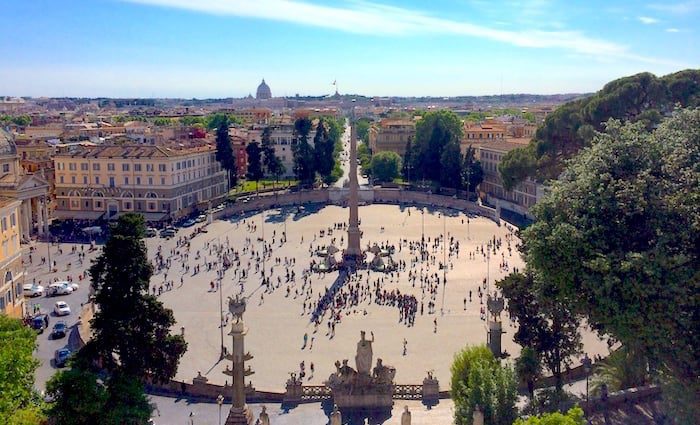 As you may already know, Rome was built on seven hills. Today, the city has expanded beyond its original boundaries and you'll find many opportunities to see the skyline from above.
My favorite viewpoint, il Pincio, is part of Villa Borghese and featured in the photo above. Here are some of the city's best viewpoints:
6. The Vatican Museums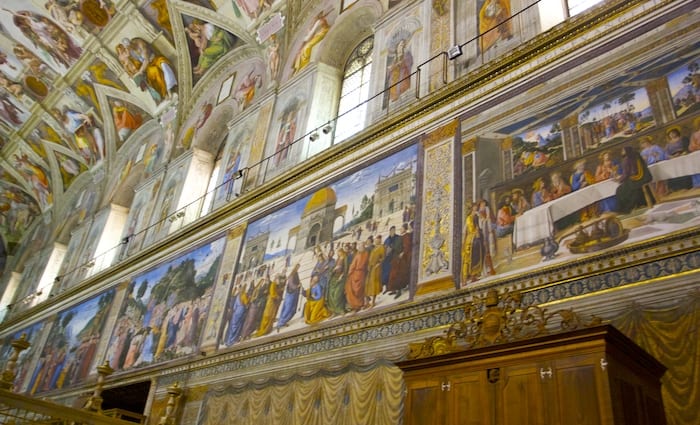 The Vatican Museums are not free every day, but on the last Sunday of each month, they are free to the public. That said, I'd rather go inside any other day and pay the admission price. 
Expect crowds inside the Vatican museums due to their popularity and historical importance. For this reason, we recommend a pre-opening Vatican tour, which gets you in before the general public. For more info on tickets, hours, artworks, and facts read our Vatican Guide with lots of other articles. Also, check out the best Vatican tours to take and why.
Address: The Vatican City Museums Entrance
Popular Rome Tours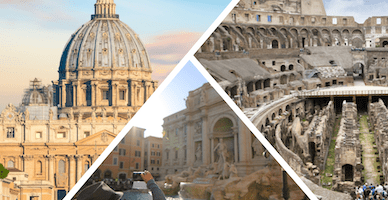 Best-Selling Tour
Rome in a Day Tour with Colosseum and Vatican Museums

Our "in a day" tour is best way to get your bearings all in one day. Visit the Sistine Chapel, Colosseum, Trevi Fountain, and more with a licensed, fun English-speaking tour guide. They'll add tons of insights and make the entire experience so much more memorable. Also, you'll get a feel for the city, so it's a great option on one of your first days in Rome. Bring your walking shoes and water bottle!





See Prices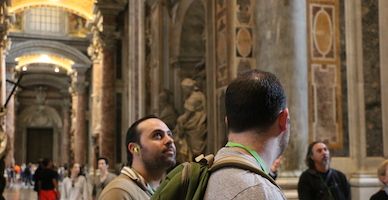 Best Price!
Skip the Line Vatican Tour with Sistine Chapel & St. Peter's Basilica
One of our most popular Vatican tours since it is such an amazing value. Skip the line to get inside with a super-knowledgeable, English-speaking guide who will bring the museum to life with stories of the artists, popes, conspiracy, love, and even tragedy! This tour has start times throughout the day so you can choose when to visit based on your schedule!





See Prices
Not ready to book a tour? Find out if a Vatican tour is worth it.
5. Piazza Navona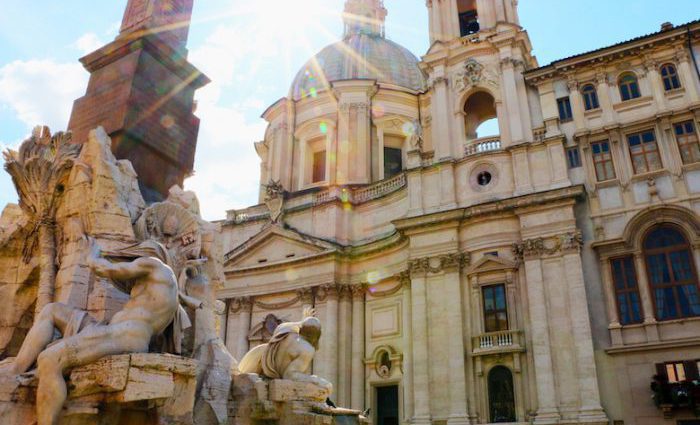 Piazza Navona is a very unique piazza and a must-visit site. It's completely pedestrian and lined with restaurants and cafés. You can stroll through on foot to admire its three fountains. Be sure to take a moment to admire its famed central Four River Fountain by Gian Lorenzo Bernini.
The Four River Fountain by Bernini is located directly in front of the church of Saint Agnes in Agony by rival sculptor Borromini and a father and son Rainaldi duo. The rivalry between Bernini and Borromini has given birth to some interesting wives' tales.
The rivalry, which reads more like jealousy from Borromini's side, started when Bernini received the Palazzo Barberini commission over a young Borromini. You can read more about this rivalry in our article on top things to do in Piazza Navona.
The shorter version is that Bernini's statue representing the Nile river holds its hand out towards the church as if bracing for its fall due to architectural incompetence. It is very unlikely that this was the hidden meaning since the fountain was built years before the church was even begun.
You'll visit Piazza Navona and get the full story and interesting symbology of the exquisite Four River Fountains statue on our Rome in a Day guided tour, along with many other Roman wonders. It's also one of the stops on our DIY Rome walking tour if you'd like to explore on your own. And last but not least, check out the best restaurants near Piazza Navona for when you get hungry.
Address: Piazza Navona
4. The Spanish Steps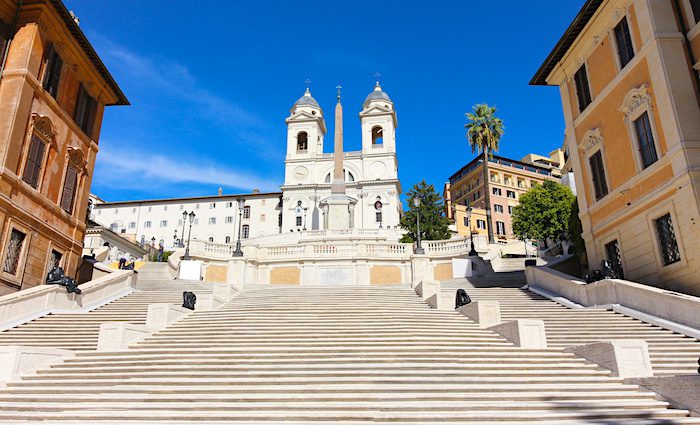 The Spanish Steps and Piazza di Spagna should be pictured next to the definition of high-end shopping. Italy's most famous shopping street, via Condotti, is directly opposite the Spanish Steps in Piazza di Spagna.
The Italian name for these steps is La Scalanita di Trinita di Monti which means the Steps of Three Tiers—a very straightforward name that describes their architectural form. Simply but beautifully: three tiers of steps.
How did they come to be known as the Spanish Steps? The Spanish Embassy is located about a hundred meters south of the steps in Piazza di Spagna or The Square of Spain. There's a lot to do and see in this area. Be sure to check out the top things to see near the Spanish Steps and read about the facts and history for some interesting historical context.
Address: Piazza di Spagna
3. The Trevi Fountain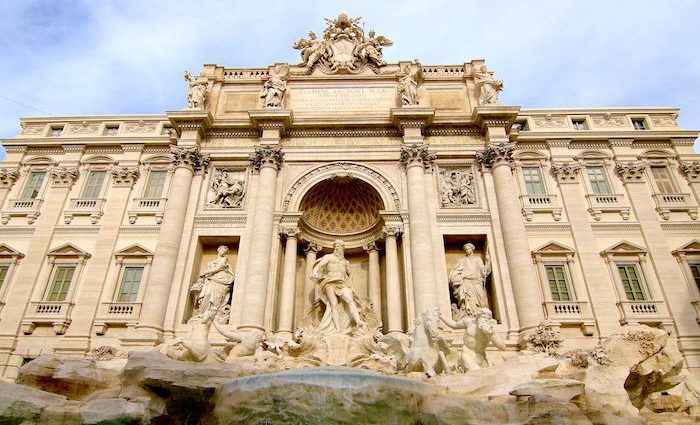 The Trevi Fountain is an outdoor fountain connected to Palazzo Poli, a museum that houses engravings and other important artifacts. The fountain was meant to be constructed by Gian Lorenzo Bernini in the 17th century. The plans were never enacted and, over a hundred years, later Nicola Salvi got the job by losing a competition for the best drawing—he lost to Florentine Alessandro Galli.
Romans were not happy about a Florentine getting the commission and revolted. Eventually, Salvi was handed the job. Construction began in 1732 and was completed in 1762, eleven years after Salvi's death. The job went to architect Giuseppe Pannini who worked with multiple sculptors to finish the project.
The fountain's facade tells a gripping story of its history. Read more about why Trevi Fountain is so famous and the best restaurants near Trevi Fountain.
Address: Piazza di Trevi
2. The Pantheon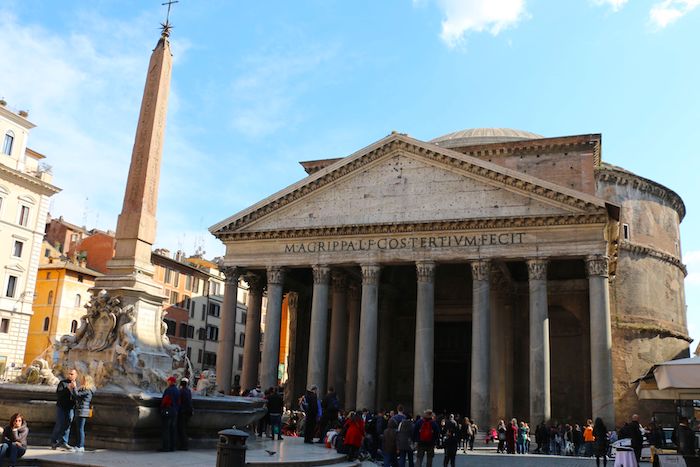 The Pantheon was one of Rome's greatest structures and is undoubtedly the best-preserved structure from antiquity. It's currently used as a church, Basilica di Santa Maria ad Martyres, but was originally built as a pagan temple. The name is believed to mean "Of All The Gods".
The building was built at the beginning of the 2nd century under the rule of Emperor Hadrian. The facade reads, "Marcus Agrippa, Son of Lucius, Built This in His 3rd Time Console." Marcus Agrippa did, in fact, build the original structure, but this would be like comparing a barn to the Eiffel Tower.
The original structure burnt down twice as it was built out of wood. Hadrian commissioned the current structure out of stone. While it is unknown who the architect was, it is commonly believed that the only architect talented enough to construct the interior dome would have been Apollodorus of Damascus.
A great way to explore the history of the Pantheon and other important sights is to join our Rome in a Day tour. Be sure to check out all the other top things to see and do around the Pantheon, plus the best places to eat nearby.
Address: Piazza della Rotonda
Top Colosseum Tours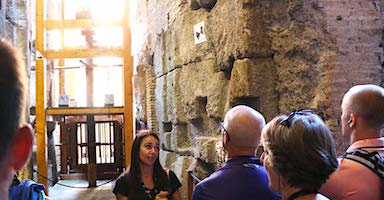 Best Seller
Colosseum Underground Tour with Roman Forum and Palatine Hill
This is our most popular Colosseum tour due to the incredible access to non-public areas like the underground chambers. All admissions are included and it is lead by an English speaking licensed guided and Colosseum expert.





See Prices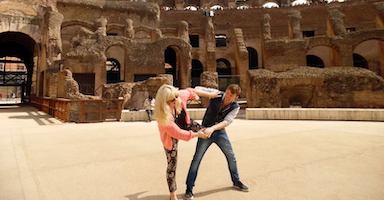 Customer Favorite
Special Access Colosseum Arena Floor Tour Through the Gladiator's Gate
You'll enter the Colosseum through the back door entrance avoiding lines and crowds, which is ideal! You'll step through the gladiator's gate and your English-speaking Colosseum guide will bring the stories to life. Next, on to the Roman Forum. All admissions are included.





See Prices
Not ready to book a tour? Check out our best Rome tours to take and why.
1. The St Peter's Basilica and All of Rome's Churches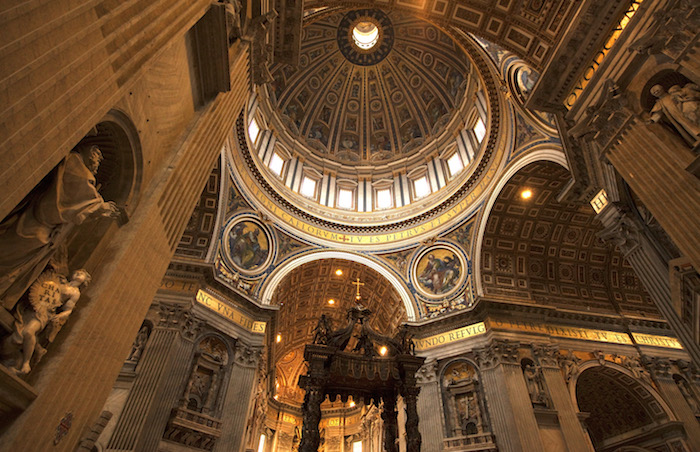 You read correctly—every church in Rome is free to enter. There's also a ton of extremely famous artwork you can see for no cost in these churches. From Michelangelo to Raphael and Bernini all without a steep admission cost.
You can even see La Pieta by Michelangelo in St. Peter's Basilica for no cost at all. Amazing right? In the center of Christiandom, they can't charge admission to visit holy places. 
This is great for your wallet but consider a few coins for maintenance. The local churches in Rome do a lot for the homeless community and donations will go to preserving these churches for future generations.
Address: Piazza San Pietro