When you travel to a world-class destination like Rome, you'll likely have to share the top sights with crowds of people. You're still going to want to visit the Vatican, Colosseum, and other attractions in Rome, so how can you avoid being shoulder-to-shoulder with strangers all the time? Beat the crowds and see more in these best private tours in Rome.
---
Pro Tip: Planning what to do on your trip to Rome? Bookmark this post in your browser so you can easily find it when you need it. See our guide to Rome for more planning resources, our best private Rome tours for a memorable trip, and how to see Rome in a day.
The Absolute BEST Private Tours To Take in Rome
Looking for a more intimate and, quite frankly, better experience of Rome? Try taking private tours in Rome. They offer a lot of benefits! You'll often get exclusive access, personal attention, and custom options, so you can see what you want with who you want.
Your guide will give you a more personal experience and you'll get to have more input in the narrative. Want to interrupt and ask a question? Go ahead, it's your tour and you're in control.
The obvious downside is that private tours cost more than small-group tours. With that in mind, we'll be sure to let you know when a small-group tour might be a good alternative to save money throughout this article. Here are the best private tours in Rome.
Not ready to book a tour? Find out if Rome tours are worth it.
1. Private Vatican Tours
The Vatican is a great place to take a private tour because it's almost always crowded. Beyond that, it's a massive complex with a high concentration of high-art Renaissance works, which makes it a really interesting discussion with the right guide. We have a great list of private Vatican tours that will appeal to every traveler.
For anyone wanting to deep-dive into art and history, go on an immersive journey in our private full-day tour with visits to the Sistine Chapel and St. Peter's Basilica. This 5-hour tour takes you through the best and off-the-beaten-path Vatican galleries, giving you a detailed look into the museum's immense collection. You'll see more than most who visit the Vatican!
For a group wanting to see the highlights of the museum with some light commentary, this private tour with visits to the Sistine Chapel and St. Peter's Basilica. This 2.5-hour tour gets you into the Vatican Museums before the general public, so you can enjoy the best of the Vatican with fewer crowds.
For the most exclusive experience of the Vatican possible, our after-hours private tour gets you into the museum without any other visitors. You've probably heard about how crowded the Sistine Chapel gets. In this private tour, you'll have the rare experience of seeing the Sistine Chapel exclusively with your group. If you are interested, we recommend contacting us 6 months in advance minimum.
If you have a lower budget but still want to be spared the majority of the crowds, we also have some small-group Vatican tours that offer access before and after opening hours. These Vatican tours generally have the best access at the lowest cost:
Not ready to book a tour? Find out if a Vatican tour is worth it.
2. Private Colosseum Tours
Admittedly, we only have one private Colosseum tour and that's because our small-group tours are so great. Most of our small-group tours visit restricted areas of the Colosseum, which means you'll see more of this iconic monument and enjoy less-crowded areas.
Our private Colosseum tour gets you access to the Arena Floor—a restricted area and one of my personal favorite parts of visiting the Colosseum in Rome. In this 3-hour tour, you'll walk through the infamous Gladiator's Gate out onto the Arena Floor where many gladiators battled it out in ancient Rome. After seeing the Colosseum, you'll also go on a guided exploration of the Roman Forum and Palatine Hill
We also run a great private tour that combines the Colosseum, the Vatican, and other parts of the city center. Our private Rome in a Day tour is a great option for anyone happy to spend a whole day sightseeing with a dedicated expert guide.
For a truly exclusive experience of the Colosseum, consider our Colosseum Underground tour. It gets you Arena Floor access and visits to the Roman Forum and Palatine Hill. What makes this 3.5-hour tour our most exclusive Colosseum tour is its access to the Hypogeum or underground tunnels. This is where gladiators, wild animals, and the condemned awaited their fate.
The area is an active archaeological site with extremely limited access, so it's best to book this tour well in advance. The group size is a little larger. However, due to the exclusivity of this product, we get 99% positive feedback—which is the best you can get in this day and age! I also really like our Special Access Colosseum Arena Floor tour for its access to some restricted areas and low cost.
Not ready to book a tour? Find out why a Colosseum tour is worth it.
3. Private Borghese Gallery Tours
The Borghese Gallery is a truly one-of-a-kind museum that should be high up on anyone's list. It's a must-see for art lovers, and even if you're not an art aficionado, this gallery will rope you into our circle.
It's one of the greatest baroque galleries on Earth headlined by Gian Lorenzo Bernini (sculptor) and Caravaggio (painter). Baroque, if you're unfamiliar, is a style of art that is guided by passion, strong movement, and heavy narrative, making it easy to love.
In our private Borghese Gallery tour, you'll see the top works of art in the gallery with a passionate guide. The tour lasts 2 hours as the museum only allows people to enter for 2 hours at a time. Not only is a private tour of the Borghese Gallery a must but it's also reasonably priced for what you get—the tour has amazing reviews!
Not ready to book a tour? Check out our Borghese Gallery Guide for more info.
4. Private Rome To Pompeii Tours
Despite the 2.5-hour drive from Rome, Pompeii is quite often at the top of most travelers' lists when visiting the Eternal City. This is because Pompeii is without question the best-preserved archeological site on our planet. The way it was "flash frozen" by volcanic ash has given us tremendous insight into Roman civilization, making it a big bucket-list item.
That said, is it worth taking a private tour to Pompeii? We run both private-tour options that allow you to be in your own vehicle and small-group tour options that travel to Pompeii in a smaller bus. If money is no issue to you, then a private tour is likely the best way to go.
However, our small group tours offer tremendous value and it might be worth having the company of other travelers on your way down to Pompeii. The prices are vastly different. Check out all our Pompeii tour options from Rome to see for yourself.
Private Rome to Pompeii Day Trip Options
If you want to go the private tour route, consider our private Rome to Pompeii day trip with Mt. Vesuvius. Is there a better way to cap off your tour of the incredible Pompeii than a hike up the volcano responsible for the ruins we explore today?
Fancy the idea of ending your Pompeii private tour in a lovely coastal town with Amalfi-Coast vibes? Consider our private Rome to Pompeii day trip with Sorrento.
For the small-group tour option, you could take a Rome to Pompeii day trip with Sorrento. This is a more budget-friendly way to see Pompeii and get an afternoon free to spend in Sorrento.
Definitely consider doing our Rome to Pompeii day trip with Mt Vesuvius—it's quite the experience. You literally climb up Mt. Vesuvius to look into the crater of the mountain with a volcanologist!
Not ready to book a tour? Find out if a Pompeii day trip from Rome is worth it.
5. Private Rome Catacombs Tours
During the Roman Empire, there was a very important rule. You could not leave dead bodies within the city limits for any extended period of time. This made a lot of sense since the plague caused a great deal of death and dead bodies spread all types of diseases and bacteria.
For this reason, Christians started underground burial sites outside the Roman walls, which today we refer to as the catacombs. The Rome Catacombs could have been the final burial place for hundreds of thousands of bodies. They are extremely interesting to visit!
We run private Catacombs tours and small group tours, both of which visit the Catacomb of Domitilla, the Appian Way, and the Bone Crypt of the Capuchin Monks. It may seem dark at first, but there's an unexpected beauty to the crypts and the artful arrangement of hundreds of skeletons.
Both are great options. The Catacombs Private Tour in Rome obviously offers a lot of customization and privacy as always with a higher price. The great part about the small group Rome Catacombs tour is the low price and small group size relative to other tours.
Not ready to book a tour? Find out if a Rome Catacombs tour is worth it.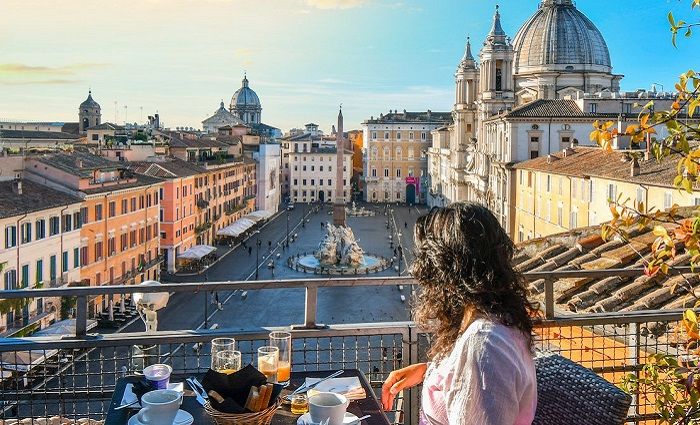 Find the best places to stay
Where To Stay in Rome
Rome has a rich cultural history and many iconic landmarks to explore. Plan where to stay in the magnificent Eternal City in the best neighborhoods.