One of Europe's great weekend destinations, with a plethora of monuments, museums, and culinary delights, it can be hard to decide where and how to spend your hard-earned cash and precious time. Well, I spent over a decade living in Rome and working as a tour guide. I've led thousands of people around this wonderful city, I've seen their mistakes, and seen their victories, so let me share with you the inside scoop on how to spend 3 days in Rome.
---
Pro Tip: It's easier to organize your trip when you have all your resources in one place. Create a browser folder and bookmark this post. Also, check out our guide to Rome for more planning resources, our top Rome tours for a memorable trip, and the best things to do in Rome.
3 Days in Rome Travel Tips
Remember to take Museum openings into account. The Vatican Museums are closed on Sundays, and traditionally, the civic museums (The Capitoline Museum, Palazzo Barberini, etc.) were closed on Mondays, but that is no longer the case.

Most sites are closed on May 1st and December 25th, with limited hours on December 24, 31st, and January 1st.

A tour guide gives you more than information. A great tour is 70% history and storytelling and 30% logistics. If time is limited, a tour will save you time and allow you to see and understand much more.

Don't overbook yourself! This one is so key; I have seen so many people leave Rome and hate it because they tried to do too much and didn't slow down enough to savor and enjoy any of it. Sometimes less is more.

Plan ahead to avoid disappointment. Monuments like the Colosseum and the Vatican constantly sell out. You must plan ahead if you want an early entry to avoid the day's heat or a specific time slot to match an arrival or departure time.

Choose your hotel wisely, not just what it looks like, but what neighborhood it is in. Depending on if you want to be near great restaurants or close to great shopping, there is a neighborhood to suit your personality. You can check out all of our Rome Neighborhood and hotel guides here to find the perfect one to serve you.

You can find all our planning tools at the bottom of this article. Be sure to checkmark them.
---
Not ready to book a tour? Check out the Best Rome Tours and Why
3 Days in Rome Itinerary
---
Let's skip the boring stuff. If you want to know how to get from the airport to the Rome center, you can check out our video. But for this article, let's start our itinerary in the early afternoon, just after you have checked in to your accommodation.
---
Day 1: Afternoon
---
You'll need to grab a bite to eat. If you want to make it a quick affair, Rome's answer to fast food, pizza, is your go-to. While in Rome, there are two different types of pizza you can get. You can sit at a pizzeria or find a Pizza al Taglio joint (pizza by the slice).
For me, it all comes down to time. If I'm keen to get moving, I grab a slice; if I need to rest my feet, I'll head to a pizzeria. My favorite spots in the city are:
Day 1: Evening
---
The key to a successful trip to Rome? Planning! And if you have planned far enough ahead, and heeded our advice, then this is where we can elevate your experience beyond that of the average tourist.
The Vatican is a hot box. Most galleries have no air-conditioning, and the crowds are huge at all times of the year. So beat the heat and the crowds by taking an evening tour of the Vatican instead. Tickets sell out quickly, so be sure to book way in advance. We sell four evening tours of the Vatican. Below are our three most popular.
---
The Best Evening Tours of The Vatican
---
---
If time is money, then these VIP Vatican evening tours will pay you back in dividends. But they are more expensive than a regular day tour of the Vatican. You can save money on food that evening, though, by signing up for the 'Exclusive After Hours Sistine Chapel Tour with Aperitivo.' I recently went on this tour myself. Not only were the crowds manageable (we ended up being the first group in the Sistine Chapel), but there was far more food provided than I anticipated. Travel sometimes has to be about compromise, so it's up to you to decide where you want to spend those hard-earned dollars.
---
Day 2: Breakfast
---
I'm sure your hotel makes a great breakfast, but honestly, I don't care. Skip it! Instead, head to a local cafe, and look for the locals standing at a bar rather than a place with lots of seats. Tazzo D'oro and Cafe Sant Eustachio are two great choices. The Roman breakfast of choice is coffee (cappuccinos are fine to order at this time) and cornetto, not the ice cream but instead a Roman take on the croissant.
---
Not ready to book a tour? Check out the Best Vatican Tours to Take and Why
---
Day 2: Morning at the Colosseum
---
Again this is where the early planners can win the day. If you have left things to the last minute, the Colosseum is likely already sold out. If you left it a week in advance, there are probably a few tickets left at midday or 3 pm when the heat is strongest. But, the smart traveler plans ahead (don't forget most tours come with a 24-hour cancellation policy, so if plans change, you aren't losing out).

So you are planning ahead, and that allows you to pick that nice, fresh, early morning slot at the Colosseum. It will also let you book the hottest ticket in town, and that is privileged access to the Colosseum Arena Floor.
Tickets for this sell out fast, but being able to step onto the arena floor as the gladiators is an unbeatable moment. Access to the Arena floor is only possible with a guide, but of course, you can purchase tickets and enjoy the upper floors of the arena on your own. If you aren't sure which option is best, check out our full guide on which tours of the Colosseum are the best and why?
---
The Best Morning Tours of The Colosseum
---
---
Day 2: Lunch in the Jewish Ghetto
---
We will get into the off-the-beaten-path restaurants that only locals know about, but the classics are classics for a reason. There are many "undiscovered" restaurants in the Jewish Ghetto, but a lot of great famous ones.
Personally, I really crave a Jewish-style artichoke when I get back to Rome, and I will likely get it at Sora Margherita. It has a few rinky-dink tables outside and delicious food on the cheap. Check out our top foods to try in Rome, so you know what to order and explore beyond your comfort zone.
Address: Sora Margherita
---
---
Day 2 Afternoon: Explore the Center with 2 Options

Option A: Passeggiata In Trastevere And Central Rome or Golf Cart Tour
---
In Italy, taking a passeggiata after a meal is compulsory since it is so ingrained in the culture. If you are unfamiliar, the passeggiata is a walk that normally includes many pauses to reflect, talk, and soak in the sights—but most importantly of all, to have an espresso.
If I'm at lunch in the Jewish Ghetto, I would take a simple route through the center to hit the main sites. It'll take about 90 minutes. Take this route:
Cross Tiber Island
Pass through Trastevere and stop at Bar del Cinque for espresso
Head over Ponte Sisto
Walk through Campo
Pass through Piazza Navona
Pass by the Pantheon
See Trevi Fountain
The best thing about this option is it will cost around a single euro, and that's only if you decide to head for espresso. If mobility is an issue, though, then you may want to consider option B, which is one of our Golf Cart Tours.
---
Day 2 Evening: 2 Foodie Options

Option A: Dinner and Drinks
---
Rome is a foodie dream, but what many people don't realize is it is far too easy for that dream to become a nightmare. Tourist traps abound! Microwaved pasta, frozen produce, watered-down drinks, I've seen it all.

Again the traveler who plans wins! That doesn't mean making reservations months in advance, but you should definitely have a game plan. A list of places you want to try and the confidence to ring up and make a reservation (or get your concierge to do it).

We have made this easy for you. Here are a few free resources to make your trip to Rome a foodie dream. Or alternatively, sign up for one of our hugely popular food tours.
---
Day 3: Breakfast
---
Unless it is Sunday, start the morning by heading to one of Rome's incredible food markets. While Mercato Testaccio and Campo De Fiori are amongst the most popular, my personal favorite is Mercato Trionfale, up beside the Vatican Museum. This is classic daily street theatre. The shouts of the fishwives, the banter of the stall owner, the hum of convivial conversation. Find a cafe, grab your coffee and cornetto, and set yourself up for the day.
---
Day 3: Morning – Visit the Pantheon
---
With the Colosseum and Vatican already out of the way, now is the time to dig a little deeper. Let's start our sightseeing with what is undoubtedly my favorite monument in Rome, the Pantheon. You can find all of the information you could ever need to know in our Free Guide to Pantheon so that I won't bore you with history here.
Instead, here are some logistics. As of July 3rd, 2023, a five-euro ticket is required to enter the Pantheon, you can purchase it on the Ministry of Culture's website or on-site by scanning the QR code. Don't turn up and wait in line with everyone else to purchase a ticket. Get online a day or two before and purchase the ticket and the time slot you want online.
Purchase Pantheon Tickets Here: Ministery of Italian Museums
---
Day 3: Lunch
---
By now, you'll have seen the Colosseum, the Vatican, the Pantheon, the Trevi Fountain, the Spanish Steps, and more, so you're done, right? Wrong! You have only scratched the surface, it's not bad for '3 Days in Rome', but there's still plenty to see. Don't worry, now you have seen the mega-monuments, you can spend your last day enjoying a leisurely lunch and maybe take a walk around one of Rome's beautiful neighborhoods. Not sure which one? Well, take a look at our free neighborhood guides to get some inspiration. And don't forget we have free travel guides for all major destinations in Italy as well as guided tours with local experts. When it comes to Italy, we got you covered.
---
Hidden Gems to Explore During Your 3 Days in Rome
---
---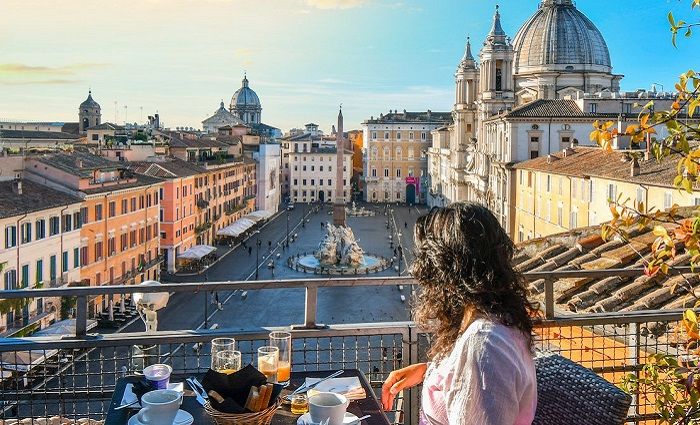 Find the best places to stay during your 3 days in Rome
Where To Stay in Rome
Rome has a rich cultural history and many iconic landmarks to explore. Plan where to stay in the magnificent Eternal City in the best neighborhoods.
---
3 Days in Rome Planning Articles